This post may contain compensated links. Please refer to my disclaimer here for more information.
We truly believe that planning your next trip should be simple, so you can focus your energy on enjoying your trip itself!
Planning a trip to the UK can seem overwhelming on its own but when you factor in the uncertainty of travel including everchanging restrictions and updates, it can get complicated quickly.
Luckily, we sat down with Travel Insurance Master, to find out their tips and tricks for purchasing travel insurance for the UK, and how easy it is to find your personalized plan recommendation in just 3 steps.
Travel Insurance Master is an easy-to-use smart aggregator for trip protection. They partner with the top travel insurance providers to bring a large variety of plans and benefits to one website.
In 3 easy steps, you'll enter your individual trip details and their smart algorithm will get to work, finding you the best plan and value for your unique trip.
You'll also find clear comparisons of similar plans and smart filters to narrow down exactly what you're looking for.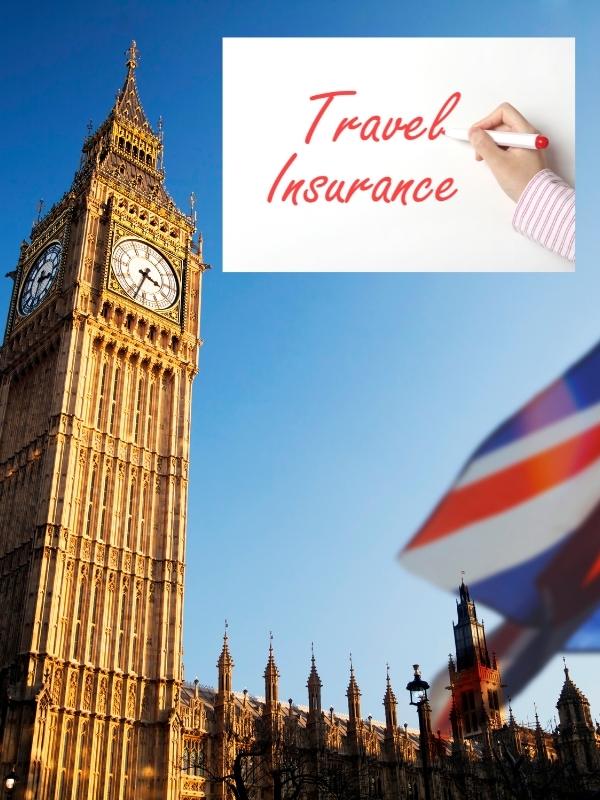 TRAVEL INSURANCE FOR THE UK – THE EARLY BIRD GETS MORE OPTIONS
When to purchase travel insurance
The best time to purchase travel insurance is the same day or within a set number of days of your initial trip deposit. Even if you haven't paid for your trip in full yet, you'll still be able to request a quote and purchase insurance.
If your trip cost changes as you book more into your itinerary, all you'll need to do is update your policy/trip cost with your insurance provider.
Purchasing travel insurance early on in your planning process gives you access to time-sensitive benefits and options.
One of the most popular benefits is Cancel for Any Reason or CFAR. CFAR gives you the ultimate flexibility, the ability to cancel for any reason whatsoever usually up to 2 days prior to departure for reimbursement of up to 75% of your prepaid, non-refundable travel expenses.
To purchase travel insurance with this benefit, request a quote and buy a plan early, within 1-21 days of your initial trip deposit depending on the plan.
It's important to note CFAR does not replace your regular Trip Cancellation benefits which covers you 100% for a variety of covered reasons, like cancellation due to illness like COVID-19.
Another one of these time-sensitive benefits is the Pre-existing Medical Conditions waiver that many travellers look for.
If you buy insurance within the stated timeframe from the initial deposit, usually within 2 weeks, you will get broader coverage like the Pre-existing Medical Conditions waiver and more, depending on the specific plan.
If you or someone you are buying insurance for has a pre-existing health condition, you should seriously consider the likelihood of it flaring up or reoccurring before or during your trip. Could it cancel or interrupt your travels?
For plans without the Pre-existing Medical Conditions Waiver, normally a medical condition present prior to your travel insurance policy's effective date would not be covered.
Most plans have a look-back period which means the plan investigates your medical history, anywhere from 2 to 18 months, to check if your condition appeared or was treated during that time.
The good news is the Pre-existing Medical Conditions Waiver usually doesn't add to the cost of your plan! As always, be sure to read your plan documents for full details on coverage.

If you miss the cut-off to purchase a plan with the Pre-existing Medical Conditions Waiver, look for a plan with a look-back period that's shorter than when you last registered your medical condition with your doctor.
If you called your doctor 64 days ago, and you purchase a plan with a look-back period of 60 days or less, you technically do not have a pre-existing condition and do not need the waiver. See your specific plan for details.
The protection you need
Whether you're travelling domestically within the USA or internationally, travel insurance is beneficial for any trip that takes you 100 miles or more from home.
Whether it's a little vacation time, or a trip of a lifetime now that you're retired, the right preparation and planning can make all the difference in the memories you make.
Travel Insurance Master features customisable smart filters on their plan results page.
To utilize them, you'll first visit TravelInsuranceMaster.com and enter your trip details. If you're travelling to multiple countries, select the first country you're travelling to. Enter your departure and return date, and your trip cost.
The trip cost should accurately include all your prepaid and non-refundable expenses. You can choose total for all or per traveller. You'll be prompted to enter your traveller details on step 2, and your initial deposit and final payment date on step 3.
Don't worry if you haven't made your final payment yet, simply check the appropriate box. Click Get Quote and in minutes you'll find your Recommended Plan and similar plans to shop and compare side by side.
Depending on your trip, Trip Cancellation plans may not be available, or you may just be looking for a Limited Plan without Trip Cancellation. If so, utilize the Plan Type selections on the upper left to toggle between the types.
Trip Cancellation or Comprehensive Plans are the most common as they combine the benefits of travel medical plans with Trip Cancellation.
Trip Cancellation gives you the ability to cancel your trip before it starts and receive a reimbursement for 100% of your otherwise non-refundable, prepaid trip expenses.
There are many covered reasons for trip cancellation, most commonly an illness or injury preventing you from taking a trip, and your specific policy will outline your specific covered reasons.
Travellers who purchase Plans without Trip Cancellation, usually have little time left before their trip so the chance of cancellation is slim. In addition to travel medical coverages, these limited plans may also provide benefits like trip interruption, trip delay, baggage, evacuation, and more.
It's important to remember when you travel that your regular health insurance most likely provides little or no coverage while you're abroad.
Travel insurance can help fill that gap in coverage, giving you the ultimate peace of mind while you're away from home.
Food poisoning or an accident could easily add up to medical bills you could be stuck paying for out of pocket without the right protection!
With COVID-19, all Trip Cancellation plans on TravelInsuranceMaster.com cover trip cancellation or interruption if you get sick or test positive with COVID-19.
Travel insurance treats COVID-19 the same as any other illness and benefits like Trip Interruption, Trip Delay, Emergency Medical and Evacuation can be useful during this time too.
Ready to start planning?
Let TravelInsuranceMaster.com make protecting your trip simple so you can get back to the fun part – creating your itinerary, and ultimately enjoying a trip to remember for the right reasons with the ultimate peace of mind!

FAQs
Why should UK-bound travellers from the US use TIM for their insurance quotes?
Travel Insurance Master combines the knowledge of a travel-savvy friend, with access to the top travel insurance providers and their wide variety of plans all on one website.
We partner with multiple insurance providers we know and trust and use a smart algorithm to recommend the best plan and value based on your specific trip and traveller details.
UK-bound travellers can have a wide array of destinations and itineraries which make a one size fits all plan unsuitable.
You could be paying more for coverage you don't necessarily need, and miss out on benefits that would be better suited to you! Travel Insurance Master allows you to easily request a quote in just 3 simple steps and find your recommended plan in minutes.
Along with this plan, you'll be able to shop and compare similar plans clearly side by side, and even filter by customizable benefits to narrow down the plan results further.
Once you have selected the plan you'd like to purchase, simply complete the purchase form, and you'll receive the plan straight to your email!
Travel Insurance Master truly makes it easier than ever to protect your next trip with the ultimate peace of mind.
Are quotes for travel insurance provided only for US-based travellers?
Travel Insurance Master provides the most options for US-based travellers and those travelling to the US. However, we do have plans available for most travellers around the world.
If you input your trip details and don't see any plans, it's possible there aren't comprehensive plans available for your specific trip.
In this case, simply select the filter for No Trip Cancellation on the upper left-hand side. These Limited Plans without Trip Cancellation are a fraction of the Comprehensive Plan cost.
They're actually a great option if there's little time before your next trip, and the chance of trip cancellation is slim or the trip is so important that cancellation is not an option for you.
These Travel Medical Plans will provide medical coverage while travelling primarily but not exclusively outside your home country.
The plan you select may even include trip interruption and delay, baggage, medical emergency and evacuation, and other benefits.
See your specific plan for details and coverages. On the Plan Results page, you can click on the individual benefits under each plan for more information as well as review the certificate before you make a purchase!