Guide to UK Train Travel
Practical tips, resources and itineraries to help
maximise your UK rail adventures.

Are you keen to explore the UK by train? Or perhaps you would like to take some day trips from London? Is this is your first time navigating the UK rail system?
If so you may have lots of questions about planning UK train travel including
Which ticket options are available and which are the best for you.
Where and how to purchase tickets.
When and how to make seat reservations.
How accessible is UK train travel for the disabled and wheelchair users?
How to plan a practical train itinerary.
Where much of the UK can I see by train in 7/10/14 days?
Practical concerns such as what time to arrive at the station, the availability of WiFi, refreshments or how to plan onward travel once you arrive at your destination.
What to know if you are planning a trip on the Eurostar.
What is the Caledonian Sleeper service to Scotland like?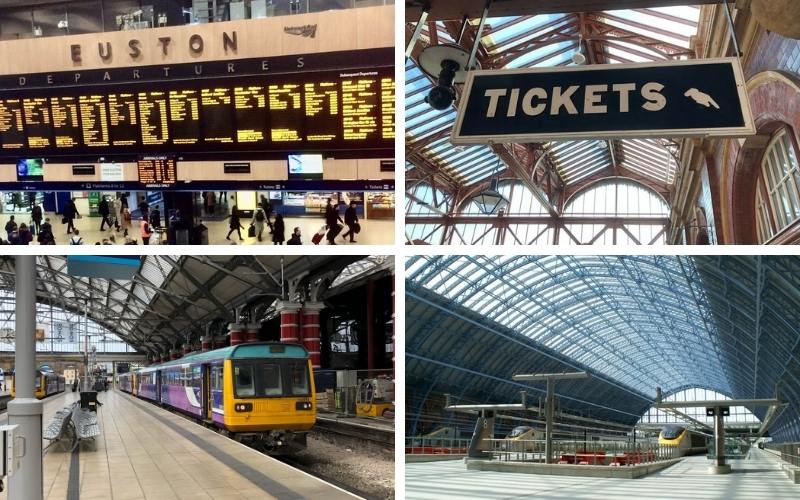 What if you could find all the information you need to answer your questions and help plan your UK train travels in one informative guide?
Presenting UK Travel Planning's
ESSENTIAL GUIDE TO UK TRAIN TRAVEL
An essential resource for travelling the UK by train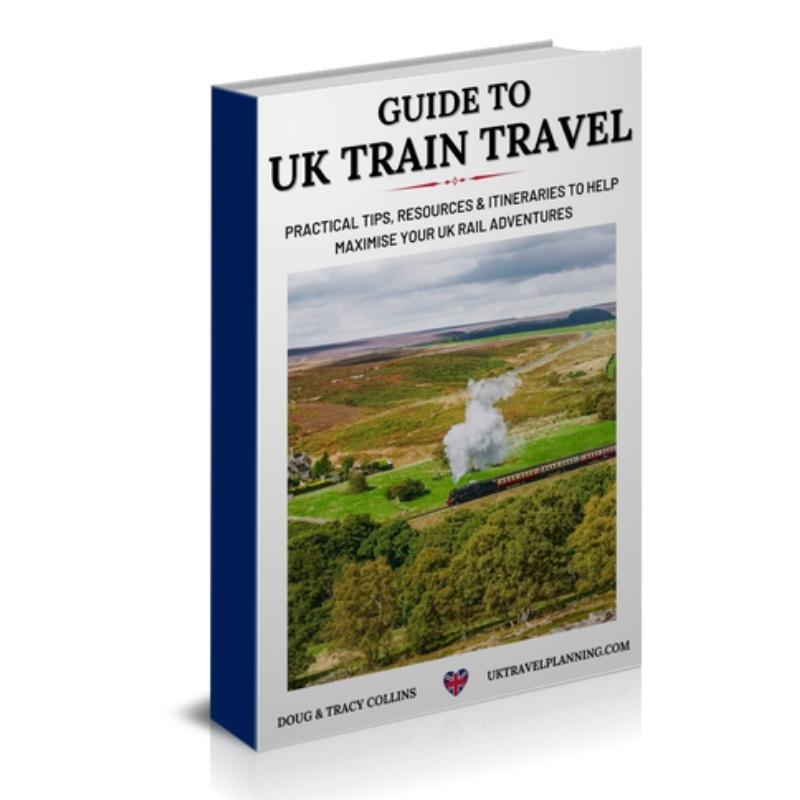 With our essential guide to UK train travel you will
Navigate the complex train ticketing system in the UK to purchase the best options for your trip.
Know what to expect when travelling by train in the UK so you can relax and enjoy the journey.
Plan your train trip itinerary with confidence
Know about special train journeys that are available in the UK including the Eurostar, sleeper services and steam & heritage railways.
What is included
An overview of the UK rail system
Guide to UK train tickets, railcards and passes
Practical information and tips to prepare for your train trip – before, on the day and during.
12 done for you UK rail itineraries
Guide to special train services including the Eurostar, sleeper services, steam train journeys and heritage railways
Links to useful websites and apps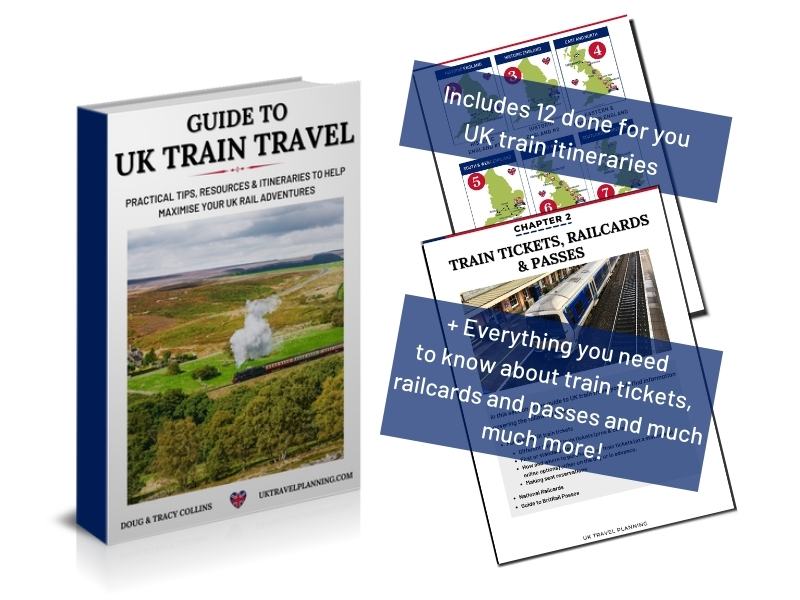 ⭐️ CLICK HERE TO BUY THE ESSENTIAL UK TRAIN TRAVEL GUIDE
All Aboard…Guide to UK Train Travel Ebook by Doug and Tracy Collins
⭐️⭐️⭐️⭐️⭐️
"This e-book is exactly what we needed to begin planning our trip to the UK. The last time we were in the UK we stayed in London sightseeing and then joined a tour group to travel through Southern England. That was fantastic, but we couldn't stay as long as we would like at many of the locations.
This time we wanted to tackle it ourselves but didn't feel up to the task of driving the UK, so thought we'd do it by Train. Great idea, but we didn't know where to start. I was thrilled to discover Doug and Tracy's Facebook page and was even more thrilled when I discovered they were putting out a book on this topic – Guide to UK Train Travel.
I picked up a copy as soon as it dropped and I'm so glad I did. It gives all the information of how train travel through the UK works, the stations, and where they take you. It has lots of awesome itineraries that you can adjust to where you want to go and to your own pace.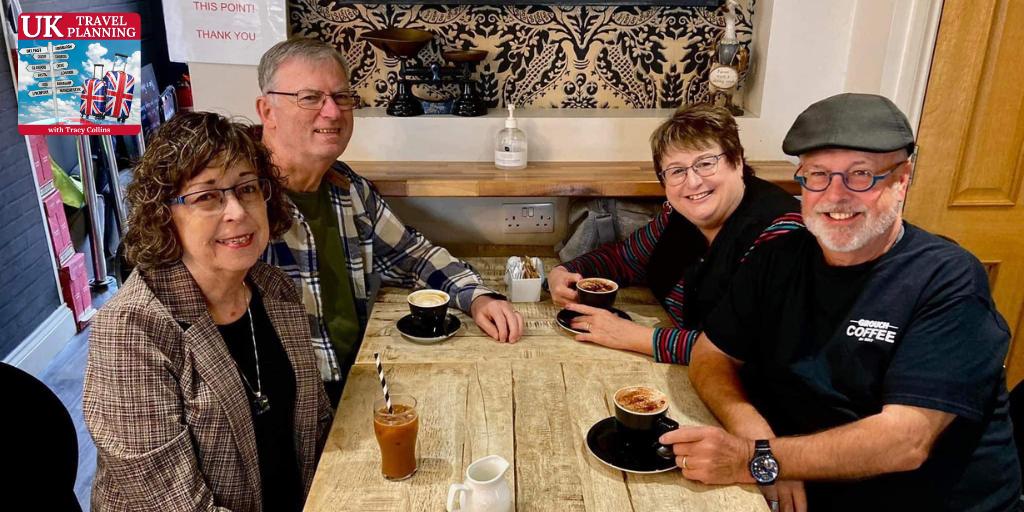 One of the best things is that it is an e-book with links to all the pertinent information. Purchasing tickets, sights in each city, hotels, restaurants, and itineraries. When things change, as they always do, Doug and Tracy are able to easily update links and information that has changed and redrop the book, so you always have the most up-to-date information available.
We're travelling with another couple, and they picked up a copy of the book, as well. Even if you can't go on a trip in the near future, it's a super fun way to spend some time daydreaming for the future!
If you have any plans to visit the UK and want to venture out of London without having to drive it yourself, this is the book for you!"
Liz/USA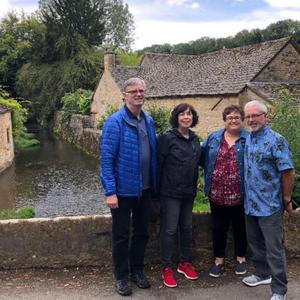 FAQs
The ebook is published in digital PDF format. You will be able to access it at any time by logging into our secure site.
We check the train travel guide every 3 months to ensure all information is up-to-date. As you will have access to your purchase any changes will be reflected in an updated version for you to download.
We have years of experience travelling the UK rail network and this is reflected in the information, practical tips and advice available in this ebook.
Information about tickets is available from numerous sources but our guide will save hours of research by providing all the essential information in one place to help you choose the best option for your trip.
11 of the itineraries are only available in this ebook.
Our itineraries have been researched thoroughly to ensure that they can all be done in the time frames given.
As this is a digital product we don't accept returns, exchanges or cancellations. Please contact us at info@uktravelplanning.com should there be any problems with your order.
⭐️ GET YOUR ESSENTIAL UK TRAIN TRAVEL GUIDE
Who are we?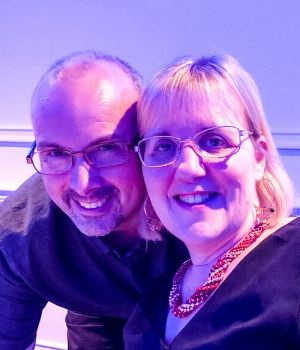 Hi!
We are Tracy and Doug Collins a British couple who have been exploring the UK for over 40 years.
We created UK Travel Planning to provide practical tips, resources and advice to help you plan your travels to and around the UK.
We know planning a train trip in the UK can be stressful with so many things to consider.
With this in mind, we have created this essential train travel ebook to answer all your questions and help you make the most of your UK rail adventures.