Book a UK Itinerary Planning Consultation with us!
Are you planning your UK itinerary but feeling overwhelmed? Do you have a rough itinerary but would benefit from some help to fine-tune aspects of it? Do you have questions about the logistics of getting around the UK by train or car? Or would you simply like to go through your itinerary with experienced UK travellers to check you haven't missed anything?
If you have said yes to any of these questions why not book a 60-minute* itinerary consultation and review with us?
During the consultation we will discuss your itinerary and answer any practical questions or concerns you may have about your trip including:
Fine-tuning your itinerary to ensure you make the most of your time
Discussing the best road and rail routes for your trip
Answering frequently asked questions such as what to pack, where to eat etc
Provide suggestions about relevant tours, activities and day trips
Offer tips and practical advice
We will also send (via email) a PDF itinerary review document within 3 days of our discussion with personalised recommendations and suggestions discussed during the call.
*Please note that 60 minutes covers 2 weeks – if your trip is longer you will need to purchase an additional session.
Why book a consultation with us?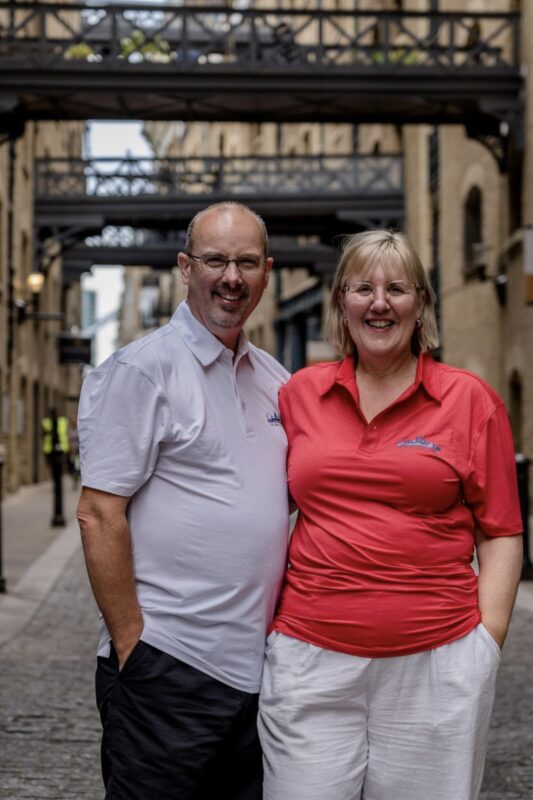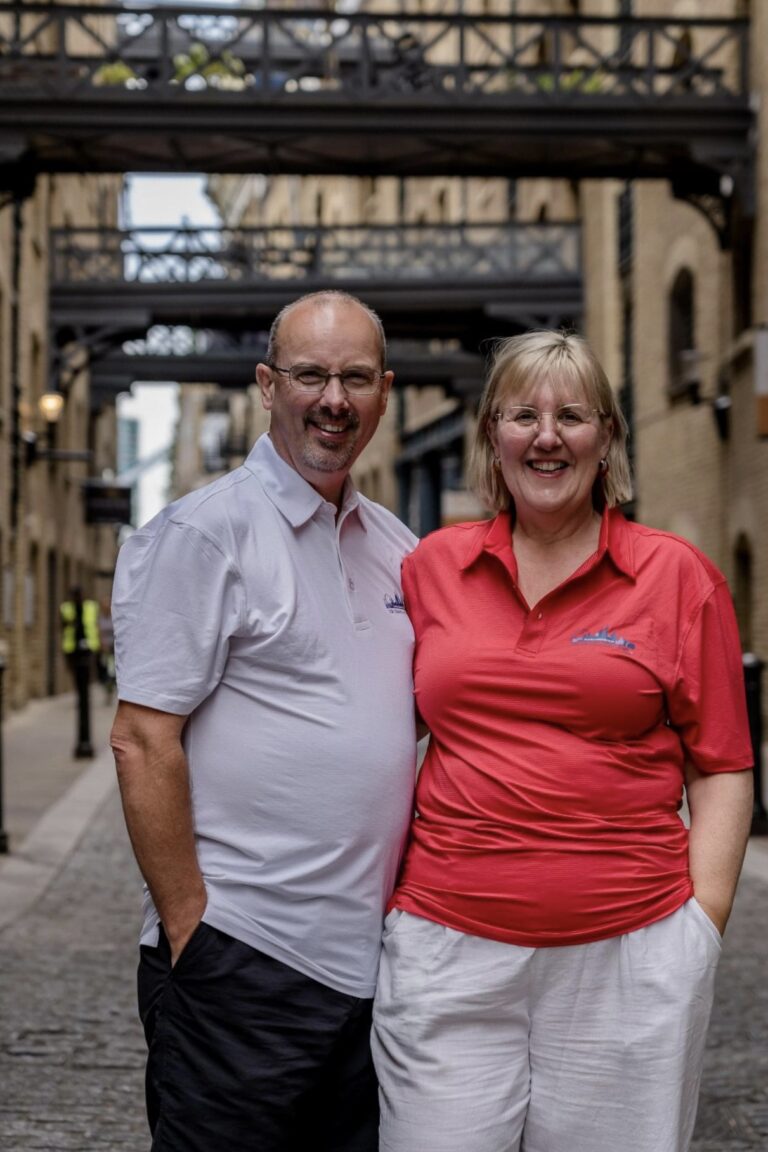 We are Tracy and Doug Collins the faces behind the UK Travel Planning website, Podcast and Facebook group.
We are both Brits with extensive knowledge of travelling in the UK.
Tracy has lived and worked in 7 countries around the world. In the UK alone she has lived in London, the Midlands and the North East. She has extensive experience of travel planning including organising numerous visits to and around the UK.
Doug is a UK train travel guru having worked on the UK rail network for over 25 years. He is also the author of the Guide to UK Train Travel ebook. If you are planning to travel by train Doug is the one to chat to!
We love helping visitors to the UK plan their trips and have made some fantastic friends all over the world through our consultations.
We look forward to chatting with you and helping you plan your perfect UK itinerary.
FAQs about the UK Itinerary Consultation & Review Service
How does the itinerary consultation and review service work?
Step 1 – Book a 60*-minute itinerary consultation & review session to discuss your UK itinerary with us at a time that suits you using the calendar below.
Once you have selected a date and time you will be taken to a payments page.
Please note all prices quoted are in US$

*60 minutes is enough to cover a 2-week trip – if you plan to visit the UK for longer you will need to purchase additional sessions.
Step 2 – You will receive a confirmation email and Zoom link for the session.
Step 3 – Please send us a copy of your draft itinerary at least 48 hours prior to the session at info@uktravelplanning.com (please put 'Itinerary Review" in the subject line). This will give us time to prepare and ultimately save time during the call.
Step 4 – You will receive a reminder email 24 hours prior to the session.
Step 5 – We meet via Zoom and chat through your proposed itinerary.
Step 6 – Within 3 days we will send out a PDF with any personalised recommendations made during the consultation.
What is not included?
We do not include any booking services. We are not travel agents and therefore cannot make any bookings on your behalf.
We will however provide you with any accommodation, tours and services that we recommend.
If you contact us during your trip to ask quick questions about your route or any recommendations we will try to get back to you as quickly as possible but we can't guarantee we can provide advice at short notice.
Terms & Conditions
Payment for your UK Itinerary Review is required in full in advance of the session.
Please note that we do not offer refunds.
In the event that we have to cancel your booking due to a personal emergency, we will provide you with as much notice as possible and send you a link to reschedule our session at a time that suits you.
Alternatively, we can offer you a full refund.
Cancellation & Rescheduling Policy:
If you can no longer attend you can cancel the session up to 24 hours in advance and reschedule to another date or request a refund.
If you cancel less than 24 hours before your session you will not be entitled to reschedule or a refund.
Book your 60 minute UK Itinerary Planning Consultation
Feedback from previous itinerary consultation clients
The itinerary consultations are SO WORTH IT! I research everything and consider myself a dedicated planner, and the consultation with Tracy and Doug was invaluable. You will not regret it – it truly is a personalized concierge service.
Kathryn – Chicago, USA
Tracy and Doug were very helpful in answering my questions about traveling in the UK. They took time to find out what my interests were and made suggestions to visit things that were not even on my radar.

If anyone has questions about traveling by train specifically, you will not find anyone or any site on the web more knowledgeable than Doug.

Between their UK Traveling website and FB page there is a wealth of knowledge available.

For anyone traveling to the UK for the first time, the addition of their consultation service was a game-changer for me. All the loose ends and uncertainties were wrapped up with our 45-minute conversation.

I really enjoyed the follow-up PDF that included everything we discussed in our zoom meeting including links to the websites for the points of interest we talked about and the website I needed to book my train travel from London to Edinburgh.
I too would like to highly recommend this service! I have found Tracy and Doug to be very thorough and gave me serious peace of mind! They do an amazing job and I was seriously impressed with their genuine kindness and support!

I am traveling for three weeks in June of 2022. Thanks to Tracy and Doug, I feel very confident in my plan and that any changes that needed to be made to make it easier and more realistic have been reviewed.

They really are providing a great service!
Do yourself a favor and have Tracy and Doug help you plan your trip to the UK.

Through their itinerary planning service, we were able to narrow down our southern England trip to a manageable number of stops while still experiencing a variety of English settings.

They found us a lovely place to stay on the coast when most hotels were booked, gave us sound advice on how to travel on a bank holiday, and even emailed us days later about the availability of Uber in Salisbury after consulting with a friend who lives there.

Meeting with Tracy and Doug on Zoom was like talking with friends. They really listened to what we wanted. Their suggestions have given us great peace of mind as we head overseas.
I just have to say the itinerary review service they offer is awesome! This is our third attempt to visit the UK in as many years, so our itinerary has changed and grown quite a lot since 2020. It was incredibly helpful to have two new sets of eyes to check it out!


First, the Zoom meeting itself was so much fun. I felt like I was talking to old friends the entire time. They had clearly looked at every single day of our itinerary (almost 4 weeks worth!) and were well versed in our plans.
This trip is a huge investment of time and money for us and I felt so much more confident in our plans after our conversation. They told me when things looked good, they gave me constructive feedback when things looked like they could be tweaked for improvement and they gave me lots of new information and suggestions that I could incorporate into our plans.

Another great thing is that they follow up with an organized, electronic document that includes everything they discussed with you along with links to useful websites. This allows you to focus and enjoy the conversation without worrying about trying to write everything down at the same time.


I have made a few changes due to their feedback and have added a few things as well. The amount of knowledge they have between them is impressive and I am now more confident than ever that we are ready for this long-awaited trip!
I highly recommend this unique service that they offer!
I just want to say how fabulous this site and Tracy & Doug have been in helping us plan our trip. This is my first overseas adventure and I did the itinerary challenge, followed by the itinerary review.

The advice and local knowledge Tracy and Doug provided in the itinerary review saved us heaps of time and unnecessary miles, and their suggestions were spot on with our interests.

We have just finished finalising everything. Now we wait for September!! Beyond excited.

Thank you so much Tracy and Doug!