Wondering where to start when booking your UK trip? In this article, we share some of our favourite booking sites for UK travel.
If you are planning your UK vacation you may be wondering which are the best travel booking sites to use to sort out the essentials. From flights and hotels to tours and attraction tickets there are many booking sites available to choose from.
After years of travel (and making hundreds of bookings), I have a number of go-to companies that I use regularly when planning and booking my trips.
In this post, you will find some of our favourite travel booking sites we use for UK travel.
Accommodation
I choose booking.com for the majority of my accommodation books and have used them for years.
They have a wide range of accommodation options available including hotels, apartments and guesthouses.
Many offer free cancellation up to 24 hours before. This is something I recommend and have found invaluable recently. It also enables some flexibility of planning.
I find their prices competitive too and their reviews and ratings useful tools when choosing my accommodation.
UK Accommodation guides: London ~ England ~ Scotland ~ Wales ~ Northern Ireland
VRBO
If you prefer holiday accommodation with more space, privacy or freedom than a hotel may offer we recommend booking a VRBO.
VRBO have over 2 million properties all over the world including lots of fabulous properties in the UK.
Transportation
Flights
When researching flights remember to open an incognito tab so your information is not saved by the airline companies! Also check either side of your selected dates to see if there are cheaper options available!
I recommend checking out prices using a flight comparison website. I use Skyscanner and have done for a few years now.
CLICK HERE – Flight comparisons
Airport transfers
Getting from the airport to our accommodation with little hassle and stress is always my aim. There is nothing more disorientating than landing in a foreign country with no idea how to get to your final destination.
There are obviously lots of options and you can read my dedicated posts to help you plan (train/taxi/bus etc)
If you prefer to book a private transfer or even a shared transfer ahead of your arrival I recommend booking with Get Your Guide.
With Get Your Guide you can read traveller reviews and many allow free cancellations of transfer bookings up to 3 hours before (read the terms and conditions)
Examples of transfer options from Heathrow Airport into London include – Private Transfer and Shared Transfer as well as transfer to Southampton Cruise Terminals for those of you embarking on a cruise.
Read more – How to get from Heathrow Airport into central London or Gatwick Airport into central London
London Transport – Oyster Card
A common question for those of you planning to spend some time in London is how to get around the capital. You can read more about the various forms of London transport including the Tube, buses, boats and bicycles in our complete guide.
Pay for transport with an Oyster card (which can be purchased at Heathrow on arrival) or at a Tube station, visitor centre and in most newsagents around London or you can also use contactless methods of payment (just check for any foreign exchange charges) Read our articles – What is an oyster card? and Oyster card versus contactless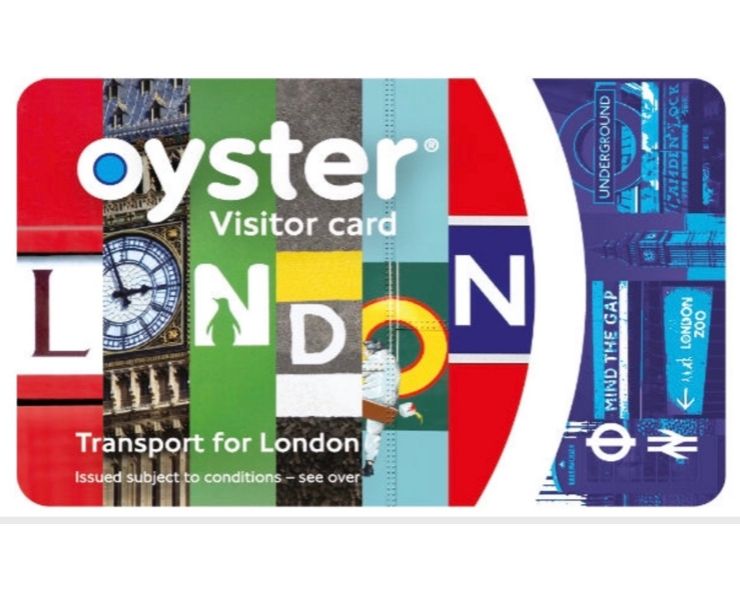 Train travel in the UK
Taking the train around the UK is a great way to see the countryside and can be cheaper and easier than driving or flying depending on where you go.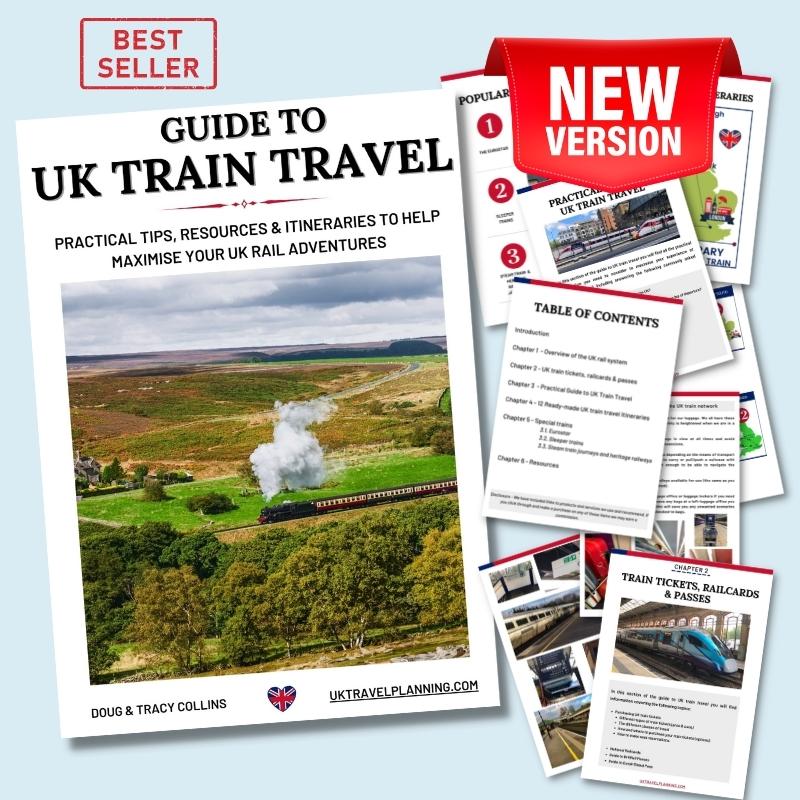 If you are planning to travel the UK by train (or even take one or two-day trips by train) I recommend booking in advance to get the best deals.
Check journeys with the trainline.com or Omio when planning train journeys in the UK – you can also book your tickets online with them too.
A great way to save on train tickets when travelling in the UK is to purchase a BritRail Pass or a Eurail Global Pass (find out more about these train passes here)
These passes can be purchased to cover areas and regions of the UK as well as countries.
You can find out BritRail Passes here or the Eurail Global Pass here.
If you plan to travel over to mainland Europe it is an easy and quick option to take the Eurostar from St Pancras International in London. I would recommend this option over flying and we love taking this trip.
Again I would recommend purchasing as much in advance as possible – ticket prices rise the closer to the departure date you book.
Book your Eurostar ticket here
Read more – Complete Guide to UK transportation & How to save money on rail travel in the UK
Car rental
If you are considering taking a road trip in the UK or just want to hire a car for one or two-day trips I recommend taking a look at our guide to driving in the UK which includes information and tips.
For car hire, we recommend comparing prices to get the best deals. Either via your regular international car hire firm or using a comparison site such as Discover Cars which compares prices, offers free cancellation (read t's & c's) and shares tips about what to look for to find a great car rental deal.
Tickets for major attractions, events and experiences
If you are planning to visit some of the most popular attractions during your trip I highly recommend booking ahead.
The queues can be very long particularly during the main tourist months in the UK. If you purchase your tickets prior to arriving you will not only be guaranteed entry but spend less time waiting to get in and have more time to enjoy your holiday.
I have provided links below so you can price up to and/or buy your tickets. If you are planning to visit a lot of the main tourist attractions in London it may be cost-effective to purchase a London Pass.
Read more about the different passes available for London and whether they are worth it for you in my in-depth article (coming soon)
Find out more about how to purchase tickets for popular London attractions.
The London Eye
Click here to find out prices and availability for tickets for the London Eye
Professional Photographer
Book a professional photographer for a photoshoot in London and take home some fantastic memories of your vacation.
Book a photoshoot with Scalens Studio here – use the code UKTP10 and get 10 extra images for free!
Harry Potter Studios
Click here to find out prices and availability for tickets for Harry Potter Studios
Best UK day tours
These are the companies I recommend for all your tour requirements. We personally use these companies when we travel.
Get Your Guide has a comprehensive range of tours to choose from. They guarantee the best prices and have (on most tours) a generous free cancellation policy.
As an aggregator, they offer a huge selection of tours. You can find the name of the company providing the tour at the bottom of the page and check out reviews before you book.
Click here to find tours of London and the UK with Get Your Guide
Formerly Walks of Italy you can find some excellent tours around London. As they say, their "London tours offer skip-the-line tickets to some of the city's top sights. With full-day sightseeing packages and special access to the Houses of Parliament or the British Museum, you won't be stuck for great things to do around the city."
LIV TOURS
Liv Tours motto is that they craft tours and you live them. Offering private and small group tours in London (and other European destinations) their sustainable tours range from food tours of Borough Market to tours for Harry Potter fans and more!
Liv Tours employs local guides who will "take you inside the fascinating history of Europe's most cosmopolitan city."
Offering personalised and unique tour experiences With Locals provide tours with (as you may expect)….locals!
Some of the great tours in London you can take With Locals include:
They have some excellent tours in Scotland too including:
John England Tours
If you would like to engage the services of a private driver guide for tours of South East England (with tour options including Hever Castle, Leeds Castle, and Dover Castle) we recommend John England Tours.
John is a professional tour guide who provides personalised private day tours and will ensure you have a memorable day experiencing an authentic England that many visitors miss. Click here for more information about John England Tours.
Tours by Locals
The guides on ToursByLocals provide private tours tailored to your needs. Although not the most budget-friendly option these are the creme de la creme of tours for those who want to experience something a little special.
Guides are locals with superb insight and knowledge about their areas and tours can be tailor-made for your needs and interests.
Click here to choose a guide with ToursByLocals
Rabbies
Known for their award-winning mini-coach tours of the UK and Ireland Rabbies is an excellent choice for their wide range of small group tours departing from Edinburgh, Glasgow, Inverness, Aberdeen, London, Manchester, and Dublin.
Click here to find out more about Rabbie's tours
Best package deals and multi-day tours
TourRadar is another recommended aggregator with absolutely loads of multi-day tours of the UK. If you prefer to take a tour there is sure to be something here to suit you.
Click here for tours of England
Click here for tours of Scotland
Click here for tours of England, Wales and Scotland
Intrepid are another company offering multi-day tours of the UK. Why travel with Intrepid?
They sum it up perfectly on their website – " It's simple: ultimate itineraries, perfectly sized groups, legendary local leaders, more destinations and ways to see the world, and travel that makes a positive difference."
Click here for Intrepid Tours of the UK
If you prefer your trip to be fully organised Trafalgar may be an excellent option. They have an excellent selection of tours around the UK.
Click here for Trafalgar Tours of the UK
Read more – Best UK Tours 2023
Travel essentials and services
Some additional sites to know about when planning your trip to the UK. These are all things to think about and need planning for.
Wise *
I have a Wise account and free debit Mastercard that I use for all my currency needs across the globe. Download the app on your phone and you are good to go!
Spend in any currency, receive money for free and send money around the world with your own foreign currency account.
Click here to find out about opening a free Wise account*
Travel Insurance
Don't forget travel insurance. It is an essential part of our trip budget and we never travel anywhere in the world without it.
Ensure that health costs are covered (and emergency repatriation to your country of origin) if you are ill or have an accident while in the UK.
Due to recent world events, I would recommend checking your policy for coverage related to Covid-19.
Ensure you read all the terms and conditions of your coverage prior to the purchase of any travel insurance policy.*
Companies such as Travel Insurance Master for US-based travellers and Cover-More for travellers from Australia offer travel insurance.
*Advice given in this article is general in nature and is not intended to influence readers' decisions about investing or financial products. You should always seek your own professional advice that takes into account your personal circumstances before making any financial decisions. We always encourage our readers to compare options when it comes to financial products. Read our full disclosure.
---
Happy UK travel planning
These are my recommended booking sites if you are planning a trip to the UK (or indeed planning to explore more of the country if you live in the UK)
Do bookmark the page as I will continue to update with more of the best booking sites for UK travel.
If you are planning a trip and want more advice or have questions why not pop over and join my free Facebook group? The link is below!
If you have specific questions about travelling in the UK why not join my UK and London Travel Planning Group on Facebook where you can chat with others planning their trip.
—> Click here for all the practical information and resources you need to help you plan your UK vacation