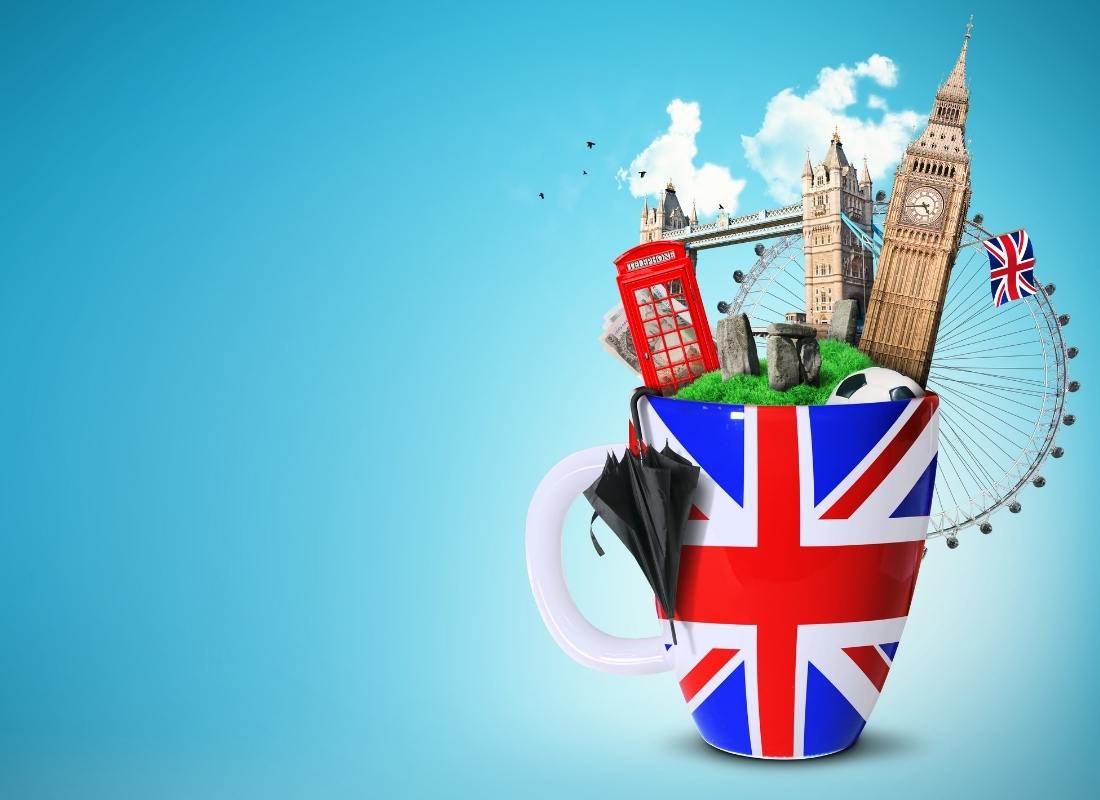 How to plan your UK Trip – A step by step guide
If you have a feeling of overwhelm when you think about planning your UK trip this article will help you – I recommend following each step below in order.
From deciding when to go, what to see, how to get around and even what to pack I will walk you through each step and make your planning process smoother and less daunting.
This post may contain compensated links meaning if you buy through them we get a small commission at no extra cost to you. Please read our full disclosure for further information. As an Amazon Associate, I earn from qualifying purchases.
10 step guide to plan your UK vacation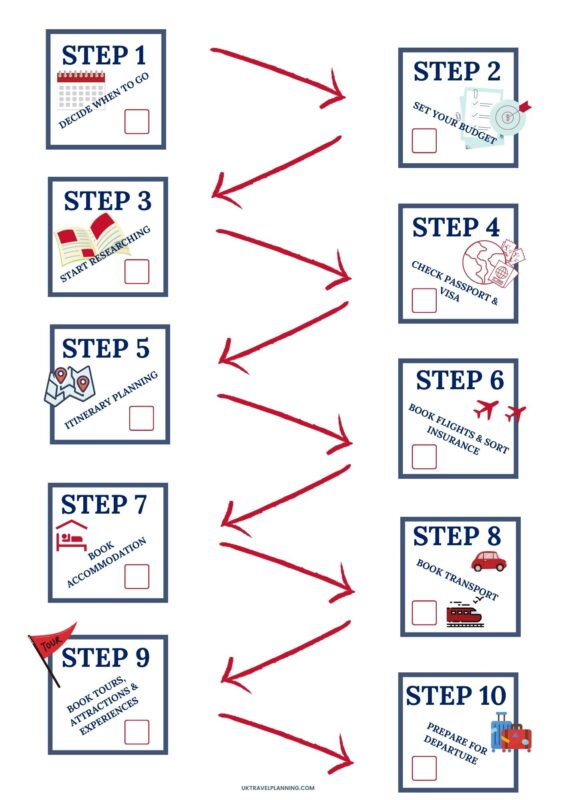 Step 1 – Decide when to visit the UK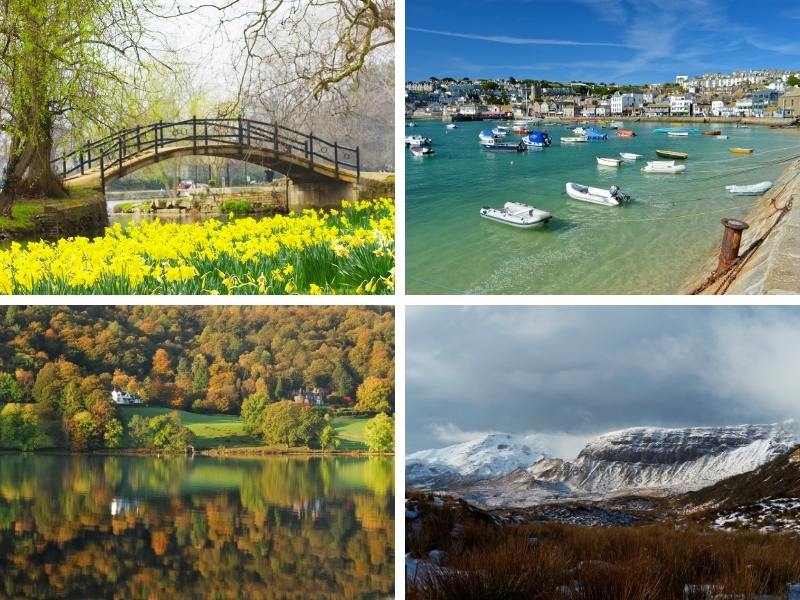 Visiting the UK is wonderful at any time of year but it is important to be aware of the possible impact of the seasons on your travel plans.
If you have set dates when you have to take your vacation it is still essential to be aware of the possible weather conditions for the time you will be in the UK.
The weather varies greatly depending on where you visit in the UK. It will be considerably colder in Scotland in winter than in London for example.Generally the further north you travel the cooler it becomes at any time of year!
The days are also shorter in winter leaving less time for sightseeing especially if you are exploring countryside areas such as the Cotswolds or the Highlands of Scotland.
Summer – June to August
This is peak tourist season and it is busy all over the UK. School holidays in July and August lead to an influx of visitors to popular seaside destinations as well as cities such as London and Edinburgh.
The hours of daylight are longer during the summer with light evenings enabling visitors to do and see more.
There are also many popular festivals and shows held during the summer months.
In Scotland midges can be a problem in the warmer months so insect repellant is recommended if you plan your trip at this time.
Whilst the weather can be warm to hot in the UK during the summer it is sensible to check the forecast, wear layers and carry an umbrella!
If you are planning to visit during this peak time it is important to book accommodation, transport, tours and tickets as soon as possible.
Autumn/Fall – September to November
Once the schools return in early September tourist destinations start to become less busy. This is a great time of year to visit Scotland and the Scottish islands particularly in the early Autumn months.
At the end of October the clocks are put back one hour and daylight hours start to dwindle.
Winter – December to February
The coldest months in the UK can herald ice and snow and freezing temperatures in Scotland and on higher ground in England and Wales.
The days are short due to reduced daylight.
This is also a time to visit Christmas markets and enjoy the build up to the festive season. London is spectacular at this time of year and very busy in the lead up to Christmas.
Spring – March to May
March can still be a chilly time of year in the UK but at the end of the month the clocks spring forward one hour and the hours of daylight begin to increase.
Daffodils, crocuses and tulips make a colourful appearance and the countryside recovers from the dark days of winter. Spring is a wonderful time to visit the UK.
School holidays over Easter can lead to an increase of visitors to popular destinations such as London, the Cotswolds and Cornwall.
The weather can be variable throughout the spring and an umbrella will probably be necessary but some warm sunny days are generally expected.
Read: When is the best time of year to visit the UK?
Step 2 – Decide on your budget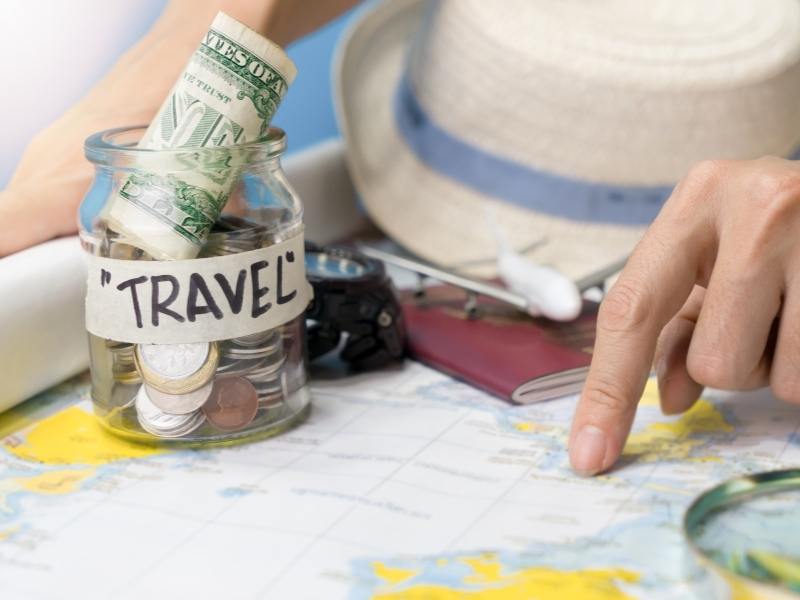 Deciding what your budget will be is an important step. It can be expensive to travel in the UK particularly if you plan to spend extended time in big cities such as London.
However there are ways to budget for your trip. Even in London there are many free attractions available to help you plan a more budget conscious trip. I recommend also weighing up the benefits of discount cards and passes to see if you can save money that way.
There are a variety of accommodation options available in the UK to suit all budgets ranging from airbnbs, hostels and B&Bs to boutique stays and luxury 5* hotels. You can find detailed accommodation guides for London, England, Scotland and Wales to help you find the best accommodation for your needs and budget.
Using public transport such as trains, coaches and buses can be cheaper than hiring a car too.
We recommend planning on an average individual daily budget (excluding airfares and accommodation) of £60 (budget) £125 (mid range) and £200+ (luxury)
This budget should cover activities, transport and food.
Read – How much does it cost to visit the UK? UK budget planning guide
Step 3 – Start your research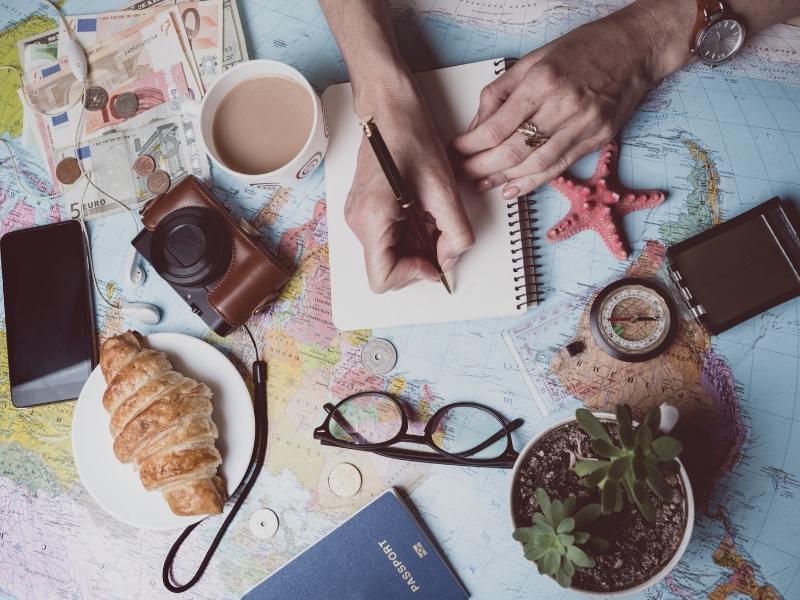 Once you have decided when you will visit, for how long and your budget the next step is to research what you want to see and do in the UK.
Considering which airport you will fly into from your country of origin may also influence your plans as well as your proposed length of stay.
This stage can be overwhelming as there is so much information available. Using our website to identify which areas, cities and places match your interests is a great way to start.
Also pop over to our Facebook group UK and London Travel Planning and join thousands of others planning their trip. It is the perfect place to ask questions and discuss plans with other travelers visiting the UK.
You can find inspiration in this selection of the best UK travel guide books available (includes city, region and country guide books)
Step 4 – Check your passport and any visa requirements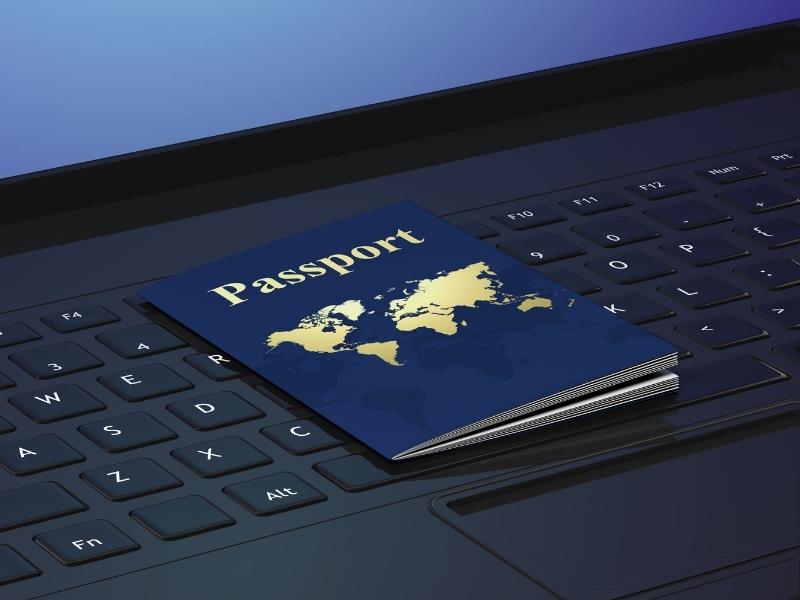 Citizens of the US, Canada, Australia and New Zealand can stay in the UK visa free for the purposes of tourism for up to 6 months (at the time of publishing this article)
This situation could change at any time so please check with your local foreign office for the latest advice about travel to the UK.
United States – click here
Canada – click here
Australia – click here
New Zealand – click here
Due to changing regulations on the 1st January 2021 (because of Brexit) citizens of the EU, EEA or Switzerland should check the official UK government website to check the situation prior to travel.
All visitors to the UK require 6 months validity remaining on their passport so check in case you need to get a new passport.
We recommend iVisa for all your visa requirements. Save time with their easy traveller friendly application process. Their visa specialists are available 24/7 to help wherever you are in the world. Click here to find out more about how iVisa can help you.
Step 5 – Where to go (Itinerary planning)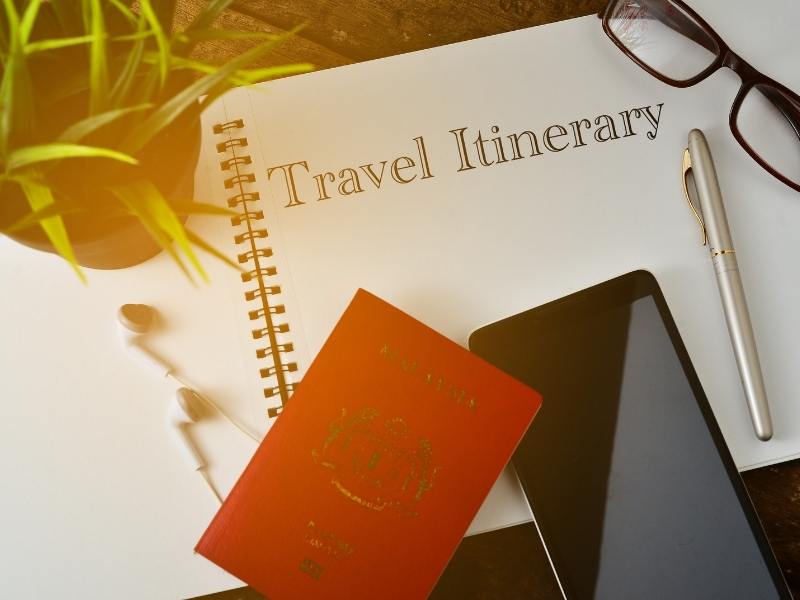 Planning your itinerary
This can be the hardest part of planning any trip. With so many wonderful destinations in the UK to choose from it can be overwhelming when you have to decide which to see and which to leave out.
It is easy to include too many places and end up exhausted at the end of your trip so do think carefully about travel times and distance and just how exhausting a packed schedule can be.
Questions regularly asked in my UK and London Travel Planning Facebook group include:
How much can I fit into my limited vacation time?
What are the must-sees in London?
What are the must-sees in the rest of the UK?
How can I put together an itinerary to include all the things I want to see?
How long do I need in London, the Cotswolds, Bath, Scotland etc?
How can I do all of this without feeling exhausted at the end of my holiday?
There are many articles on this website to help you to prioritise and plan your itinerary and even suggested itineraries you can follow or adapt.
In STEP 1 you will have decided when and for how long you will be in the UK so that gives you a baseline upon which to build your itinerary.
In STEP 8 we will look at transportation around the UK in more depth but it is worth considering at this stage whether you prefer to hire a car, take public transportation, join organised tours to areas of interest or perhaps using all three.
In London I highly recommend that you use public transport or a taxi to get around the city and do not hire a car. It is expensive, there is limited parking in central London and you will spend most of your time in a traffic jam! You can read my guide to using London transport here.
Many places are easily reached by train (see our top 10 UK train trips or our 14 day best of Britain rail itinerary) including the major cities. However the train has its limitations particularly if you plan to access rural areas such as the Cotswolds, Cornwall, the Jurassic Coast and the Highlands of Scotland this is best done on a road trip or by taking a tour.
This doesn't mean excluding them from your itinerary but consider carefully the locations of your chosen destinations and the best ways to get to (and around) them.
You will find information in all my city and area specific travel guides about the transport options to each destination as well as must-sees, itinerary suggestions and recommended time to spend there.
So what are the popular places visitors want to see when in the UK?
Popular destinations in England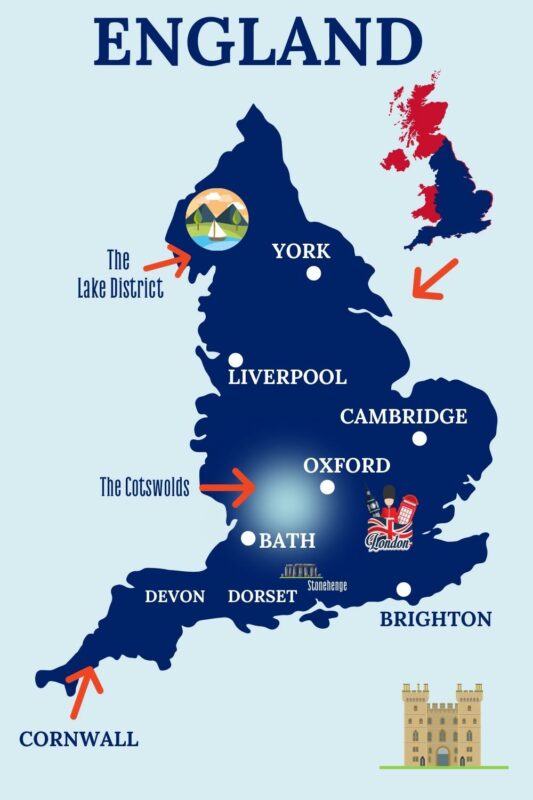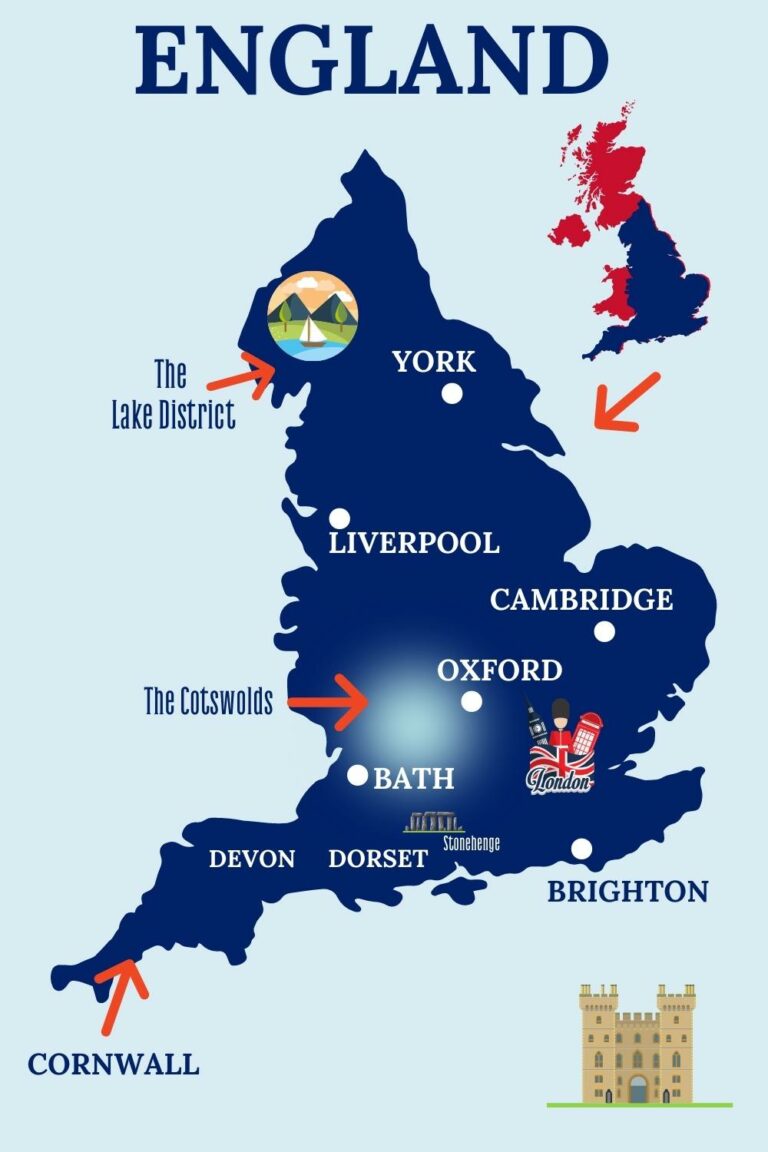 The Cotswolds – although you can visit the Cotswolds on a day trip from Bath or London I recommend at least 2/3 days to fully explore this beautiful region.
York – this historic city is the perfect stop for those traveling between London and Edinburgh.
Brighton – visit this English coastal city on a day trip from London and enjoy exploring its famous Pavilion, independent shops and pier.
The Lake District – perfect for nature lovers, walkers and those seeking to experience the best of the British countryside
An English castle – most visitors to the UK want to visit at least 1 castle (or even spend the night in one)
Read more – England Travel Guide
Popular destinations in Scotland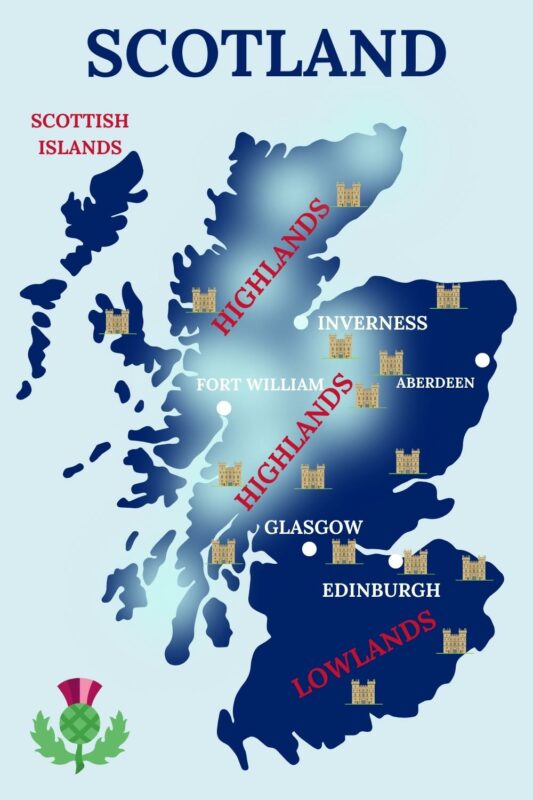 Edinburgh – popular with visitors for its history, architecture, culture and castle Edinburgh is the perfect Scottish destination for first time visitors to the country.
Scottish Islands – offering stunning scenery, wildlife, culture and history choosing which of the islands to include in your itinerary is the first step.
Scottish Highlands – beautiful scenery, landscapes, wildlife and experiences await in the Highlands. This is an entire holiday of its own so think carefully if this is an area you wish to visit – either plan a driving holiday or base yourself in one or two cities and take day trips.
Explore a Scottish castle – with so many beautiful castles in Scotland most visitors include at least one or two in their itinerary.
Read more – Scotland Travel Guide
Popular destinations in Wales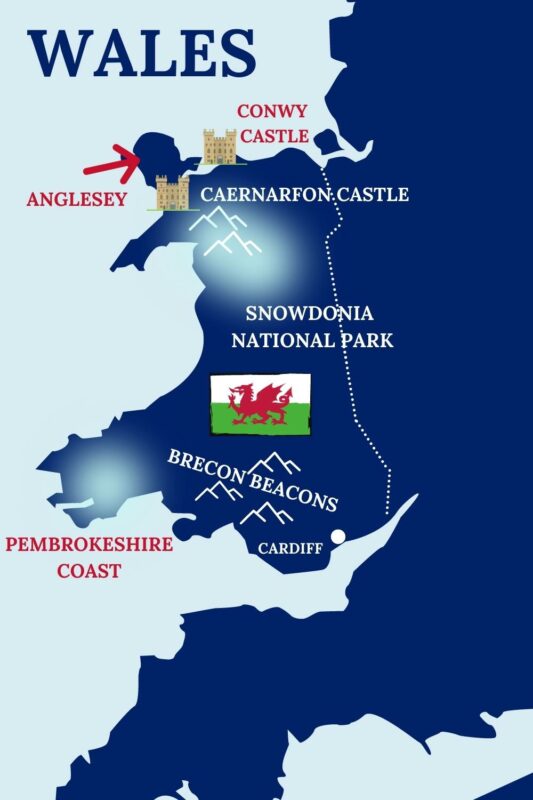 National Parks such as Snowdonia and Pembrokeshire are popular with nature lovers, walkers, climbers and adventurers.
Castles including Caernarfon and Conwy are popular with visitors to Wales.
Read more – Wales Travel Guide
Looking for a good map to help plan your itinerary?
Read more – Best travels books and maps for planning your UK trip
Itinerary suggestions
As I mentioned previously I highly recommend thinking carefully about your priorities and interests. It is very easy to over plan and try to fit in too much.
Spending a few days in London can be exhausting in itself. If you plan to take a road or rail trip around the UK I recommend 3 days per destination (but consider traveling time and distances)
It is possible to base yourself in London and take tours or day trips to nearby cities and areas of interest, plan a road trip around the UK or even a train travel itinerary which incorporates your areas of interest but what you can fit in will depend greatly on the length of your trip.
If you have 7 days I would recommend 3/4 days in London followed by 4 days to explore areas in the south of England such as the Cotswolds, Bath, Stonehenge and Oxford.
If you have 10 to 14 days (or longer) for a road trip or train trip it is possible to include many of the popular destinations throughout England, Scotland and Wales in your itinerary.
These are just a couple of examples of possible itineraries!
Highlights of Scotland – Edinburgh -> Kelpies -> Glasgow -> Loch Lomond & Trossachs National Park & Glencoe -> Glenfinnan -> Isle of Skye -> Inverness -> Loch Ness -> Pitlochry -> Edinburgh
Grand tour of England, Scotland Ireland and Wales – London -> Cambridge -> York -> Durham -> Alnwick -> Edinburgh ->Inverness -> Loch Ness -> Glasgow -> Belfast -> Dublin -> Caernarfon -> Liverpool -> Stratford -> Oxford -> London
England, Scotland and Wales – London -> York -> Edinburgh -> Glasgow -> Liverpool -> Cardiff -> Bath -> Stonehenge -> Cotswolds -> Oxford -> London
The ideal place to discuss your proposed itinerary is in our free UK and London Travel Planning Facebook Group – pop over, have a chat and find out other travellers experiences exploring the UK.
Consider booking an organised group tour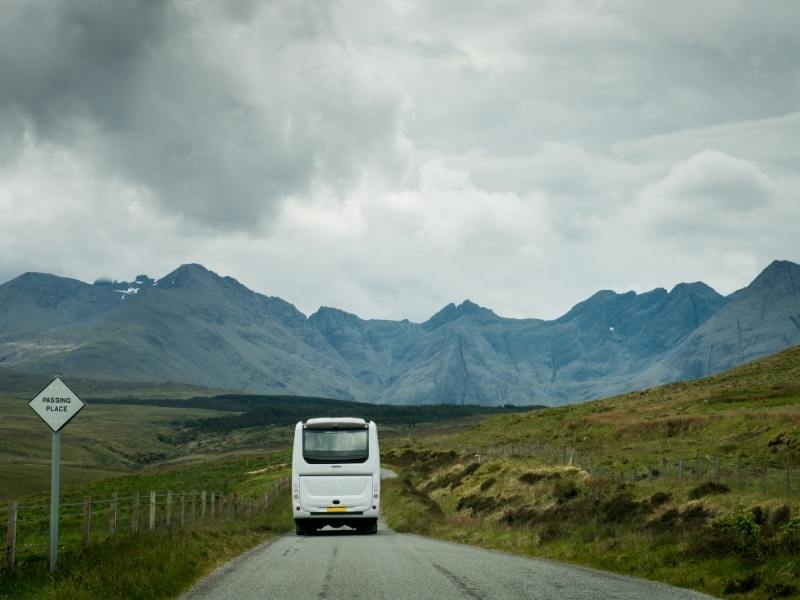 If you prefer to avoid the stress of planning your own trip there is always the option to book a packaged group tour of the UK.
There are a number of tour companies which offer tours around the UK including Trafalgar, Intrepid and Tourradar.
Good to know – Many tours also incorporate Ireland in their itineraries so if you were considering a visit to the Emerald Isle you will find many combined tour options.
Read more – Best UK tours 2021/2 – Comparison and itinerary guide
Tourradar
A great place to start Tourradar is a market place for tours. Use the filter option to sort tours by date, travel styles, maximum group size, ages, and interests and check out reviews so you can pick the ideal tour for your needs.
This 11 day Best of Britain tour covers 25 destinations across England, Scotland and Wales and includes accommodation, an expert guide, meals, transport and more.
Click here for more UK tours from Tourradar
Intrepid Travel
Intrepid are a popular choice for those seeking a small group tour with a focus on discovering a region's people and culture. Many of their UK tours have an active focus – cycling or walking.
They have several tour styles available ranging from Basix to Comfort.
Tours with Intrepid include this 5 day tour of the Orkneys in Scotland, a 7 day walk along Hadrian's Wall in Northern England and a 4 day cycle tour of the Lake District.
Click here for the full range of UK tours from Intrepid
Trafalgar
Trafalgar are a well known and respected brand who have been in business since 1947. Their coach tours appeal to the 50+ age bracket with an interest in culture and history.
7 day Best of Scotland tour includes Edinburgh Castle, Pitlochry, the Isle of Skye, Glagow Cathedral, Culloden Battlefield and Stirling Castle.
6 day tour of Real Britain includes Medieval castles and the inspiring beauty of the Lake District, York, Edinburgh and Stratford upon Avon.
Click here for more tours of Britain and Ireland from Trafalgar
Rabbies
Rabbies offer small group tours of England, Scotland, Wales and Ireland with no more than 16 people to a tour. They offer guaranteed departures so you know once you book you will go!
Their tours vary in length from day trips to up to 17 days and they have a wide selection of family friendly tours to choose from.
These are a selection of some of the great tours on offer
> You will find more small group tour options from Rabbies here
Step 6 – Book flights and organise travel insurance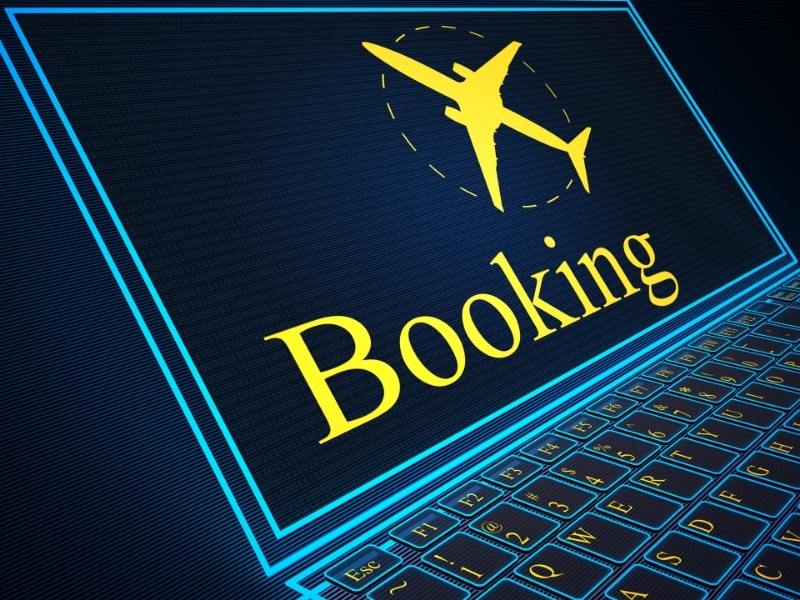 Next step is planning how you will get to the UK. If you are in North America, Asia, Africa or Australia/New Zealand the answer is generally by air. (Unless the UK is the start or end point for a cruise or you are travelling overland by train or bus)
Flying to the UK
There are 15 major airports in the UK including Heathrow airport, London Gatwick, Birmingham, Luton, Edinburgh and Manchester.
To find the best flight deals to the UK I recommend using Skyscanner or CheapOair to get a good comparison of all available options (prices and routes)
Skyscanner is useful if you are searching for various route options and the cheapest dates to travel. Set up an email alert if prices change.
CheapOair is best for deals on first and business class travel.
Other inbound transport options (bus/ferry/Eurostar)
If you are entering the UK from mainland Europe there are a number of other transport options available including taking a ferry, bus or the Eurostar.
The Eurostar departs from Paris, Amsterdam and Brussels with some stops at other regional cities along the way with the final destination at St Pancras International Station in London.
The Eurostar is a quick, easy and comfortable way to travel between London and major European cities such as Paris and Brussels where onward high speed connections will transport you all across the continent.
You can even pop over to Paris from London on a day trip if you plan carefully!
Click to read our complete guide to booking and travelling on the Eurostar.
Read – Best booking sites for UK travel
Travel Insurance
At this point (with a tour or flight booked) I highly recommend taking out travel insurance.
I learnt this the hard way after booking pricy plane tickets and waiting to pay for travel insurance. A few weeks before we were due to fly my husband was admitted to hospital and though recovered in time for our trip it tripled our insurance costs which also then excluded his medical condition. Now I pay for the insurance as soon as my flights are paid for!
Due to the impact of the pandemic it is vital to check the terms and conditions of any cover you are considering. Ensure that general health cover and repatriation is included and check what cover is provided for any Covid-19 related issues (health/cancellation/delays etc)
We use World Nomads Insurance as it is quick and easy to buy a policy and make a claim. You can get a quick no obligation quote for them here.
Step 7 – Book accommodation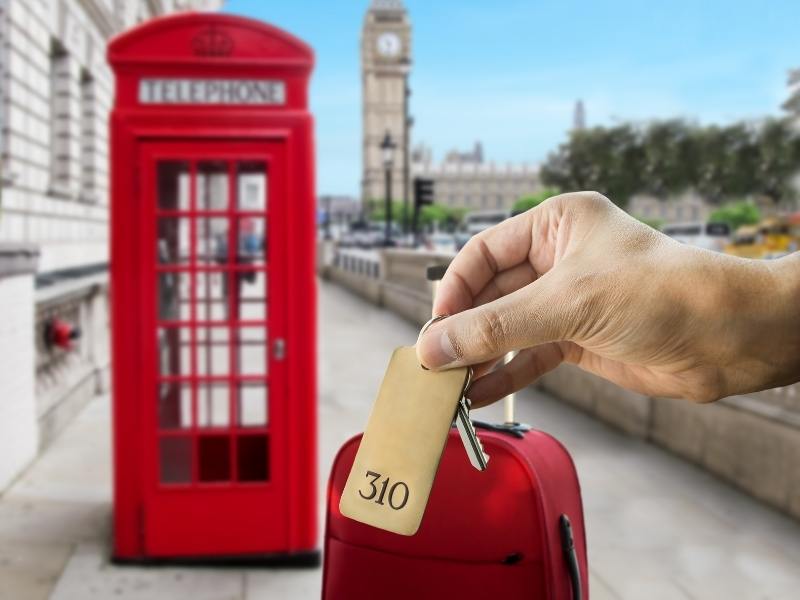 There are a huge range of accommodation options available in the UK to suit all travel budgets and styles including airbnbs, hotels, B&Bs, cottages and even castles!
We recommend using booking.com for your hotel and apartment accommodation. It is the site we use for our own trips all over the world. The site is easy to use and we find the option to book with free cancellation up to 24 hours in advance of a stay an absolute essential. It may cost slightly more but for peace of mind it is invaluable.
Airbnb is another great site to check for accommodation across the UK. Offering many unusual, quirky and unique choices such as cosy Cotswold cottages, log cabins in the Lake District and castles in Scotland as well as more budget friendly London accommodation options.
You will find your perfect accommodation in my guides
Step 8 – Book transport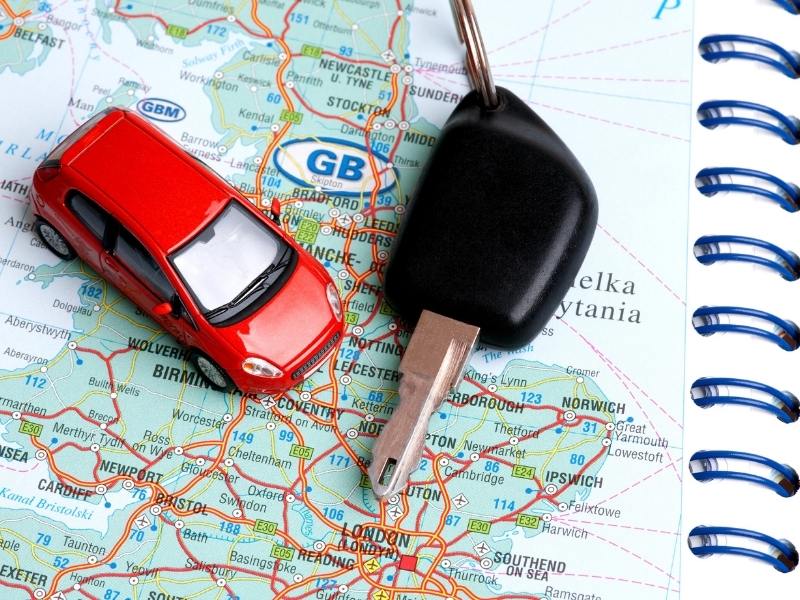 There are a number of options for getting around the UK including by train, car, bus, internal flights and ferry. In Step 5 you will have identified how you will get around London and the UK so now is the time to book!
How to get around London
If you are arriving into a London airport you will need to know a little about London transport options and the Oyster Card so you are prepared.
I would recommend that you avoid driving in London if you can. London is a busy, congested capital city that is best traveled by foot, cab and public transport.
Consider purchasing a Visitor Oyster Card which can be used to access public transport in the capital. You can also purchase the Visitor Oyster Card as part of your London Pass.
Read more in my full guide to getting around London using public transport.
How to get around the UK
Driving in the UK
Hiring a car and taking some road trips around the UK is an option. If you do plan to hire a car don't forget that you will need your full licence and ID such as a passport (if your licence was not issued in English you will need an international driving permit)
If you decide to drive there are some important points to remember:
Drive on the left side of the road.
Most cars are manual (automatics are more expensive to hire)
Everyone in the vehicle is required by law to wear a seat belt.
"Gas" stations are called petrol stations and the fuel for you car will either be petrol or diesel. It is important to know which fuel type your hire car requires. We have had friends fill up with the wrong fuel and it was a costly mistake. Petrol is expensive in the UK compared to many other countries around the world so factor this into your budget.
Roundabouts are common in the UK – give way to traffic on the roundabout which will be approaching from the right.
It is illegal to use a cell phone when driving in the UK.
Pay attention to speed limits. Speed cameras are common in the UK and you will be fined if found to be above the limit.
Children under 12 (or 135 m tall) must use a child car seat.
If you are traveling to the UK and plan to hire a car I would recommend comparing prices before booking – you can compare prices from all major car hire companies with Rentalcars.com
Train travel in the UK
My own personal choice is to travel by train in the UK when possible. It is fairly easy to travel by train between major cities but can become trickier to travel around rural areas such as the Cotswolds, Scottish Highlands, Jurassic Coast etc without a car.
If you enjoy train travel there are many beautiful scenic rail journeys to take in the UK. There are also some sleeper train services such as the Caledonian Sleeper which are an adventure in themselves.
For more information read our comprehensive guide to travelling the UK by train which was written by my husband who worked in the UK rail industry for 25 years.
Fast speed services between London and some major cities:
London to Birmingham – 1 1/2 hours
London to Manchester – 2 hours
London to Edinburgh – 4 1/2 hours
London to Cardiff – 2 hours
I recommend The Trainline for tickets for trains, buses or flights in the UK.
By coach or bus
If you are travelling on a budget the cheapest way to travel the UK will be by coach though your journey time will be longer.
The largest company is National Express whose network serves over 1200 destinations. You can check prices and timetables for National Express via the TrainLine which also provides a handy comparison between coach and train times and prices.
Take an Internal flight
If you are really pushed for time flying may be an option. It is important to calculate how long you need to be at the airport before your flight (at least 2 hours with checked baggage and 1 hour without) plus the time to get to and from airports at either end.
Check on Skyscanner for routes and prices.
Ferries
If you plan to visit the Scottish Islands, the Isle of Man, the Channel Islands, the Isle of Wight, the Scilly Isles, and Ireland you will need to take a ferry (though flights may also be an option)
There are many ferry companies in Scotland but the main two are CalMac (for the Inner and Outer Hebrides) and Northlink Ferries (Orkneys and Shetland) If you are planning a road trip around Scottish Islands it is important to book in advance due to limited capacity.
Tickets can be purchased for ferry routes across the UK from Direct Ferries
Ferries to Ireland from the UK are as follows
Wales – Fishguard to Rosslare and Holyhead to Dublin
England – Liverpool to Belfast and Liverpool to Dublin
Scotland – Caimryan to Belfast
> Read more in our complete guide to transportation in the UK
Step 9 – Book attractions, tours and activities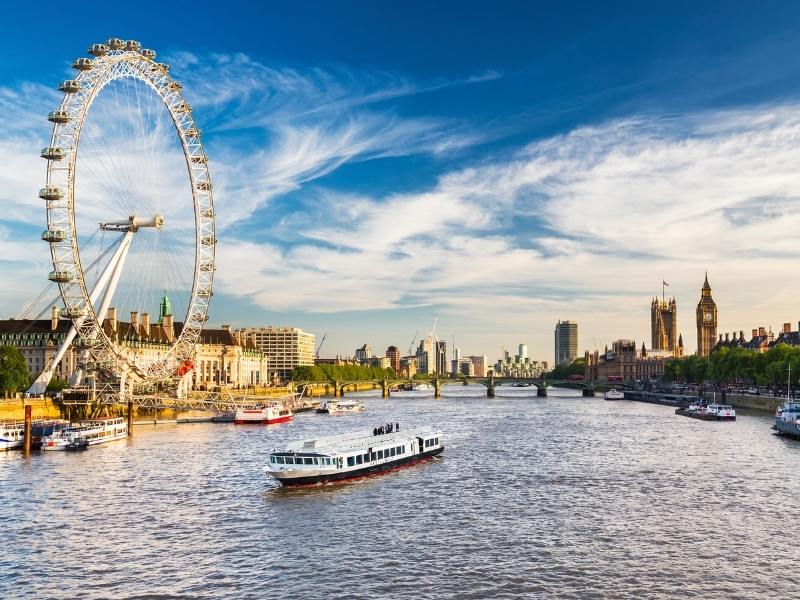 Once you have firmed up your itinerary I recommend booking tickets for any attractions, tours, activities and experiences. This is particularly important during peak seasons for popular attractions such as the Tower of London, London Eye, Churchill's War Rooms in London, the Roman Baths in Bath, Stonehenge, and the Jacobite Steam Train in Scotland for example.
I recommend purchasing skip the line tickets during the summer months so as to avoid standing in long queues. Note – at present due to Covid restrictions if a venue is open it is necessary to pre-book tickets and arrival time slots as visitor numbers are limited.
There are a number of city and attractions passes available for the UK which may be cost effective if you are planning to visit many of the most popular sights and attractions.
London
I recommend listing the cost of each attraction you want to visit in London and comparing the amount to the cost of one of these London Passes.
There are a number of passes available in London including the classic London Pass with access to more than 80 of London's top attractions, tours, and museums as well as a hop-on hop-off bus ticket and the Go London Explorer Pass which allows you to create your own tour of London with a pass to 2, 3, 4, 5 or 7 top attractions.
The More London for Less 5 Attractions Pass covers Madame Tussauds London, the SEA LIFE London Aquarium, The London Dungeon, DreamWorks Tours: Shrek's Adventure! London, and The London Eye all on 1 great value ticket.
The Royal Museums Greenwich Day Pass includes the entrance fee to the Royal Observatory and Cutty Sark, a free audio guide at both attractions and access to The National Maritime Museum & The Queen's House.
The Three Palace Royal Pass includes entry to Tower of London, Hampton Court and Kensington Palace.
With so many passes to choose from it can be confusing – read my comparison guide to London Passes to help you choose the best one for your needs and interests.
English Heritage Overseas Visitor Pass (not available to UK residents)
The English Heritage Pass entitles unlimited access to more than 100 of the most important places in English history including castles, abbeys, Roman ruins and prehistoric monuments.
Heritage sites included in this pass are Dover Castle, Stonehenge and Hadrian's Wall.
The pass is valid for 9 or 16 consecutive days.
City Passes
York City Pass – This pass is valid for one or two full days of sightseeing and gives your entry to 25 attractions in York.
Click here for more tours and attractions in York with Get Your Guide
Day tours
I highly recommend taking some day tours when you are exploring the UK. It is the best way to learn about the places you are visiting as tour guides are always keen to share their knowledge of the history and culture.
Walking tours are also a great way to get your bearings especially of larger cities such as London. There are lots of fantastic group tours (or private tours if your prefer) available for many popular destinations across the UK.
I recommend the following group tour companies:
Take Walks – Take Walks offer a selection of small group tours in London including VIP access to the British Museum, a VIP tour of the Tower of London and tours of the Houses of Parliament. Their London in a Day Tour is very popular and includes the Tower of London Tour, Westminster Abbey & Changing of the Guards plus a Thames cruise. Find out more about Take Walks London tours here.
With Locals – Offer private tours with…locals! All of their tours are private, personalised and with the local of your choice. This is a great tour to take if you want to learn about a place from a local perspective. Find out more about With Locals here
Get Your Guide are a platform that gathers the best activities across the globe in one place which means that they have tons of amazing day trips to choose from all over London and the UK. With free cancellation on most of their tours up to 24 hours before departure they are my go-to for larger group tours and tickets. Click here find more day tour options in the UK!
Activities and experiences
There are some fantastic experiences waiting for you in the UK from attending a football match to baking scones in the Cotswolds there is something for all the family to enjoy including
For more memorable activities to add into your itinerary take a look at Get Your Guide
Step 10 – Prepare for departure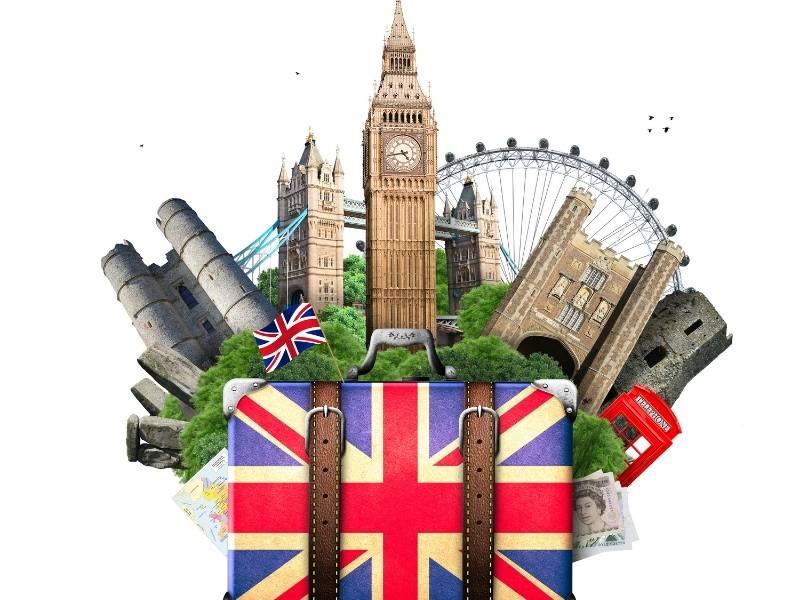 Book Airport transfers
It is important to know how you will get from the airport to your accommodation and book transfers ahead of time.
There is nothing worse than arriving jet-lagged and feeling disorientated in an unfamiliar environment.
If you are flying into one of London's major airports (Heathrow or Gatwick) there are a number of options open to you including taking the train, bus or (the more expensive) taxi.
Approximate times to travel from each airport by train into central London are:
Heathrow – 45 minutes
Gatwick – 45 minutes
City Airport – 30 minutes
Luton – 40 minutes
Stansted – 50 minutes
If however you prefer to avoid negotiating the London Underground with your luggage pre-booking a private or shared transfer will perhaps be the less stressful option.
Read more – How to get into London from Heathrow Airport
Plan how you will access the internet
You will find many places offer free WiFi in the UK including shopping centres, coffee shops and on trains. When booking your accommodation check if free WiFi is included.
If you have an unlocked smart phone consider purchasing a SIM card prior to departure or on arrival at the airport. Another great option is to purchase a portable WiFi device such as the Solis from Skyroam. Quote Tracys Travels at the checkout for a 15% discount.
Read more – How to access the Internet while travelling in the UK
Money matters
The UK currency is the Pound Stirling – £
You will find ATM's all around the UK if you need to withdraw cash though be mindful of currency charges and fees.
Visa and Mastercard are accepted in most places (shops, restaurants, transport etc)
There are 1p 2p 5p 10p 50p £1 £2 and £5 coins as well as notes in the following denominations – £5, £10, £20, £50 and £100.
Contactless transactions are available up to a £30 value (after a number of taps you will be required to enter your pin number so ensure you know what it is!) Ensure you have told your bank of your travel plans prior to departure to prevent them blocking your card for suspicious usage!
I do recommend carrying some cash. I usually keep £50 worth of notes and change in my wallet.
I have a Wise account (formally Transferwise) and Wise Mastercard which I use as well as my normal credit cards when I am in the UK. The Wise Mastercard works like a debit card and can be loaded up with your home currency and converted into £££'s when required.
It avoids the charges you would incur using credit cards or your normal bank debit card and is an easy way to handle spending money when traveling.
The exchange rate is excellent and and you can hold a number of currencies on your card. At the end of the trip you can transfer any unused currency back into your bank account.
Click here for more information about the Wise card
Check medical supplies
If you need to take prescription medications with you on holiday make sure you have enough for the duration of your trip.
If necessary keep a copy of the script with you too in case of an emergency.
I recommend keeping essential medicines in your hand luggage. Although it is rare these days there are still cases of luggage going missing and arriving a few days late (or not at all)
Click to buy – UK Trip Travel Planner the perfect resource to organise and track your itinerary
Start packing!
We start packing a few days before our flight just to make sure we have everything and give us time to purchase any last minute necessities.
Also consider carefully the type and amount of luggage you plan to bring. If you are travelling by public transport it will be a little a lot more difficult with lots of large suitcases.
Check out my recommended packing list for the UK (for all seasons) which will provide an idea of what to bring as well as recommendations for suitcases and travel bags.
Essentials for your UK packing list include the following items
Read more – Complete packing list for London and the UK (all seasons)
Suggested timeline for planning your Uk trip
This is my suggested timeline for planning and booking your UK travel itinerary.
6 – 12 months in advance
Book International flights
Take out travel insurance
Book accommodation (for popular destinations if you are visiting during peak times)
3 – 6 months in advance
Book transport (car hire/ train tickets are available 3 months prior)
Consider booking attractions and tours (especially if travel is during peak season)
1 month in advance
Book attractions and tours
Buy an Oyster card for London (posted to your home address)
Buy a Sim card or wifi device for internet access
Purchase any essential items such as travel adaptors now
Complete travel planner with all booking information, numbers and essential information.
1 day in advance
Email or provide hard copies of your itinerary to family members/friends
Start planning your UK trip – step by step
My step by step guide may have given you lots to think about but if you follow each of the 10 steps you will find the process easier and less overwhelming.
My guide to the best booking sites for UK travel also contains useful links and information which compliments and adds to this post.
Why not pop over and join my Facebook community and discover more inspiration, tips and advice to make the most of your UK holiday.
If you have specific questions about a destination in the UK or want to discuss your itinerary, have any other questions, comments or simply want to chat about UK travel why not join my UK and London Travel Planning Group on Facebook where you can meet others planning their trip.
UK Travel Planner
Available soon!
The UK Travel Planner is the perfect resource to organize and track your itinerary.
Its 37 pages include pre-travel checklists, pages for essential destination information such as hotel reservations and bookings, a packing list, budget tracking sheets, important contact numbers and addresses, tour information, flight information, car hire, train travel planner, daily travel memories as well as at a glance pages for weekly and daily itineraries.
Available to download and print off or to use as an editable planner on your laptop or iPad this is the ideal tool to reduce stress and stay organised both before and during your trip.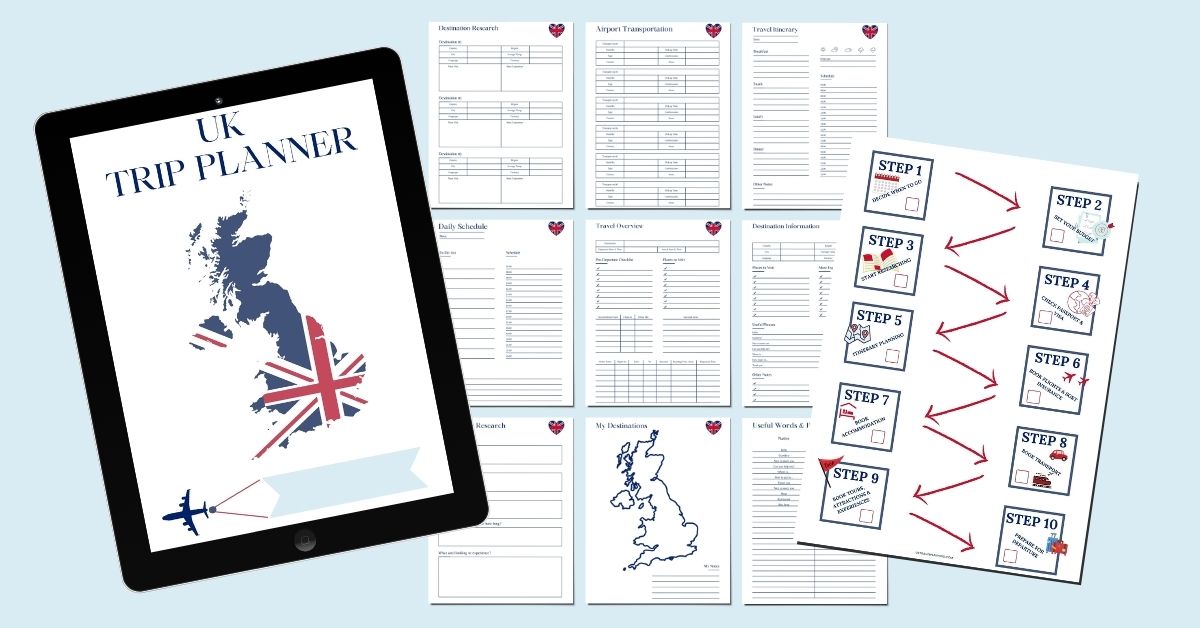 Related Reading