Visiting London and want to include some of London's best markets in your itinerary? Unsure which of the many London markets to choose? In this article discover the highlights of the most popular and very best London markets for first-time visitors plus the logistics to help you plan your visit.
London is nothing short of a shoppers' paradise, offering opportunities for all budgets and tastes. From high-end designer boutiques to trendy markets selling artisanal goods, there's something for everyone in the city.
Some of the best London markets are world famous for the quality and range of their goods. So whether you're looking for vintage clothes, fresh produce, handmade jewellery, bric a brac, antiques, street food, stalls selling handmade crafts and more, London is the place to be.
This article will take you through 9 of the best London markets including information about what each sells, where they are located and the best times to visit. From the best food markets in London or finding a flea market in London to visiting the biggest market in London, this guide has you covered.
So read on and get ready to shop till you drop!

9 of the best London markets
Borough Market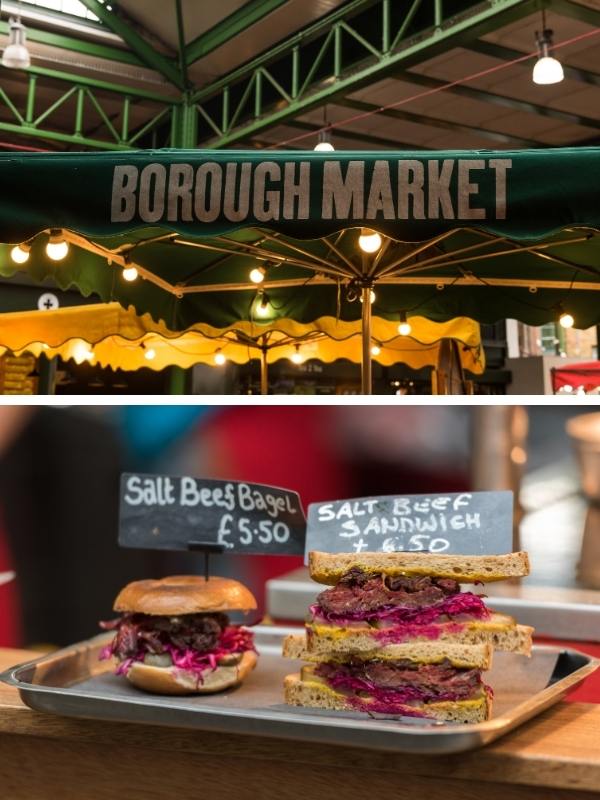 What to buy: High quality, sustainable food
Where: 8 Southwark St, London SE1 1TL (Closest tube: London Bridge)
When: Mon-Fri 10:00-17:00; Sat 08:00 – 17:00; Sun 10:00 – 15:00
Operating since 1756, Borough Market has been feeding hungry Londoners for centuries and is today the most famous food market in London. It often features in movies or on TV, and is packed with stalls and places to eat.
The market is easy to get to and is open daily, and is a favourite foodie destination for its restaurants as well as the food stalls you can buy picnic fare from. This is our recommended list of the top places to eat at Borough Market – or simply following your nose and see where it takes you isn't a bad plan at all!
Tip – The best days to visit the market are Wednesdays to Saturdays when all the traders are open. On Mondays and Tuesdays not all the stalls are open.
Where to eat at Borough Market
This is the place for no-nonsense British favourites like a full English breakfast, bubble and squeak or a chunky burger.
Expect Asian fusion style food at BAO, including Taiwanese specialities like steamed buns and fried chicken.
For raclette or a legendary cheese toastie, Kappacasein serves up the very best, made using only the finest ingredients.
Elliott's serves up good quality grilled platters made from seasonal ingredients, washed down with natural wines.
The Borough branch serves sublime seafood, succulent steaks and cocktails within a restored warehouse on the edge of the market.
Sample cut-price oysters fresh from the sea here served with a splash of tabasco or lemon.
Arabica specialities in dishes from the Middle East, and is recommended for drinks as well as top-notch food.
Covent Garden Markets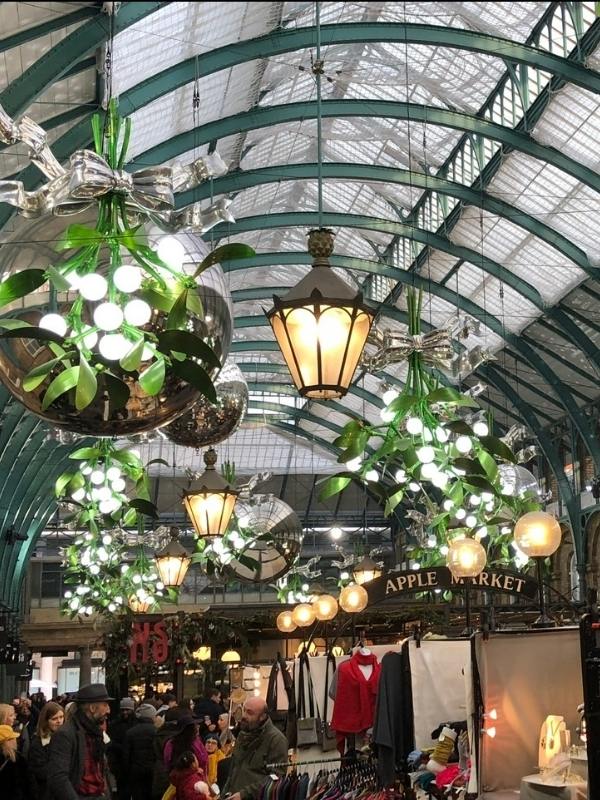 What to buy: General goods, arts & crafts, antiques, clothing & accessories
Where: 14 James Street, London WC2E 8BU (Closest tube: Covent Garden)
When: See below for each market
Covent Garden is actually home to several good markets in London, although they're all clustered together in the original market building. Each is known for a specific range of goods and has its own opening times, as follows.
The Covent Garden Markets
When: Mon-Sat 10:00-18:00; Sun 12:00-18:00
The Apple Market is so-called because it used to be a fruit and veg market. Now it specialises in items like crafts, artwork, handmade jewellery and gloriously scented soaps. If you visit on a Monday you may also find antiques.
When: Mon-Sat 10:00-18:00; Sun 12:00-18:00
East Colonnade Market is also open each day and can be one of the best clothes markets in London if you want to find hand-knitted garments for children. The market also offers homeware, handbags, jewellery, artwork, sweets and more.
When: Mon 05:00-17:00 (antiques) ; Tue-Fri 10:30-19:00 (general); Sat-Sun 10:00-18:00 (arts & crafts)
Jubilee Market changes according to the day of the week. On Mondays, it's one of the best antique markets in London, while from Tuesday to Friday it sells all sorts of general goods. At weekends it transforms into one of the top markets in London for finding unique handmade works of art, homewares and gift items.
Columbia Road Flower Market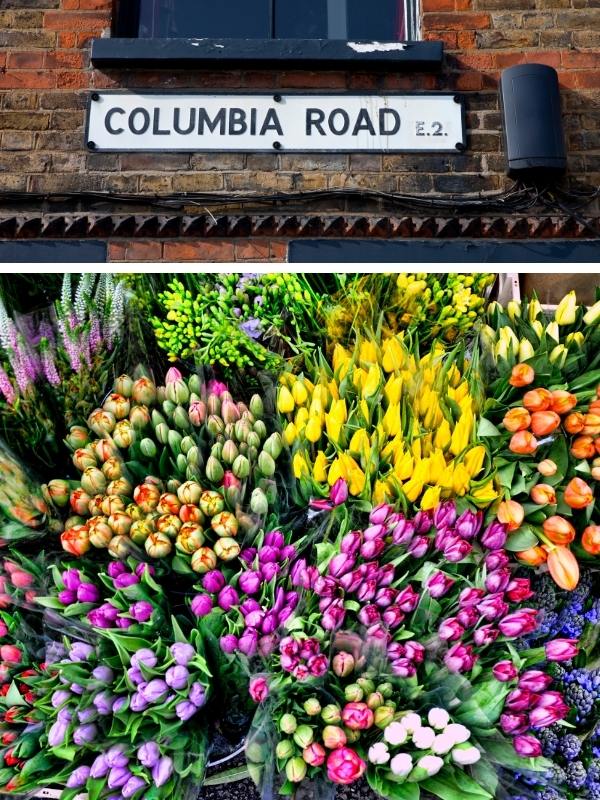 What to buy: Flowers & plants
Where: Columbia Rd, London E2 7RG (Closest tube: Old Street)
When: Sun 08:00-14:00
Columbia Road is one for early birds, beginning at 8am and closing at 2pm. It's famous as the best flower market in London and is held only on Sundays.
This is one of the best Sunday markets in London if you want to see something different, as the street lined with flowers for sale creates some colourful photo opportunities. A pleasing spectacle if you're heading east on a Sunday.
Brick Lane Market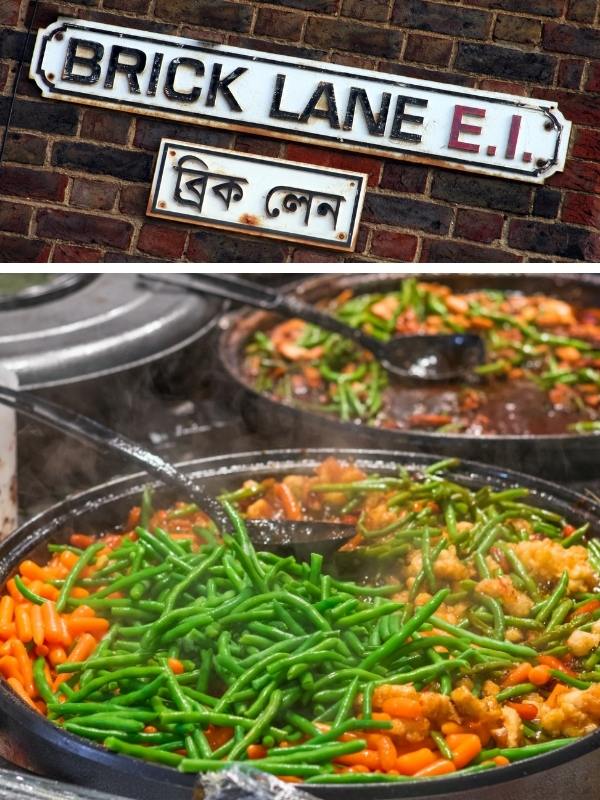 What to buy: Street food, new & vintage fashion, unique items
Where: Brick Ln, London E1 6QR (Closest tube: Aldgate East)
When: Sat 11:00-18:00; Sun 10:00-17:00
Brick Lane Market is open only at weekends, but on Saturday or Sunday it's packed with stalls selling old and new fashion items, one-off finds and street food. Some real hidden gems can be uncovered here, and some people prefer it to Camden (or vice versa).
This vibrant, multicultural part of East London is also a good place for fans of street art to explore, and is also famous for all the Asian restaurants found in the area.
For some, a visit to London isn't complete without having a curry on Brick Lane. This is also one of the top London street food markets, so the area is a firm favourite with foodies.
Camden Market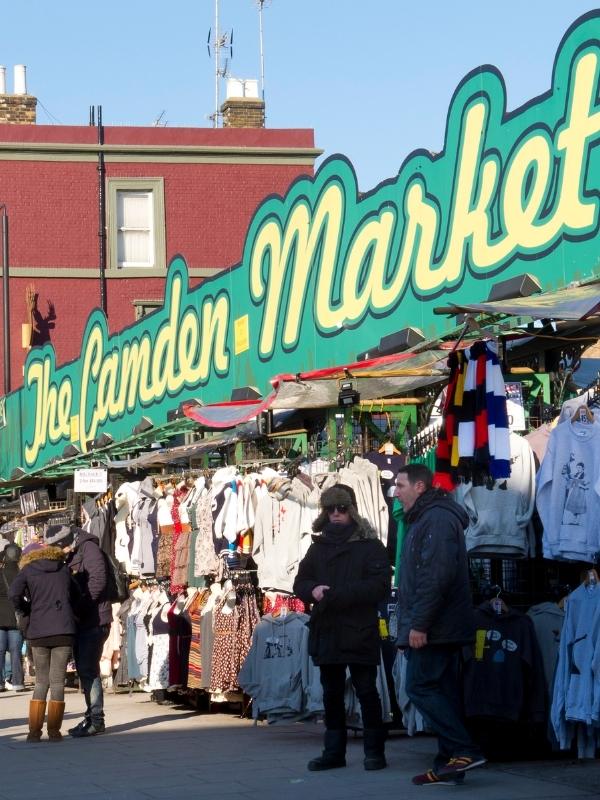 What to buy: New & vintage fashion, handmade goods, unique items
Where: 54-56 Camden Lock Pl, London NW1 8AF (Closest tubes: Camden Town or Chalk Farm Road)
When: Mon-Sun 10:00-18:00
Camden is one of the most popular markets in London and is also open every day. Located by the canal, it's a pleasant place to stroll around, especially on a sunny day.
The area has an alternative vibe and the market stalls at one of the most famous markets in London reflect this, peddling wares that include lots of handmade gifts and trinkets plus vintage clothing and accessories.
There's a whole lot more besides, including music memorabilia, antiques and an eclectic range of homeware: the only fail-safe way to find out what this market is selling at any given time is to see it for yourself!
Portobello Market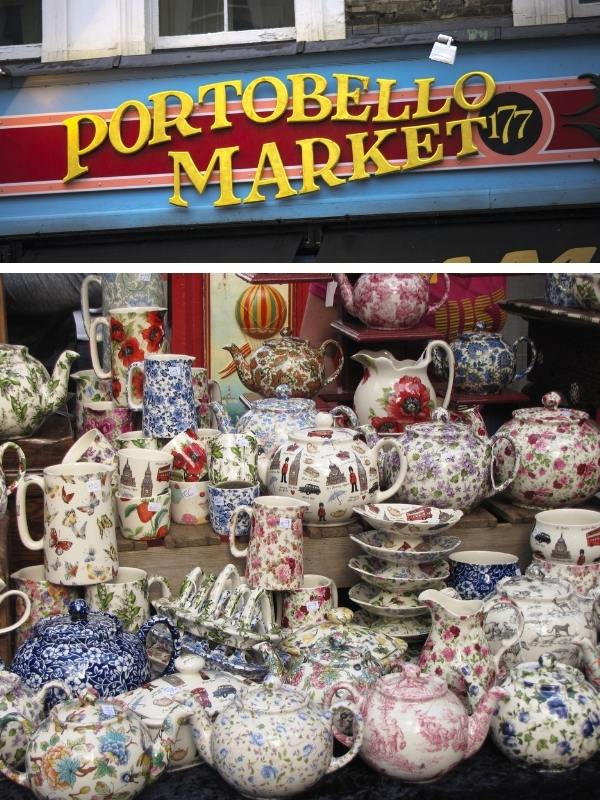 What to buy: Antiques, fashion, fruit & veg, hot food, new & preloved goods
Where: Portobello Rd, London W10 5TY (Closest tubes: Ladbroke Grove or Notting Hill Gate)
When: Mon-Wed 09:00-18:00; Thu 09:00-13:00; Fri (antiques) & Sat 09:00-19:00 (main day)
Portobello Road Market is the biggest antiques market in the world and stalls spill out into neighbouring streets as well as lining the famous road itself. You can also buy street food, fresh produce, clothing and accessories and a large range of brand new and second-hand goods there.
This is one of the best vintage markets in London, and Saturday is the ideal day to visit if you want to shop for antiques or fashion. Friday is also busy, and a good day to buy bric-a-brac, collectables, vintage clothing or antiques.
On Sundays, Portobello Green is the place to pick up preloved clothing and curios, while between Monday and Wednesday it's best for household goods and food, though there are a few new and old clothing stalls. Thursday is similar, but the market shuts up shop at 1 pm.
Greenwich Market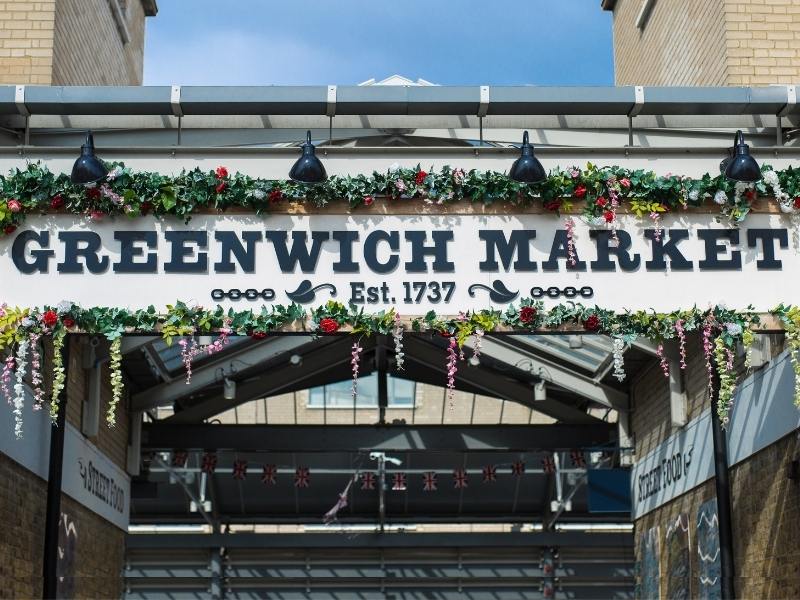 What to buy: Arts & crafts, fashion, jewellery, antiques & street food
Where: Greenwich Market, London SE10 9HZ (Closest train: Greenwich mainline )
When: Mon-Sun 10:00-17:30
Established in 1837, Greenwich Market offers a broad range of goods for sale. With over 45 food stalls it's one of the best street food markets in London, while it's also one of the best markets to visit in London for arts and crafts, fashion, jewellery and antiques.
The market is easiest to reach by mainline train, and makes an ideal place to drop by if you're visiting the O2 arena, the Cutty Sark, the National Maritime Museum or the Royal Observatory.
Read more – Best things to see and do in Greenwich (One day Greenwich itinerary)
Old Spitalfields Market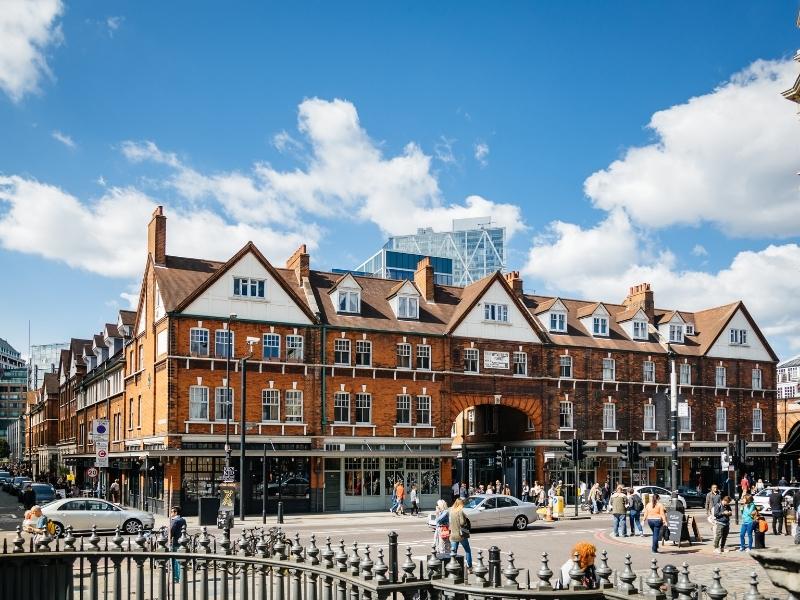 What to buy: Food & drink, clothing & accessories, unique items
Where: 16 Horner Square London, E1 6EW (Closest tubes: Liverpool Street or Aldgate East)
When: Mon, Tue, Wed & Fri 10:00-20:00; Thu 08:00-18:00; Sat 10:00-18:00; Sun 10:00-17:00
Spitalfields rivals Borough as one of the finest Saturday food markets in London, and in fact it's also open every day.
There are over 40 food and drink outlets at the market, plus an eclectic mix of 56 stalls and shops selling everything from artisan chocolates or toiletries to vintage and modern clothing and accessories.
Brixton Market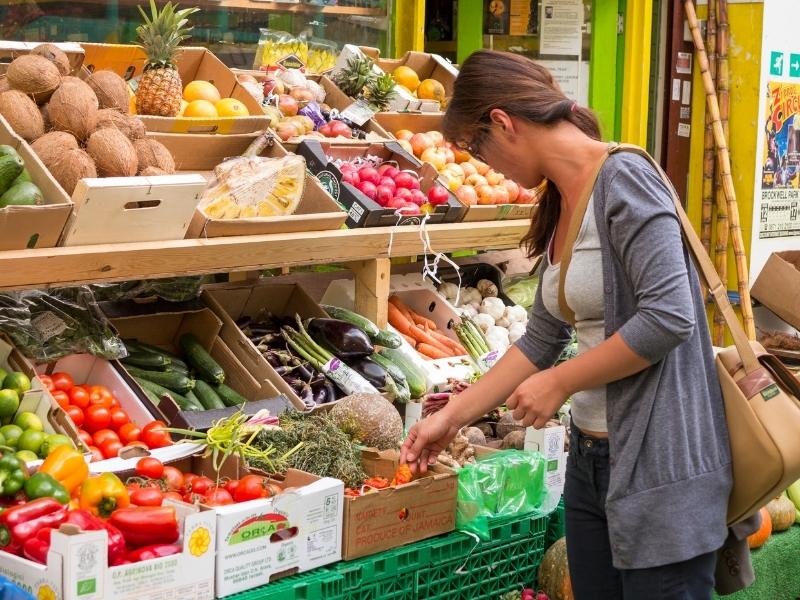 What to buy: Street food, general goods, crafts, vintage clothing, handmade items
Where: Electric Ave, London SW9 8JX (Closest tube: Brixton)
When: Mon-Sun 08:00-23:30
The vibrant South London district of Brixton has long been known for its ethnic diversity, and Brixton Market is a fascinating place to visit. Located on Electric Avenue, you can reach it by mainline or tube train.
What's sold again varies according to the day of the week. Between Monday and Friday it's one of the best London street food markets, and also offers a range of general goods. On Fridays, you can also find crafts and retro clothing.
The best farmer's market in London can be found here on Sundays, while on Saturdays the theme changes. It's one of the best flea markets in London on the first Saturday of the month, while on the fourth and fifth the 'Brix Mix' means you could find anything. On the second Saturday, it's the 'Maker's Market, with retro and vintage goods being the theme for the third Saturday each month.
Which are the best London markets for you to visit?
Now you know all about the best markets, which will you include as part of your itinerary? From vintage markets in London or cheap markets in London to the best outdoor markets in London and the best food stalls in London, there are lots of options to keep even the most dedicated retail fanatic happy!
London Travel Guide & Itinerary Planner (+ 4 bonus ebooks)