Are you planning to travel the UK by train and are a little nervous or unsure of using an unfamiliar rail system? We have you covered! This article will address frequently asked questions and is an essential guide for anyone planning to travel by train in the UK.
Train travel is easy/ everyone knows how to plan a rail trip/ the UK is only small – I have heard this said before but is it true? Whilst the UK is smaller than many countries its rail network is vast and for the inexperienced UK traveller or train traveller, there are quite a number of areas that can prove a challenge.
This guide to train travel in UK for tourists is aimed at making the whole UK train travel experience a calmer and more rewarding experience.
I served in the UK rail industry for over 25 years with many job roles ranging from my apprenticeship in train manufacturing and project management to working in the railway control. These many roles gave me an in-depth insight into the industry and how good planning with flexibility can overcome many rail travel obstacles.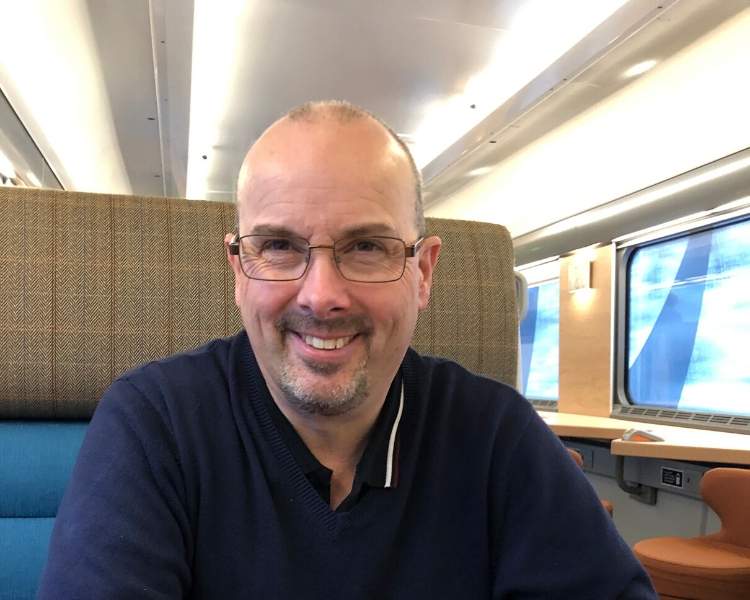 In addition, as a hobby, I have travelled extensively over the entire network of train lines through England, Wales, Scotland and some in Ireland and have a great deal of experience in travelling through all seasons of the year, days of the week and times of the day.
With so many beautiful cities and towns to visit in the UK taking a day trip on a train can be a great way to see more of the country and tick off UK bucket list destinations. Or why not plan an entire itinerary travelling the UK by trail? My best of Britain itinerary by rail includes 14 days of sightseeing Britain by train and takes you across 3 countries and 7 top destinations.
Though the UK is relatively small there is 9, 824 miles of train track (15,811 km) tightly packed in some areas, such as London, meaning an advanced plan of travel is an absolute must.
In this guide to UK train travel you will find all the information you need to have the best possible experience of traveling by rail including answering the following questions:
When is the best time to travel by train in the UK?
When should I buy my UK train tickets?
Where can I buy UK train tickets?
Do I need a train seat reservation?
How long before the train departs should I arrive at the train station?
What is the etiquette for traveling by train in the UK?
Is there WiFi on UK trains?
Is it safe to travel by rail in the UK?
IMPORTANT UPDATE 2021
It is important to follow any advice around train travel in the UK from train operating companies as well as legal requirements in the light of Covid-19.
Note that it is recommended that a face covering is worn when travelling in the UK on a
train or tram
bus or coach
ferry or hovercraft or other vessel
aircraft
cable car
Reservations should also be made in advance where possible via contactless payment.
This post may contain compensated links, meaning that if you buy through them, we get a small commission at no extra cost. Please read our full disclosure for further information. As an Amazon Associate, I earn from qualifying purchases.
How to plan your UK rail travel
When is the best time to travel by train in the UK? (Are there times I should avoid?)
We take it for granted that when we go on holiday or vacation we plan ahead, we look where we want to go, what we want to do there and then we book a ticket, either through an agent or do it ourselves. Yet with train travel in my experience many do not do the same level of research or planning and leave a lot to chance.
Flexibility regarding the day or time of travel is important. Monday to Fridays are the principle work days for many people and you can expect a greater number of commuters on those days. Commuter routes are best avoided up until around 0900 hrs and between 15:30 and 1800 hrs Monday to Friday.
Saturdays and Sundays can also be busy during certain times (school holidays/long weekends/sports events etc) but these are usually 'good time' travelers and not usually working journeys. In my experience this makes fellow travelers more flexible, friendlier and far more amiable.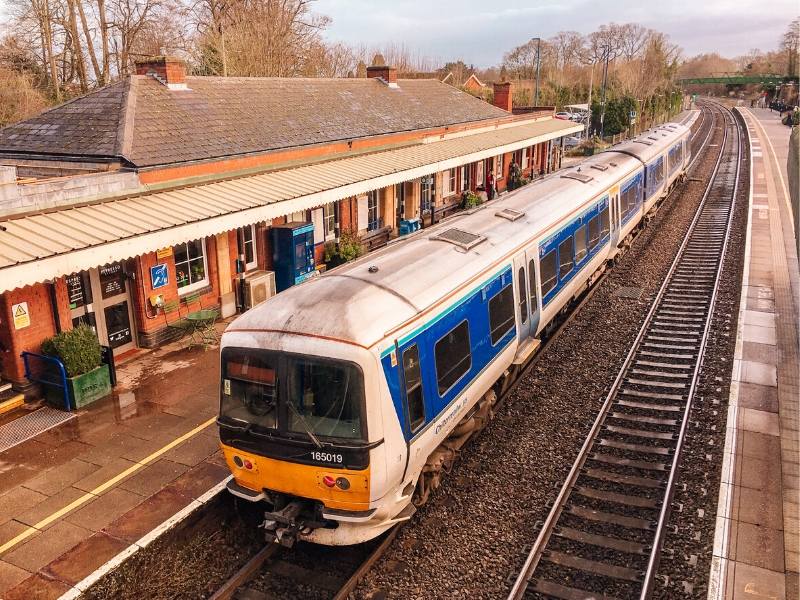 When and where to purchase your UK train tickets
Reasons why you should purchase your UK train tickets in advance
The cost of rail tickets is a constant source of criticism and confusion for those who travel by train in the UK (residents and visitors). The prices are always going up particularly for commuter season tickets. However if you plan your chosen route in advance good deals are still out there.
My advice is to avoid buying train tickets on the day you wish to travel as you will always pay the maximum fare allowed.
Ticket offices, sometimes referred to as booking offices, are generally only situated at principle stations. When staffed they are never open 24 hours a day. They can also be closed at any time without notice.
The big stations do have more than one ticket office but the queues can be long and slow. This adds to the stress level and not to mention taking up precious holiday time!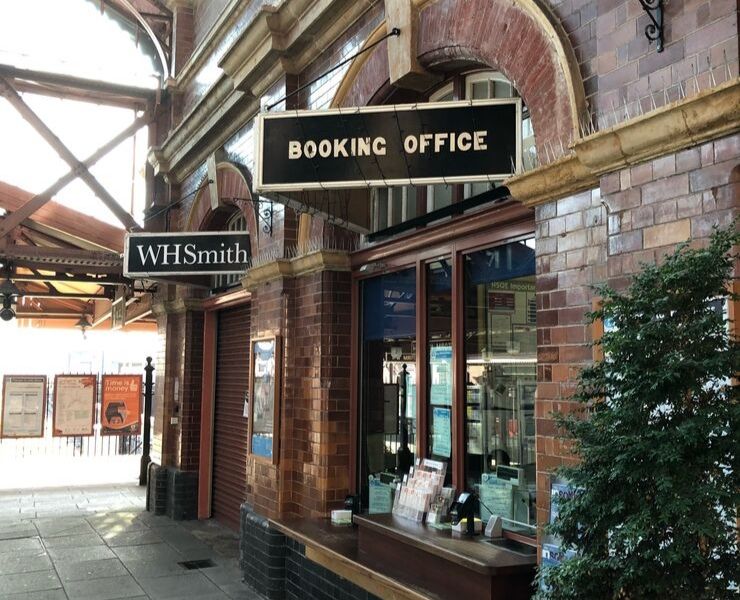 Smaller stations can be equally stressful, as station sizes are variable, some no more than a platform and a few benches it should never be taken for granted there will be somewhere to buy a ticket. If you are lucky to find a ticket office the staff 'should' always give the best ticket available for 'same day travel.'
You can catch a train without a ticket and purchase one on board from the ticket collector but they will give no discounts on the tickets unless you explain that the ticket office was closed at the station you boarded the train from.
This can be stressful and unfortunately quite confrontational. If the ticket collector does not pass down the train checking tickets between every station you may also not have the opportunity to purchase a ticket.
Purchasing your UK train tickets from a machine
Ticket machines for same day travel are widely available and like many other things once you have used the machine a few times you become more familiar with them. It is important to be the station in good time to complete this process as there may be lots of people trying to buy tickets.
The ticket machines accept cash and credit cards. Always get a receipt and be mindful you often get your train tickets then the transaction receipt afterwards. It is very easy to grab your tickets and walk away and forget your receipt.
Make sure you take your ticket AND receipt from the machine. Also save your ticket/receipts for any claim you may need to make in the event of severe delays or cancellation.
Unlike many countries you do not need to punch/validate your train tickets in the UK before boarding the train. You have already selected you travel time and correct ticket. This is for main network trains across the country and the London overground only. Different rules apply for London transport such as the Oyster Card.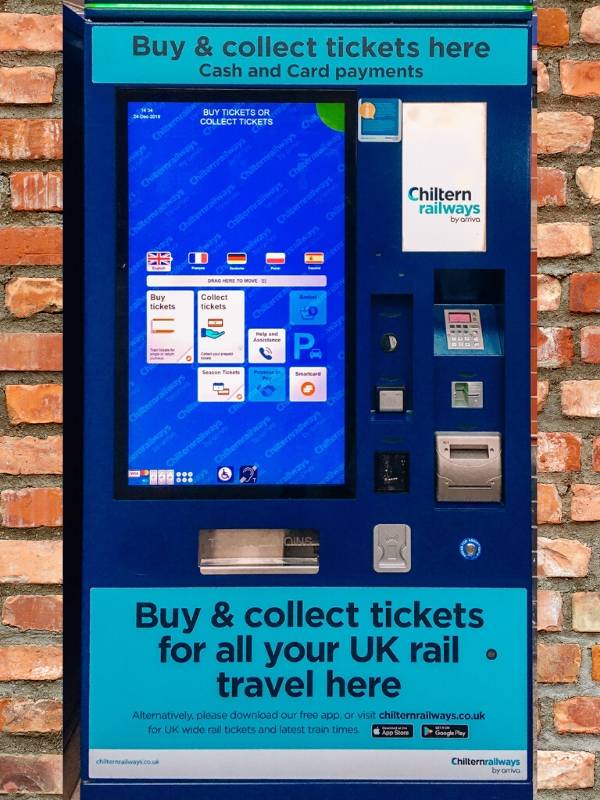 Purchasing your tickets from the station ticket office in advance
Tickets bought before the day of travel are usually termed 'advance tickets' and can be purchased at any train network ticket office before the day of travel.
This is rarely easy as you have to make a separate trip to the station, find somewhere to park the car and often pay for parking or take a taxi. Either way this is taking up valuable time.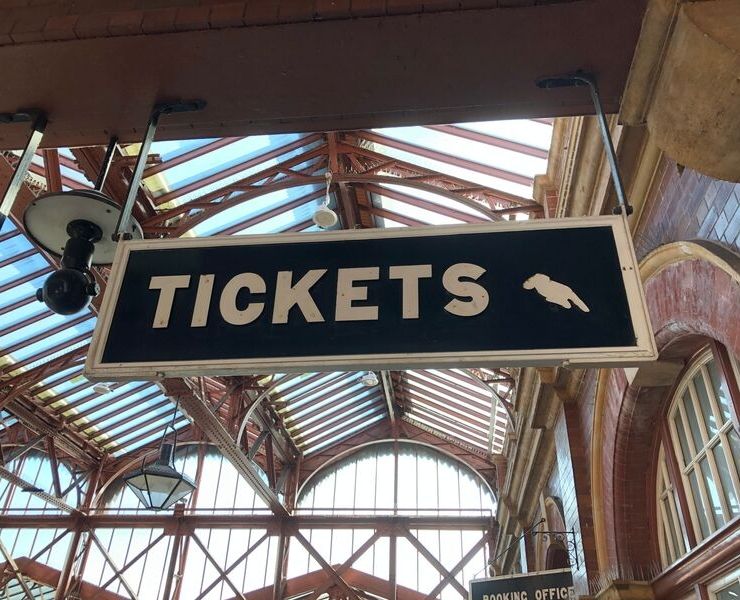 Purchasing your rail tickets from a ticket booking site
There are several sites where you can purchase your train tickets for the UK. My preferred option is The Train Line where you can find the fastest and cheapest train fares not only in the UK but in the rest of Europe too. The Train Line app makes travel planning easy too as you can book all your tickets and store all the details on their app.
The Train Line works with a number of authorised carriers in Europe too including National Rail, Eurostar, SNCF, Thalys, Trenitalia and Italo amongst others.
Payment is made securely with PayPal, Visa, Amex and Apple Pay.
You can also buy last-minute tickets too and avoid potential booking office problems at the station. You can choose to print your ticket or open the email attachment or save it to your Apple wallet.
What about discount rail passes and BritRail Passes?
Discount railcards
Discount railcards are also available, for young people, students or for the elderly. These are purchased with photograph ID and used by the traveller to buy tickets either on the day or in advance at a discounted rate, but only from a staffed ticket office.
Other options are now available including group travel with the ability to purchase online. To buy UK Rail Passes online you generally need a UK postal address to receive the pass. Considerable savings are possible – usually a third off the advertised fare.
Discount Rail Passes include a Senior Railcard for the over 60s, Two Together Railcard, Family and Friends Railcard (up to 4 adults and 4 children aged 5 – 15), 16 – 25 Railcard, 26 – 30 Railcard, Disabled Persons Railcard and a Network Railcard which is for anyone over 16 travelling in London and the South-East. * Note there are conditions and restrictions for all railcards so do check at the point of booking.
Click here for more information about the various Railcards available.
BritRail passes
BritRail passes are only available to non-UK residents.
They start at £116 for a 3-day pass and go up to £455 for a monthly pass. There are 6 different passes available to suit varying lengths of time with passes available for 3/4/8/15/22 days and 1 month.
There are 6 regional types of rail pass available too so if you only plan to explore one area you can purchase a pass just for there. Areas covered by the regional passes are England, the South West, London Plus (for day trips out of the capital), Scotland, the Scottish Highlands and Central Scotland.
Passes are available for First or Standard class travel. BritRail passes are not valid for the London Underground so you will need a valid ticket or Oyster card in London.
More information coming soon about UK Rail Cards and Brit Rail Passes.
Do I need to make seat reservations?
Seat reservations for trains are now compulsory on some train routes in the UK (check with your train operating company). Some mainline trains that run on the general rail network may have compulsory seat reservations. Check at the time of booking and national travel advice before your date of travel.
Seat reservations are generally free of charge and are booked at the same time as a valid travel ticket is purchased, whether this is at a ticket office or online.
Remember to keep evidence of your seat reservation in case someone is sitting in your seat.
TIP – Be careful you have the correct destination train station when purchasing your ticket as some cities or towns have multiple train stations and you could find yourself a long way from where you want to be.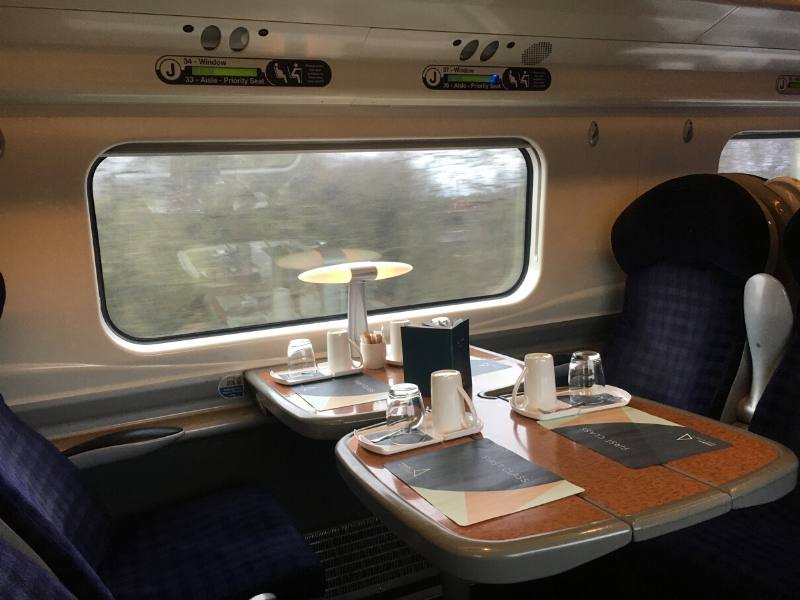 What is a closed station?
In London and other larger cities and towns, most stations now are 'closed stations'. This means that away from many concourse or reception areas for shops, tickets etc. you have to pass through barriers or ticket checkpoints before you can walk on the platform to catch a train. At these, you have to show a valid ticket for travel on that day for all travelling passengers.
If you are unable to buy a ticket on the day of travel from a smaller unmanned station travelling to a closed station this can be difficult.
Help is available if you should be caught up like this as the ticket barrier always has a station staff member on duty to help people. They will direct you to buy a valid ticket from the ticket office or ticket machine to cover the journey you have taken.
Good to Know – Staff are usually there to help anyone who might need assistance with the barrier for any reason. In my experience, these staff members are usually very knowledgeable and helpful and willing to help.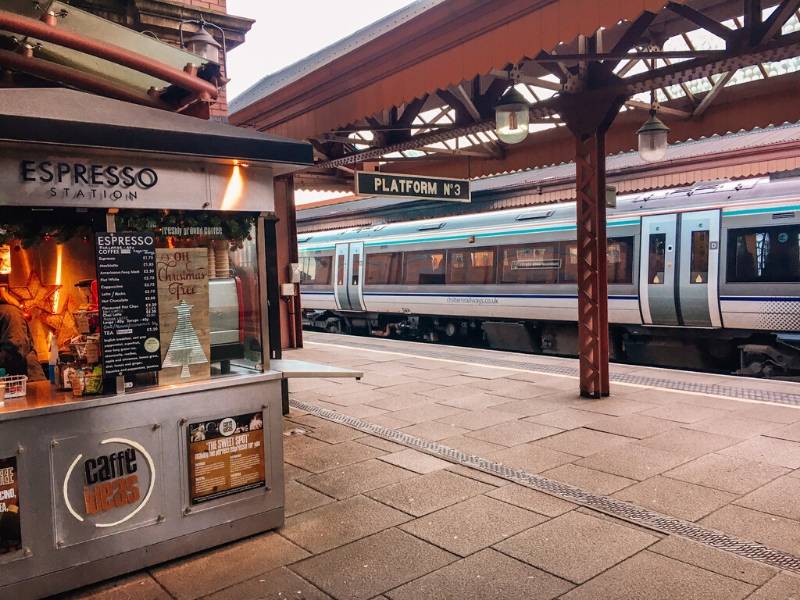 ESSENTIAL INFORMATION FOR YOUR DAY OF TRAVEL
What time should you arrive at the train station on your day of departure?
One mistake many rail travellers make, in any country, is to not allow enough time to catch the train. I would recommend arriving at least 30 mins before your train's due departure time especially if you are leaving from a large busy station at peak times.
Always be very generous with the time you allow yourself to get to the station even more so if you are relying on public transport or a taxi to get there.
At some larger train stations, particularly the big stations such as Birmingham New Street, Manchester Piccadilly, Edinburgh Waverley, and London interchange stations like Euston, Kings Cross, St Pancreas, Marylebone and Paddington you may have quite a walk before you get into the station and onto your platform. There may be multiple escalators and stairs to negotiate too.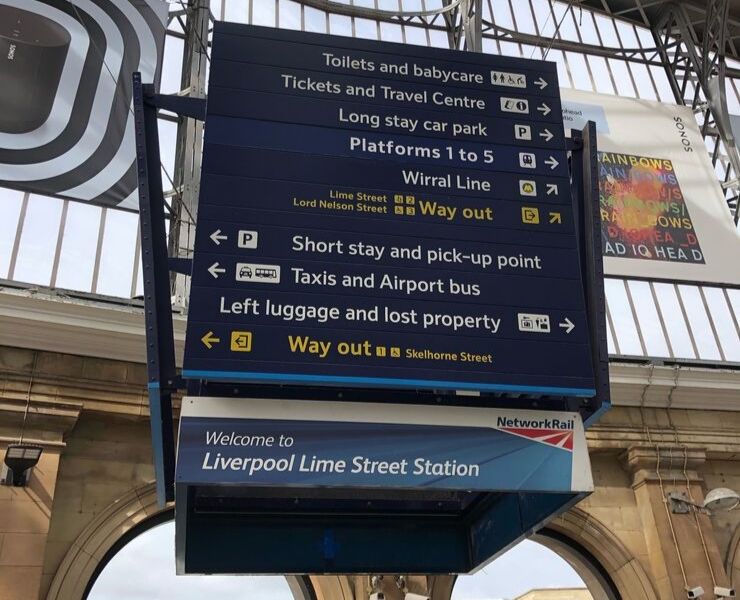 Departure and Arrivals boards in UK train stations
In the UK train, ID reference numbers are not available for passenger use as they are in many other countries which can cause confusion when looking for your train.
On arrival at the station, hopefully in good time, you will find yourself in a station concourse or hall. Then along with many other people, it's a 'now what scenario'!
Usually, in all stations, large and small, there will be a departure board. These show the time of the train's planned departure and the platform (or track) that your train will leave from.
The ticket you have, in whatever form, electronic or paper gives you a day and time of departure and will give you a starting station and a destination station name.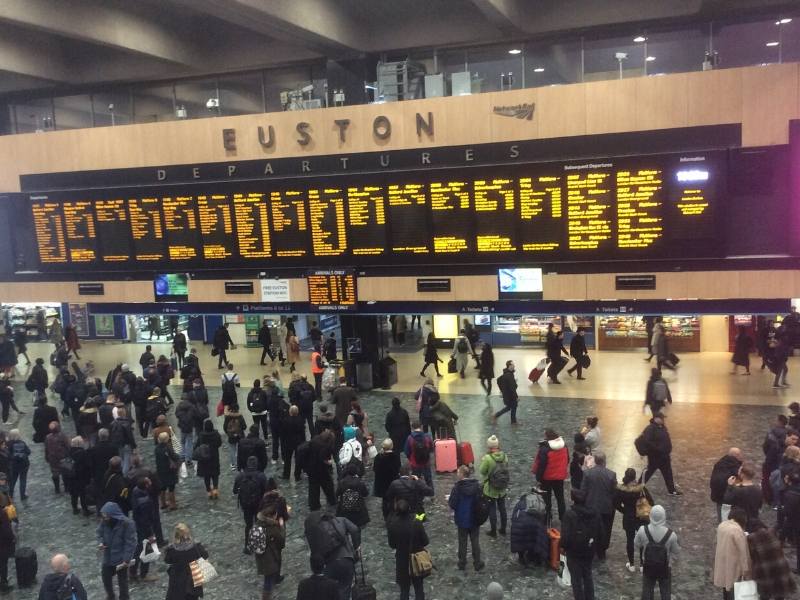 The destination shown on the departure board, usually electronic, may not be the train station you are getting off at. You need to know the stations the train stops at en route to its final destination.
On the departure board, each train may have a scrolling page that shows all the stations the train stops at. If it does not do not worry.
Either ask a station member of staff, the ticket office, the ticket barrier staff or head on to the platform that corresponds with the train departure time on your ticket and have a look at the departure TV screens that are usually suspended from the roof on each platform.
These always show all the stops planned for that train and if the train is expected on time or not. If it is delayed it will give you the number of minutes it is delayed by.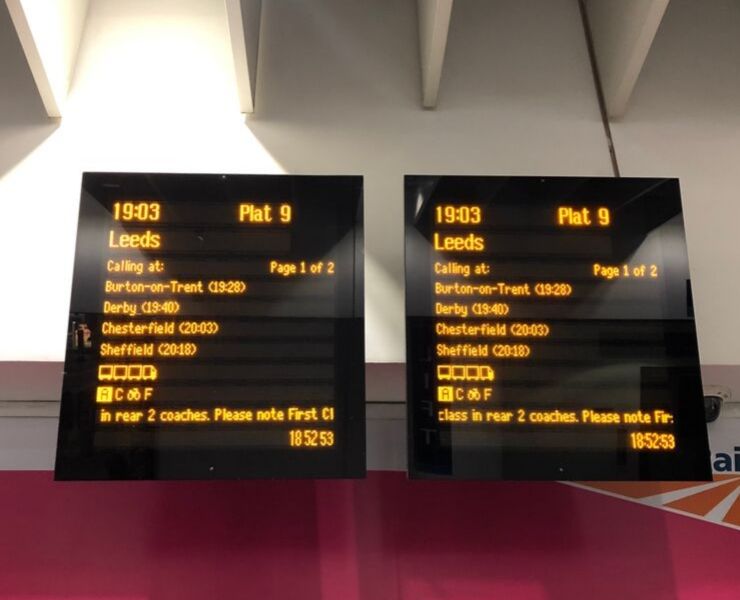 Again, if you need reassurance ask platform rail staff. It is also ok to ask other passengers, "Does this train stop at such and such a station?" This social interaction is not frowned upon anywhere in the UK and is accepted as a very normal question to ask someone. Do not be afraid to ask. I have been asked so many times over the years.
Boarding & Alighting from the train
Take care to ensure that you are in the right place to catch your train. Not all platforms are straight and can be on a curve so you cannot see around the bend. Birmingham New Street is a good example of this.
Be extra vigilant to check that the departure board on your platform shows your train.
Again, be aware that long platforms can also have an "A' and 'B' platform such as platforms 9A and 9B. A and B platform ends will be at either end of the platform and will different trains leaving for different destinations, often at the same time as they are heading off in different directions. Again, Birmingham New Street is a good example of this.
Certain stations have a 'C' platform but these are usually dock/bay platforms with only one way in/out and usually easy to find.
Another reason to be waiting on the right platform with the right ticket in plenty of time to catch your train is that what is termed 'central door locking.' This means that train doors are closed between 30 seconds and 1 minute before the departure of the train. Do not deliberately block train doors as fines can be incurred.
All external doors have a warning tone/warble sounder to announce the doors are closing but they do have a 'sensitive edge' that will reopen the doors if accidental door blocking occurs. At this, the door will reopen.
The station train departure staff are actively watching for this and will be there to help quickly as it they who will be asked questions why their train is late leaving.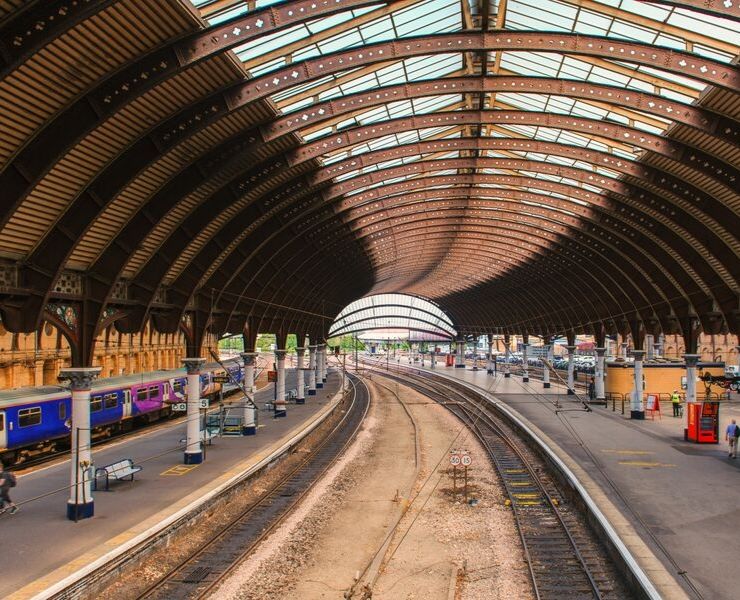 How to find your train seat reservation
On some trains, you will find an electronic seat reservation system which gives the seat number and the names of the stations that the seat is reserved between, for example, London Euston to Rugby. This is important as the seat may be then reserved for different passengers between Rugby and Crewe for example.
On older trains, using the same principle, cards are fixed on to the back of the seatbacks. Do not be surprised to find someone sitting in your seat even though you reserved it, this is not unusual.
Most people will happily move if you ask them as they did not realise the seat was reserved. However, occasionally there is a little more resistance. Best to report this to the on-board train guard or ticket inspector and ask them to intervene.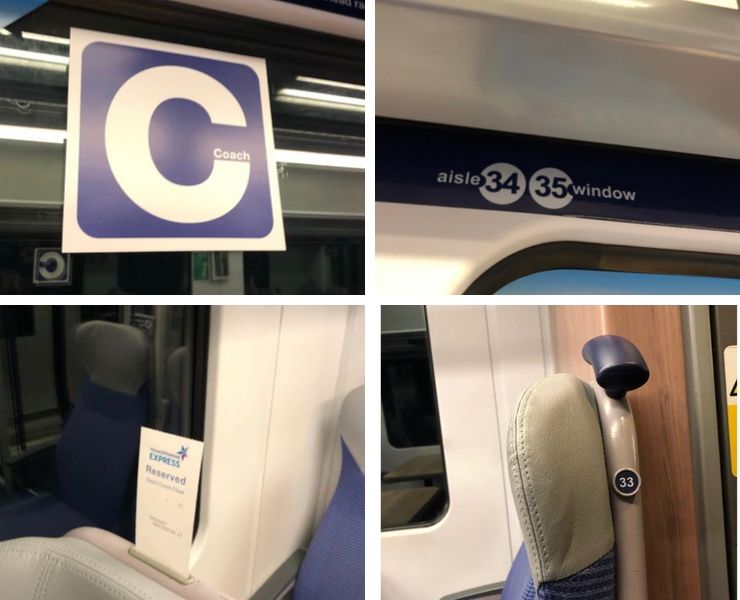 Types of trains in the UK and 1st and 2nd Class Options for travel
Passenger trains in the UK are not only varied in their size and length of the train but also in their seat and comfort experience.
The train network is operated by different train operating companies throughout the UK but these can overlap and are not confined to one area.
There is no need to understand these, suffice to say if you purchase a train ticket through one of these operators and/or for a specific train on that day/time you have to catch that train and cannot use it on another operator.
There is a precedent, however, in the time of substantial delays or cancellations to service through the incident, adverse weather or engineering works when other operators will honour other train companies' tickets.
Never assume this though as an error can result in a heavy fine and having to purchase a full-price single ticket. Wait for advice from train station electronic boards or sometimes written poster boards prior to boarding a train. Again, any doubts ask station staff.
Nearly all train stations, with a few exceptions, and all the railway infrastructure are owned and operated by Network Rail and you may see their staff at train stations. They will be able generally to point you in the direction of the train operator or station staff to answer any query you may have.
There has always been a culture in the rail industry to help passengers where possible and I would like to think this continues to this day.
Choosing 1st or 2nd Class – what is the difference?
Trains in the UK generally have two classes of travel for passengers which are Standard (second class) and First class.
Certain new operators have introduced a business class but for arguments, sake treat this as first class. This is an example of train operators looking to use more airline phraseology to enhance the journey experience.
If your UK travel budget allows it First class travel often includes tea/coffee/juice/water and snacks and sandwiches as part of your ticket and served complimentary via a trolley service.
It is wise to always not count on these services being available, particularly at weekends when staff shortages can occur. This service is more evident on longer train journeys for example the East or West Coast Mainlines, or the cross-country services from the West country to Edinburgh for example (Bristol Temple Meads to Edinburgh Waverley). These are longer journeys, though they have numerous station stops throughout.
During busy times seat reservations are strongly recommended and occasionally essential. At these busy times, nearly all first-class coaches are all reserved and may have a reduced number of seats to choose from if you do not have a seat reservation. In this case, you need to be at the station in plenty of time to grab a seat.
On more regional, shorter length trains and shorter journeys there is only a very limited number of first-class seats available and the seats/comfort is a little different to the standard class seats, though during busy times you are more likely to find a seat.
First-class parts of trains do have a greater number of seats with a table though most trains, not all, with airline type seats do have a tray drop-down table in standard class.
Standard class not surprisingly makes up 90 to 95% of train seats available and predominantly on a first come first-served basis. There are generally speaking a maximum of 4 tables on each carriage that has 4 seats facing the table. Families generally favour these so there is often a race for these seats. Reserve the table seats if you can when booking.
Refreshments
A refreshment trolley service is often available, mostly Mondays to Fridays but less often at weekends but you do see them sometimes. The cost of food/drink off the trolley is a little expensive and has a limited selection.
The trolley may sell:
Beers/cider/wines/soft drinks (coke/pepsi/fanta/lemonade, water etc)
Tea/coffee/hot chocolate
Crisps/sandwiches/cakes/sweets and chocolate.
When trains are very full the trolley service sometimes cannot pass through the train so they do not even attempt it. For this reason, you cannot always count on the availability of refreshments onboard trains. My recommendations would be always to take your own selection of food and drinks with you onboard the train.
A buffet counter service is sometimes available on some of the longer train routes selling more or less the same options of food and drink.
The larger stations, in particular, have a good selection of shops/cafes to purchase a cross selection of food and drinks for all tastes. Onboard refreshment cars with counter services or served meals are typically very rare.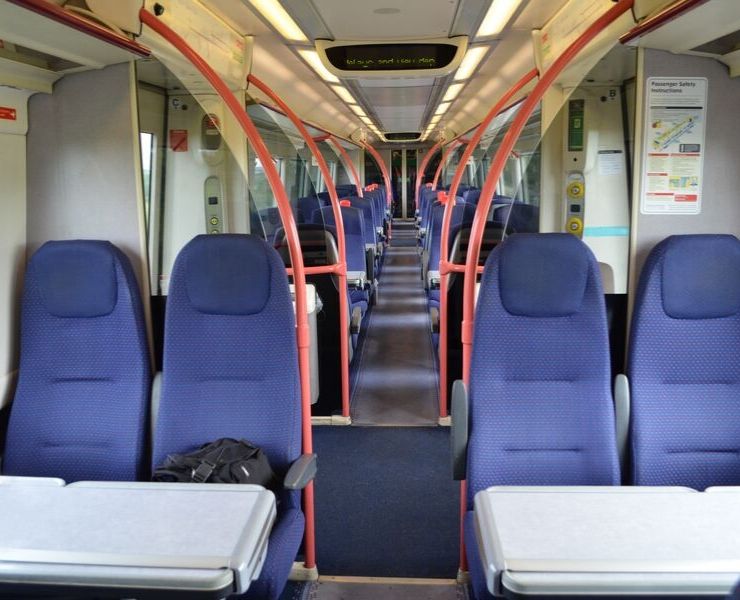 UK Train Etiquette
British people can have some quite quirky train travel habits. Conversation is generally regarded as being private to be shared only with your travelling companions but sometimes the volume can rise, particularly if you are having fun. Do not be surprised by 'a few looks' from fellow passengers.
In the 'Quiet' coach music/mobile (Cell) phones or loud conversation as previously mentioned can result in some shaking of the head or some strange looks. Please be considerate of fellow travellers.
On a positive British people are generally more tolerant of people travelling with children, of all ages, and the need to keep them amused or occupied during the journey.
Throughout my global train travel experiences, UK train travellers are more conscious of their personal space whilst onboard a train than any other country. If you are seated next to strangers, they may not take kindly to you encroaching on to their space/seat.
Table Etiquette
Sitting at a table with strangers can be amusing and a very social travel experience, but it can also be a little uncomfortable.
As there are usually 4 seats around a saloon table if there are spare seats strangers will sit themselves down near you, often without any comment. This is usually on a full train only as it is the 'norm' to space yourself out on a near-empty carriage.
If you are alone at the table and 3 travelling companions join you, or a family, they often take over the space and you are confined into a small space. I find in this position a little effort to engage in only a few words of conversation or interaction relieves any possible anxiety or discomfort.

Train Temperature
One aspect of train travel seems no different in the UK to many other countries and that is the temperature variations inside the train. Whatever the time of year the train is rarely a constant comfortable temperature.
I would recommend when travelling to wear layers of clothing that can be added or removed easily to help maintain personal comfort. One reason for this is that internal train doors are constantly opened and closed causing an air flow that cools or heats.
The sensors then cause the automatic air-conditioning system to constantly try to adjust the ambient air temperature. In essence, the system gets confused! Sometimes however it just the setting of the desired air-conditioned temperature has been set too high or low.
Availability of WiFi on UK trains
Historically Wi-Fi has been poor or non- existent on most of the UK rail services and could never be relied upon. The newer modern services are generally much better but the signal strength can still be poor.
All passenger classes of travel generally have service availability on most routes. It is important to be aware that although most WiFi access is free there are some fee for service charges on some operators.
I would recommend that you do not depend on the Wi-Fi on trains but instead look to your own device and service provider.
Some train stations have Wi-Fi hotspots to access free Wi-Fi inside station cafes or bars but these come with the usual caution warnings about secure networks.
Certain carriages, or cars, have a designated 'quiet' coach. This is one coach where passengers are requested to keep mobile (cell) phone conversations to a minimal. Not actually banned but you may receive some unhappy looks from fellow travellers. You may even be challenged and asked to keep the noise down.
On these trains, it is usually recommended to take your phone and make a call at the end of the carriage near the external train doors. The same applies to playing music, games or watching films/TV programs on a computer or DVD player. No problem of course if you use suitable earphones with the sound set at a reasonable setting.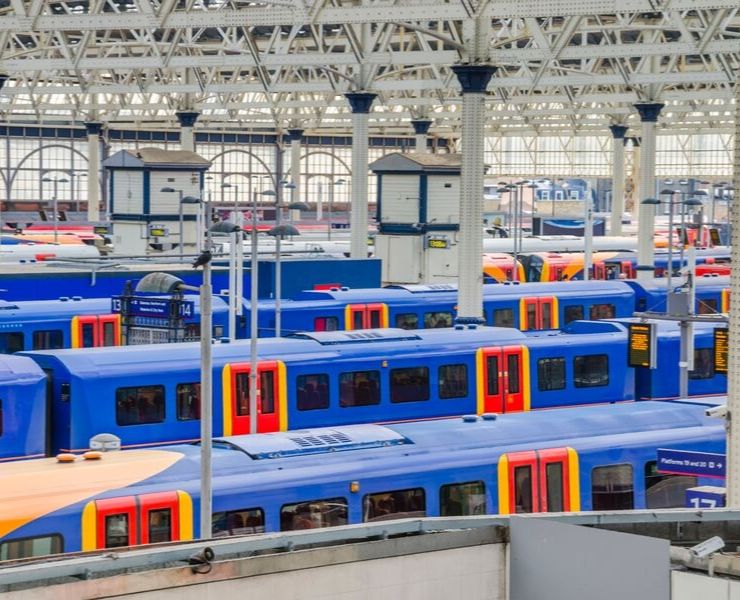 Safety while travelling on the UK train network
Trains with corridors and compartments are rare on the UK train network. This makes trains safer as passengers are more visible to other users at all times.
Certain preservation train lines have older coaching stock with corridors but these are used more for specific excursions. A future post will cover some of these lines as there are quite a number scattered throughout the UK.
Emergency handles and 'chain pulls' are on all UK trains, usually red in colour and situated on the walls throughout the train.
These vary in application from instantly applying train brakes to communicating with the driver or guard when activated, from pulling or pushing the handle or button.
The penalty for improper use is rightly severe. They are a vital safety characteristic of train travel and the wise traveller notes where the nearest one to them is situated on a train.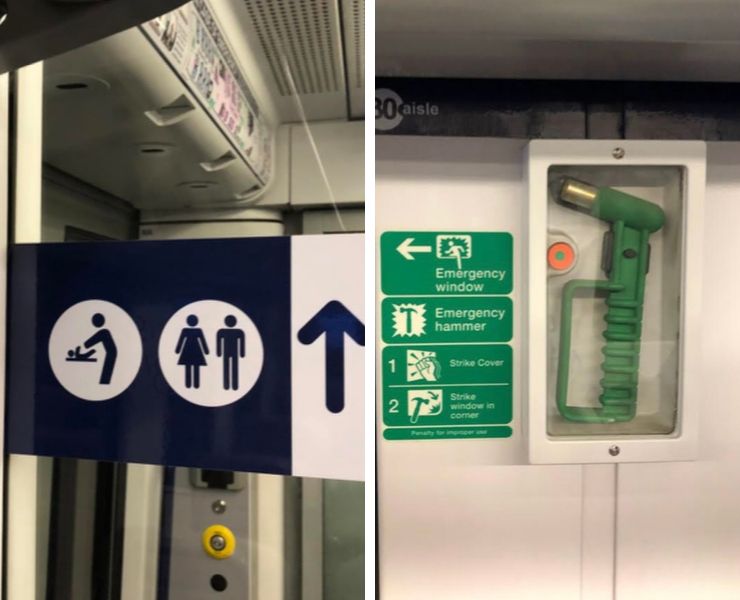 Safety cameras are everywhere at UK train stations and onboard many trains, certainly trains built or refurbished in the last 15 to 20 years. Images are recorded on board and can be relayed on newer trains direct to the railway control and if necessary, to the police authorities.
The British Transport Police (BTP) have a regular station presence and if any safety concerns are experienced always speak to station or on-board train staff as soon as possible.
The BTP are recognisable as they are dressed the same as all British police officers. All concerns will be listened to and treated appropriately. Do not be afraid to speak to them, they are very approachable people.
Total vigilance should be observed at times at train stations, much the same as when mixing with, at times, a great number of people. There is always going to be the risk of pickpockets and baggage thieves but by being safety aware the risks can be reduced by following a simple, common-sense approach:
Keep all your bags with you at all times.
Ensure all bags/luggage is kept closed/locked with no valuables on display and an easy target to be lifted.
Purchase recommended secure/protected bags that are not easily tampered with.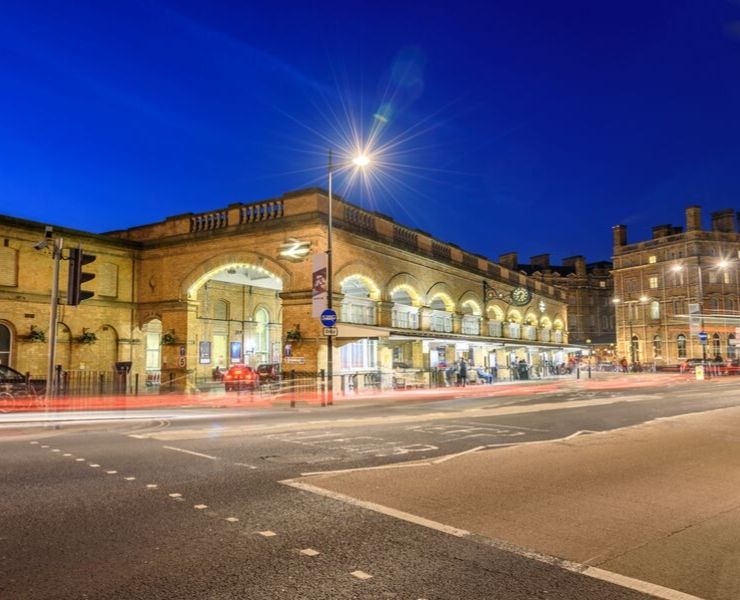 Travelling with luggage on the UK train network
Following on from personal safety is concern for our luggage. We all have these worries when travelling and our sense of safety is heightened when we are in a different country.
As a rule of thumb always keep your bags in view at all times and avoid distractions that take your eyes off your possessions.
We always plan the luggage we take with us depending on the means of transport we are taking. If you are going to have to carry or pull/push a suitcase with wheels any great distance keep it light enough to be able to navigate the expected distance or terrain. Larger train stations do have luggage trolleys available for use (the same as you find at all airports, a coin is usually required).
The larger stations also have a left luggage office or luggage lockers if you need to use them. Please be mindful if you leave any bags at a left-luggage office you ask about the opening/closing hours, this will save you any unwanted scenarios of being unable to collect your left or checked-in bags.
Onboard trains only have luggage you can lift above your head if required to do so to store.
Three distinct luggage storage positions are generally available.
Overhead luggage racks running on either side of the train above the windows. Be conscious that you need a relatively small bag to fit on to the shelf which is generally quite shallow and restricted by the curve of the train roof.
Between seats usually when two seats facing a table are back to back with two airline type seats creates an upside-down 'V' space between the seats often used to store bags. This is the most useful place to store bags as you don't have to lift your luggage and it's not likely other bags will end up on top of them. This space is a premium and quickly fill up.
Luggage stacks usually at the end of the saloon inside the sliding door in to the train vestibule then external train doors. These are now any more than a medium-sized suitcase width but often has one or two shelves only up to the luggage rack. *
* These can get very full and do not be surprised to find your luggage has been buried underneath other bags. If this makes you nervous try and put your bags on the luggage racks only, or behind the seats.
There is often not enough space for all the luggage, particularly on full trains so moderation with the number of bags you carry is good advice and one you will be pleased with yourself with if you follow it.
There are certain airport-specific services like the Heathrow and Gatwick express trains that have a greater number of luggage storage areas specifically designed for airport transfers.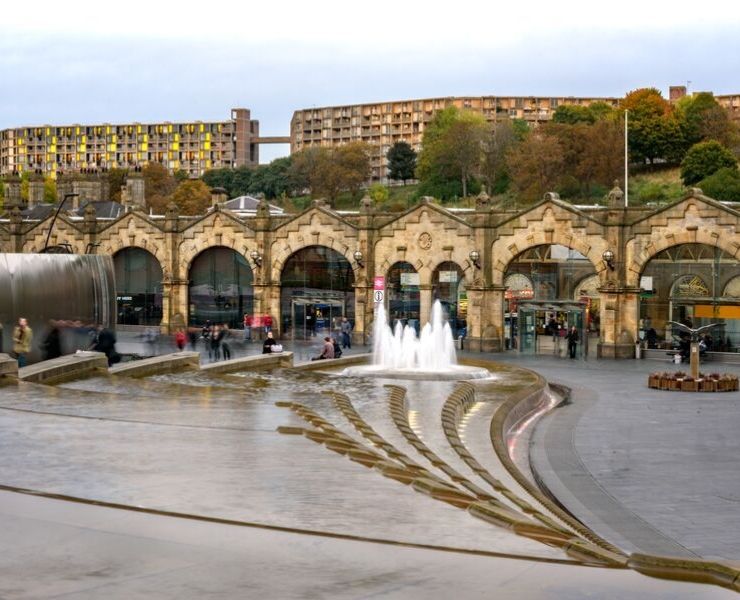 Toilet facilities on UK trains
Toilets or restrooms are found at most UK train stations, and until recently the larger stations you could be charged to use them, nominally around 10 or 20p. However, this has in the main has stopped and toilets at all stations should now be free. To be safe and not caught short try to keep some loose change in your pocket, just in case.
Smaller train stations, that is stations where fewer trains stop during the day, which generally means there are fewer passenger facilities' readily to hand. These may have toilets that are locked so you have to ask station staff for a key. If this is the case there is usually a sign/notice advising of this need.
On board train toilet facilities, if available can be a bit of a lottery. Smaller suburban or commuter trains are designed and built for shorter journeys and the number of passengers they can squeeze on board. In this case it is quite possible that there are no toilets on board.
On most trains, however, there is usually a standard toilet and particularly on newer trains a toilet that is accessible for disabled access including wheelchairs.
Please note all types of toilets on board trains are for the use of all passengers. The standard toilet is usually a conventional door with a standard turn lock system, everyone is familiar with.
Toilets that can be accessed by individuals with mobility issues have usually an electric sliding door operated by push buttons. The toilet door has to the side of the door on a panel separate open and close buttons to open/close the door and inside a lock button that will lock the door and prevent anyone outside from opening the door.
Please note inside the toilets there is an alarm handle or button that will set an alarm off and alert train staff to you needing emergency assistance. Again, penalties for improper use can be severe.
On a not very pleasant topic, all new trains have a CET (controlled emissions tank) to capture all waste when the toilets are flushed. No longer is the advice relevant to not use train toilets when the train is in the station (toilets are no longer emptied onto the train track.)
All trains, or rather all trains 'should' have CET tanks by now but please be aware if you are travelling on older trains, or on a preserved rail line this old-fashioned advice 'may' still be relevant, even in the 21st Century.
The water inside the sinks in the toilet is not for drinking and is potable water. The water on the train is stored in a water tank and has been filled via a hosepipe.
As with all modern life we are all more concerned with hygiene and cleanliness, so I never leave home without a small bottle of hand hygiene gel for use after touching train buttons for doors, including toilets and any time before eating.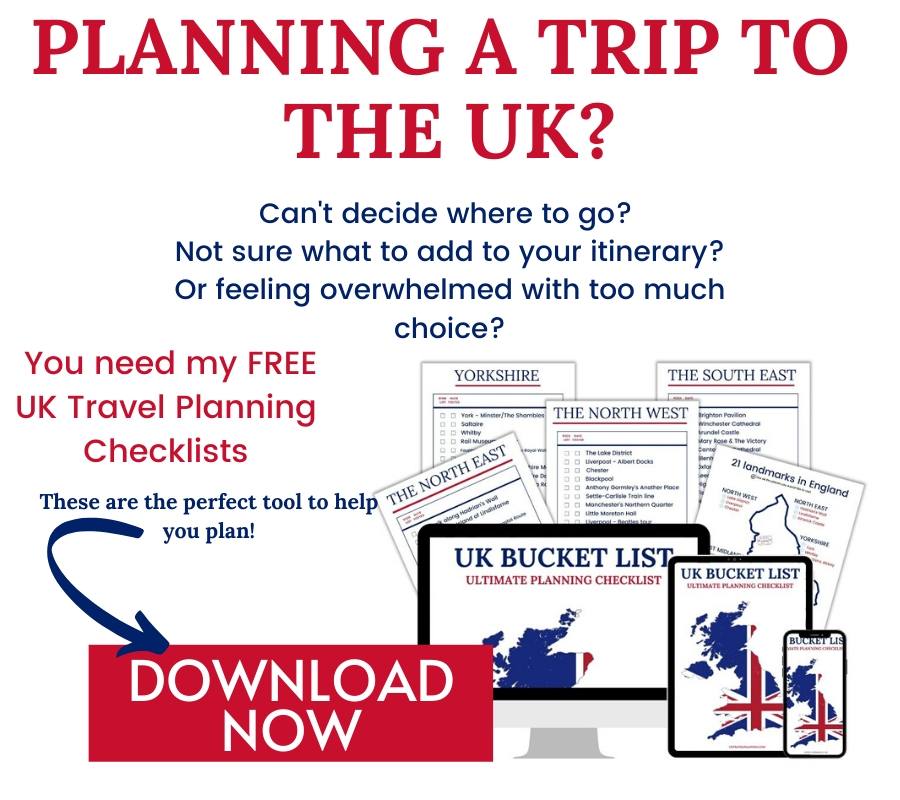 GENERAL INFORMATION AND FAQS ABOUT THE UK TRAIN NETWORK
The East and West Coast Mainlines
The East and West Coast Mainlines from London travelling north to Glasgow Central on the West Coast of England and to Edinburgh on the East are predominantly amongst the fastest train lines in the UK.
The West Coast has the Pendolino train stock that has a train tilt system that enables trains to travel faster around curves (bends in the line), though this can make some people a little nauseous.
Though the larger faster trains are appealing, particularly if time is of the essence to reach your destination as quickly as possible, the smaller slower trains, to me, are equally appealing if you have the time to enjoy the journey.
I always like the scenery on a slower train service far more because the faster lines are more purpose build for speed and quickness which limits good viewing opportunities.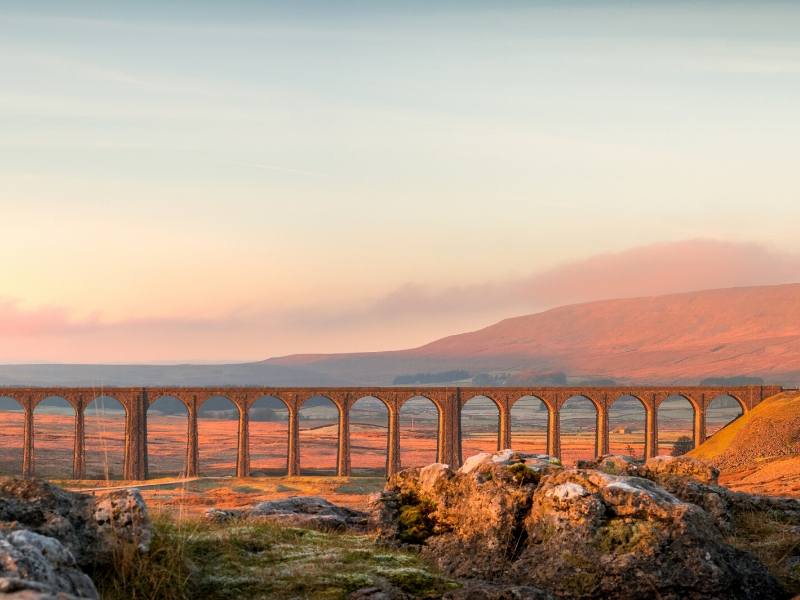 Underground Rail Systems
Several cities around the UK have an underground rail networks, or sub surface rail networks. London being the most well-known has a combination of both with some lines, such as the Metropolitan line running underground them partially overground.
There is a separate 'London Overground' rail network. The English capital is a totally comprehensive rail network that engages with other modes of public transport in the ticket system, usually the 'Oyster Card,' Read my guide to using London's public transport systems here.
On a smaller scale and principle, Newcastle also has a 'metro' underground and subsurface level network that connects passengers to the outer districts of the city. Glasgow has an underground system but is on a much smaller scale.
Trams
Trams or light transit systems are making a comeback in the UK (and other countries) as town and city centres are becoming more congested with traffic.
They are nearly all private companies and are not generally operated by local councils. Examples can be found in:
Birmingham
Manchester
Newcastle
Croydon (London, South)
Sheffield
Blackpool (more historic, seafront only service)
Note: Tickets are not usually advanced sales but purchased through station ticket machines or season ticket purchases online with top-up credit required prior to any journey. Tickets are not interchangeable between locations.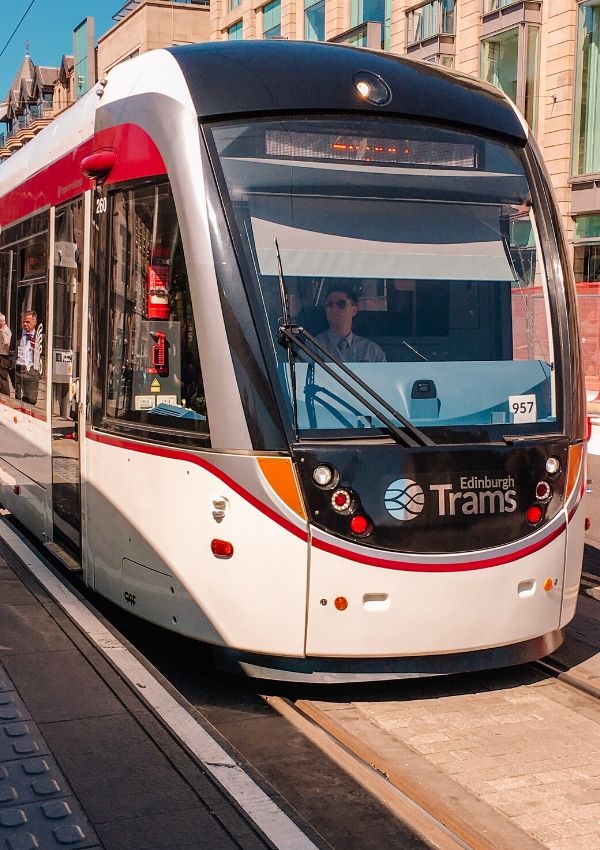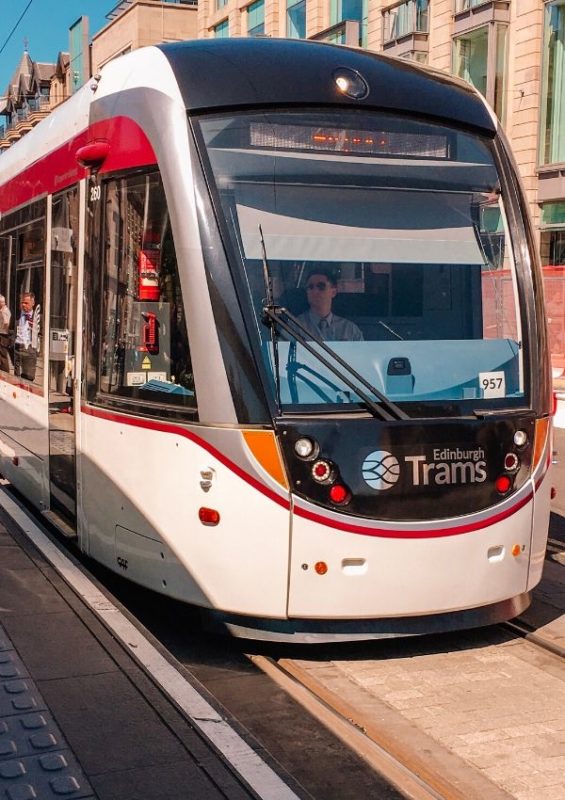 UK Train Timetables
UK train timetables are always shown on either paper or electronic form at stations or online as:
Monday to Friday services.

With exemptions for public holidays as specified.

Saturday only services.
Sunday only services.
The written timetables will show each service with a letter notice with specific restrictions or service changes: i.e., a, b, c, d, e against certain train times or days, then with the corresponding letter on the bottom of the timetable giving details.
These details may include certain trains only run during the summer months or on passengers for certain stations have to travel in the front two coaches as the train station is only a short length and only the front two coaches will have the external doors unlocked for passengers to open if they wish to get off (alight).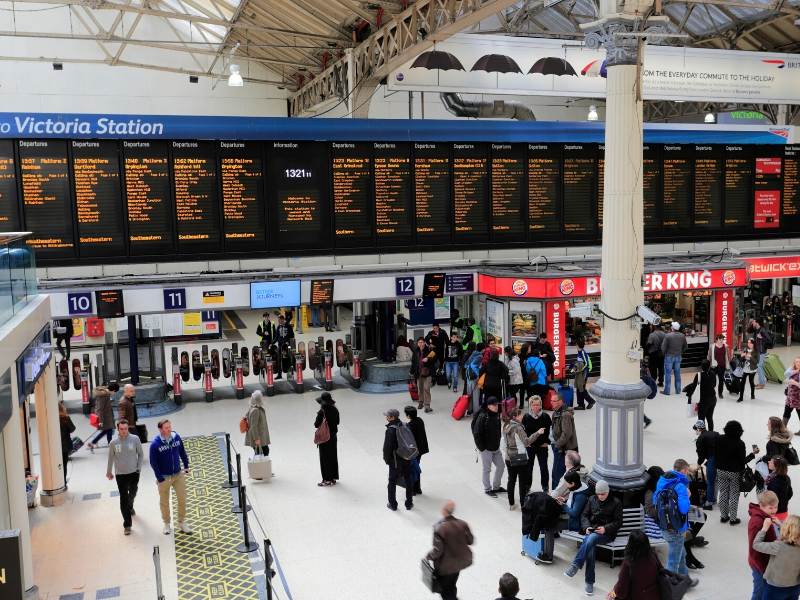 Seasonal Timetables
The train timetables in the UK are changed, or amended twice a year. Not always apparent, as not all people travel across one or more seasons, but the UK does have a winter and summer timetable.
The timetable is generally changed in May for the summer and December for the winter.
The changes are seldom big changes, but the summer timetable reflects the lighter summer evening, until around 9 pm each day and then the winter timetable for shorter days getting dark around 4 pm each day.
The variations do include extra services around Christmas time and reflect public holiday travel restrictions. The official line is that changes are to incorporate efficiency changes from newer/faster trains or more official signalling or train planning but historically it has been to reflect holiday passenger demands on more seats or national events.
Sporting events occasionally means extra train services added to the regular timetables, particularly for national competitions where finals are held in the bigger cities, such as the FA cup football (soccer) final being held at Wembley Stadium in North London.
With this and other competitions, be prepared for sports fans, or music fans as the same applies to big events, people will be travelling in good spirits, literally with alcohol flowing, or not such spirits if their team lost!
Tip – For this reason, it is good idea to do some planning as to what 'big' events are going to be taking place during your visit.
Weekend Services
Weekend travelers are in the main more relaxed and amiable, quite possibly the reason for this is that there are fewer work commuters using the service. I find people are chattier and more relaxed with each other. If you are the type of person who encourages social interaction on trains this is the best time to travel by train in the UK.
The weekend, of course, has more families travelling for leisure so be aware that on weekends and during school holidays there are often lots of children, of all ages, onboard the trains.
Weekend travel also generally means very full trains, particularly on the longer services. The reasons for this, other than the obvious number of people travelling, is that there are fewer scheduled services and also that weekends generally bring engineering works to the train lines for maintenance purposes.
The UK does not have the space/scale or number of train lines some other countries have, so there are less alternative diversionary routes available. This makes the services they do have at weekends more likely to fill up very quickly.
As previously mentioned, it is very wise to reserve a seat at weekends or you could well find yourself standing for the duration of your trip.
Engineering work is generally carried out overnight, often at weekends, but unless you travel late evening or early in the morning, the impact of any restrictions will not be so apparent.
TIP – For major engineering works or unforeseen track issues entire routes may close and be replaced by a bus or coach service. This can cause major travel restrictions. Your purchased train tickets will be valid on the alternative arranged transport service. Usually, station staff will be available to answer questions regarding time changes.
Note: If you have an early or late arriving flight in the UK and will be relying on airport train links from London Heathrow or Gatwick (including the London Underground) you would be wise to check your day/times of travel do not coincide with planned engineering work that could either delay your service or close the line completely.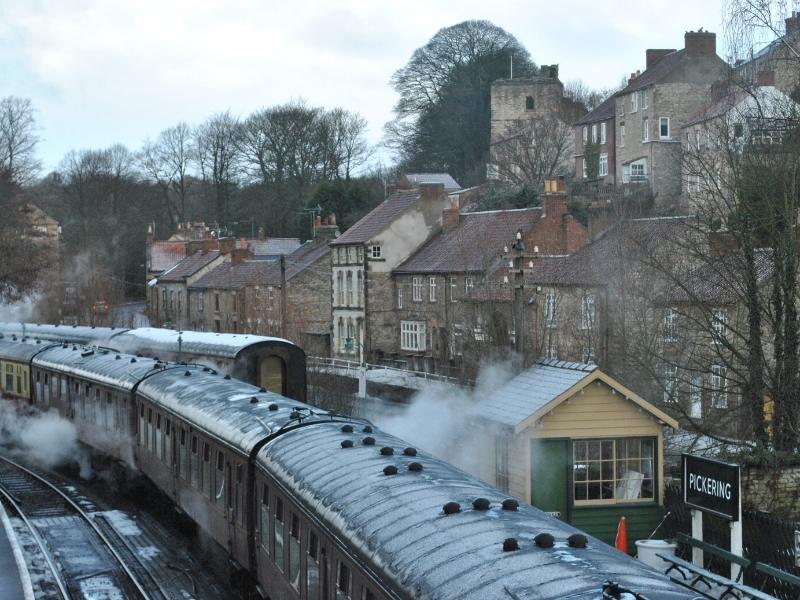 Popular UK Train Routes
There are a number of popular routes for visitors to travel by train in the UK. If you are planning a day trip by train from London to cities such as Bath/Oxford or Brighton you can find out more information about these routes in my article about the best day trips from London by train.
If you are planning a rail trip itinerary around the UK you may wish to travel between the popular cities such as York/Edinburgh/Liverpool. You will find lots of inspiration and advice in this post about my choice of the 10 best UK train journeys.
There are many direct train services between these cities travelling on the East or West Coast Mainlines.
Again I would recommend booking through the Train Line.
Planning to take the Eurostar to Paris from London? Read my essential Eurostar guide to make the most of your journey.
What to do if your train is delayed
The UK is notorious for changeable weather which can have a major impact on train services. Not just the obvious from a heavy snowfall but also during autumn (fall) which is a big British joke, leaves on the line and high train rail temperatures that can buckle or distort the train lines.
Leaves on the line, I know from my own rail career are certainly no joke. Trains slip and slide on leaves on the line and braking distances are substantially changed.
Under these conditions when train services are impacted, train information is/should be available not only on station display boards, as previously mentioned but also on websites such as RealTrainTimes.com as well as on the train companies Twitter feeds.
If you are on a train that is delayed wait for advice from the train guard or over the public address system. Train guards or ticket inspectors are excellent at giving advice around train connections (later trains you had planned to catch, getting off one train on to another).
Do not be afraid to ask. Again, in my experience the staff enjoy this part of the job, it gives them something different to do than just checking tickets!
On any public transport system delays or incidents can occur at any time that may incur train delays. When this does happen, rarely I know, train companies in the UK do co-operate with a common goal of helping passengers reach their destinations.
As already mentioned, train operating companies will generally honour other companies' tickets if the incident only impacts specific train lines. In this case check with station staff which station/train service may be the most suitable alternative.
Enjoy your UK Train Travel Adventure
This guide to travelling the UK by rail should have answered all your questions but if you are unsure of anything come and join our UK Travel Planning Group on Facebook. Often someone else will have the same question and it is a great way to connect with other travellers too.
For more information about the different ways to get around the UK to help with itinerary planning read our transportation guide which includes tips and practical advice about how to travel the UK by car, train, plane, ferry, bus and more!
You can find more train travel inspiration for the UK in my top 10 train trips to take across Britain. Planning to travel to mainland Europe? I recommend taking the Eurostar. Read more in my guide to travelling on the Eurostar.
Related Reading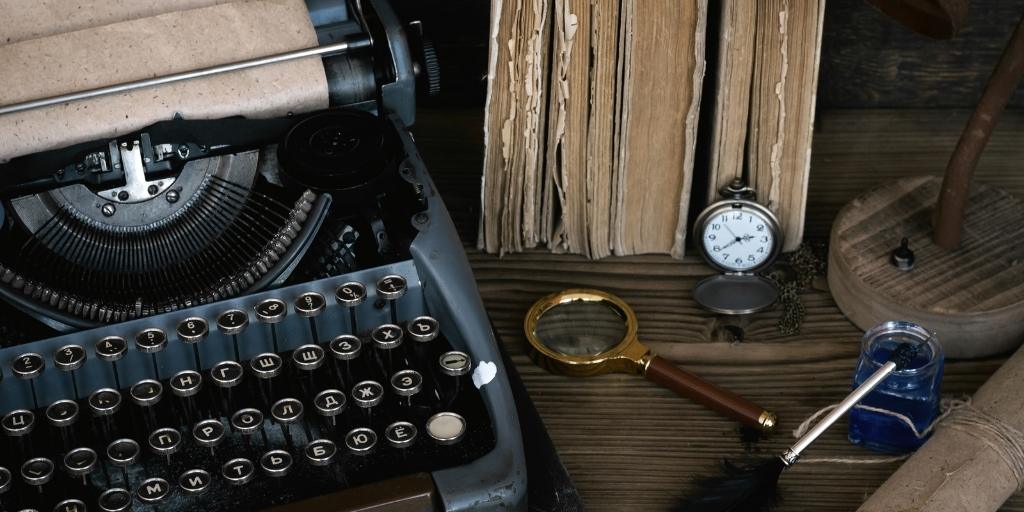 Enjoy a tour of literary England! Our guide to the best destinations and literary places to visit in England …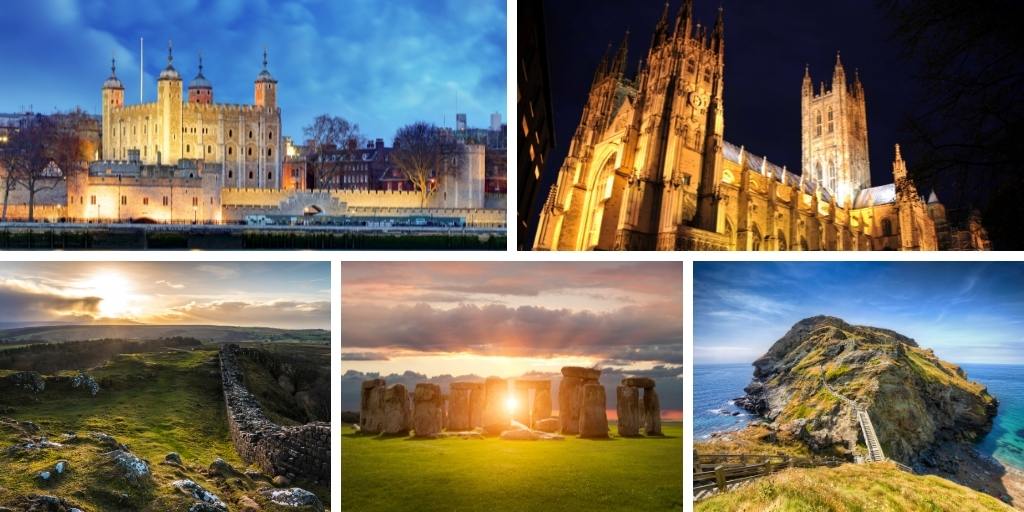 Do you love history and need some inspiration for your travels in England? In this article, you will discover 12 …