An important consideration when planning your UK trip itinerary is how to get around the country. In this guide to transportation in the UK, I cover everything from cars, trains and buses to planes, trams and ferries to help you choose the best way to get from A – Z during your trip.
If you are in the process of planning your itinerary it is vital to consider how you will get from A – B and evaluate all the options open to you. Whilst the UK is a relatively small country with a fairly decent public transport system, especially in the major cities, it is important to choose the best option depending on your itinerary and budget.
For example, if you are planning to travel around the UK from city to city you will find that taking the train will be the easiest and most cost-effective option. However, if you are planning to visit rural areas of the UK such as the Cotswolds you will discover that it is much easier to hire a car and take a road trip or, if you prefer not to drive, an organised day tour.
If you are not familiar with the transportation options in the UK this article will explain each one including renting a car, taking a train, coach, bus, ferry or even a plane and when to consider using each one.

Getting around the UK by train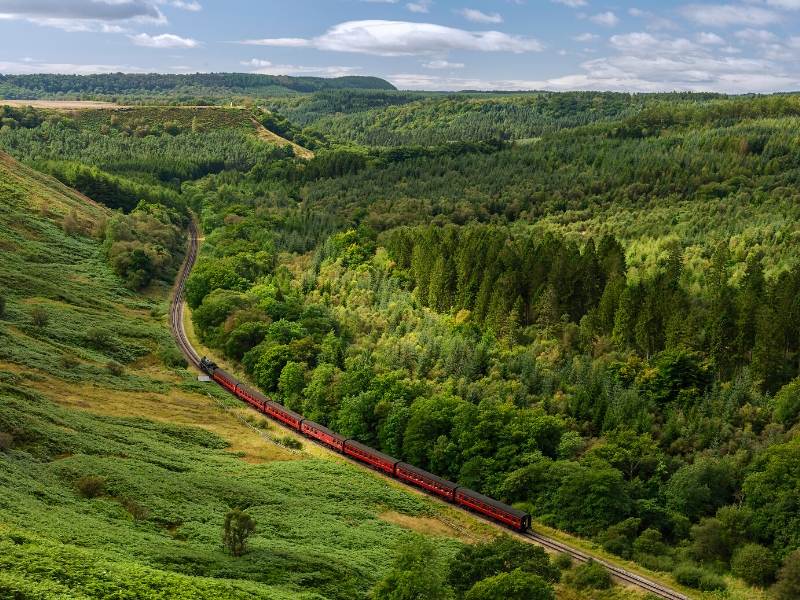 If you are planning to visit major cities in the UK such as London, York, Edinburgh, Bath, and Liverpool the best way to get around is by train.
Train travel in the UK is generally efficient, fast, takes you straight into the centre of the city and is also a great way to enjoy views of the countryside between destinations.
Travelling by train in the UK can however be expensive. It is essential to book in advance and avoid travelling during peak times (before 9:30 am on weekdays)
We recommend using trainline.com to check timetables and fares and make an advanced booking on regular trains within the UK.
Train travel in the UK can be confusing as there are several different rail companies that operate across the network. Our complete guide to travelling the UK by rail includes practical tips, information and advice to help you plan your train travel adventures in the UK with ease.
Train passes
If you are visiting the UK from the US or Australia I recommend purchasing a BritRail Pass or Global Eurail Pass if you are planning to use the train extensively during your trip.
There are many different BritRail Passes available, including a pass that covers train travel between England, Wales and Scotland or country or region-specific passes such as the South West pass (for Devon, Cornwall, Bath etc) or Scotland-only pass.
You can use a BritRail Pass if you're not a UK citizen and have not lived in the UK for the last six months or more. BritRail Passes can only be bought online up to 6 months in advance.
Find out more about the various BritRail Passes here or the Global Eurail Pass here
Read – Comparison guide to the BritRail Pass versus Global Eurail Pass
Travel times between popular train routes in the UK
Approximate train travel times (check for exact timings) between major UK destinations:
London – York 2 hours
London – Edinburgh 5 hours
London – Newcastle 3 hours
London – Bath 2 hours
London – Liverpool 2 hours 30 mins
London – Cardiff 1 hour 50 mins
Edinburgh – Inverness 2 to 3 hours
York – Edinburgh 2 hours
London – Penzance 5 hours
London – Birmingham 1 hour 30 mins
Many of these destinations such as Bath, Birmingham, and York are relatively easy day trips by train from London. Read more here.
Read more – 10 beautiful train journeys to take in the UK
Eurostar
If you are planning to travel to mainland Europe taking the high-speed Eurostar service from St Pancras International is a fast and efficient way to do this.
Travel to Paris, Brussels, Amsterdam, Lille in only a few hours and change for train services to destinations all over Europe.
Read more about our Guide to UK Train Travel
Sleeper train services
There are two sleeper train services that you can take in the UK. If you are travelling from London to Scotland the Caledonian Sleeper is a great option. Take the overnight service to Edinburgh, Glasgow, Aberdeen, Fort William or Inverness.
Click for more information about the Caledonian Sleeper
Read more – Guide to UK Train Travel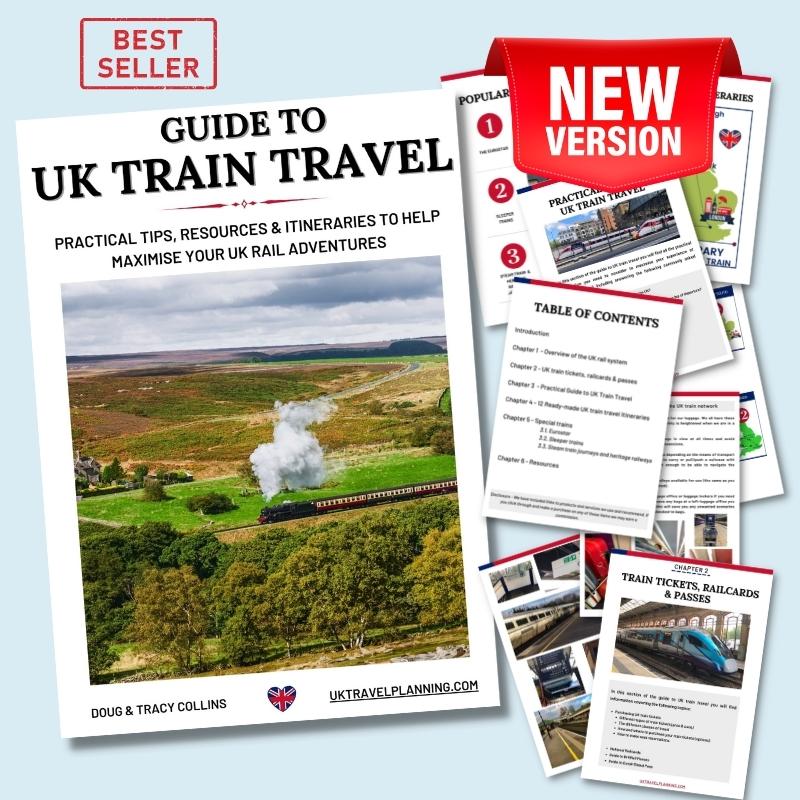 Travel by car in the UK
Hiring a car is possibly the best option if you want to head to some of the more rural areas of the UK. Taking a road trip around Cornwall, Scotland, or the Peak District for example is a wonderful way to see the countryside and stay in smaller towns and villages.
Note – I would not recommend hiring a car when you are in London. London transport is excellent and the cost and hassle of driving in the capital is really just not worth it.
If you are planning a road trip as part of your itinerary, I recommend taking the train to the nearest city or airport and picking up a hire car there. For example, in 2020 we took the Caledonian sleeper from London to Fort William and picked up a hire car at the train station.
How much does it cost to rent a car in the UK?
If you are planning to hire a car in the UK you should budget approximately £140 – 180 a week for a compact car.
In addition to this, you will need to budget for petrol (gas), insurance, tolls and parking costs. Petrol is expensive in the UK compared to North America and Australia.
We recommend comparing prices to get the best deals. Companies such as Discover Car Rentals compare prices from a large number of rental companies to find the best deals for car rentals in the UK.
Important considerations when hiring a car in the UK
Manual cars are the norm in the UK (and Europe) so you will need to request an automatic when you book.
Do not be tempted to hire the largest model of car – roads are narrow and parking spaces tiny which makes a larger car impractical.
To hire a car in the UK you must be over the age of 21 and held your license for over 12 months.
Ensure you check the car for any damage before you drive away – we generally take a video and photographs for our records.
Check pick up and drop off locations and make sure you stick to the agreed drop off time as you will be charged extra if the car is late.
Consider how you will navigate around the UK. You will have the optional extra of a hiring a GPS device (Sat-nav) with the car or if you have your mobile phone using a map app which works offline is also an option. I recommend also having a paper map as a backup.
If you return the hire car to a different location expect to pay a surcharge.
Driving in the UK – Rules of the road
Many overseas visitors are nervous about driving in the UK (especially if you are from a country that drives on the right-hand side!)
Some things to know include:
Drive on the left
Seat belts must be worn at all times
Children up to 135cm or the age of 12 or under must travel with the correct child restraint for their age and size.
It is against the law to use a mobile phone when driving. (Using a hands-free device is allowed)
Overtake on the outside or right-hand lane
Do not drink and drive – avoid drinking altogether if you are driving.
At roundabouts give priority to traffic approaching from the right unless indicated otherwise
Speed limits are 30 mph in towns and 70mph on motorways. Speed limits are enforces and cameras are common.
Many cities have Park and Ride schemes to avoid traffic congestion. If possible avoid driving in UK cities – many have complex one way systems and parking can be extremely difficult and expensive.
In rural areas many of the roads can be narrow with many twists and turns and are often single lane. Drive carefully and slowly and don't be surprised to find a horse and rider or even a tractor round the next bend.
Read more – Renting a car in the UK – Practical Guide and tips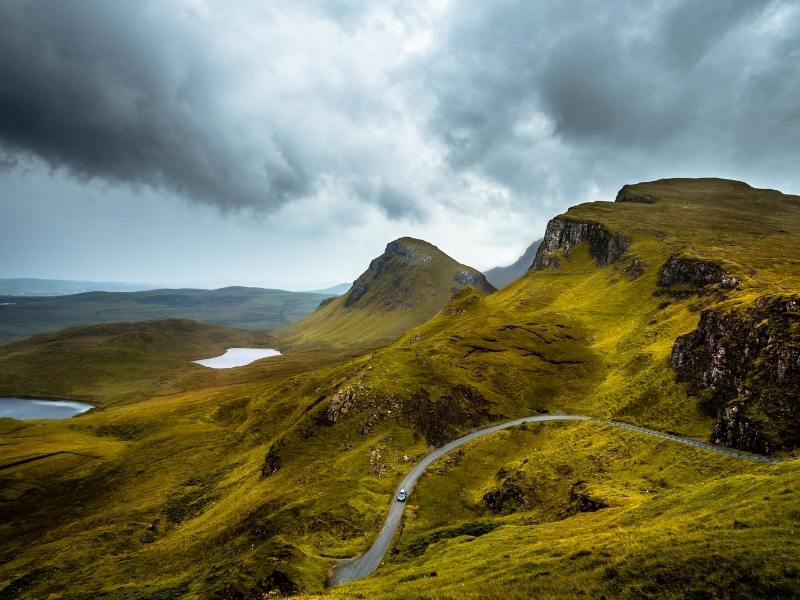 Coach travel in the UK
The cheapest transportation option for travelling around the UK is to take a coach. It is however also the slowest!
National Express coaches run between all major airports, towns and cities. Coach stations are generally located near train stations. Victoria Coach Station is the main hub in London.
Fares, departure times and bookings can be made for National Express coaches through the TrainLine.com
In Scotland CityLink and Megabus are the main operators.
Book tickets as early as possible to secure the cheapest fares – bookings open 12 weeks in advance.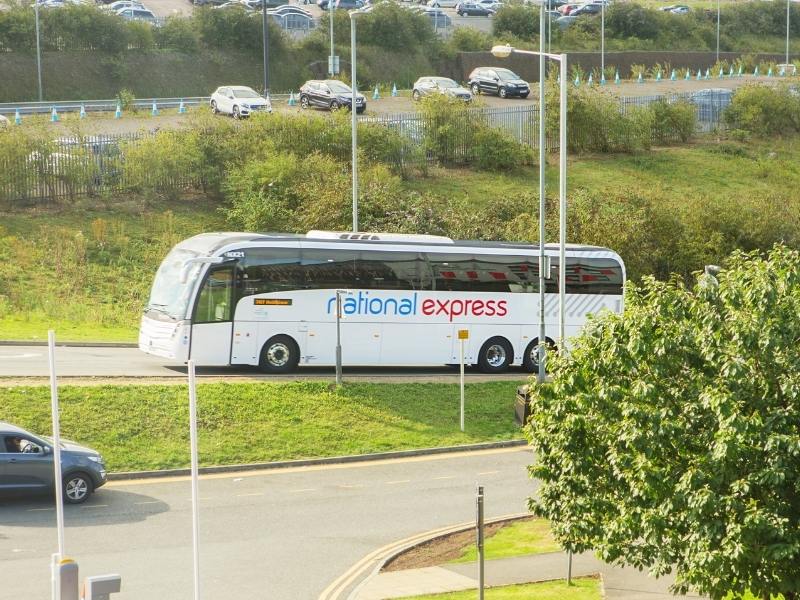 Flying within the UK
London has 4 main airports – Heathrow, Gatwick, Luton and Stanstead. Heathrow one of the busiest in the world and the first port of call for many flying into the UK from outside Europe.
There are many regional airports many of which also receive international flights with Manchester, Birmingham and Edinburgh among the busiest outside London.
Many UK airlines offer good deals for flights to other European destinations. No frills airlines such as EasyJet or RyanAir also fly internally.
I would recommend comparing the cost and time of taking a train within the UK rather than flying to a destination. It is often quicker to take the train – and cheaper if you book in advance. Many no-frills airlines require additional charges for luggage.
Compare costs with Skyscanner and the TrainLine and don't forget to factor in the cost of travel to and from airports.
If you are keen to visit the Channel Islands, the Isle of Man, some of the more remote Scottish Islands or Ireland flying may be the most convenient method.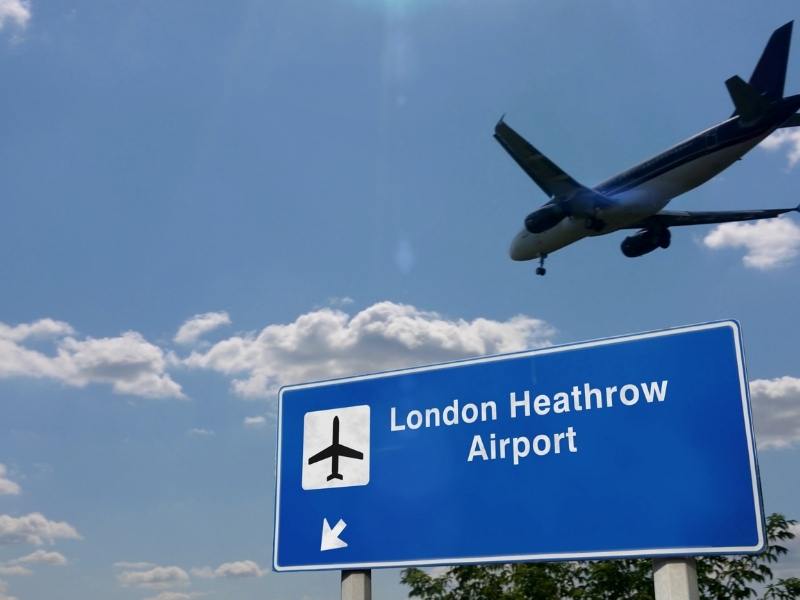 Ferries in the UK
Ferries in England
Most ferries leaving English ports (including Dover, Hull, Newcastle, Portsmouth, and Poole) are heading for France, Holland, Belgium or Spain.
Ferries for the Isle of Man and Belfast depart from Liverpool.
Ferries in Scotland
Most of Scotland's islands can only be reached by boat (the Isle of Skye is joined to the mainland by bridge)
Caledonian MacBrayne (CalMac) operate the ferries between the mainland and the islands as well as to Northern Ireland.
Book tickets early if you plan to take your vehicle on the ferry as spaces book up quickly, particularly during the summer months.
You can find more information about ferry crossing times and prices here.
Ferries in Wales
Ferries to Ireland leave and arrive from Fishguard, Holyhead and Pembroke.
Ferries from Fishguard and Pembroke sail to and from Rosslare in Ireland and are operated by Irish Ferries and Stena Line.
Ferries from Holyhead sail to Dublin (again with either Irish Ferries or Stena Line)
Crossing time range from 2 to 3 hours depending on port of departure.
Click here for ferry times and prices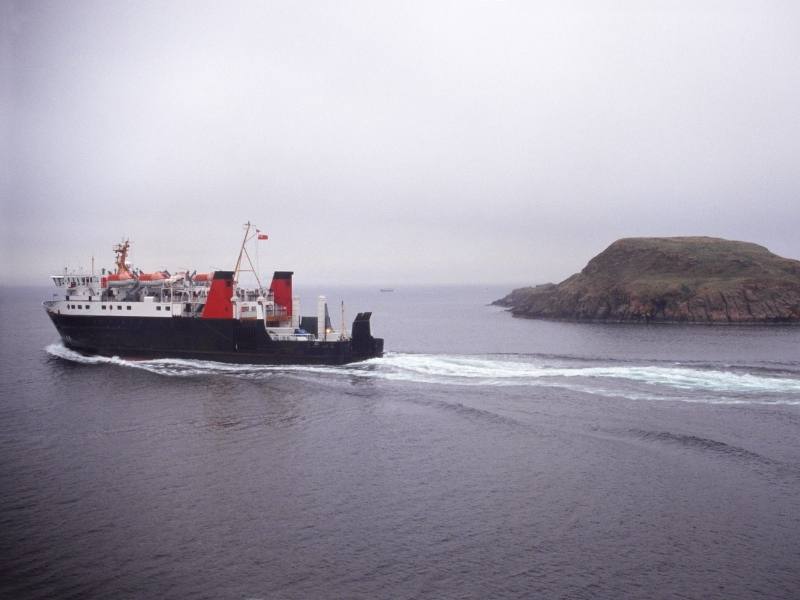 Transportation in major cities
Many of the UK's major cities have excellent public transport networks. Trams run in many cities including Edinburgh, Nottingham, Manchester, and Sheffield.
Many cities such as Bath, York and Oxford are walkable. Hop-on and off buses may operate especially during the summer months and local bus services are often regular and easy to catch. You can find further information about local transportation options in my area and city guides.
We also recommend downloading some apps which are handy while travelling around the UK – find the full list here.
How to travel around London
In London, there are several transportation options including taking the Tube (underground), overground trains, buses, black cabs (taxi), Thames clippers (boats) and even bicycles.
For more information read our transportation guide to London which includes information about the Oyster Card.
If you are flying into Heathrow or Gatwick read our guide to getting into London – Heathrow to London or Gatwick to London.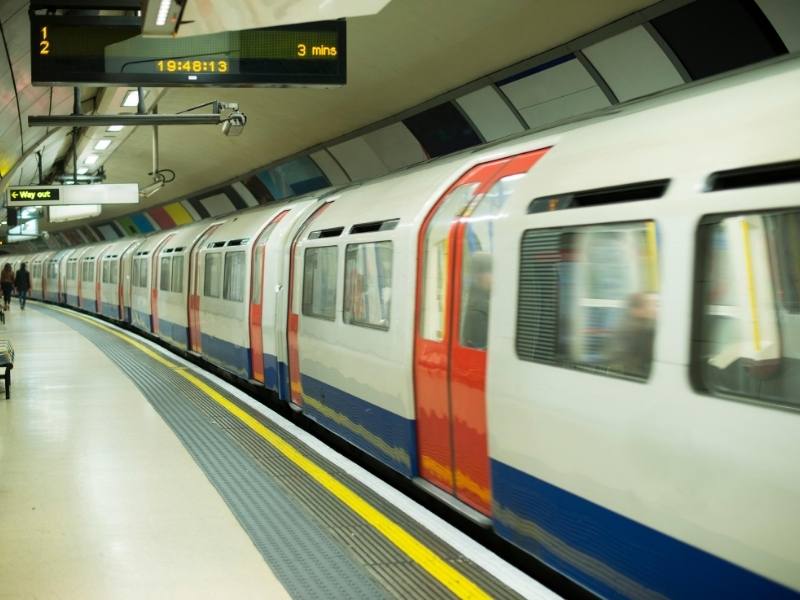 Choosing the best UK transportation options for your trip
You may find that a variety of transportation options are necessary to get you around the UK.
I recommend using Google Maps to work out the various transport options available. Enter your destinations and you will get an overview of travel times, prices and schedules for public transport, driving or flying between them. This is an ideal place to start when deciding which method is best for your budget, travel style and itinerary.
You will also find detailed instructions in my city and area guides about how to get there from London using a variety of transportation options.
Train, plane, ferry, bus, coach or car…the option is yours!
After reading this guide you should now have a clearer idea about the different transportation options around the UK and which may be the best for your trip and itinerary.
Need help planning your UK trip?
Check out my complete 10-step guide which walks you through the process in a logical and easy-to-follow process.