If you're wondering where the top London telephone booth locations are for capturing those iconic photos, this guide is for you. We've tracked down the most photogenic red phone booths in London, saving you the legwork. So you can simply grab your Oyster card and camera and go!
Or why not book a professional photoshoot with our London photography partner Scalens Studio? An awesome souvenir of your stay and the perfect way to remember your trip to London forever – quote UKTP10 at checkout for 10 extra images free.
The red London telephone box is a cultural and travel icon, so here's a brief history. BT – short for British Telecom – are in charge of the London red phone box. This story started, though, with the GPO (General Post Office) – BT's precursor.
The very first phone booth in England appeared during the late 1800s, but it wasn't until the 20th century that things really started to happen. 'Kiosk One' appeared in 1921 and was a cream concrete structure with a red door. The red phone booth in London we all know and love is the K6 model, designed in 1935 to celebrate King George V's silver jubilee.
By 1992 there were more than just red telephone booths in London – 92,000 were spread throughout the UK. From then on, their use gradually declined, and now there's a mere scattering in comparison.
Many people now hunt down a classic red telephone booth in London for that all-important picture. But there's more to it than that.
Every time a London red telephone box is for sale, someone will snap it up, transforming it into the likes of a mini tourist information centre, a home for a defibrillator or a compact library. During our recent travels, we spotted a small London telephone booth bookcase in a Devon village.
Anyway, we digress. Now you know what it's all about, let's move on to listing 9 of the top old London telephone booth locations. Or phone box, if you're British. Here are the best places in the capital to take those red London telephone booth pictures for posterity.

9 of the best London telephone booth locations for taking pictures
🎡 The London Eye
Closest tube: Westminster
What could make a more quintessential London photo than one with two British icons in the frame? Head to Westminster tube for this one and take exit 4 from the station.
After leaving, turn left and you'll soon be snapping your first iconic telephone booth in London by the banks of the Thames. With the London Eye as a backdrop. There's a pair of red phone boxes here on Victoria Embankment.
📸 Book your London photoshoot with Scalens Studio and quote UKTP for an exclusive offer of 10 free images!
Big Ben
Closest tube: Westminster
You can find another spot near Westminster station for photographing a telephone booth in London. Take exit 4 as before, but this time turn right and head straight on until you see Parliament Square on your left.
In fact there's an entire line of old telephone booths here, so you can take your pick. And may have to wait for less time if it's busy with tourists.
Incidentally, did you know that Big Ben is really just the name of the large bell within the tower? Since 2012 and the Queen's diamond jubilee, the official name has been the Elizabeth Tower. Before that it was simply known as the Clock Tower.
Tower of London
A spot near the Tower of London provides another opportunity for taking London telephone booth photos. To find this red London telephone box, aim to reach St Katharine Docks Marina, which lies to the left of the Tower when facing the Thames.
Head towards the Tower and the Thames from the tube station. Once you reach the riverbank, St Katharine Docks Marina is a restored port with bars, cafes, restaurants and moored boats. Head towards the restaurants and you'll spy the London red phone booth close by.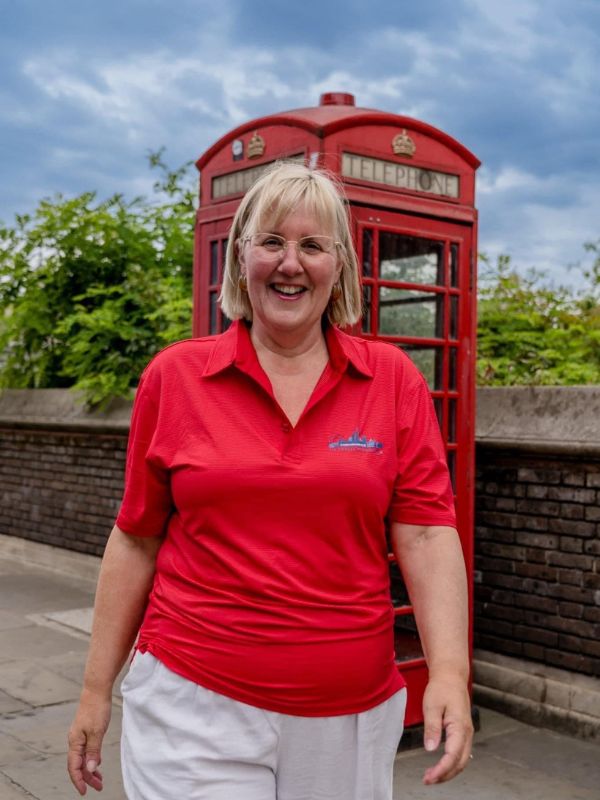 Piccadilly Circus
Closest tube: Piccadilly Circus
The Royal Academy of Arts building on Piccadilly is also home to a London red telephone box or two. You can find them beneath the grand arched entrance to the Academy, so they're good ones to go for on a rainy day!
Head west along Piccadilly from the tube station and look out for Burlington House. It's located just before Bond Street.
New Bond Street
Closest tube: Piccadilly Circus
Taking a snap by Cartier on New Bond Street can give your vintage London telephone booth shots a designer vibe.
This is the quintessential London England telephone booth for many influencers, so expect a wait. You can also expect to be eyeballed (or have eyes rolled at you) when taking your shot. Who cares, though? It's not as if you're likely to ever see these people again.
Get Cartier in the background and it's all worth it! To get to the designer store from Piccadilly station, head up Regent Street and hang a left onto Vigo Street. New Bond Street runs parallel with Regent Street: you'll come across it after passing through Burlington Gardens.
You can also get there by heading from the tube station westwards along Piccadilly, then taking a right turn into Old Bond Street when you reach it. Old Bond Street becomes New Bond Street further up.
There's also a third way to reach this spot – follow the directions below for the South Molton Street phone box and carry on towards New Bond Street, passing along Brook Street en route.
📸 Book your London photoshoot with Scalens Studio and quote UKTP for an exclusive offer of 10 free images!
Bond Street
Closest tube: Bond Street
Well, we say Bond Street, but really it's South Molton Street you want. This fashionable part of West London is awash with stylish boutiques and designer stores, and there's a red London phone booth at the far end of this upmarket street.
The old telephone booth is at the bottom of the pedestrianised street, just before Brook Street bisects it and South Molton Street is opposite Lancashire Court and Avery Row.
Covent Garden – The Market
Closest tube: Covent Garden
Head to the corner of King and James Streets to find another pair of boxes to feature in your London telephone booth souvenir photos. Look out for the Apple store on The Piazza, close to the famous markets.
Making sure the old pillars of the market building, or the arched walkway are in the backdrop makes for a stunning shot. To reach the correct place, take the tube to Covent Garden and head right down James Street. When you cross Floral Street en route you're about halfway there, and should soon spot the phone booths at the bottom.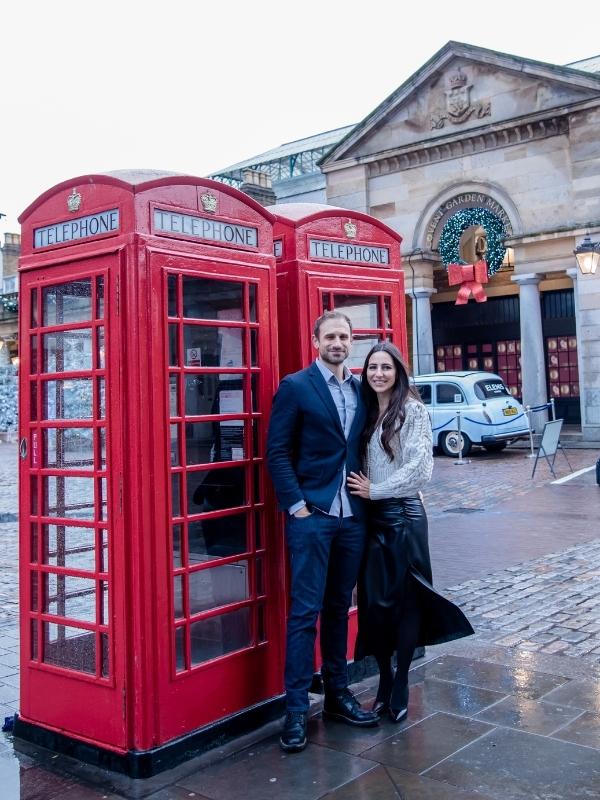 Covent Garden – Broad Court
Closest tube: Covent Garden
There's a second Covent Garden location to track down too. To find a line of red phone boxes, take a left into Floral Street when heading down James Street after leaving the tube station. Once you reach Bow Street – which runs parallel to James Street – cross that and enter Broad Court.
This location's a little quieter, and there are five boxes to choose from! The backdrop isn't quite as impressive, however.
Whichever you go for, try to reach Covent Garden early if you can. This part of London is always packed with locals, workers and tourists.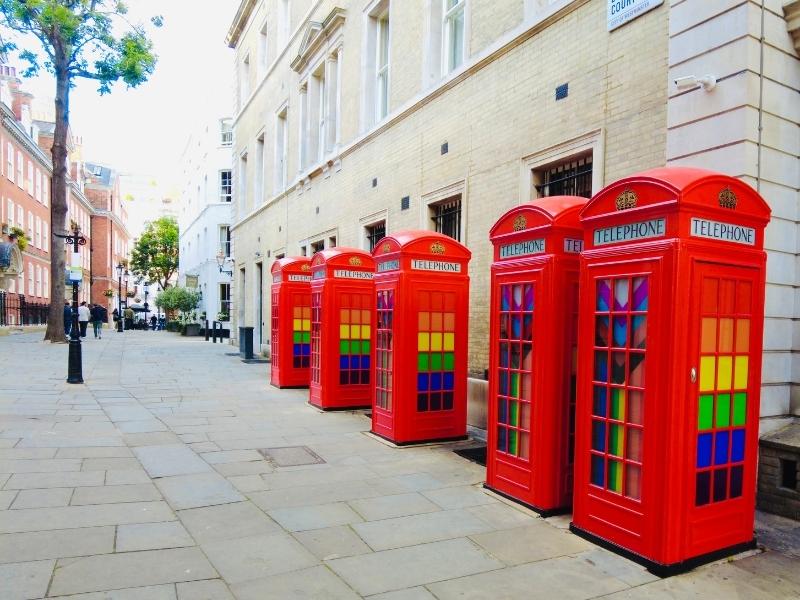 St Paul's Cathedral
Near St Paul's Cathedral and close to St Paul's station is another hotspot for taking those red telephone booth pictures. The route to get here is pretty too, as it involves crossing the green space surrounding the huge church to reach Festival Gardens.
If you spot it, heading down Panyer Alley from the tube station is the best option. You can also access the churchyard from New Change, though, which comes just after Cheapside.
Don't worry about getting lost here, the dome of the cathedral makes that pretty much impossible! Stay to the left of it and head into the gardens, and you'll find Festival Gardens by the corner of New Change and Cannon Street.
6 top tips for tracking down red telephone booths in London
Don't expect to make a call
Red telephone booths in London are rare as it is. Don't expect to actually find a London red telephone booth that actually works. That's what your smartphone is for (well that and taking pics, of course).
Beware of heavy doors
Those British phone booths are very heavy. Don't get your digits trapped in the door – or worse still, the little fingers of a small child. We'd advise reading the next two points before deciding whether to go in at all…
Hold your nose if you go inside
Sadly, London telephone booths are too often used as public toilets. Or for other unsavoury purposes! If you must go in, hold your breath or your nose and make it as quick as you can.
Wash your hands afterwards
Refer to the previous point. The average red London telephone booth is never cleaned. Ever.
Don't ask passers-by to take a picture
As in any city, asking someone walking by to take a photo by giving them your camera or phone is a no-no. They might just happen to be the one person in many who'll run off with it, never to be seen again. Take a friend, snap a selfie or as mentioned above book a professional photoshoot instead.
Consider the backdrop
Think about what's behind you – or that old London phone booth – before hitting that button. Who'd want to miss out on capturing a famous London landmark in the background?
Map showing the locations of the most iconic red London telephone booths
Which London telephone booth locations will you capture on camera?
The England telephone booth is a British icon and you cannot miss the chance to take your own picture of one when visiting the UK capital!
Whether you'll be shopping in Covent Garden or on Bond Street, visiting St Paul's Cathedral, marvelling at mighty Westminster or exploring the Tower of London, don't forget to track down a red London phone booth while you're discovering this incredible city.
London Travel Guide & Itinerary Planner (+ 4 bonus ebooks)