Are you going on a trip to the beautiful English city of Bath? With so many things to see in Bath it is easy to get overwhelmed by the possibilities. If you want to know the best places to visit in Bath we have you covered! Below you will find our guide to help plan your ultimate trip.
Bath, one of Britain's oldest cities, has been a center for wellness and pleasure since the days of the Roman Empire. Its naturally warm and mineral-rich waters attracted those who sought its curative powers and potential for rejuvenation.
Consequently, Bath became a destination for the wealthy elite who could afford such indulgences. The architecture and culture reflect this prosperous past and today visitors to the UK would be amiss to leave Bath off of their travel itinerary.
Fans of Georgian architecture will be in awe. The town's honey-coloured townhouses and buildings are next to none. You'll feel as if you've slipped into a Jane Austen novel as you stroll throughout Bath, admiring upwards of 5,000 historic buildings.
Many, like the Royal Crescent and the Circus, were considered revolutionary architectural achievements of their time. For those who enjoy a little shopping, Bath's charming streets are lined with delightful boutiques and independently owned shops.
Whether you're looking for the latest fashion or for souvenirs, you'll be able to find just the thing in Bath. You'll also be able to choose from a wide variety of restaurants and cafés, many of which feature locally grown produce and artisan ingredients. If you have any time left, there are many noteworthy museums and galleries to explore as well.
There are so many things to see in Bath, it's easy to get overwhelmed by the possibilities. To help you plan your trip, here is a list of the best things to do in Bath, along with a few honourable mentions and hidden gems.
We recommend taking the hop-on hop-off bus in Bath to see all the sights or taking a walking tour with a guide who can tell you all about the history of this beautiful city.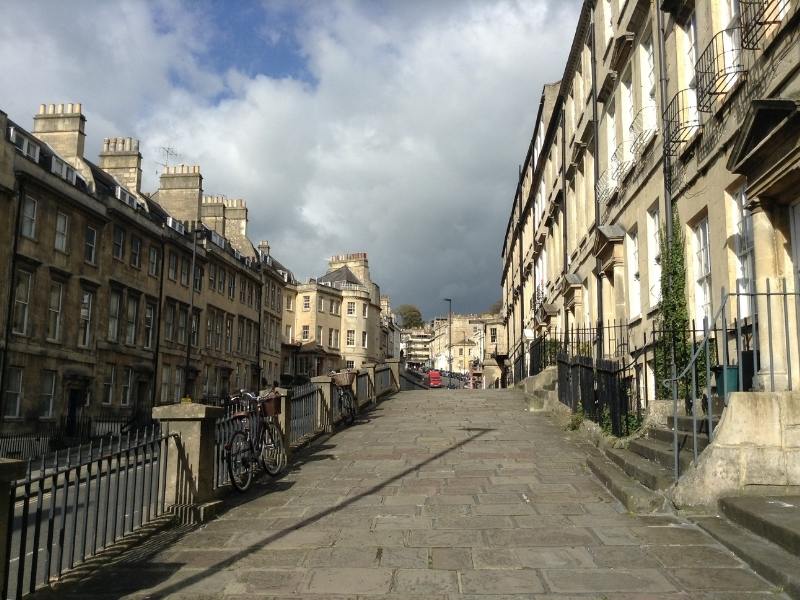 Top places to visit in Bath
Roman Baths
If you're making a list of the top Bath tourist attractions, the Roman Baths would unquestionably be number one. Startlingly well preserved, they were constructed in 70 A.D. as a bathing and socializing complex that utilized the area's natural thermal springs.
Amongst the ruins, you can see the heated changing rooms, plunge pools and the complicated system of pipes that brought the hot mineral-rich waters up through the ground.
There is also an interactive museum with many exhibits that bring the history around you to life. You can even sample the mineral water while you are there, just like the Romans and Celts did so long ago.
Also, be sure to take a moment and admire the lovely view of the Abbey which is just across the way.
If you're looking for things to do in Bath at night, check to see if they are offering their tours by torchlight. Creep around the 2000-year-old pavements after dark using only the light of torches as your guide. It's a way to experience the Roman Baths unlike any other.
For a daytime visit, however, check online for opening times and prices. A word of advice — try to go early in order to avoid the crowds.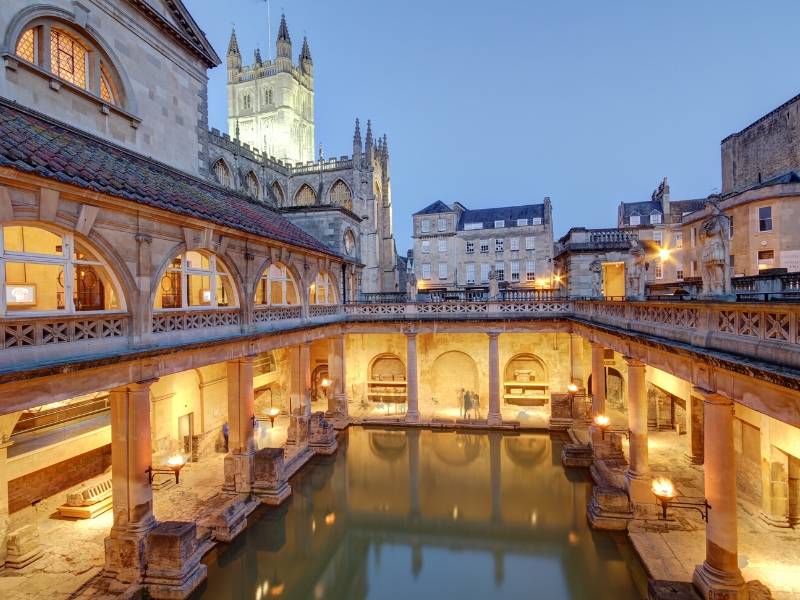 Bath Abbey
Right across from the Roman Baths is the Bath Abbey. One of the top Bath attractions, it is the parish church of the Church of England and stands proudly on the town's highest hill.
It was founded in the 7th century and has a long and colourful history, having been built and rebuilt several times and finally restored in 1860. Its gorgeous multi-story stained glass windows and high ceilings are truly breathtaking.
To best understand the history of the church, take a guided tour — preferably one that includes a trip up to the tower. It's only 212 steps to the top and on the way, you'll pass the bell ringing chamber and be behind the clock face.
When you arrive at the top, you'll be treated to magnificent views of the town and the Somerset countryside beyond.
Tours usually take less than an hour. Entrance to the Bath Abbey is free but a donation of £5 per person is highly encouraged.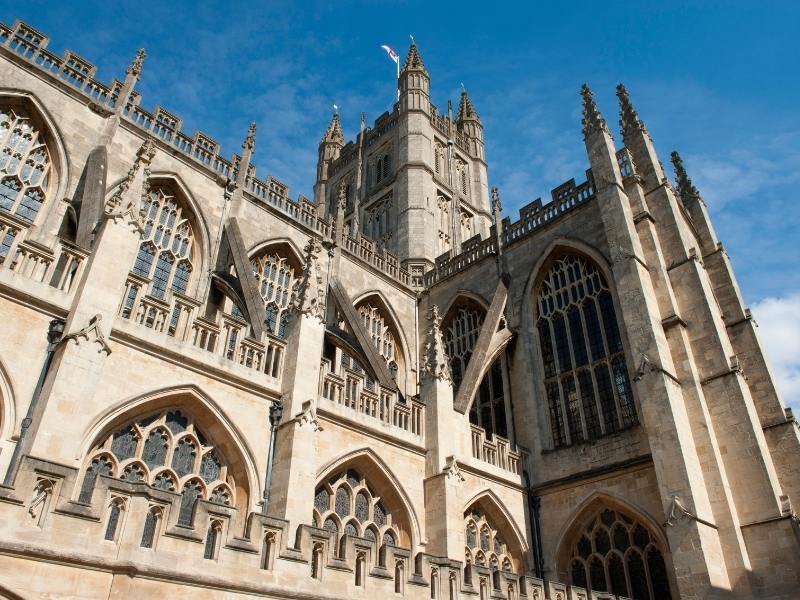 Royal Crescent (and No.1 Royal Crescent)
Ever wanted to see how the other half lived in 18th century Britain? Then the Royal Crescent should absolutely occupy the number one spot on your "Bath places to visit" list.
The Royal Crescent is made up of 30 identical Georgian townhouses designed specifically for the aristocracy. It is one of the most impressive achievements in 18th-century architecture.
Their fronts are amazingly symmetrical as they gently curve around a vast and neatly manicured lawn. The backs of the structures are more varied, with differing details and roof heights.
Venture into No.1 Royal Crescent, the first townhouse built that today serves as a museum. It has been authentically decorated top to bottom just as it would have been back in the 1700s.
In addition to the luxury accommodations of the residents, visitors will have a chance to see the scullery and servants' quarters that are below the stairs. The juxtaposition of both the upstairs and downstairs lives is something to behold and provides for a better understanding of what life was truly like for the people that called these places home.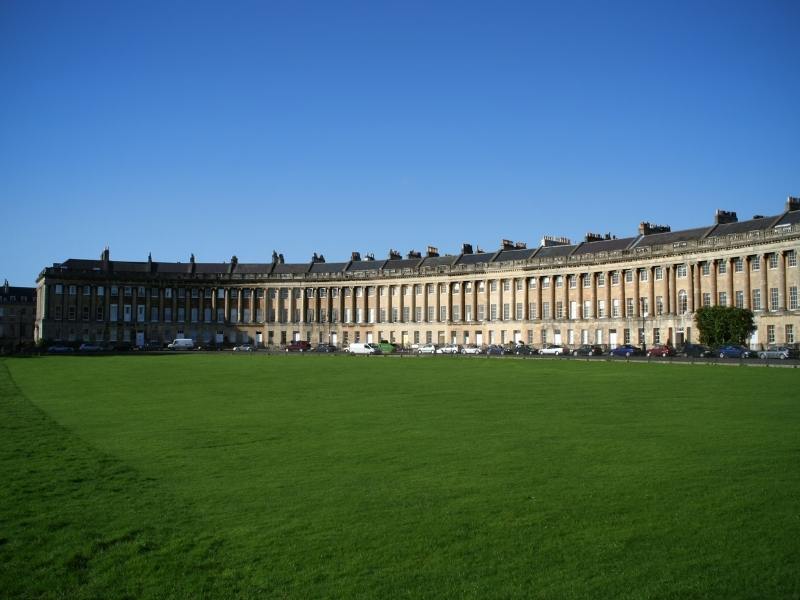 Assembly Rooms and Fashion Museum
For the fashion-minded looking for activities to do in Bath, a visit to the Assembly Rooms and the Fashion Museum is a must.
First, explore the Assembly Rooms with their lovely chandeliers, stone carving and mirrors.
Then, enter the museum and you'll find an extensive collection of mostly British-oriented historic and contemporary clothing, from the pastel, flowing gowns of the Georgian era to radical new works from today's most sought after designers. See 160 examples of period fashion from the last 400 years, including gloves, shoes, scarves, jewellery and all of the fashionable accoutrements.
Feel like dressing up yourself? Kids and adults will enjoy trying on a variety of corsets, dresses, hats and bonnets. Once thoroughly outfitted, you can even have your picture taken in front of a backdrop of the Royal Crescent.
Plan to spend at least two hours exploring the museum.
Sally Lunn's
A visit to the world-famous Sally Lunn's Eating House is one of the mandatory things to do in Bath. It's located in the town's centre in one of Bath's oldest homes, built in 1482. Sally Lunn, a Huguenot refugee, lived there in 1680.
The one skill she brought with her from France was the gift of bread baking. It wasn't long before her bread caused a sensation and became what is known today as the Bath bun, a lighter-than-air brioche-style bread.
It is a large, sharable loaf that is ideal for either savoury or sweet accompaniments. The menu at Sally Lunn's centres around the Bath bun but they also have a variety of historical and contemporary offerings.
Sally Lunn's original kitchen dates back to 1622, and visitors should make time to visit the tiny kitchen museum on the premises to learn about the restaurant's fascinating history.
Sally Lunn's is open for breakfast, lunch, afternoon tea and dinner. If you dine there, admission to the museum is free.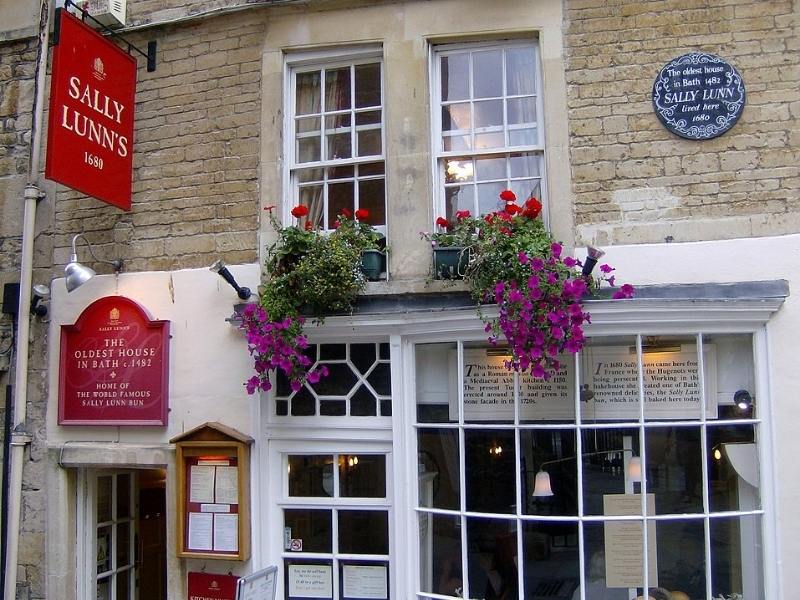 Pump Rooms
Right next to the Roman Baths, you'll find the Pump Rooms, one of the most opulent establishments in Bath. Since the 17th century, drinking the waters directly from the spring has been considered medically advantageous.
An elaborate building was erected on the spot so that the Georgian elite could partake in comfort. Over the years, other buildings were added to accommodate the ever-increasing popularity.
Today, visitors to the complex will walk under glittering chandeliers to sample elegantly presented daytime refreshments.
The Pump Room Restaurant is renowned for its sumptuous afternoon tea, which will tempt guests with teas, coffee or even champagne and a spread of delicate finger sandwiches, little cakes and dainty pastry like none other.
Don't forget to sample the locally famous Bath bun! It's all presented by Searcy's, renowned British caterers.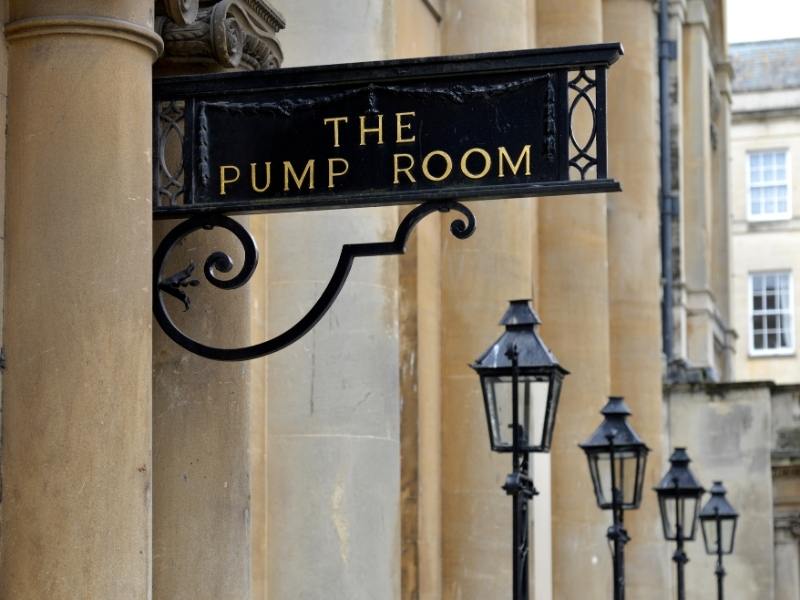 Thermae Bath Spa
How about taking a dip into history? As Britain's only natural thermal spa, the Thermae Bath Spa combines five historic buildings with the contemporary New Royal Bath. Get ready for luxury. Slip into a robe and slippers and choose from a variety of spa treatments.
If you're looking for romantic things to do in Bath, why not schedule a couple's spa session? It doesn't get much more relaxing and intimate than that. If you'd rather, you can just bask by their rooftop pool and soak in the amazing 360-degree views of the city.
If you get a little peckish after all of that indulgence, stop in at the Springs Café Restaurant which serves light snacks and a variety of cold and hot drinks.
The Thermae Bath Spa is open throughout the week. It is best to pre-book any spa treatments, so go online and secure any reservations before your arrival.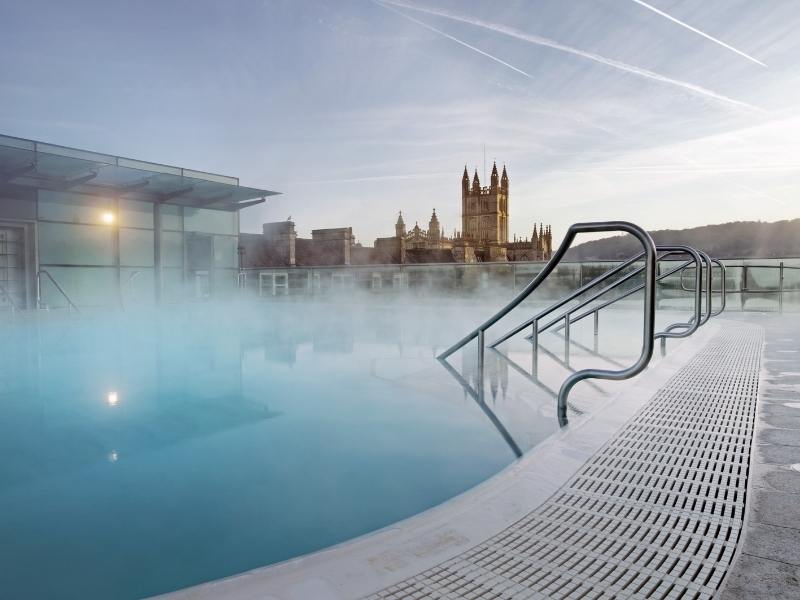 Pulteney Bridge
If you're looking to do a little Bath sightseeing, be sure not to miss the Pulteney Bridge, one of the most famous landmarks in Bath. It was designed in 1769 by Robert Adam as a way to span the River Avon and give the residents of Bath a connection to the other side.
Pulteney Bridge was named after Frances Pulteney, the wife of a prominent citizen and landowner William Johnstone Pulteney. The amazing thing about this bridge is that it is one of the few in the world that has built-in shops lining both sides.
Because of the bridge's unique attributes as well as its pediments, pilasters and domes, it is one of the most photographed spots in Bath. To get the best photo of the bridge, make sure to visit the Parade Gardens, which has the best view.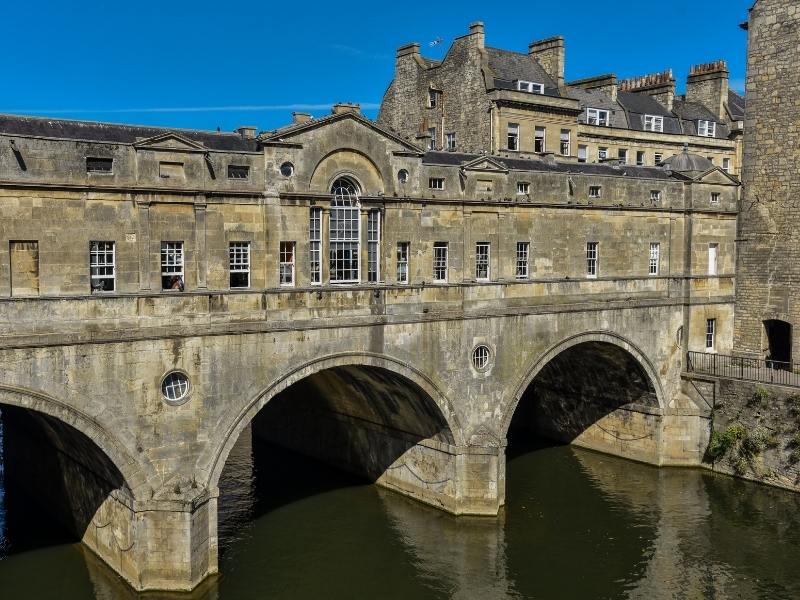 Parade Gardens
If you're ready for some nature time in the midst of your Bath vacation, visit the Parade Gardens, a pleasant two-and-a-half-acre park right in the heart of Bath. It was created in 1933 on the site of the 18th-century pleasure gardens.
The Parade Gardens overlook the River Avon and also offer lovely views of the Pulteney Bridge. The location is so picturesque, it's no wonder that many local couples have chosen its grounds to be the setting for their wedding.
For those gardeners or garden appreciators, make sure to see the bedding displays that include both traditional and sculptural bedding. Take a walk along the river and then stop at the charming café for a well-deserved treat.
The Parade Gardens are open from the week before Easter until the end of September. Before you go, it is best to check online as the hours may change depending on the weather.
Keep in mind, there is a small fee to enter the Parade Gardens.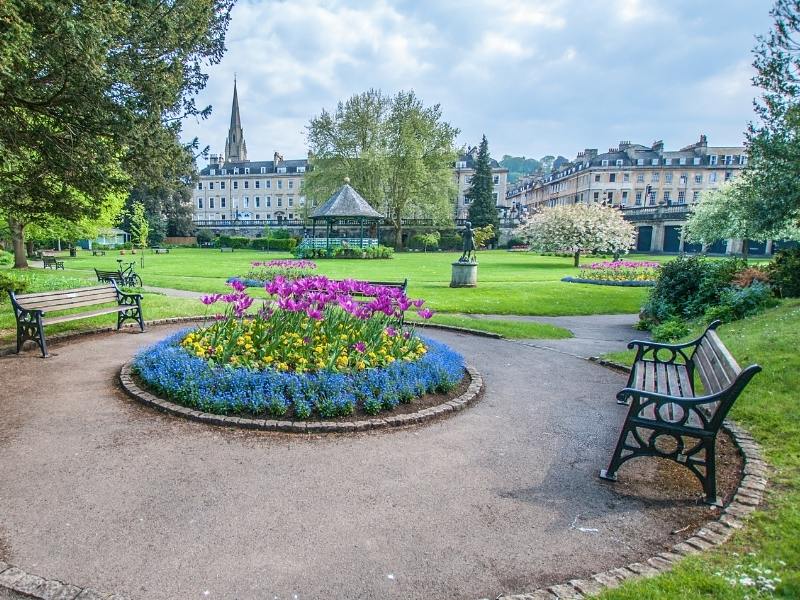 The Circus
Attention architecture fans! A short walk from Bath's city centre, next to the Royal Crescent, is the Circus — a perfectly arranged ring of historic Georgian townhouses.
In 1754, these Palladian-style houses were designed by John Wood the Elder as part of his grand plan to make Bath a centre of classical architecture. Sadly, because of his untimely death, the Circus had to be finished by his son, John Wood the Younger.
One famous former resident of the Circus was portrait and landscape painter, Thomas Gainsborough, who lived there for 16 years as a tenant in 1759.
If you're looking for free things to do in Bath, visiting the Circus should be very high on your list.
For the best view, take a walk to the small park in its centre and take it all in. There will be towering, leafy trees overhead while you contemplate the marvellous historic past of Bath.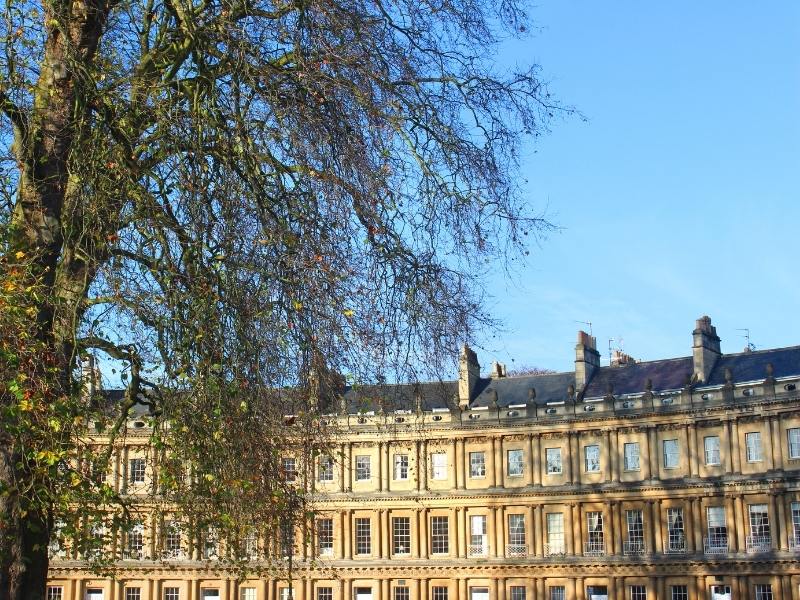 Jane Austen Centre
No trip to Bath would be complete without paying homage to one of the city's most famous former residents, Jane Austen. The Jane Austen Centre is a museum set in a Georgian townhouse that celebrates her time living in Bath as well as the influence the city had upon her works.
This family-friendly museum seeks to create an immersive and interactive experience for visitors to really experience what Jane Austen's world must have been like.
You can dress up like a Regency lady or gentleman with top hats and bonnets.
Visitors will learn about the complicated rules of polite society while getting a better understanding of the culture.
After you've had your fill exploring the museum, stop in at the Regency Tea Rooms upstairs for a delightful spot of tea.
Click here to buy tickets for the Jane Austen Centre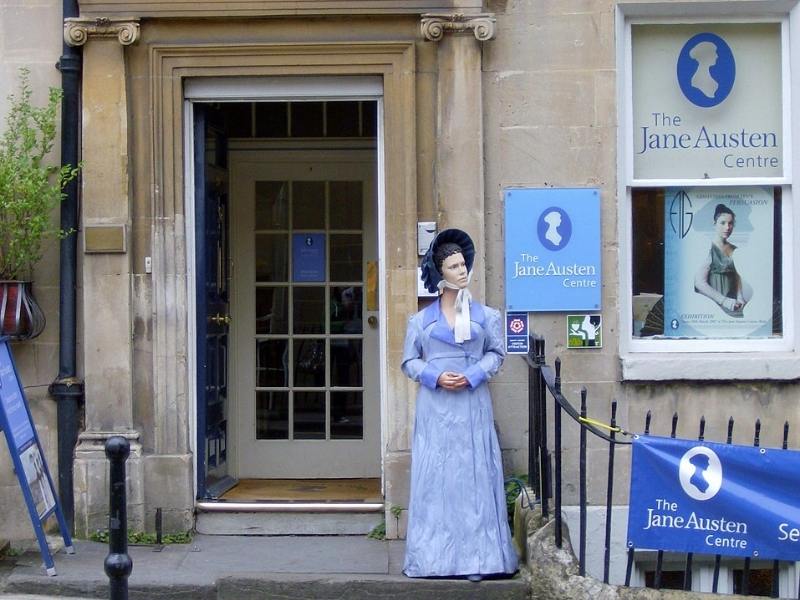 Milsom Street
If shopping is on your agenda, one of the best places to visit in Bath is historic Milsom Street. Built in 1762 by Thomas Lightholder, the buildings were originally three-level townhouses, most of which have mansard roofs and Corinthian columns.
Today, they are occupied by an assortment of eclectic shops, on-trend restaurants, offices and banks.
If you're looking for the latest fashion or just something unusual to take home as a souvenir, Milsom Street is a great place to start.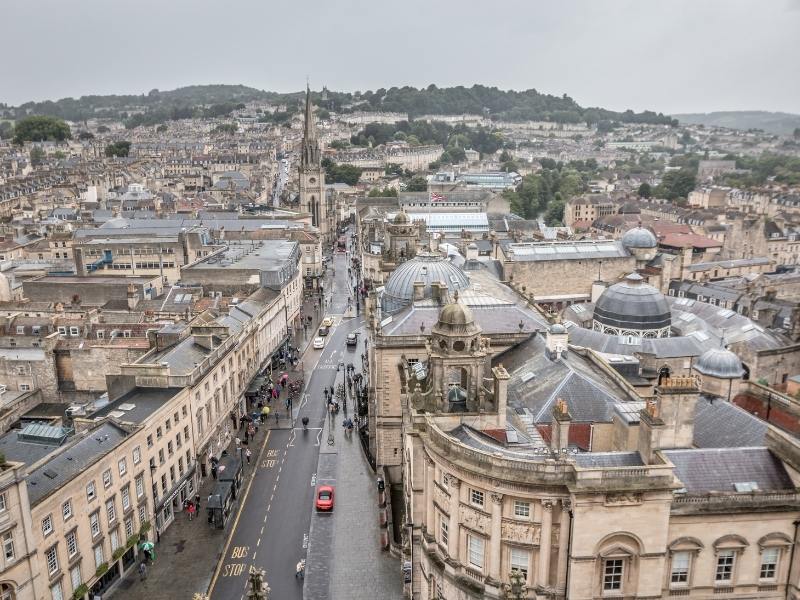 American Museum
What is an American Museum doing in Bath? In the late 1950s, the founders, Dr Dallas Pratt and John Judkyn wanted to promote Anglo-American understanding and celebrate American decorative arts.
In 1961, the only American museum outside of the United States was opened. Their collection of paintings, furniture, textiles and household luxuries is well worth visiting.
Victoria Art Gallery
In 1900 the Victoria Art Gallery was opened in Bath in honour of Queen Victoria's diamond jubilee.
Though the ground floor was originally used as a public library, today the entire facility is dedicated to its role as a public art museum. It boasts a collection of over 1,500 artistic treasures, including sculpture, paintings and decorative arts.
Of particular interest is an exhibition that features British oil paintings from the 17th century to the modern-day.
Do you want a ready-made itinerary for your visit to Bath? Click here for the perfect one day Bath itinerary.
Bath Tourist Attractions Map
Travel tips and your questions answered about visiting Bath
You can find more travel tips and common questions asked by visitors to Bath in my Bath Travel Guide.
When is the best time of year to visit Bath?
Of course, you can visit Bath any time of year and have a delightful stay but if you travel at the beginning of May, you'll be treated to bright green lawns, blooming fruit trees and hedgerows just beginning to blossom.
There will also be longer daylight hours, which makes it possible to pack in even more activities. Schools in the UK let out in late July so travelling before that may help to avoid the crowds. In order to fully appreciate Bath, plan to stay at least two nights or even for a long weekend.
Read more about in my guide to visiting the UK across the seasons.
How can I travel to Bath from London?
There are numerous possibilities if you wish to travel from the capital to Bath on public transport including by train or coach.
There are also numerous tours available from London to Bath which usually incorporate other areas of interest in the region such as the Cotswolds, Stonehenge or Oxford.
Read more in my complete guide to travelling to Bath from London
Where are the best places to stay in Bath?
There are numerous accommodation options in Bath to suit all travel tastes, styles and budgets including:
Find more options in my guide to the best places to stay in Bath
What tours can I take in Bath to discover the city?
If you prefer a walking tour with a guide (I always find I learn so much more) rather than explore the city independently there are a number of recommended walking tours you could join.
> Click here for more private and group tours available in Bath
How can I get around Bath?
Bath is a hilly city so I recommend comfortable walking shoes. Take an umbrella – rain showers are common at any time of year in the UK.
Bath is a walkable city but there is a hop-on and hop-off bus available if you prefer.
Click here for more information about the hop-on-hop-off bus service in Bath.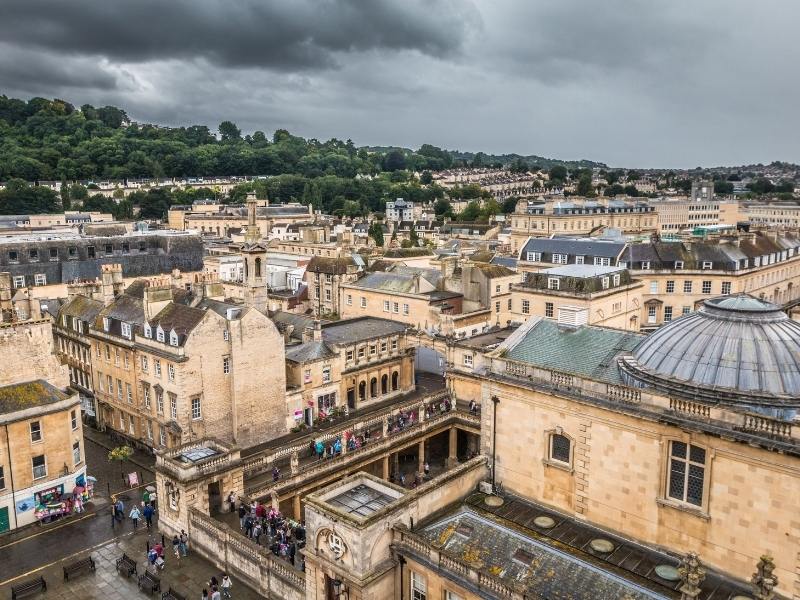 Final thoughts
Read more about visiting Bath in my Bath Travel Guide which contains links to all my articles about the city plus more tips and tricks to make the most of your visit.
If you are looking for other places to explore in this region of England my guide to visiting the South West is a great place to start. You can also find information about exploring the nearby Cotswolds in my Cotswold Travel Guide!
Looking for more inspiration for your travels in England? Check out my England Travel Planning Guide which has loads of ideas, tips and resources to plan your itinerary.