England's South West offers visitors beautiful coastlines, historic cities, UNESCO World Heritage Sites, ancient monuments and good food! There is something to appeal to everyone in this corner of England.
South West England is made up of the following counties – Devon (England's 3rd largest county), Cornwall (including the Isles of Scilly), Dorset, Somerset, Wiltshire and Gloucestershire.
The region also includes the Cotswolds one of the most beautiful areas of the UK.
If you plan to visit the region and would prefer to do this on a tour rather than independently we recommend this 5-day tour of Devon and Cornwall which combined with a day trip to the Cotswolds from London will enable you to make the most of this beautiful region in 6 days.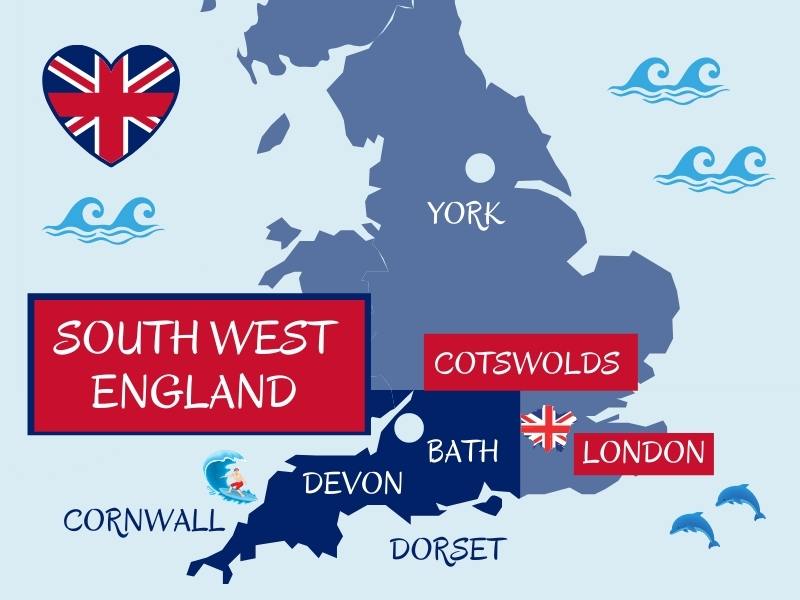 🇬🇧 Planning a trip to England? Scotland? Wales? N Ireland?
Wherever you are planning to visit in the UK we are here to help you plan your trip. Take our FREE 5 step UK itinerary planning challenge and pop over and join our FREE UK Travel Planning community. There are over 1500 members to chat to about what to do and see, where to stay and any other questions you may have.
🇬🇧🇬🇧🇬🇧🇬🇧🇬🇧🇬🇧
🗒 We also recommend subscribing to our FREE newsletters which include practical tips, resources and money-saving deals – Click here to subscribe and receive our planning and packing checklists as a thank you!
Top 10 things to do and places to visit in South West England
Search for fossils on the Jurassic Coast
A UK UNESCO World Heritage Site since 2001 the Jurassic Coast is one of the best places in the world to search for fossils!
This area of the south coast has rocks that date back to the Jurassic, Triassic and Cretaceous periods.
Stretching from East Devon to Dorset over 95 miles of coastline don't miss natural features such as the Durdle Door (a limestone arch), Lulworth Cove and Chesil Beach.
The visitor centre at Lyme Regis has many of the fossils found along the beach and recounts the story of the earth's 185 million year history.
Read more | Jurassic Coast Travel Guide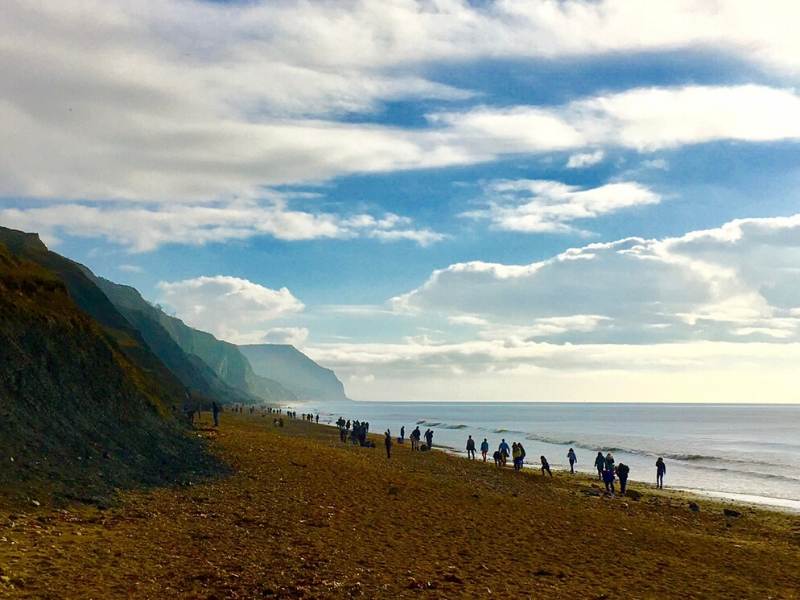 Explore the beautiful villages of the Cotswolds
The Cotswolds an Area of Outstanding Natural Beauty (AONB) are one of the UK's most popular destinations with over 38 million visitors each year.
The name of the Cotswolds derives from 'cot' – a sheep enclosure and 'wold' – a hill. The Cotswolds include parts of 6 English counties including Oxfordshire and Gloucestershire.
You will find many of the quintessentially quaint English villages which often appear in American movies such as Bridget Jones or The Holiday in the Cotswolds.
Visit the Cotswolds via a road trip or tour. Train travel is not always practical in this part of the UK. Walk the Cotswold Way – a 102-mile walk from Bath to Chipping Campden.
Popular villages in the Cotswolds include Burford, Bourton-on-the -Water, Bibury, Stow-on-the-Wold and Painswick. Why not book a beautiful cottage in a Cotswold village?
Read more | Cotswolds Travel Guide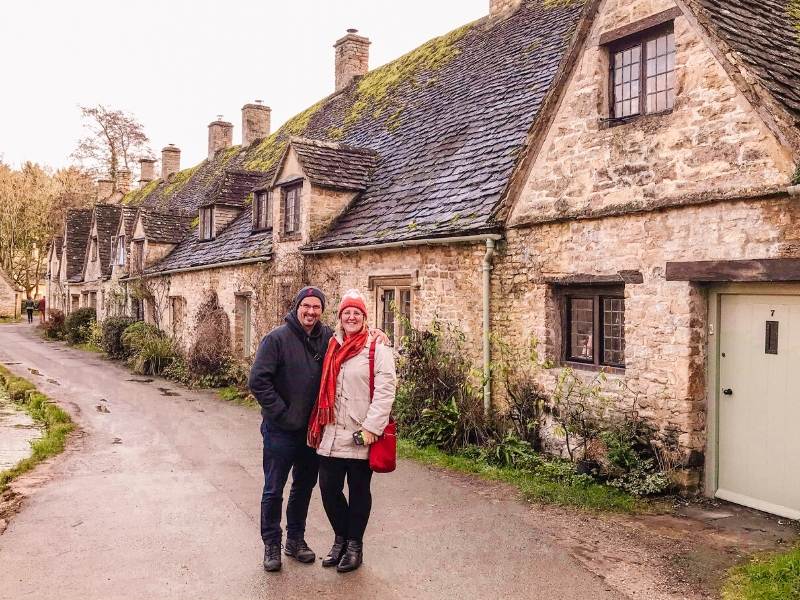 Visit Stonehenge
The ancient site of Stonehenge was constructed between 4 and 5 thousand years ago. It is located in the county of Wiltshire near the cathedral city of Salisbury in south west England.
The site is managed by English Heritage and attracts over 1 million visitors a year.
Spend some time in the exhibition centre to learn about the history of Stonehenge before enjoying a stroll around the stones.
Alternatively, why not take a virtual tour of Stonehenge from the comfort of your own home?
Stonehenge is an easy day trip from London by train or if you prefer why not take a tour which includes a few popular destinations such as this Stonehenge, Bath & West Country Day Trip from London or this Windsor, Stonehenge, and Oxford Tour
Read more | A guide to visiting Stonehenge | How to get to Stonehenge from London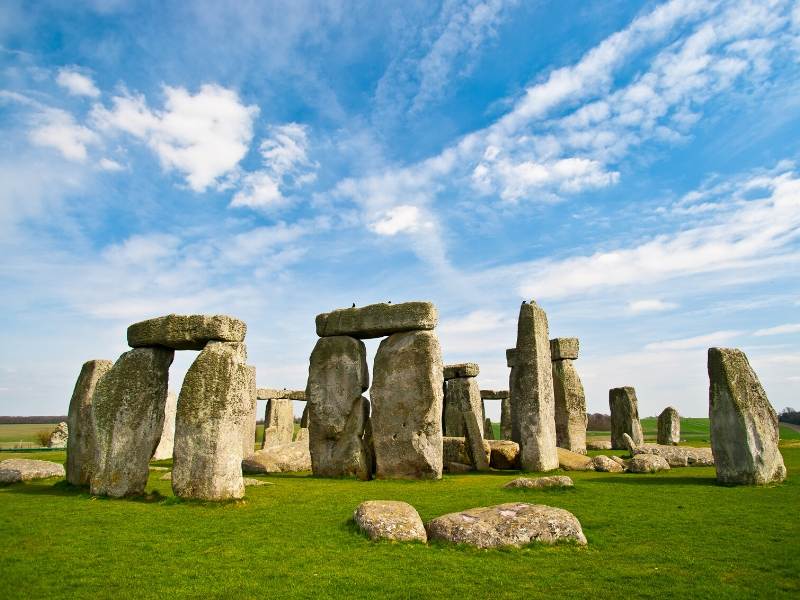 Visit the Unesco World Heritage Site of Bath
The entire city of Bath is a UNESCO World Heritage site (1987) and the largest city in Somerset. Bath is an easy day trip from London by train – why not stop off on a train trip to Penzance in Cornwall.
Highlights (amongst many) include the Royal Crescent and Roman Baths.
Fans of Jane Austen will know that she lived in Bath during the early 19th century. You can find out more at the Jane Austen museum in the city.
Read more | Bath Travel Guide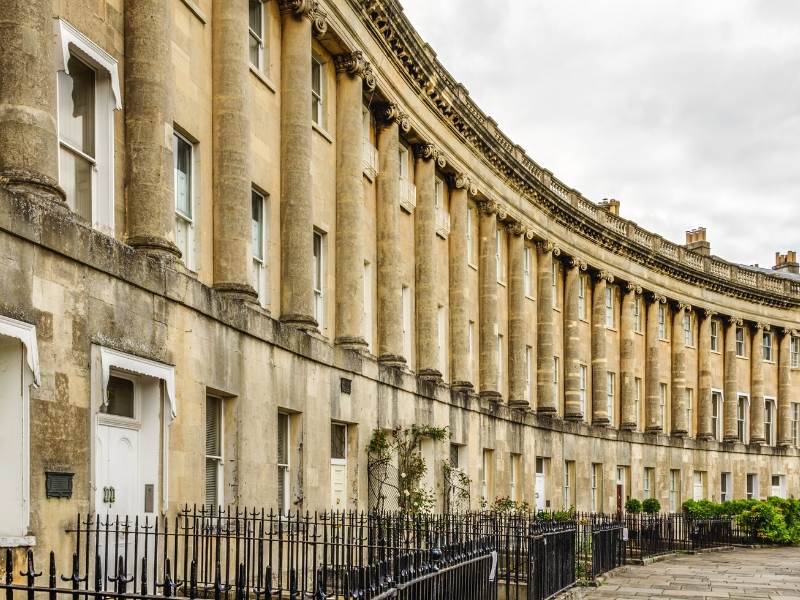 Take a street art tour of the Bristol home of Banksy
For fans of street art head to Bristol, the home of the most famous street artists of them all – Banksy. There are art tours around the city to see some of his work around the city.
Whilst in Bristol also take the opportunity to explore its 19th-century maritime history. The newly regenerated harbourside area offers a selection of shops, cafes, bars and restaurants.
Brunel's Clifton Suspension Bridge and SS Great Britain are also worth visiting.
Read more | Bristol Travel Guide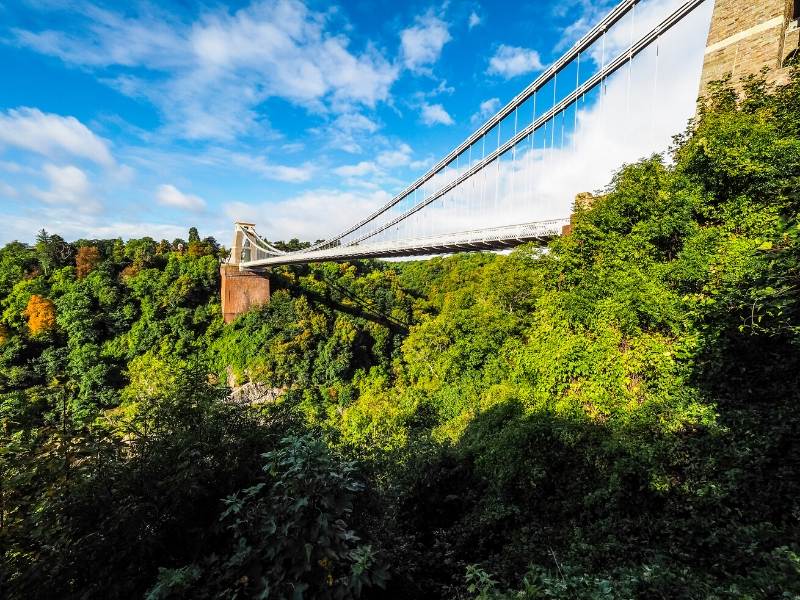 Visit the Isles of Scilly
Situated off Penzance take a short trip on the Scillonian ferry to the Isles of Scilly. (Travel to Penzance from London on the famous sleeper train service one of our favourite train journeys to take in Britain)
Only 5 of the 140 islands are inhabited and the islands are famous for their sandy beaches and clear blue waters such as Great Bay on St Martins.
Read more | The Isles of Scilly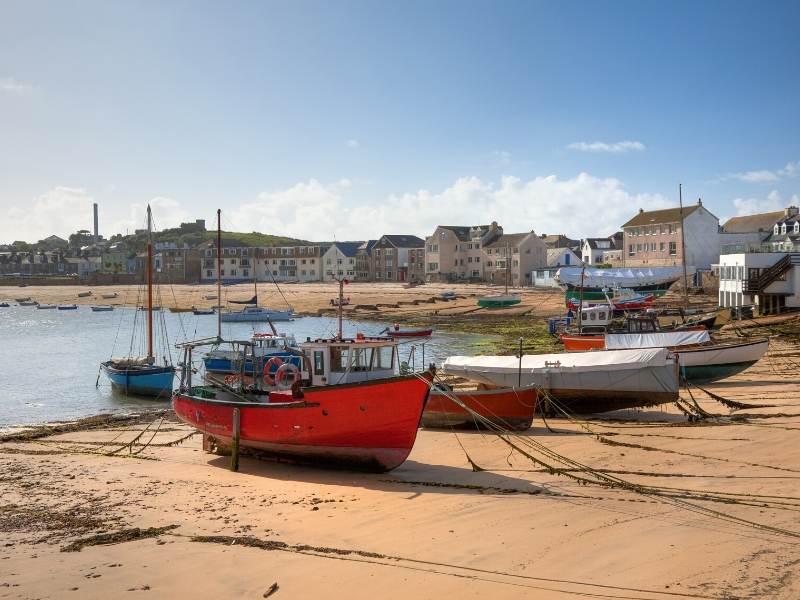 Visit beautiful towns and villages in Devon and Cornwall
You really are spoilt for choice in Devon and Cornwall as there are so many beautiful coastal towns and villages to visit such as St Ives, Looe, Polperro, and Port Isaac.
Don't forget to try afternoon tea – scones with cream and jam…. or is it scones with jam and cream. The answer will depend on which county you are in!
Read more | Devon Travel Guide / Cornwall Travel Guide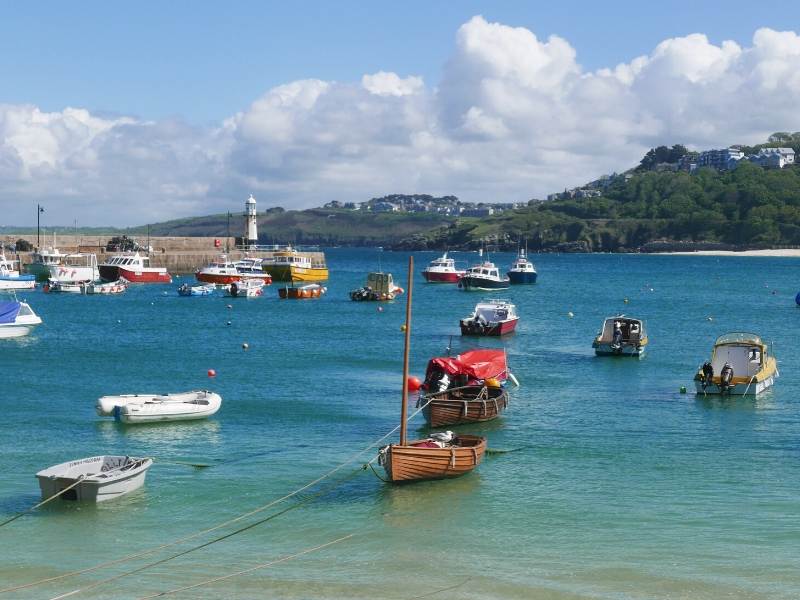 Tintagel
The famous castle of legend, Tintagel is associated with King Arthur and his knights and is believed by some to be the mythical Camelot.
Entry to Tintagel is via English Heritage timed tickets and booking ahead of your visit is highly recommended.
If you enjoy visiting castles there are lots to visit in the UK – find out more about the best castles in England, Wales and Scotland.
Read more | Visiting Tintagel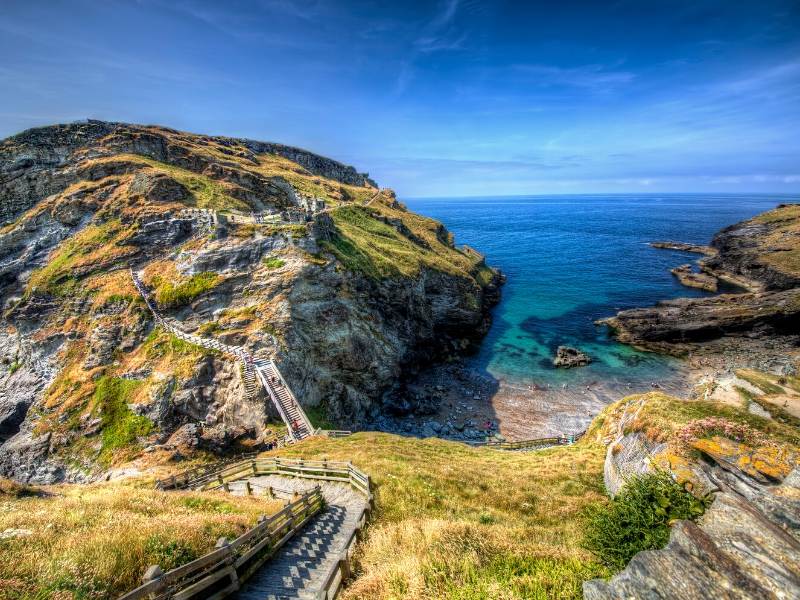 Saint Michael's Mount
A tidal island located in Mount's Bay in Cornwall Saint Michael's Mount is reminiscent of Mont Saint-Michel in France.
A man-made causeway of granite enables access from the mainland at low tide only. When the tide is in (and walking to the island is impossible) you can catch an amphibious vehicle in Marazion to the island.)
Explore the terraces and gardens, church and castle and spectacular views of Mount's Bay.
Read more | Visiting Saint Michael's Mount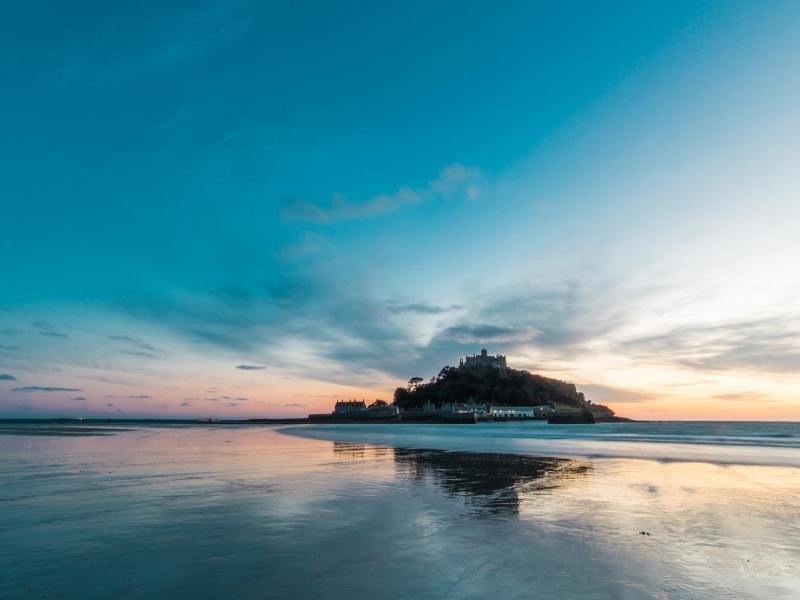 Visit the cathedral city of Salisbury
Salisbury is not only a wonderful city to visit but it is also the perfect base from which to visit Stonehenge. Salisbury itself is a pretty market town with historic buildings but is particularly famous for its cathedral (one of the oldest in Europe) where one of four remaining copies of the Magna Carta can be viewed.
The prehistoric settlement of Old Sarum is located on a hill just outside the city and is free to visit for members of English Heritage.
Read more | Salisbury Travel Guide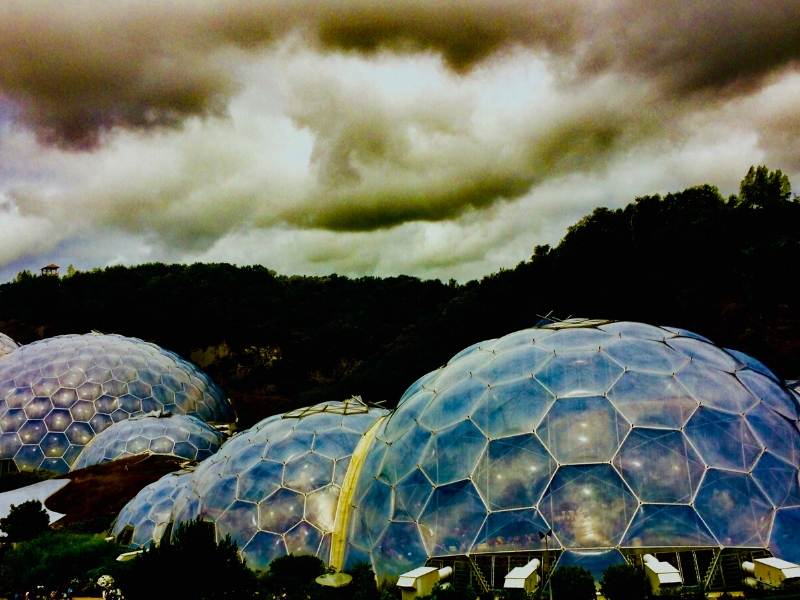 #11 Special mention – Exmoor and Dartmoor National Parks
Dartmoor National Park is located in the county of Devon and stretches for 368 miles. It encompasses ancient woodlands, streams, deep river valleys, moorland, villages and is home to the famous Dartmoor ponies.
Located in West Somerset and North Devon Exmoor National Park covers an area of 267 square miles.
The South West Coast Path which is the longest way-marked walking route in England starts in Minehead and ends in Poole 630 miles (and a few blisters) later!
Walk the footpaths along the 37 mile stretch of coastline and enjoy spectacular views.
Read more | Dartmoor National Park and Exmoor National Park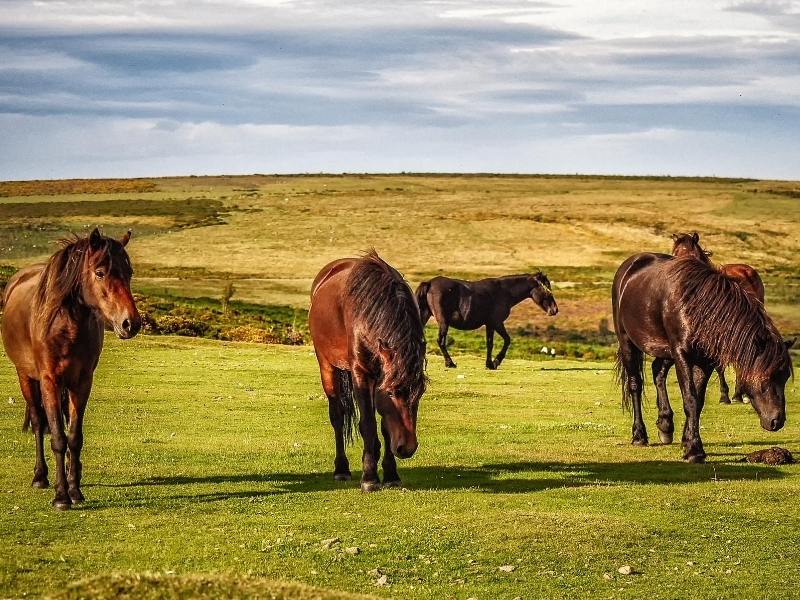 Prepare for your visit to the South West of England
WHAT TO READ – Best books to read before you visit South West England include Rebecca by Daphne Du Maurier, Lorna Doone by R.D Blackmore, Sense and Sensibility by Jane Austen and Evil Under the Sun by Agatha Christie
WHAT TO WATCH – Best movies and TV programmes to watch before you visit South West England include Poldark, Doc Martin, Delicious (starring Dawn French) and the film Ladies in Lavender starring Dame Judi Dench and Dame Maggie Smith.
WHAT TO DO: Click here for recommended tours of the South West
WHERE TO STAY: Click here for your guide to
WHAT TO EAT – Cornish pasties, crab, cider, cream teas, Somerset cheddar, stargazey pie. Yum!!
WHERE TO EAT – There are so many excellent restaurants in this part of the country it is hard to choose! Rick Stein's Seafood Restaurant in Padstow, Restaurant Nathan Outlaw in Port Isaac and The Elephant in Torquay all have excellent reviews.
PRINCIPLE TRAIN STATIONS – Bath, Bristol Parkway/Temple Meads, Exeter, Oxford, Southampton, Reading, Basingstoke
TIP: Leave plenty of travel time particularly during school holidays and summer months. Many of the roads are narrow and can become congested. Where possible take the train or a tour!
Where will you visit in England's South West?
Find out more about visiting the regions in the South West in these articles:
Want to explore some of England's other regions?
Head over to my other area guides to England which include the North East, North West, East Midlands, West Midlands, Yorkshire, East of England and South East.
Visiting Scotland and/or Wales? Check out my top 19 places to visit in Scotland and my top 10 choices for Wales!
Find more inspiration for your travels in my England Travel Guide which includes information about what to see, where to stay, how to get around, travel tips, recommended reading and more to make the most of your trip.