Asking yourself how should I bring money to the UK when I visit? Discover the pros and cons of cash and cards plus answers to frequently asked questions.
There can be a considerable amount of confusion when it comes to spending money in the UK. As geographically the UK is part of Europe – and was historically part of the European Union (EU) – some people do think that the UK currency is Euros.
But that's not the case at all. Hence this post on how to bring money to the UK. The UK has its own currency, pounds sterling. And just to confuse visitors even more, Scottish cash looks completely different to English money.
This guide to bringing cash into the UK from abroad will take you through all you need to know about spending money in the country. We'll outline all the denominations UK currency comes in, as well as what happens when you cross the border into Scotland.
Also covered are all the pros and cons of using cash within the UK, as opposed to a credit or debit card. The Wise card is also included, to answer the growing number of UK visitors who want to think about using this form of payment within England, Wales, Scotland and Northern Ireland.
By the end of this guide, you'll know all about UK currency and how best to use it. Let's get stuck in by discussing the denominations British currency comes in.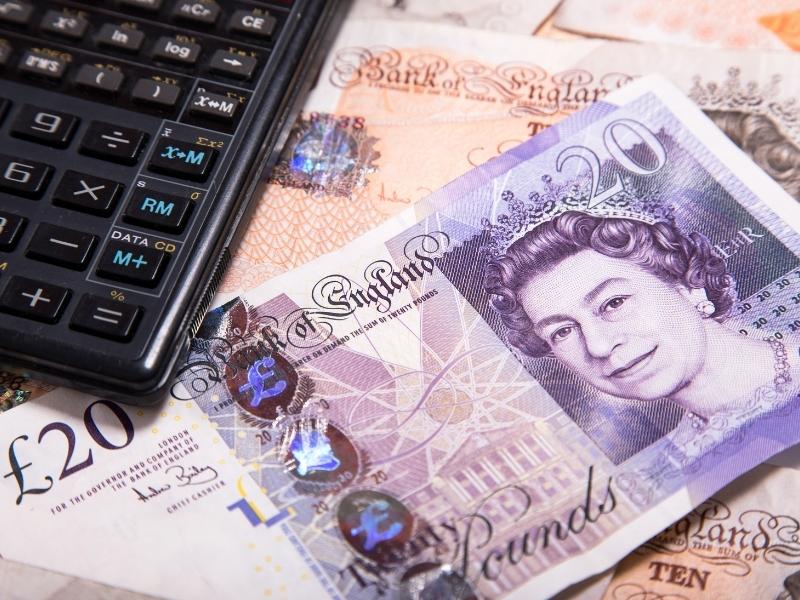 Bank of England currency denominations
There are currently six banknotes and eight coins in circulation in England and Wales. Let's take a look at each in turn.
Banknotes
There are four different amounts on banknotes issued by the Bank of England – £5, £10, £20 or £50. (There is no £100 note.) So why are there six types of notes?
Over a five-year period between 2016 and 2021, the UK started to issue polymer banknotes instead of paper ones. The aim was to replace the original, easily damaged paper notes with the type that could cope with being put through a washing machine cycle. As well as other kinds of stress.
All banknotes issued by the Bank of England feature the Queen's portrait. On the other side a notable British character is depicted. Here's some more info about each note.
£5 note
Often referred to as a 'fiver'
Colour: Aqua
Portraits: The Queen & Sir Winston Churchill
Paper version: No
The £5 note – or fiver – features an aqua colour and portrait of Sir Winston Churchill. He was a prominent Prime Minister who was in power during World War II. The historic paper version of the five pound note is no longer in circulation.
£10 note
Often referred to as a 'tenner'
Colour: Brown
Portraits: The Queen & Jane Austen
Paper version: No
The old paper £10 note is also no longer used. A new polymer one features Jane Austen, the famous British writer who published Pride and Prejudice, among other works. This note is brown in colour.
£20 note
Often referred to as a 'twenty'
Colour: Purple
Portraits: The Queen & JMW (William) Turner
Paper version: Yes
The English Romantic artist J. M. W. Turner is featured on the new £20 note. During the time the painter was known as William Turner. This note is purple and the old paper version of this one is still being used.
A £20 note is sometimes simply called a twenty, though it's not as commonly heard a term as 'fiver' or 'tenner'.
£50 note
Often referred to as a 'fifty'
Colour: Red
Portraits: The Queen & Alan Turing
Paper version: Yes
Both paper and polymer £50 notes are still in circulation, though you tend not to see these as often as £5, £10 and £20 notes. The 'fifty' is red and features Alan Turing, a computer scientist who is credited with designing what the very first computer was based on. His 1950s test for artificial intelligence is still used today.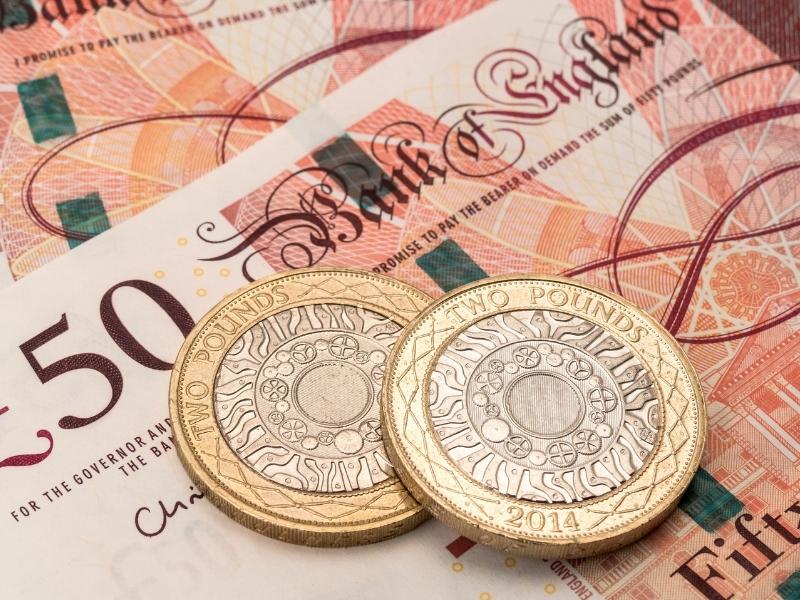 Coins
'Coppers': 1p and 2p
Silver coins: 5p, 10, 20p, 50p, £1 & £2
Coins come in silver or copper-coloured metals. £2, £1, 50p, 20p,10p and 5p coins are silver, while 2p and 1p coins are copper-toned. All feature the Queen's portrait, and special editions are often minted.
These can, over time, become worth more than their face value, so do check your change for anything unusual! The 'p' means pence. There are 100 pence in each pound.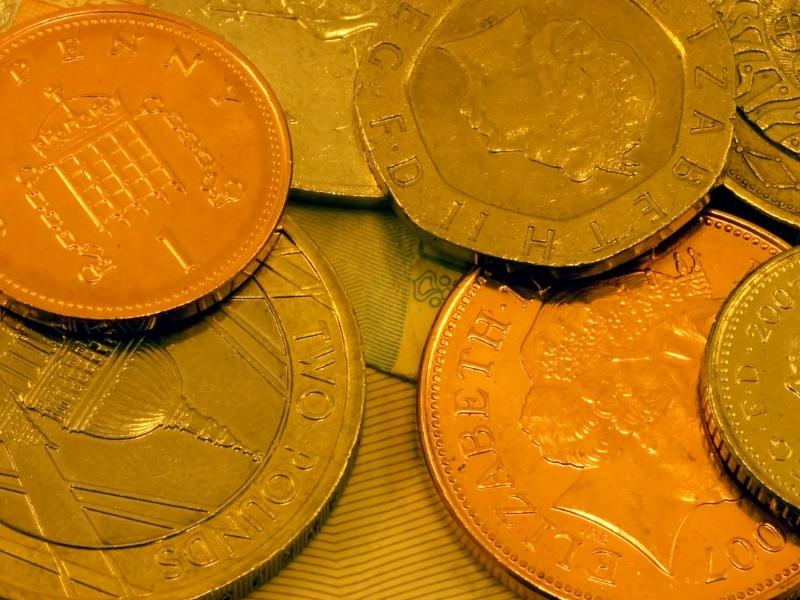 Scottish currency denominations
Notes: £1, £5, £10, £20, £50 and £100 (issued by 3 Scottish banks)
Coins: same as England, Wales & Northern Ireland
As mentioned in the introduction, Scotland does things its own way – and not least when it comes to money.
While the coins are exactly the same as the English versions, and the money is worth the same amount, Scottish banknotes look different. They also come in £5, £10, £20 and £50 denominations.
There is also still a £1 note in circulation in Scotland, though it's now rare to see one. A Scottish £100 note also exists.
Three Scottish banks issue notes – the Bank of Scotland, Clydesdale Bank and the Royal Bank of Scotland. Each uses unique designs.
In theory, Bank of England and Scottish banknotes are both accepted across the UK as both state 'pounds sterling'. But in practice some retailers aren't keen on accepting the 'other' type. This is less of an issue in places close to the border like Edinburgh or Northumberland, or in major tourist centres.
It can, though, be a reason why paying by card can make matters simpler when you're travelling through various parts of the UK!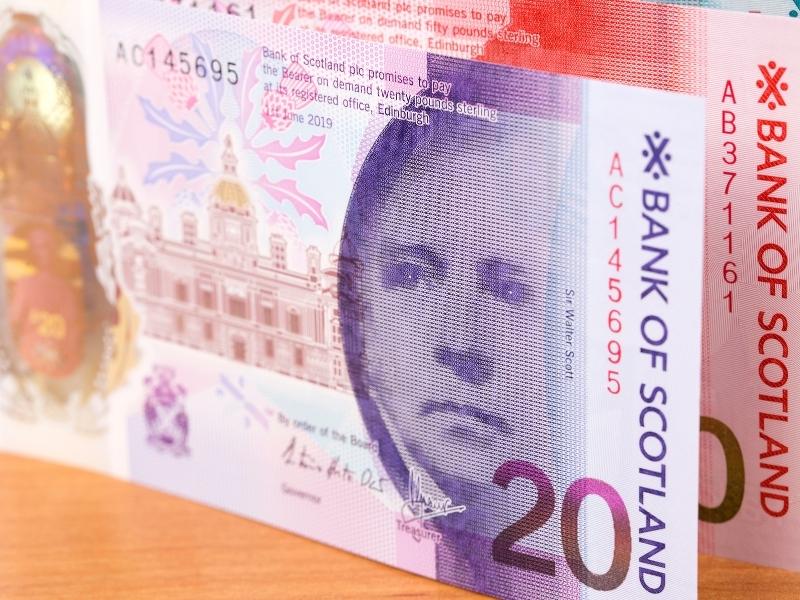 Northern Irish currency
We also need to mention Northern Ireland. Northern Ireland also issues its own pound sterling banknotes, that are the same in value as the English and Scottish ones.
While (in theory at least) you can use English or Scottish notes worth £5 or more anywhere in the UK, Northern Irish notes can only be used as a form of payment in Northern Ireland.
Any English bank should exchange these for English notes, though, if you require this service.
Pros and Cons of using Cash in the UK
So now you know what the money is all about, here are some reasons why you might want – or not want – to use cash in the UK.
Pros
It's simple to budget on a daily basis
It's easy to keep track of your spending
It's useful for car parking, tipping and so on
A banknote or two makes a cool souvenir of your time in the UK
You can change money at banks, post offices, hotels & bureaus de change
Cons
Some UK outlets are now cashless
Changing money takes up valuable time
Cash is more bulky to carry than one or two cards
It can be confusing, especially when travelling in Scotland
Lost or stolen cash can be more difficult to claim on your insurance
Pros and Cons of using Cards in the UK
So what about credit and debit cards, or other types of payment cards? Big names like Visa and Mastercard are accepted all over the UK. Here's some more info on the pros and cons of paying by card.
Pros
No need to change money
You're prepared for cashless payments
Mastercard and Visa are widely accepted
Cards are very lightweight and easy to carry
There's no confusion re Scottish vs Bank of England notes
Cons
It can be harder to budget
Tracking your spending is more difficult
Cash is harder to carry and takes up extra space
You could need cash for car parks, tips and buying small items
You may have to cancel a stolen or lost card from another country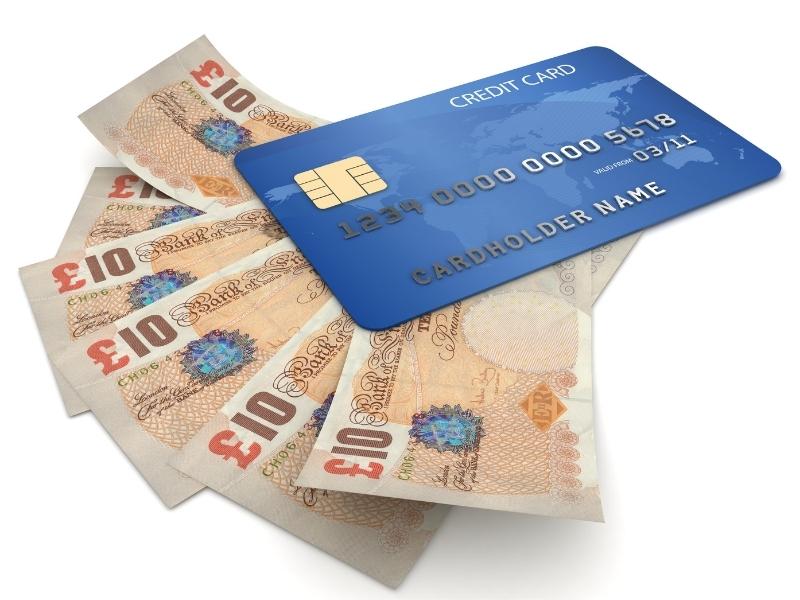 The Wise Card*
*Advice given in this article is general in nature and is not intended to influence readers' decisions about investing or financial products. You should always seek your own professional advice that takes into account your personal circumstances before making any financial decisions. We always encourage our readers to compare options when it comes to financial products. Read our full disclosure.
The Wise Card comes from Wise, an international payment and transfer platform. Wise was set up to offer simple, lightning-fast and low-cost transactions.
The Wise Mastercard is available to anyone with a Wise account, including citizens of countries like the US, New Zealand, Australia and Europe. You need a multi-currency Wise account to apply for the card.
A Wise card works like a debit card. Put simply, if there's money in your Wise account, then you can spend it anywhere Mastercard is accepted. You can pay via Wise in more than 50 currencies worldwide. A set amount of money can also be withdrawn in cash, and this varies by country.
It's free to open a Wise account, and then you can apply for the card. This will open the door to spending money all over the world – without any unreasonable fees or poor exchange rates.
The rates compare very favourably indeed to the likes of PayPal, which is why anyone who gets paid from another country tends to fall in love with Wise and its far lower fees!
"From a personal perspective, we love Wise – and so do the freelancers and partners we work with in the UK and Australia."
Wise Card Pros and Cons
Pros
A Wise account – and card – is free
Wise fees are far lower than those charged by banks
Wise offers far more favourable exchange rates than the likes of PayPal
There are good security features to protect users
You can use Wise like a debit card or to withdraw cash
Cons
The Wise card isn't yet available in many countries
You'll need funds in your account to pay with or withdraw
Limits apply to how much cash you can withdraw via the card
Find out more about the Wise card here.
How to Bring Money to the UK – FAQs
Do I need to bring cash to the UK?
It's a good idea to have small amounts of cash to hand. You may need coins or notes when parking, or require some for tipping. When paying for small items it can also be simpler to hand over a few coins than a card or a banknote.
During our recent visit to the UK, we needed to use cash for parking on more than one occasion. Some taxis may also accept only cash, especially outside the major cities.
Should I do anything before paying by card in the UK?
If you're planning a UK trip, it's best to tell your bank that you'll be travelling before you use your card overseas. That way they'll know not to block it (as if they don't know they may suspect fraud).
Do I need to bring more than one card?
It's always a good idea to travel with more than one payment card, just in case one is lost, stolen or blocked. One Mastercard and one Visa card, for example, would be a good bet.
You may also need a second card if the first type isn't accepted in the places in which you stay, eat or shop. Visa and Mastercard are widely used across the UK.
Can I pay with US dollars in the UK?
Us dollars are not generally accepted in the UK. Nor, in fact, are Euros. With the exception of places like airport stores, you'll need to use UK currency in cash or a payment card during your time in the UK.
Which way will you pay in the UK?
In most cases, paying by card is more convenient than cash, though we do recommend carrying a small amount of cash for parking, taxis, small purchases and tips.
Ideally, take a Wise Mastercard and a Visa debit or credit card with you – plus a small amount of cash. That way you'll be covered every single time you need to pay for something. Whether that's an ice cream, a taxi ride, a newspaper or a car park ticket!
For more on paying your way in London, don't miss this article on Oyster Cards versus contactless payments.