Confused? Wondering which is best for you? Oyster Card v Contactless? Read on for our practical guide to help you decide which method is best for your London travel needs.
If you're planning a trip to the UK capital, then no doubt you'll be wondering about the best way to pay for London Transport. Using the city's tubes, buses, trains and even boats and more is the ideal way to travel around – but should you get an Oyster Card or pay by using your regular contactless card?
Wherever you roam in London, having a simple, no-fuss way to pay for your journeys will make life so much easier. Freeing up some of your time and money so you can focus on other things. Such as shopping at the markets, enjoying afternoon tea or following in the footsteps of The Beatles.
This article will take an in-depth look at the differences between paying for public transport by contactless or using a Transport for London (TfL) Oyster Card. By the end, you'll be able to make an informed choice about which option will suit you best.
Covered are all the pros and cons of each option, including the ways in which may benefit you in terms of saving money. We also discuss using the Pay As You Go system on London Transport in general, before considering the special deals you may be able to get as an Oyster Card holder, or when buying one in conjunction with a London Pass.
First, let's take a look at the three different ways you can pay for public transport in London, plus the benefits and pitfalls of each.
Oyster Card v contactless v cash
💷 Cash
Pros:
You can clearly see what you're spending
Cons:
Cash fares often cost more
Some forms of transport don't accept cash
Lost or stolen cash may be impossible to recover
There is of course a third option open to anyone who's heading to London. Cash. Why not pay for your journeys with pounds sterling?
Alas, various forms of transport – such as London buses – cannot even accept cash payments. Where cash is accepted, it is also often the most expensive way to pay. Cash is thus best avoided.
This also saves you having to change as much money, so really it's a no-brainer. If you were robbed, you'd also lose all your cash, and this may not be covered by your travel insurance. By contrast, a card can be cancelled in a matter of moments.
So we recommend ruling out cash altogether (though it's always wise to carry a small sum in case of an emergency). Now, let's consider using an Oyster Card vs contactless payments.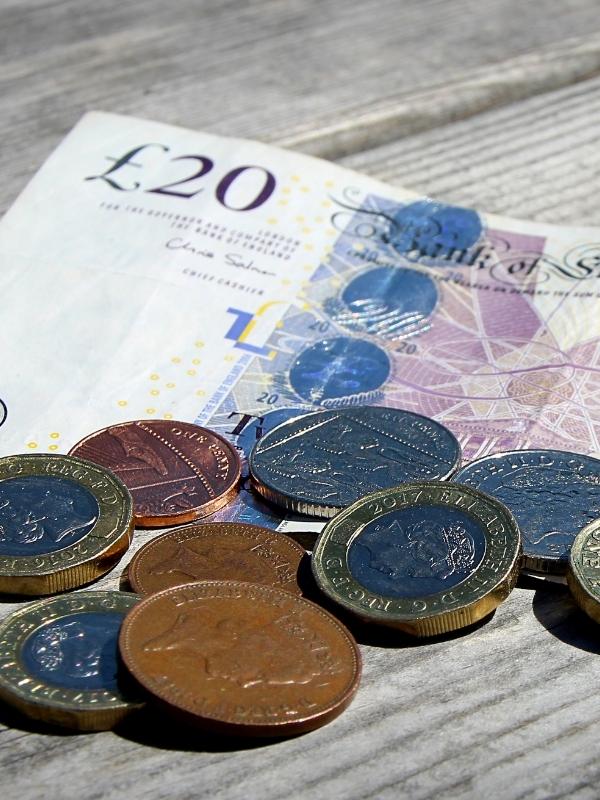 💳 Contactless
Pros:
Paying by card means there's less need for currency exchange
Fare capping means you pay a maximum sum per day
You don't need to carry around more than one card
Contactless payments are widely accepted
Smartphone payments are enabled
Cons:
Your issuing bank may charge you for foreign currency transactions
Oyster Card holder discounts are not available
You will need to have your credit card readily on hand (may be more risk of theft)
Contactless is, if you like, the new version of cash. Instead of handing over notes or coins, you simply tap your contactless card when paying. The chip inside is read by the machine, and the amount debited directly from your account.
Since the Covid-19 pandemic, contactless has become the main form of payment in the UK. It's a simple, stress-free way to pay for goods and services – including, of course, London Transport.
The potential issue here is how much a foreign bank – that is to say, one based outside the UK – will charge you for each transaction made in pounds sterling.
Do note that Euros are not the currency in the UK, as the country has now left the EU. Do check the applicable fees carefully before you travel and pay by contactless, as you may get an unpleasant surprise otherwise!
If you want to pay using Apple or Android pay, this should be possible when using contactless with a device instead of a card.
So is there a better option when it comes to paying for travel in London?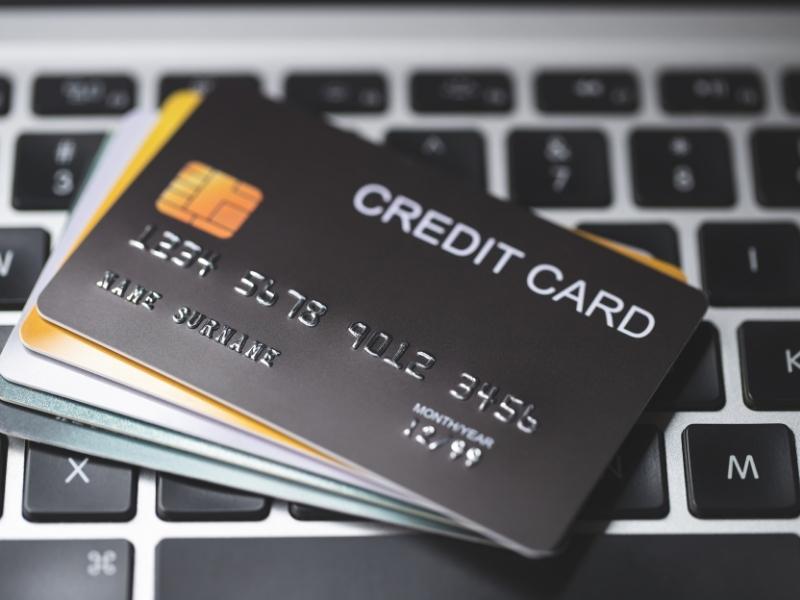 Oyster Card
Pros:
As it's pre-loaded, it can be easier to track your spending
An Oyster Card is specially designed for London Transport
Fare capping means you pay a maximum sum per day
Visitor Oyster Card holders can benefit from special discounts
More than one person can use an Oyster card (at different times)
You get a cool souvenir for your scrapbook – especially with the multi-coloured visitor Oyster Card!
Cons:
A £7 cost applies when you get a standard or visitor card
You'll need to top it up in advance of travel
You can't use an Oyster card at any station between Reading and Iver
Some funds are likely to remain unused
Taxis don't accept Oyster Cards
Like contactless, an Oyster card is a payment card. It's available as a standard or visitor Oyster Card, and either way you can top it up in advance before paying for your trips on London Transport.
The obvious question that comes to mind here is why you might want to carry around an extra card. Are there any benefits to paying by Oyster Card versus contactless?
There are some extra costs associated with having an Oyster Card. Whether you go for the standard or visitor version, a non-refundable £5 fee applies before you can use it.
On the plus side, an Oyster Card you've bought can be used by a friend or family member during a future visit.
It's also unlikely that you'll use every penny stored on the Oyster Card. This means London Transport is quids in if you don't return the card to redeem this. Many people never do. If you're likely to be one of them, then you could also lose out.
This is because you can only top up an Oyster card in £5 increments, adding between £10 and £50 each time. Note that you can't use Oyster Cards to pay for London taxis, though they do accept contactless payments.
Visitor Oyster Card holders can benefit from some special discounts. These are aimed at tourists visiting London, and give money off admission prices to popular attractions.
Now you have some idea of the differences, let's move onto which forms of London Transport let you pay as you go. In other words, which allow you to use either contactless or an Oyster Card!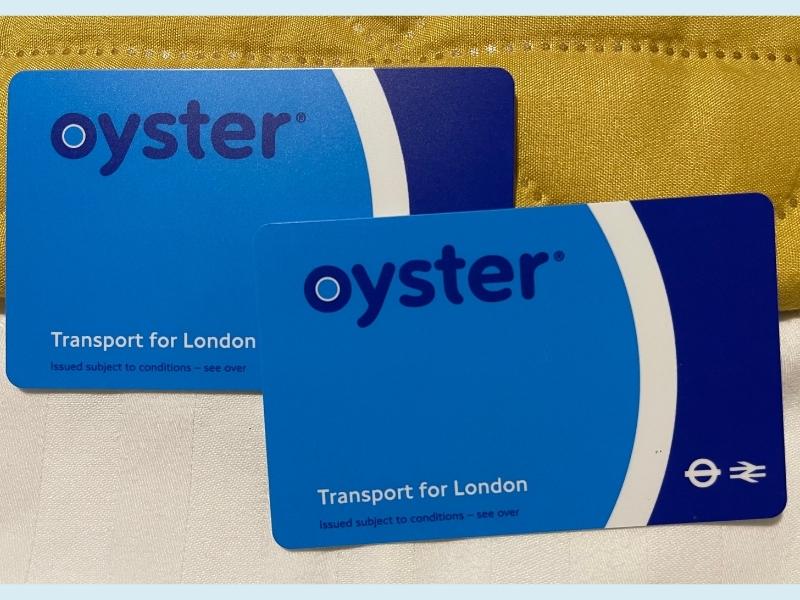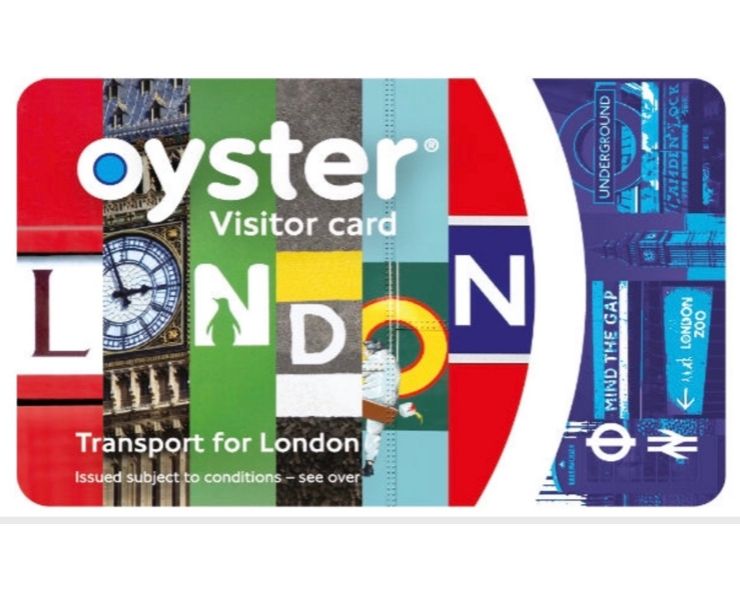 Pay As You Go on London Transport
You can use an Oyster Card or contactless payment card on the following forms of transport:
London Underground trains
London Overground trains – including some outside London
Buses
Most Elizabeth line services
The Docklands Light Railway (DLR)
Trams
Thames River Buses
The Emirates Air Line
Pros of both PAYG systems
As transport for London points out, some of the same benefits apply to both Oyster Card holders and those making contactless payments.
Only the journeys you make are charged for
Travel anywhere you want to, whenever you like
Keep track of your journeys via the TfL Oyster and contactless app
Fare capping may mean you never pay more than the price of a One Week Travelcard or Bus and Tram Pass, even if multiple journeys are made between Monday and Sunday. One day's travel will also cost less than a One Day Travelcard or One Day Bus and Tram Pass
Differences between the PAYG systems
You'll need to top up an Oyster Card in advance of travel
The TfL Oyster & Contactless app
Though historically there were key differences between using an Oyster Card and paying by contactless, there is now very little between them.
The key now is to make sure you download the TfL Oyster & Contactless app before using London Transport for the first time. This is a free app, and is available via both the App store for Apple and Google Pay for Android.
If you do choose to use an Oyster Card, you can top up via the app. You can also view your balance, be notified of upcoming Travelcard expiry dates, and see your journey history. The app can be used in conjunction with more than one Oyster or contactless card.
The Oyster Card and the London Pass
The London Pass is also worthy of consideration when you're weighing up whether to use an Oyster Card or a contactless card.
Some London Pass packages include an Oyster Card as part of the deal. So what is a London Pass? It's a visitor card for those who want to see London, giving the holder use of or entry to more than 80 London attractions.
The Pass can last for 1, 2, 3, 4, 5, 6, 7 or 10 days. It also includes use of hop-on, hop-off bus routes, which, combined with London Transport, can get you to just about every corner of the city.
You can get more information in our guide to the London Pass.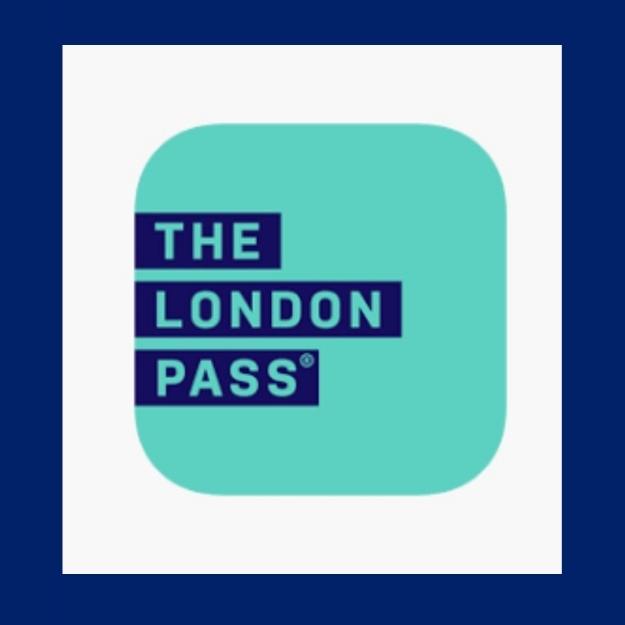 The Oyster Card and special discounts
Big brands work in partnership with the London Pass, promoting their goods and services to visitors who will spend money in the UK. To attract custom, they post special offers that are exclusively available to Oyster Card holders.
This means you may be able to take advantage of special deals on shopping, entertainment and food while in London when you have a Visitor Oyster Card.
Oyster Card v Contactless – FAQs
Is there a difference between using an Oyster Card and contactless?
Both an Oyster Card and contactless use the Pay As You Go system provided by transport for London. The difference is in the type of card, and the fact that an Oyster Card should be preloaded with credit before travel.
They are otherwise very similar, but Visitor Oyster Card holders may additionally benefit from exclusive deals only available to cardholders. You can use the TfL Oyster & Contactless app with either type of card.
Is it cheaper to use Oyster or contactless?
As both cards use the same Pay As You Go system and are compatible with the TfL Oyster & Contactless app, the costs are comparable. As a tourist in London, it can be worth getting an Oyster Card as part of the London Pass. Visitor Oyster Card holders may also be given access to exclusive deals and discounts.
Does contactless cap like Oyster?
The fare cap works in the same way for Oyster and contactless cards.
However you must take care to touch in, using the same card or device each time, as you board or alight from a bus, tube, train or boat. Not doing this means you may be charged the maximum fare, as Transport for London cannot track the capping accurately.
Oyster Card v Contactless – Which is best for you?
While you don't strictly need one, there are certain Oyster Card benefits available to visitors. You may also be able to avoid bank charges for foreign transactions by topping up and using an Oyster Card instead of a contactless card.
If you're considering the London Pass, then it's worth looking at the option of getting an Oyster Card along with this. A Visitor Oyster Card may also give you access to deals on food, shopping and entertainment that are only available to holders.
The bottom line is that both Oyster and contactless cards use the same Pay As You Go system. You cannot use a London bus and pay cash, so it's best to pick between those two options when visiting the city.
An Oyster Card can also make a cute souvenir for a scrapbook charting your London adventures if you're into that sort of thing. But you may pay the £5 Oyster Card fee in return for that privilege!
Find out more about the types of Oyster Card and whether it's worth you getting one in this post.
London Travel Guide & Itinerary Planner (+ 4 bonus ebooks)