Spending New Year's Eve in London at least once in a lifetime surely belongs on every bucket list. The New Year's Eve celebrations in London are pretty spectacular. Millions of pounds are spent on stunning displays so that you can wish everyone a Happy New Year in London – and see in January in style.
Whether you want to know all about London New Year's Eve events, what London travel on New Year's Eve is like or where the best places for New Year's Eve in London are, then this guide is for you. We'll walk you through all there is to know about the places to go New Year's Eve in London. As well as where to eat, top tips and where to stay once the party's over.
This is the complete guide to how to spend New Year in London. Don't book your stay until you've read it!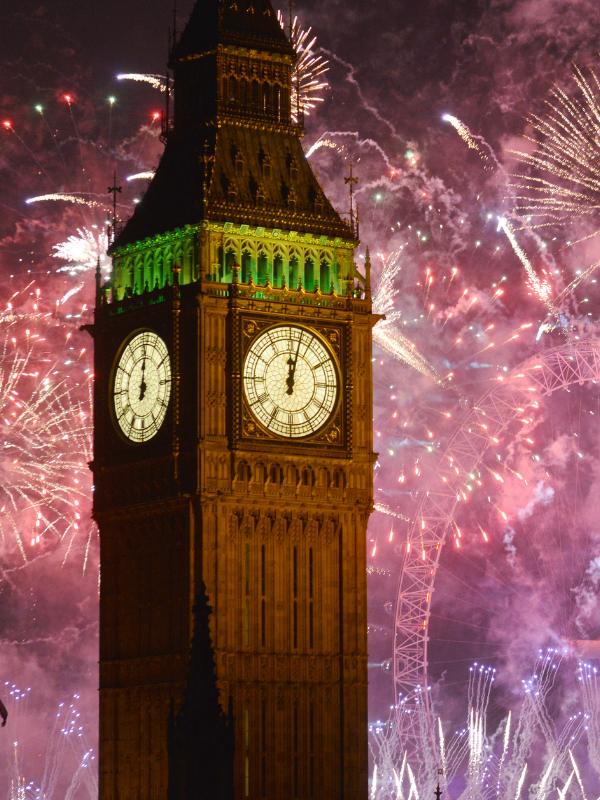 Top Things to Do on New Year's Eve in London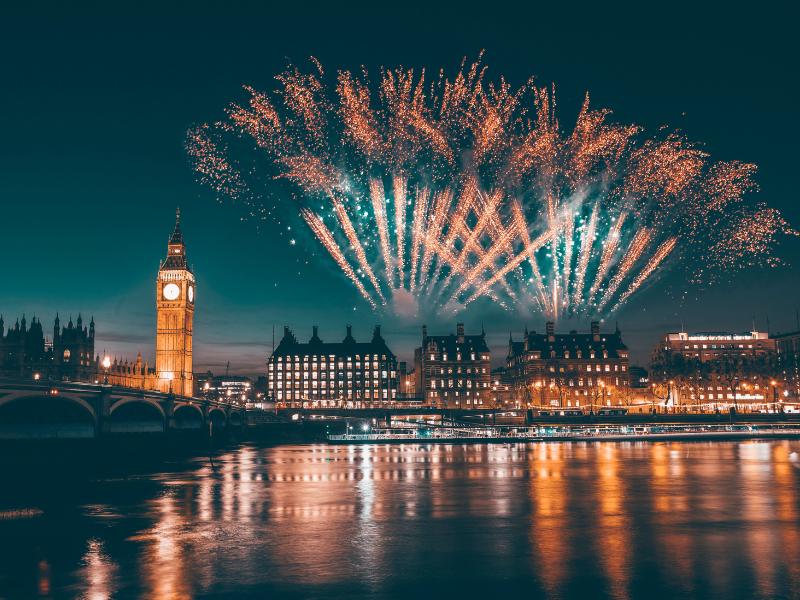 🎇Fireworks
New Year events in London don't get any bigger than the wow-inducing fireworks display that takes place by the Thames every 31st December. This is a ticketed event to ensure safety for everyone, so you can't just turn up. You will need to plan ahead instead.
At the time of writing, tickets for the next display were not yet available. But here's a brief rundown of how it usually works. Every year, incidentally, we all have to wait until the Mayor of London confirms the event is going ahead before tickets can be bought.
You can book up to four tickets per person, via See Tickets, and in 2022 the cost was £15 per head. The riverbank is divided into half a dozen viewing areas – and you cannot move between these. So do make sure to book the same one as your friends!
To see what the display is like, check out this BBC YouTube video of the 2023 celebrations.
Thames Cruises
Instead of standing on the riverbank, you could take a seat on a boat by booking a Thames River cruise for New Year's Eve. A typical cruise lasts for several hours and includes seeing the fireworks from the boat after the clock strikes twelve. Some trips also include dinner.
Take a cruise and you can sail past all the big London landmarks lining the bank of the river. As numbers are limited, there won't be such a crush at the onboard bar as there's bound to be in the average London pub on 31st December – which is clearly another big advantage.
Click here to book a New Year's Eve cruise on the Thames with dinner
Natural History Museum
It might not strike you to spend New Year's Eve at a museum, but London's Natural History Museum does offer something different. A party is held here to mark the occasion and typically includes live music, a VIP area, a silent disco and entry to the galleries.
5 of the Best Bars and Restaurants
Book your table at a restaurant for New Year's Eve in London and you can kick off the celebrations with a delicious feast. Here are some of the best places to dine as December draws to a close.
Alternatively, you can also dance – or drink – the night away while waiting for those midnight bells to chime, so some of the top London bars for New Year's Eve are also included below. This is by no means an exhaustive list, by the way, just a few of the more exciting suggestions.
Or for a local's perspective, why not try asking at your hotel for a recommendation if you can't decide where to go?
Madison
Enjoy stunning views of St Paul's Cathedral while tucking into this London restaurant's New Year's Eve early dinner menu.
The Savoy Grill
If you want to push the boat out, book a table at The Savoy Grill at the posh hotel of the same name. River views are all part of the package.
Sea Containers Restaurant
South Bank eatery Sea Containers offers a casual ambience and stunning views over the river – and the midnight fireworks. Later, drop into 12th Knot on the same site for drinks.
Sweeties at The Standard
Cool Sweeties bar at The Standard Hotel is where the beautiful people see in the New Year. You could also dine at Decimo restaurant here.
Tattershall Castle
Tattershall Castle is actually a luxury boat moored on the Thames. Its New Year events in London are very popular, and the party continues until 3 a.m. The views of the fireworks from here are unbeatable, making it worth the hefty ticket price.
5 Top Tips for New Year's Eve in London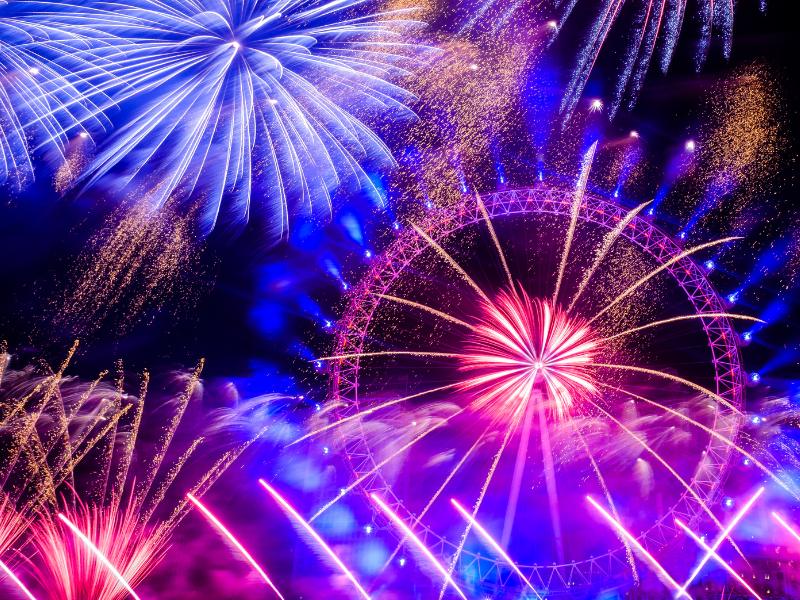 If you'll be attending events in London for New Year's Eve, then here are some tips to help you make the most of this memorable experience!
Wear walking shoes
While we're not saying you need to wear hiking boots, sensible footwear is a must if you'll be doing much walking. Or standing. If you're attending the fireworks, then spending hours on your feet is a dead cert.
Even if you're not, you may end up walking miles to your hotel – or the nearest available public transport link.
Try trading stilettos for a funky pair of trainers, for example. Your feet really will thank you for it.
Head out early
It's going to be a long night – but if you want to get anywhere on time then you'll need to leave in plenty of time. Public transport will be packed, and if you want a good spot then that will involve some waiting around.
Pack snacks and drinks
Even if you're going to have a slap-up sit-down meal at a restaurant, we still say you should bring along some snacks and drinks. Queues will be phenomenal, and all that walking is hungry – and thirsty – work. Just work out how long you might be out for and bringing along some supplies really starts to make sense!
Stick to plastic bottles rather than cans and glass, which may be removed from you by security when attending the fireworks.
Dress for December
It's cold – and can also be wet – in London during December (and January). So dress accordingly – think layers so you can adjust your outfit according to the weather as the night wears on. A hat, scarf and gloves will help keep you warm.
It's also a good idea to wear or take along a waterproof jacket, plus a lightweight, portable umbrella. Even when wet weather isn't actually forecast – the maritime climate of the British Isles can be notoriously unreliable.
Have a Plan B for getting back
So we mentioned the fact that you should head out early – but you also need to think about how to get back to your hotel, holiday rental, hostel or wherever you're staying. And trust us, that's going to be time-consuming at the very least.
First, here's the good news. Tubes and other forms of London Transport – such as night buses – run right through until the early hours of New Year's Day.
The bad news is that some bridges in central London are closed to traffic. Driving is just the worst idea anyway, due to the complete lack of parking and congestion charges. You might be lucky and get a black cab – but you might not. And if you have far to go, it will cost you.
Ideally, stay somewhere that makes it possible to walk back if absolutely necessary. Just think, if you can walk a few miles, the exercise will stand you in good stead for a fresh start to the New Year anyway.
When in London, we always recommend staying as centrally as possible. Which takes us smoothly onto the topic of where to stay in London on New Year's Eve.
5 Top Areas to Stay in London on New Year's Eve
Before we dive into where to stay in London on New Year's Eve, you need to know two things. You'll have to book way ahead in order to get a bed anywhere. Also, expect to pay far more than the usual rate for any holiday let, hotel room or hostel bed.
Again, though, let us stress that it's worth staying as close to the centre of London – and the Thames – as you can. Our complete guide to the best places to stay in London should help you decide where to rest your head.
Based on that, and our extensive experience of exploring the UK capital, here's a rundown of the top five areas we recommend honing in on. You can also find another seven in this guide. Or check it out to discover more about each of the following areas.
Covent Garden, Charing Cross & Trafalgar Square
There's plenty going on in this very central area. Plus there are good transport links. Not that you'll necessarily need them – it's easy to walk everywhere from this part of the city.
Places to stay in Covent Garden, Charing Cross & Trafalgar Square
Hotels
Holiday rentals
Soho & Leicester Square
A short hop from the Covent Garden and Trafalgar Square is Leicester Square, plus neighbouring Soho. This area is ideal for shopping, nightlife, theatres, cinemas and transport links.
Places to stay in Soho & Leicester Square
Hotels
Holiday rentals
Westminster & St James
Westminster is right by the river, and among many major London landmarks. St James' Park is also a lovely place to be.
Places to stay in Westminster & St James
Hotels
Holiday rentals
Tower Bridge & The City of London
Stay right by the river – and many of the tourist sites – by booking a room in the City or Tower Bridge area. City hotels can also offer bargain rates at weekends, as they're mainly aimed at business travellers.
Places to stay in Tower Bridge & The City of London
Hotels
Holiday rentals
South Bank, Southwark & Waterloo
This area is especially lovely during the festive period, with a Christmas market at South Bank. It's also right by the river, and thus perfect for catching the fireworks at midnight.
Places to stay in South Bank, Southwark & Waterloo
Hotels
Holiday rentals
Where will you celebrate New Year's Eve in London?
We hope this guide has inspired you to spend New Year's Eve in London – at least once in a lifetime! Wherever you go, it's essential to plan ahead. You'll also have to be prepared to wait around for the fireworks – and to spend a long time getting back to your accommodation.
The jaw-dropping display over the river and festive atmosphere make it all so worth the effort, though. The only question now is – where will you be seeing in the New Year in London?