This post may contain compensated links. Please refer to my disclosure here for more information.
Episode 39 – Show Notes
Exploring Northumberland England with Marc of Northumberland Tours
In this episode, you will learn:
What you can expect to see at the Farne Islands
The importance of checking tide times for visits to Holy Island/Lindisfarne Castle
How many stunning castles there are to explore in Northumberland
What weather to expect in Northumberland
How Northumberland is so much more than just Alnwick Castle
Why Northumberland should be on your travel itinerary
Places mentioned in this episode include
Alnwick Castle >> The iconic filming location for Harry Potter, Downton Abbey and more
Holy Island >> A tidal island off the north east coast of England where you will find Lindisfarne Castle
Bamburgh Castle >> A medieval castle dating back to the 11th century that overlooks the North Sea
Farne Islands >> A group of 15 – 20 islands off the coast of Northumberland which are worth a visit for wildlife spotting
Segedunum Museum Wallsend >> Visit this site that was built to guard the eastern end of Hadrian's Wall and see the excavated fort and buildings
Sycamore Gap >> One of the most photographed spots in the country!
Housesteads Roman Fort >> Set on an escarpment on Hardian's Wall, Housesteads Roman Fort gives you the opportunity to explore the remains of this ancient fortress
Vindolanda >> Explore the excavated remains of this fort and enjoy the museum to learn about the important artefacts found there
Dunstanburgh Castle >> Sitting in a dramatic coastal position, this is a magnificent example of an early 14th century castle
Linhope Spout >> A spectacular waterfall that plunges 18m down the rock face
Crammell Linn >> A pretty double waterfall where a rock splits the flow of water down the cliffside
⭐️ A PDF transcript of this episode is available to download here
Useful resources
We also have some useful planning resources on this website
Email Marc to find out more about his tours: mwakeman.nbnl@gmail.com
Related podcast episodes
Episode #14 – Highlights and tips from our 12-week UK trip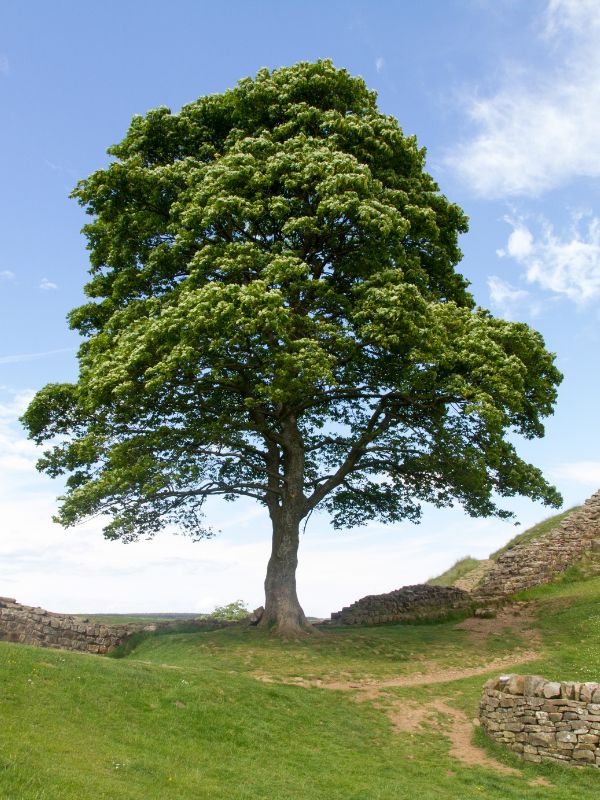 Subscribe and review
If you have found our Podcast helpful please leave us a review! We really appreciate your support and it will help make our podcast visible to a greater audience.
Please subscribe so you don't miss any future episodes!