Planning a visit to the UK in Spring? Are you wondering if Spring is the best time of year to visit the UK?
Then this guide to the best places to visit in the UK in Spring plus the best events and festivals to attend is for you.
Spring is a colourful, lively and unpredictable time in the UK. You may not experience long, hot sunny days but you will be rewarded with fewer crowds, quieter attractions, and cheaper accommodation prices. Getting around will be easier and cheaper than in winter or summer months.
Plus, if you want to experience the green of the fabled 'green and pleasant lands' there is no better time to visit the UK than Spring.
Advantages of visiting UK in Spring
Spring in the U.K. is a special time. The whole country starts to shake off the long, dreary winter and come alive with the promise of lighter, warmer days.
Villages, towns and parks are adorned with daffodils, pink cherry blossoms and wild bluebells.
As Spring is a shoulder season, tourist attractions are not as busy as summer months and accommodation and transport prices are cheaper. Some attractions that have been closed for winter start to whilst other attractions introduce longer opening hours.
Disadvantages of visiting UK in Spring
The main disadvantage of visiting the UK in Spring is the unpredictable weather. In Spring, it is possible to experience all four seasons in one day.
It could be rainy and windy with temperatures close to zero one day and balmy blue skies and sunshine the next. You will need to be prepared for all daytime weather plus some chilly nights.
Plus, the sun will set between 6 pm and 7 pm so you won't be able to take advantage of late summer sunlight.
There is a two week U.K wide school holiday and four day bank holiday weekend around Easter. As many Brits choose to staycation at this time, attractions and transport will be busy and prices will increase.
Things to do in the UK in Spring
Places to visit in Spring
London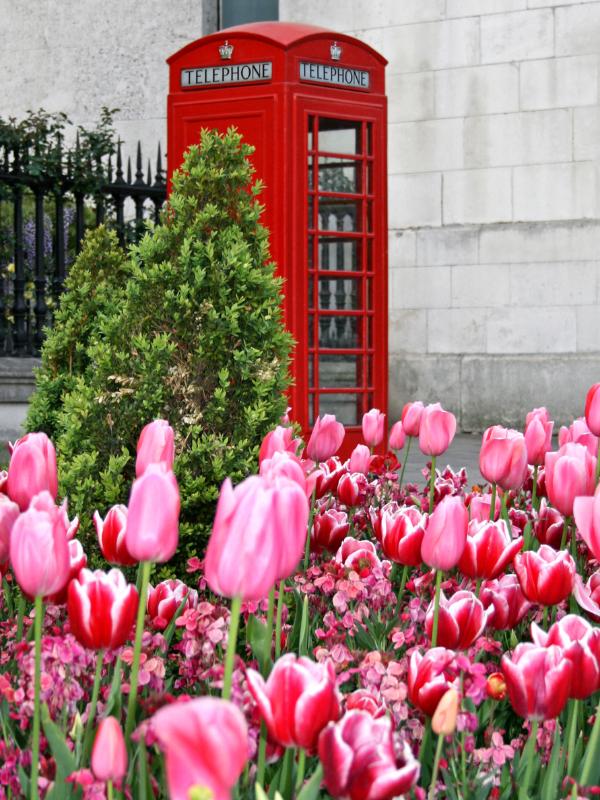 London in Spring is a magical time. City centre parks get busier with picnicking locals and restaurants and cafes cautiously open al fresco. Don't miss the spring flower displays in Hyde Park, St James Park and Kensington Gardens. Plus, the world-renowned Kew Gardens on the outskirts of London is well worth visiting in Spring.
It will be warm enough in London for an open top bus ride or a boat trip on the River Thames. You can experience high volume attractions such as The London Eye and The Tower of London at this quieter time of the year.
York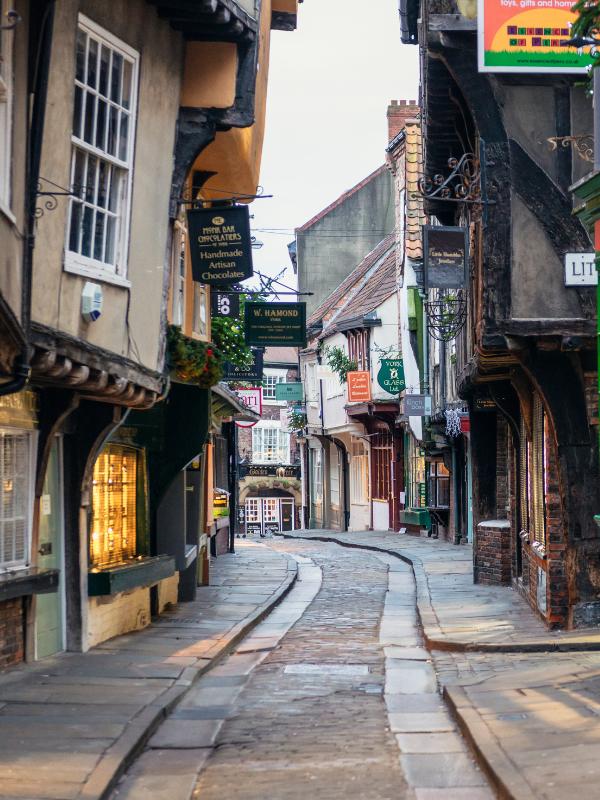 York is a magnificent city to visit at any time of the year but in Spring, York bursts into colour. The slopes of the mediaeval era city walls and 11th century Clifford's Tower are adorned in daffodils closely followed by pink cherry blossom.
Choose a dry day to walk the city walls, explore the cobbled street The Shambles or climb the central tower of York Minster.
If the weather is cold and wet, visit one of the city's world-class museums such as the Jorvik Viking Centre or York Castle Museum. Don't miss the chance to tour one of York's historic houses such as the Victorian Mansion House or the Georgian Fairfax House.
Bath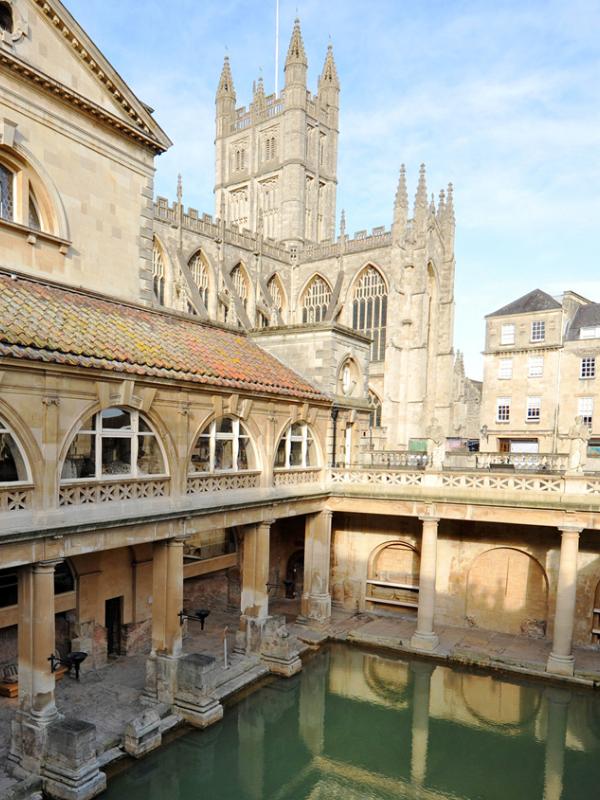 The historic city of Bath has a fantastic mix of indoor and outdoor attractions so it is a good location to visit when the weather can be unpredictable.
On a sunny day, explore the ancient Roman Baths, the Royal Crescent or learn all about Bath on a guided walking tour. If the weather changes, pop indoors to the Jane Austen Centre or indulge in a traditional afternoon tea at The Pump Rooms.
Events in the U.K in Spring
Chelsea Flower Show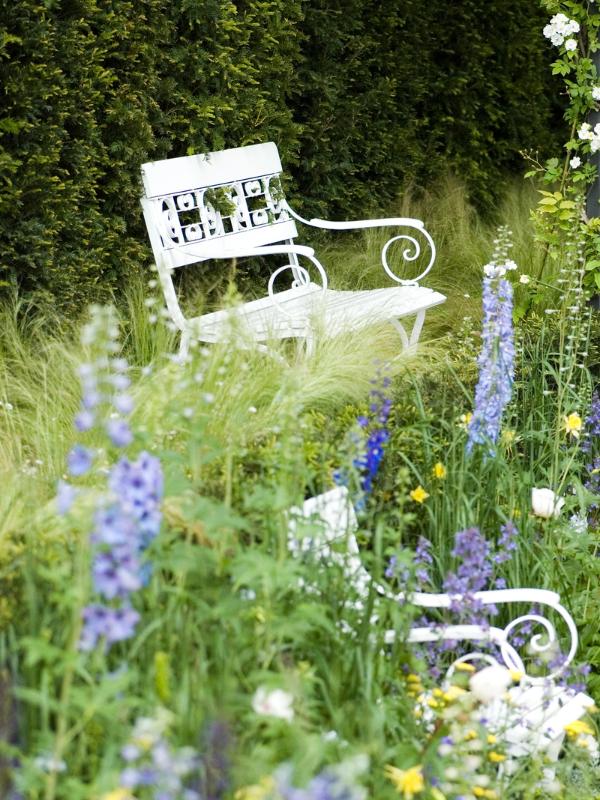 The world famous Royal Horticultural Society Chelsea Flower Show runs for five days each May. It is held in the grounds of the historic Royal Hospital in Chelsea in central London.
The show attracts designers, florists and landscape gardeners from all over the world and is attended by thousands of visitors each year. As well as a dizzying range of familiar and unusual flowers and plants, you can also see themed gardens vying for coveted awards or attend gardening workshops and talks.
Cheltenham Jazz Festival
When – late April to early May
The six day Cheltenham Jazz Festival is the largest jazz festival in the U.K and attracts emerging domestic and internationally renowned musicians.
Visitors can enter and soak up the convivial outdoor festival atmosphere for free but you will need to buy tickets for any of the 50 individual shows or workshops you wish to attend.
Hay on Wye Literary Festival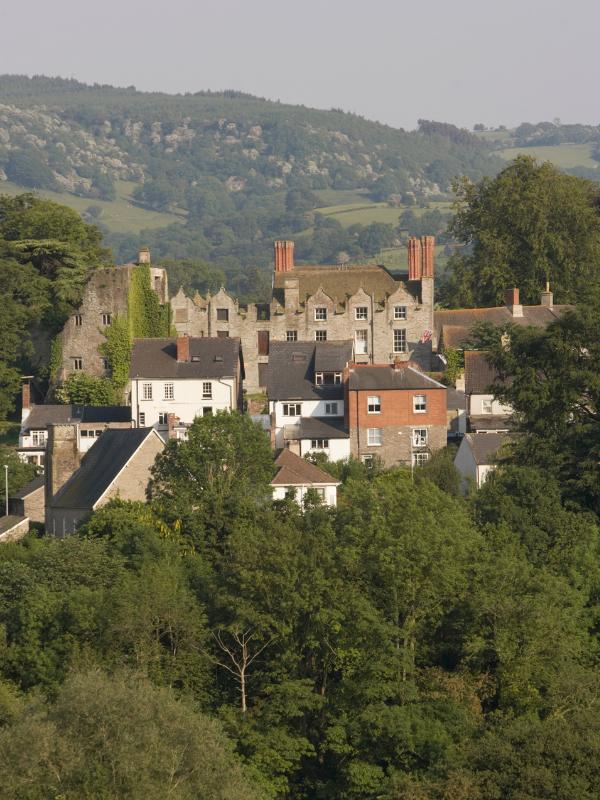 The Hay Literary Festival runs for ten days from late May to early June and is the biggest literary festival in the UK.
It is free to enter the enormous outdoor festival but you will need to buy a ticket for each event you wish to attend. The festival has book readings and interviews with famous authors, literary talks, arts and crafts activities, and yoga classes.
There are also writing workshops for every literary genre plus musical performances, comedy shows and concerts.
If you are travelling with kids, there are lots of kid friendly activities such as Forest Schools and crafting workshops.
The rural site is self-contained with food and drink outlets and there is accommodation and camping available nearby.
Sports events in the U.K in Spring
London Marathon
Where – central London (from Blackheath to The Mall)
When – dates vary but it is usually held on one of the last Sundays in April
The iconic London Marathon has been held annually for over 40 years and attracts tens of thousands of runners and spectators each year.
The 26.2 mile course passes some of London's most iconic landmarks. Roads in central London on and near the course are closed to traffic for the entirety of the race.
Viewing is free and highly enjoyable as there is always a great atmosphere amongst the crowd supporting the runners. If you want a prime viewpoint on Tower Bridge, around the Cutty Sark or near the finish line on The Mall in front of Buckingham Palace, you will need to arrive early to secure your spot.
The Boat Race
Where – on the River Thames in West London from Putney to Mortlake
When – dates vary from year to year but it is usually held on a Sunday morning in late March
Known simply as The Boat Race, this historic sporting fixture between Oxford and Cambridge Universities has been running for nearly 200 years.
Male and female teams from each University compete against each other in separate races along a gruelling 6.8 kilometre stretch of the River Thames from Putney to Mortlake.
Viewing from the riverbank or from any of the River Thames bridges along the route is free. Just make sure you know who you are cheering for – Oxford wear dark blue and Cambridge wear light blue!
This iconic event is televised each year and draws thousands of enthusiastic spectators.
Rugby and Football matches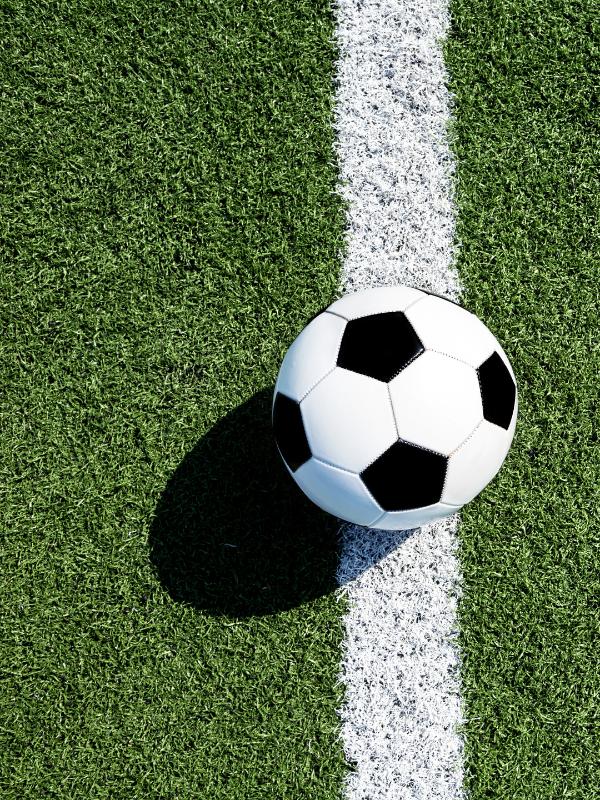 Where – throughout the U.K
When – Saturdays and Sundays (plus some mid week matches)
Spring is the perfect time to catch a rugby or football match in the U.K. before the season ends in May.
In football, you can watch both Premier League and FA Cup matches throughout Spring. Rugby offers both Rugby League and Rugby Union league and cup matches plus the gripping Six Nations tournament.
Fan of Ted Lasso? Read our guide to Ted Lasso film locations
Festivals in Spring
York Chocolate Festival
Where – City of York
When – April
The northern city of York hosts festivals all year round but one of the most popular is the five day Chocolate Festival.
You can attend lectures on the history of chocolate making in the UK and York, chocolate making workshops and complete the city wide 'Chocolate Trail.' There is even a pop up city centre Chocolate Bar.
May Day celebrations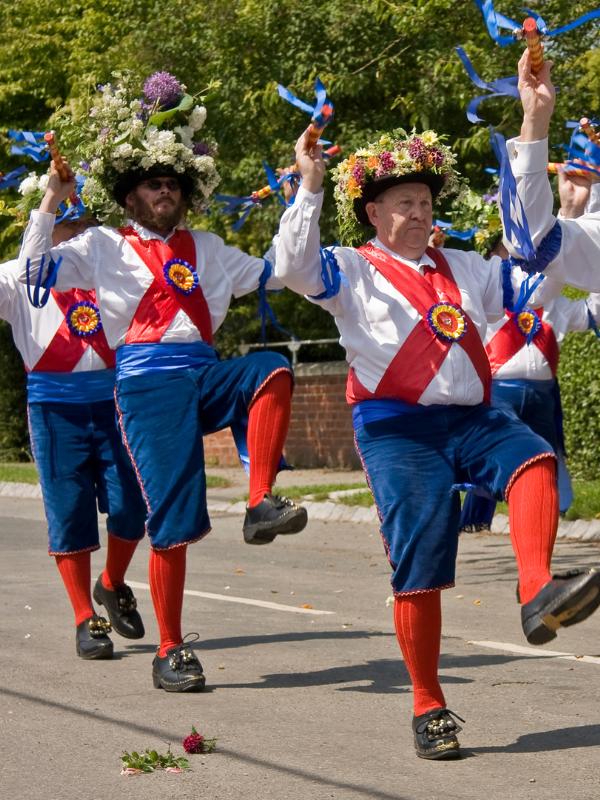 Where – towns and villages throughout England
When – the first Monday in May
The first Monday in May is a national bank holiday when the nation celebrates May Day which traditionally marks the beginning of summer.
Towns and villages mark the event with a May Fair with stalls, games and activities decked out with floral garlands and green wreaths. There will usually be a procession of local children before a May Queen or Fair Queen is chosen and crowned.
Some villages will have brass bands, displays of Morris Dancing or colourful Maypole Dancing by local children. Barwick, in Yorkshire, boasts the largest Maypole in England.
Tetbury Woolsack Race
Where – Tetbury, Gloucestershire
When – Last Monday in May
The U.K. is known for its weird and wonderful traditions, some of which are bizarre but historic!
The Tetbury Woolsack Race is one of these very British events. The challenging race takes place on the last Monday in May, which is a national bank holiday.
As the name suggests, contestants in the race (usually local residents ) must carry a heavy sack full of wool on their backs up and down a hill in the town centre which has a steep 1 in 4 gradient.
The free to watch event is great fun and attracts thousands of spectators. There is a fair and market during the all day event which is held to raise money for local charities.
FAQs about the UK in Spring
When is the best time to visit in Spring?
March is the coldest month in Spring but it is also the month with the lowest visitor numbers so you can enjoy uncrowded locations. U.K. clocks change at the end of March so daylight hours will still be quite short. As a result, some outdoor attractions will have restricted opening hours.
April is warmer but wetter and often windy. British schools have a two-week holiday around Easter weekend so you can expect attractions to be busy and accommodation prices will be higher.
May often has high temperatures with longer, brighter days for sightseeing but you will experience some rain. There is a one week school holiday at the end of May but generally you can expect attractions to be quiet and pleasant to visit.
What is the weather like in Spring?
The average daily temperature in March is 7 degrees C or 44 degrees F with an average rainfall of 34 mm.
April sees an average temperature of 9.5 degrees C or 49 F with a rainfall of 33 mm.
May has a pleasant average temperature of 13 degrees C or 55 degrees F with an average rainfall of 40 mm.
How many daylight hours are there in Spring?
The U.K. clocks Move forward by one hour during the last weekend of March. Until that point, there is an average of 11 hours of daylight per day.
The figure increases to 13 hours per day in April and there is an average of 15 daylight hours per day in May.
What should I pack for visiting the UK in Spring?
Packing essentials for the UK in Spring include long sleeve tops and warm trousers plus a warm jumper for March and chilly Spring evenings. Bring additional short sleeve tops and lighter trousers for warm May days.
It won't be warm enough to wear open-toe sandals in Spring so pack a couple of pairs of comfortable walking shoes or trainers – one to wear and one to dry out from Spring showers. A foldable umbrella is also a useful item for the UK in Spring.
You will need a warm waterproof coat, ideally one with a hood. Your coat doesn't have to be a bulky, thickly padded coat for winter temperatures as you can layer up with clothes underneath it.
There are so many other fantastic locations to visit in the UK in Spring plus more events and festivals throughout the country that are worth visiting.
For more ideas and help planning your perfect UK trip, check out our essential step-by-step planning guide here.
More seasonal and monthly guides for visiting the UK
Visiting the UK (seasonal guides)
Visiting London (monthly & seasonal guides)