Discover the top 10 places to visit (and things to do) in the North East of England.
Are you planning to visit the North East of England? Or perhaps you live there and are seeking some inspiration and ideas for great days out and things to do in Northumberland and the North East?
In this article you will discover the top 10 things to do and places to visit in the North East of England. Throughout the post you will find lots of practical information as well as links and tips for visiting all these places and the North East in general.
I have included some of the top North East tourist attractions (such as Alnwick Castle and Beamish Museum) as well as free places to visit in North East England.
A little background information about the North East
The North East of England consists of Northumberland, County Durham Tyne and Wear and the area of the former county of Cleveland in North Yorkshire.
You may have heard that people from the North East are called Geordies. However this is NOT strictly true as Geordies are technically those people from Newcastle, Northumberland, North Tyneside, South Tyneside and Gateshead only!
The major cities in the North East are Newcastle upon Tyne, Sunderland and Durham.
Read on to discover some of the great things to do in North East England!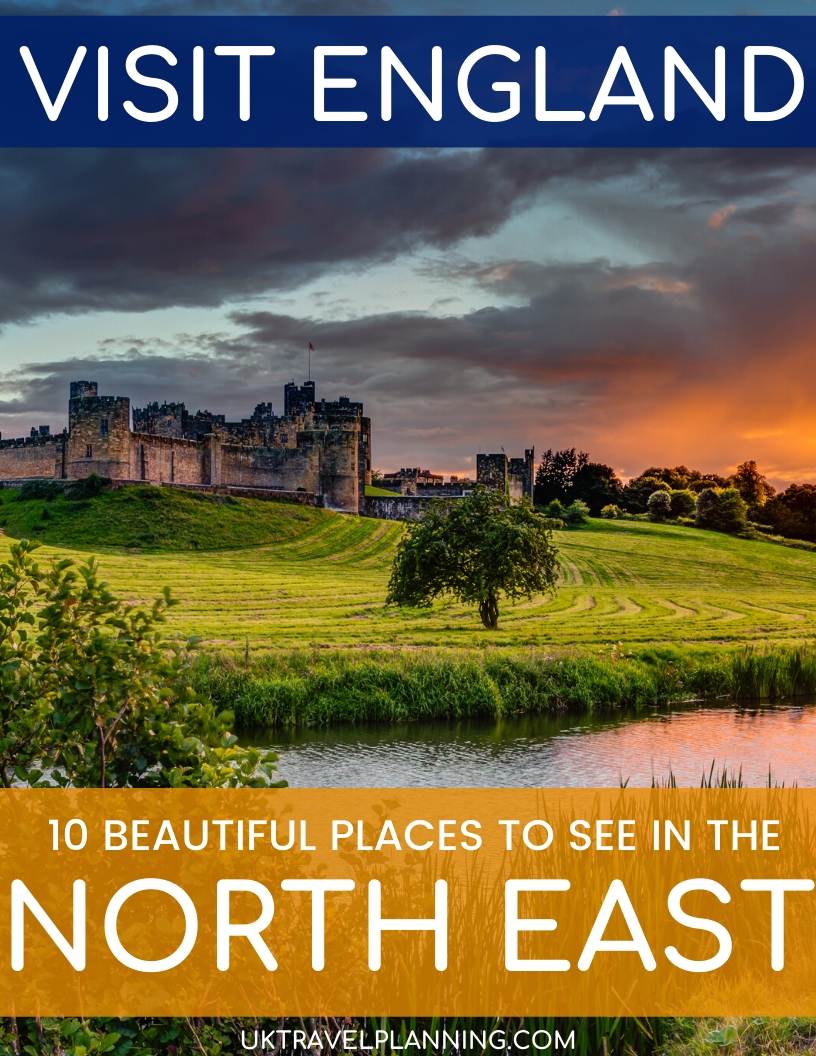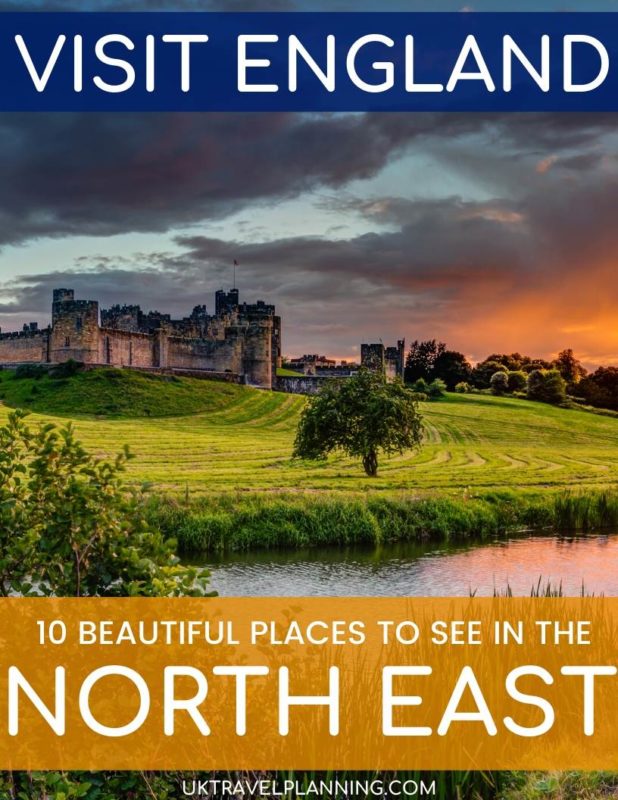 This post may contain compensated links, meaning that if you buy through them, we get a small commission at no extra cost. Please read our full disclosure for further information. As an Amazon Associate, I earn from qualifying purchases.
Top 10 things to do in the North East of England
Take a drive along the Northumberland coast
In my opinion one of the most beautiful drives you can take in the UK is the Northumberland coastal route. Meander along 30 miles of stunning coastline and picturesque villages north from Alnmouth to Lindisfarne and Alnwick.
The coastal scenery is truly spectacular and in summer the long sunny days are perfect for exploring the castles and beaches.
If you have an interest in history, and castles in particular, you may be interested to know that Northumberland has more castles than any other county in the UK.
Two of my favourites are Bamburgh Castle and Alnwick Castle. Alnwick Castle will be familiar to Harry Potter fans as it features in a couple of the movies as Hogwarts School of Witchcraft and Wizardry.
Many of the sights you will see as you drive along the Northumberland coastal route are also included in this article because they are great places to visit on a day trip or add to your Northumberland itinerary.
You will drive through some beautiful coastal villages and towns along this route – why not stop off for a few days? Read our location guide plus a selection of the best coastal cottages for your special stay in Northumberland.
Read more | Planning a drive along the Northumberland Coastal Route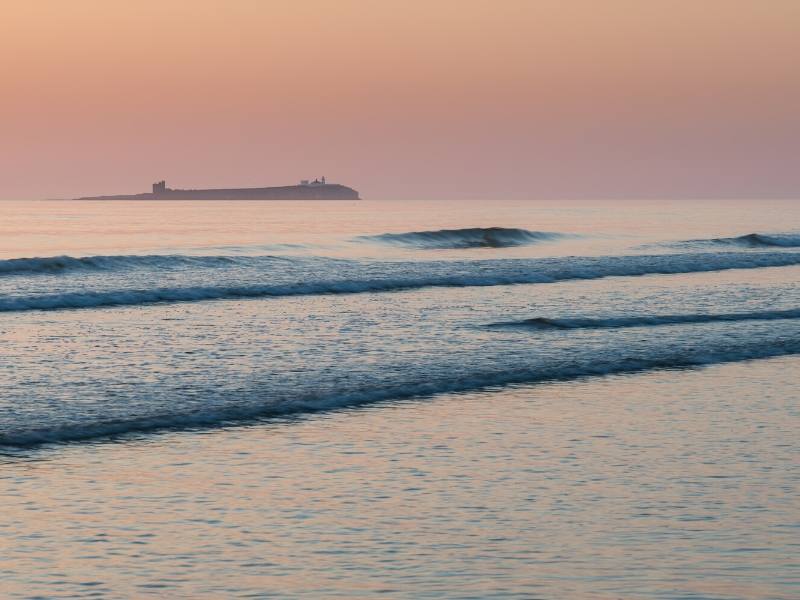 Visit Hadrian's Wall
The history of Hadrian's Wall
Britain was invaded (and conquered) by the Romans in AD 43.
During their rule which lasted until 410 AD they had a significant impact on life in Britain. They built roads (many routes of which we still use today), brought their religion, ways of counting, their language, built towns (place-names with 'chester' 'caster' or 'cester' are of Roman origin) and established the city of Londinium (amongst many other things)
However one thing they couldn't manage to sort were the Scots! (Or Caledonians as they were called then) The northern tribes were not welcoming to the Romans and in AD 122 Emperor Hadrian ordered his soldiers to build a wall to protect the Roman Empire from attacks.
That wall was Hadrian's Wall which runs 80 miles from Wallsend in the North-East and ends west of the village of Bowness-on-Solway in Cumbria. It formed the north-west boundary of the mighty Roman Empire.
The Romans also built forts along the wall where soldiers were stationed to ward off attacks from the Caledonian tribes.
Hadrian's Wall is one of the most popular tourist attractions in the North-East of England and a famous UK landmark.
What are the various ways to visit Hadrian's Wall?
There are a number of different options for visitors wishing to see Hadrian's Wall including the following:
Walk the route along Hadrian's Wall Path which runs for 84 miles from coast to coast past Roman settlements and forts.
Drive to some of the landmarks along the route including:

Chesters Roman Fort and Museum
Housesteads Roman Fort
Birdoswald Roman Fort
Corbridge Roman Town
Roman Vindolanda and Roman Army Museum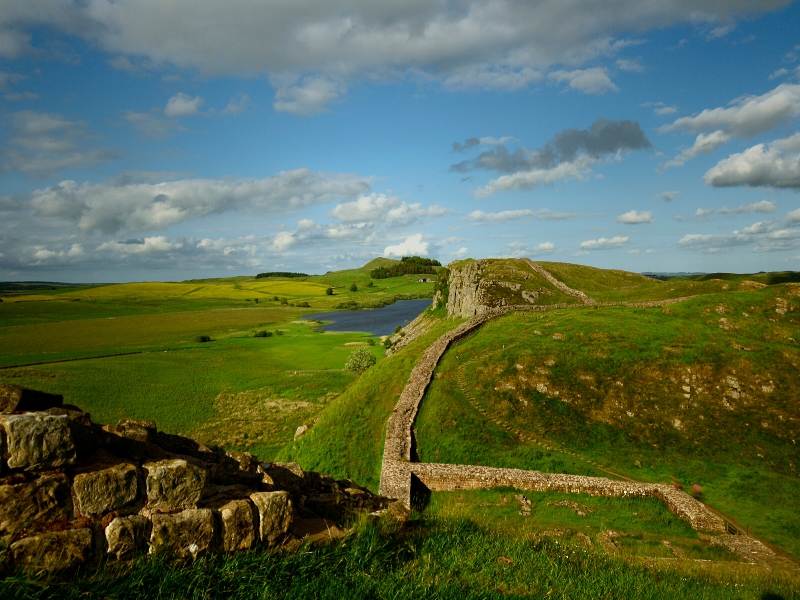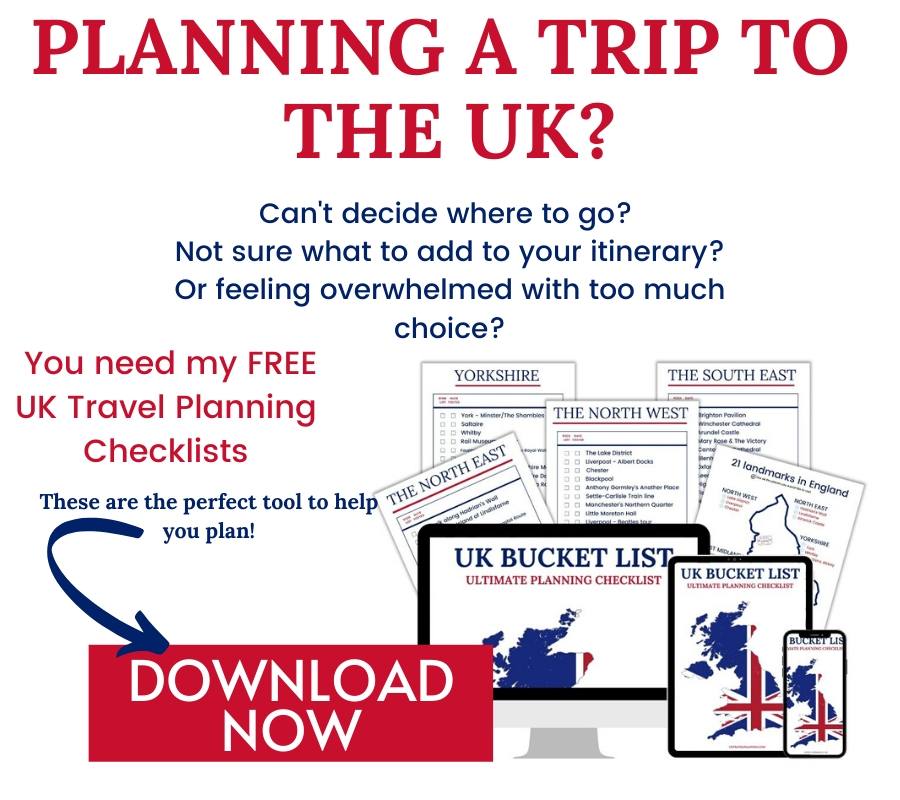 Visit Barter Books in Alnwick
If you love books then a visit to Barter Books in Alnwick is an absolute must!
Barter Books is the largest second hand book shop in the UK. Housed in a beautiful old train station Barter Books will keep any book lover happy for hours (if not days!)
Peruse the stock and enjoy the ambiance. There is a model railway that runs on an elevated track around the shop as well as some interesting murals to also check out.
Read more about visiting Barter Books.
You may also enjoy my selection of books set in (or about) Northumberland which includes fiction and non-fiction selections.
Read more | A visit to Barter Books in Northumberland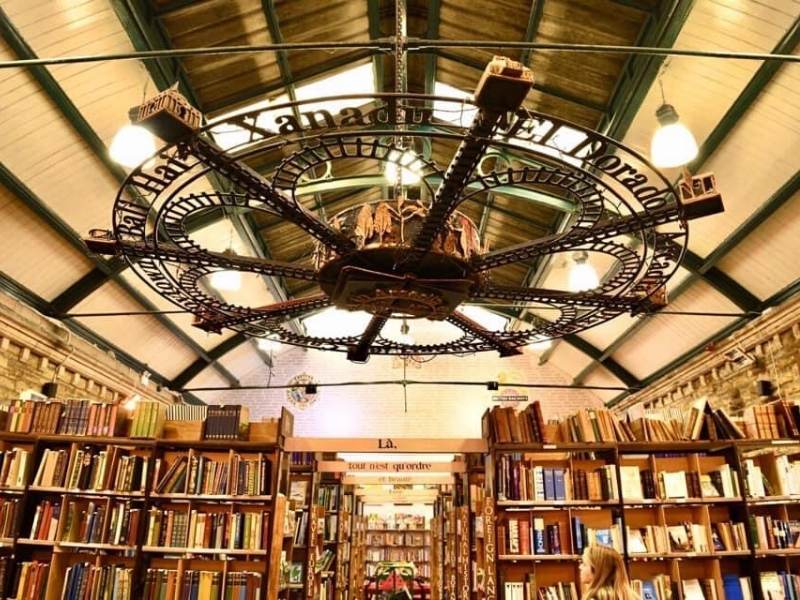 Visit Bamburgh and Alnwick Castles
You really cannot spend any time in Northumberland without visiting a castle or two (it does have the most castles of any county in the UK – a fact of which I am proud!)
With so many castles to choose from I have picked my favourites.
Bamburgh Castle which you will come across if you are driving the coastal route was the Royal Seat of the Kings of Northumbria. It is one of the largest castles in England and is still inhabited today.
The castle sits on a rocky plateau and can be seen from miles around (the view from Lindisfarne is particularly beautiful) The castle is the perfect destination for history lovers.
Alnwick Castle may be more familiar to Harry Potter fans due to its appearance as Hogwarts in the first 3 films. (The castle also appears in Downton Abbey)
Built during the 11th century Alnwick Castle is home to the 12th Duke of Northumberland.
Along with the Alnwick Garden (formal gardens adjacent to the castle) it receives over 800,000 visitors a year (many are Harry Potter fans on day tours from Edinburgh)
There are lots more beautiful castles to visit all over England – you can read more in my guide to the top 21 (which features quite a few castles located in the North East)
Read more | Bamburgh Castle | Alnwick Castle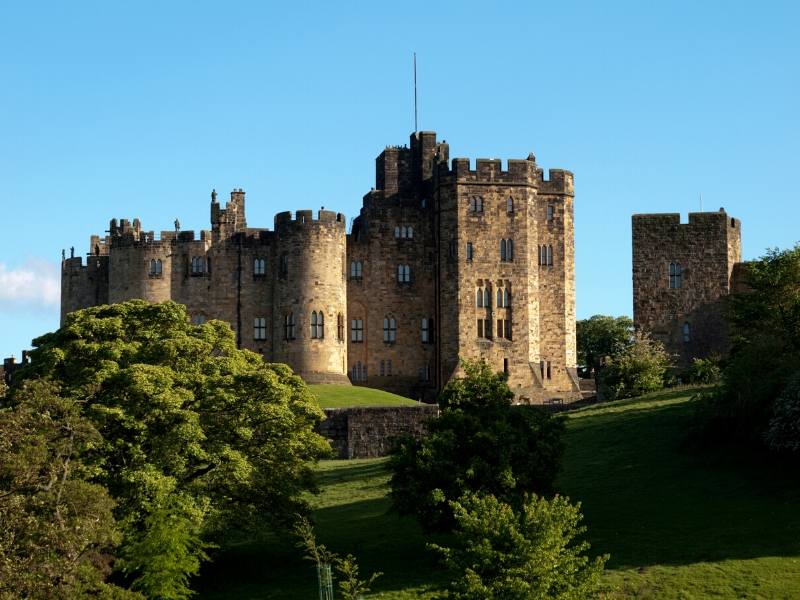 Spot puffins on the Farne Islands
Another absolute must in the North East of England along the Northumberland coast is a trip out to the Farne Islands.
The islands (28 in total but visibility depends on the tides) are located off the Northumberland coastal town of Seahouses.
The largest of the islands is Inner Farne. It is here that St Cuthbert spent many years living in solitude.
Today the islands are a wildlife reserve and home to many species of birds including Puffin, Kittiwake, Guillemot and Eider.
The islands are also home to a large colony of grey seals.
The islands of Inner Farne are accessible by boat (weather permitting) from Seahouses – Inner Farne during the months of April to October and Staple Island from May to July.
A landing fee is payable for if you are not a member of the National Trust.
Read more | Boat trips to the Farne Islands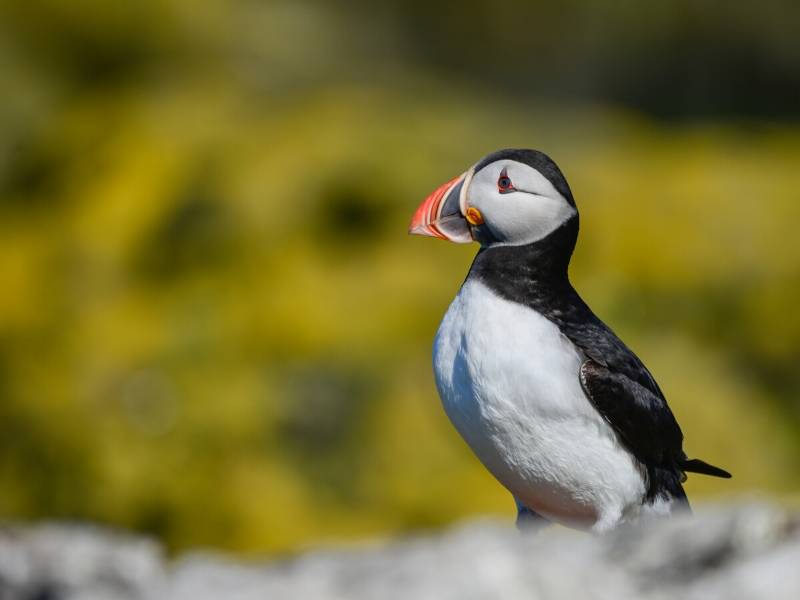 Cross the Causeway to the Holy Island of Lindisfarne
The Holy Island of Lindisfarne is a tidal island located off the coast of Northumberland in North East England.
The island is home to around 200 residents and is a popular tourist destination particularly in the summer. The island is separated from the mainland by a causeway which can only be safely crossed at certain times depending on tides.
The island is called 'Holy' because it was one of the centres of early English Christianity. It was the home of St Cuthbert whose remains are now interred at Durham Cathedral.
The famous Lindisfarne Gospels were created around 715 – 720 at the monastery by a monk called Eadfrith. They are a copy of the four Gospels in the form of an illuminated manuscript (a text which is supplemented with decorations and illustrations)
They are now kept at the British Library in London and can be found on display in the Sir John Ritblat Treasure Gallery.
If you plan to include a visit to Holy Island into your Northumberland itinerary make sure to check the tides and plan your trip around those times.
Once you arrive on the island visit the Lindisfarne Priory or take a stroll to the castle for views across to Bamburgh and the Farne Islands.
Read more | A guide to visiting the Holy Island of Lindisfarne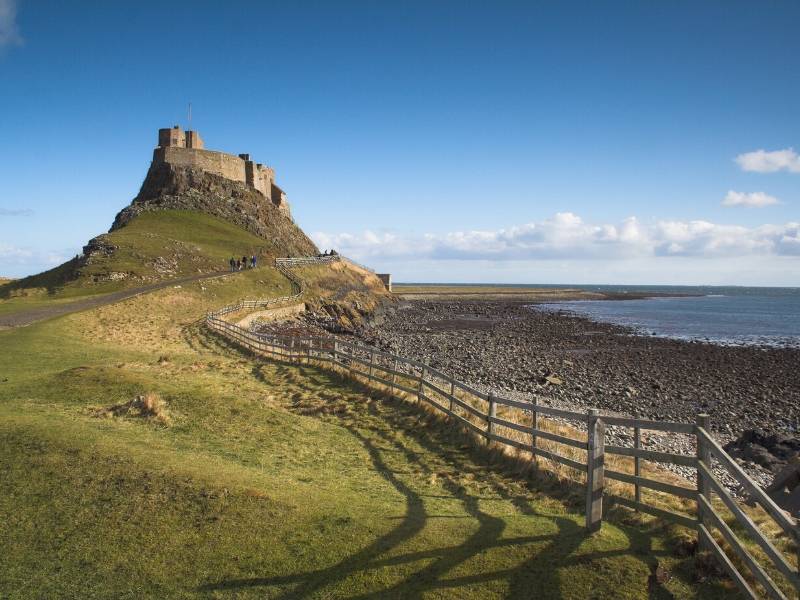 Visit the historic city of Durham
The historic city (and UNESCO World Heritage Site) of Durham with its famous Norman Cathedral and 11th century castle is situated in the county of Durham in the north east of England.
Major attractions in the city include Durham Castle (now occupied by Durham University), Durham University Botanic Garden, and the beautiful Durham Cathedral.
If you are taking a road trip around the UK and plan to visit the city of Durham please note that there is a park-and-ride facility. Parking can be very difficult in the city itself so I would recommend using the park-and-ride.
If you are visiting Durham by train it is a 45 minute walk from the station up the hill to the Cathedral.
Read more | Durham Travel Guide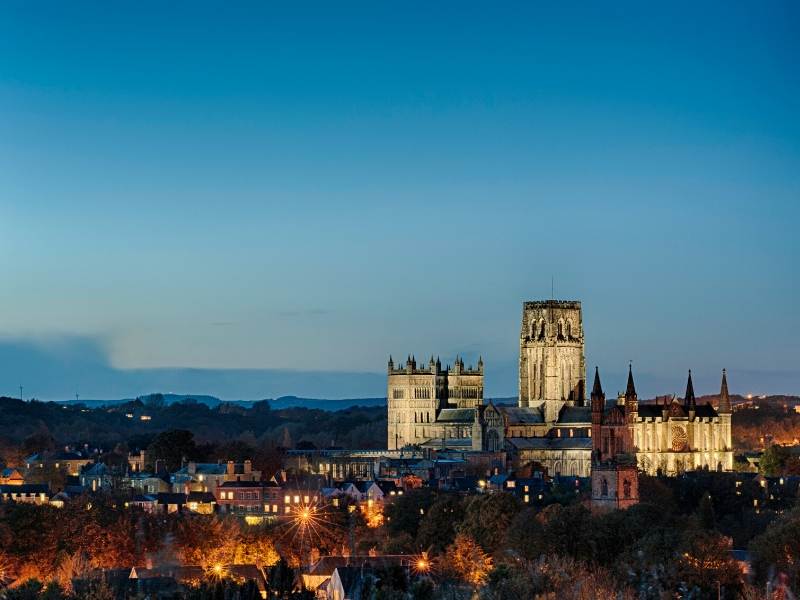 Spot the Angel of the North
To be honest you would be hard pressed to miss this huge statue if you are driving along the A1 towards Newcastle. The Angel is also easily seen from the train as you make your way from Durham to Newcastle train stations on the East Coast mainline.
Anthony Gormley's statue the "Angel of the North" was completed in 1998. The 20 metre tall angel with a 54 metre wingspan dominates the landscape.
According to Gormley the statue "bears witness to the hundreds and thousands of colliery workers who had spent the last 300 years mining coal beneath the surface" (source – AnthonyGormley.com)
As the granddaughter of one of those coal miners I have to say I love the Angel and I always look forward to seeing it every time I visit my birthplace.
Read more | Visiting the Angel of the North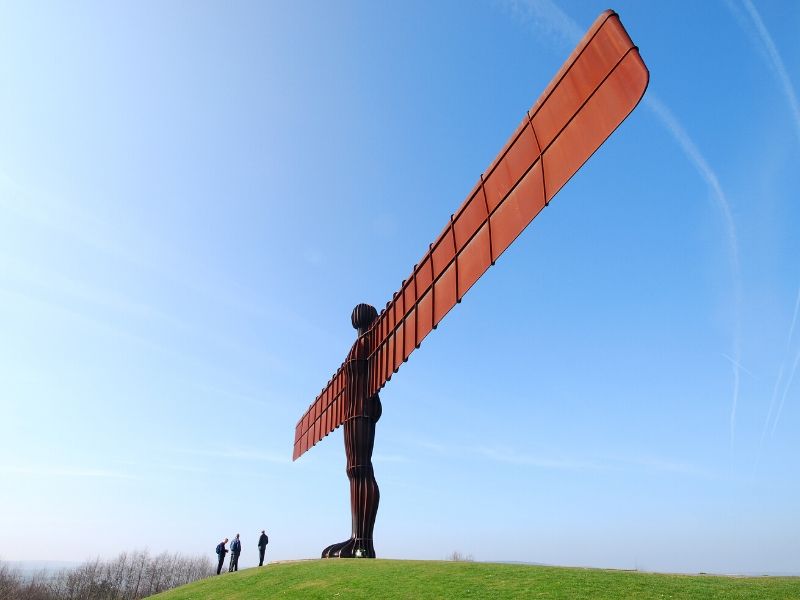 Visit Beamish Living Museum
If you want to discover what life was like in the North of England during the 18th and early 19th centuries there really is nowhere better to visit than Beamish Living Museum.
Beamish is probably the best open air museum I have been to anywhere in the world. It tells the story of life in the North East of England during the 1820s, 1900s, 1940s and 1950s.
The 300 acre site features a 1900s town, 1900s pit village, and 1940s farm. A firm favourite for visitors is the town which has a bakery, sweet shop, bank, and garage amongst other shops.
There is a tramway which transports visitors around the site.
Read more | Beamish Living Museum
Cragside House and Gardens
The National Trust property of Cragside House is a Grade 1 listed building located in Rothbury in Northumberland.
Often described as "the wonder of its age" and "the home where modern living began" this Victorian property was the first home in the world to be lit by hydroelectricity.
It was the home of William Armstrong the 1st Baron Armstrong and founder of the Armstrong Whitworth armaments firm. He was a scientist and inventor (hydraulic crane/Armstrong gun) who also turned his attention to home improvements! In a big way.
In addition to the house itself there are the wonderful gardens to explore at Cragside. These include the formal Victorian gardens, a pinetum and a rock garden. Cragside is one of my favourite gardens to visit in North East England.
Click to join the National Trust
Read more | Cragside House and Gardens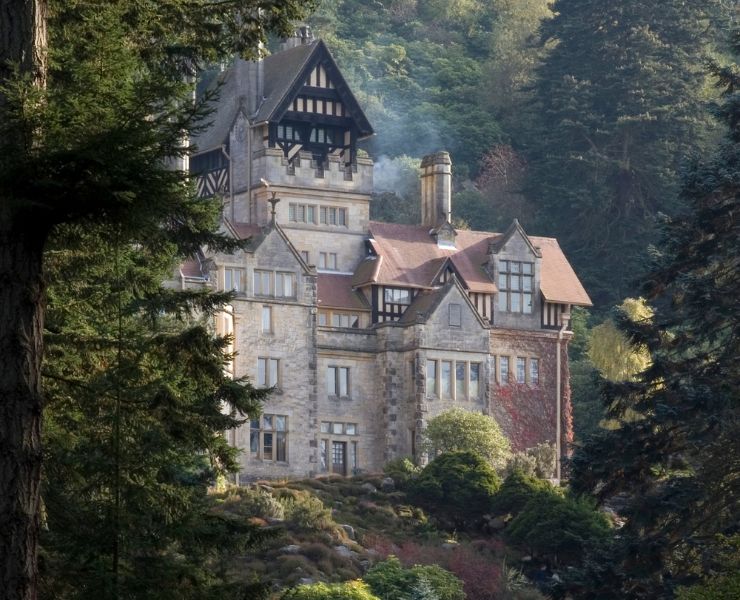 Quick guide – North East England
🍲 WHAT TO EAT – Stotties, pease pudding, Craster kippers.
🚅 PRINCIPLE TRAIN STATIONS – Newcastle and Durham
👚 WHAT TO WEAR – The weather can be unpredictable along the coast even in summer so always carry a waterproof jacket (and I recommend an umbrella ☂ )
Enjoy exploring and discovering the North East of England
I am sure after reading this article you will have lots of ideas for day trips. You should also have lots of possibilities to include into an itinerary if you are planning a few days or more in the North East. It is the perfect UK staycation destination.
Check out these travel guides to specific areas of the North East and North of England for further information:
Durham Travel Guide
Newcastle Travel Guide
Do let me know where you go and how your travels went. Also do you have any recommendations you could suggest to other visitors?
I am originally from the North East of England and it is a beautiful part of the UK to visit so would love to know! And I am sure other travellers would be interested in your experiences too.
Want to explore some of England's other regions?
Head over to my other area guides to England which include the North West, East Midlands, West Midlands, Yorkshire, South West, South East and East of England.
Visiting Scotland, Wales or Northern Ireland?
Check out my top 19 places to visit in Scotland and top 10 choices to add to your travel itineraries for Wales and Northern Ireland.
If you are visiting the UK (or live in the UK and want to explore more of our beautiful nation) why not join my UK and London Travel Planning group on Facebook?
RECOMMENDED READING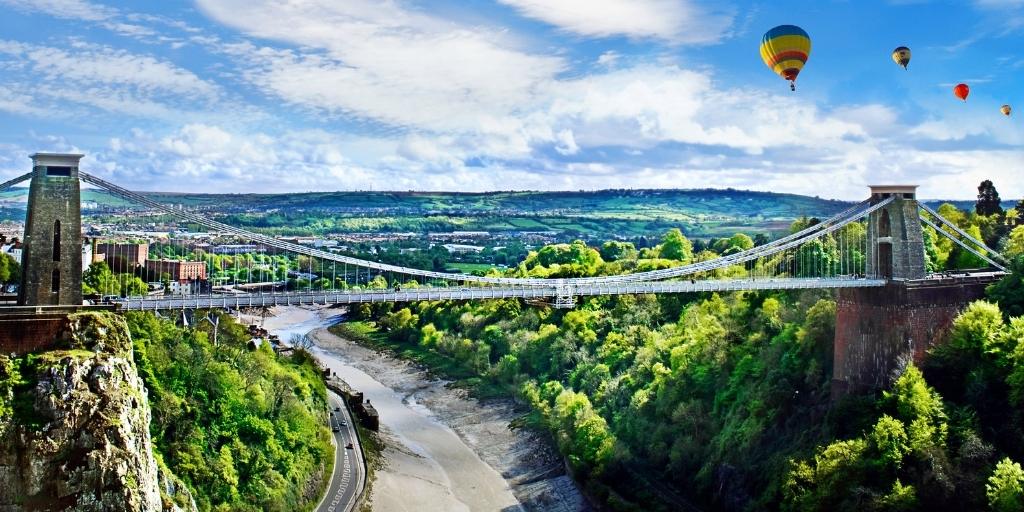 Our Bristol Travel Guide includes recommended places to visit and things to do, best day trips, accommodation options, …
Find more inspiration for your travels in my England Travel Guide which includes information about what to see, where to stay, how to get around, travel tips, recommended reading and more to make the most of your trip.
Do you use Pinterest? Why not pin to your boards and share with friends and family who may be interested?