Stunning landscapes, historic houses and stately homes, pretty villages and market towns combine to make the Peak District a popular holiday destination. But choosing the right location for your stay can be tricky! Find the best places to stay in the Peak District in our guide to 14 towns and villages with accommodation options for every budget
Are you planning a trip to the Peak District and struggling to choose the best place to stay? We have you covered! In this article discover the best towns and villages for your stay in the Peak District. Find out about each destination plus popular attractions in the surrounding area to help you decide the best places to stay in the Peak District for your travel style and budget.
We have also chosen the best accommodation options including luxury 4 & 5-star hotels, holiday parks, cottages, guest houses and B&Bs for a range of budgets in each destination.

Where to stay in Peak District – Quick picks
Overview of the best places to stay in the Peak District
Quick picks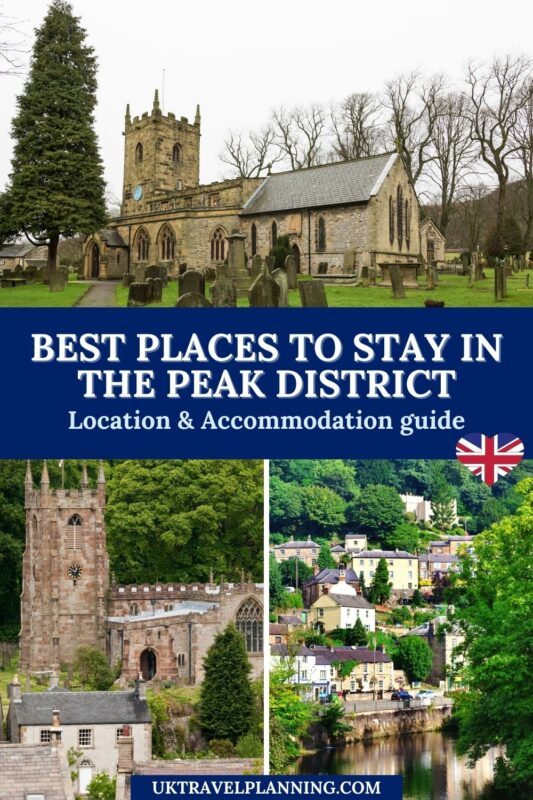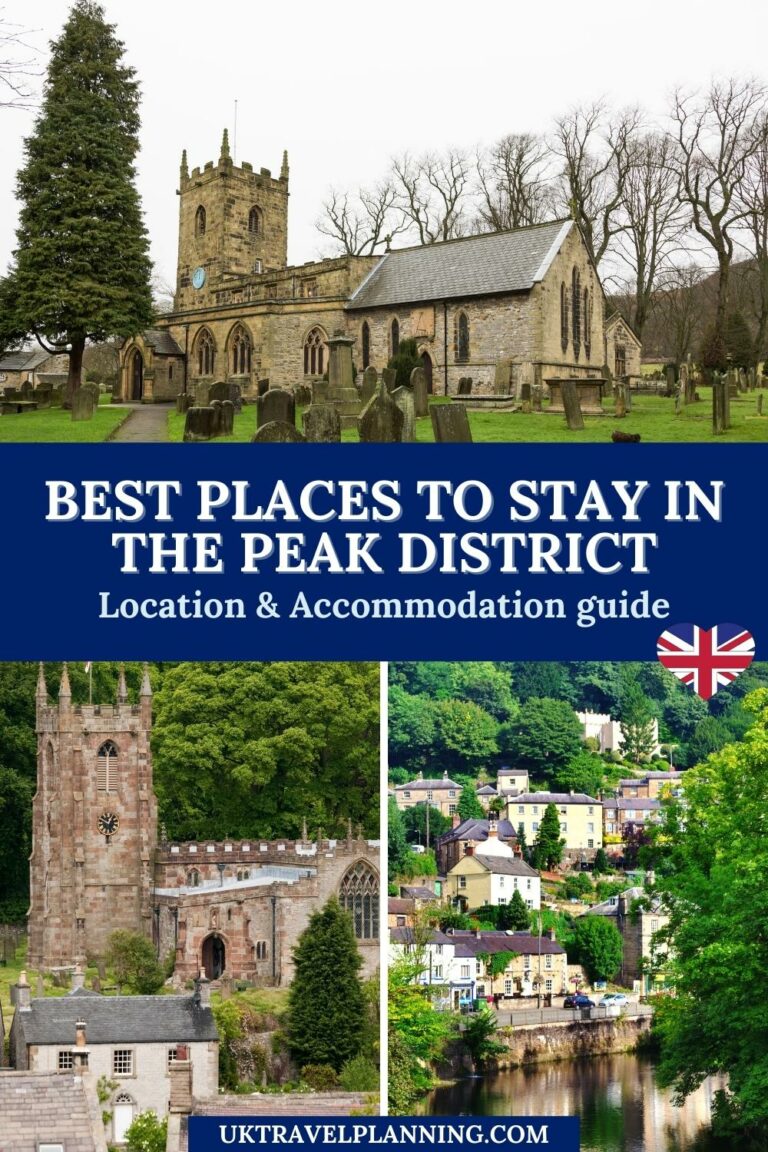 Best places to stay in the Peak District
Dovedale – Hartington – Tissington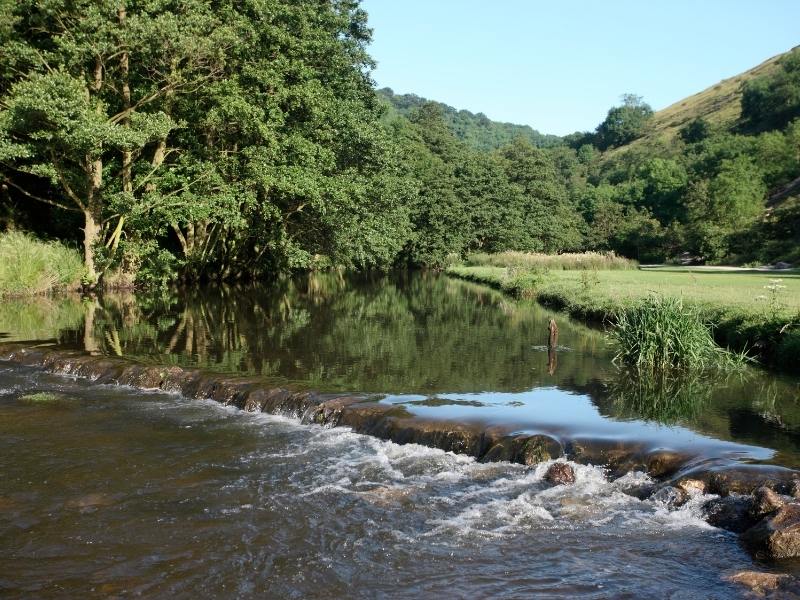 Dovedale, Hartington, and Tissington are three scenic villages in Derbyshire. The pretty villages are just a short drive, of around 20 minutes, from each other in the southern part of the Peak District National Park.
Dovedale
Dovedale is a fantastic base if you love outdoor adventures and explorations. Situated in the Derbyshire Dales, Dovedale is a national nature reserve. The River Dove flows through the area, providing many golden opportunities for lovely riverside picnics and paddling in the refreshing waters. The river attracts lots of interesting flora and fauna, not to mention the thousands of visitors who come each year to enjoy the gorgeous landscapes, verdant fields, and dense woodlands.
There are spectacular limestone ravines close by, and you can marvel at the lone limestone hill known as Thorpe Cloud. You'll find several terrific hiking trails close to hand, including climbing to the peak of Thorpe Cloud for amazing vistas, and the more family-friendly riverside walk.
The quaint village looks like it has been lifted right from the pages of a storybook, with its charming stone houses and idyllic appeal. There's a great selection of places to eat, drink, shop, and sleep too.
Tissington
Tissington is an ideal destination if you want to spend your days enjoying a variety of watersports. Located at the head of Carsington Water, Tissington offers easy access to water-based activities like kayaking, windsurfing, canoeing, sailing, and paddleboarding. Alternatively, spend pleasant days out on the water seeing what you can catch on a fishing adventure.
Get active on dry land and follow the Tissington Trail, accessible to walkers, horse riders, and cyclists. The track passes through stunning scenery as it traces the course of an old train line.
The rural village is pretty as a picture, with charming cottages, a duck pond, and the handsome old Church of St Mary. Tissington Hall stands proudly at the heart of the village, a glorious Jacobean mansion that's open to visitors.
Pet friendly 3 bedroom holiday home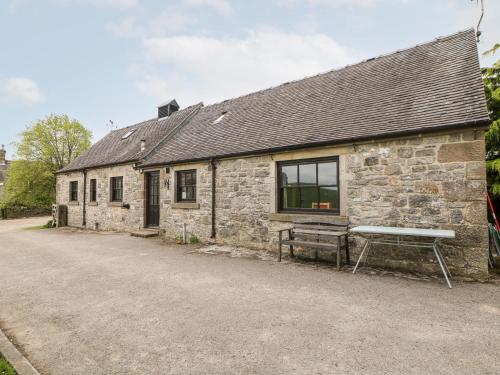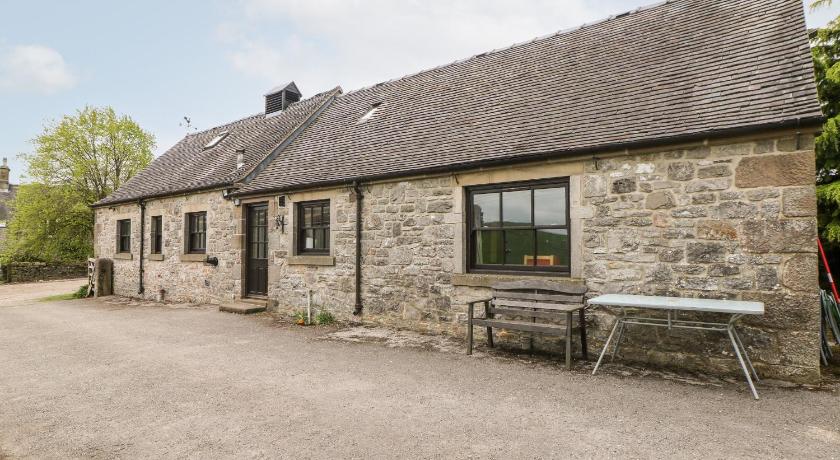 Traditional country inn that serves hearty meals
Few minutes walk to lovely peak for great views or to the Dovedale stepping stones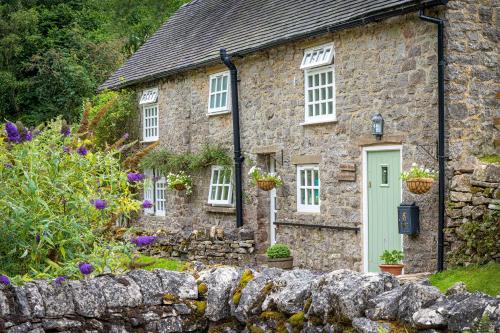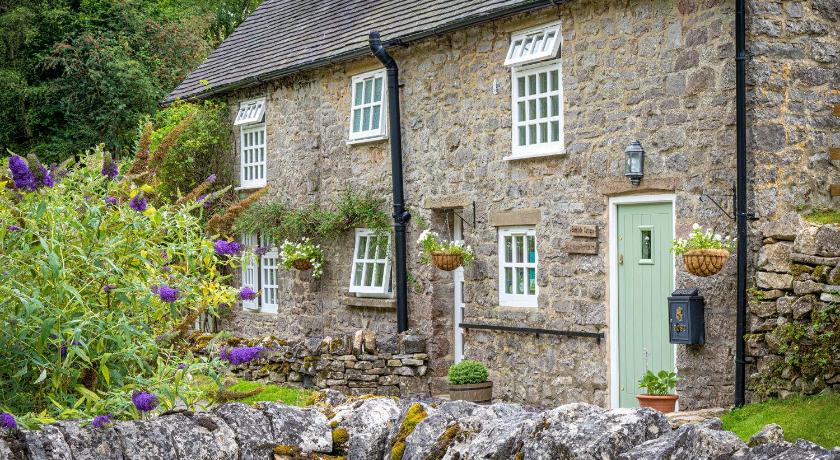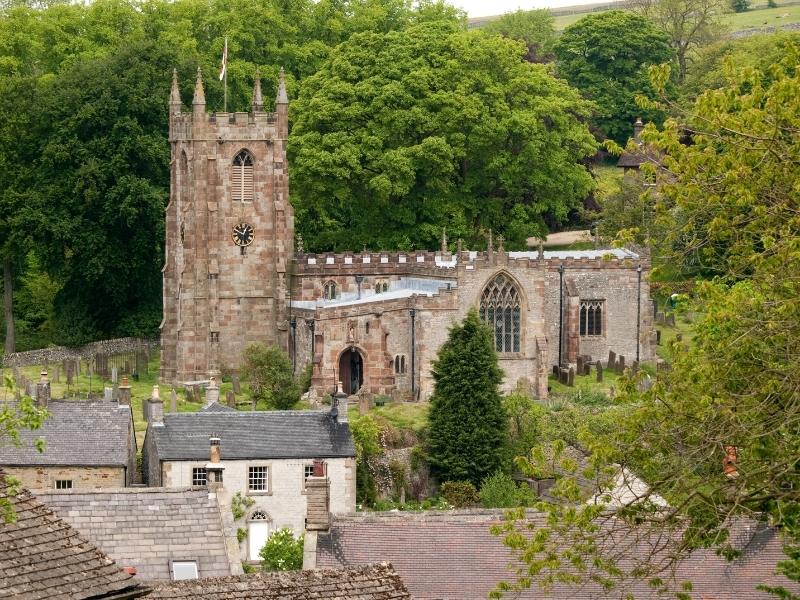 Hartington
Hartington is the furthest north of the three villages, and it offers plenty more scenic charms. Excellent walking trails can be found around the village, winding through picturesque landscapes. Indeed, Hartington is surrounded by some of the best areas for walking in the whole Peak District. The network of cycling trails is sure to please avid cyclists too.
Hartington has been a significant village since medieval times, having become a thriving market village from the early 1200s. Although there's no longer a regular market held here, you can call into the cheese shop to pick up tasty local and artisan cheeses and browse in the small pottery.
Admire the gorgeous stone homes centred around the delightful village square, snap pictures of the attractive duck pond, and see the 1611 manor house that today houses a youth hostel. You'll find a good choice of pubs, cafes, and shops for a comfortable stay in Hartington.
⭐️⭐️⭐️
A favourite in the Peak District – full of character.
17th-century inn, offering room-only accommodation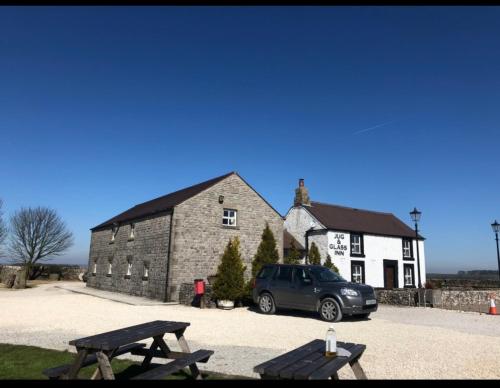 ⭐️⭐️⭐️⭐️
200-year-old coaching inn with modern rooms, home-cooked food and a traditional bar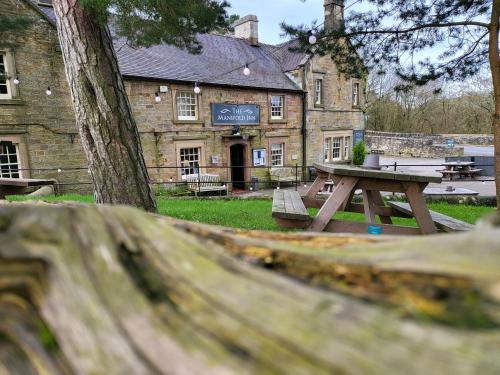 Bakewell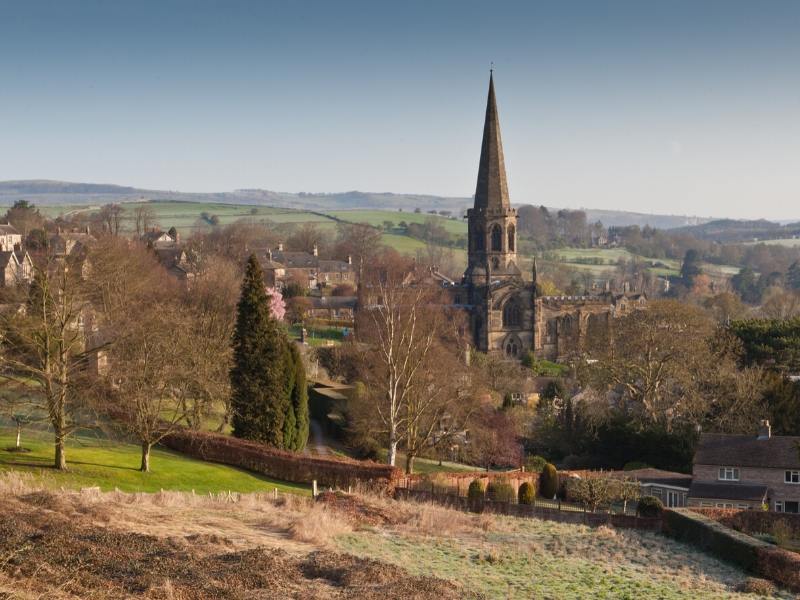 Bakewell is the biggest town in the Peak District National Park. Located on the banks of the River Wye, the picturesque town has old buildings, an enchanting arched bridge from the Middle Ages, and plenty of tucked-away courtyards to discover.
You'll find a great selection of places to dine, shop, and stay; in short, Bakewell has all the facilities and amenities you need for a pleasant stay. Plus, you're not far from the stunning countryside and walking/cycling trails that the Peak District is famous for.
Bakewell is an especially top place to stay for foodies. The town is celebrated for its namesake pudding—a flaky pastry base filled with tangy jam and aromatic almond paste. Call into The Old Original Bakewell Pudding Shop or one of the numerous cafes and shops to sample this local treat.
There's plenty more to keep your taste buds satisfied too, including the vast selection of fresh, local produce at the weekly farmer's market (held each Monday) and many speciality shops selling everything from craft chocolate to fine whiskies. Beer aficionados should definitely schedule a visit to Thornbridge Brewery.
Grab a quick bite to eat in a café, relax in a tea room, and tuck into a hearty meal in one of the tempting restaurants. And, if you're around in August you can experience the Bakewell Show, which is one of the country's oldest agricultural events.
Step back in time to the medieval period with a visit to Haddon Hall, a splendid country house that dates back as far as the 11th century. The home boasts gorgeous period furnishings, a stunning tapestry collection, and a beautiful Elizabethan-style walled garden.
You can learn more about Bakewell's history at the Old House Museum.
Read more – Things to do in Bakewell
Ideally located for the Monsal trail.
⭐️⭐️⭐️
19th-century coaching inn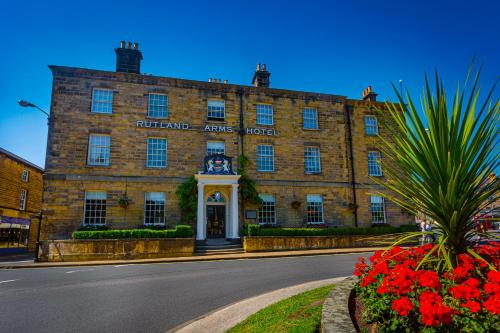 Boutique hotel located in the heart of Bakewell
Baslow – Pilsley – Beeley – Rowsley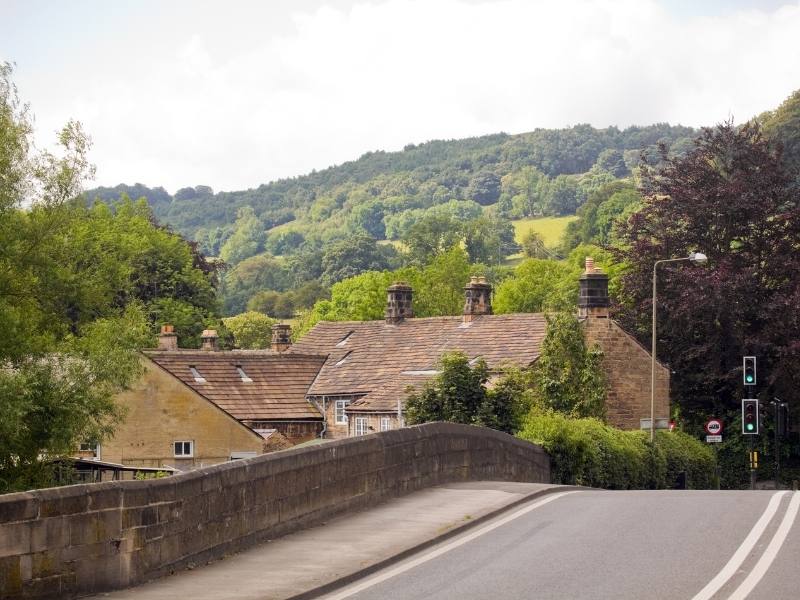 The four lovely villages of Baslow, Pilsley, Beeley, and Rowsley are located towards the eastern side of the Peak District National Park. They sit almost in a line, close to the River Derwent. Surrounded by picturesque landscapes and dramatic scenery, the villages are ideally situated for also visiting one of the Peak District's most impressive cultural sites: Chatsworth House. Indeed, the villages are part of the wider Chatsworth Estate.
The Grade 1 listed property of Chatsworth House is a grand stately home in the Derbyshire Dales. Lying between Chesterfield and Bakewell, it is the seat of the Duke and Duchess of Devonshire.
The beautiful home has been owned by the Cavendish family since the mid-1500s. It has been named as the favourite country house in Britain on several occasions, and it has been featured in many movies, TV shows, and books.
Surrounded by parkland, the home sits in the shadow of the greenery-covered hills that lead to heather-cloaked moors. The house has seen many developments and expansions over the years. Today's visitors can see a blend of Tudor, Baroque, and Italianate styles, with many intricate decorative details both inside and out.
While there are around 30 glorious rooms open to the public, the huge mansion actually boasts some 126 rooms in total. Tour the public sections to admire rich murals and expensive artworks, exquisite furnishings, stunning sculptures, and books from through the ages. Peek inside lavish state bedrooms, marvel at the elegant library, wander along luxurious halls, feast your eyes on the fascinating trompe-l'oeil in the State Music Room, and more.
When visiting the sprawling Chatsworth Estate, take time to enjoy the fine Elizabethan Walled Garden, which showcases features from across 600 years. Spread across more than 100 acres, the garden is often a riot of colour, thanks to the many blooms that flower during different seasons. Just outside of the wall you can see the stone tower of Queen Mary's Bower, rumoured to have been a leisure spot of Mary, Queen of Scots during her days as a prisoner at Chatsworth House.
Baslow
In Baslow Village, stroll around the cute village green of Goose Green, see the distinctive clock face at St. Anne's Church, pass by the tiny toll house on the historic bridge, and spot the cottages with thatched roofs (a rare sight in the Peak District) en route to Chatsworth House.
Pilsley
Pilsley features lovely limestone cottages with vibrant gardens, and you can visit the church and local pub. You can also pick up fresh produce from the Chatsworth Farm Shop.
Beeley
The peaceful village of Beeley was originally occupied by people who worked for the Duke of Devonshire. Stone homes line the leafy lane, and the local church is a pleasant place to stop for some quiet contemplation. Local hotspots include a café and a pub.
Rowsley
There are great walks close by, including the Derwent Valley Heritage Trail. Rowsley village grew with the railway, with much railroad-related activity in the southern part of the village in times gone by.
Local attractions include the Victorian Caudwell's Mill, a craft centre, a nostalgic railway, and the Peak Village shopping centre. It's in a great location for exploring
⭐️⭐️⭐️⭐️
Hotel with country house charm, wonderful views and a great restaurant, open fires and oak beams
Super friendly staff. Tasty pub food available. Close to attractions.
⭐️⭐️⭐️⭐️
Luxury boutique hotel and facilities with a fine dining Michelin Star restaurant.
Castleton – Hathersage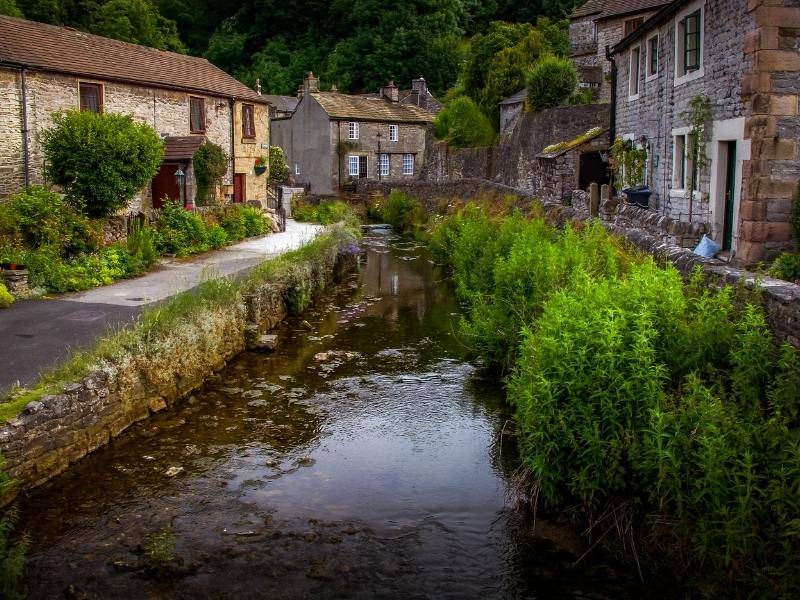 Castleton and Hathersage are two lovely villages in the Peak District's Hope Valley. Situated in the central part of the Peak District National Park, the villages are perfect destinations for you to enjoy walking, cycling, and rock climbing in the great outdoors.
Castleton
Castleton lies at the western end of Hope Valley and in the shadow of Mam Tor, also known by locals as Shivering Mountain. Surrounded by stunning limestone and gritstone terrain, Castleton is a fantastic place for anyone who wants to explore the many wonders that the Peak District has to offer. The two-hour looped walking trail is a terrific way to soak up local wonders.
The village has a claim to fame—it is the only place on the planet where you can find the semi-precious Blue John stone. Enter the magical wonderland of Treak Cliff Cavern to see the biggest known piece of the unique stone and gaze in awe at the numerous striking rock formations. Cavers are sure to love exploring Peak Cavern and Speedwell Cavern, the second of which offers exciting subterranean boat rides.
Travel back in time at Peveril Castle, a ruined fortress from the Norman era. Wear comfy shoes—there are lots of steep steps to climb! The lofty vantage point provides exceptional views of the surroundings, including Mam Tor and the glistening Errwood Reservoir.
Hathersage
To the eastern side of Hope Valley, Hathersage is a bustling village with plenty to see and do. It's especially popular with people seeking outdoor adventures, like cycling, walking, and climbing.
Tour the beautiful countryside and come across handsome mansions like Highlow, Offerton, and Hazelford Halls. You can also visit sites associated with the legend of Robin Hood (including the grave of Little John at St. Michael's Church), and places with literary connections.
Hathersage offers a comfortable and convenient base, with a great selection of restaurants and pubs, accommodations, shops, and leisure facilities.
⭐️⭐️⭐️
500 year old coaching inn with contemporary decor
⭐️⭐️⭐️
18th-century country lodge with cask-ales and seasonal-inspired food
⭐️⭐️⭐️⭐️
16th century Inn with cosy bar and restaurant
Eyam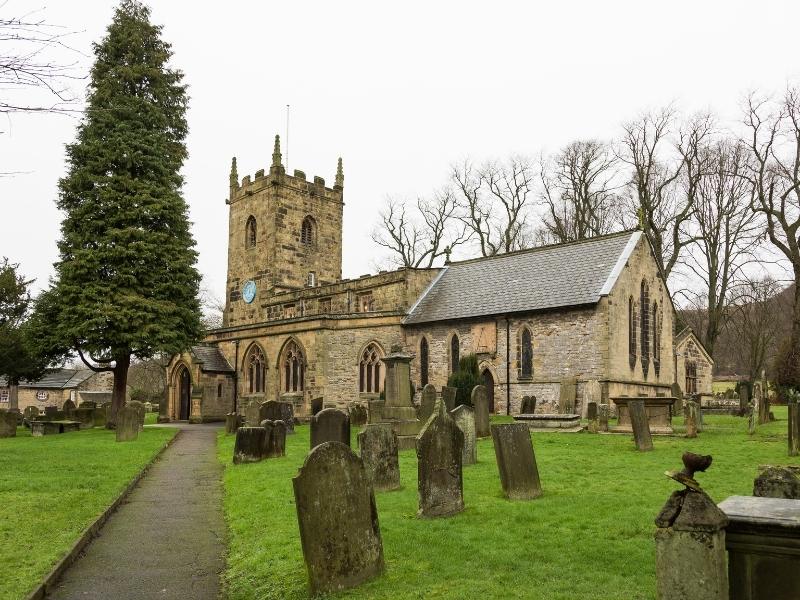 A terrific Peak District destination for history buffs, charming Eyam has a long and interesting past. Famously known as the "Plague Village", you can learn about how 17th-century residents selflessly sealed their village to stop the plague from spreading.
Visit Eyam Museum (seasonal opening) to see how the deadly disease reached the community, and how locals responded in the face of tragedy.
You can also visit historic sites connected with the outbreak, like the Plague Cottages, St. Lawrence Church, and the nearby Riley Graves.
Eyam Hall is another local attraction. The handsome Jacobean mansion dates back to the 17th century, having been built just a few years after the plague ended, and was owned by the same family for hundreds of years. Inside, you can see the collection of delicate embroideries and engravings and step inside the refined library.
Outside, wander through the serene garden. Just across the road, you can peer in morbid fascination at the stocks, which were used to dole out punishments in the past.
Eyam offers easy access to the Monsal Trail, a vehicle-free trail that runs for 8.5 miles along an old railway line. Open for walking, cycling, and horse riding, the trail is also suitable for wheelchairs.
Leading through gorgeous limestone scenery, the route includes an interesting tunnel and a scenic viaduct. Don't forget your camera because the views are sublime!
Despite its dark past, Eyam is a thriving and welcoming village in the modern-day. Visitors can enjoy diverse places to eat and drink and there's a good selection of accommodation options as well as terrific local places to shop for essentials and souvenirs.
⭐️⭐️⭐️⭐️
B&B accommodation. Room includes fresh flowers, chocolates, drinks and biscuits.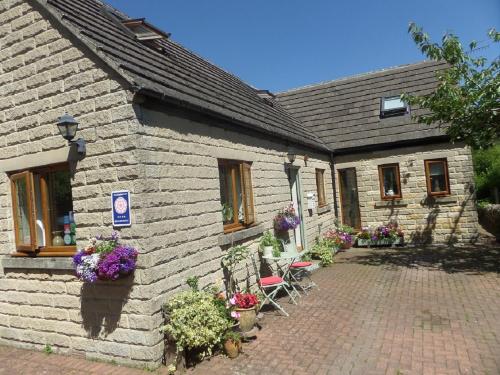 Amazing old cottage with great food and ales
Excellent location and good menu
Buxton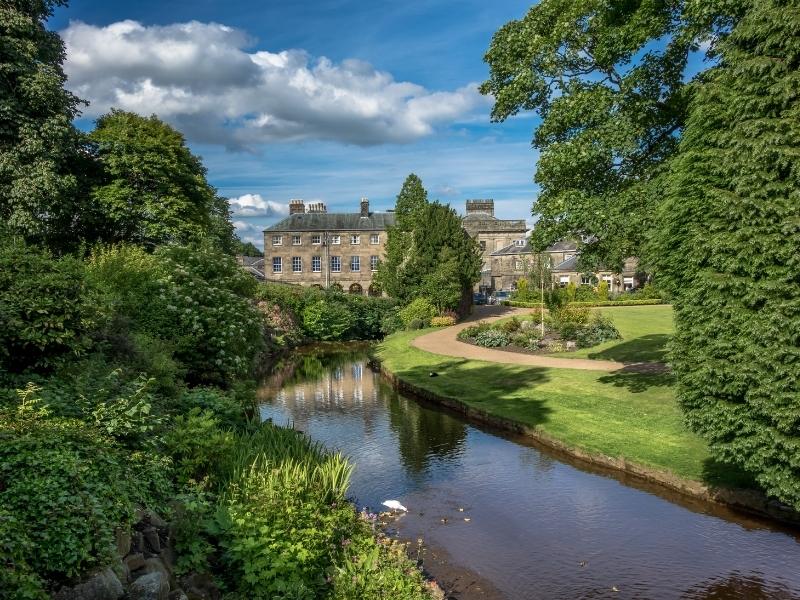 Buxton enjoys a great location from which you can easily explore the rest of the picturesque Peak District. A terrific choice for families, Buxton is home to an exciting array of things to do and see for people of all ages, with even more fun just a short drive away. Couples will also find plenty of ways to find romance in the historic spa town.
With many eateries, accommodations, shops, and leisure facilities, staying in Buxton is always lots of fun! It's no wonder that Buxton is one of the most popular places in the Peak District.
Stroll around the elegant town and admire the Georgian and Victorian architecture—don't miss The Crescent—and discover beautiful gardens. The town hosts bustling markets each Tuesday and Saturday all throughout the year, with regular speciality markets, like craft fairs and food and drink markets, too.
Energetic visitors will be pleased with the excellent walking and cycling trails that surround Buxton, and there are plentiful opportunities for rock climbing and exploring dazzling caves too.
Nature spotting abounds, and you can enjoy a leisurely round of golf at Cavendish Golf Club. Want more of a thrill? Check out the awesome treetop course at Go Ape. Or, to really get the adrenaline pumping, whizz around in a stock car at Buxton Raceway.
The Pavillion Gardens are a pleasant place to spend half a day (or longer), with a sparkling boating lake, art gallery, quaint tea room, miniature train, play areas, elegant buildings, and more than 20 acres of attractive landscaped gardens.
Ashwood Park has lots of open space and sporting facilities, and Water Street Sensory Garden is another lovely place to chill out and feel at peace.
Young and old alike are sure to be spellbound by the natural splendour in Poole's Cavern. Follow the walkways past impressive stalagmites and stalactites, all made even more magical because of the lighting. The huge limestone cave formed over millions of years and is definitely a memorable trip. There's a woodland walk outside and you can also visit the nearby Solomon's Temple for amazing views across the town and beyond.
Uncover local history, nature, and geology at the interactive and free-to-enter Buxton Museum and Art Gallery. Ogle the Devonshire Dome. Catch a show at Buxton Opera House.
Treat yourself to some TLC in one of the blissful spas, with a range of relaxing treatments to choose between, and take a sip of the famous Buxton Water at St. Anne's Well. If you're really into health and wellness, why not time your trip to include the Buxton Health and Healing Festival, normally held each June? (rearranged to October 2021)
Country-house style rooms and home-cooked food.
⭐️⭐️⭐️⭐️
Grand Victorian hotel 300 m from the Buxton Train Station.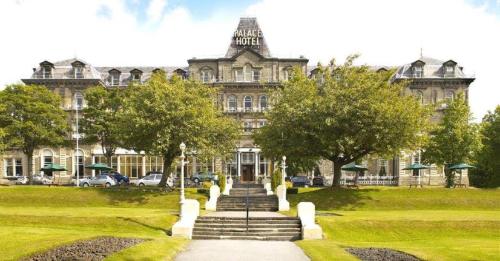 ⭐️⭐️⭐️
Mary Queen of Scots stayed at the hotel in 1576!
Edale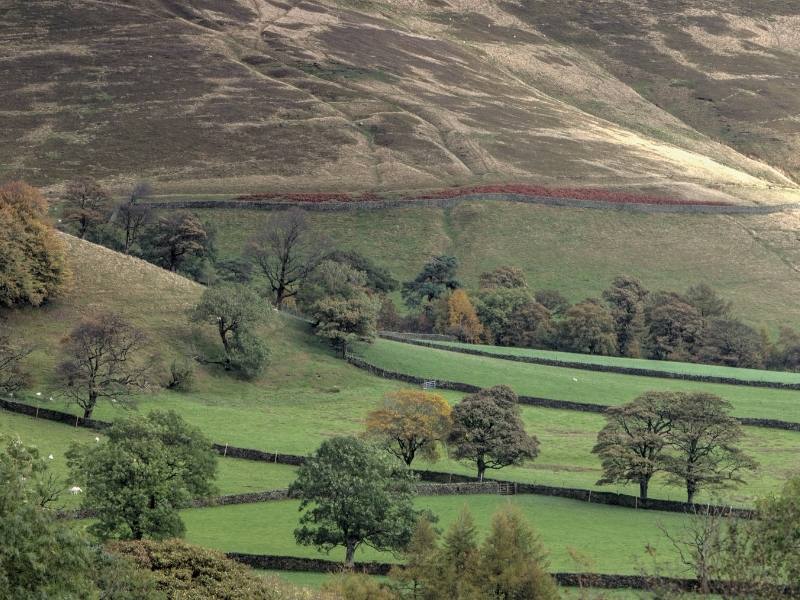 Located in the Hope Valley in the central area of the Peak District National Park, the village of Edale may be small but it draws many visitors thanks to its excellent walking opportunities and sublime views. You may have a sense of déjà vu as you explore—the area has been used in several TV and film productions.
Edale began life as a collection of small hamlets where herdsmen used to live. Now, it sits at the start of the stretching Pennine Way—the first long-distance walking path in the UK and one of the country's most famous walking routes.
You don't have to be planning to take on a mega walk, though, to enjoy Edale—there are trails of varying lengths nearby, suitable for all levels of walker. Popular routes include Kinder Scout and The Great Ridge.
Fancy other ways to enjoy the great outdoors? Edale also offers mountain biking, climbing, paragliding, hang gliding, and fell running. And, even if you don't want to spend days hiking or trying diverse outdoor adventures, it's still well worth visiting Edale for the far-stretching beautiful vistas across the peaks and moorland.
Edale's train station makes getting here easy, and it lies along one of the most scenic train routes in England—the Manchester to Sheffield line.
Local accommodation options range from small hotels and guesthouses to vacation lets and camping sites. Staying in Edale provides access to amazing landscapes, and it's a particularly popular stopping place for hikers and ramblers. The charming local pubs offer a hearty welcome after a long day of exploring.
Apartment with terrace and mountain views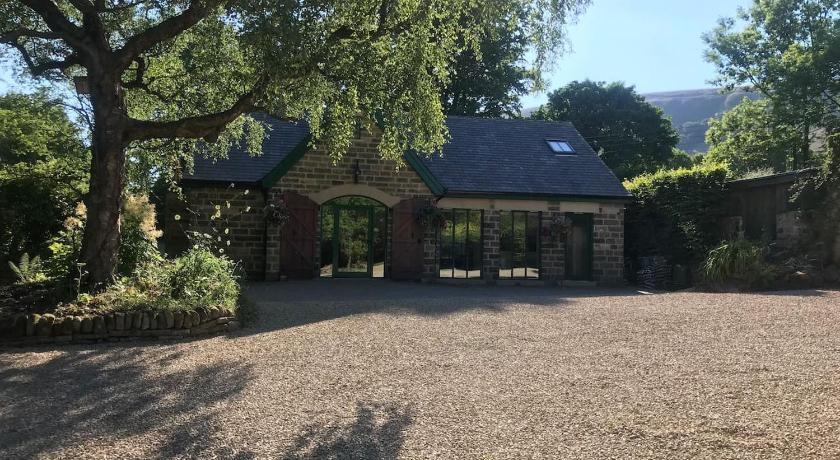 Self catering cottages offering garden or mountain views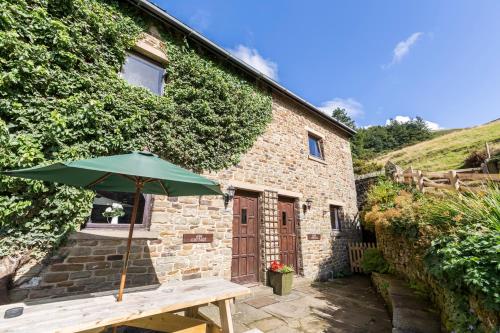 Adults-only accommodation with a restaurant, a bar and a garden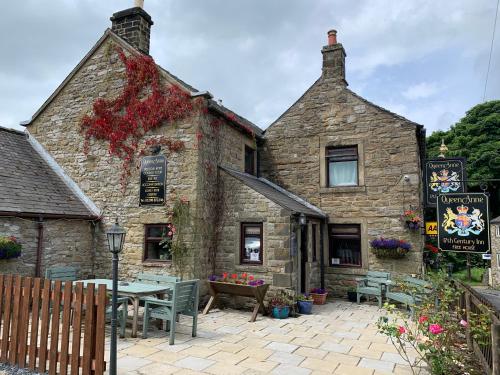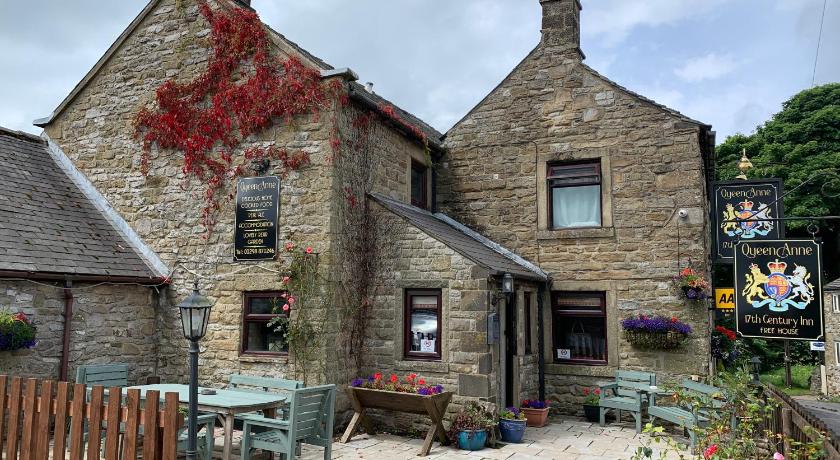 Matlock Bath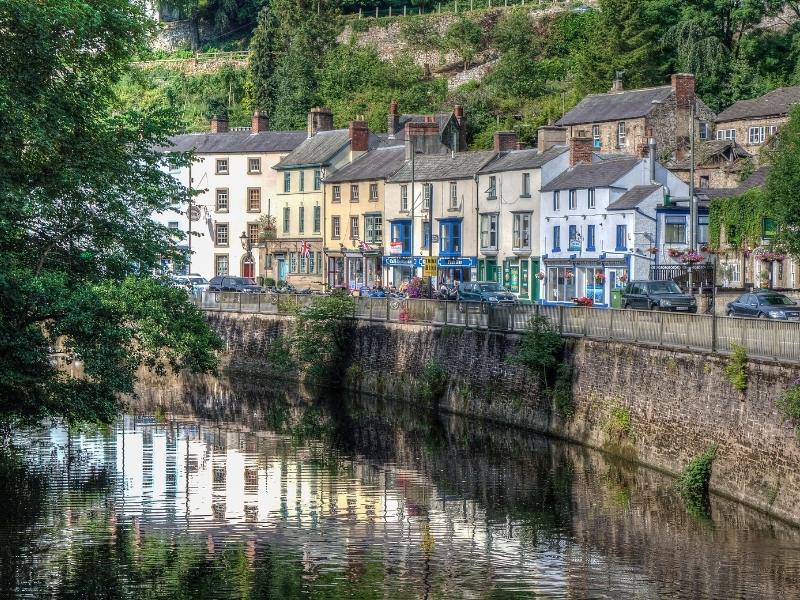 Derbyshire's Matlock Bath lies on the eastern fringes of the Peak District National Park. The town has a long history, having been developed as one of the earliest tourist destinations in the UK. Full of character, it's certainly a place that visitors find welcoming and interesting.
The historic spa town has been attracting visitors since the 17th century, with people keen to bathe in the waters and enjoy the health benefits. The gorgeous views even lead to the town being nicknamed "Little Switzerland."
Today, Matlock Bath is a top destination for families, friends, and couples. There's a great range of places to stay to suit diverse budgets and requirements, and you'll find plenty of eateries, bars, and pubs. There are loads of places to shop in the town, but shopaholics are sure to love a trip to the nearby Masson Mills too.
Masson Mill is also a fabulous destination for history lovers, with its Working Textile Museum. It was part of the industrial area designed by Sir Richard Arkwright. Nearby, the village of Cromford was home to the world's first ever water-powered cotton mills.
Cromford Mills were part of a purpose-built industrial area, with factories, workers' homes, and everything needed for industrial success. Also designed by Sir Arkwright, the mills and village were where the Industrial Revolution was born. Today a UNESCO World Heritage Site, step inside Arkwright's Mill to travel back in time to a working mill from days gone by.
To see a different side of the area's industrial past, visit the Peak District Mining Museum. See what life was like as a local lead miner, see various mining equipment, tools, and artefacts, take a tour of Temple Pan, and try to find your own minerals in the earth. Masson Caverns and the Great Rutland Caverns offer even more lead mining history.
Get a bird's eye view of the surroundings on a cable car ride up to the Heights of Abraham, topped with woodlands and the eye-catching Victoria Prospect Tower.
Admire more awesome views from Black Rocks or High Tor. Walk hand in hand with your sweetheart along the Lovers Walks. Take kids to the aquarium. Spend a family day out at Gulliver's theme park. Walk the Derwent Valley Heritage Trail.
Many amazing experiences await you in Matlock Bath!
⭐️⭐️⭐️⭐️
18th century property set within 5 acres of landscaped gardens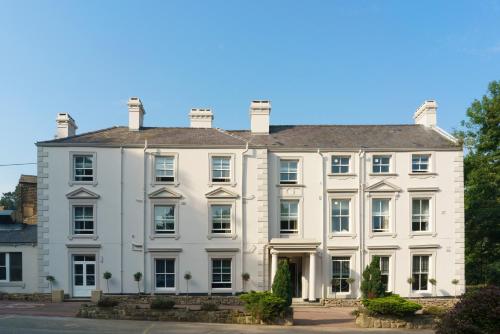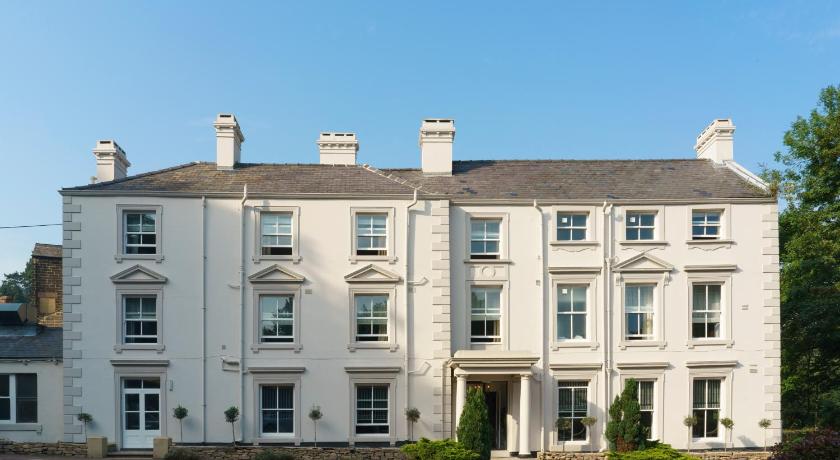 Perfect accommodation for families with outdoor space to play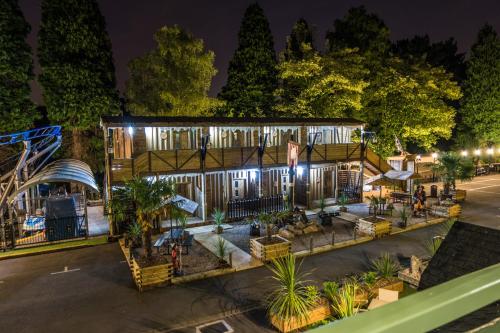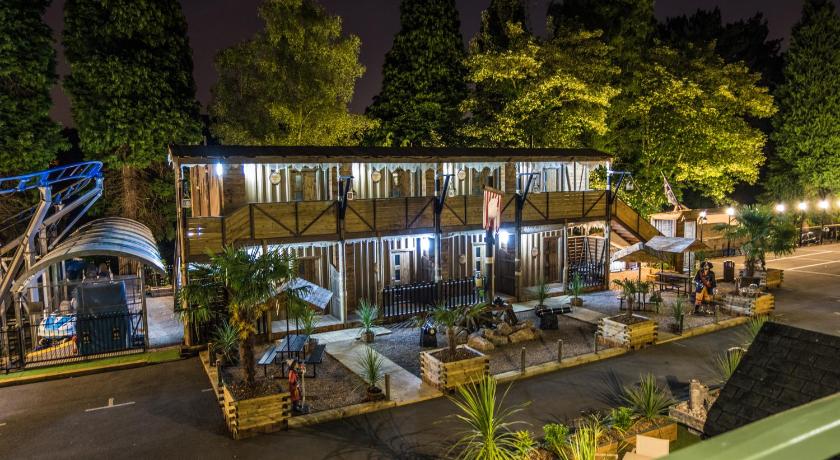 Edwardian house B&B with attractive terraced garden and views of the town and countryside
Resources – Planning a visit to the Peak District