Are you planning to take some rail journeys around Britain in the future? Are you confused about using the UK rail network? Not sure where to start to put together your train trip itinerary? Perhaps you have limited experience of rail travel or are unsure of where to go in Britain via train?
In this article you will find all the help you need to start your planning. Reflecting on a background of 25+ years working (and 50+ years travelling) on the UK rail network we have picked 10 of the top UK rail journeys to take around the country and the journeys which will enable you see the best of Britain by rail.
Tip – If you are considering travelling around the UK by train it may be cost effective to purchase a BritRail Pass to cover your rail travel. There are a variety of different passes available – click here for more information about the BritRail Pass.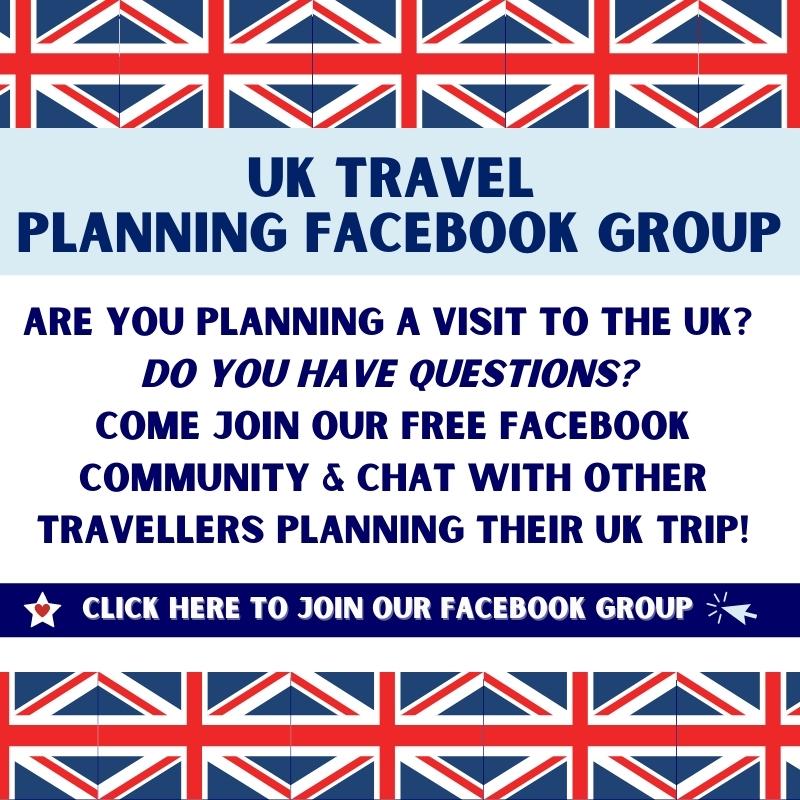 1. London Paddington to Penzance Cornwall
London Paddington > 3 hours > Reading > Taunton > Tiverton > Exeter > Newton Abbot > Totnes > change at Plymouth > 2 hours > lots of small stations including Liskeard St Austell Truro St Erth (change for St Ives) > Penzance

305 miles from London Paddington to Penzance Cornwall (via Plymouth)
This journey takes around 5 hours from London Paddington to Penzance in Cornwall (with a change of train in Plymouth).
The train operating company for this journey is Great Western Railway.
The first part of the journey takes you from the hustle and bustle of London on Brunel's Great Western route to the West Country. At Plymouth you change trains from the faster modern service to a smaller regional service which features regular stops at smaller quaint stations.
Beautiful scenery typifies this route as it passes through several counties including Somerset, Wiltshire, Oxfordshire, Devon and into Cornwall.
Places of historical interest on this journey include the cathedral city of Exeter.
If you to wish to include a visit to the beautiful city of Bath in your itinerary it is possible to take an alternative route. Catch a CrossCountry train service from London Paddington to Bath then onto Bristol (1 hours 20 mins to Bath and an additional 15 minutes to Bristol)
Trains to Plymouth from Bristol/Bath take approximately 2 hours. At Plymouth connect with the Penzance train.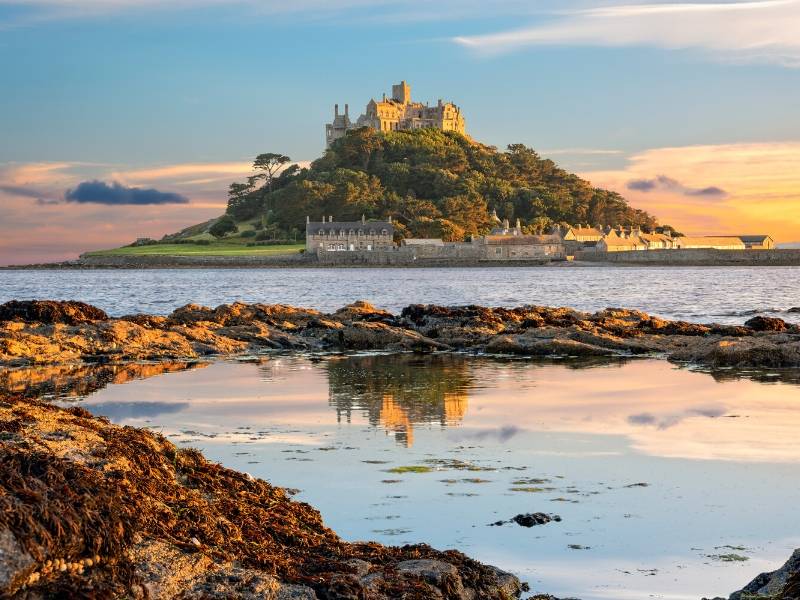 Good to know – To provide an additional option there is a Cornwall sleeper train service called the Night Riviera. This leaves from London Paddington 6 times a week starting on Sunday evenings with Penzance its final destination. There are around 15 stops in-between.
It departs London Paddington at 23:45. Cabin passengers can board at 22:30 pm. It arrives at Penzance the next morning at around 8 am. Seating options are available as well as sleeper cabins. The Night Riviera is operated by Great Western Railway.
Alternatively travel back to London via train. The Night Riviera leaves Penzance at 21:45 (21:15 Sundays) and arrives into Paddington at around 5:30 am.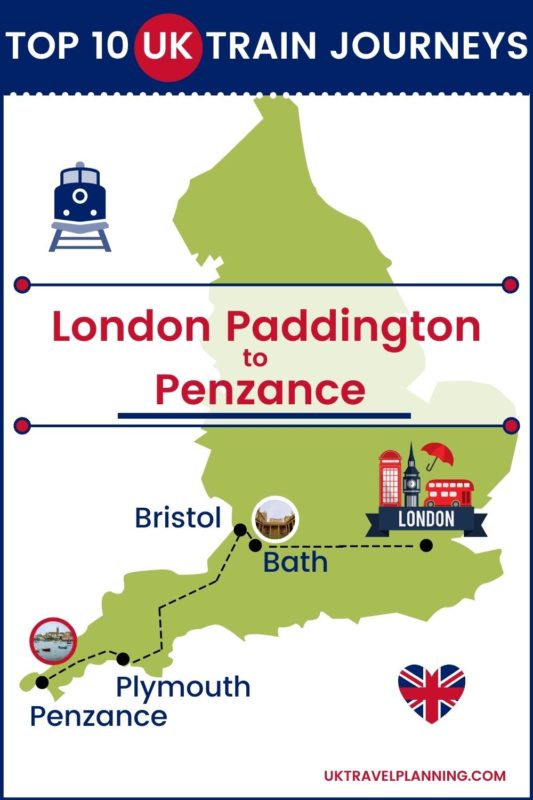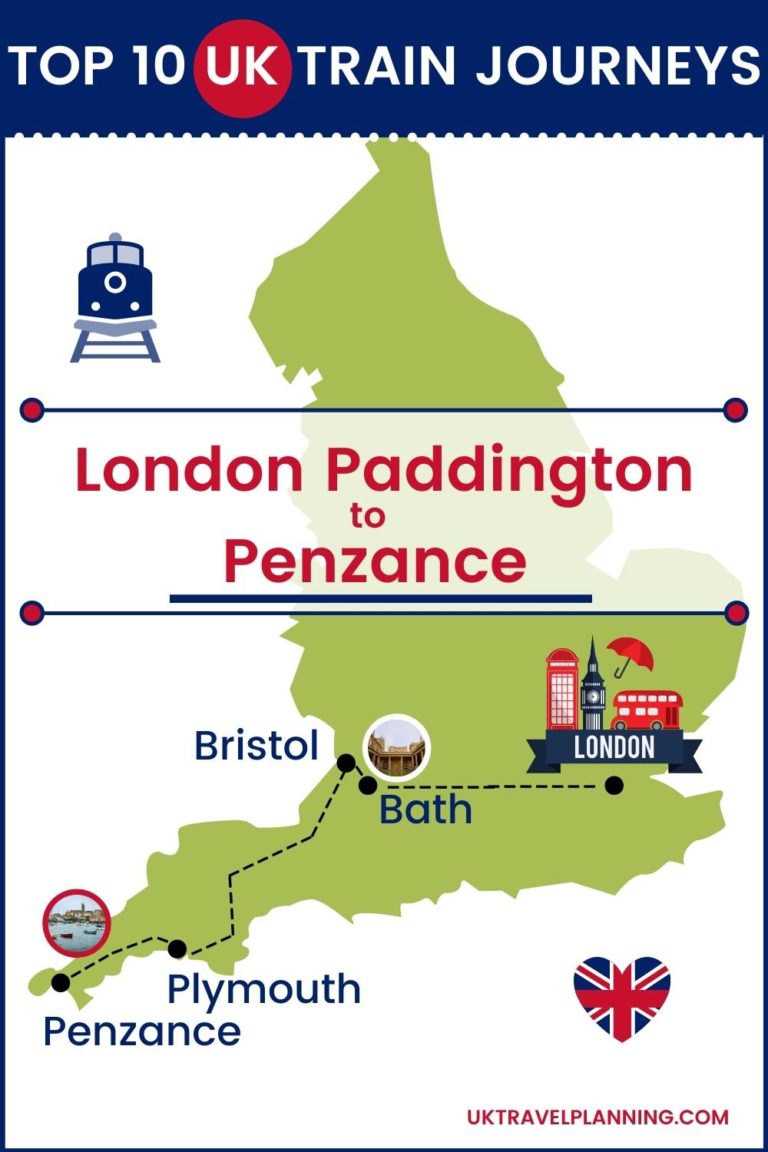 2. London Euston to Glasgow Central
London Euston > 4 hours 50 minutes > Glasgow Central

343 miles from London Euston to Glasgow Central
The train journey takes you up the West Coast Mainline. This is a fast service which is perfect if you want to get from London to Glasgow quickly.
This 4 hour 50 minute trip has no changes. There are a limited number of stops which includes principal stations only so as to decrease travel time.
At present this route is operated by Avanti West Coast. There are new trains on order for this route.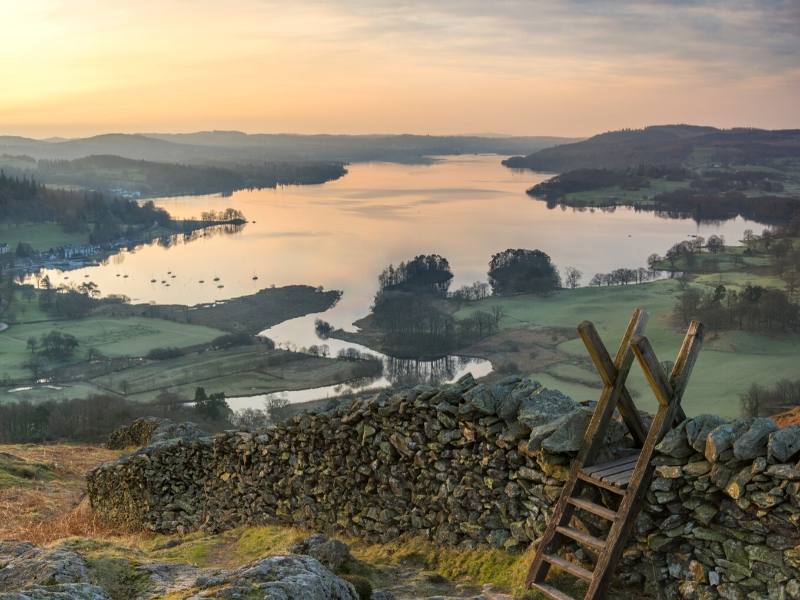 The route incorporates some of the most beautiful countryside in northern England including the Lake District.
This service takes you into the centre of Glasgow perfect to pick up other train services in Scotland.
Good to know – Travel during daylight hours (leave early in the day) to enjoy the scenery en route.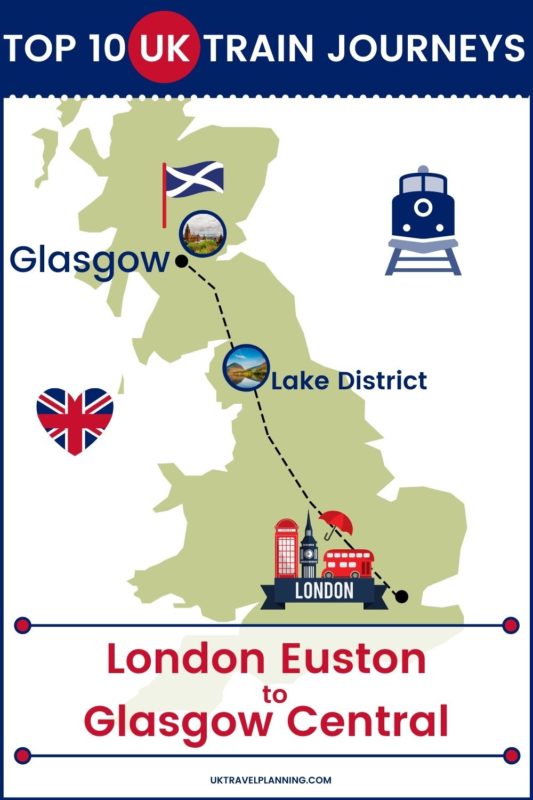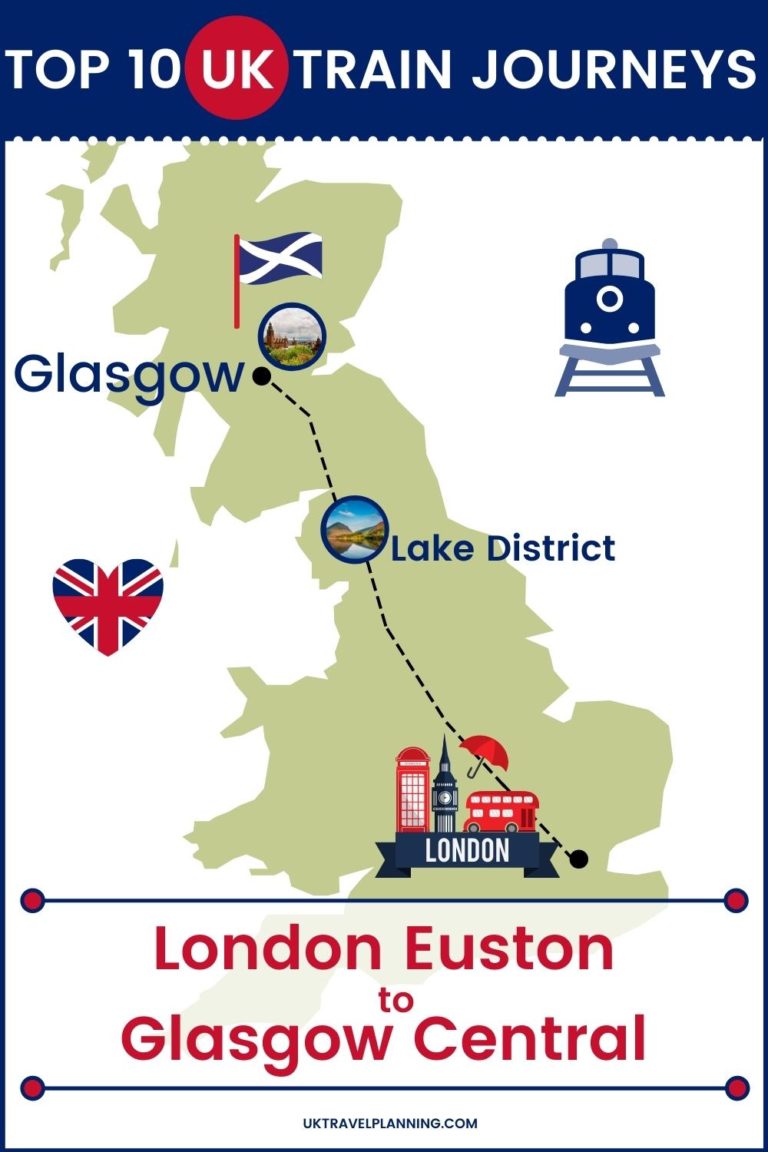 3. London Liverpool Street to Birmingham New Street via Cambridge & Ely
London Liverpool Street > 1 hour 15 mins > Cambridge >15 minutes > Ely >30 mins > Peterborough > 60 mins > Leicester > 50 mins > Birmingham New Street
Trains leave roughly every 15 minutes (Monday to Friday/less frequently during weekends and public holidays) from London Liverpool Street direct to Cambridge. This takes approximately 1 hour 15 minutes and is currently operated by Greater Anglia.
Stop off in Cambridge as it is worth exploring. The station is about 45 minutes from the main centre though buses are available outside the station (directly outside and to the left)
The train from Cambridge to the historic cathedral city of Ely takes approximately 15 minutes. This is a CrossCountry service and the train's final destination will typically be Birmingham New Street (total travel time Cambridge to Birmingham New Street is 2 hours 45 minutes)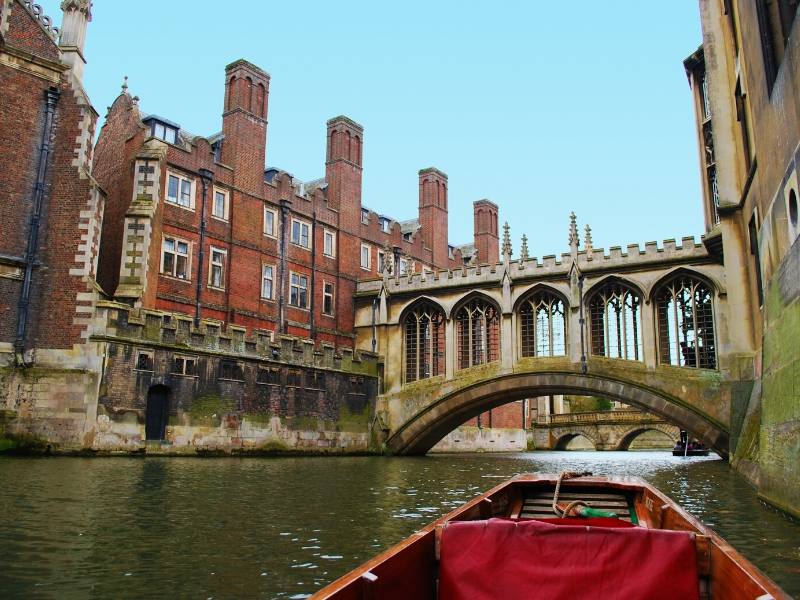 The first calling point after 15 minutes is Ely. Even if you don't plan to get off keep an eye out for beautiful 12th century Ely Cathedral on the hill on the left hand side of the train as you approach the town. It is a 10 minute walk from the train station into Ely town centre.
After Ely the train calls at Peterborough. This is a stopping point on the East Coast Mainline so you could hop onto that line at this point for travel to York/Durham/Newcastle and Edinburgh.
After Peterborough the train calls in at Leicester then onto Birmingham New Street.
This is not a fast route and you will be using more regional services with a multitude of station stops but it is a great way to see the country.
Good to know – At Ely there is also a lovely train trip to Norwich over the Norfolk countryside.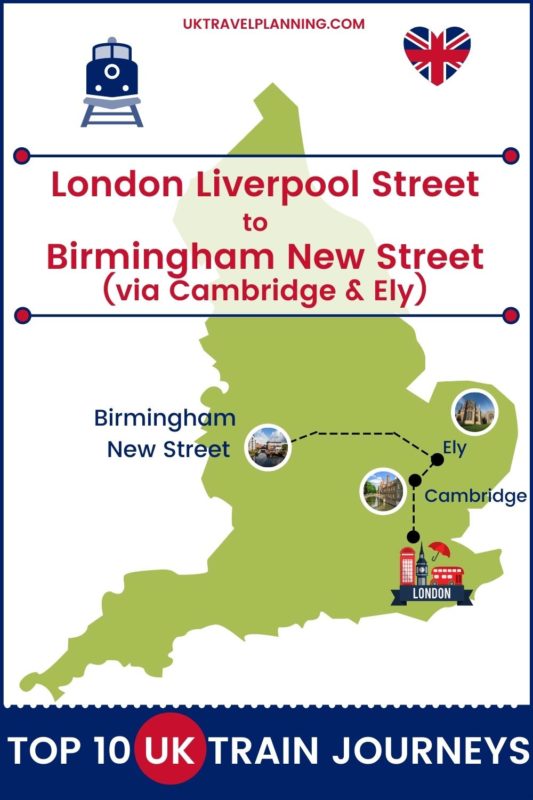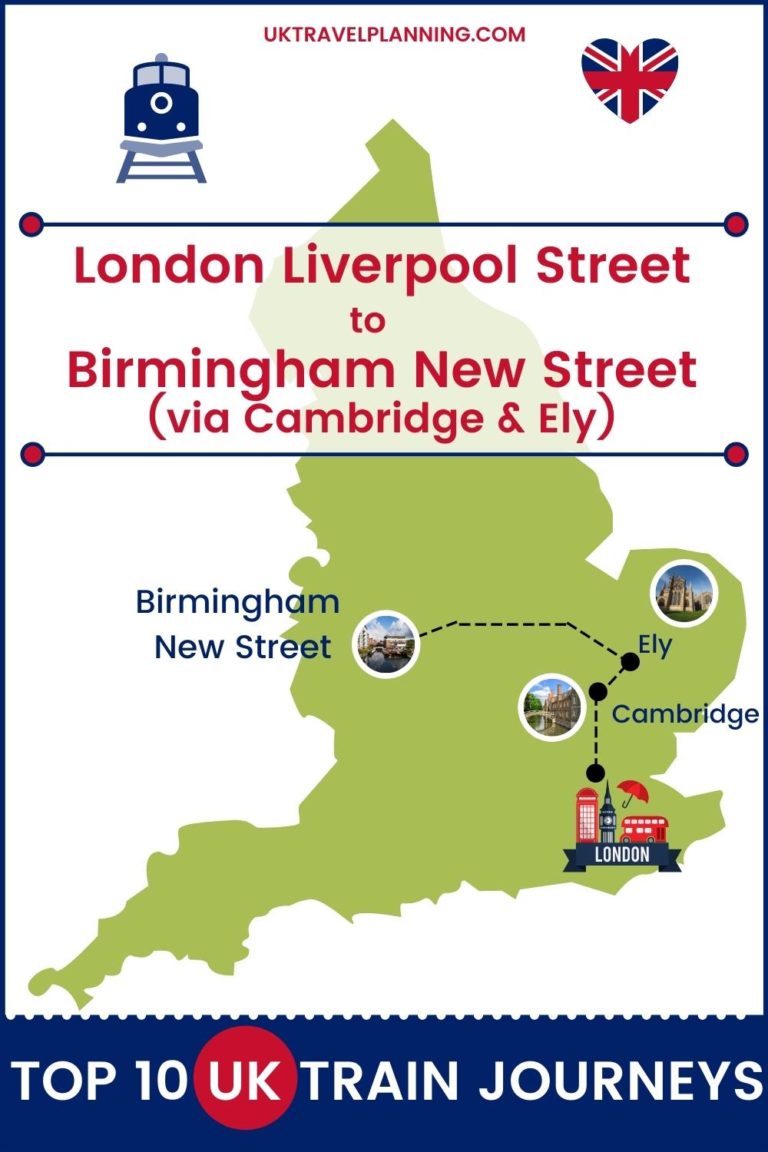 4. London to Edinburgh
There are various routes to take from London to Edinburgh depending on your preferences. I am going to talk about 2 possible routes.
A. London Kings Cross to Edinburgh Waverley
London Kings Cross > 2 hours > York > 50 mins > Durham > 15 mins > Newcastle > 1 hour 45 mins > Edinburgh
London Kings Cross to Edinburgh Waverley is along the East Coast Mainline route.
This is the most direct route to Edinburgh from the capital and takes approximately 4 hours and 30 minutes. The route is operated by London North Eastern Railway (LNER)
General stopping points include Peterborough, York, Darlington, Durham and Newcastle. The route is best for speed and new modern trains tend to service this line. This is the route of the famous Flying Scotsman steam train.
The route from Newcastle to Edinburgh is particularly scenic as you hug the Northumberland coastline. Sit on the right for views of Bamburgh Castle and the Holy Island of Lindisfarne.
Good to know – This journey is about the rail experience and getting to Edinburgh quickly from London. It zooms through the cities and countryside so you don't get time to absorb the countryside as you travel.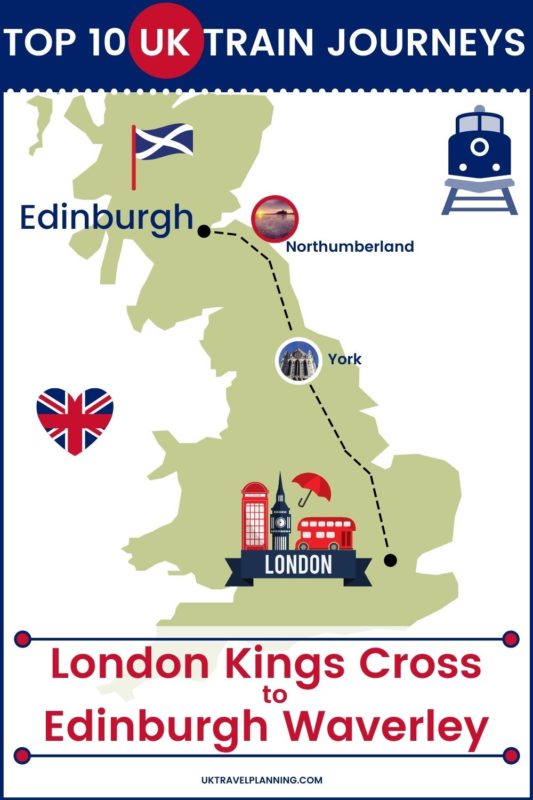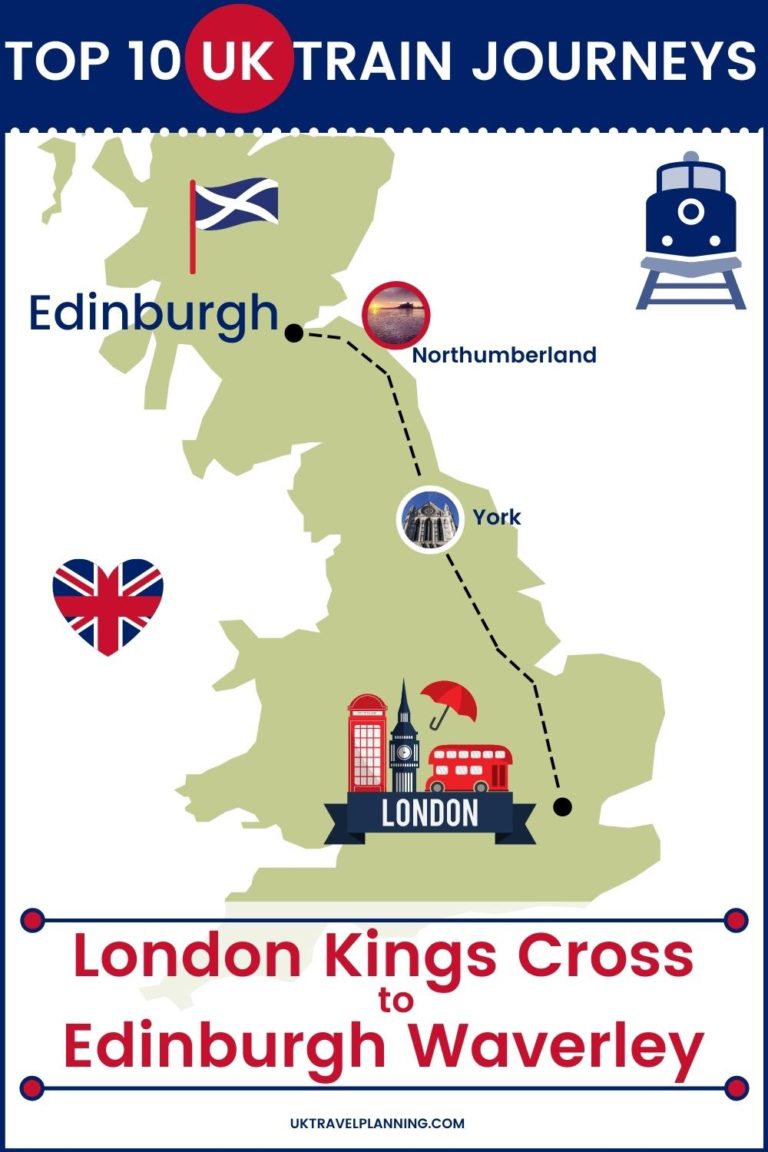 B. London St Pancras to Edinburgh Waverley via Sheffield
London St Pancras > 2 hours > Sheffield > 3 hours 50 mins > Edinburgh
An alternative route to that above is from St Pancras (next to Kings Cross) using East Midlands Railway Service.
On this journey from London to Edinburgh you will see different scenery as it takes you on the cross country route via Sheffield and the Derbyshire Dales.
This journey will give you more a sense of the countryside in central England and passes through the cities of Leicester, Derby and Chesterfield (look for the crooked spire as you travel into Chesterfield)
You need to change trains at Sheffield from the East Midlands trains onto an Edinburgh service run by CrossCountry. The slower service from Sheffield to Edinburgh goes via Leeds. A faster route bypasses Leeds but may mean a change of trains in York or Newcastle.
Check which train operator you have a ticket with as they are generally not interchangeable between each other.
(Please note if you have booked your ticket through a retailer such as thetrainline.com you will have a valid ticket for the entire journey as you will have selected the relevant tickets and seat reservations)
The cross country route joins the East Coast Mainline at Doncaster (south of York).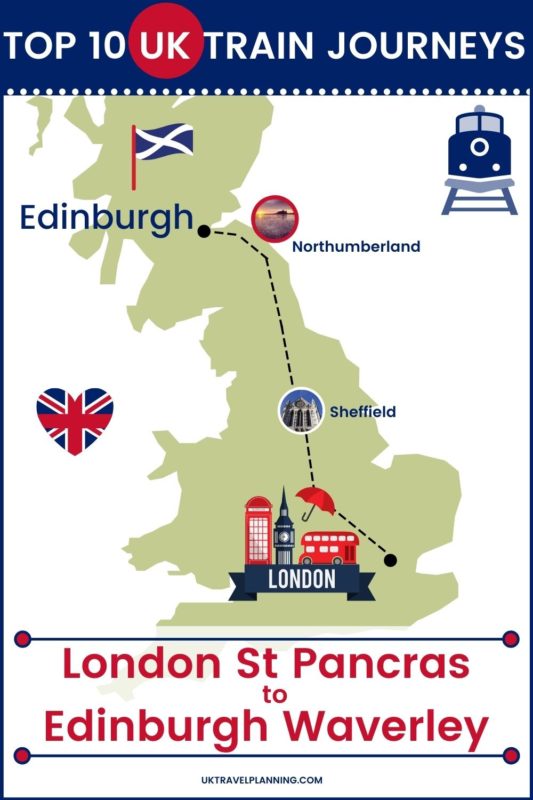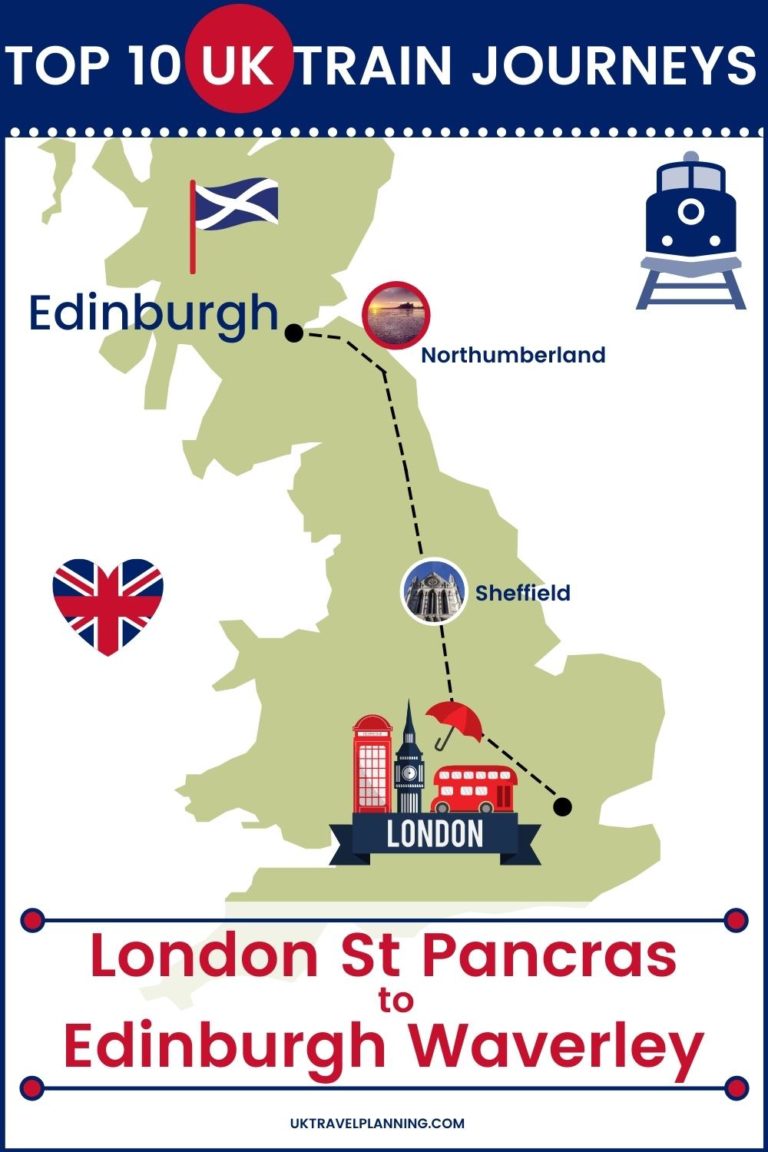 Learn more – 19 beautiful destinations in Scotland for your bucket list
5. Leeds (Settle) to Carlisle Line
Leeds > 2 hours 45 minutes > Carlisle

72 miles
This is a famous route which joins the cross country lines to the West Coast mainline. Cross the Pennines surrounded by rugged countryside and stunning views.
The train passes through a number of beautifully restored train stations. This line came within a whisker of being closed down but only a lobby group prevented its permanent closure.
From Leeds the train passes through Saltaire a model Victorian town and UNESCO World Heritage Site. Two stops further you pass through Keighley (the home of the famous steam railway the Keighley and Worth Valley Railway)
After Settle Junction you head north through stations such as Horton-in-Ribblesdale, Kirkby Stephen, Lazonby & Kirkoswald and Langwathby. The station at Dent is the highest mainline train station in England at 1150 feet.
After Horton-in-Ribblesdale and Ribblehead the train passes over the famous Ribblehead Viaduct. With 24 arches set on a curve (and an incline) the Ribblehead Viaduct is instantly recognisable in iconic steam train images (along with the Glenfinnan Viaduct in Scotland)
There are several tunnels along the line including the Bleamoor Tunnel which is 2629 yards long. The entire line was a massive achievement of Victorian engineering.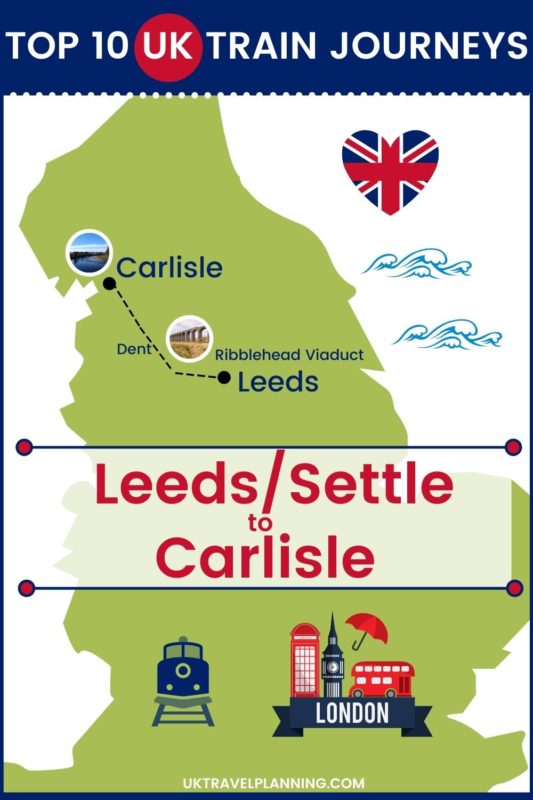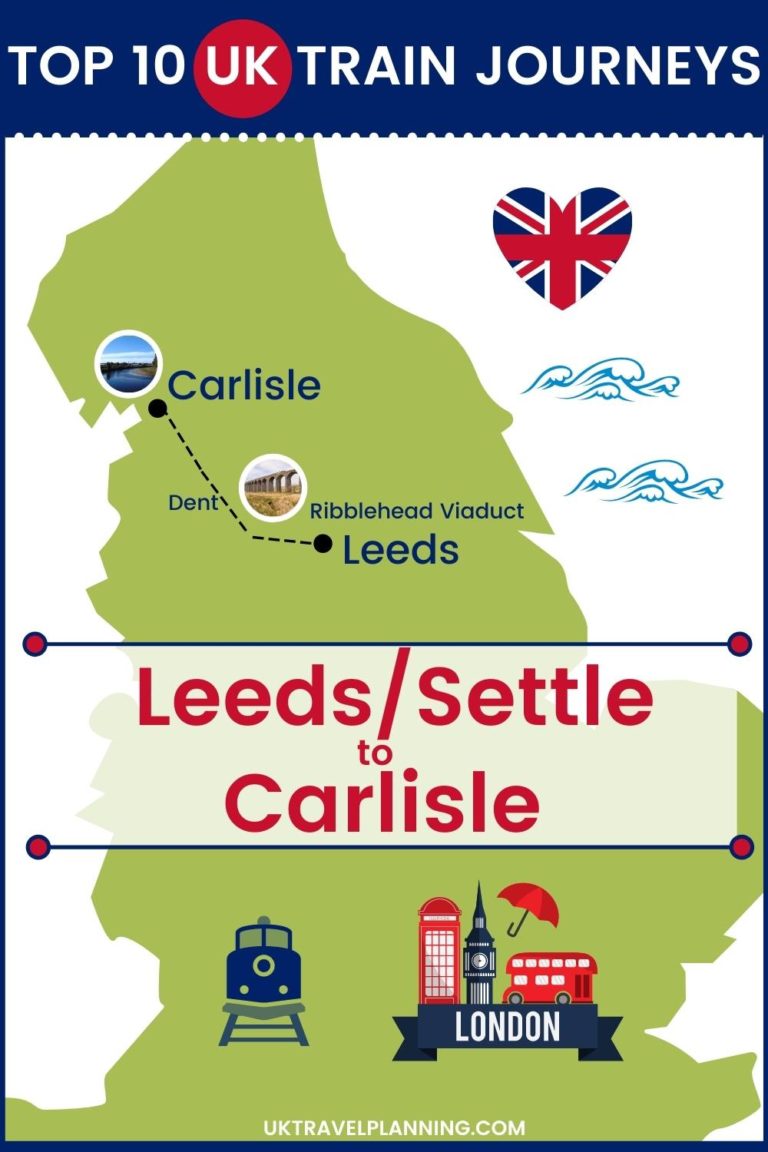 Complete Guide to UK Train Travel written by Doug and Tracy Collins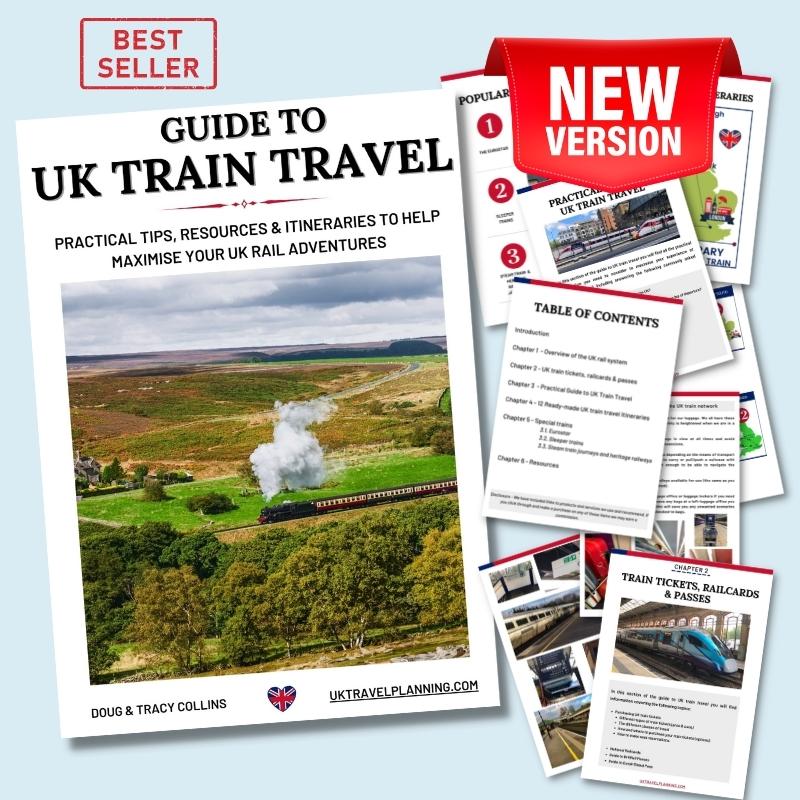 6. Birmingham New Street to Llandudno via Hereford, Shrewsbury & Chester (+optional return to Shrewsbury via the Blaenau Ffestiniog Independent Narrow Gauge Railway)
Birmingham New Street > 1 hour 25 mins > Hereford > 60 minutes >Shrewsbury > 1 hour 5 mins > Chester >1 hour 10 mins > Llandudno Junction > 10 mins > Llandudno > 10 mins > Llandudno Junction > 1 hour 10 mins > Blaenau Ffestiniog (private railway) > 30 mins > Penrhyndeudraeth > 3 hours > Shrewsbury
This is a potential two to three day trip depending on where you decide to stop off along the way.
The journey from Birmingham New Street to Hereford takes approximately 1 hour 25 mins via West Midlands trains. Train passes through Worcestershire and the picturesque Malvern Hills into Hereford.
The journey from Hereford to Shrewsbury along the Welsh marches line (one of the England's most scenic railway routes) takes around an hour and passes through many places of historical interest including the famous market town of Ludlow.
In Shrewsbury change trains to Llandudno via Chester. If you decide to head into Shrewsbury you will find half timbered houses in the Tudor centre of town.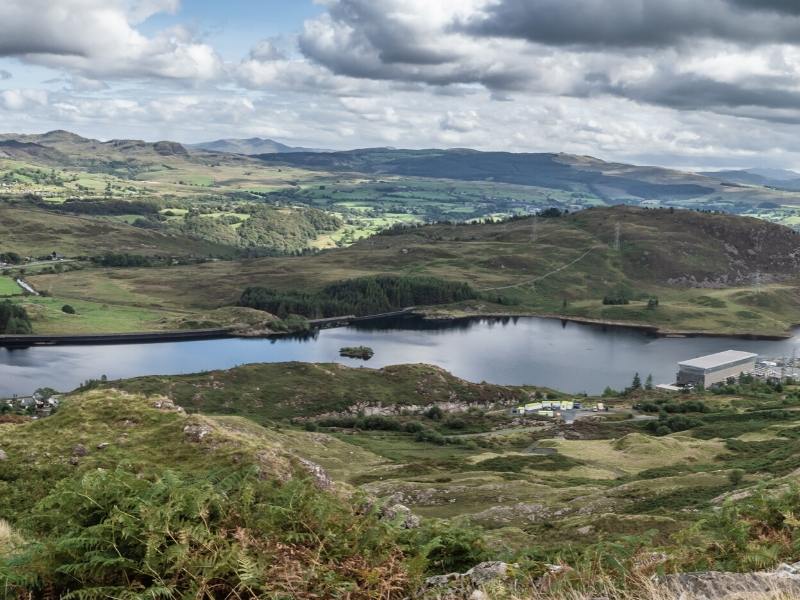 The journey time from Shrewsbury to Chester on Transport for Wales services is about 1 hour 5 mins. The train line passes into Wales and then back into England before pulling into the beautiful walled city of Chester.
It is worth planning to spend the day in Chester as there are lots of things to do and see in the city including the cathedral, Roman walls, the Tudor timbered buildings, and the Rows (a medieval two level covered arcade)
From Chester to Llandudno change at Llandudno Junction where it is a further 10 minutes into the Welsh seaside town.
For those of you who would like to explore further we recommend you take the train to Blaenau Ffestiniog where you can catch the narrow gauge private heritage railway which runs for 21 kms and is located within Snowdonia National Park.
Frequency of these services depend on the time of year so do check before traveling to avoid disappointment.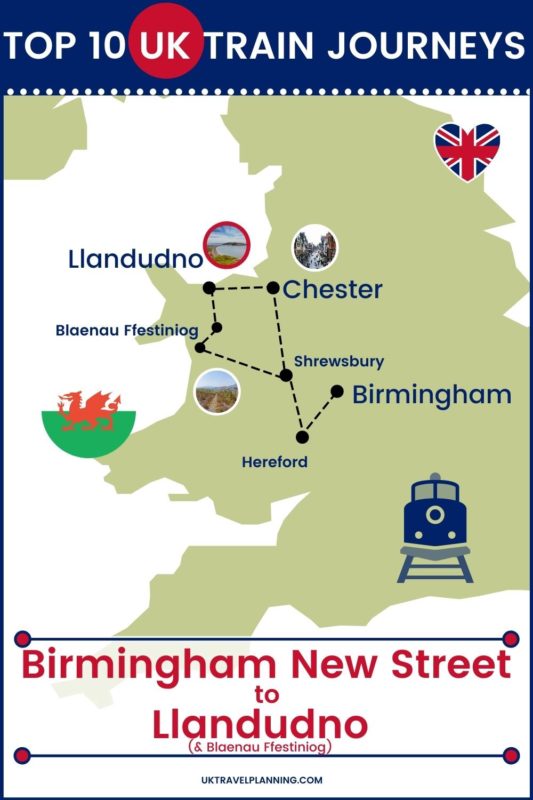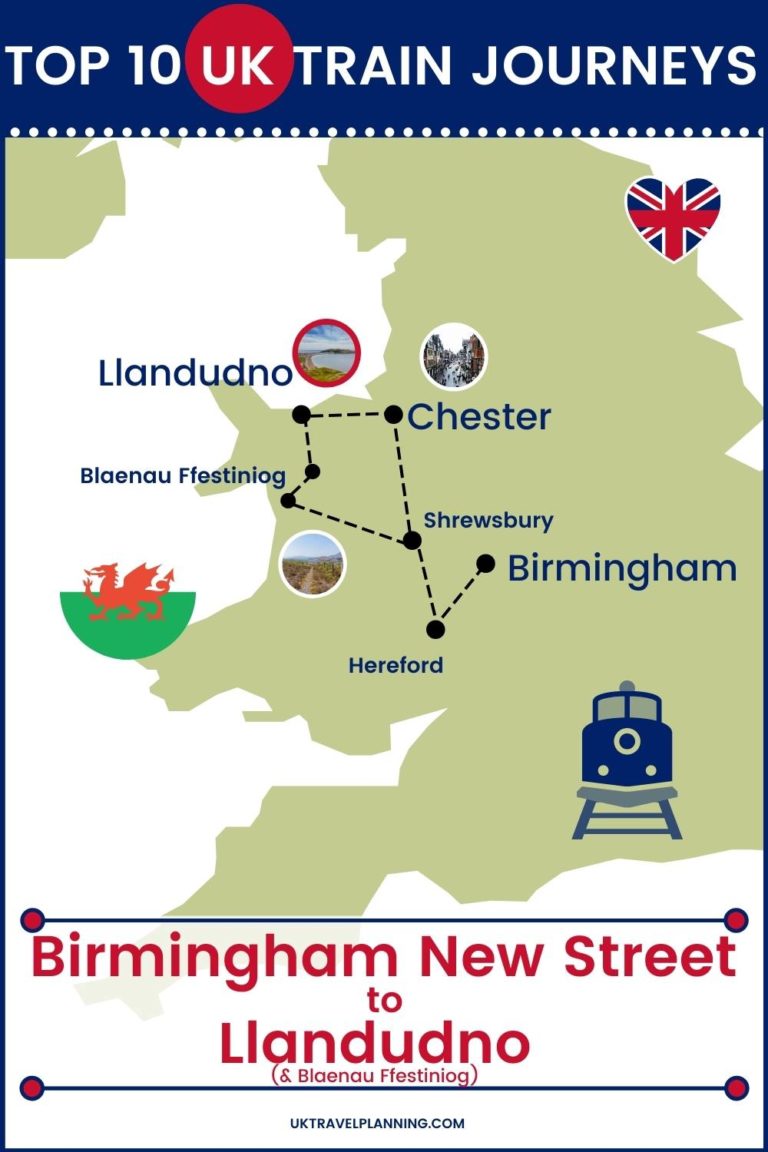 7. Sheffield to Manchester Piccadilly (extend to Liverpool Lime Street)
Sheffield > 1 hour 20 mins > Manchester Piccadilly > 1 hour > Liverpool Lime Street
The Sheffield to Manchester Piccadilly line is operated by multiple train operating companies. This route takes you up and over the Pennines and down across the Hope Valley and Edale in the Peak District. This is beautiful all year round scenery. Temperature and weather changes can be rapid.
On this train journey you will witness the contrast between the industrial heart of the country and the beautiful lush countryside.
I recommend taking the slowest possible train journey with stops at all of these fabulous stations Dore & Totley, Grindleford, Hathersage, Hope, Edale and Chinley to name but a few.
Change at Manchester Piccadilly for services to Liverpool Lime Street.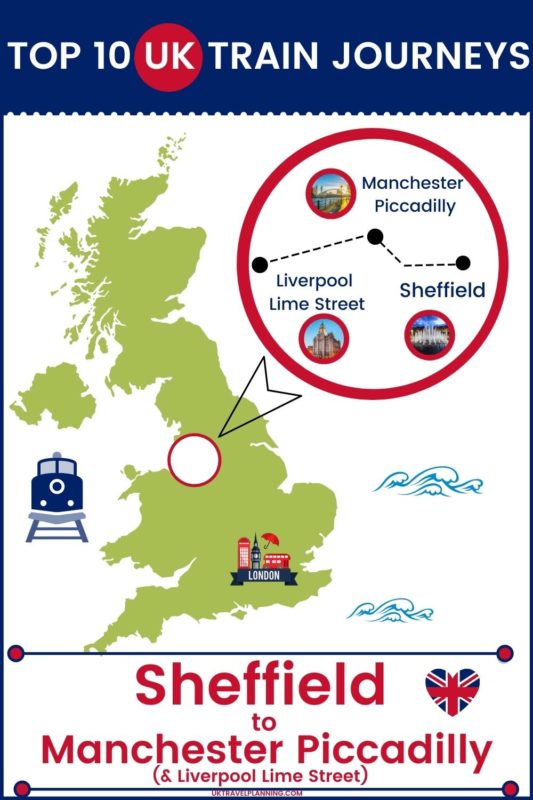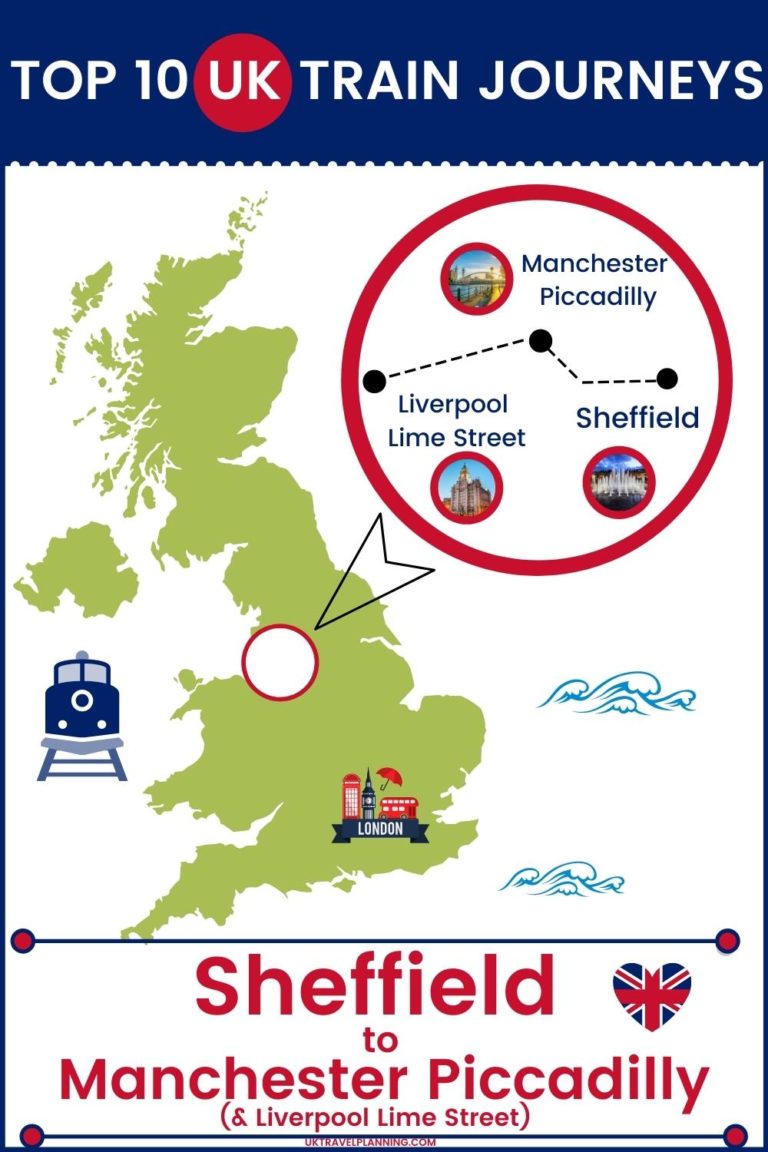 8. Glasgow to Fort William and Mallaig (West Highland Line)
Glasgow Queen Street > 1 hour 45 mins > Crianlarich > 1 hour 45 mins > Fort William > 1 hour > Mallaig
There are a few trains a day that run this route. From Glasgow Queen Street to Fort William it takes 3 hours 45 minutes. For services to Oban and ferry services to the Inner Hebrides Islands of Mull, Tiree, Barra, and Coll etc change at Crianlarich.
For the best views as you leave Glasgow sit on the left hand side of the train.
This is a ScotRail service. Take this trip in the daylight as the scenery is stunning. North of Crianlarich the train crossed over the bleak wilderness of Rannoch Moor. Look out for Ben Nevis (the UK's highest mountain) as you approach Fort William.
Change trains at Fort William for Mallaig. This journey takes about 1 hour and takes you over the famous 21 arch Glenfinnan curving viaduct (as seen in Harry Potter) with views of Loch Shiel and the Jacobite Monument.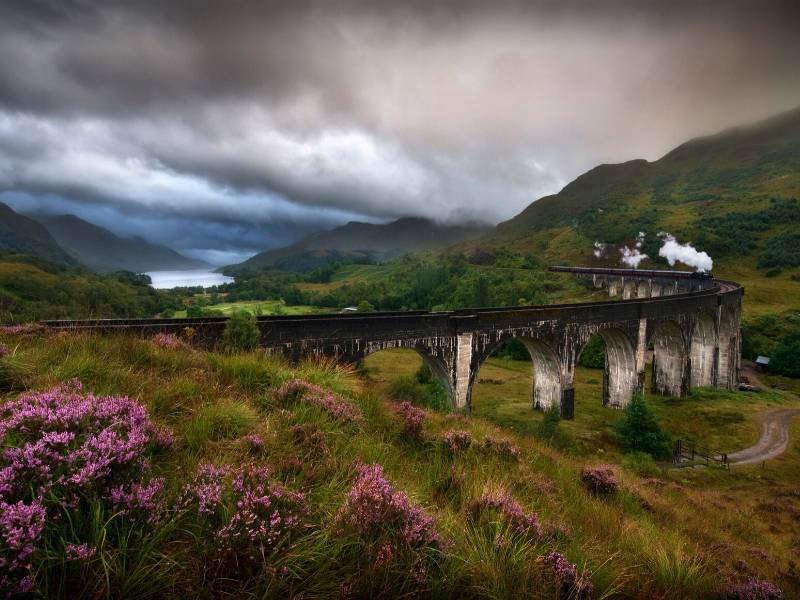 Further along this route you reach the coast at Arisaig – the western most train station in Britain. As the train turns north enjoy views of the Sound of Sleat and the islands of Aigg, Rum and Muck.
It is vitally important to plan your travel in advance so you don't get stranded. There are very limited trains from Glasgow to Oban, Fort William and Mallaig.
The Jacobite is another train service from Fort William to Mallaig. This is a private service that only runs in the summer months and is extremely popular (and pricy). Many photographs you will see of the Glenfinnan Viaduct feature the Jacobite steam train service puffing its way across the arches.
Good to know – If you are starting your journey in Edinburgh you will find a multitude of trains every half hour. It takes roughly 50 mins between the two cities.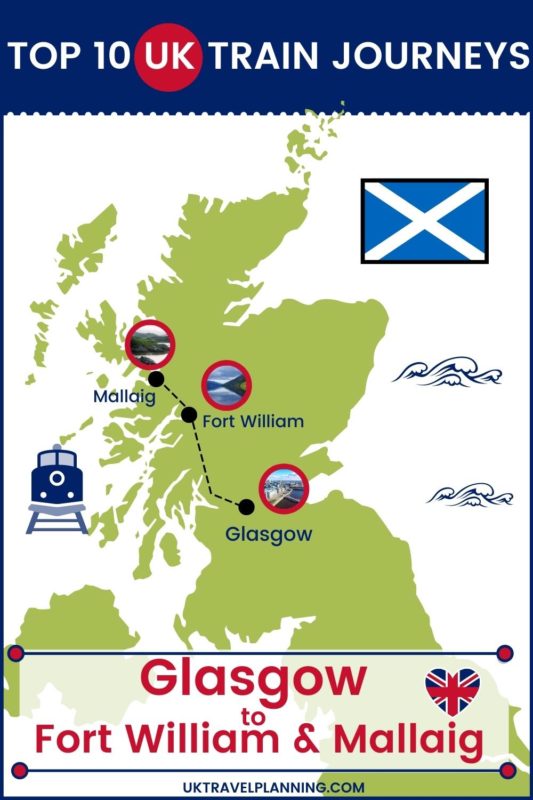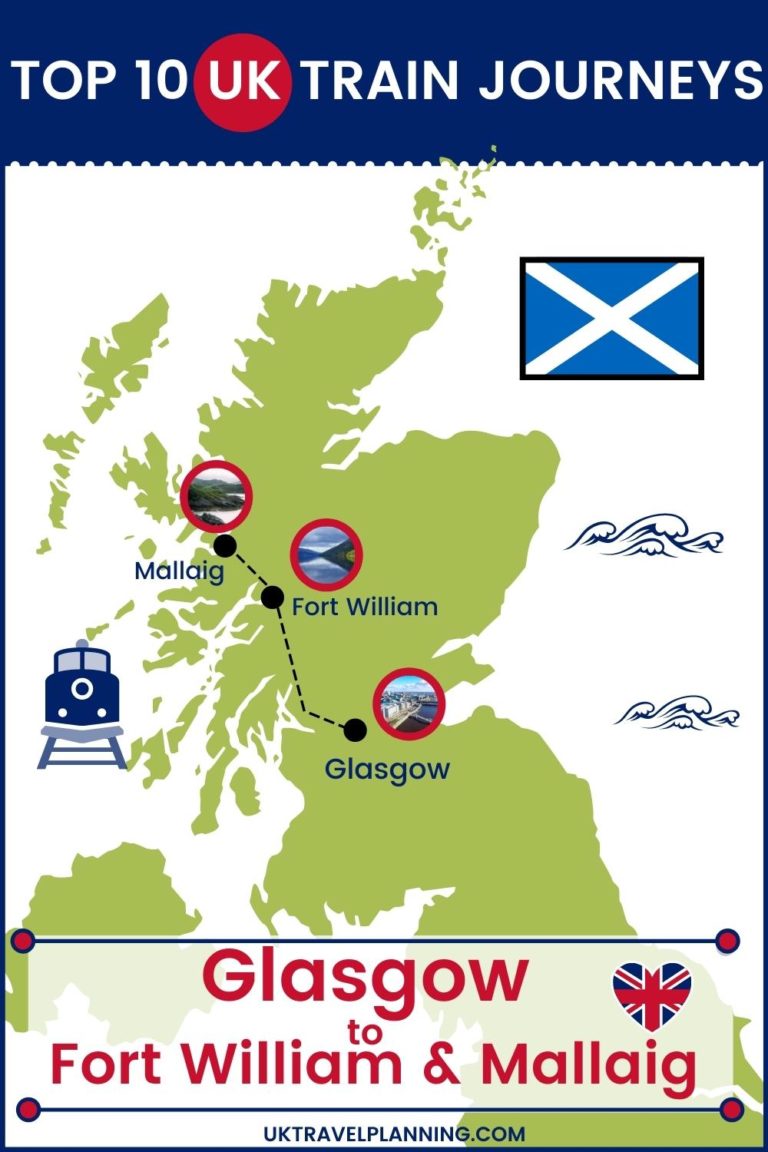 9. Edinburgh to Inverness (via Dundee or via Stirling)
A. Edinburgh Waverley to Inverness via Dundee or Aberdeen
Edinburgh > 1 hours 10 mins > Dundee > 2 hours 20 mins > Aberdeen > 2 hours 15 mins > Inverness
This is a ScotRail service. It takes 1 hour 10 minutes to Dundee from Edinburgh Waverley train station where you can change trains for Inverness or you could stay on the train and change at Aberdeen.
This route will take you over the Forth Rail Bridge. (Also as you leave Edinburgh look upwards for a view of Edinburgh Castle)
I would only recommend taking this route in daylight or during the summer months. This is the slower route to Inverness but it takes you along the coast and through rural Scotland.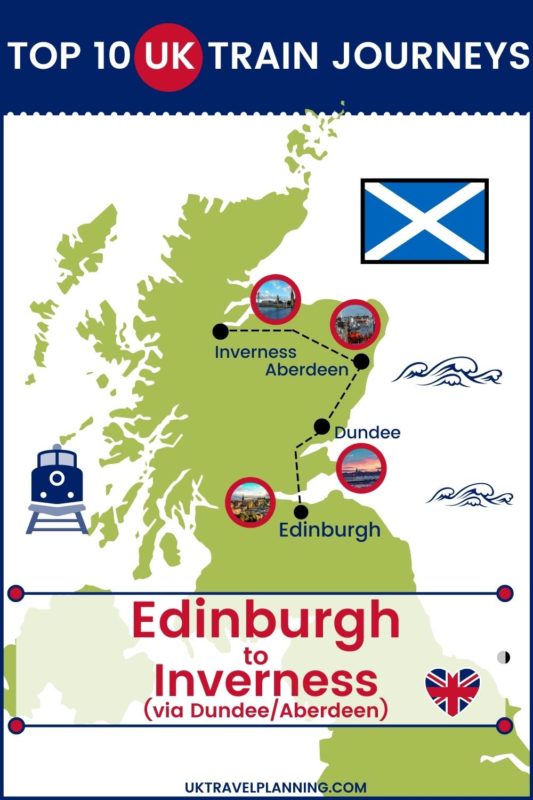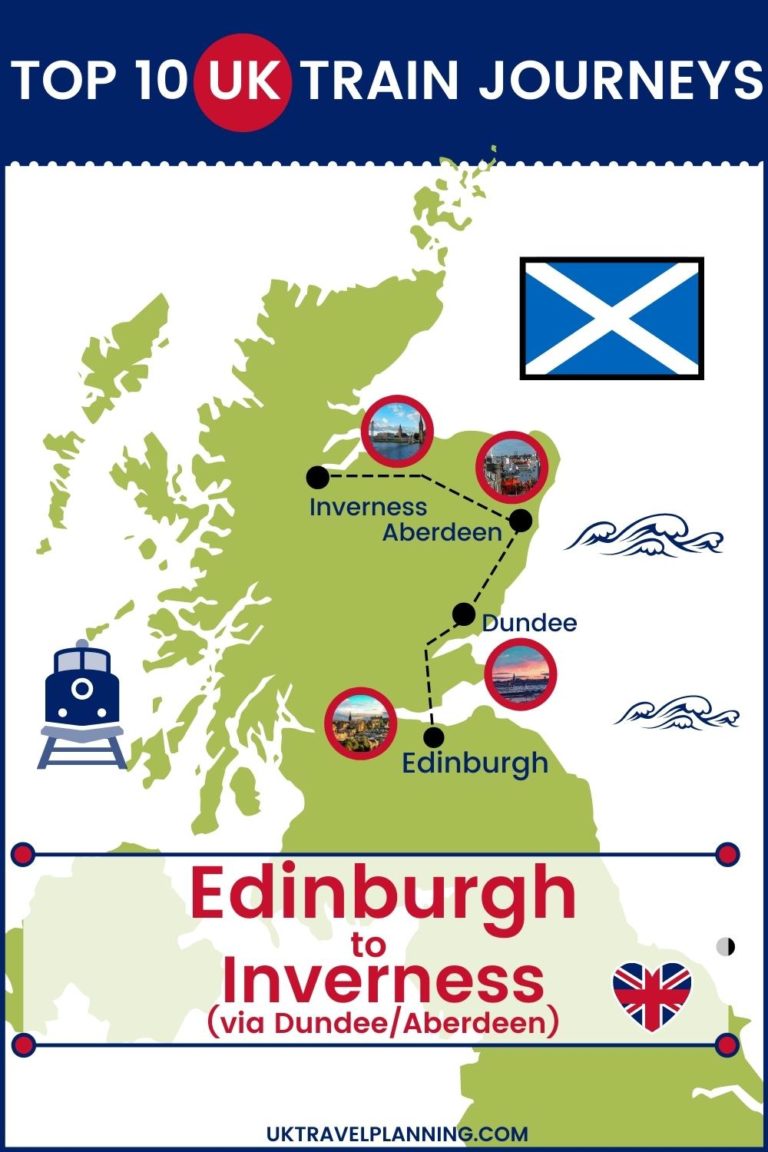 B Edinburgh Waverley to Inverness via Stirling
Edinburgh > 40 mins > Stirling > 3 hours > Inverness
The fastest routes from Edinburgh to Inverness are via Stirling and Perth. These take 3 hours 35 mins. If you want to go via Stirling you will need to change trains there for a service to Inverness via Perth.
Around 25 minutes into the journey to Inverness via Stirling look out of the right hand side of the train and you may catch a glimpse of the Kelpies at Falkirk. You will also see Stirling Castle on your approach into the city.
From Stirling the route takes you through Perth, Pitlochry, Kingussie, Aviemore and the Cairngorms National Park. This route is typified by beautiful scenery all year round.
Good to know – For a surprising contrast in terrain and scenery take the train up to Thurso and Wick from Inverness.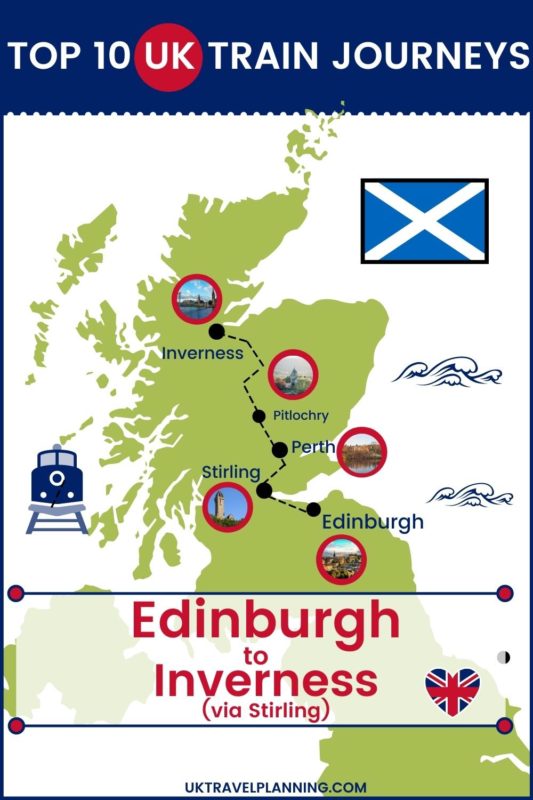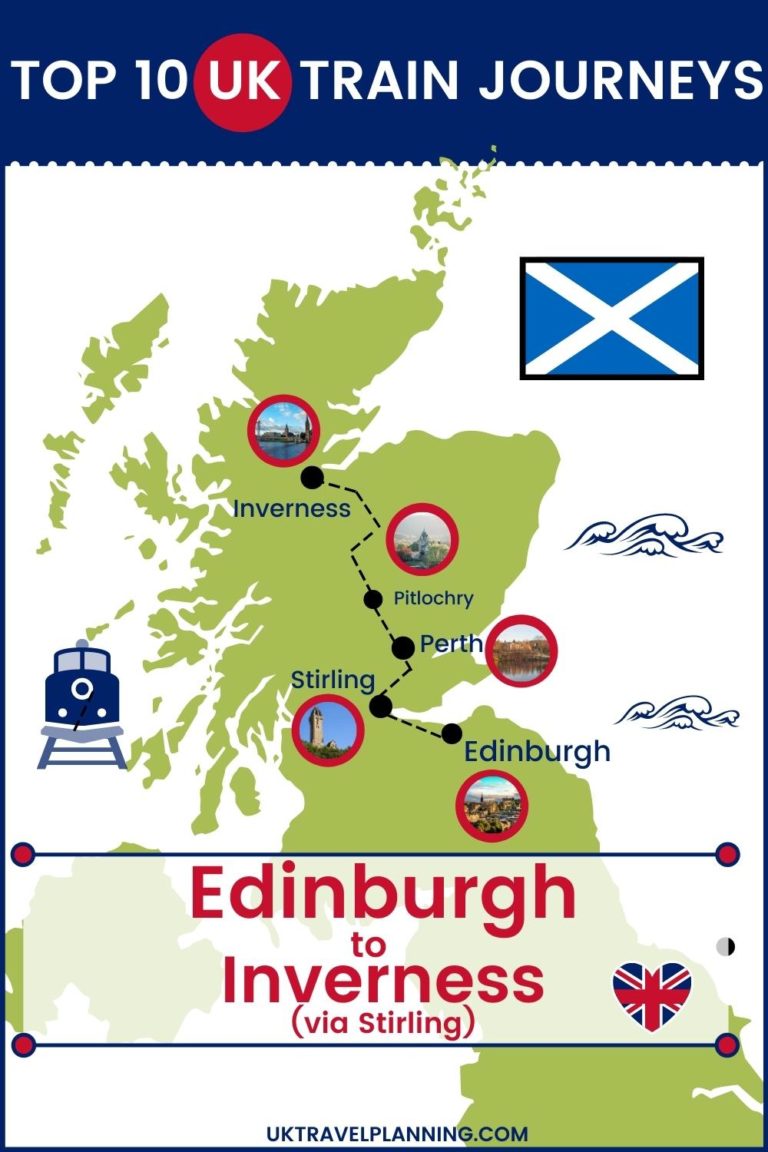 10. Inverness to Kyle of Lochalsh
Inverness > 2 hours 30 mins > Kyle of Lochalsh

It is 82 miles from Inverness to the Kyle of Lochalsh
This is a beautiful train journey with scenic and dramatic views over the Highlands of Scotland.
There are many highlights along this route. Look out for the mountain of Ben Wyvis between the Muir of Ord and Dingwall. You may also be lucky to spot deer between Loch Luichart and Garve.
The train passes through Plockton where Hamish Macbeth (the TV series) was filmed in the 1990s.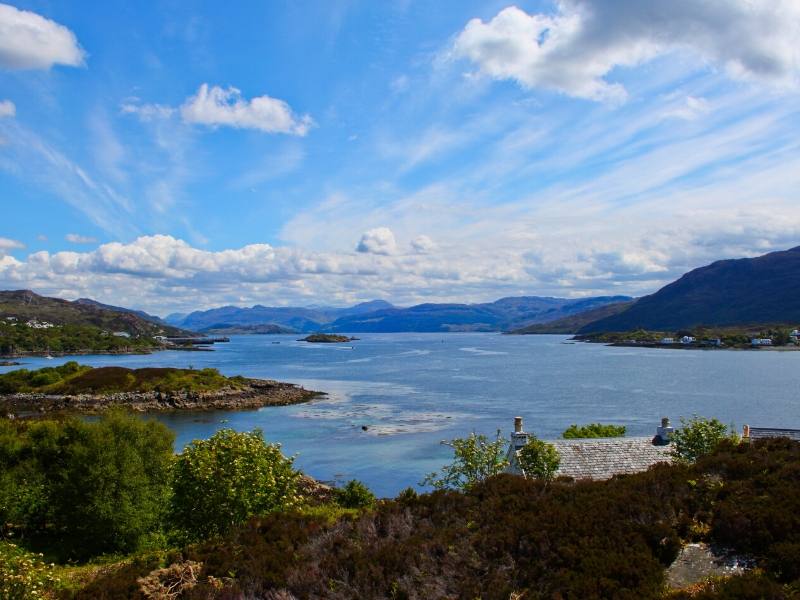 As you head into the Kyle of Lochalsh enjoy spectacular views of the Isle of Skye.
Good to know – there is an Isle of Skye bus tour which operates every day at 11.45 am. The tour returns in time to catch the last train to Inverness. Alternatively take a day tour from Inverness to Skye (but you would miss this lovely train journey)
Do check for train times and frequency in advance as there are a limited number of daily services.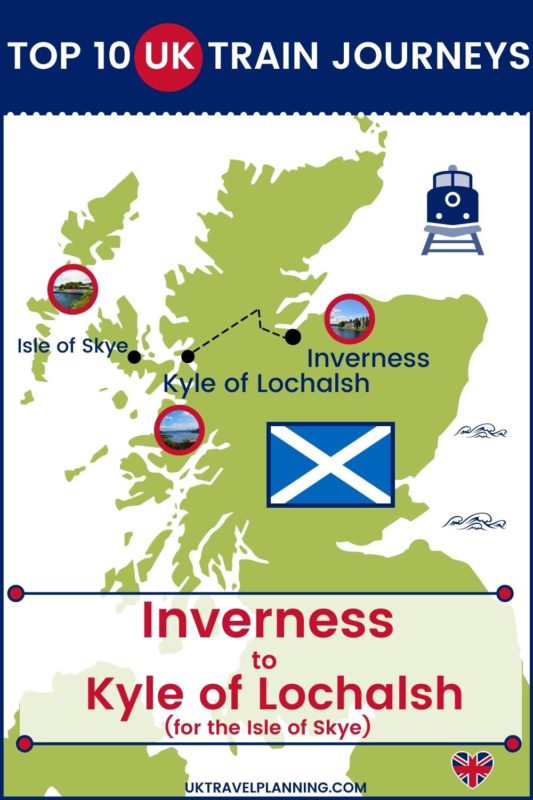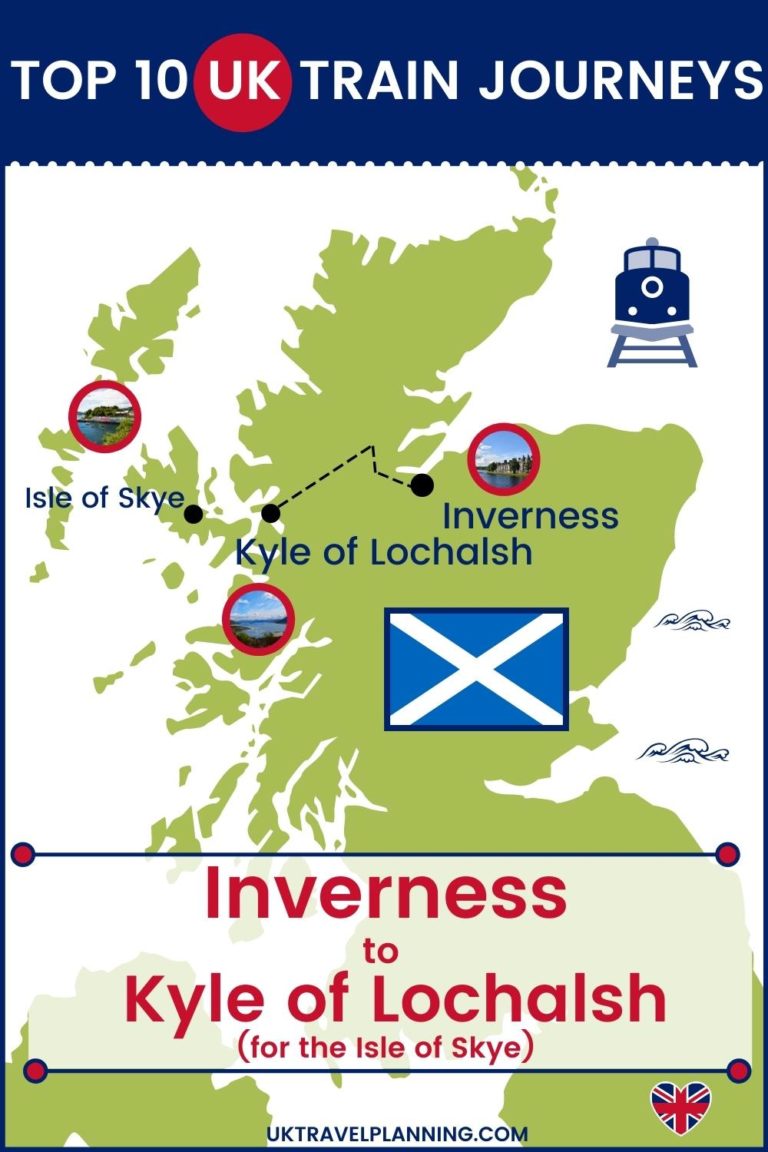 Listen to our Introduction to UK Train Travel Podcast
Plan your UK train travels
Read our guide to travelling on the UK train network
If you are unfamiliar with the UK rail network you will find our in-depth guide invaluable. You may also find our guide to getting around London useful too as it details all methods of public transport.
Written by Doug Collins (the co-founder of UK Travel Planning) who has over 25 years experience working and traveling on the UK train network) the article answers all the questions you may have to help you plan your train journeys in the UK.
Where can I book tickets for these journeys?
It is important to follow any advice around train travel in the UK from train operating companies as well as legal requirements in the light of Covid-19.
Note that it is the law that you must wear a face covering when travelling in England on a
train or tram
bus or coach
ferry or hovercraft or other vessel
aircraft
cable car
Reservations should also be made in advance where possible via contactless payment.
How can I save money on UK train travel?
If you are planning train travel in the UK and you are not a UK permanent resident I would recommend checking out BritRail Passes.
There are 7 different passes available and you can choose depending on where you plan to visit. For example there are 3 different passes for Scotland – a Spirit of Scotland pass, a Scottish Highland Pass or a Central Scotland Pass.
Alternatively you can purchase the BritRail Pass which covers the entire UK.
Click the button below for more information.
Enjoy your rail journeys in the UK and beyond
As you can probably tell we love train travel and it is always our chosen method of transport.
Where possible we include at least one train trip into our holiday plans so you will find lots of train related tips, inspiration and resources for UK train travel on both this website and its sister site tracystravelsintime.com