The UNESCO World Heritage village of Saltaire is one of our favourite days out in Yorkshire. Plan your itinerary in our guide to the best things to do in Saltaire including tips to help you make the most of your visit.
If you are seeking inspiration for day trips in Yorkshire I highly recommend a visit to the village of Saltaire. Situated near Bradford in Yorkshire the village was created in the mid 19th century by Sir Titus Salt (to which he and the river Aire which run though it give it the name)
Titus Salt's ideas were groundbreaking at the time. Built between 1851 and 1872 to provide his mill workers with decent housing and other amenities such as a hospital, school, and washhouses Salt believed in looking after his workers even in old age and sickness. He has subsequently been recognised as one of the greatest Victorian philanthropists.
Saltaire was inscribed as a UNESCO World Heritage Site in 2001 and recognised as "one of the earliest, largest and best-preserved nineteenth-century 'model villages' anywhere in the world." (Source – Discover Saltaire)
If you are planning a visit to the village you will find out everything you need to know in this guide.

Things to do in Saltaire Yorkshire
Saltaire Visitors Trail
Pop into the Saltaire Tourist Information Centre when you arrive and pick up a map of the Heritage Trail. The trail takes you past points of interest as you stroll through the village. The official guide only costs a few £'s and has lots of great information to read as you take the trail.
I highly recommend that you walk the trail. It is really interesting and you learn a lot about life for ordinary people in 19th century England. (Or those lucky enough to work for Salt as the lives of workers in other areas was not necessarily as good)
In the village you will also see lots of beautiful buildings built in the 19th century – from the huge Mill to the almshouses these buildings give a great insight into life in the 1800's.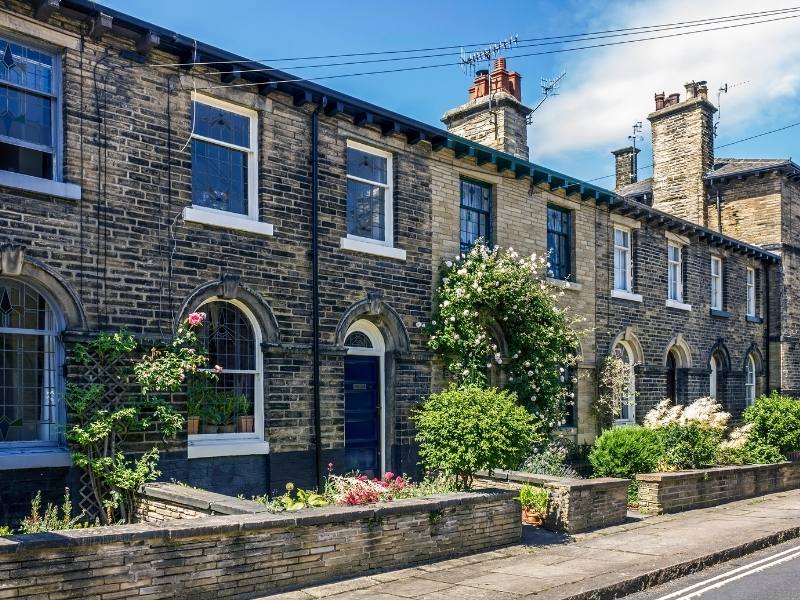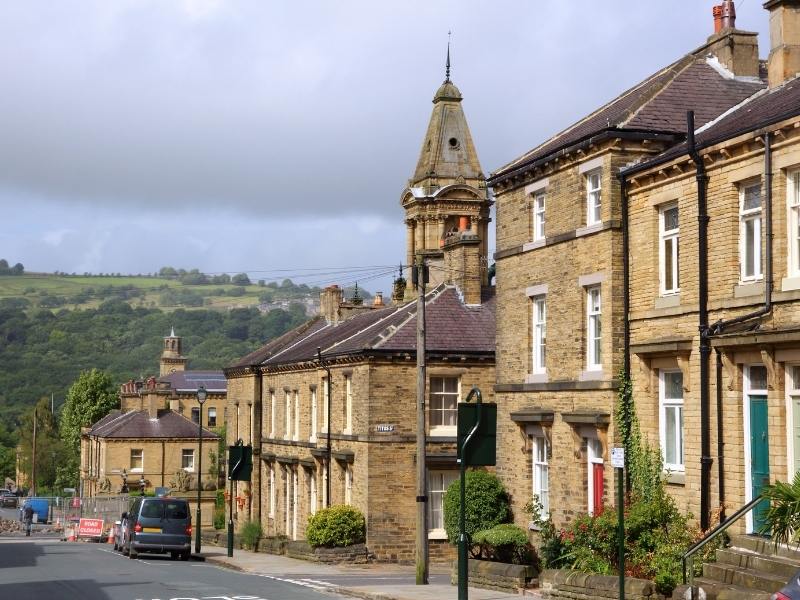 The village was designed by local architects Lockwood and Mason who designed houses far superior than was the norm for workers at that time (for example they had gas, water, separate kitchens and outside toilets and some even had gardens).
The Saltaire United Reformed Church designed by the pair is now a Grade 1 listed building.
It is also worth remembering that these houses are still lived in – as it states in the official trail booklet "Saltaire is a community and not a museum" so please respect their privacy.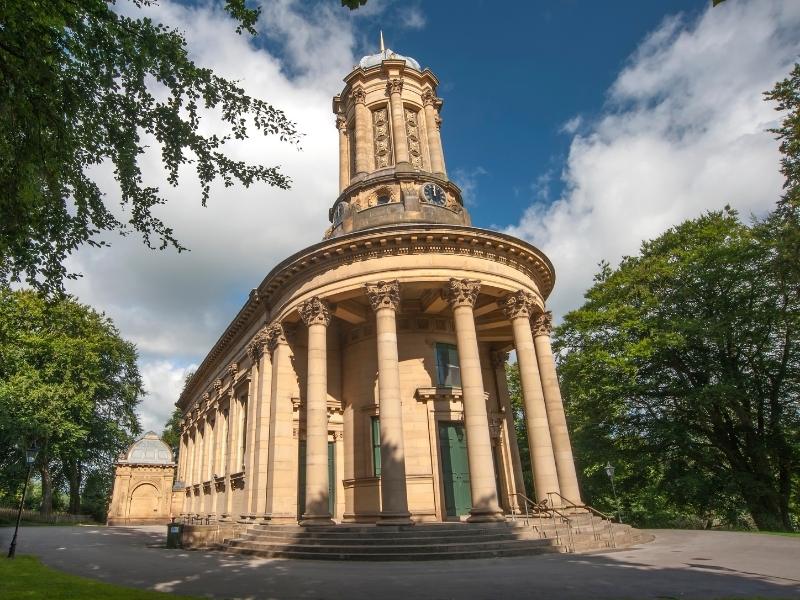 Explore Salts Mill
The Salt Mills were opened by Titus Salt in 1853 and some 3000 workers were producing up to 30,000 yards of cloth a day (ref Saltaire Trail).
In 1987 the now empty and silent mill was bought by Jonathan Silver, an entrepreneur who created the 1853 gallery. The gallery exhibits works by local artists including David Hockney who is from nearby Bradford. The Mill holds one of the largest collections of Hockneys in the world.
There are lots to see in the Mill, including art by David Hockney, shops to peruse, and many places to stop off for a drink, sandwich, or a meal.
Check the Salts Mill website for up to date information about opening hours.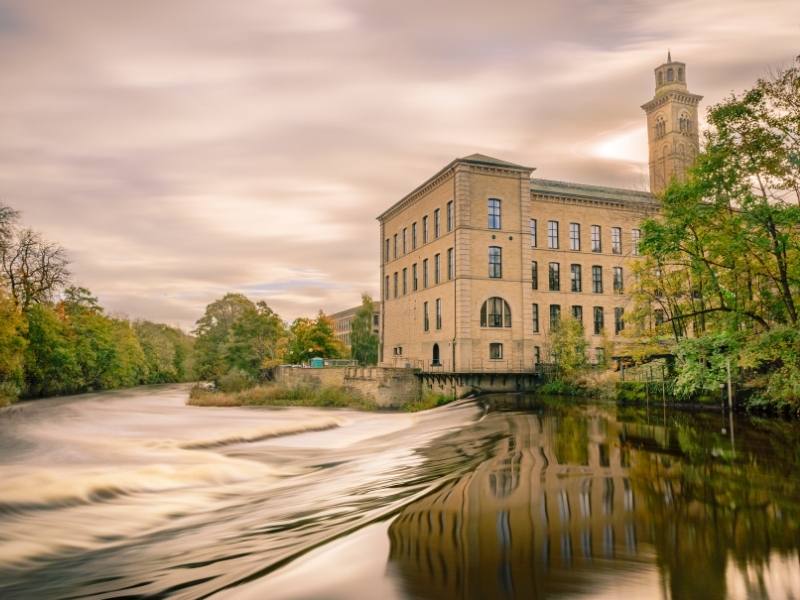 FAQs – Plan your visit to Saltaire
How to get to Saltaire
🚊 By train – Saltaire is located 4 miles north of Bradford and is easily reached by train. Travel from Leeds, Bradford or Skipton to Saltaire. Tickets can be purchased from the trainline.com
🚗 By car – Parking is free at Salts Mill (for sat nav users the postcode is BD17 7EF)
Where to eat in Saltaire
There is a decent selection of pubs, cafes and restaurants to choose from when visiting Saltaire.
On the second floor of Salt's Mill, you will find Salt's Diner and Espresso Bar.
On the third floor is the Cafe in to the Opera which offers light bites and lunch options.
If you prefer a pub meal head to The Boathouse and dine with excellent views of the river.
Other options include The Terrace, Salt Beer Factory and the fabulously named Don't Tell Titus.
Where to stay in Saltaire
Salts House – Contemporary Apartments in Saltaire with free on-street parking
More great day trips in Yorkshire
Yorkshire is the largest county in England and one of 9 regions into which the country is divided.
Our detailed guides are linked below: