If you are looking for inspiration for your travels in England you will find it in this post! With 24 of the most famous landmarks in England to visit (my choice of the top 3 from 8 of England's 9 regions – London has a bucket list all of its own) this article will help you identify which regions to include in your itinerary.
If you have a particular interest in a specific region of England you will find a link to more information in each section. I have compiled a top 10 list for each area of England so why not check out what each region has to offer!
These regional guide are aimed at providing inspiration and practical advice to help you plan day trips or itineraries for longer stays.
If you are interested in things to do and see in London take a look at my ultimate A – Z Ultimate London Bucket list for lots of inspiration and ideas!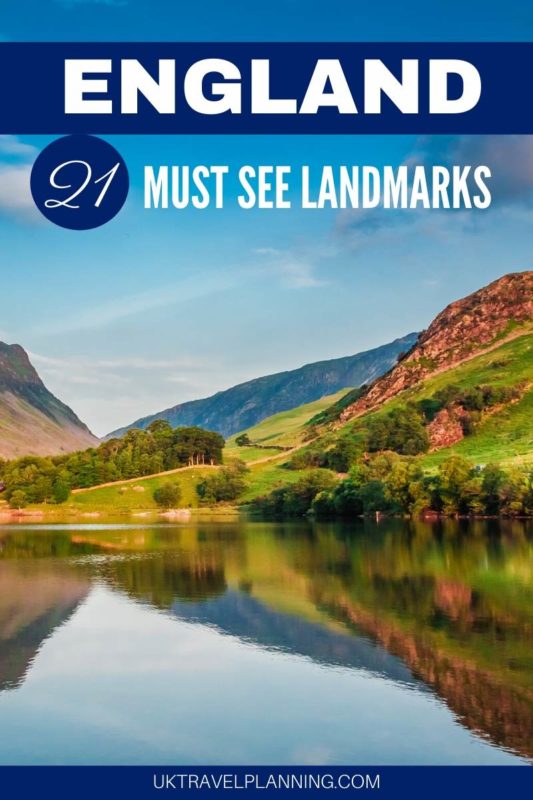 This post may contain compensated links. Please read our full disclosure for further information. As an Amazon Associate, I earn from qualifying purchases.
24 FAMOUS LANDMARKS IN ENGLAND YOU MUST VISIT
TOP 3 LANDMARKS – THE NORTH EAST
Hadrian's Wall
The Holy Island of Lindisfarne
Alnwick Castle
The North East is one of the most beautiful regions of England and I think a bit of a well kept secret!
With more castles than any other county and a stunning coastline Northumberland has much to attract visitors.
Hadrian's Wall was built nearly 2000 years ago by the Romans and marked the furthest reaches of the Roman Empire.
The Holy Island of Lindisfarne is a tidal island and the original home of the famous illuminated Lindisfarne gospels now housed in the British Library in London. With the ruins of a monastery and a castle to explore the island is a perfect destination during any visit to the North East.
And my final choice is Alnwick Castle. Featuring in many TV shows and films (Harry Potter and Downton Abbey to name but two) the castle is a popular destination with visitors from around the world (and arguably one of England's most famous castles!)
There are many other wonderful landmarks that make the North East a wonderful destination. Find out my next 7 choices by clicking the link below!
Read more | Top 10 things to do in North East England
TOP 3 LANDMARKS – THE NORTH WEST
The Lake District
The Albert Docks in Liverpool
Chester
So what is there to do in the North West of England?
The Lake District would always be my number one choice. If you enjoy beautiful scenery including lakes and mountain, long walks, quaint English villages and good food and drink the Lake District has it all – lashings of it!
Of course the Lake District is synonymous with Beatrix Potter and a trip to Hill Top farm is a must for fans of Peter Rabbit and Jemima Puddleduck.
For music lovers the cities of Liverpool and Manchester are a natural destination.
Liverpool is of course the birthplace of the Beatles. With numerous tours, sights, museums and themed experiences it is the perfect destination for fans. (Don't miss a trip to the legendary Cavern Club!)
And you absolutely can't miss the UNESCO World Heritage Albert Docks when you visit Liverpool. These historic docks consisting of Grade 1 listed buildings are now home to numerous restaurants, bars, cafes, shops, museums and attractions.
These include the Tate Liverpool, The Beatles Story, the Slavery Museum and the Merseyside Maritime Museum. Plan to visit Liverpool for at least a day but to make the most of your stay (especially for Beatles fans) I suggest two days.
My third choice is the beautiful (and historic) city of Chester.
Chester is probably my favourite city in the North West. With bags of character this historic city is perfect for a weekend break.
Don't miss the "Rows" which is a shopping district comprised of 2 level arcades and Tudor buildings or the city walls dating back to Roman times.
Read more | Top 10 things to do in North West England
TOP 3 LANDMARKS – YORKSHIRE
York (The Shambles/ Minster)
Whitby Abbey
Fountains Abbey and Studley Royal
It is really difficult to choose my favourite 3 destinations in Yorkshire because there are so many places I enjoy visiting in the largest county in England.
York is a favourite destination for so many reasons. My husband loves the train museum and the historic sights (and sites!) in York.
I do too but I also enjoy shopping (the Shambles is a must!) and the food – I always seem to have a great meal in York. Afternoon tea at Bettys Tea Rooms is a wonderful experience – book ahead though as it is very popular!
If you fancy a bit of sea air and the best fish and chips anywhere in the UK then Whitby is the place to go! Famous for its connections to Dracula and Captain Cook plan a day at least to explore this lovely coastal town.
My third choice is a fairly recent discovery for us – the UNESCO World Heritage Sites of Fountains Abbey and Studley Royal Water Park.
For history lovers the ruins of one of the largest abbeys in England (founded in 1132 by Benedictine monks) is a perfect example of the impact of Henry VIII's decision to enact the dissolution of the monasteries in 1539.
Stroll around the park and enjoy the Royal Water Park. Created by a father in son in the 18th century the beautiful gardens and water park are the perfect destination on a warm summer's day.
Of course there is so many things to do it was really hard to narrow it down and Saltaire was a whisker away from third place! Find out more things to do in Yorkshire below!
Read more | Top 10 things to do in Yorkshire
TOP 3 LANDMARKS – WEST MIDLANDS
Warwick Castle
Stratford-Upon-Avon
Ironbridge
The West Midlands typically includes the counties of Shropshire, Herefordshire, Staffordshire, Warwickshire and also (confusingly) the metropolitan county of the same name (West Midlands) which includes the cities of Birmingham, Coventry, Wolverhampton, Dudley, Sandwell, Solihull and Walsall.
Ok so where to visit in this vast area of England? My top 3 include a castle, a culturally and historically significant town and a bridge (its more than a bridge as you will see!)
While there are many fantastic castles to visit in the UK Warwick Castle is one of my favourites. The medieval castle you see today was originally a wooden fort built in 1068 by William the Conqueror. Obviously there have been some serious renovations through the centuries.
With loads of activities on during the summer months including jousting tournaments, the dragon slayer show, birds of prey shows and more this is an absolute must visit for all the family.
Warwick is an easy day trip from London by train. Jump on a train from London Marylebone and you will arrive at Warwick Station approximately 1 1/2 hours later!
My next choice is a perfect addition to any trip to the Cotswolds as it less than 20 minutes from the start of the Cotswolds Area of Outstanding Natural Beauty. It is also the birthplace of the Bard himself – William Shakespeare.
My third choice is Ironbridge… which is a bridge but is also the name of the town where this bridge is located!
The bridge is in fact the world's first iron bridge and the town itself is recognised as the birthplace of the Industrial Revolution. This UNESCO World Heritage Site is fascinating to visit with museums, galleries and the beautiful valley and gorge to explore.
Read more | Top 10 things to do in the West Midlands
TOP 3 LANDMARKS – EAST MIDLANDS
Chatsworth House
Peak District National Park
King Richard III Visitor Centre in Leicester
Chatsworth House tops my list of attractions in the East Midlands an area consisting of the counties of Derbyshire, Leicestershire, most of Lincolnshire, Northamptonshire, Nottinghamshire and Rutland.
Chatsworth is home to the Duke and Duchess of Devonshire. In fact it has been the home of 16 generations of the Cavendish family since 1549!
The house and gardens located near Bakewell in the Derbyshire Peak District are a must-visit with lots of activities and events throughout the year. "Christmas at Chatsworth" is particularly popular when the house is transformed with Christmas displays and decorations.
If you are visiting Chatsworth you will already be in the Peak District National Park which is my second choice for this area of England. Don't miss the pretty market towns of Bakewell and Ashbourne.
Matlock, Buxton, Eyam, Edale, Castleton, and Tissington are all beautiful Peak District towns and villages worth exploring and certainly should be included in any planned stay or road trip through this area.
For hundreds of years the remains of one of England's most controversial Kings was unknown. Richard III succeeded the throne of England after the death of his brother Edward and subsequent disappearance of Edward's two young sons and heirs. (Two small skeletons discovered in the Tower of London in 1674 are thought to be the remains of the 2 boys – murdered perhaps on their Uncle Richard's orders??)
King Richard III himself was killed at the Battle of Bosworth Field in 1485. Until recently his remains were lost. However in 2012 following an archaeological excavation under (of all places) a car park in Leicester his remains have been found and reburied in Leicester Cathedral.
To discover more about this incredible story head to the award winning King Richard III Visitor Centre in Leicester.
Read more | Top 10 things to do in the East Midlands
TOP 3 LANDMARKS – SOUTH WEST
Bath (Roman Baths)
Stonehenge
The Cotswolds
The South West of England incorporates the counties of Bristol, Cornwall, Devon, Dorset, Gloucestershire, Somerset and Wiltshire.
This is a fantastic area to explore on a road trip. If you are pushed for time it is also possible to explore some landmarks in South West England on a day trip from London (Bath and Stonehenge are all accessible by train or if you prefer on a tour)
Bath is known for its wonderful historic and literary connections. The Roman Baths, Bath Abbey, Jane Austen Visitor Centre and the Royal Crescent are all attractions to include in your itinerary when you visit Bath.
The ancient stone circle of Stonehenge is located near Amesbury in Wiltshire and is one of the UK's most popular landmarks.
Take a virtual tour, visit on a day trip from London or add a visit into your road trip itinerary and join an annual 800,000 visitors from around the world.
And finally no list of the most beautiful landmarks to visit in the South West would be complete without the Area of Outstanding Natural Beauty that is the Cotswolds.
With many quaint and picturesque towns and villages to explore (best by car or on a tour) the Cotswolds are the perfect destination.
Read more | Top 10 things to do in the South West
TOP 3 LANDMARKS IN ENGLAND – SOUTH EAST
Brighton Pavilion
Winchester Cathedral
Arundel Castle
Easily accessible from London for day trips there are lots of beautiful places to visit in the South East.
I have chosen my top 3 which include a Royal retreat, a Cathedral and a castle but there are many places that narrowly missed a place in those coveted top spots – you can find out what those were in my top 10 guide!
I love visiting Brighton – it is a vibrant city located on the south coast and really is a lovely place to visit on a day trip. If you do plan a trip I highly recommend visiting the Brighton Pavilion.
Construction of the Pavilion commenced in 1787 as a seaside retreat for George, Prince of Wales. Built to reflect George's love of India and Chinese decor it's domes and minarets and lavishly decorated interior are an absolute joy to explore.
In 1066 William the Conqueror was anointed King of England at Winchester Cathedral. The Cathedral is one of the largest and finest medieval cathedrals in Europe.
Winchester Cathedral is also the final resting place of Jane Austen.
My final choice for the South East is Arundel Castle. This restored medieval castle and stately home is located in magnificent grounds which boast of wonderful flower displays throughout the spring and summer.
Don't miss its annual Tulip Festival which attracts visitors from all over the world.
Read more | Top 10 things to do in the South East
TOP 3 LANDMARKS IN ENGLAND – EAST OF ENGLAND
Cambridge
Ely
The Broads National Park
Another area of England easily explore from London is the East of England (or East Anglia as it was historically known)
Cambridge University is one of the most famous learning institutions in the world and a visit to this beautiful city is my first choice of places to visit.
The smallest city in the UK is Ely. The city is dominated by its magnificent cathedral which dates back 1000 years. Stroll the city and visit one of its many tearooms.
The Norfolk Broads or simply the 'Broads" are the perfect destination for nature lovers offering visitors the opportunity to hire a boat, explore the waterways and spot migrating and native birds along the way.
Read more | 10 things to do and see in the East of England
Which of these 24 landmarks in England will you visit?
This article will have provided you with the top 3 places to visit in each region of England. These are the most popular places for visitors to England (and for domestic travellers too) – not sure how to get to all these places? My complete guide to UK transportation has all the answers.
If you want to find out more about each area (and for more things to do and see) click through to the area guide below each section above. If you want to have an overview read my guide to the 9 regions of England first.
RECOMMENDED READING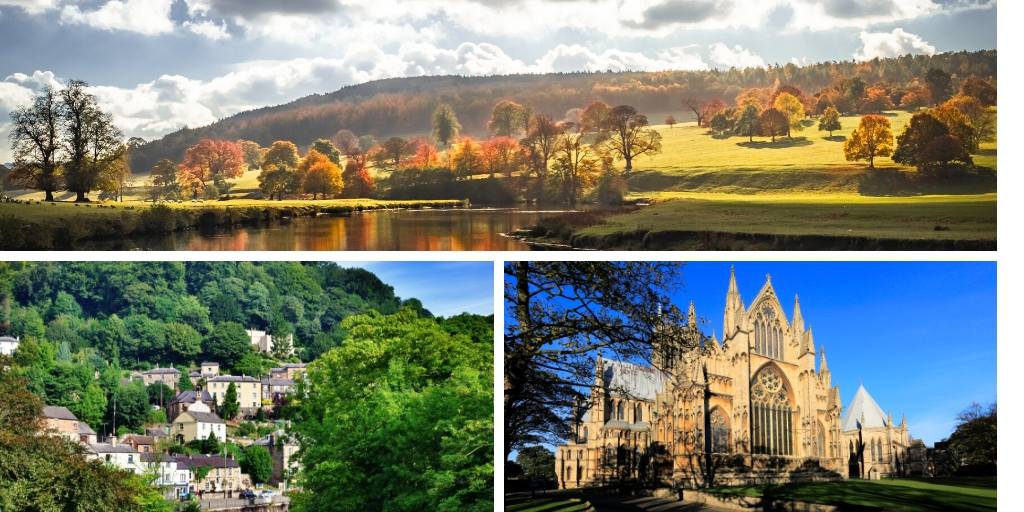 The East Midlands in England includes the counties of Derbyshire, Nottinghamshire, Leicestershire, parts of Lincolnshire, Northamptonshire and Rutland. Major cities…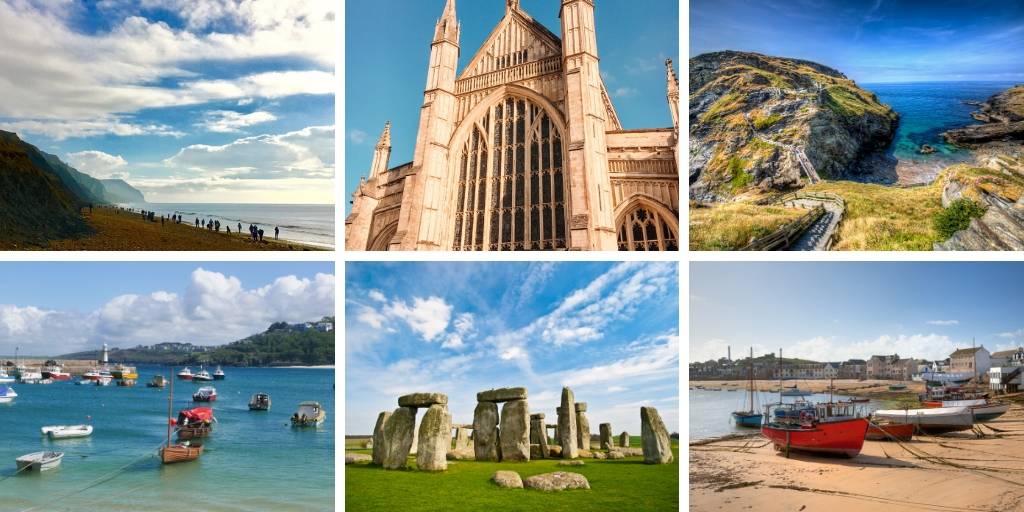 England's South West offers visitors beautiful coastlines, historic cities, UNESCO World Heritage Sites, ancient monuments and good food! There is…
This post may contain compensated links. Please read our disclaimer for additional information. As an Amazon Associate, I earn from qualifying purchases.