If you want to follow in the footsteps of the Beatles in Liverpool, then you're far from alone. Arguably the biggest band ever and certainly the most successful British group, the influence of the Beatles on the popular music scene can never be overstated.
Whether you want to take a Beatles tour in Liverpool or create your own by visiting all the key sites, this guide will walk you through all the places you need to know about. From the legendary Cavern Club in Liverpool to Penny Lane, Strawberry Fields and the Hard Day's Night Hotel in Liverpool, these are the spots to stay at and see for yourself.
This article was written by a former resident of Liverpool, who has lived just streets away from Penny Lane, drank at the Dovedale Towers pub there and partied until the small hours at The Cavern. When you have lived there, you come to realise how much the Beatles are central to the very heart and (rubber) soul of this city. So if you plan to visit, paying homage to the band is an unmissable part of the experience.
For all you need to know about taking an organised or DIY Beatles Magical Mystery Tour in Liverpool, read on. Here are 13 of the top spots to visit when you want to imagine what Liverpool life was like for the Fab Four.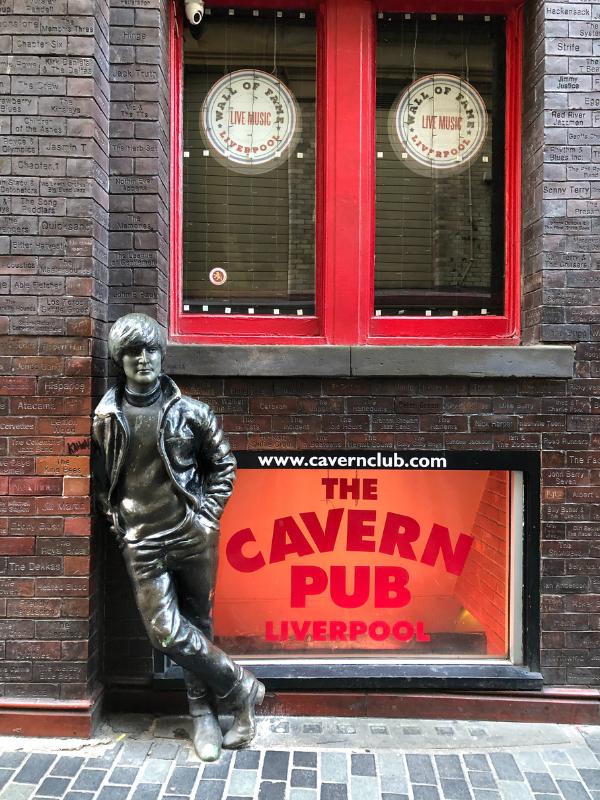 The top 13 places to experience the Beatles in Liverpool
1. The Cavern Club, Liverpool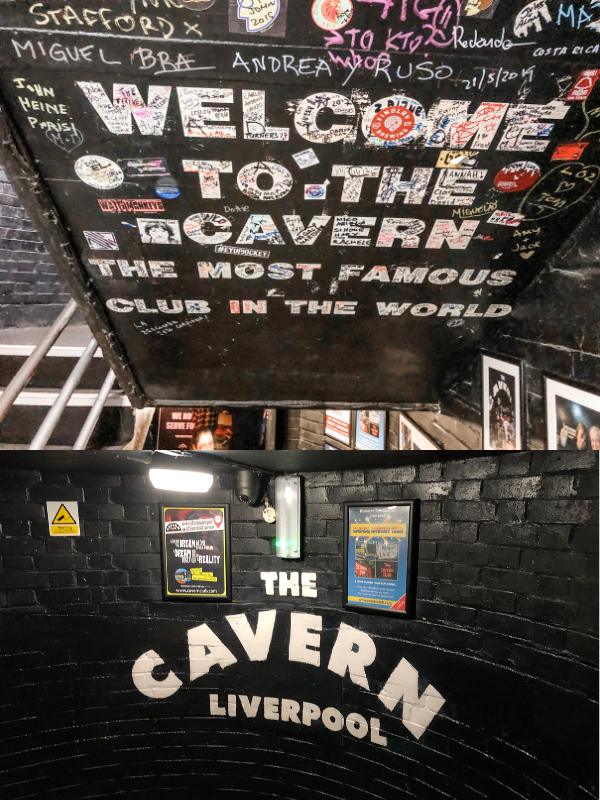 Where: 10 Mathew Street, Liverpool L2 6RE
When: 11 am to midnight Sunday to Wednesday, 11 am to 1 am Friday, 11 am to 2 am Saturday
Why: 60s nightclub known as the birthplace of the Beatles
Fun fact: Later in the night, the Cavern's ceiling drips due to condensation build-up
The Cavern in Liverpool is probably the number one best-known Beatles site in the city. It's known as the birthplace of the band, and the late UK TV star Cilla Black also famously worked there around the same time. On Mathew Street, this underground Beatles club in Liverpool is centrally located and therefore easy to reach.
Liverpool residents often meet at The Cavern before dancing the night away. So it's not just a tourist attraction, but a thriving nightclub in its own right. Live music is played daily and it's open until midnight or later.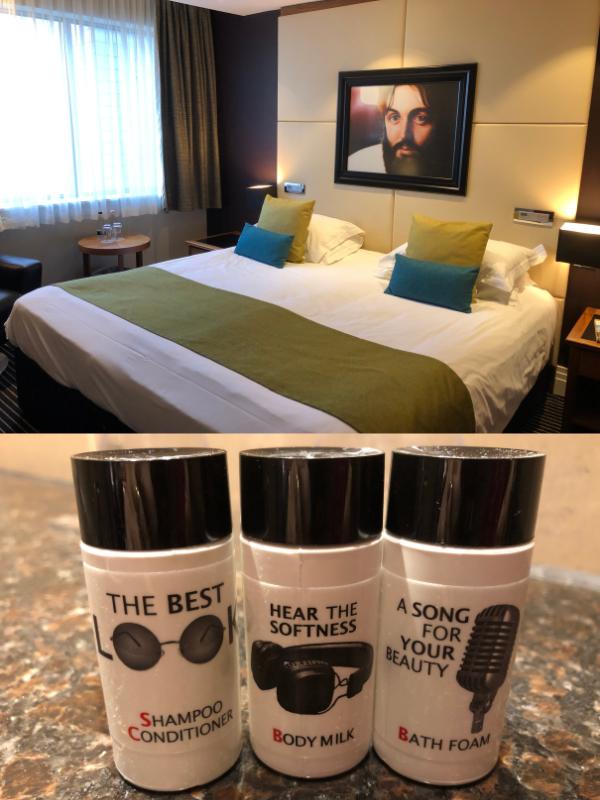 Where: Central Buildings, North John St, Liverpool L2 6RR
Why: Beatles themed hotel in central Liverpool's Cavern Quarter
Fun fact: The hotel is set in a Grade II listed Victorian building with marble columns
If you're a die-hard Beatles fan, then there's only one place to stay in Liverpool. The Hard Day's Night hotel. Located in the Cavern Quarter in the city centre, it's adorned with Beatles artwork and has a Live Lounge on site.
When you don't want to stay over at this Beatles hotel in Liverpool, you can book a table at Blake's Restaurant, drop into the Lounge Bar, have a cocktail at Bar Four or visit the music venue. Though with four star service, stylish accommodation, slick service, surprisingly affordable room rates and top ratings, we can't see any reason why you wouldn't want to.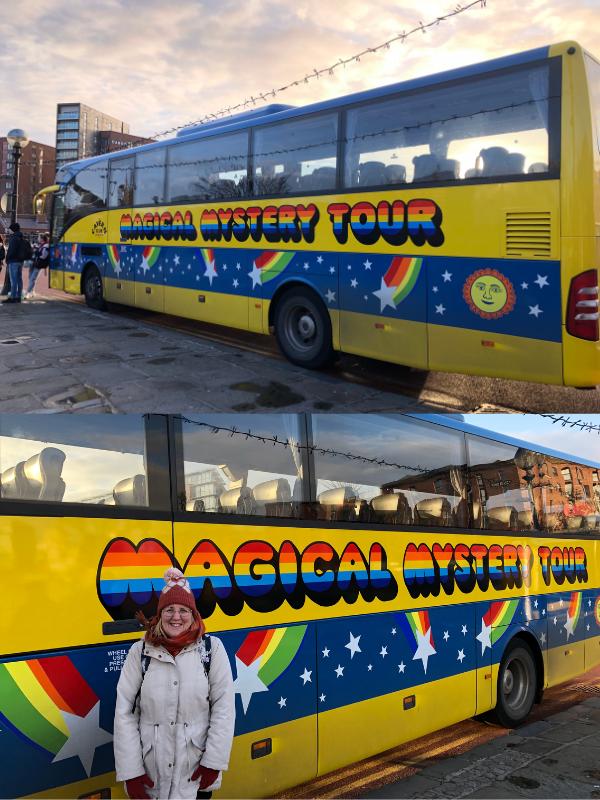 Where: Beatles Magical Mystery Tour office, 32 Gower Street, Liverpool L3 4AS
Why: Beatles tour of Liverpool including childhood homes and the Cavern Club
Fun fact: The yellow and blue tour bus is a study in 60s psychedelia
The distinctive blue and yellow bus decorated with rainbows leaves you in no doubt about what visitors on board have come to the city to see. Take this Beatles tour in Liverpool and you can learn all about how John, Paul, George, and Ringo grew up – and got together.
Along the way you'll see the Fab Four's childhood homes, plus sites that inspired songs like Strawberry Fields and Penny Lane, before ending up at the iconic Cavern Club. In fact this is the only Beatles bus tour in Liverpool to end there, and your ticket includes entry with live music provided.
4. The Beatles statue, Liverpool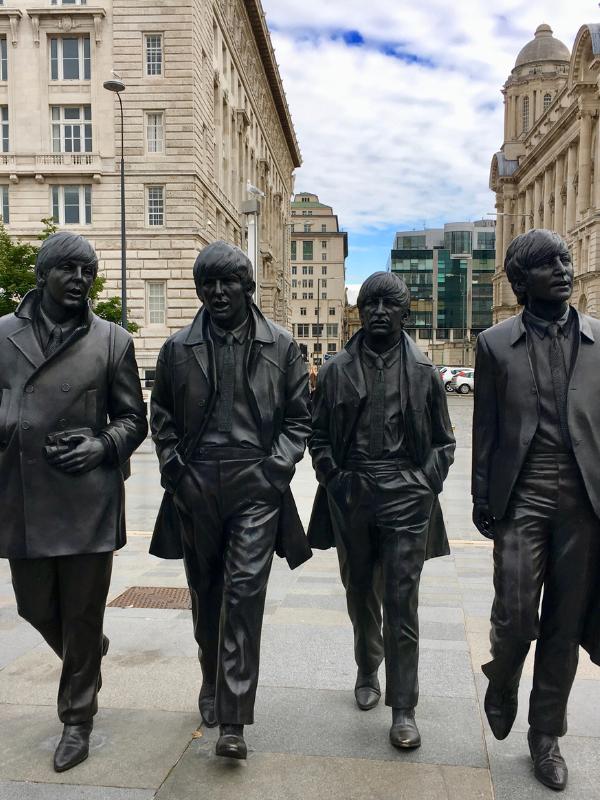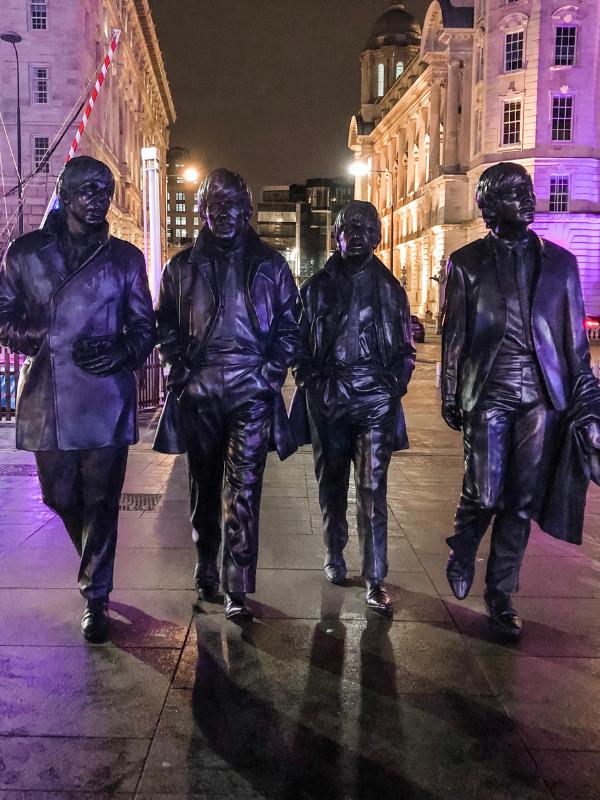 Where: Pier Head, Liverpool L3 1BY
Why: 2015 bronze statue of the Fab Four by sculptor Andy Edwards
Fun fact: The statue was donated to the city by none other than the Cavern Club
Unveiled in 2015, Andy Edwards' bronze statues of the Fab Four strolling around their home city was an instant hit. On the waterfront, the figures are larger than life and of course this is a mega-popular spot for a selfie.
There are some interesting details hidden in the figures. These include John Lennon having acorns in his hand that were cast from those collected in New York outside the Dakota Building, where the musician last lived and was assassinated. Ringo Starr also has L8 stamped onto his shoe – after the city postcode district in which he grew up.
5. Abbey Road, Liverpool
Where: 11-17 Harrington Street, Liverpool L2 9QA
When: Midday to 11 pm Monday to Thursday, midday to 1 pm Friday, 11 am to 1 am Saturday, 11 am to 11 pm Sunday
Why: Laid-back bar and kitchen with a Beatles theme and pub vibe
Fun fact: The real Abbey Road studios are of course in London, not Liverpool
Abbey Road in Liverpool is indeed a thing – even though the studios of the same name are located in London. In Liverpool, the name refers to a relaxed, pub-style bar and eatery serving burgers, pizza and other pub grub.
Abbey Road is family run and can be found on Harrington Street in the Cavern Quarter. As well as enjoying food, drink and a friendly welcome here, you can also play pool, listen to live music and watch live sport.
6. Rubber Soul, Liverpool
Where: 9 Mathew Street, Liverpool L2 6RE
When: 10 am to 11 pm Sunday to Wednesday, 10 am to 2 am Thursday, 10 am to 3 am Friday and Saturday
Why: Vibrant Cavern Quarter bar with live sports and weekend DJ nights
Fun fact: The venue is named after the Beatles' 1965 sixth studio album
Rubber Soul in Liverpool is where to go when you fancy a late one. It's open until 3 am on Friday and Saturday nights, though of course you don't have to stay that long! DJs spin the tunes then, or you can keep up with the city's football teams on the big screens.
This bar calls itself 'Mathew Streets #1 Bar… the absolute epitome of Liverpool nightlife.' We guess there's only one way to find out for yourself if you agree with that sentiment…
Where: Britannia Vaults, Royal Albert Dock, Liverpool L3 4AD
Why: Award winning Liverpool museum charting the life and times of the Fab Four
Fun fact: Owned by MerseyTravel who run Mersey Ferries and other public transport
The Beatles Story is the place to go to get a full overview of the life and times of John, Paul, George and Ringo. This museum has won awards for the quality of its displays and exhibits. Frankly, it's worth visiting just to see the wow-inducing collection of memorabilia. And the Beatles in India section.
Key sites are also covered here, so you don't need to visit them individually. There are replicas of The Cavern Club and Mathew Street, and you can also see behind the scenes at Abbey Road studios. There's even a faithful reproduction of the Casbah Coffee Club in Liverpool's West Derby area.
Click here to book tickets for the Beatles Story
8. Beatles shop in Liverpool
Where: 31 Mathew Street, Liverpool L2 6RE
When: 9.30 am to 5.30 pm, Monday to Saturday, 10.30 am to 4.30 pm Sunday
Why: Great selection of Beatles merch including t-shirts and much more
Fun fact: The Liverpool Beatles Museum also has a large range of memorabilia
The Liverpool Beatles Museum shop on Mathew Street is the place to pick up all the Beatles merch you could wish for. It's ideal if you're shopping for gifts – or yourself – and can be found at the museum on Mathew Street.
In addition to t-shirts, bags, pictures, books and photos, The Liverpool Beatles Museum Exhibition Catalogue is available here.
9. Mendips Liverpool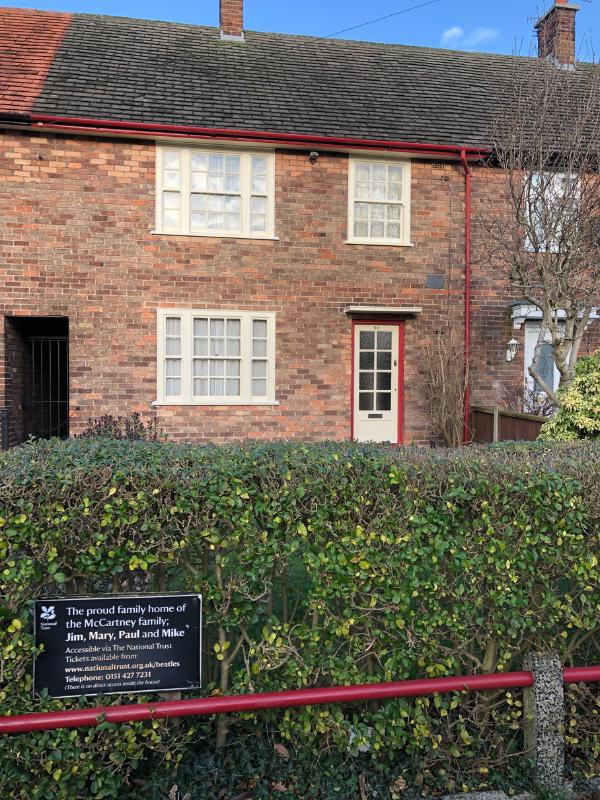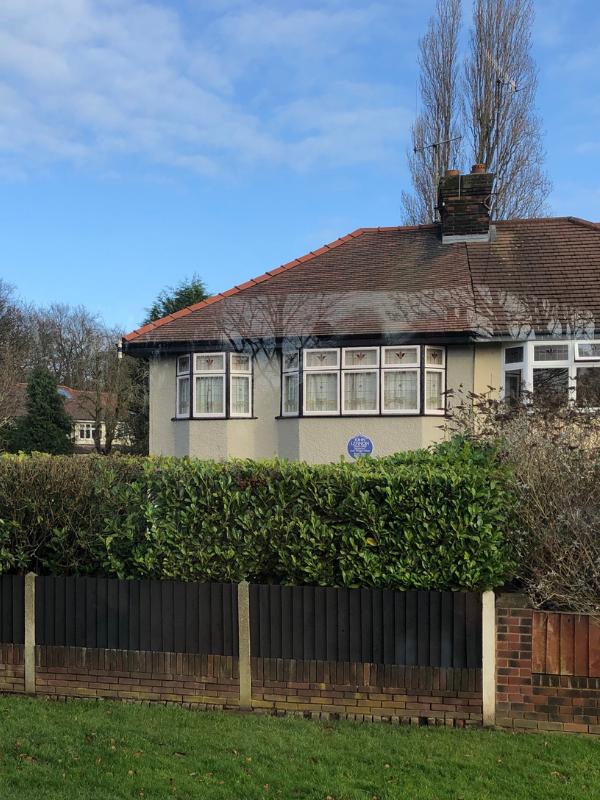 Where: 251 Menlove Avenue, Liverpool L25 7SA
Why: The childhood homes of John Lennon and Sir Paul McCartney
Fun fact: John Lennon's Aunt Mimi often made his dinner in the Menlove Avenue kitchen
251 Menlove Avenue in the Woolton suburb of Liverpool was John Lennon's childhood home, and is now run by the National Trust. Likewise, 20 Forthlin Road in Allerton was home to Paul McCartney when he was growing up.
You can take a combined tour of the two homes by booking in advance with these National Trust Liverpool Beatles attractions. Visiting really brings home the humble beginnings of the world's biggest band.
LISTEN: Episode #29 UK Travel Planning Podcast – How to book a stay in George Harrison's childhood home in Liverpool
10. Mathew Street, Liverpool
Why: Home to the Cavern Club and other venues, and Liverpool's Beatles central
Fun fact: Named after Mathew Pluckington, a local agricultural landowner
Mathew Street in Liverpool is often the first port of call for any Beatles fan. It's where the Cavern Club can be found, plus the Liverpool Beatles Museum and shop. Rubber Soul bar is also located here, as is The Grapes, a pub frequented by the Fab Four.
Other things to look out for in the Mathew Street – or Cavern Quarter – area include the Arthur Dooley sculpture called 'Four Lads That Shook The World' at The Wall Of Fame. There's also an 'All The Lonely People' statue on nearby Stanley Street, referencing Eleanor Rigby.
11. Strawberry Field, Liverpool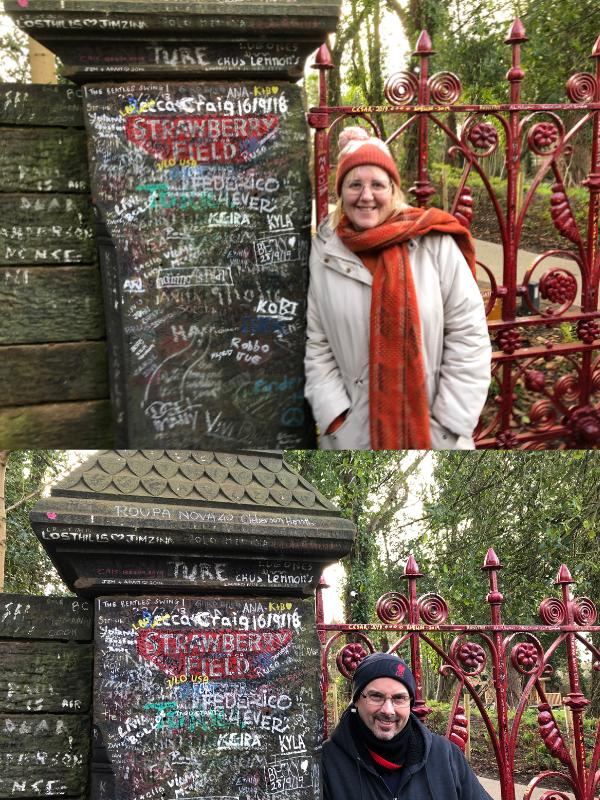 Where: Beaconsfield Road, Liverpool L25 6EJ
When: 10 am to 6 pm daily
Why: Immortalised in the Beatles song Strawberry Fields
Fun fact: The site was once a Salvation Army children's home
Hear 'Strawberry Fields Forever' and you might think of a fruit farm, but Strawberry Field (without the S) was once a children's home. Now there are attractive gardens, plus a visitor centre, shop and cafe.
12. Penny Lane, Liverpool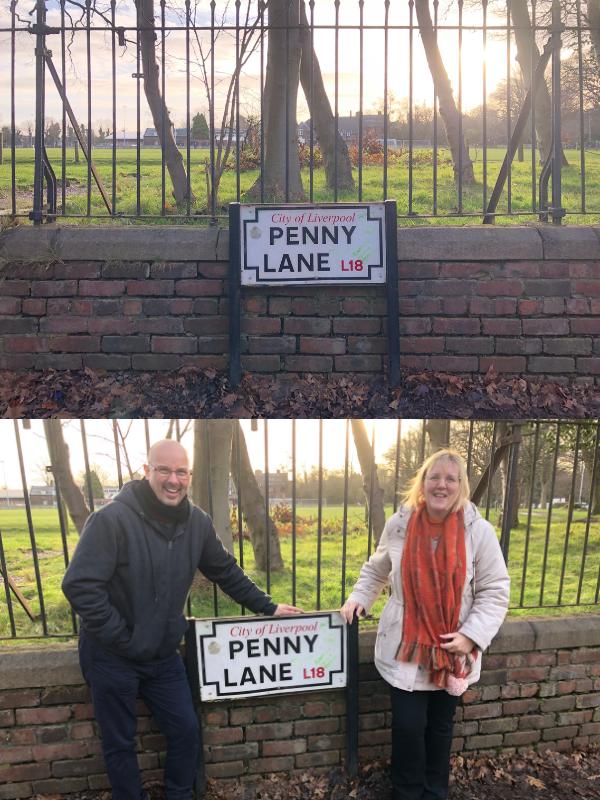 Why: As featured in the Beatles song Penny Lane
Fun fact: The street signs are painted on here after being repeatedly stolen
There's not that much to see on Penny Lane – but simply seeing it is more than enough for some keen fans of the Fab Four. You can't steal a street sign as they're all painted on nowadays, but you can drop into the historic Dovedale Towers pub for food and drinks while you're here.
13. The Yellow Submarine, Liverpool
Where: Yellow Sub, Dempster Buildings, Atlantic Way, Liverpool L3 4BE
When: 10 am to 6 pm, Tuesday to Sunday
Why: Children's play centre and cafe serving home cooked food
Fun fact: A while ago, you could also stay in a floating yellow submarine in Liverpool
If you want a bit of light relief for the kids while in Liverpool, then the Yellow Sub is the place to be. It's positioned near Albert Dock and offers soft play plus a cafe serving delicious homemade fare. No booking is needed; simply arrive before 5 pm daily except on Mondays.
Where will you experience the Beatles in Liverpool?
Your Beatles experience in Liverpool is all there for the taking. Whether you choose to wander the streets of the Cavern Quarter, take a Magical Mystery Tour or stay at the Hard Day's Night Hotel.
If you prefer, you can head a little out of town to visit sites such as Penny Lane, Lennon and McCartney's childhood homes or Strawberry Field(s). Wherever you go, delving into the history of the world's most famous band is surely a must when in Merseyside!
Read more about Liverpool and the Beatles