Planning a visit to the English city of Liverpool? In this article, you will discover 19 of the best things to do and see. We have included practical tips to ensure you make the most of your visit.
Liverpool is a city defined by its maritime history and rich artistic culture. Its metropolitan area is the fifth largest in the UK and boasts a population of over 2 million people.
Of course, Liverpool is the proud home of The Beatles — but it's so much more. Its museums, architecture, art galleries and music are some of the best and most exciting in the world. Don't forget its outdoor spaces and coastline.
When visiting Liverpool, there is so much to see and do, how do you choose? In this article you will find the top Liverpool attractions that offer something for absolutely everyone.
Many of these attractions are free so too so if you are budget conscious you can plan your itinerary to include a mix of activities to lessen costs.
You will also find useful information about the best tours available in the city, where to eat in Liverpool as well as the best accommodation options to meet a range of budgets.
Tip – If you want to see the best of the city in a day consider taking jumping on the Liverpool open-bus tour which covers the highlights of the city including famous sites connected with the Beatles.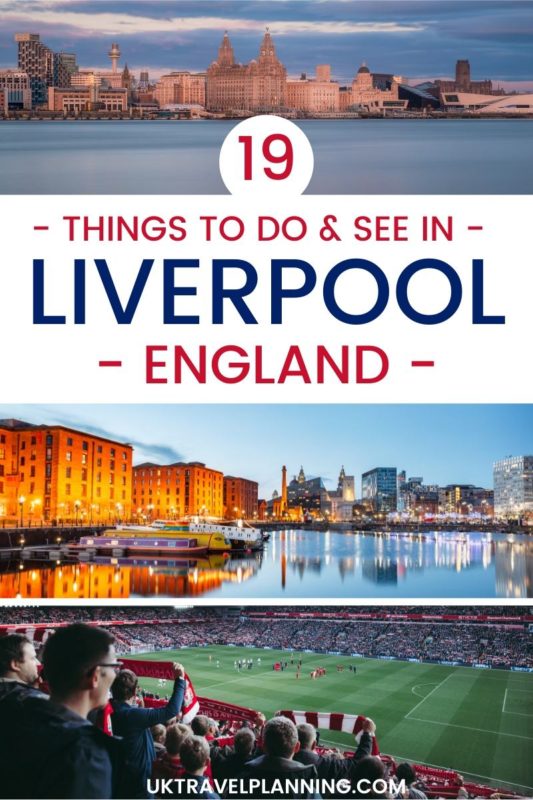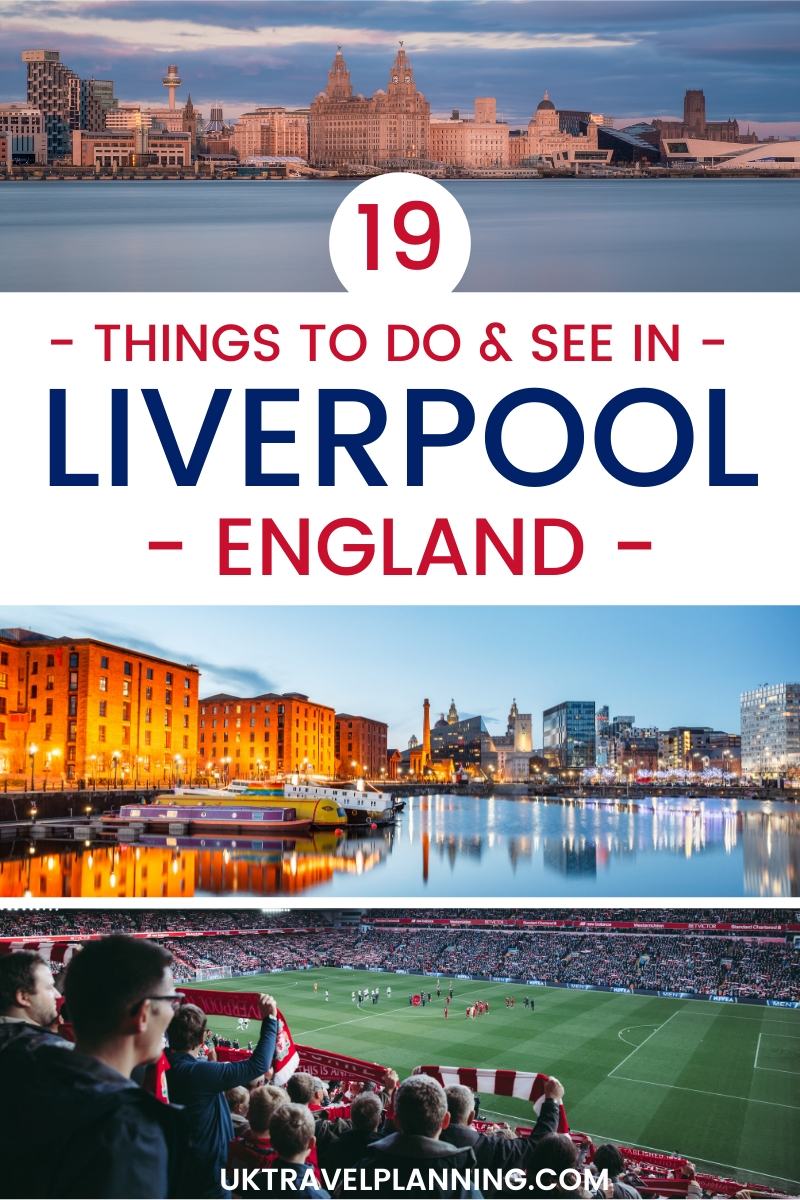 Things to do in Liverpool
1. The Mersey Ferries
Ferry 'cross the Mersey? Yes, please. Taking a voyage on the wildly colourful Mersey Ferry is one of the most fun things to do in Liverpool.
These 50-minute long sightseeing cruises give visitors a unique riverside perspective of the city's iconic landmarks and skyline. Expert commentary plays overhead and explains all the sights while you sit back and relax.
If the sea air is a bit nippy, there's a café on board that offers hot drinks and snacks. As an added bonus, you can hop on and hop off at the Seacombe and Woodside ferry terminals.
Book your ticket for the ferry only or combine a Mersey Ferry ride with other Liverpool attractions like the city tour bus and the Liverpool Cathedral Tower Experience.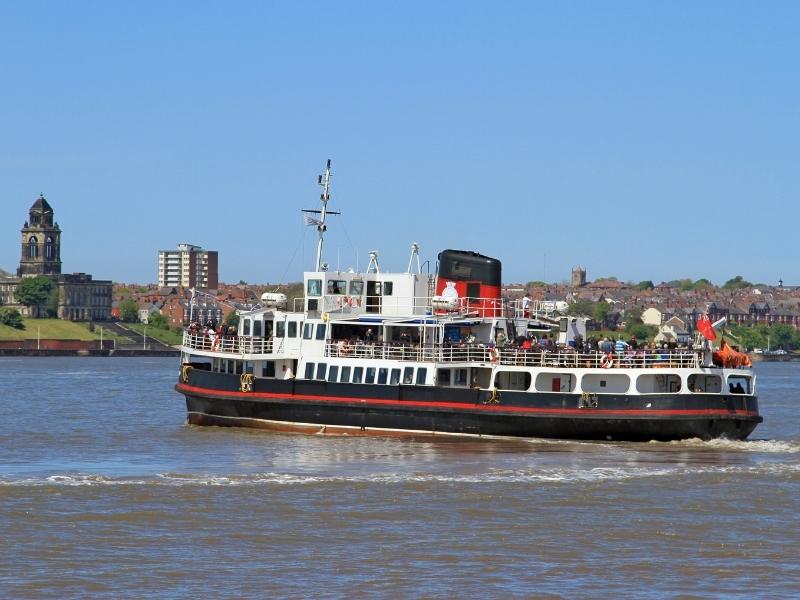 2. The Cavern Club
In the early 60s, the epicentre of beat music was The Cavern Club, a cosy underground jazz and skiffle room. A little band called The Quarrymen rocked its stage, honing their skills before launching themselves into history as The Beatles.
Though today's Cavern Club is not the original, visiting it is still one of the best things to do in Liverpool. Now, all under one roof, you'll find the Cavern Club, the Cavern Lounge and the Cavern Pub. There's even a restaurant on site.
Bands play daily, and every Saturday there's a Beatles tribute band who'll knock your socks off. Bring a pen and sign your name on those famous walls. Children should visit during the day only, as there is a strict 18-and-over policy after 8:00 p.m.
You can find more about the Beatles in my complete Liverpool itinerary for Beatles fans.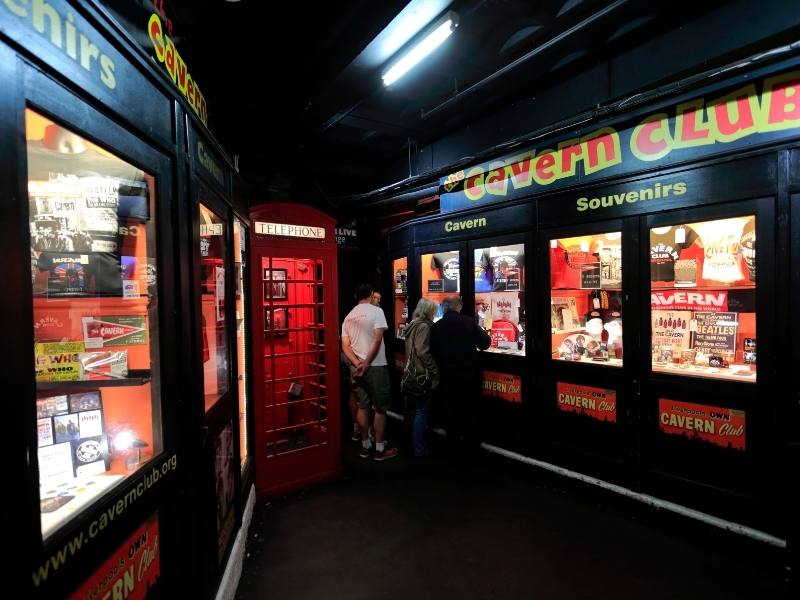 3. Radio City Tower / St. John's Beacon
There are so many things to see in Liverpool — why not see them all at once from the 452-foot-tall Radio City Tower? There are a whopping 558 steps to reach the top, but don't worry, there are two elevators as well.
At the top, you'll find an observation deck with stunning views of Liverpool and beyond. This family-friendly must-do is open from 10:15 a.m. – 5:15 p.m.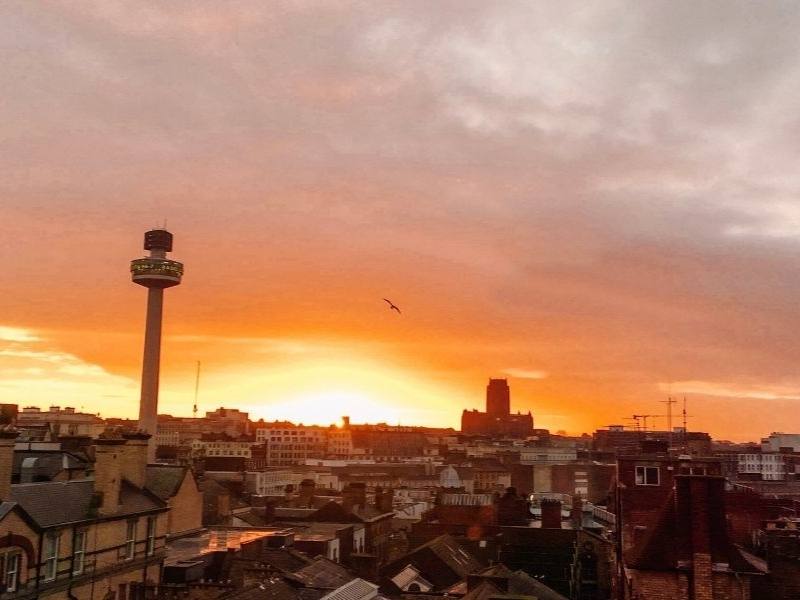 4. Liverpool Cathedral
The moment you walk into the Liverpool Cathedral — the biggest Anglican Cathedral in Europe — you'll be awestruck. The soaring ceilings, the wide Gothic arches, that giant organ which is the UK's largest — it's architecturally magnificent and spiritually inspiring all at once.
It took 74 years to build and was finally finished in 1978. Want to really be wowed? Do the Tower Experience. Two elevators and 108 steps up and you'll be treated to some of the most spectacular views of the city while learning about the life of a bell ringer.
Visiting the Liverpool Cathedral is free, however, there is a fee for the Tower Experience. Check their website for details.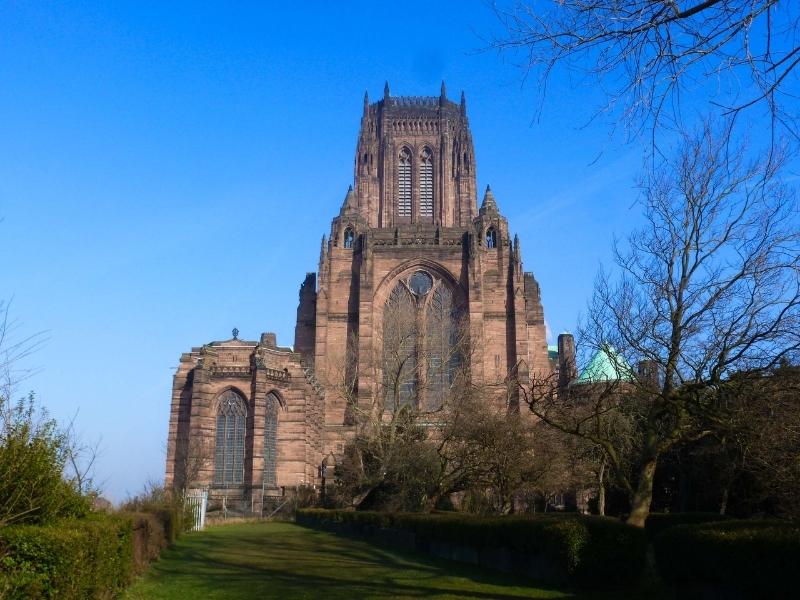 5. Anfield
It doesn't matter if you're a diehard Liverpool F.C. supporter or someone who can't tell a punt from a penalty kick. Taking a tour of Anfield, the seventh largest football stadium in England is a deep dive into the local culture. See the bright green magnificence of the pitch. Go behind the scenes into the dressing rooms and press room.
A visit to the museum is included in your tour — just try not to gasp when you see those 6 glittering European cups. Out of all the things to do in Liverpool, this one's a must-do for sports fans. The tour lasts 60 minutes and is suitable for all ages.
6. The Royal Albert Dock
This waterfront, multi-use attraction is where Liverpool's past meets its present.
Only decades ago, Albert Dock had fallen into disrepair after enjoying years as an international hub of sea trading. It has since been revitalized with a modern flair and now offers a whole vacation's worth of entertainment.
The Tate Liverpool, the Merseyside Maritime Museum and the Beatles Story Museum are just the beginning. There's also shopping, bars and restaurants. Stay the whole day and don't miss the sunset! It's glorious.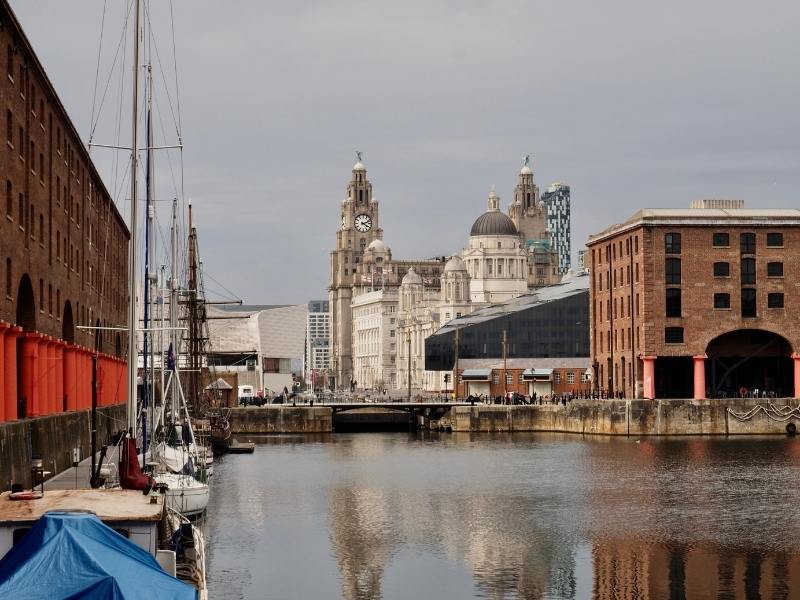 7. Merseyside Maritime Museum
One of the coolest things to do in Liverpool is to visit the Merseyside Maritime Museum. It's a family-friendly celebration of the city's sea-trading past. Step inside and see how Liverpool's docks of yesterday — now buzzing with modern museums and shops — were thriving places of industry and international commerce.
There are four floors packed with nautical history. See full-sized vessels and countless exhibits featuring model ships and items salvaged from shipwrecks. Hear the tragic stories of the Titanic and Lusitania.
This museum is actually two museums in one. On the third floor is the National Slavery Museum, which illuminates the history and impact of the transatlantic slave trade. This day of learning and fun is located conveniently at the Royal Albert Dock and is free.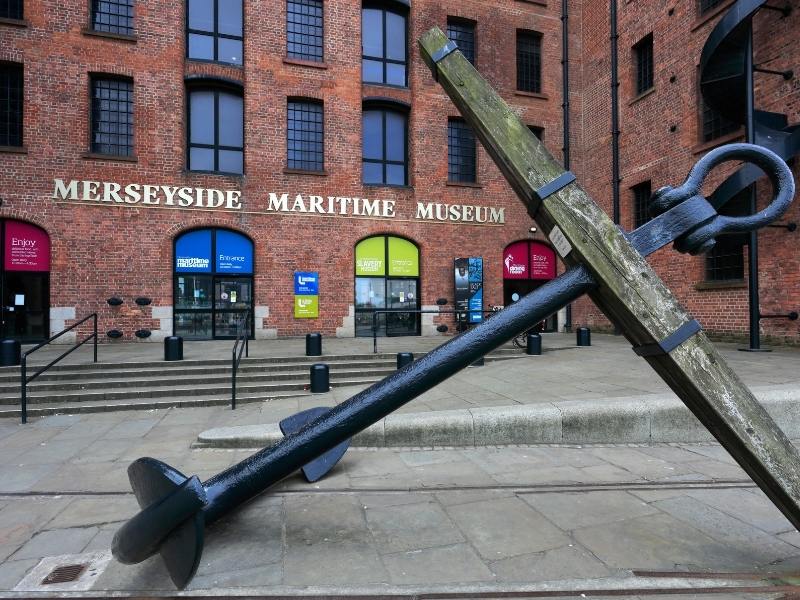 8. Tate Liverpool
If you love modern and contemporary art, a visit to the Tate Liverpool is absolutely in order. One of the many attractions you'll find at the Royal Albert Dock, this free-entry museum aims at an audience who likes their art a little whimsical, colourful and inexplicable.
The building, a repurposed warehouse, is large and has four floors to explore. They also host a wide variety of temporary exhibits which may charge admission. Check their website to see what's there.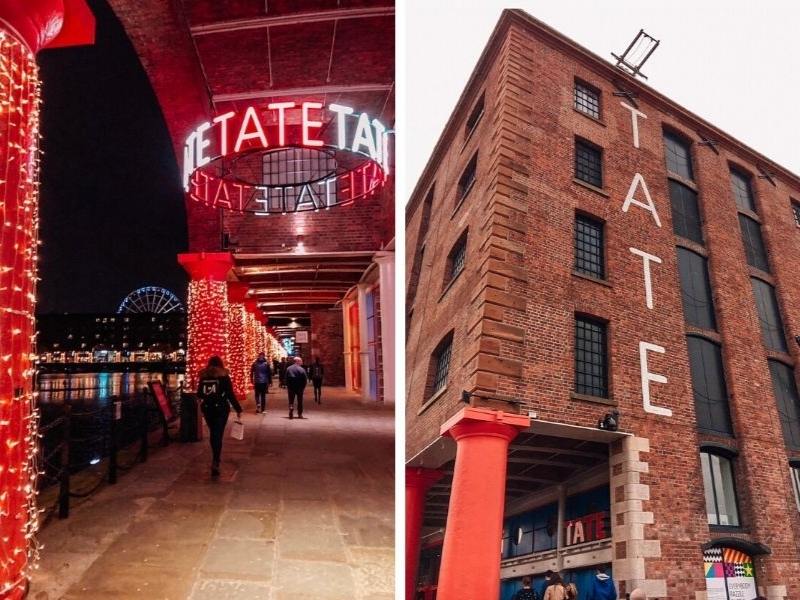 9. The Beatles Story
No visit to Liverpool is complete without a great big dose of the city's favourite sons. The Beatles Story, the world's largest permeant Beatles exhibition, is a fun way to immerse yourself in all things Beatles. It takes roughly an hour and a half to visit this underground museum located at the Royal Albert Dock.
Colourful exhibits tell the whole story of John, Paul, George and Ringo. Amazing recreations of the Casbah Club and the original Cavern Club are highlights. Check online for opening times and to buy tickets.
If you are a Beatles fan you may enjoy reading my complete Liverpool itinerary for Beatle lovers.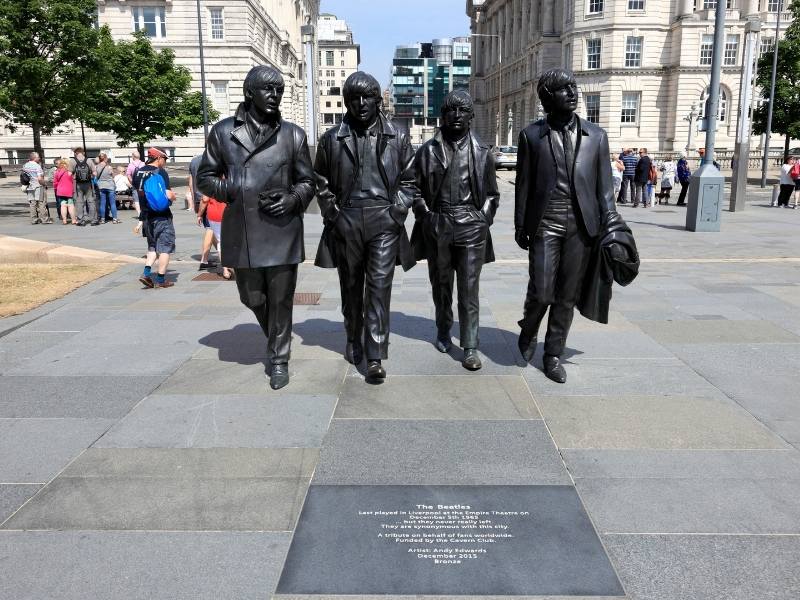 10. Sefton Park
Picture a 200-acre public park with oceans of flowers in the springtime and paths lit by old fashioned lampposts. That's Sefton Park, in the south of Liverpool, and it's the pride of the locals.
There is a picturesque boating lake surrounded by shady British trees. Look for the famous Palm House — a recently restored glass building that looks like something out of a fairy tale. Wear comfy shoes, because you could spend the whole day wandering the charming paths of Sefton Park.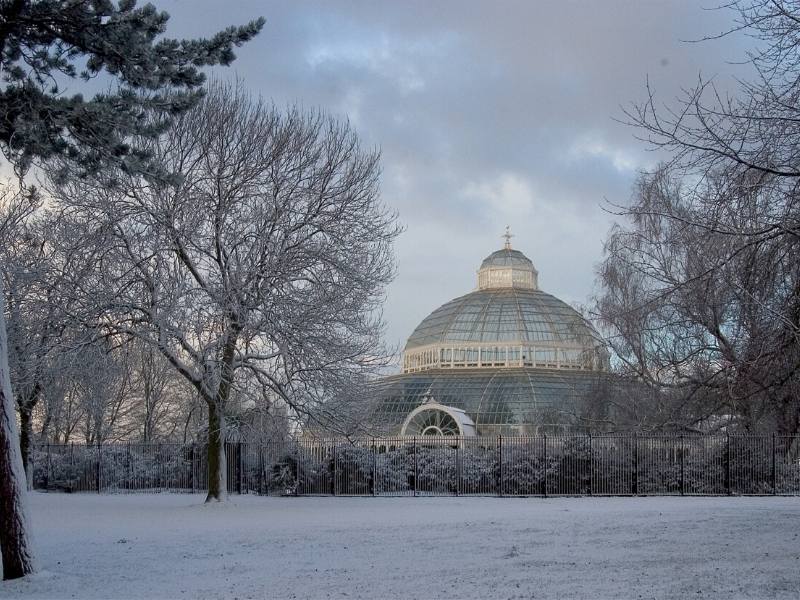 11. World Museum
If you're looking for a museum that truly has something for everyone, then head on over to Liverpool's World Museum. Explore ancient Egypt or take a tour of the award-winning Clore Natural History Centre — they have over 20,000 natural science items from all over the globe.
For those human history buffs who enjoy interactive fun, there's the Weston Discovery Centre. Is an aquarium or a planetarium more your speed? They've got those too! Plan to spend several hours at this family-friendly museum. Best of all —admission is free. Open daily 10:00 a.m. – 5:00 p.m.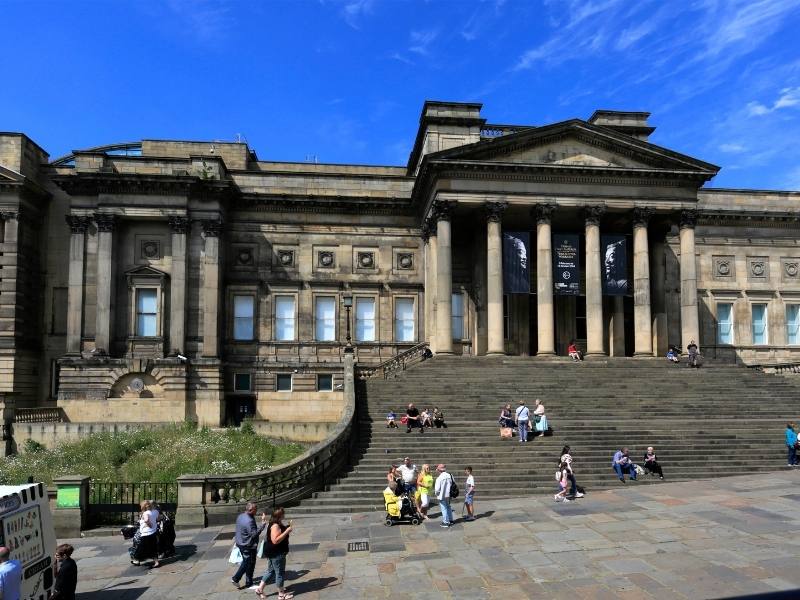 12. Shopping on Bold Street
In the mood for a little shopping and people watching? Take a stroll down to Bold Street. There are enough funky boutiques, vintage clothing stores, coffee shops and quirky street performers to keep you entertained for hours.
If you're an international food fan, Bold Street's mouth-watering selection of fare includes South American, German, Mexican, Thai, Indian and others.
Oh, and those visitors interested in the paranormal might want to take note — Bold Street has a peculiar reputation for "time slips," where unsuspecting shoppers suddenly find themselves in the 50s or 60s before being snapped back to the present. Sound too weird to believe?
Maybe it's just a bunch of fun urban legends. Still, shopping, dining and time travel sounds like a pretty fun afternoon, right?
13. Walker Art Gallery
Looking for another one of those free things to do in Liverpool? Check out the Walker Art Gallery. This 130-year-old museum contains an immense collection of art that would rival those found in the world's cultural capitals.
Their painting collection includes masterworks from the likes of Rembrandt and Monet. There's also a sculpture garden and decorative art collection that are not to be missed.
If you've got small children with you, visit Big Art for Little Artists — a gallery designed for tots up to 8-years-old with a focus on stories and hands-on fun. While the museum is free, there may be a charge for special exhibitions. Open daily 10:00 a.m. to 5:00 p.m.
14. Liverpool ONE
How does a mega-huge shopping extravaganza sound? Liverpool ONE is a retail complex right in the middle of Liverpool city centre that boasts over 170 stores, restaurants and bars — but that's just the beginning.
There's a five-acre park, a multi-screen movie theatre and an indoor golf course. This open-air leisure destination always has extra events going on, so check online to see what's happening.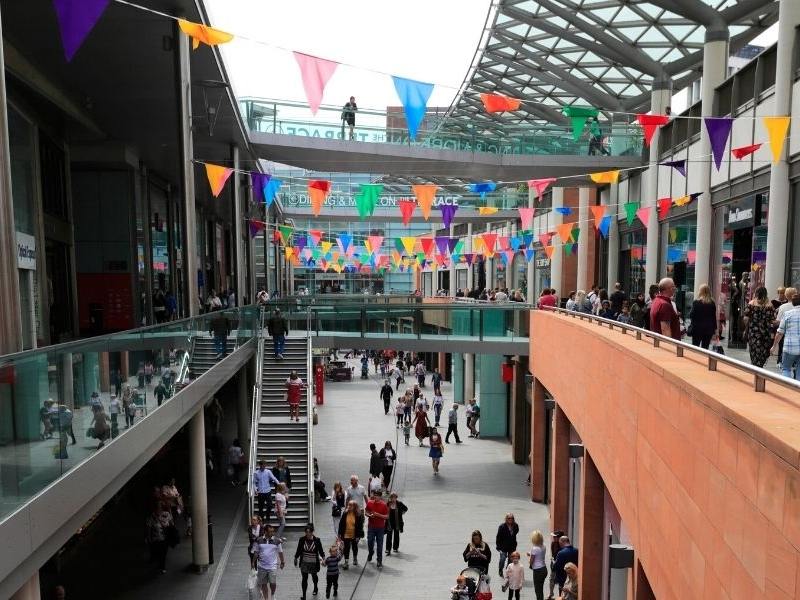 15. The Baltic Triangle
Where do the young, hip, creative types hang out in Liverpool? The Baltic Triangle, of course. This fast-growing hive of art venues, start-ups, funky restaurants and bars is a raw and edgy destination.
Back in the day, this area's rusted-out warehouses and dilapidated buildings were a crumbling reminder of Liverpool's more troubled times. Now, this area's been transformed into a modern cradle of coolness.
So grab a couple of foodie friends and check out the wild street murals and art galleries on your way to some alternative dining. Getting there is either a short taxi ride or a 15-minute walk from Liverpool ONE.
16. Lennon and McCartney's Childhood Homes
Travel via minibus back in time to visit the Beatles' homes before they were Beatles. It's a combined tour of John Lennon's Mendips — where he lived with his Aunt Mimi — and Paul McCartney's post-war home at 20 Forthlin Road. Both are pristine, just as they would have been when the boys were mere lads.
These suburban homes are small and humble but provide a fascinating insight into the men who would become the world's most influential songwriters. Get your ticket to the Beatles homes here.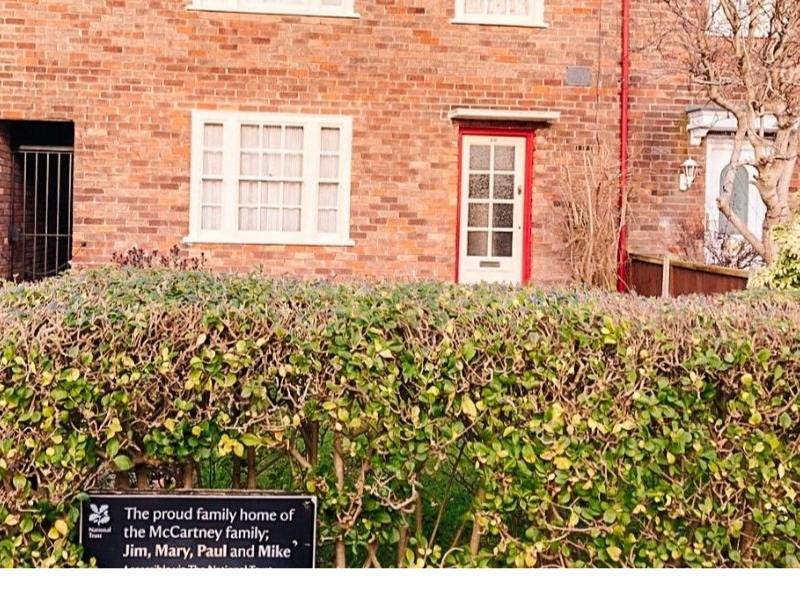 17. The Sudley House
Ever wonder how the elite Liverpool merchants of the 19th century lived? Travel just 20 minutes out of the city to find the Sudley House, a fully preserved glimpse into the Victorian past. Be greeted by videos of costumed reenactors telling their stories of what life inside the mansion was actually like.
See original furnishings and décor along with a collection of paintings that would make most museums jealous. You'll see works by Turner, Rossetti, Landseer and Gainsborough, just to name a few. Children will enjoy running about the grounds, as well as the charming café that opens out into a garden.
Admission is free. The Sudley House is open daily 10:00 a.m. – 5:00 p.m.
18. The Williamson Tunnels
How does touring a mysterious underground network of tunnels built by an eccentric old Victorian sound? The Williamson Tunnels are the most enigmatic attraction in Liverpool. Was wealthy industrialist Joseph Williamson prepping for the end of days? Was he trying to keep Liverpool gainfully employed? Was he just mad?
Take a tour with an expert guide and maybe you'll be the one to solve this Liverpool mystery. Tours begin at the Williamson Tunnels Heritage Centre and last about 45 minutes.
This tour is not for those with mobility issues. You can buy tickets at the door or purchase them at least one day in advance online.
19. Superlambanana
What happens when a temporary and rather quirky 8-ton sculpture unexpectedly captures the heart of Liverpool?
It becomes a symbol of the city, of course! Introducing Superlambanana, the giant half-lamb, half-banana made of concrete and fibreglass and painted an amazing shade of yellow.
Given that Liverpool's port welcomed both bananas and sheep, the result is the Superlambanana, artist Taro Chiezo's comment about genetic engineering.
It has spawned mini versions all over the city painted in a variety of themes and eye-catching colors. The original now lives at 79 Tithebarn Street and is a fun sight to behold.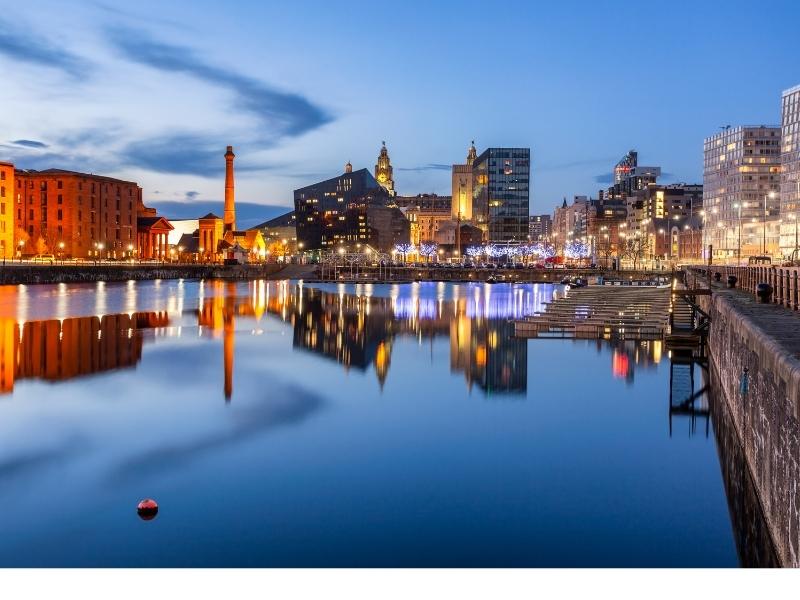 Where to stay in Liverpool – Accommodation options
There are lots of accommodation options in Liverpool to suit all budgets. These are my selections based on budget, mid-range and luxury options and the ultimate hotel for Beatles fans too!
BEST HOTEL FOR BEATLES FANS
If you are a fan of the Beatles the best hotel to stay at is the Hard Day's Night Hotel. It is literally around the corner from the Cavern Club. There is Beatles memorabilia and decor and every room is themed too.
We stayed at the Hard Day's Night Hotel on our last trip to Liverpool and we highly recommend it.
BEST MID-RANGE HOTEL IN LIVERPOOL
The Liner Hotel is a 3-star ocean liner-themed hotel with modern rooms, an on-site brasserie and a cocktail lounge.
BEST BUDGET HOTEL IN LIVERPOOL
The Z Hotel in Liverpool is an excellent budget option. The rooms are compact but there is a cafe and free WiFi for guests.
Where to eat in Liverpool
There are loads of fantastic restaurants in Liverpool. These are my top recommendations!
MOWGLI
Mowgli specialises in Indian street food and is a very popular restaurant so book if you plan to eat there!
Book a table – Mowgli Street Food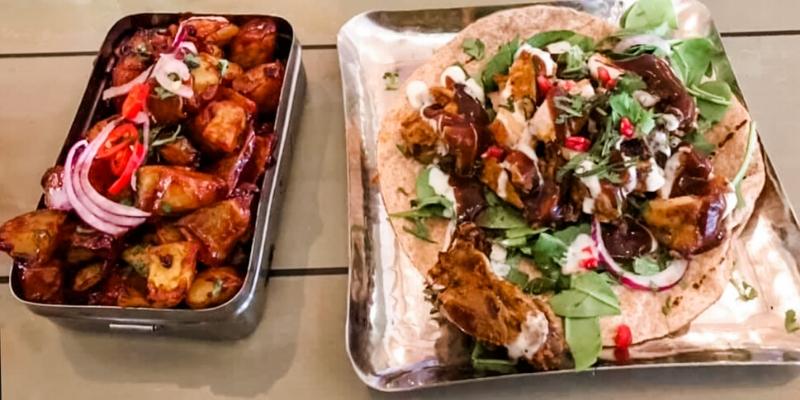 WETHERSPOONS
Weatherspoons are a pub chain providing budget food options (as well as drinks). They are immensely popular in the UK and usually really busy, especially on evenings and weekends.
Serving breakfast, lunch and dinner this gastropub offers lots of options (the menus are the same in every one of the 920 Weatherspoon's spread across the UK)
You will find Weatherspoon's in all sorts of buildings and there are 12 in Liverpool so chances are you will come across one or two!
Best tours of Liverpool
Liverpool: Private Walking Tour with a Local Host
Transform the way you travel and make it as much about the people you meet as the places you see. Get a welcome to Liverpool by a local guide on a fully customised private walking tour.
Discover Liverpool through the eyes of a passionate local
Make travel about friendly people and not just places
Learn the city's many tips and tricks to make the most of your stay
Liverpool Football Club: Museum and Stadium Tour
Go behind the scenes inside one of the world's most iconic and historic stadiums! Your ticket includes entry to the Club's interactive museum, The Liverpool FC Story, The Steven Gerrard Collection exhibition and all six European cups.
Want to know more about visiting Anfield? Check out my husband's review of the museum and stadium tour here.
Best Beatles tours of Liverpool
Beatles Walking Tour, Radio Tower Visit & Beatles Story Tour
This Liverpool tour includes a guided walk at the Waterfront and Albert Docks, a visit to Radio City Tower and entry to the Beatles Story Museum.
Explore the award-winning Beatles Story Museum at the Albert Docks
See the Beatles statues on the waterfront and visit the Cavern Club
Enjoy views of the city and surrounding area from Radio City Tower
Liverpool: Strawberry Field Ticket
Immerse yourself in the world of John Lennon as you explore the interactive exhibitions at Strawberry Field. Learn about the life of Lennon, as well as his childhood links to the building, then wander through the gardens for a spiritual experience.
Explore the gardens of John Lennon's childhood, that inspired the iconic Beatles' song 'Strawberry Fields Forever'
Immerse yourself in an interactive visitor experience with a specialist media guide
Reflect and relax at the Imagine More Cafe
Learn about the life of Lennon and the work of the Salvation Army
Liverpool: The Beatles to The Blitz Walking Tour
Explore the history and culture of Liverpool on a sightseeing tour on foot of the birthplace of the Beatles and learn more about its landmark sights. See the largest Chinese arch in Europe, venture down hidden alleys and more.
Take a journey through the musical city of Liverpool
Learn how Liverpool experienced World War II and survived the Blitz
Find out about why Liverpool was awarded the European Capital of Culture in 2008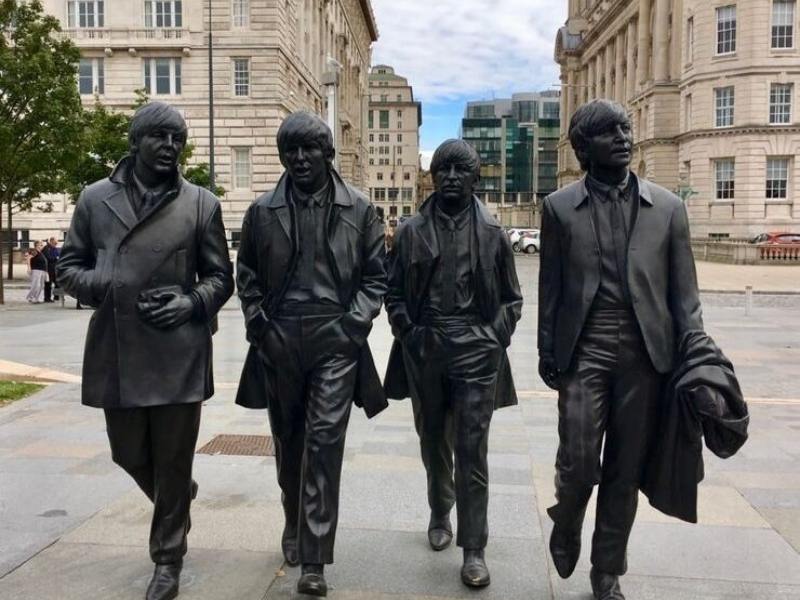 Things to read, watch and listen to before you visit Liverpool
FAQ's – Planning your trip to Liverpool
Map of Liverpool
Enjoy your visit to Liverpool
I am sure you will have lots of ideas from this article for your Liverpool itinerary. The city is one of our personal favourites (my husband is a Liverpool supporter so say no more!)
Check out my Liverpool Travel Guide for everything you need to know to plan your visit.
But we also find the people of Liverpool to be welcoming and really friendly. You can find more places to explore in the North West of England – after all, it is also where you will find the beautiful Lake District.
More to read about UK cities and regions
If you have any questions pop over to my free Facebook group – we love chatting to fellow travellers about their plans and there are loads of people in the group to help too!
Find more inspiration for your travels in my England Travel Guide which includes information about what to see, where to stay, how to get around, travel tips, recommended reading and more to make the most of your trip.