Plan your visit to Scotland's second city with our Glasgow one day itinerary with tips about what to see and do, how to get around and where to eat during your visit.
It's easy to assume that because you've been to Edinburgh you've seen what Scottish cities have to offer. But while the capital is rich in history and abundant in incredible architecture, Glasgow can give visitors a glimpse into the 'real' Scotland.
Glasgow may be less polished and genteel than Edinburgh, but that only makes it an even more attractive destination. Hence this Glasgow one day itinerary. If you only have a day to spend in Scotland's most populous city, then you need to use your time very wisely when you want to see the highlights.
This suggested Glasgow 1 day tour will whisk you around the most exciting parts of this appealing city that has in the past been named European City of Culture. Glasgow has some fabulous museums that are free to get into, interesting districts and glorious parks. The city is also incredibly rich in history and culture, and also offers great shopping and dining.
Continue reading to discover all you need to know about spending 1 day in Glasgow!
Want to know more? Find out where to stay in Glasgow for one night.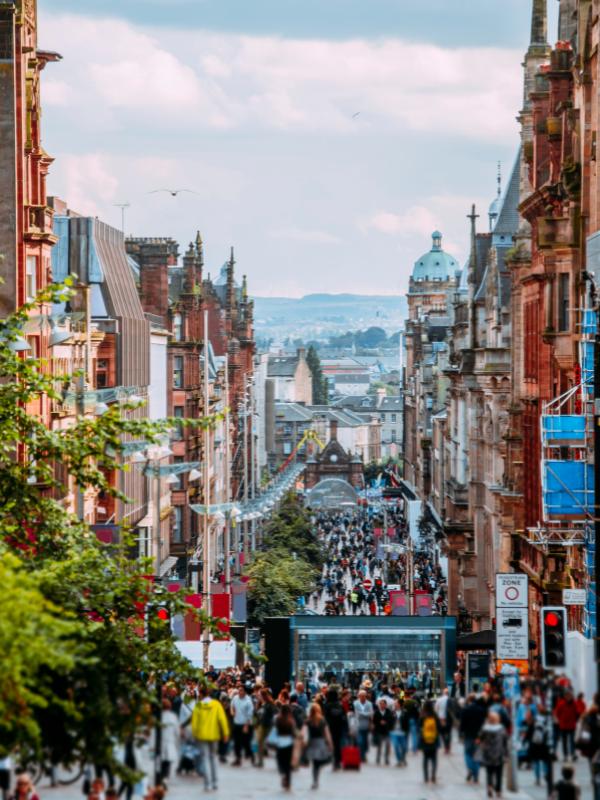 Getting to and around Glasgow
First, let's take a look at how to get to Glasgow. Plus how to get around when you only have one day in Glasgow!
How to get to Glasgow
In fact you can get to Glasgow from Edinburgh by train in around an hour, making a one day in Glasgow itinerary even simpler to slot into your schedule. Edinburgh Waverley, Glasgow Central and Glasgow Queen's Street Stations are right in the heart of their respective cities.
If you have a hire car or catch a bus, the trip takes from an hour and 15 minutes depending on traffic. So the quickest and easiest way to get there is by train to Glasgow Central or Glasgow Queen's Street Stations.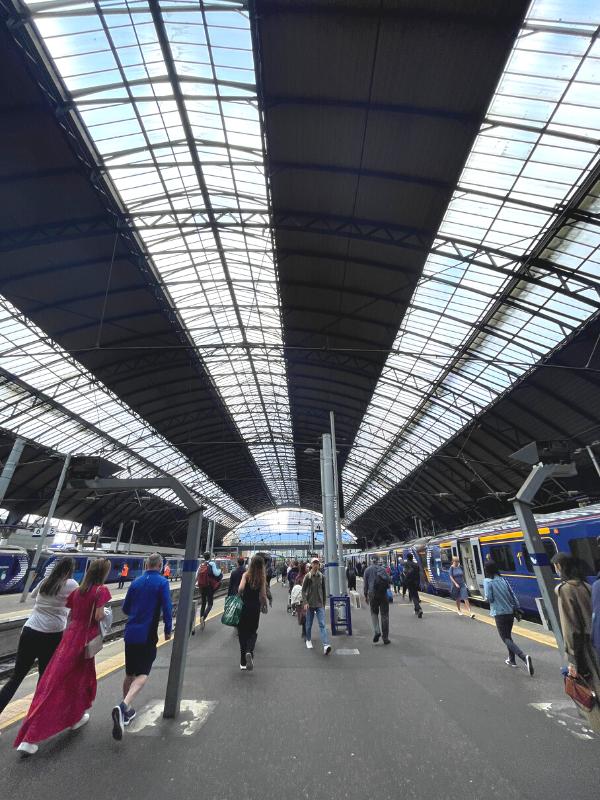 Getting around Glasgow
Glasgow actually has its own underground rail network. This is locally known as the 'Clockwork Orange' because of the colour of the map provided by Strathclyde Partnership for Transport. The single loop spans both sides of the River Clyde and you can see a map here.
Other options include buses, local trains, taxis and of course walking! Many of Glasgow's sights are easy to reach on foot, so you may not need to use public transport at all.
Another option for getting around Glasgow is to buy a hop-on, hop-off bus ticket.
This City sightseeing tour allows you to see the sights while on board, and also whisks you around quickly. It's a great idea when you want to explore Glasgow in one day.
Click here to book Glasgow hop-on, hop-off bus tickets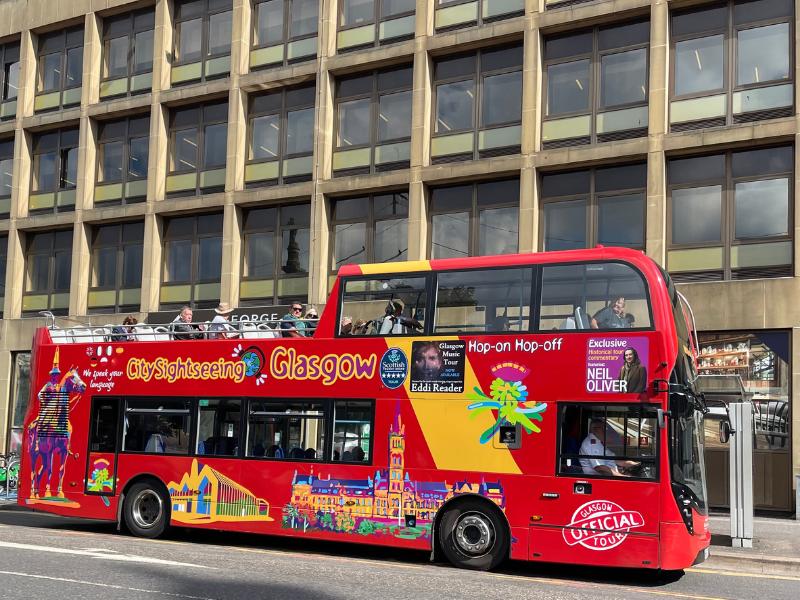 Top 10 sites for your Glasgow one day itinerary
Glasgow city centre is home to two train stations and a bus station, so if you arrive by public transport for a day in Glasgow then you're likely to pitch up here. This means you don't need to factor in any additional travel time before getting stuck into the sights.
1. George Square
📍Glasgow, G2 1AL
George Square is the ideal starting point for seeing Glasgow in a day. It's considered the true heart of this Scottish city and isn't far from Glasgow Central and Queen Street stations. You can also catch the hop-on, hop-off bus here.
The architecture of George Square is breathtaking, and there's also a statue of Robbie Burns, Scotland's most famous poet. You can also get a feel for the city here as you watch Glaswegians going about their daily business.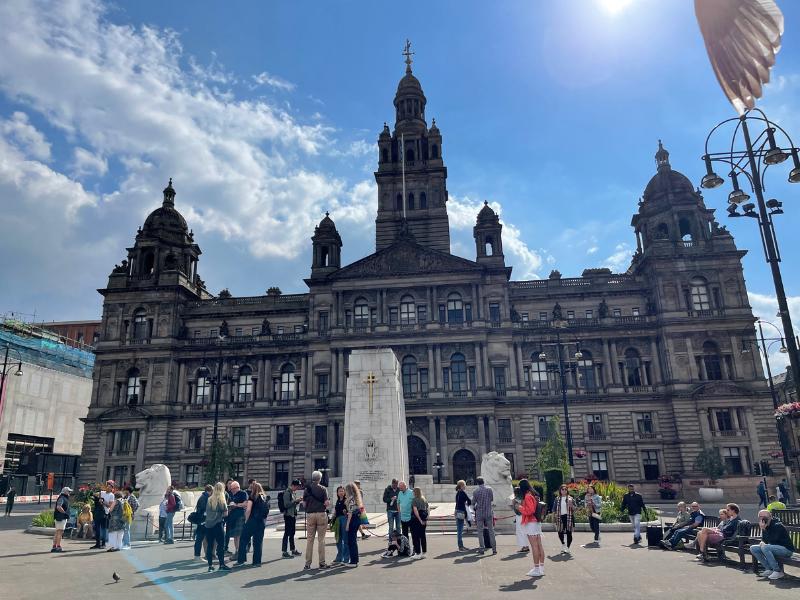 2. Glasgow Cathedral & Necropolis
📍Castle St, Glasgow G4 0QZ
Glasgow was built around its impressive and ancient cathedral. You can enter for free – though donations are of course welcomed. The patron saint of Glasgow, St Mungo, is interred in a crypt here.
Other things to look out for when visiting this working house of worship include the incredible stained glass windows and the green copper-coated roof.
You can also find Glasgow Necropolis right by the mighty cathedral. This is worth a visit for the panoramic city views from here.
Provand's Lordship and St Mungo's Museum can also be found in this part of town. The former is Glasgow's oldest home, and at St Mungo's you can see all sorts of exhibits related to religion and art.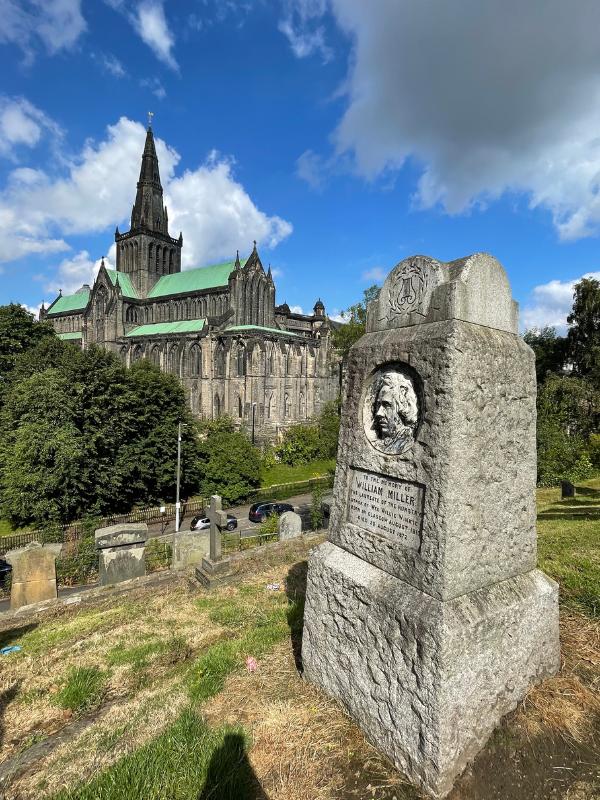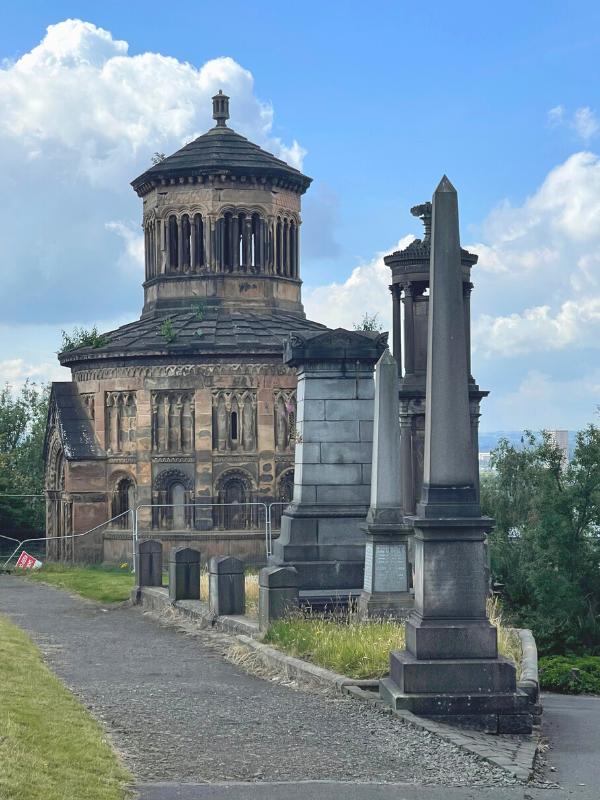 3. Gallery of Modern Art
📍111 Queen Street, Royal Exchange Square, Glasgow G1 3AH
The Duke of Wellington statue outside marks the site of Glasgow's Gallery of Modern Art (GoMA) – and there's normally a traffic cone on the top. This is due to a never-ending battle between the city's students and the police – and the latter finally succumbed and left it in place.
The Duke sits on a horse and the statue is in fact not anything to do with the museum, though it's right out front. Grand columns also mark the entrance, and the museum was once home to a successful Glaswegian tobacco merchant.
Whether or not to venture inside GoMA depends on your priorities for your one day in Glasgow and what to see. If you're into contemporary art it's not to be missed, with works by local and international artists.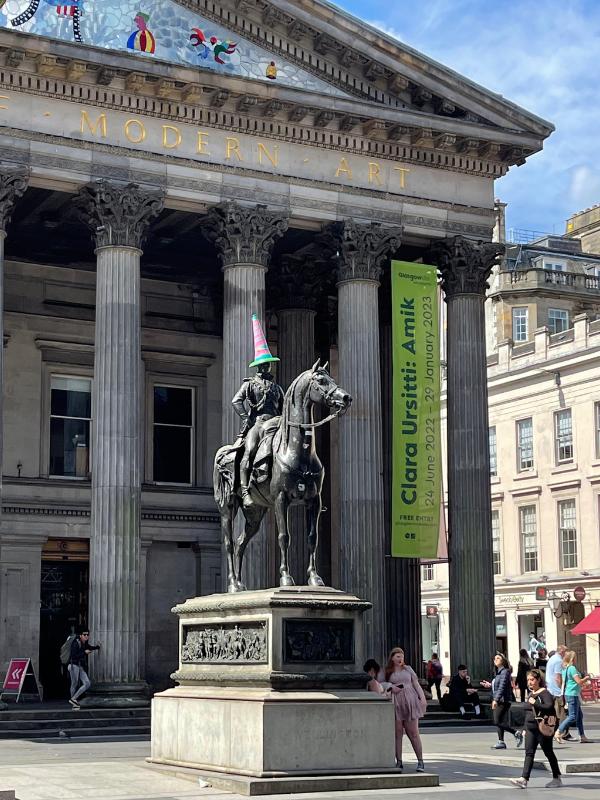 4. Merchant City
📍Albion Street, Glasgow G1 1NY
The Merchant City Glasgow neighbourhood is clustered around Merchant Square. It's so-called because of the warehouses found here during the 18th century. By the 19th century, the city's food markets took place here.
Merchant Square is the perfect place to browse after admiring the architecture. There's plenty of interesting shops, eateries and bars in this covered area, and in the surrounding streets.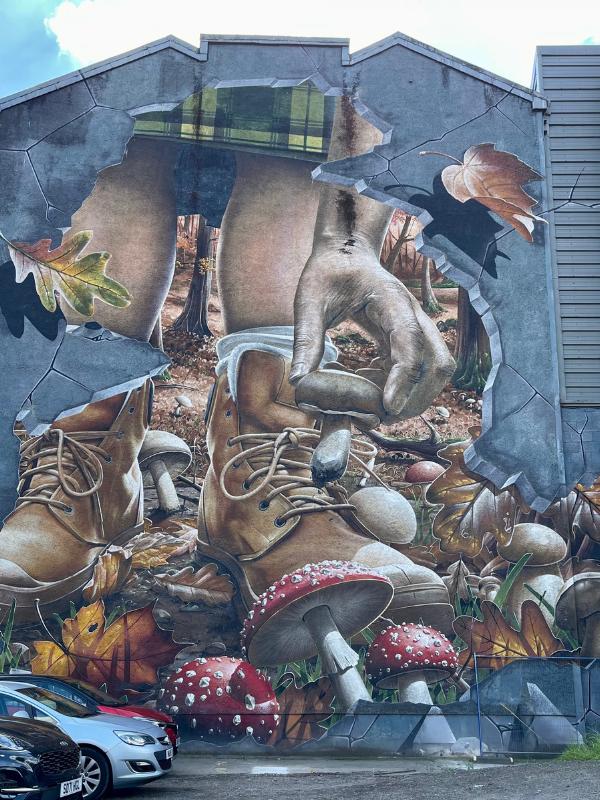 5. Glasgow Street Art
The Merchant City and Merchant Square areas are particularly rich in wall murals, but in fact, you can find street art all over Glasgow. Subjects range from the comedian Billy Connolly or St Mungo to murals featuring bubbles, dandelion clocks and balloons.
To find all the sites, you could book a Glasgow street art walking tour. It only takes an hour and a half, leaving you plenty of time for other places to visit in Glasgow in one day.
Click here to book a street art walking tour in Glasgow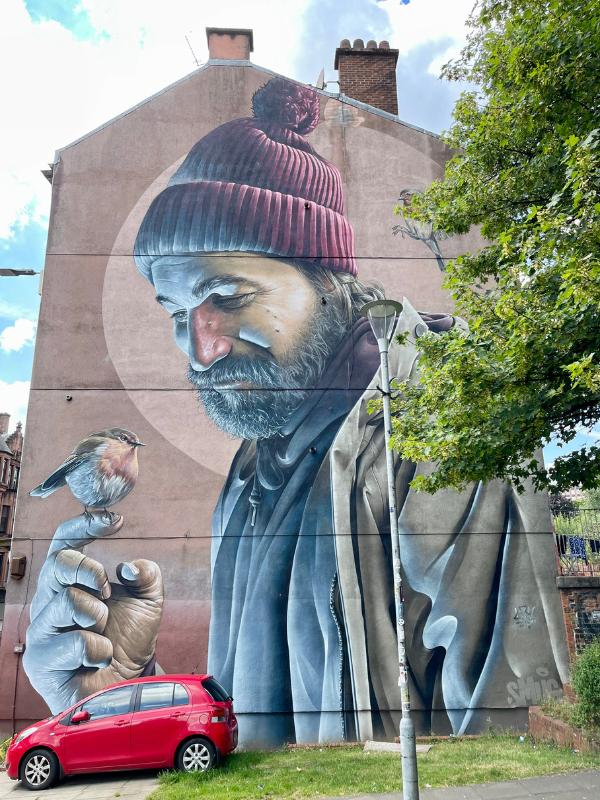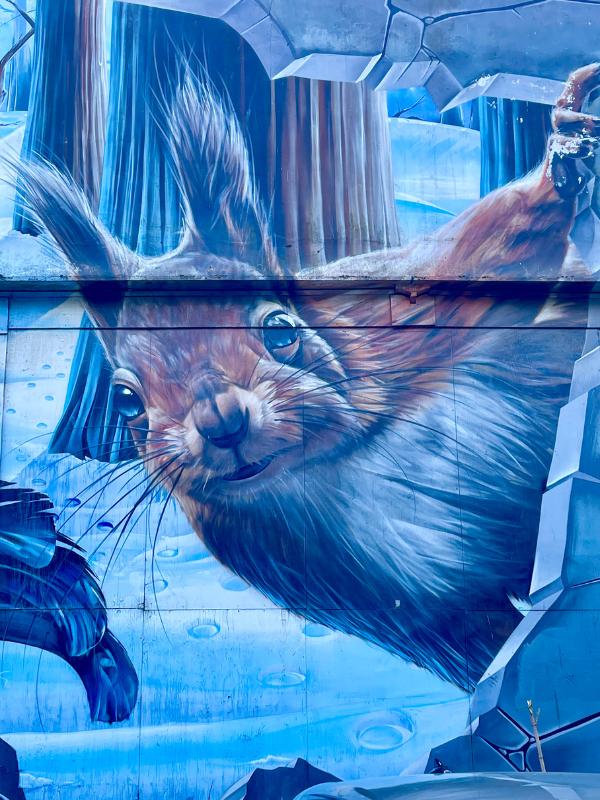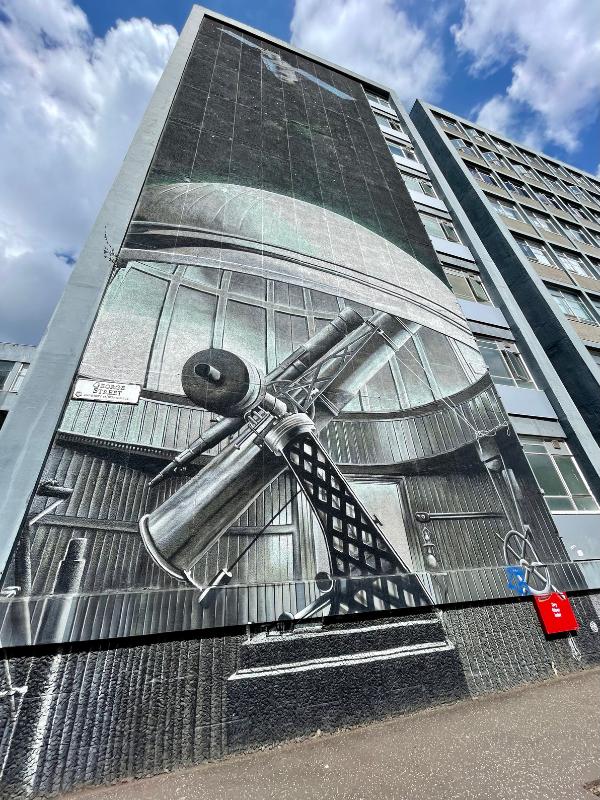 6. Glasgow Green
📍Greendyke Street, Saltmarket, Glasgow G1 5DB
A visit to Glasgow Green – north of the River Clyde – can give you a fascinating insight into past life in the city. The poles on the green were used for washing lines, and the People's Palace documents Glasgow's development through the ages.
You can find a couple of Glasgow breweries near here too, and they make a nice pitstop when you have 24 hours in Glasgow – or less. Drygate and West Breweries also serve food if it's time for lunch.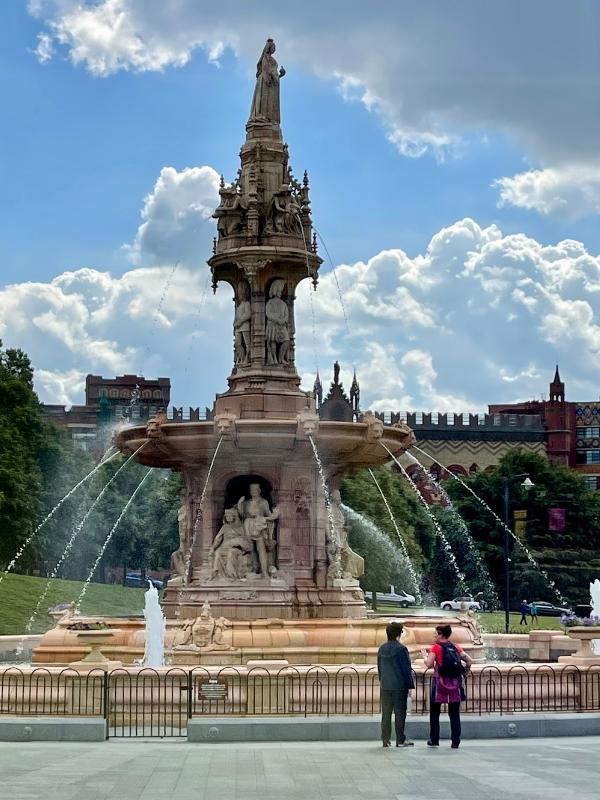 7. Riverside Museum
📍100 Pointhouse Road, Partick, Glasgow G3 8RS
A visit to a transport museum may sound dull, but Glasgow's is anything but! There are some unusual vehicles to see here, including rickshaws, prams and steam trains. Like other Glasgow museums, it's also free to visit. You can also walk along a recreated cobbled street here.
Glasgow's Victorian Tall Ship is also anchored close to the museum. You can explore inside it, and it's also free to get in. Both the ship and the Riverside Museum have cafes.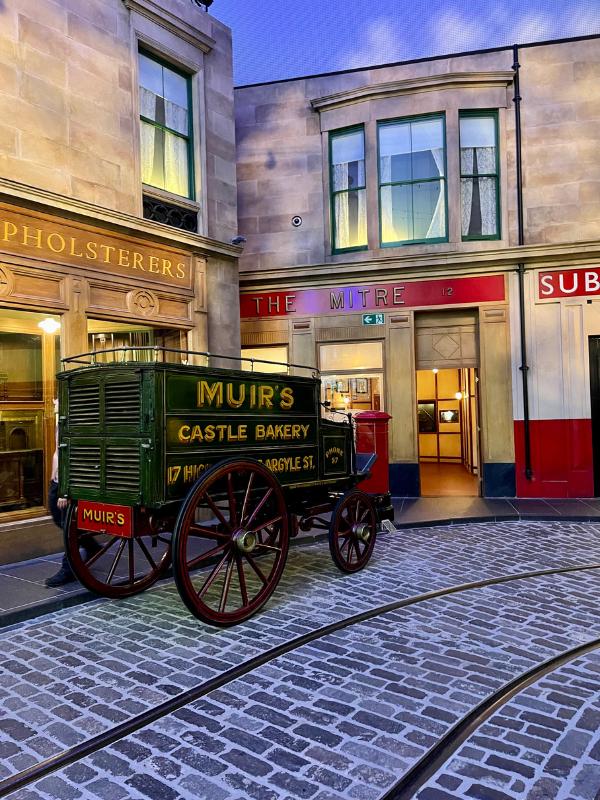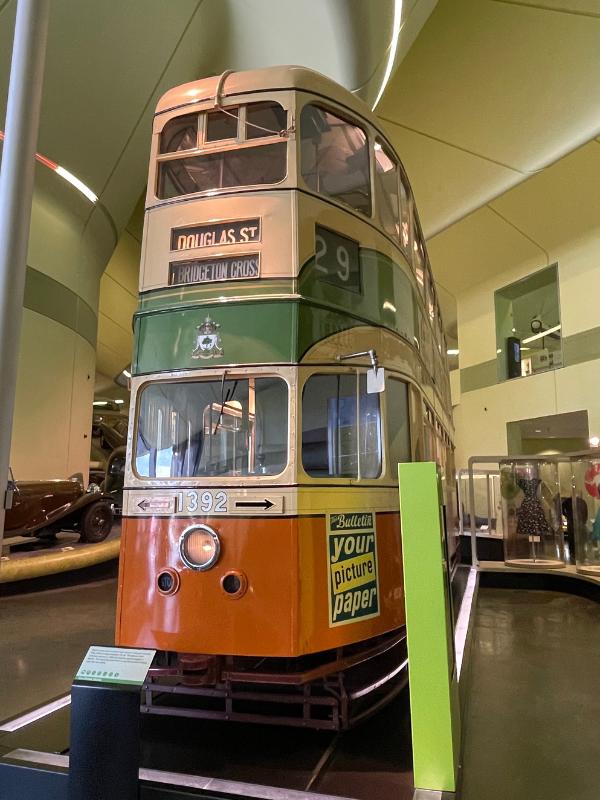 8. Glasgow Science Centre
📍50 Pacific Quay, Glasgow G51 1EA
Glasgow Science Centre is also located on the banks of the Clyde. It's a highly engaging and interactive museum for science fans of all ages. Unlike other Glasgow museums you'll need to pay to get in, but since it opened in summer 2001 it's become one of the city's top attractions.
Inside the centre you'll find an IMXA cinema, a gift shop, a planetarium, interactive displays, the Science Show Theatre and a cafe.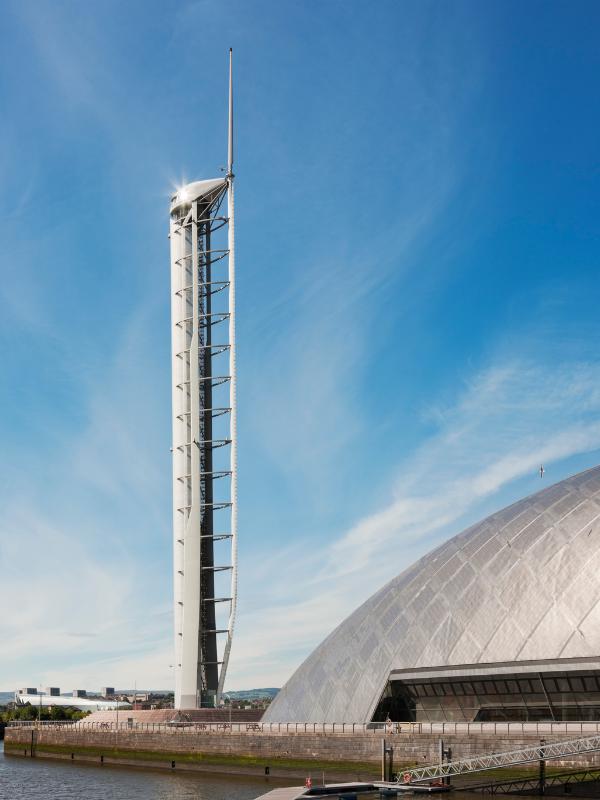 9. Kelvingrove Museum and Art Gallery (Kelvingrove Park)
📍Professors' Square, Glasgow G3 6BY
Kelvingrove Park is Glasgow's green lung, and close to the vibrant Finnieston and West End areas. The park is also home to the Kelvingrove Museum and Art Gallery, and Glasgow University borders the green space.
The building housing the museum is built in red sandstone and is incredibly striking. Inside the displays are incredibly diverse, so it's ideal if your Glasgow itinerary happens to fall on a wet weather day!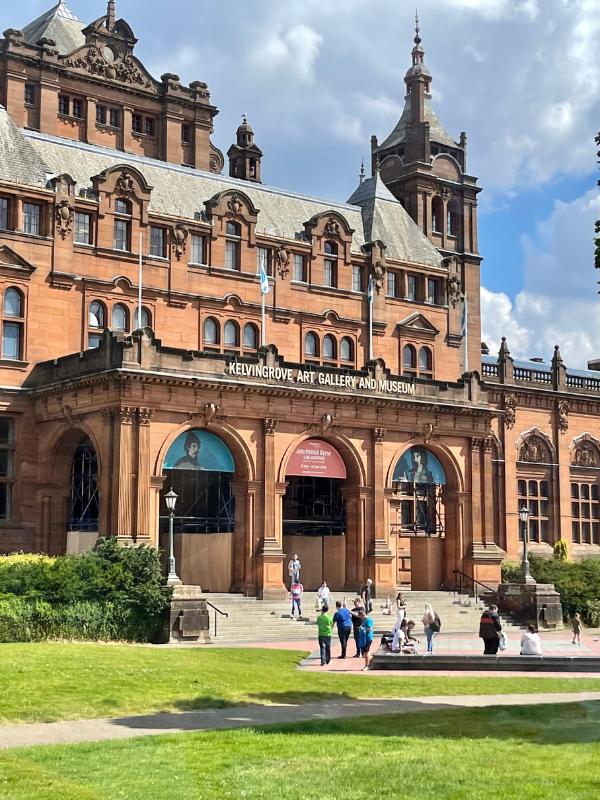 10. Glasgow Botanical Gardens
📍730 Great Western Road, Glasgow G12 0UE
Glasgow Botanical Gardens can be found in the city's West End district. As well as the outdoor areas, there's several glasshouses to see here. Themed trails to follow are provided, so it's easy to explore parts that interest you.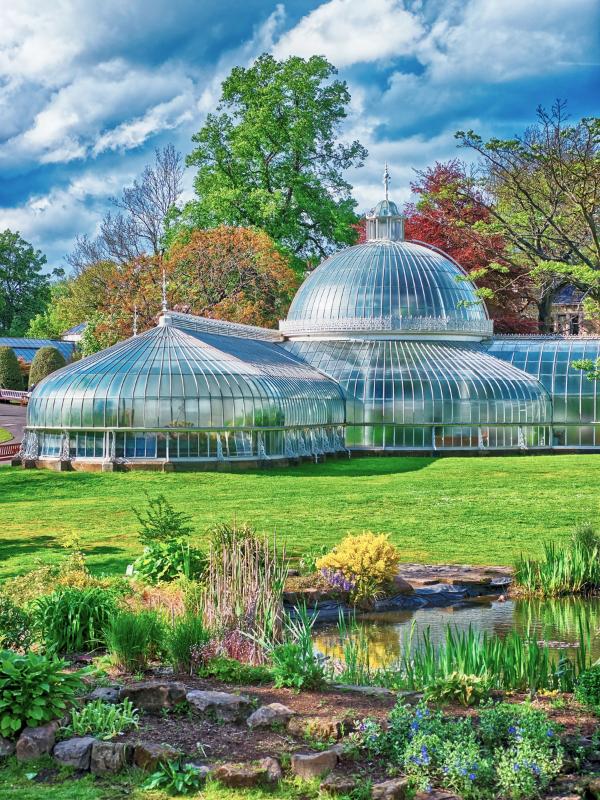 Where to eat in Glasgow when you visit
The Willow Tea Rooms
📍97 Buchanan Street, Glasgow, G1 3HF
Art Nouveau fans shouldn't miss afternoon tea or a meal at these beautiful tea rooms. Inspired by Art Nouveau the themed cafe rooms were designed by Charles Rennie Mackintosh and are filled with gorgeous furniture (the high backed chairs are stunning) and leaded glass doors and windows.
Enjoy the opportunity to purchase Mackintosh inspired jewellery and gifts in the on-site shop too.
Open every day from 9 am – 6 pm (10 am – 5.50 pm on Sundays) the tearooms are popular with locals and visitors alike so make sure to book ahead to avoid disappointment.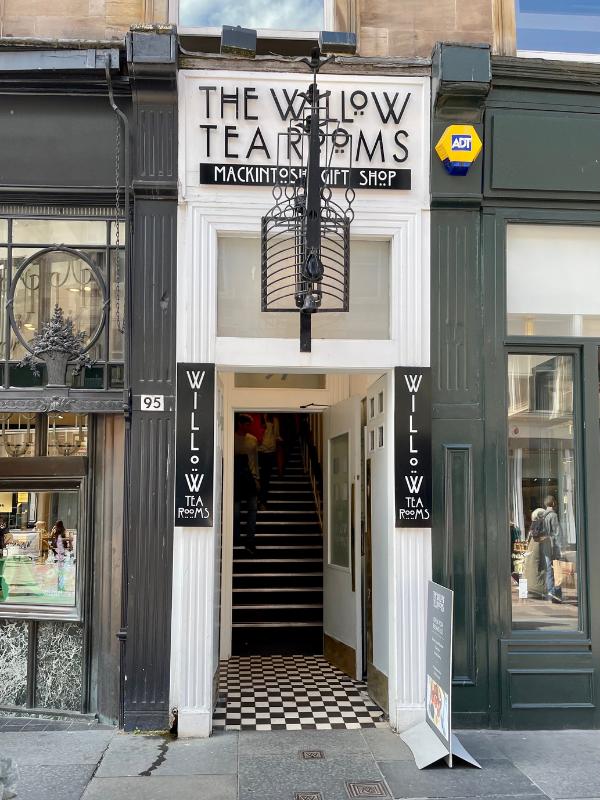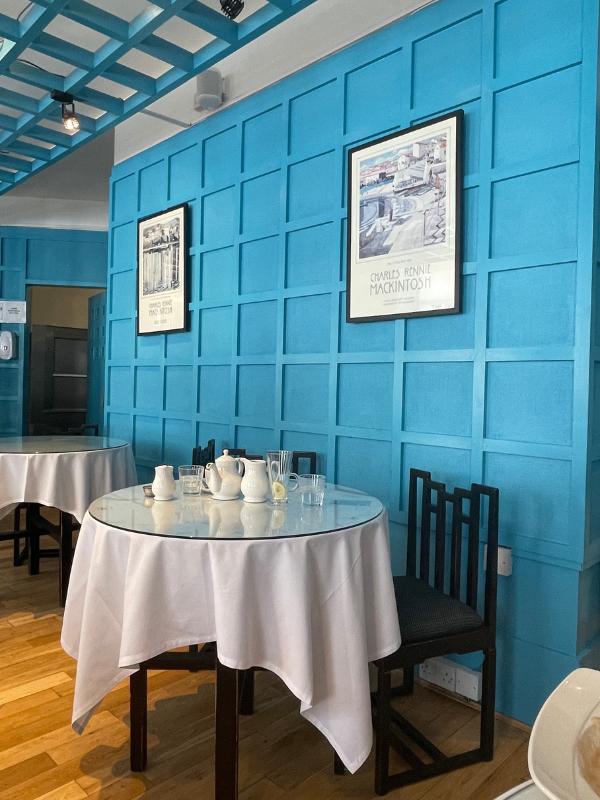 What will your Glasgow 1 day itinerary include?
As you can see, Glasgow city centre, the banks of the Clyde and the districts close to Kelvingrove Park offer plenty of things to see in Glasgow in one day!
It's unlikely you'll be able to cover all ten of the attractions listed above, so the key to creating your perfect Glasgow city tour itinerary is to focus on what interests you most – (take the hop on hop off bus and stop at the places you most want to see) – whether that's museums, gardens, street art, modern art or historic sites.
Whatever you get up to, Glasgow is a city not to be missed!
Grittier and more down-to-earth than Edinburgh, Glasgow is a fascinating, edgy and highly cultural city that's incredibly popular with Brits on weekend breaks, so do make sure you book your Glasgow accommodation as far in advance as you can.
Plan your visit to Scotland