Discover the best ways to get from Edinburgh to Isle of Skye including public transport, driving and tour options.
The Isle of Skye is both the northernmost and largest of all the major islands in the Inner Hebrides and a must-visit destination on any Scotland tours.
Blessed with a rugged, hilly landscape, a smattering of quaint fishing villages and the ruins of many a medieval castle, a Skye tour road trip is the gift that keeps on giving.
With outstanding natural formations like Kilt Rock, the old man of Storr, Trotternish Peninsula, the fairy glen and the mystical fairy pools, you'll be a wee bit blown away by all the outstanding natural beauty of the island.
It's a world away from the big mainland cities of Edinburgh, Glasgow and Aberdeen, and with towns like Portree – with its quaint harbourside boutiques, cafes and bars – as well as Dunvegan, Uig and Broadford, you'll get a fascinating insight into the local way of life.
When it comes to planning your Scotland itinerary, you won't need to go to the lengths that Bonnie Prince Charlie did to get there!
Instead, we'll outline full details and travel tips on how to get there and what to do when you arrive on the Isle of Skye. So you can really make the most of your day trips, three-day tours or longer trip there.

Considerations when choosing the best way to get from Edinburgh to Isle of Skye
If you want to visit the Isle of Skye or any part of Northern Scotland on a multi-day tour for that matter, there are plenty of things you need to consider.
When to visit the Isle of Skye
Firstly, you'll need to decide when you will visit the island. Whilst the isle of Skye is accessible all year round, many of its main attractions like the fairy pools, fairy glen and the Old Man of Torr might not be so easy to get to in the winter if affected by snow or heavy rain. Roads, especially some back roads, might be a bit more difficult to drive as well.
Therefore it's probably best to time your trip between the months of May to September. Although for the best weather July and August are undoubtedly the best times to go.
However, this is peak season and coincides with the school holidays. So prices for accommodation on Skye, as well as ticket prices for day trips, or a guided tour, are likely to be much more expensive, not to mention higher in demand.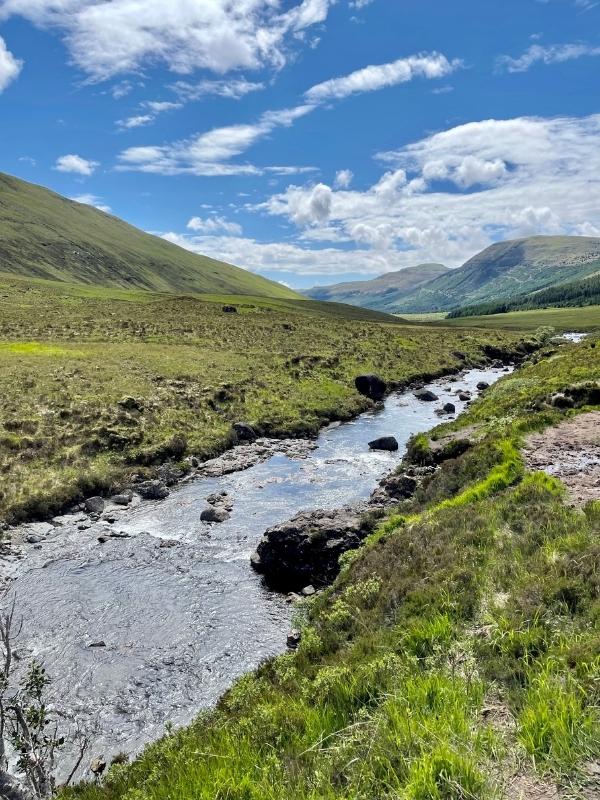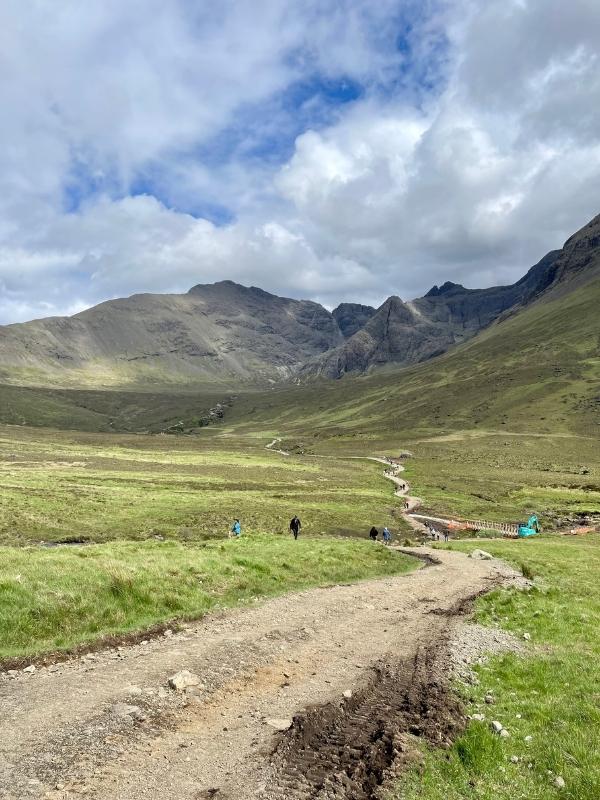 What transportation methods do you prefer?
Once you have decided when you will go to the Isle of Skye, the next thing to work out is how you will get there.
Will you drive there all the way from Edinburgh? Or would you prefer to take a combination of train or ferry and bus via another destination like Inverness or Fort William?
If you are intending to drive to Skye, will you be hiring a car?
What do you want to see along the route?
Are there other landmarks in Scotland would you like to see en route from Edinburgh?
This is an important factor because if you want to stop off at Loch Lomond, visit Urquhart Castle or Eilean Donan castle, head to Fort Augustus or the Caledonian Canal, or even go past Loch Ness, this will determine how long your journey takes (you will need to factor in at least an hour at some of them) and what driving route you will have to follow.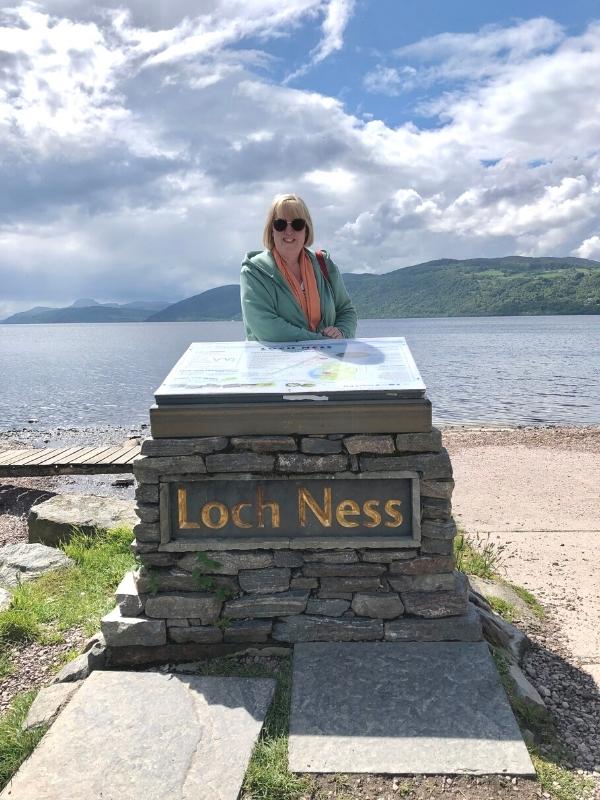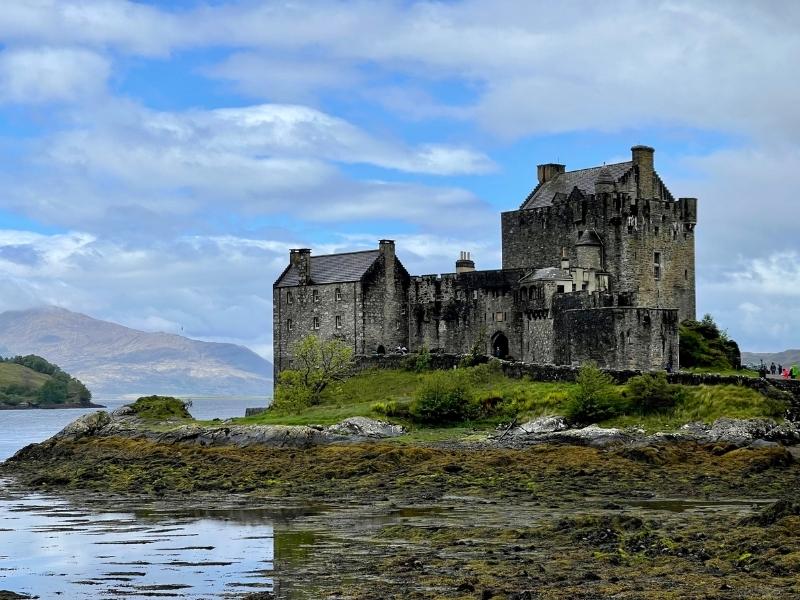 How long do you want to spend on Skye?
Lastly, you will also have to consider how many nights you want to stay on Skye and whether you will be doing a guided tour or day trips whilst you are there. This will determine the overall length of your tour journey to the island.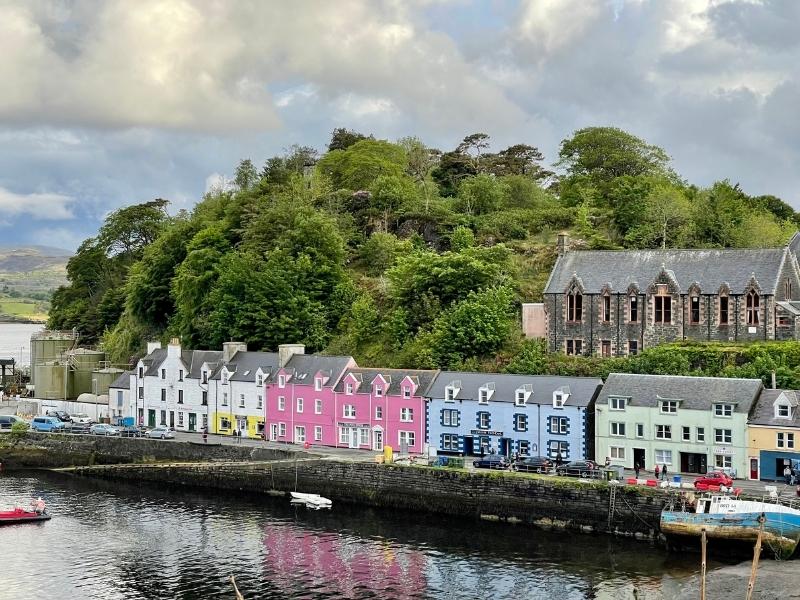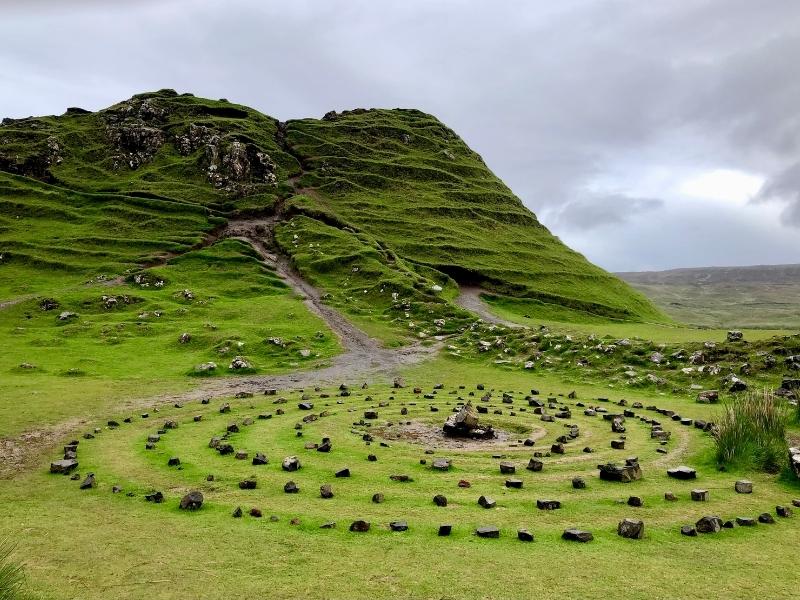 Getting to the Island of Skye from Edinburgh – the options
Road trip
During your time in Scotland, if you want to head to the Isle of Skye from Edinburgh, driving is by far the easiest way to do that.
The beauty of a trip like this is that you don't need the services of a tour guide. Instead, if you do your research you can create a highly personalised itinerary based on the places that interest you the most.
For instance, if you want to see fantastic scenery, a drive through Loch Lomond and the Trossachs National Park, as well as Glen Coe, is a must. You can do this from Edinburgh by taking the A82.
Harry Potter fans might also choose this route for the chance to see the Hogwarts Express Jacobite steam train, that runs between Fort William and Mallaig in the series of Harry Potter films.
Alternatively, if you wanted to head to visit Loch Ness and Urquhart Castle, you could do so by travelling along the A9. For both routes, you will need to join the A87 to the Isle of Skye.
Although it can be a bit daunting travelling on foreign roads if you are an international driver don't worry, most of these routes will take you along motorways or dual carriageway, which makes driving a breeze – especially if you have a good GPS or satellite navigation system.
Whichever route you decide to take on your journey from Edinburgh to the Isle of Skye, set aside at least one full day for doing this, as you will want to stop off several times to take in the wonderful scenery in this part of Scotland.
Read – Our complete Scotland road trip itinerary (including Skye)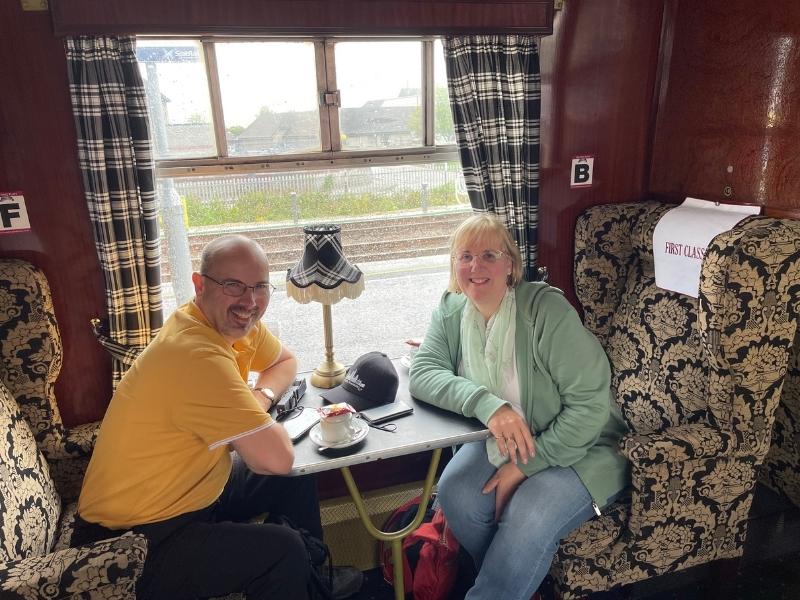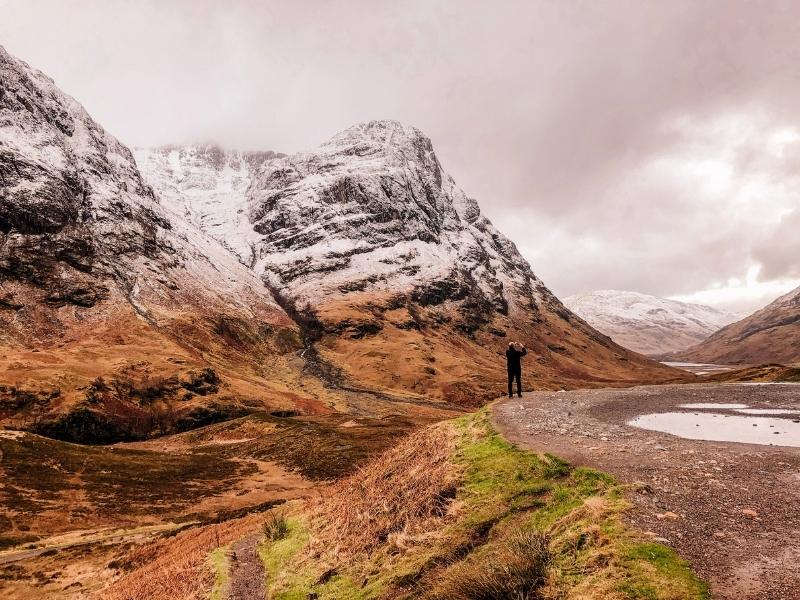 By train + ferry (Mallaig to Armadale)
For those who want to take the ferry to the Isle of Skye, your best option is to take the train from Edinburgh (Waverley) to Mallaig in the Highlands of Scotland, and then get a ferry from there to Armadale.
Located on the west coast, it typically takes between 7 to 9 hours to complete this journey. But as the first train leaves Edinburgh at 7.15 am, and the last ferry departs Armadale at 6.10 pm it is doable in a day.
However, should you prefer, you could always stay overnight at Fort William before catching the ferry ride the next day – which takes between 45 minutes and one hour.
The ferry ride is a wonderful experience, and well worth doing on account of the fantastic scenery you will be able to take in. If you can strike up a conversation on the way with a friendly local all the better, as they will act as a fantastic tour guide.
Please note, that public transport is limited at Armadale, so it is advisable to pre-book a taxi for when you get there. There are buses that run but it can be tricky to get exact information – often these seem to run in the summer months and coincide with the ferry services.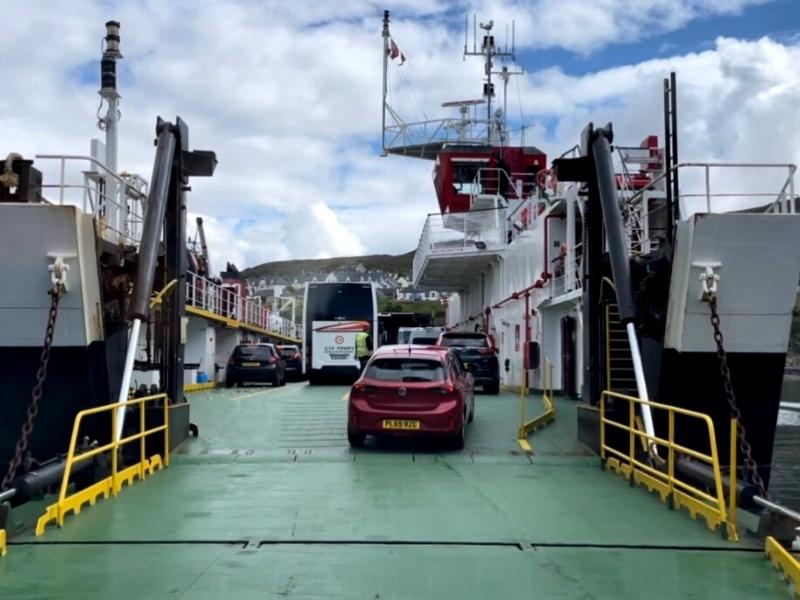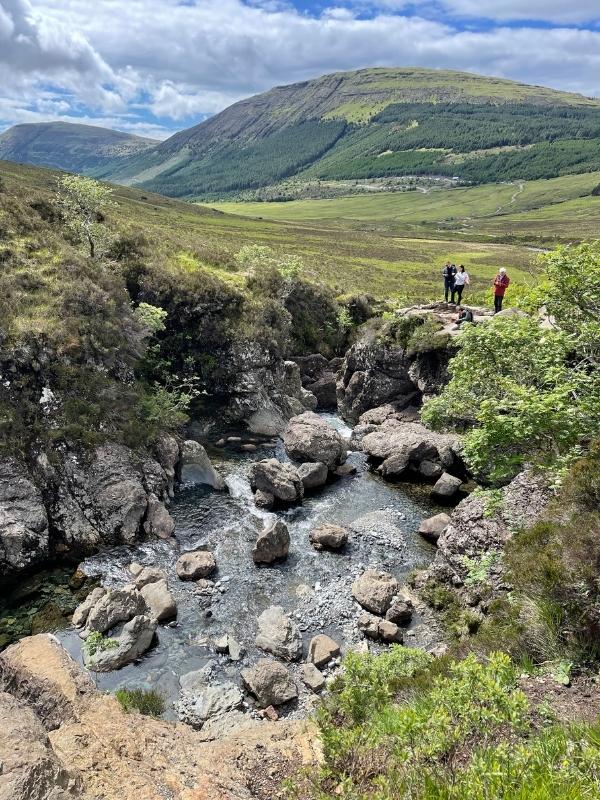 By train + tour or public transport (Kyle of Lochalsh + Skye Bridge option)
An alternate way to get to the Isle of Skye from Edinburgh is to take the train to Inverness. This will take the best part of 4 hours.
From there you can then take a train to the Kyle of Lochalsh which takes approximately 2 hours 40 minutes. The Kyle Railway Line is a wonderfully scenic train journey (one of our favourite train trips in the UK)
Alternatively catch a bus from Inverness to Kyle of Lochalsh, which is about a 2-hour and 15-minute trip, before taking another bus over the Skye Bridge to Portree, or other parts of the island.
This is a good option for visitors to Scotland who do not want to hire a car. There are opportunities for day trips from Inverness too via bus or tour for those without their own vehicle.
Once on Skye, there is public transport available that will take you around the island or alternatively book a tour from your accommodation.
For bus timetables consult Citylink which operates between the Kyle of Lochalsh and destinations on Skye.
Day Tour options from Inverness:
Tour options from locations on the Isle of Skye
Read – Guide to the best Isle of Skye Tours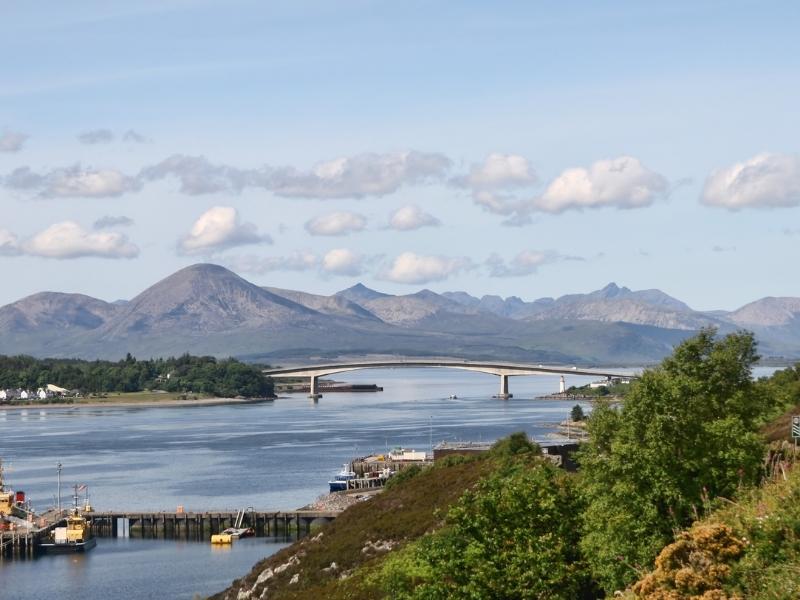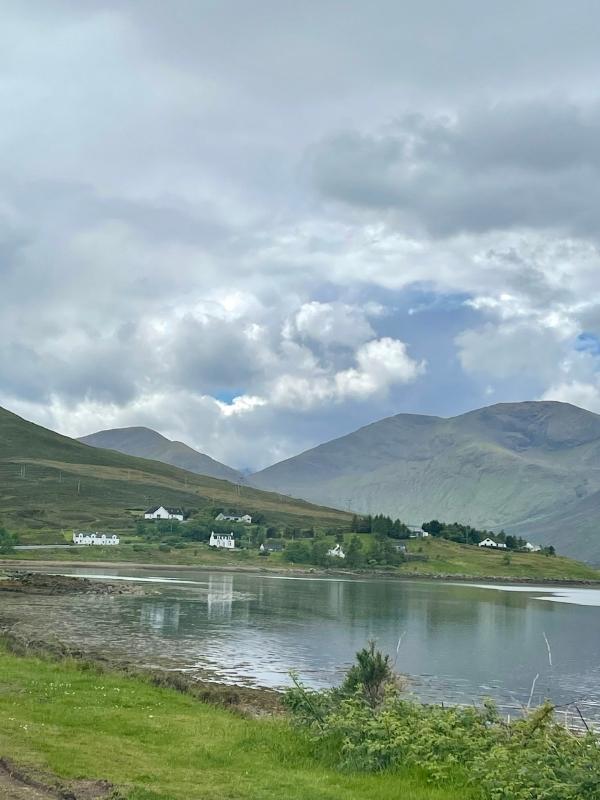 By tour
If you prefer to take a tour to Skye from Edinburgh there are a number of excellent options.
This is the best option if you would prefer everything organised for you. These tours also incorporate other highlights of Scotland in their itineraries such as Loch Ness and Loch Lomond.
The Rabbies small group tour option below is an excellent way to incorporate more of Scotland's beautiful islands into your itinerary.
Best 3 – 5 day tours to the Isle of Skye from Edinburgh
Answers to frequently asked questions about travelling to Skye from Edinburgh
Q. Is there a train from the Isle of Skye to Edinburgh?
A. Unfortunately, a direct train does not run from a departure point of Edinburgh to Isle of Skye.
That said, you can get direct trains from Edinburgh to Inverness. From there you can then take the scenic 82-mile Kyle Line to the Kyle of Lochalsh – via Glen Carron and Plockton. Once there you will need to hire a taxi to take you over the Skye Bridge to your destination on the island, catch a bus or pick up a day tour.
Q. Can you fly from the Isle of Skye to Edinburgh?
A. Although the isle has a tiny airfield next to the small town of Ashaig, (which you might recognise from the opening scene of the 1980 film Flash Gordon) it does not operate commercial flights. Instead, it occasionally is used to transport patients to hospitals in other parts of Scotland like Glasgow or Inverness, by the Scottish Ambulance Service and NHS Highland.
The closest airports near the Isle of Skye, from which you can fly from Edinburgh airport, are Stornoway on the Isle of Lewis and Benbecula in the Outer Hebrides. Both of which offer car hire and other transport links from either the airport or main town.
Q. Can you do a day tour to the Isle of Skye from Edinburgh?
A. It is not viable to do a day tour from either Glasgow or Edinburgh to the Island of Skye unless you have a very early start!

Once you leave Edinburgh, driving non-stop to the Isle of Skye will take a journey time of approximately 5 hours one way. So a return trip of 10 hours would be a very long journey, and not give you very much time to see any of the island's main attractions. Namely Dunvegan Castle, Cuillin Mountains, Trotternish Peninsula, Kilt Rock or the Old Man of Storr, on a Skye tour.
Besides, unless you are pressed for time, you'll be able to see the likes of Dunvegan Castle, the Grampian Mountains, Hogwarts Express, Ben Nevis, Urquhart castle, Glen Shiel, Loch Ness and the Scottish Highlands, depending on which way you drive there.
Q. How long is the train ride from Edinburgh to Isle of Skye?
A. There is no direct train from Edinburgh to Isle of Skye.
However, you can take a train from Edinburgh to Inverness in the Scottish Highlands which takes about four hours.
From there you can either hire a car and drive, or take a bus, through Northern Scotland and over the Skye Bridge to the island. This journey takes a further three to four hours. Depending on what time you arrive, you might need to stay in Inverness overnight.
Q. Is Isle of Skye worth visiting?
A. The Isle of Skye is well worth heading to when you visit Scotland and you will have an amazing time if you do go there, especially in the summer months.
Not only will you see dramatic landscapes like the Trotternish Peninsula, as well as rolling hills and stunning views, but you will also get to visit bucket list items like Dunvegan Castle, Armadale Castle, the Old Man of Storr, Elgol Beach, Kilt Rock and the old town of Portree on your Skye tour.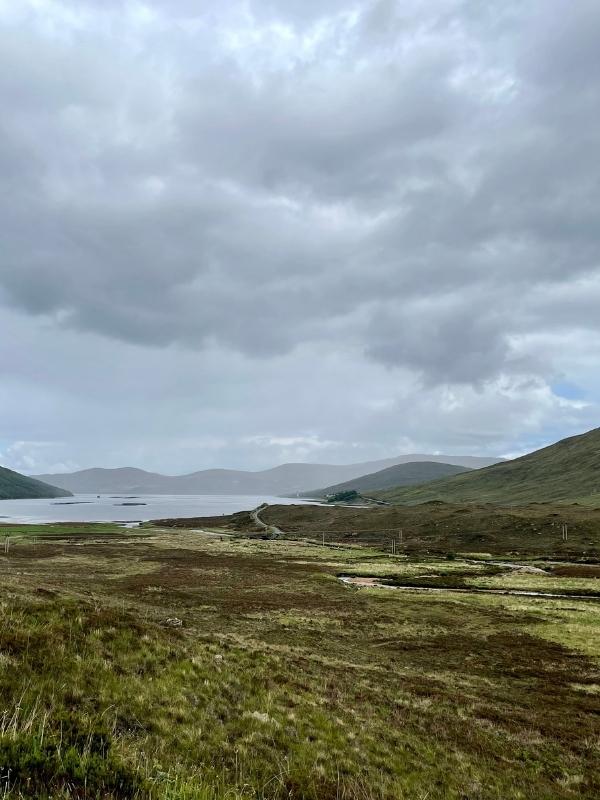 Q. How do you get to Isle of Skye Scotland?
A. The Isle of Skye is one of the most popular destinations to go to on Scotland tours. The easiest way to get there from Edinburgh is to drive.
You can hire a car from the main city centre near Edinburgh Castle. Depending on which route you decide to take you could also see Loch Lomond, Trossachs National Park, Glen Shiel, Ben Nevis or the Scottish Highlands along the way. You can even search for the Loch Ness Monster too!
Alternatively, if you are unable to do a driving route, you can get a train to Inverness from Edinburgh and get a bus from near the car park at the station there.

Unfortunately, there are no direct trains or direct buses to the Isle of Skye from Edinburgh.
How will you visit the Isle of Skye from Edinburgh
For every visitor to Scotland, a trip to the Isle of Skye is an absolute must. Blessed with stark, rugged landscapes and a rich history that goes back centuries, the island is as captivating as it is beautiful.
Quite simply, you'd be hard-pressed to name another place that is like it in the world. (Go on, we'll wait!)
One thing is for sure though, whether it is Kilt Rock, the Old Man of Storr, the Trotternish Peninsula or Elgol Beach you visit, Skye is an island that will forever own a little piece of your heart.
Much like the rest of Scotland really.
More to read about Skye (& Scotland)