Our Fort William Travel Guide includes recommended places to visit and things to do, accommodation options, tips and more for this Scottish Highland city. Everything you need to plan your visit and essential reading for any visitor to Fort William!
Plan your visit to Fort William
The town of Fort William is located in the Scottish Highlands at the foot of Ben Nevis (the UK's highest peak) and on the eastern shore of Loch Linnhe. For those who enjoy the outdoors, Fort William is a mecca for hillwalking, climbing, and cycling.
Fort William is also the starting point of one of the world's most famous train journeys – the Jacobite Express (or the Harry Potter train for wizarding fans!)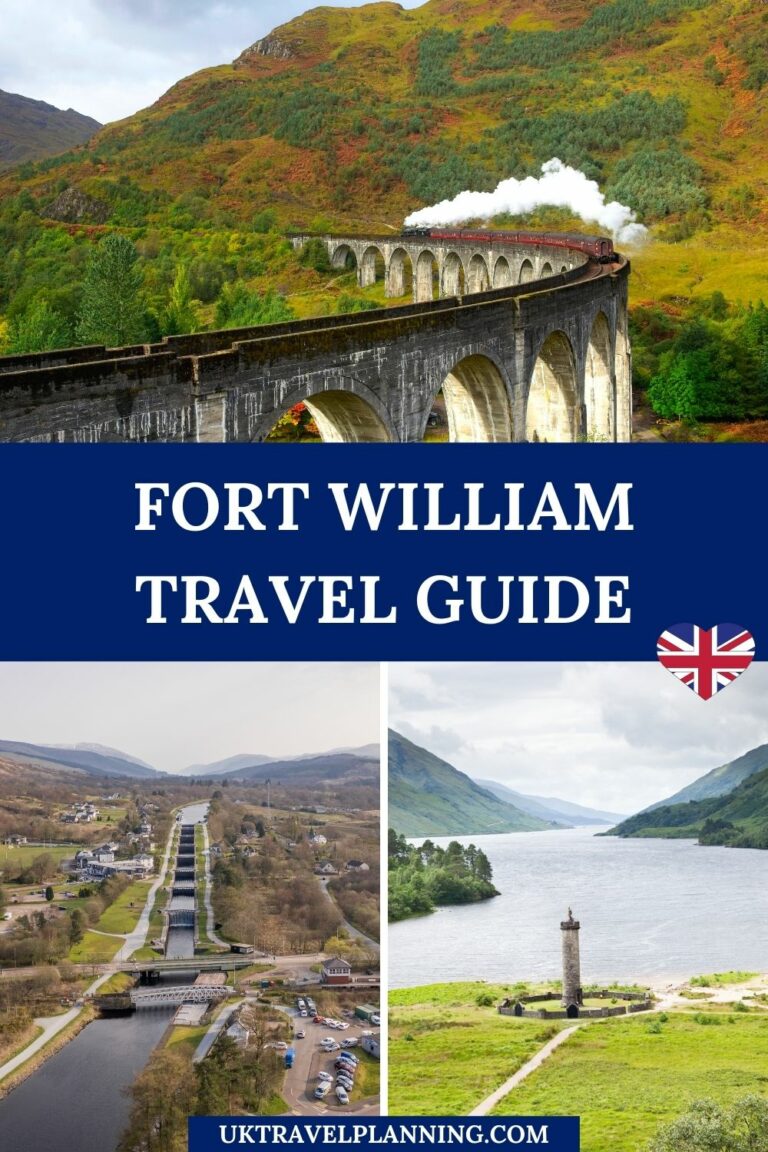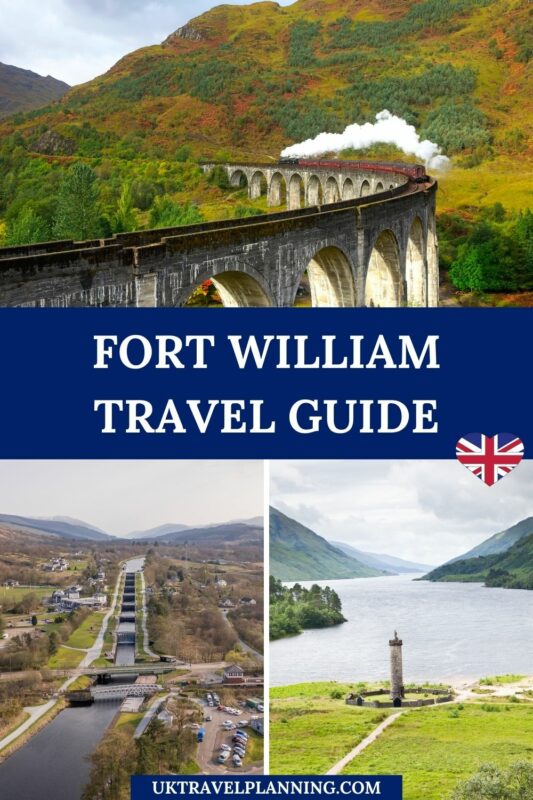 Fort William travel guide – Visiting Fort William FAQ's
When is the best time of year to visit Fort William?
Fort William is a popular destination at any time of year but there are advantages and disadvantages to each season.
In summer the hours of daylight are longer and the weather should be warmer and drier. This is Scotland however so prepare for all weather conditions.
In winter expect snow and freezing conditions. Hours of daylight are shorter which minimises the time available to explore. But it is also incredibly beautiful in winter too (and of course no risk of the dreaded midges!)
Read more about the best time to visit the UK in my detailed guide.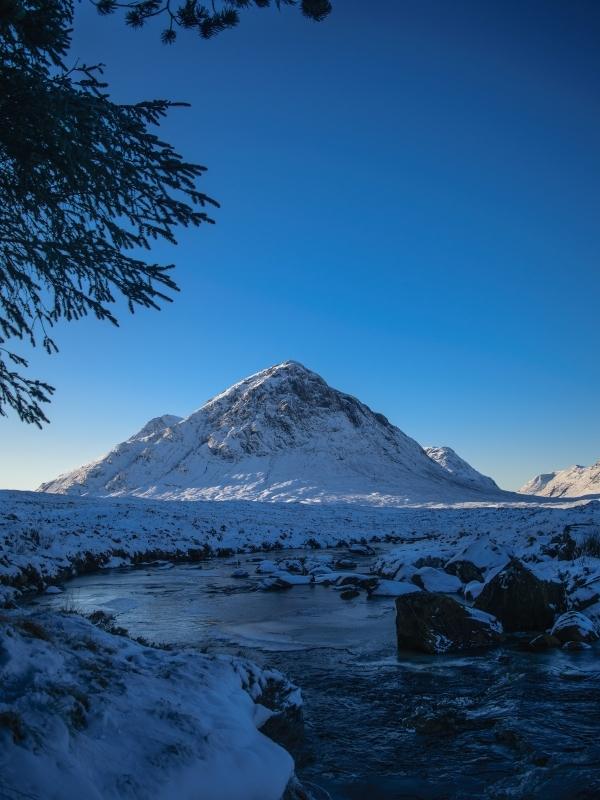 What is the best way to explore Fort William?
The town is compact and is easy to get around on foot. If you want to see more of the area there are a number of ways to get around.
If you are arriving at Fort William by train it is possible to pick up a hire car (arrange to pick up the car from the train station)
Fort William is located on the scenic West Highland line. The section of the line between Fort William and Mallaig runs for 41 miles and is one of the most beautiful journeys in the world to take by train. For an extra special trip on this section of line why not book tickets on the Jacobite. Crossing the Glenfinnan Viaduct may seem very familiar as this is the route of the Hogwarts Express!
There are local buses available to travel around the area – click here for more information about Shiel bus services.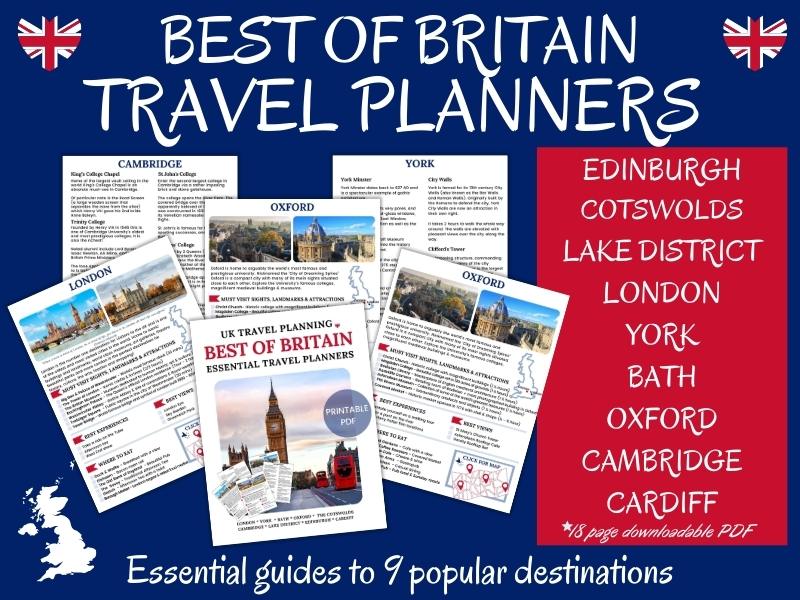 What is the best way to travel to Fort William from London?
🚆 By train
Travel on the scenic West Highland line to Fort William from Glasgow. The journey takes less than 4 hours and traverses some of Scotland's most beautiful scenery including Loch Lomond and Rannoch Moor.
The Caledonian Sleeper train is a fantastic way to travel to Fort William. You can find more about this service including tips to make the most of your journey in our article – guide to the Caledonian Sleeper or podcast episode.
Tip – If this is your first time catching a train in the UK read our complete guide to UK train travel which includes all the information you need to know to make travelling around the UK by rail a relaxing and stress-free experience.
🚗 By car (road trip option)
Travel to Fort William from Glasgow via the A82 but do plan to stop off along the way. The journey will take you through Glen Coe with its stunning mountainous scenery.
Distance & drive time
Edinburgh to Fort William – 212 kms (3 hours 30 mins)
Glasgow to Fort William – 170 kms (2 hours 50 mins)
Inverness to Fort William – 145 kms (2 hours 17 mins)
🛥 Boat cruise
Explore the beauty of Loch Linnhe on a boat tour. This is the perfect way to learn about the local history, culture, and wildlife of Loch Linnhe.
🌂 On a guided tour
If you prefer to explore the area on a guided tour there are a number available from Scotland's major cities.
Tours from Edinburgh
Tours from Glasgow
Tours from Inverness
Attractions and things to do in Fort William and surrounds
The Jacobite
The famous train departs from Fort William and travels 41 miles to Mallaig over the Glenfinnan Viaduct and some of the most spectacular Highland scenery. The train is very popular so do book asap if it is a trip you would like to include in your Scotland itinerary.
Read more – How to travel on the Harry Potter train in Scotland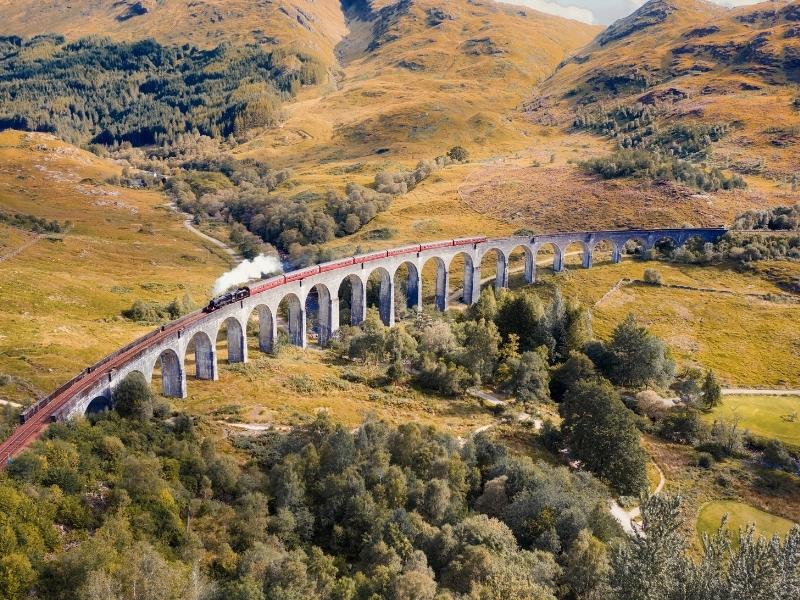 Glenfinnan Viaduct
The magnificent 21 arch viaduct with the Jacobite steam train crossing on its way to Mallaig or back to Fort William is an iconic photo of this beautiful feat of engineering design.
The viaduct was built between 1897 and 1901 by Robert McAlpine and Sons and was a vital link from the fishing port of Mallaig to Glasgow. Today experience this scenic West Highland route on ScotRail services departing Glasgow or for an extra special treat take the Jacobite steam train in the summer months.
Glenfinnan Monument
The monument is located at the head of Loch Shiel on the spot where Bonnie Prince Charlie raised his standard in 1745 and the Jacobite uprising commenced. There is a visitor centre (have change ready for the car park) where you can learn more about the history.
Take a stroll to the monument for beautiful views over the loch.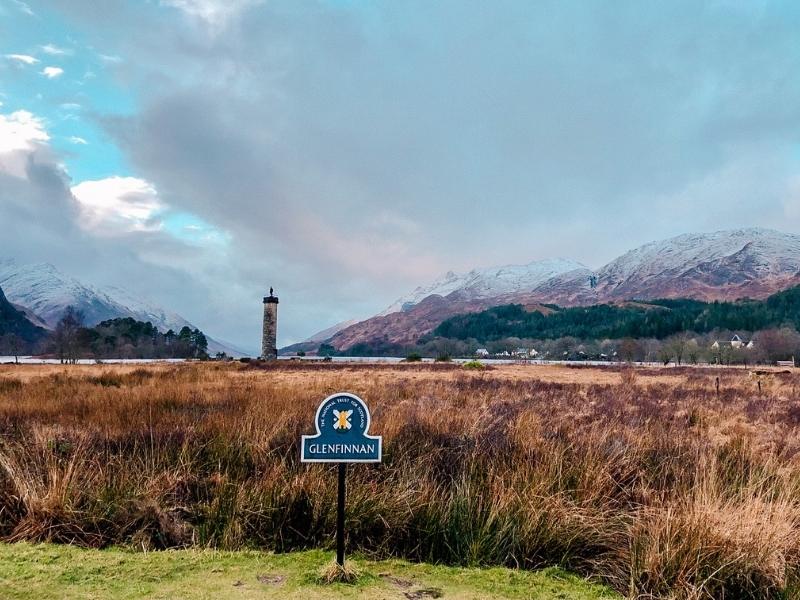 Neptune's Staircase
Located just north of Loch Linnhe Neptune's Staircase is a series of 8 locks on the Caledonian Canal. The locks raise the canal by 29 meters and were built by Thomas Telford between 1803 and 1822.
Read – Ultimate Guide to things to do in Fort William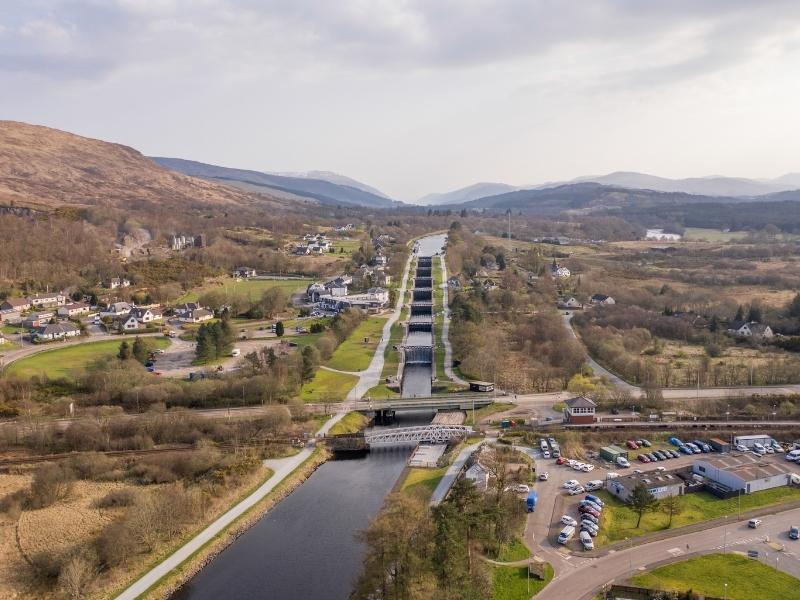 Travel Guides
Accommodation in Fort William
There are a variety of accommodation options in Fort William to suit every budget. These are my choices of some of the best hotels, lodges and B&Bs based on location and customer reviews.
Fort William Accommodation Quick Picks
➡️ More accommodation options near Fort William
More special stays – Accommodation Guide for Scotland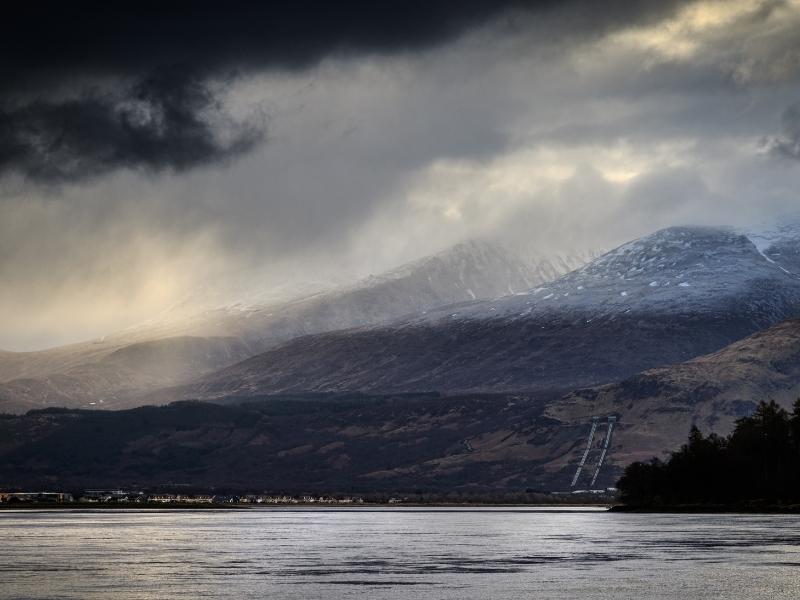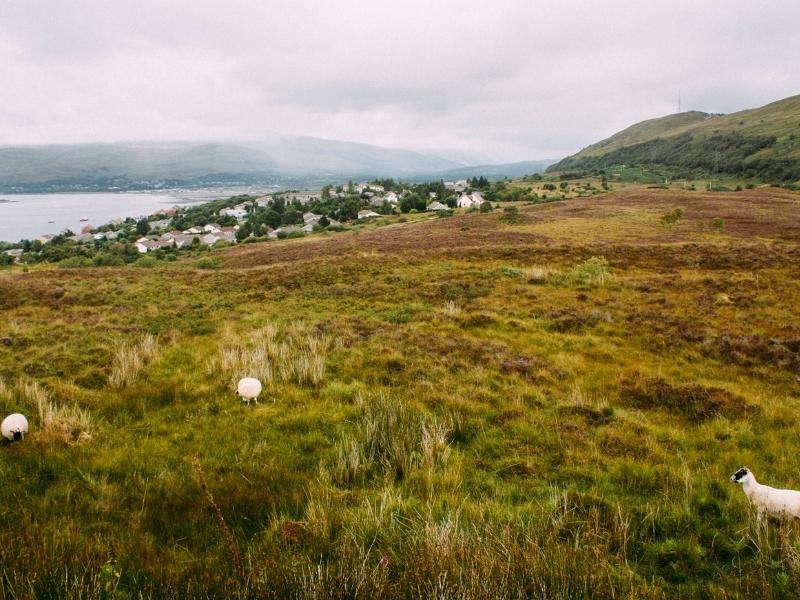 Fort William Travel Guide – Best tours and day trips
4-hour tour of the main attractions of Fort William including Neptune's Staircase and Inverlochy castle.
This 4-hour tour includes the Glenfinnan Viaduct and visitor centre, Neptune's Staircase and the Caledonian Canal.
Enjoy this 6-hour tour which includes a scenic drive along beautiful Glen Nevis, mountain gondola to the slopes of Aonach Mor and lunch at the Snowgoose Restaurant.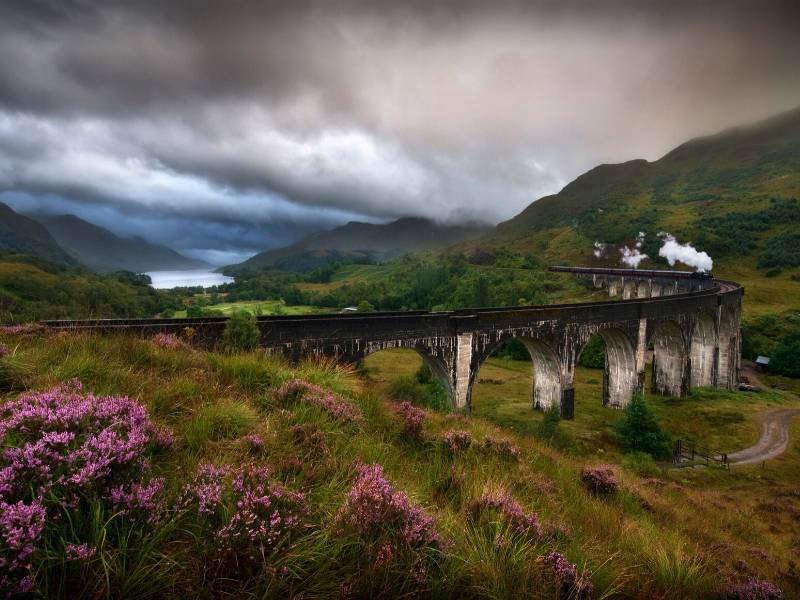 Where to eat – Fort William
Our recommendations from a local for the best places to eat in Fort William include
⭐️ Garrison West – 6 Cameron Square, FW, PH33 6AJ
⭐️ Crannog Seafood Restaurant – Town Centre Pier PH33 6DB
⭐️ Inverlochy Castle Hotel Restaurant
⭐️ Lime Tree – Achintore Road PH33 6RQ
⭐️ Glen Nevis Restaurant and Bar – PH33 6SX
⭐️ Black Isle Bar Fort William – craft beers, organic whisky, pizzas and salads ++
⭐️ Nevis Bakery – fabulous sandwiches
🛍🎁 Local tip – Looking for souvenirs from your visit to Fort William? Pop into the Granite House in Fort William – they have a wide selection of fantastic souvenirs for sale!
Enjoy your visit to Fort William
This guide will have provided inspiration plus practical information to help plan your visit to Fort William. You will find more inspiration and ideas to help plan your travels around Scotland in these travel guides:
Find more inspiration for your travels in my Scotland Travel Guide which includes information about what to see, where to stay, how to get around, travel tips, recommended reading and more to make the most of your trip.