A visitor to the UK simply won't be able to get a complete picture of what makes Britain so special without spending at least a little time exploring Wales.
That rugged and wild country on Britain's southwestern side, Wales is known for its dramatic landscape, mountainous national parks, sandy beaches, rolling hills and gorgeous coastlines.
In addition to its geographical blessings, Wales has a remarkably unique history, language and culture that has fascinated tourists for generations. You also won't find friendlier and more hospitable people than the Welsh — they'll welcome you to their country with open arms and a quick smile.
If you fancy the great outdoors, you won't do much better than Wales. There are many national parks with miles of hiking and walking trails that are suitable for any skill level or ability. Whether you enjoy climbing a craggy mountain, padding across the gleaming sand or skipping over the cliff tops, there is a trek for you in Wales.
There are also an abundance of charming villages and towns that look as though they've come to life right from the pages of a storybook. Think stone cottages nestled near winding rivers, surrounded by the green rolling countryside. You could lose yourself wandering from village to village, taking in all of the beauty and culture.
For history lovers, Wales has 641 castles — more castles per square mile than any other country in Europe. If city life is more your speed, then take a trip to Cardiff. It has a castle too and an innovative art scene, world-class dining and a boisterous nightlife. You can even stay in a castle in Wales if that is on your bucket list!
With so many things to see in Wales it can be overwhelming planning an itinerary.
To help you to plan and remove the overwhelm we have chosen the very best Welsh sights, attractions, and places in this guide to the top 10 things to see and do when you visit Wales.
Looking for a place to stay in North Wales? Check out our North Wales location and accommodation guide which has special stays in North Wales for all budgets including hotels, B&Bs, holiday homes and more.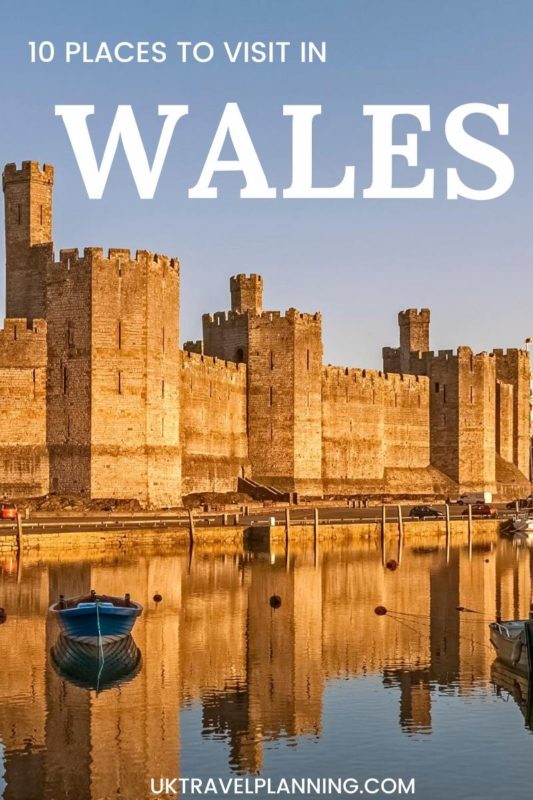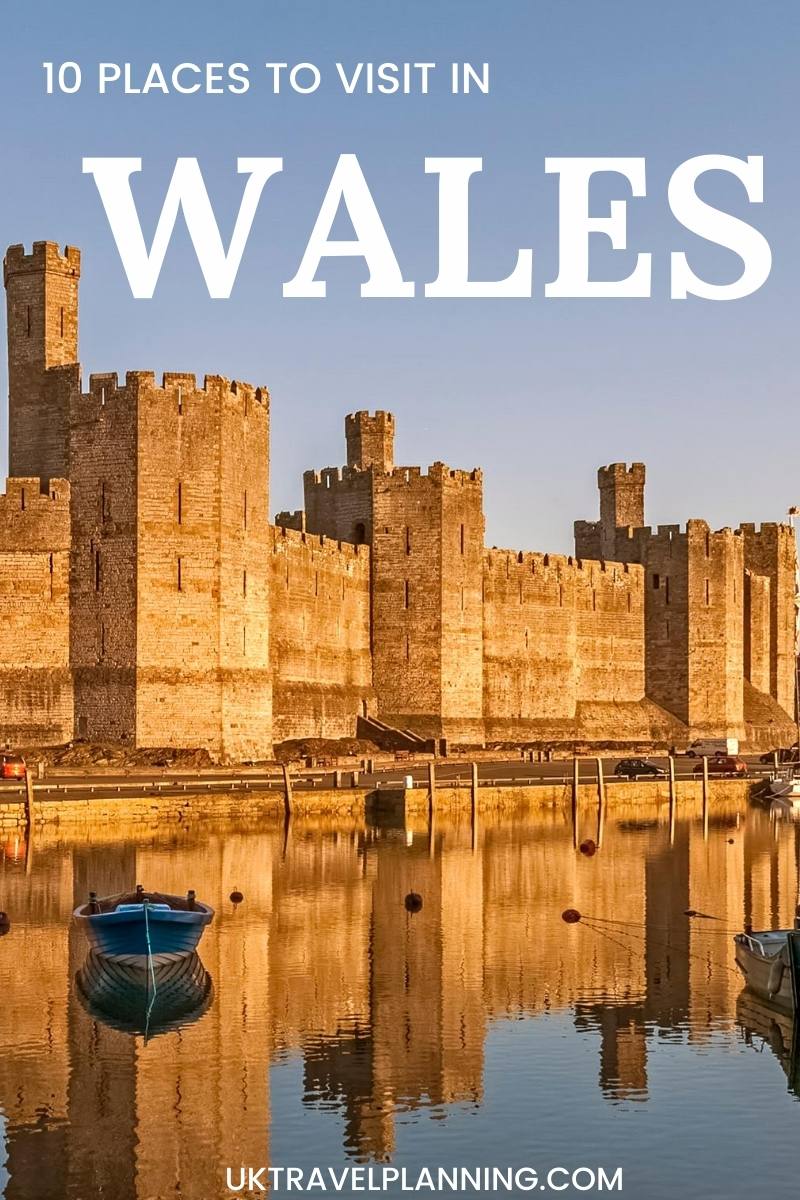 TOP 10 PLACES TO VISIT IN WALES
CONWY CASTLE
If medieval castles and English history are your passion, then a trip to Llandudno to see Conwy Castle is most certainly in order. It's in North Wales, just west of the Isle of Anglesey and only a 3 ½ hour train ride from London.
The castle was built in the late 1200s by Edward I as an attempt to contain the Welsh people. Today it remains one of the most imposing and impressive castles in Wales. It sits atop a bed of solid rock, almost appearing to rise out of the earth toward the sky. Though the roof has long since crumbled, the walls still stand and visitors can wander through the largely intact castle interior.
Don't miss exploring the eight towers, the great hall and the royal chambers. Be mindful, if the weather is damp, the steps leading to the towers can be a bit slippery. The climb is well worth it, however, as the views of the estuary of the River Conwy are breathtaking.
Conwy Castle is an understandably popular site, so it is best to purchase your tickets well in advance to make certain you won't be disappointed when you arrive.
Click to purchase tickets for Conwy Castle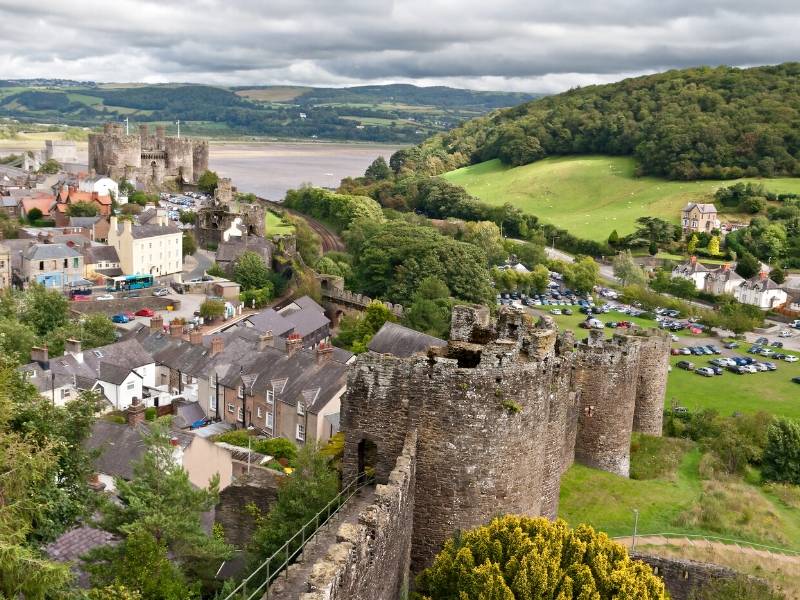 CARDIFF
Although Cardiff has only been the official capital of Wales since 1955, it is a city that has truly come into its own. Don't let its size fool you — Cardiff may only be the 11th largest city in Britain but it is a bustling urban centre known for its history, sports and vibrant cultural scene.
Cardiff began life thousands of years ago as a Roman fort on the banks of the River Taff. During the industrial revolution, Cardiff came to life and eventually became the biggest exporter of coal in the world.
Today, the city has some of the most exciting modern architecture in Britain including the Millennium Centre and the epic engineering feat that is the Cardiff Bay Barrage. There is always something going on in Cardiff — check online to see what festivals, sporting events or concerts may be happening during your visit.
For history buffs, Cardiff Castle is right in the city's centre, and the Natural History Museum is one of the most popular attractions in Wales. When you're finished learning, enjoy a meal at one of the city's pop-up restaurants or take a detour into a pub.
If you want something a little wilder, there are plenty of places to let your hair down — Cardiff is known for its nightlife. Only two hours from London, it's well worth the trip.
Read more | 15 Things to do in Cardiff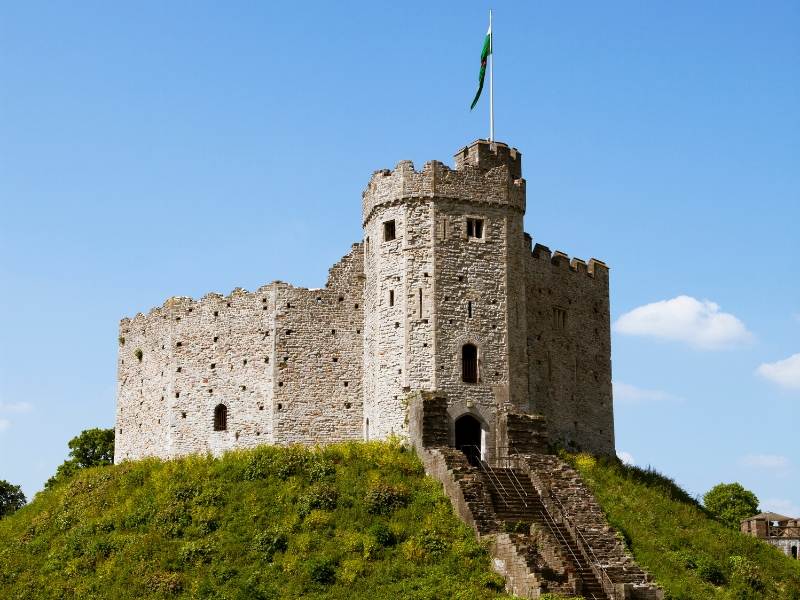 CAERNARFON/CARNARVON CASTLE
If you're looking for a royal fortress straight from the Middle Ages, you need to visit Caernarfon Castle, on the banks of the River Seiont. Considering its grand scale and architectural drama, it might very well be the most intimidating structure in Wales.
King Edward I was not messing around when he hired master military architect James of St. George to build the castle, the walled town and the quay. The project took a whopping 47 years to complete and they did a great job — it's still standing today, after all.
When you visit, make sure to explore the Eagle Tower at the western end of the castle. It's the grandest of all the castle's towers, has three turrets and boasts walls that are 18 feet thick. No wonder this was where the royals of days gone by would feel secure bedding down for an evening.
You can walk along the battlements, explore countless winding staircases, many of which lead to stunning views of the countryside beyond. Take note that many of the walkways are uneven, so it's best to wear proper shoes.
Read more – Best castle stays in Wales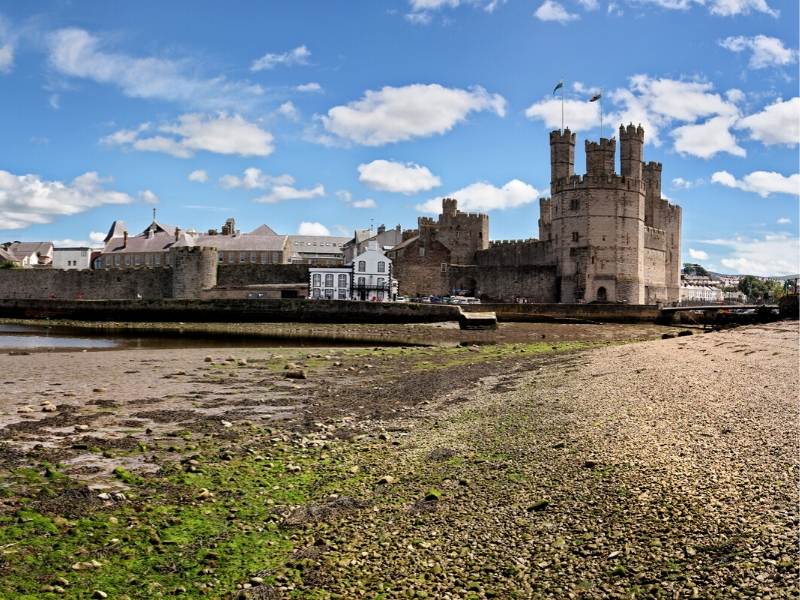 SNOWDONIA NATIONAL PARK
You could spend days exploring all that Snowdonia National Park has to offer. It has 823 square miles, including some of the most beautiful places in Wales.
If you're dying to impress the folks back home, tell them that you climbed the tallest mountain in Wales — Mount Snowdon. At only 3,560 feet, it generally takes less than three hours to reach the top. There are six paths up, each with varying levels of difficultly.
One of the more accessible routes is the Llanberis Path — it's a little longer but has a more gradual climb. If you aren't quite ready to tackle a whole mountain, try the Cwm Idwal, a circular walk around some of the most stunning scenery in the park. Before you go, it's best to check the park's website for a comprehensive list of the walks, including detailed maps and difficulty levels.
Ready to get off your feet? Snowdonia National Park is an area of outstanding natural beauty and has several scenic villages. Beddgelert is one of the loveliest villages in Wales and is a perfect place to take a break, find a cosy pub and curl up with a pint.
Read more | Snowdonia National Park | Velocity 2 zip wire | Snowdonia Mountain Railway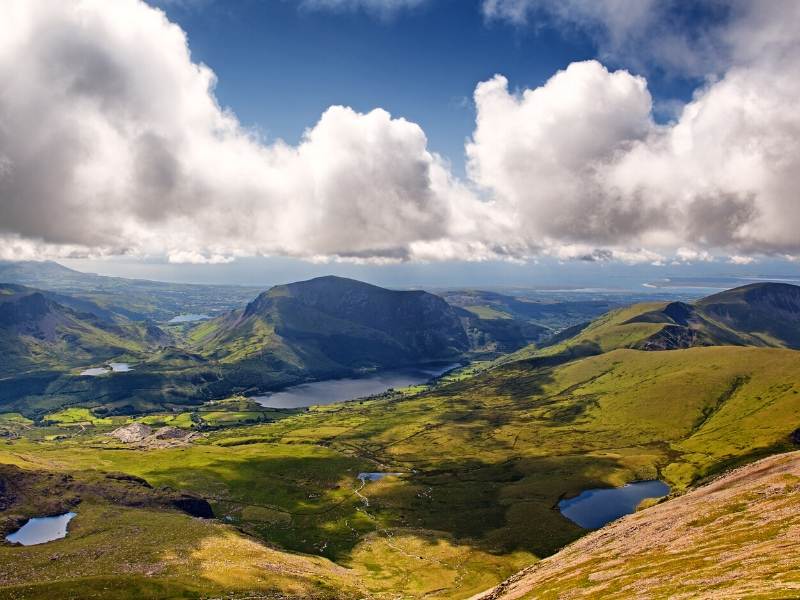 RAILWAY STATION – LLANFAIR…GOGOGOCH
Back in the 1880s, a sleepy little town on the Isle of Anglesey decided it needed to do something radical to attract more tourists. A local tailor suggested they expand their already tricky name of Llanfairpwllgwyngyll and perhaps create a sensation for visitors charmed by the idiosyncrasies of the Welsh language.
The town listened and today its name boasts a dizzying 17 syllables and 58 letters. Just as the tailor had hoped, tourists now come from all over the world just to get a peek of that astonishingly long sign at the local railway station.
It's truly one of the most popular Welsh tourist attractions, so what visit would be complete without snapping a selfie in front of that sign?
While you're there, stop in the tourism office and buy a t-shirt to show your friends back home that you really were there. If you want to be hardcore about it, you could even learn how to pronounce it.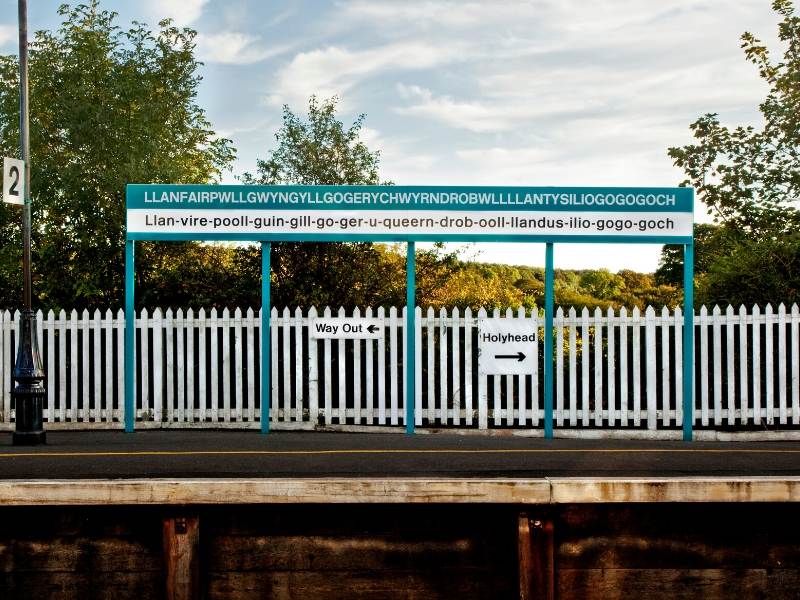 FFESTINIOG AND WELSH HIGHLANDS RAILWAY
One of the best ways to enjoy the gorgeous scenery of Wales is by rail. There are two fantastic options. The first is the nearly 200-year-old Ffestiniog Railway — the world's oldest narrow-gauge railway. Climb aboard and travel just like a Victorian tourist.
The journey begins at the harbour in Porthmadog and travels nearly 14 miles through Snowdonia National Park until it reaches Blaenau Ffestiniog. During the trip, the train ascends into the mountains, reaching over 700 feet above sea level while hugging the mountainside.
All onboard are treated to magnificent views overlooking lush green pastures, ancient forests, towering waterfalls and serene lakes.
The second option is the Welsh Highlands Railway — the longest heritage railway in the UK. Along with its regular passenger cars, it offers some of the most luxurious accommodations of any heritage railway. Hungry? They'll deliver made-to-order food right to your seat.
The train itself travels 25 miles through the county of Gwynedd, going from Caernarfon to Porthmadog. Along the way, you'll skim the bottom of Mount Snowdon as you pass through the fairytale-like village of Beddgelert.
Have those cameras ready because it's one of the most picturesque places to go in Wales.
Read more | Ffestiniog and Welsh Highlands Railway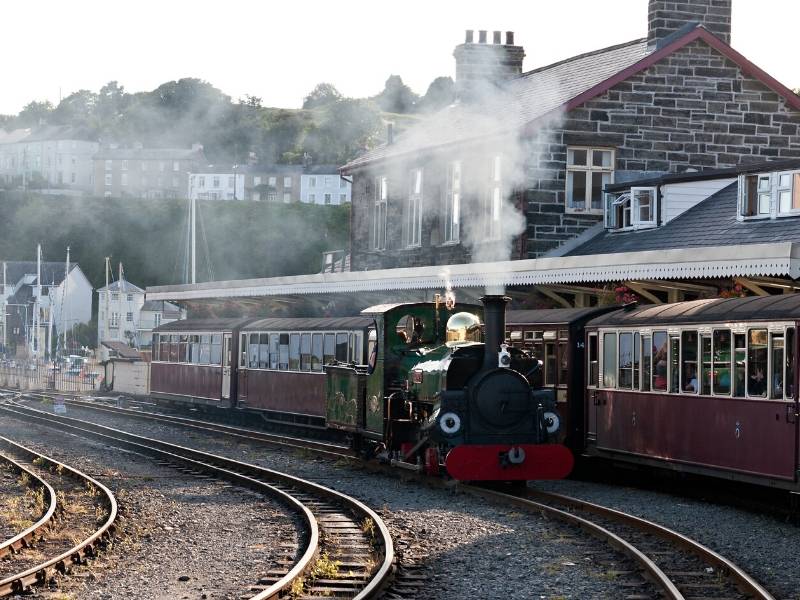 PORTMEIRION
Wouldn't it be amazing if you managed to secure one of the most scenic spots on the Welsh coast and, after dreaming about it your whole life, decided to build your very own idyllic village? That's exactly what Welsh architect Sir Clough Williams-Ellis did in 1925 when he set out to create Portmeirion.
Located next to the Dwyryd Estuary on the coast of Wales, he used fragments from old buildings and a tongue and cheek sensibility in creating his fantasy village. It took decades to finish his vision and create one of the most amazing Wales attractions.
Today, people come from all over the world to visit this make-believe haven that feels like an Italian village perched over the Mediterranean. Stroll along the paths through the well-tended gardens with gazebos and ponds. There are also hotels, restaurants, shops and a spa.
The most important thing to do while you're there is to take in the charming ambience and enjoy the stunning views.
Read more | Portmeirion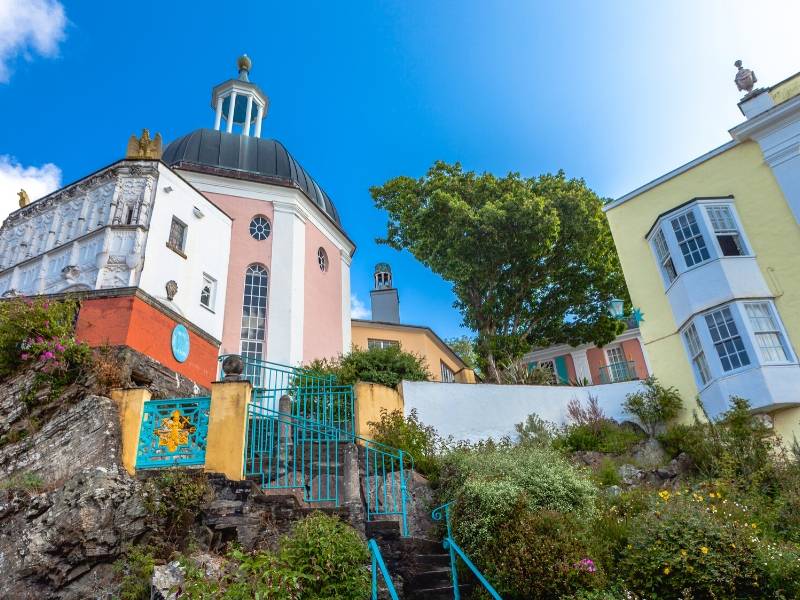 ANGLESEY
One of the most interesting places to visit in Wales is the Isle of Anglesey, the largest Welsh island that lies just off of the northwestern coast. It's 276 square miles and is separated from the mainland by the Menai Strait.
One of the most amazing sights in Anglesey is the Menai Suspension Bridge. Built in 1826 by Thomas Telford, it was the world's first modern suspension bridge. Seeing it today is just as impressive as it must have been back then.
Exploring the island itself is a treat, especially for those who love history. The medieval Beaumaris Castle is on Anglesey as well as over 120 ancient monuments and archaeological sites.
Bird watchers take note. The island is home to multiple habitats — estuaries, wetlands, sea cliffs and rock-covered shores — so the variety of birds makes this one of the best places in all of Britain to bird watch.
Read more | Visiting Anglesey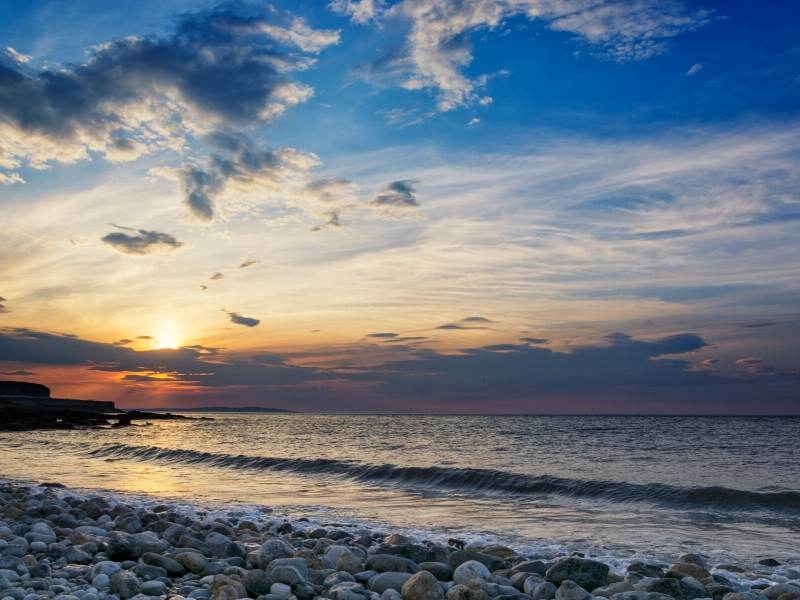 LLANDUDNO
No visit to Wales is complete without a trip to Llandudno, the Queen of the Welsh Resorts. This quaint coastal town in the north of Wales is celebrated for its charming pastel-coloured Victorian architecture as well as its lovely scenery and popular beach.
During the summer, you can windsurf and parasail or just relax and soak up some rays. North Shore Beach, also known as Llandudno Beach, is considered to be one of the best beaches in Wales not only for its beauty but because of its picturesque pier and promenade. There's a playground and games arcade along with concession stands and cafes.
Other activities in the area include taking a ride on the Great Orme tramway, one of the oldest tramways in the world, dating back to the early 1900s. On the tram, you'll pass through Great Orme Country Park and Nature Reserve and the views are simply unforgettable.
Read more | North Wales Travel Guide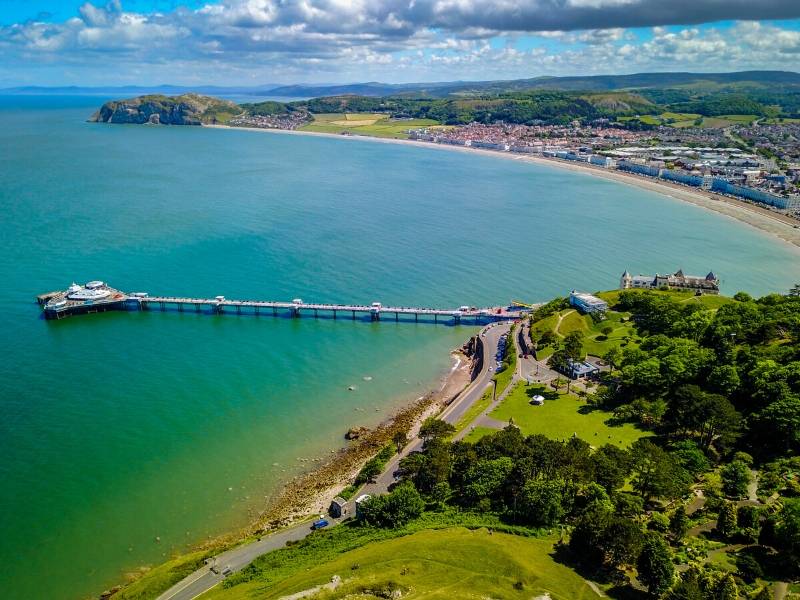 PEMBROKESHIRE COAST NATIONAL PARK
One of the best places to visit in Wales is Britain's only coastal national park, Pembrokeshire Coast National Park. This gem has everything from beaches to windswept cliffs.
During the spring, get ready to snap some pictures because the meadows are covered with gloriously coloured bluebells, harebells and cowslips.
If a vigorous walk is what you're after, grab your hiking poles and head to the Wales Coast Path. It's an 870-mile-long public footpath that follows the entire coastline and offers dramatic vistas of the Celtic and Irish sea along with the beaches below. The path is well-maintained and clearly marked, but don't worry, you don't have to walk the whole thing.
Just go to the park's website and pick a doable walk, as there is something for every fitness level and desire. If you'd like to get wet, kayaking and surfing are popular activities at Pembrokeshire Coast as well.
Read more | Pembrokeshire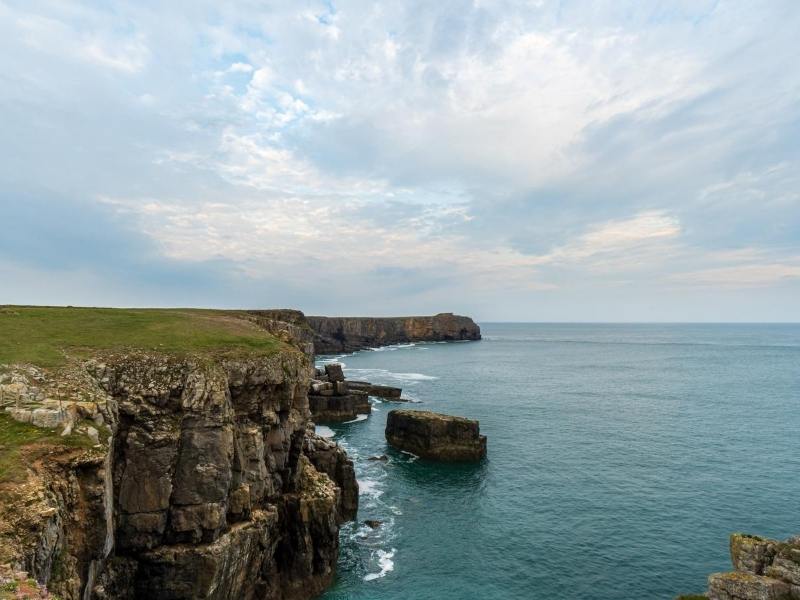 Planning your trip to Wales
If you love stunning views and being out in nature, you won't go wrong no matter where you go in Wales.
As the weather changes frequently, bring plenty of layers and some rain gear to be prepared for any eventuality. No matter what you choose to do, have a wonderful visit to Wales.
Looking for accommodation during your stay in Wales? My Wales accommodation guide has options for all budgets and for those of you who would like to spend the night in a castle there are 8 perfect castle stays in this post!
Learn more in my Wales Travel Planning Guide!