Are you planning a visit to London and wondering how to get around? The good news is that the public transport system is excellent with many options available to visitors.
The downside however is that all those options can be a bit mind-boggling! First-time visitors to London and returning travellers alike can find the transport systems a real challenge. With multiple forms of transport on offer and multiple ways of getting around London, it can make travel planning seem very daunting.
This guide is aimed at simplifying the many options available for getting around London and also provide some helpful 'Top Tips' along the way. It is based on our experiences of visiting London many times over the years (as well as Tracy's years of living and working in the city)
Note – For safety and hygiene measures follow government advice for safer travel.
Good to know – The British government body for overseeing all transport links and transport systems in London is: Transport for London (TfL) which includes the London Underground and overground rail networks, buses, tram links, Docklands light railways and the River Services. It provides up-to-date journey information on services/ delays and ticketing options.
The Oyster Card – All you need to know
What is an Oyster Card?
It can be used on all transport for London (TfL) services.
It is the cheapest option for travelling around London. Around 50% cheaper in price than buying a single travel ticket.
Daily prices are capped and when you reach the limit you pay no more (this, however, does not apply to Uber Boats (Thames Clippers) which have no capping policy).
Cards never expire – the credit stays active for 24 months provided it is used at least once in that time.
Unused credit can be refunded by returning the card to a TfL visitor centre or using an at-station machine or online.
Anyone can buy an Oyster card irrelevant of where they live though there are basically 2 types – a Visitor Oyster Card and a Standard Oyster Card.
For overseas visitors, you have the choice of buying your Visitor Oyster Card before you leave home (add P&P) and have it posted to you or you can buy a Standard Oyster Card or Visitor Oyster Card when you arrive in London.
The standard Oyster Card or Visitor Oyster Card can be purchased using cash or credit card at any TfL visitor centres (check opening times), train stations (including major national Rail stations) and any Oyster ticket shops. (Including Heathrow airport – see image below)
Note that there are no longer any manned Tube or Docklands Light Railway (DLR) ticket offices and ticket machines have to be used. These are well-signposted.
'Top Up' – Credit can be added at any of the above centres (check opening times) or by downloading the TfL.Go app.
Oyster Card options exist for 11 – 15-year-olds as a Zip Oyster photocard. Purchased by a parent or guardian. Apply online with a photo. Collect from a TfL Visitor Centre. Alternatively, it is possible to have the child discount activated on a Visitor Oyster Card for 2 weeks but you will need to take the child with you to a Visitor Centre to have this activated.
Children under 11 travel free when travelling with an adult (up to a maximum of 4 children per fare-paying adult)
Other Oyster Card options are available including Students, Armed Forces etc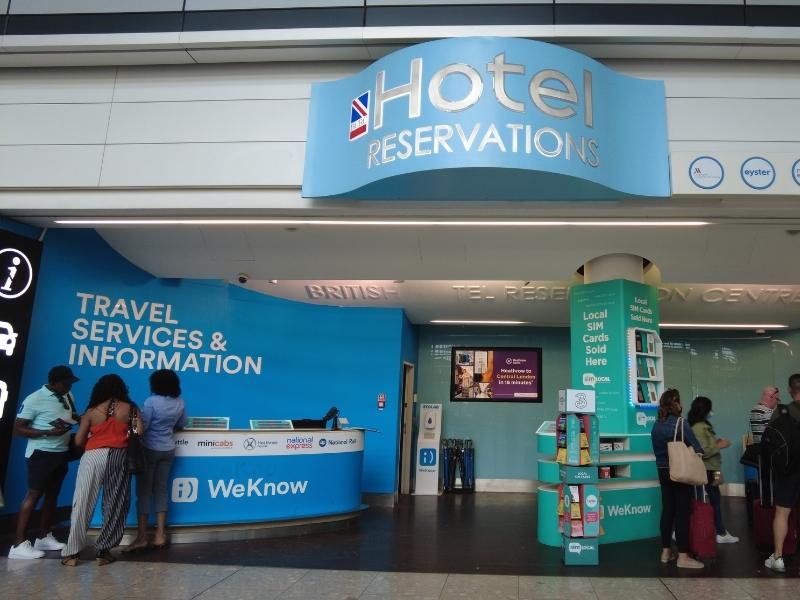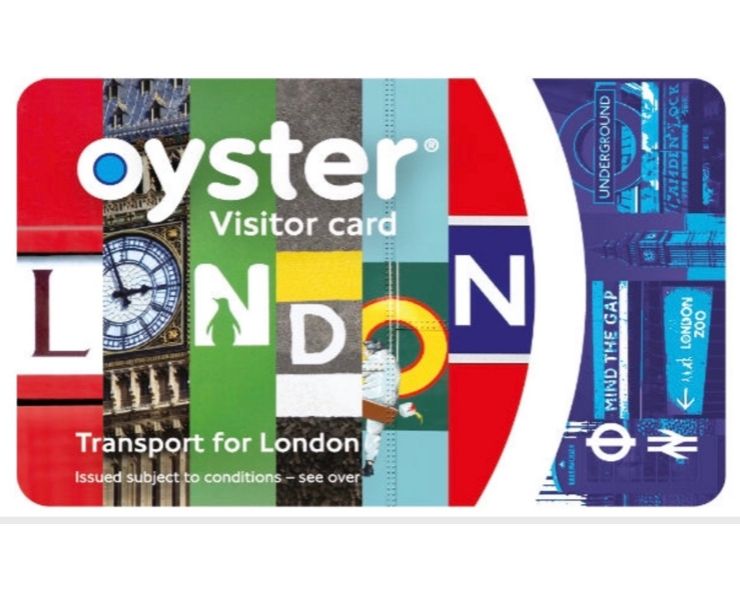 Visitor Oyster Card, standard Oyster Card or contactless?
As with the Standard Oyster Card, the Visitor Oyster Card is accepted throughout London on nearly all public transport.
Top up the pay-as-you-go-credit as you need at a TfL visitor centre or via the app. Also, auto top-up options are available.
There is a £7 activation fee (+ postage for a Visitor Oyster Card) Oyster cards purchased after 4th September 2022 the fee is non-refundable.
It does not expire so it can be saved until your next visit to London or given to family/friends.
Using an oyster card or contactless are the cheapest options for travelling around London (around 50% cheaper in price than buying a single travel ticket)
As with the regular Oyster Card, daily prices are capped and when you reach the limit you pay no more.
Children under 11 years of age travel free.
The Visitor Oyster card also gives discounts on the IFS Cloud cable car and discounts on single journeys on the Uber Boat (by Thames Clippers). Discounts apply to ticket prices at the terminals or online.
Look out for special offers and promotions for discounts on attractions.
Read – Oyster Card or Contactless? Which is the best option for you
Where can I purchase a Visitor Oyster Card?
They are also available to purchase online in advance before arriving in London from the Visit Britain Shop.
Arriving from mainland Europe via the Eurostar? Oyster Cards or travel cards can be purchased on the Eurostar trains arriving from mainland Europe to London St Pancras International train station.
'Top Up' Credit can be added at any of the above centres or download the TfL Go app.
If you are visiting for 1 -2 days £20 will roughly cover travel around Central London and a return trip to London Heathrow Airport £25 if you are heading to Gatwick on the Gatwick Express, 3 – 4 days budget £30, 1 week around £50 (Guidance only as prices may vary depending on which travel zone you will be travelling in)
Tip – If you purchase an Oyster Card hold onto it for future trips.
How do I use the Oyster Card?
Standard and Visitor Oyster cards are really simple to use.
'Tap – on' by touching your card onto the yellow card reader at the start AND at the end of each journey at the ticket barrier, irrespective if the barrier is already open. On the

Tube (including the Elizabeth Line except for stations west of West Drayton)
London Overground trains.
National Rail trains within the London fare zone areas.
Buses and Trams – ONLY at the start of the journey.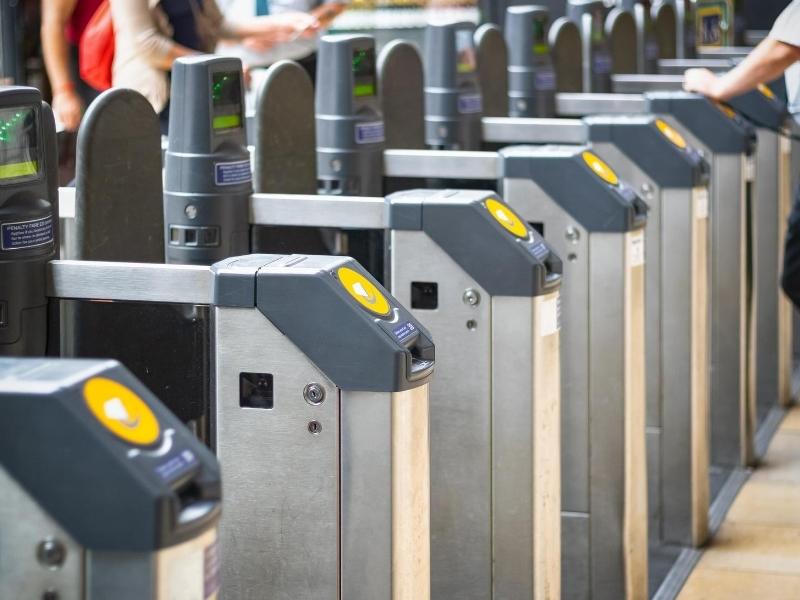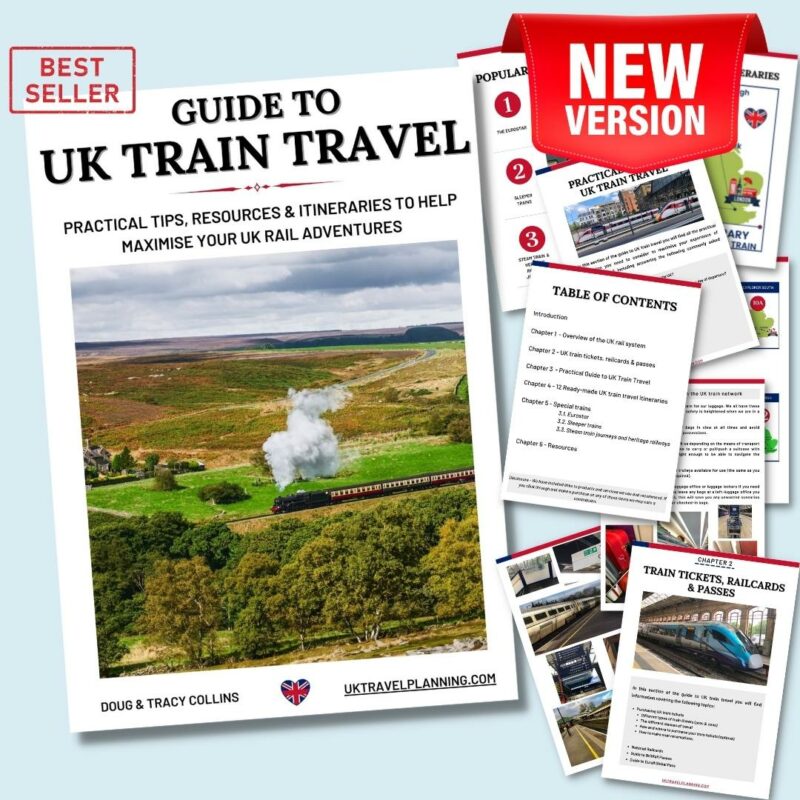 Getting Around London – London Public Transport Options
London Underground
History of the Tube
The world's oldest underground rail system with construction started in the 19th Century.
Designed by Marc Brunel (father of Isambard Kingdom Brunel) and is stated as being the first tunnel built under a navigable river.
The first underground (tube) train ran on the 9th of January 1863. The line used is still in action and is part of the Metropolitan line.
The Tube today
Commonly called the 'tube' by the majority of regular users.
Recognised as operating 270 tube stations.
11 train lines.
Carries more than 1 billion people every year.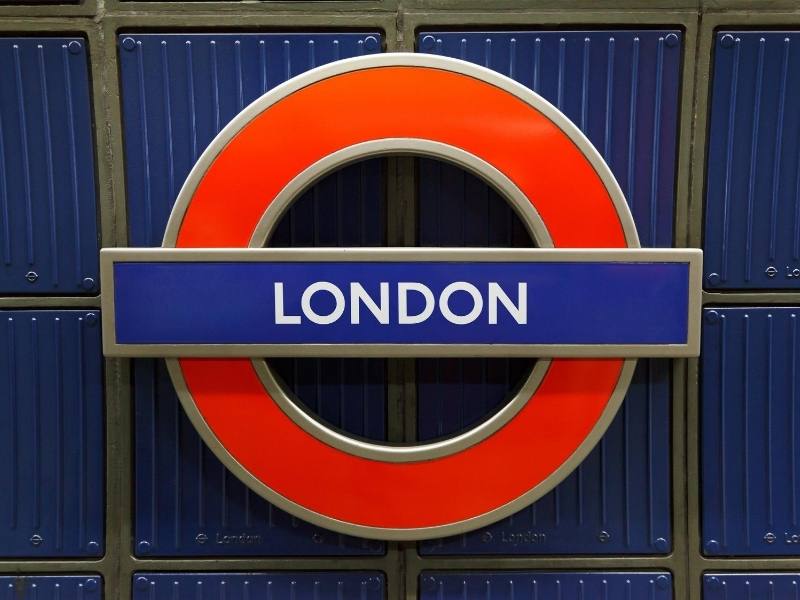 London Underground Map
The tube map is very much a London Icon and is instantly recognisable.
Designed by Harry Beck in 1931.
Easy to follow and use, gives only relative position of stations to each other rather than geographical locations.

Each station is roughly half a mile apart.

Specific line colours in use since 1907.
All lines are given equal representation.
The London Underground symbol, or 'roundel', in use since around 1925.
Instantly recognisable London icon symbol, that can be seen throughout London to identify tube station and access from a mainline train.
Inspiration for the TfL icon
London Underground (Tube) line colour as represented on the tube map as follows

Central line – Red
Piccadilly line– Dark Blue
Circle line – Yellow
Bakerloo Line – Brown.
District – Green.
Hammersmith and City – Pink.
Jubilee- Grey/silver.
Metropolitan – Magenta
Northern – Black
Victoria- Light Blue.
Waterloo and City – Turquoise.
DLR – Parallel Turquoise lines horizontally.
London Overground – Parallel red lines horizontally.
IFS Cloud cable car – Triple Parallel red lines horizontally.
Elizabeth Line – Bold double purple lines *
London Trams – Parallel Green lines horizontally.
(National Rail – Red railway logo)
*Elizabeth Line is a "railway" not strictly a Tube line but it does run in tunnels in central London.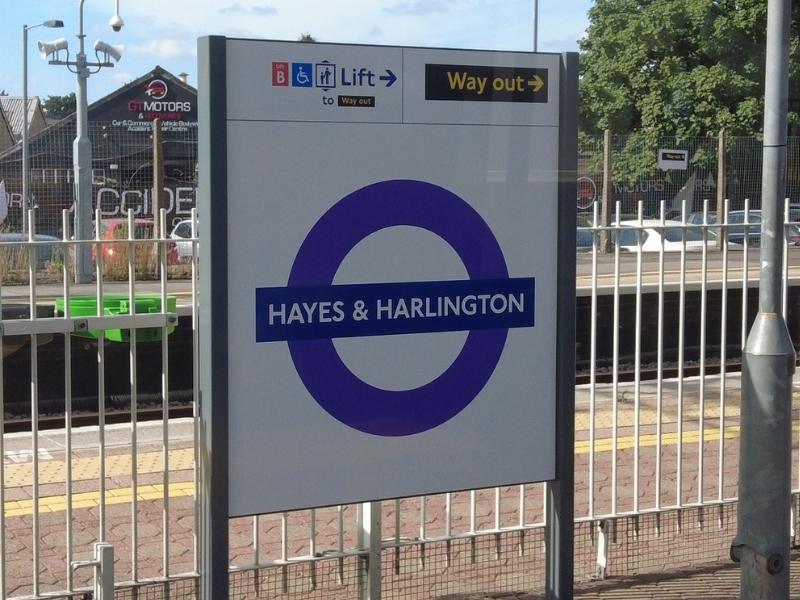 Zones – These are applicable to all Tube lines, Docklands light railway (DLR) and National rail services.

Zones 1 to 6 – works on concentric circles from an the area of Central London.Zone 2 – an area that wraps around Zone 1.
Zone 3 – wraps around Zone 2.
Zone 4 – etc.
Zones 7 to 9 covers North West London areas outside of the greater London areas not included in zones 4 to 6.

Maps are easy to download, a very good example is from the TfLGo app which shows the tube underground and overground rail map alternatively many London guidebooks come with a free underground map.
Check CityMapper App which is also useful for getting around London.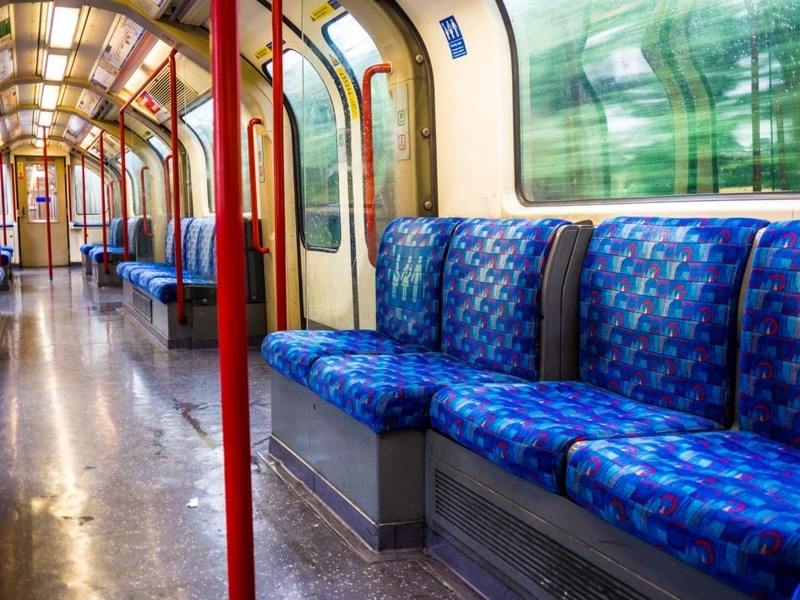 Good to know!
The Visitor Oyster card/ Oyster Card can be used in any zone and the cheapest fare is automatically calculated for you! How good is that!!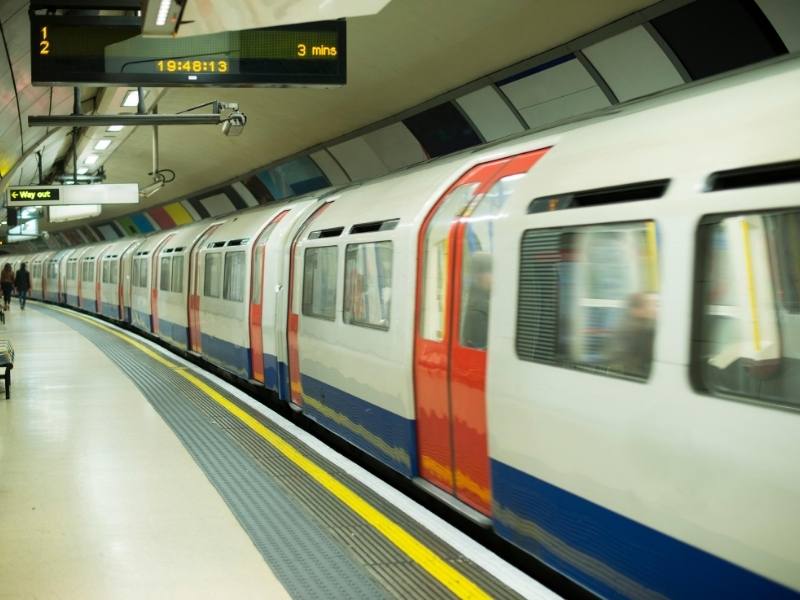 The Elizabeth Line
Opened 24 May 2022
Strictly speaking not a Tube line though it operates through tunnels under central London
It was known as TfL rail now rebranded as the Elizabeth Line.
Runs through 41 stations, over 73 miles (118kms) from Reading to Heathrow in the west and through central London to Abbey Wood and Shenfield in the east.
From 6 November 2022 trains to run every 3/4 minutes 7 days a week (approx 22 trains per hour)
From 6 November 2022 travel will be possible direct from Heathrow and Reading to Abbey Wood.
From 6 November 2022 travel will be possible direct between Paddington and Shenfield without changing trains at Liverpool Street Station. Passengers for Heathrow can change at Whitechapel on the same platform.
The final timetable will be released in May 2023 with approx 24 trains per hour. This provides direct services from Shenfield and Heathrow.
£7.20 premium charge on journeys to Heathrow.
The fares are identical to London Underground.
Peak single fares to Heathrow cost £12.70 (cheaper during off-peak)
Comparison costs

Tube (Piccadilly Line) – £5.50 Peak (cheaper off-peak)
Heathrow Express – £25
Peak times are 06.30 – 09.30 and 16.00 – 19.00

Oyster cards can be used from Zones 1 – 6 on the Elizabeth Line.
The only part of the Elizabeth Line where an Oyster/Visitor Oyster card can't be used is for stations beyond West Drayton (see map below)
National Railcards can be used.
Contactless accepted.
Railcards attached to Oyster Cards received 1/3 off.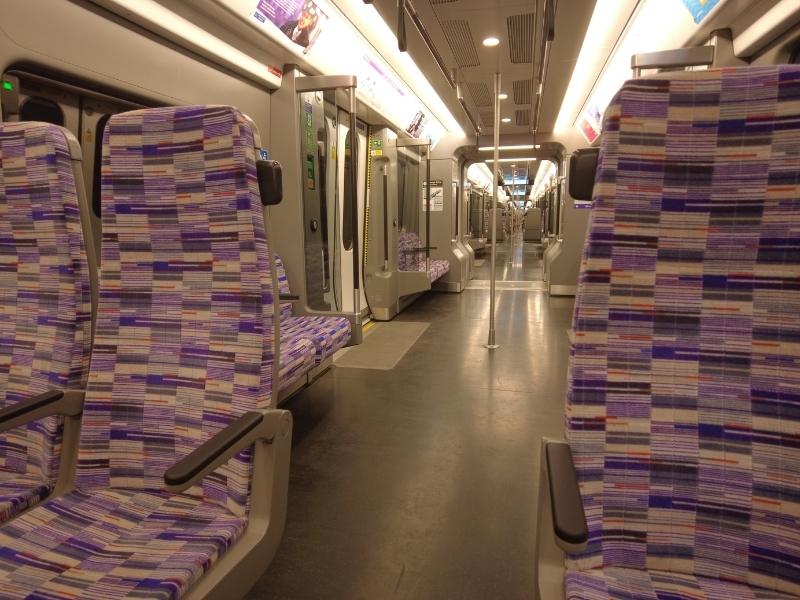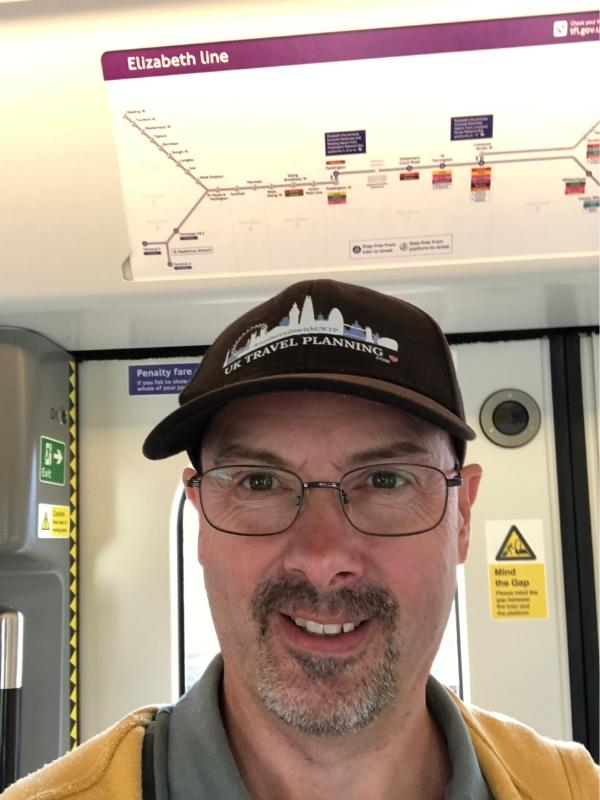 London Overground Trains
These are suburban trains that run, above ground level on a separate network to the tube network.
6 specific rail routes are operated by Arriva Rail with a concession agreement with Transport for London.
There are 112 railways stations and the routes link 23 of London's 33 boroughs:

Highbury & Islington to West Croydon/Clapham Junction/Crystal Palace.
Richmond/Clapham junction to Stratford.
Gospel Oak to Barking.
Watford Junction to Euston.
Liverpool Street to Enfield Town/ Cheshunt and Chingford.
Romford to Upminster.
Also runs north into the county of Hertfordshire.
Forms part of the UK's National Railway network but is run by Arriva Rail for TfL.
The logo is recognisable as a similar logo to the tube, but with the word 'overground' or the station name as a central banner that identifies station or platform entrances. Note the orange ring. (See photo below)
Combines well with tube routes.
Download the TfL map which shows the combined map of all stations tube and overground.
READ MORE – Complete guide to using the British rail network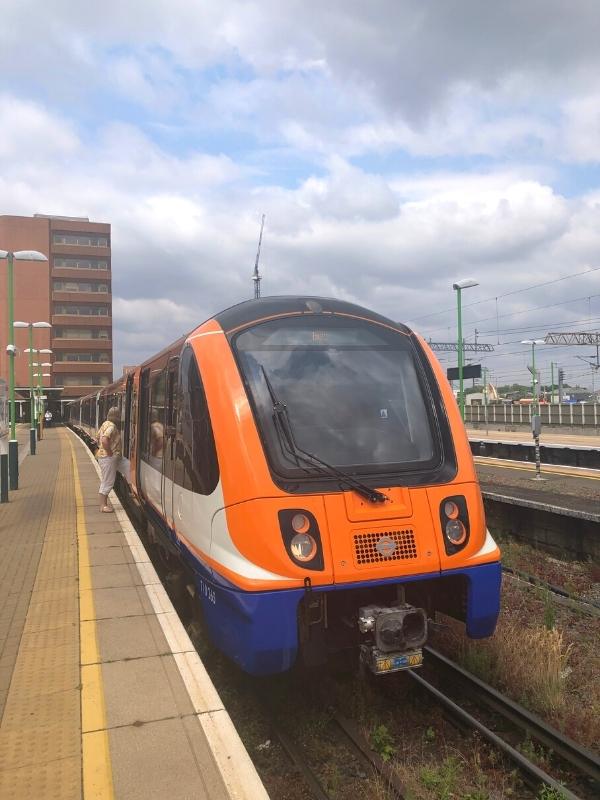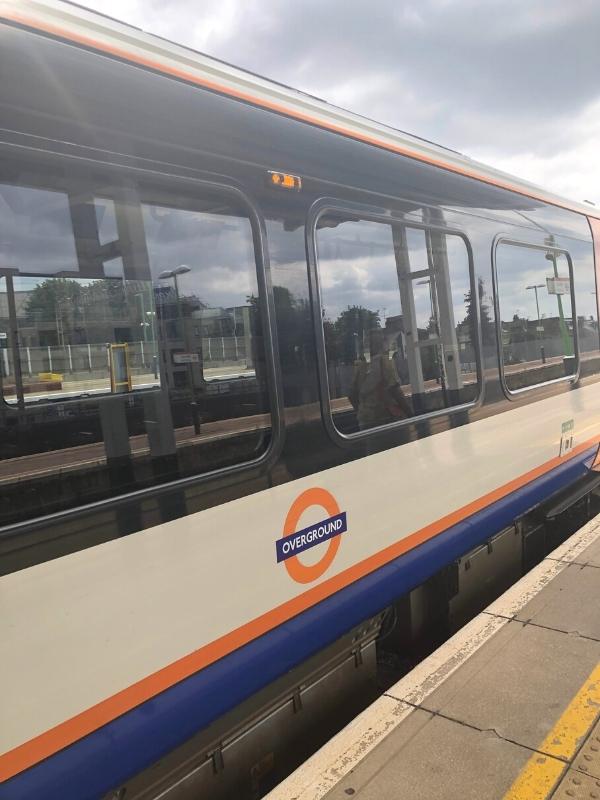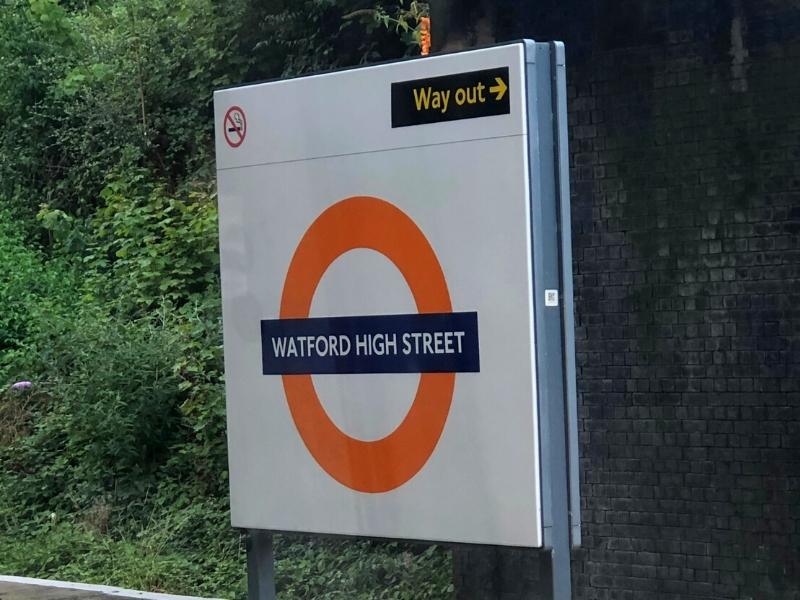 Docklands Light Railway (DLR)
This is a Light Rail Network that is fully automatic – no driver.
Easy connection with the Tube network at stations:

Bank.
Tower Gateway _ (Tower Hill) stations.
Shadwell
Stratford.
Bow.
Heron Quays.
Canning Town.
Canary Wharf.

South Station to – Docklands, Greenwich and Lewisham.
Opened in 1987
Operated by TfL.
45 stations over 7 train lines.
Connects with the London Cable Car and also London City airport.
Operates 24/7
The logo is recognisable as a similar logo to the tube, but with the abbreviation DLR as a central blue banner inside a hollow green circle.
Use your Oyster cards on DLR.
Can pay also with Contactless cards.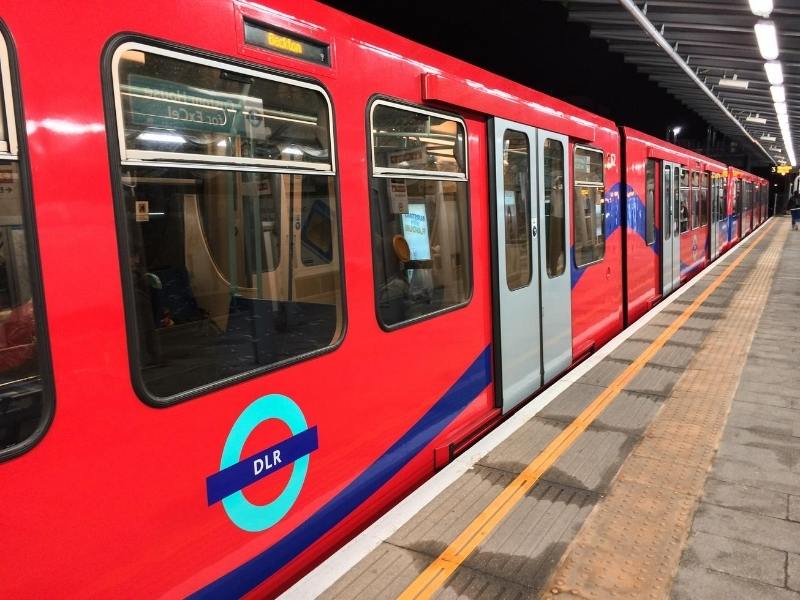 London Buses
All buses are bright "London Red' and famously distinctive.
8795 buses including 3854 hybrid buses, 785 battery electric buses and 22 hydrogen fuel cell buses on around 700 routes and over 19,000 bus stops!
Does not operate in zones (like the tube).
Tap on by touching your card (Oyster or Contactless) onto the yellow card reader at the start of each journey.
Oyster card payment is £1.65 per journey. (Prices correct as of October 2022)
Bus only travel will cost a maximum fare of £4.95 per day. (Prices correct as of October 2022)
Hopper Fares – Unlimited use for 60 mins on trams or buses from the minute you tap on for your first journey.
Available for purchase – Daily bus & tram pass, £4.95, 7 days £23.30, monthly £89.50. (Prices correct as of October 2022)
Only tap on when entering the bus, No tap out is needed.
Cashless buses, no ticket purchase is possible inside the bus.
Payment is via:

Oyster card
Visitor Oyster card.
Travelcard
Contactless payment card.
Bus pass (London or UK resident over 60's card)

Enter via the front doors of the bus, exit in the middle or at the back doors of the bus.
Children under 11 years of age travel free on London buses.
Discounts are available for those under 18's and also for students.
Most services are 24/7. Can be additional services laid on if the Tube is closed.
London Buses do not use a travel Zone area of work and are based on single journeys.
Read – Complete guide to the best bus tours of London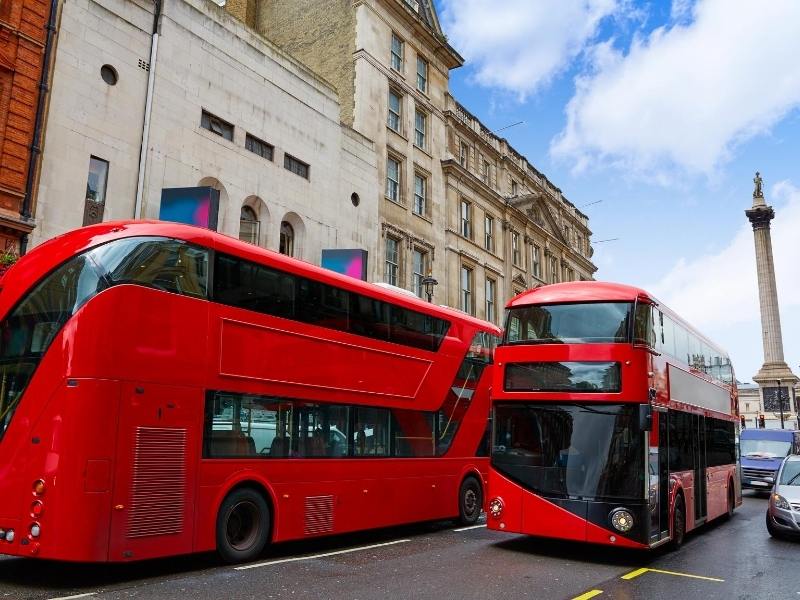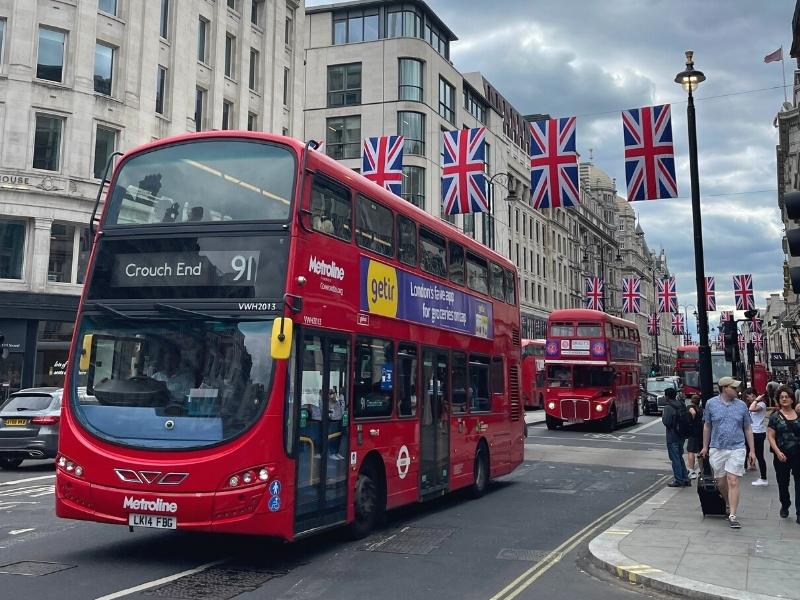 Good to know
Use a mixture of the tube and London buses to get a good view of London.
Best 3 sightseeing bus routes:

Route 24 Pimlico to Hampstead Heath.

Passes – Westminster Abbey, Downing Street, Trafalgar Square, Nelsons Column, Camden town.

Route 11 Fulham to Liverpool Street.

Passes – Kings Road (Chelsea), Westminster Cathedral (Abbey), Big Ben, Houses of Parliament, Strand, Fleet Street, St Pauls Cathedral, Ends near Spitalfields market.

Route 9 Aldwych to Hammersmith.

Passes – Trafalgar Square, Piccadilly, Knightsbridge (Harrods shop), Royal Albert Hall, Kensington Gardens, Holland Park.

Trams
Introduced in 2000
Runs in South London, and is operated by Tramlink.
Service runs between.

Wimbledon, Croydon, Beckenham, New Addington.

Has easy access with no steps.
39 stations.
Frequent service, every 10 minutes.
Ticketing and card use are the same as using the London buses.
Logo is similar to the Tube with a Tramlink green circle.
Thames Clippers (Currently branded as Uber Boats)
Fast River Thames services run every 20 minutes from all major London Piers.
Started in 1999.
Fleet of 20 high-speed boats running 7 days a week from early morning until late evening.
24 Piers along the River Thames, from Barking Riverside Pier in the East and the pier at Putney in the West.
Runs between 3 zones requiring a valid ticket for all zones passed through:
20 high-speed boats.
Runs between 3 zones:

West Zone from Putney. (RB 6)
Central Zone, between Battersea Power Station and Canary Wharf. (RB 1, RB2 and RB 6)
East Zone, Canary Wharf to Woolwich (Royal Arsenal). (RB 1, RB2, RB 4)

Payment by:

Oyster or Contactless Card. Tap in and out. TfL (Transport for London) daily price cap is not applicable.
TfL Travelcard holders are able to receive 1/3 off standard fares (see Terms & Conditions).
Oyster or contactless card holders get up to 24% of a standard fare by purchasing online tickets using Apps (from fares purchased at the river piers).
Thames Clipper Ticket App.
Tickets office or ticket machines at the pier heads.
Through Uber App.
Ticket office or Ticket machines on the day at the pier.

Example travel times:

Putney to Blackfriars = 56 minutes.
Battersea Power Station to London Bridge = 30 mins.
Tower to Greenwich = 21 mins.
North Greenwich to Blackfriars = 42 mins.
Royal Wharf to North Greenwich = 3 mins.
Woolwich to Canary Wharf = 32 mins.

Ticketing options include:

River Roamer – Unlimited all-day tickets.
Single and return tickets.
Park and Glide – Park your car at the O2 arena and use the river bus.
Season tickets.
Flexible Ticket Carnets -a flex ticket is up to 25% cheaper compared to using an oyster card or contactless.

Zone specific 7 or 90 day validity.

Child and concession -50% off standard fares

(child is 5 -15 years of age, under 4 years travels free.

Tfl Travel card holders can achieve ⅓ off standard fares.
Separate weekday and weekend/bank holiday Timetables.
See Map and Timetable for route options.
Ticket Information

Uber boat – launched branding in August 2020

Partnership with Clipper service.
Advance purchase tickets to guarantee a seat.
Use Qr technology to board. Payment via Uber account.

Uber Boat – Route Map – https://www.thamesclippers.com/plan-your-journey/route-map
Read: Guide to the best boat trips and cruises in London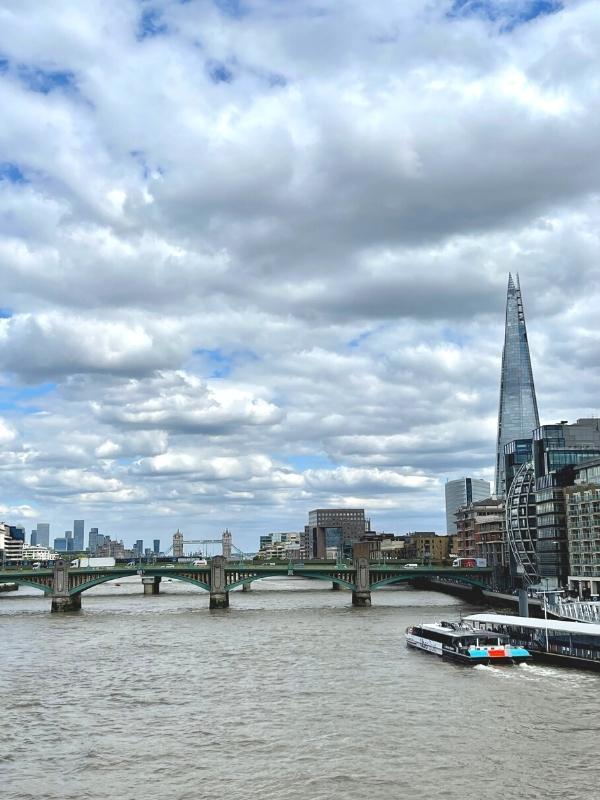 IFS Cloud Cable Car (formerly Emirates Cable Car)
Popular London attraction with views of the London Skyline and the River Thames.
Travels between the IFS Cloud Greenwich Peninsular to the IFS Cloud Royal Docks.

Catch from North Greenwich or board from the Royal Victoria (side of the river)

Adult ticket single trip is £5 (Adult) and £2.50 (Child)
Visitor Oyster card receives discounts on the cable car on tickets bought at the terminals.
Range of packages including a champagne-filled flight and sunset trips.
Flights every 30 seconds.
Takes around 10 minutes. Peak times, journey time around 5 mins.
After 7 pm flights take around 12 mins.
Return flights are an option.
Runs Monday to Friday from 7 am to 10 pm, Saturday from 8 am to 10 pm, and Sunday from 9 am to 10 pm.
Weather permitting.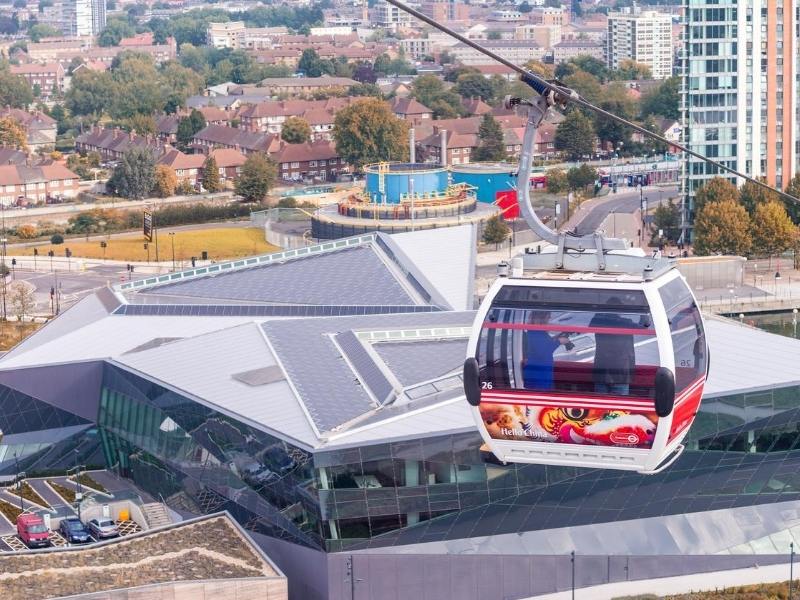 Santander Cycles
Nicknamed 'Boris bikes' after Boris Johnson who introduced them whilst mayor of London you will see Santander Cycles all over the capital.
Hiring a cycle for unlimited journeys of up to 30 minutes within a 24-hour period costs only £1.65. If your journey takes longer than 30 minutes there are additional charges.
1400 bikes including 500 e-bikes
Covers 38.6 square miles of London
Download the app or go to any docking station with your bank card and follow the instructions! It really is that easy!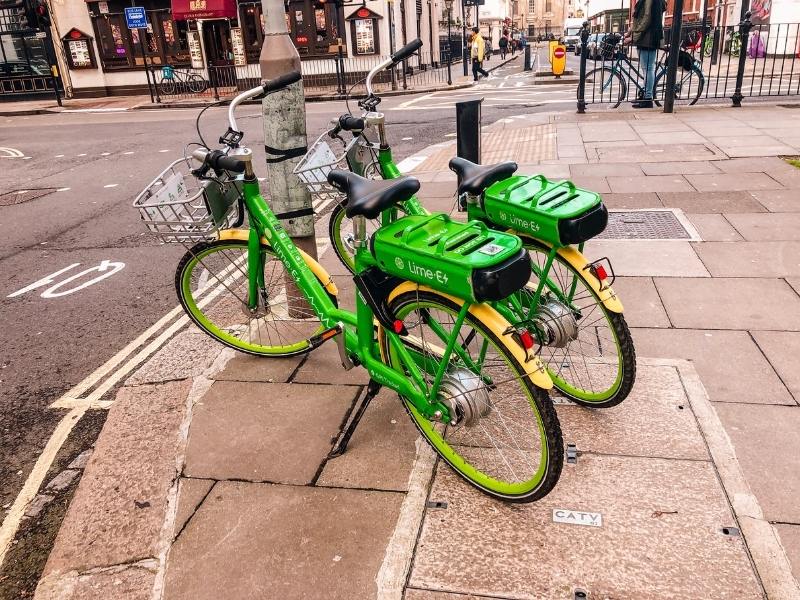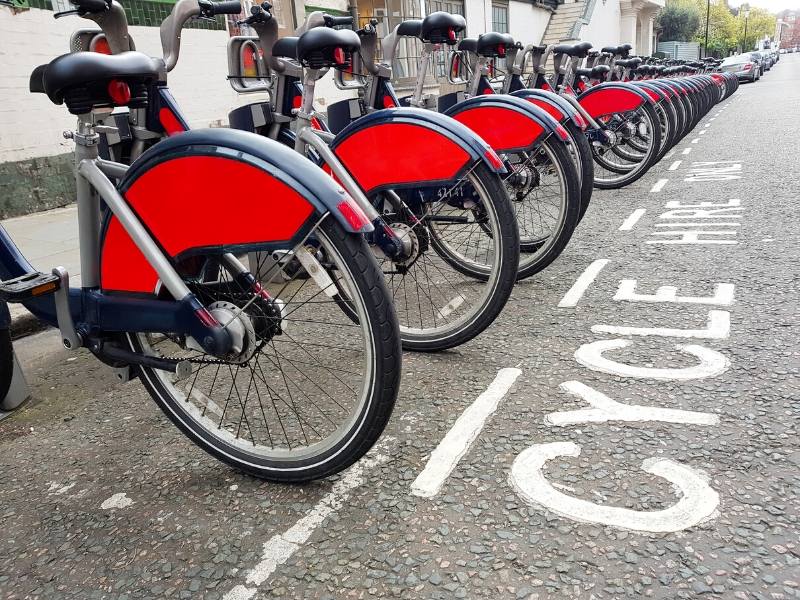 Accessibility
Accessibility on London transport. Note that the London Underground is not the most accessible with lots of escalators and stairs to negotiate. You can find out more to help plan your journey on the official accessibility section of the TfL website or the TfLGo app.
Also, use the London Underground maps or apps which details station platform levels, gaps, steps, manual ramps, lifts (status) and level access points needed to safely board a train with step-free to train (Blue wheelchair sign) and step-free to platform (white chair sign) journey planning tools. Information is also included for information on accessible toilets.
Step-free to train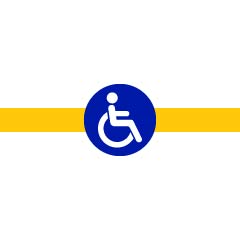 Step-free to platform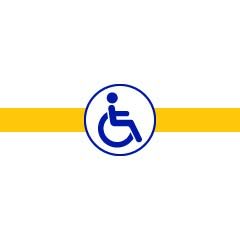 https://tfl.gov.uk/maps_/using-tfl-go
Which is the best way to get around London?
We recommend trying a mix of these options. The Tube is quick and easy but you won't see much of London from underground! Buses are great fun and there are some great routes to take to see the main sites.
If you are heading to Greenwich take the Uber Boat at least one way! The views from the river are worth it (another option is a Thames River cruise)
Expect to do lots of walking and if cycling is something you enjoy there is the Santander bicycle option.
Accessibility on London transport. Note that the London Underground is not the most accessible with lots of escalators and stairs to negotiate. You can find out more to help plan your journey on the official accessibility section of the TfL website or TfLGo app. Also, use the London Underground maps or apps which illustrate step-free platform to street access.
More to read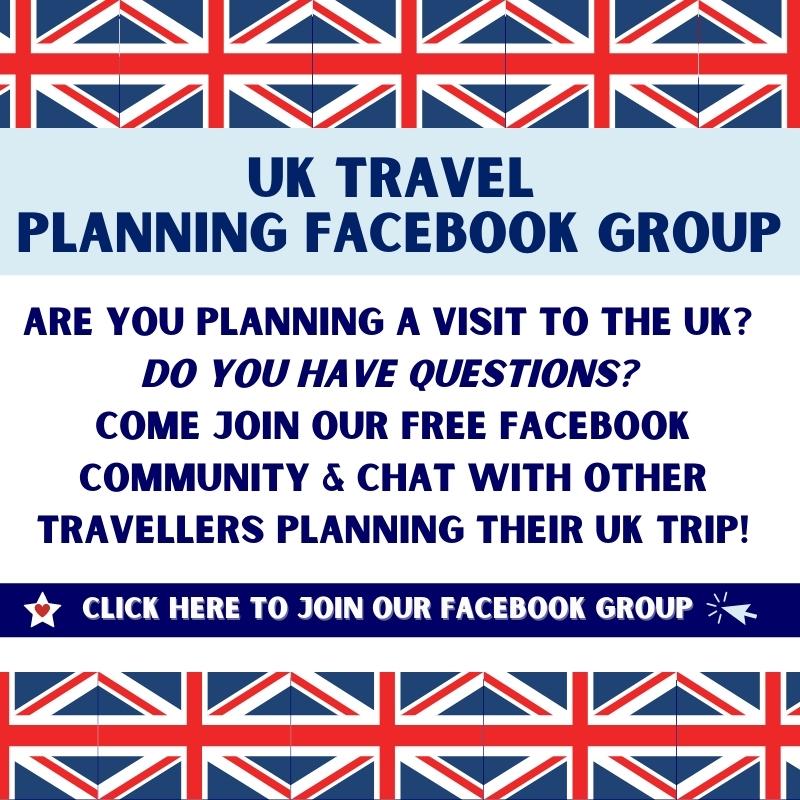 London Travel Guide & Itinerary Planner (+ 4 bonus ebooks)