Are you planning to take some day trips from London by train but unsure where to go? Discover 12 of the very best places to visit by rail including practical tips, logistics, and things to do and see in each destination.
What better way to explore some of the most beautiful cities, towns, landmarks and attractions of England than to hop on a train from London for a day trip? While there are lots of sights and places to keep you busy in London we recommend (if you have time) adding some of these day trips into your itinerary.
With numerous destinations and places to go by train from London, how do you pick the right one/s for you?
In this guide, we have chosen 12 of the very best places to visit on a day trip by train from London. These are our top picks of the best tourist destinations, landmarks and sights you can visit on a one day trip from London.
If you prefer to avoid public transport discover our choice of the best day trips you can take from London on a tour.
To help plan your day we have included logistics and practical information about how to travel to each destination – which London station to depart from, the length of the journey, and the very best things to do and see in one day at each of the places.
You will also find a helpful map showing the location of each destination and route of each of these London day trips by train.
Good to know – if you plan to make multiple train trips from London it may be cost-effective to purchase a BritRail London Plus Pass which is valid on rail services in the South East of England. The BritRail London Plus pass is ideal for short journeys outside of London. Click here for more information about BritRail passes.
If you are pushed for time or nervous about travelling outside of London by train the best option for you may be to take a tour. Tours often visit several places so you can see more and make the most of your time especially if you have a limited number of days.
Find out more in our guide to the best day tours from London which includes the most popular tourist and sightseeing destinations including how to visit Harry Potter Studios from London.

Guide to UK Train Travel
Are you excited but nervous about travelling by train in the UK? We have written a book to help you!
Our guide includes practical tips and information to ensure you make the most of your UK rail adventure (including where and how to buy tickets, information for your day of travel and 12 'done for you' UK rail itineraries.)
You can read more about our ebook here.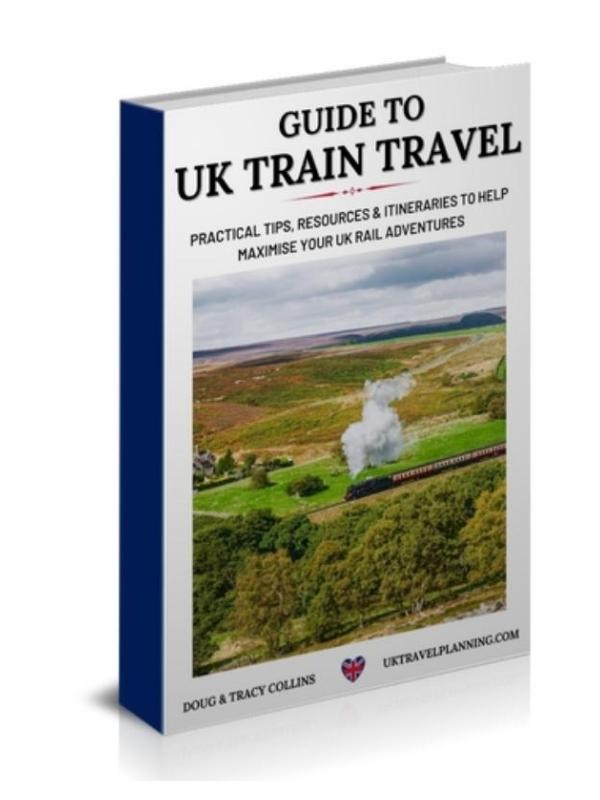 Quick picks – Summary of train trips from London
| Destination | Time | Departure station | Buy ticket | Tour option from London |
| --- | --- | --- | --- | --- |
| Oxford | 1 hour | London Paddington Station / London Marylebone | 🎟 | Click here |
| Cambridge | 1 hour 20 mins | London King's Cross / Liverpool Street | 🎟 | No |
| Cotswolds | 1 hour 40 mins | London Paddington | 🎟 | Click here |
| Winchester | 1 hour 14 mins | London Waterloo | 🎟 | Click here |
| Windsor | 55 mins | London Waterloo | 🎟 | Click here |
| St Albans | 30 mins | London St Pancras Int | 🎟 | No |
| Brighton | 1 hour 22 mins | London Blackfriars / London Victoria | 🎟 | Click here |
| Bath | 2 hours 28 mins | London Paddington | 🎟 | Click here |
| Bristol | 1 hour 49 mins | London Paddington | 🎟 | Click here |
| Salisbury & Stonehenge | 1 hour 33 mins | London Waterloo | 🎟 | Click here |
| Canterbury | 1 hour 47 mins | London Charing Cross / St Pancras Int | 🎟 | Click here |
| Stratford upon Avon | 2 hours 27 mins | London Euston / London Marylebone | 🎟 | Click here |
| | | | | |
Oxford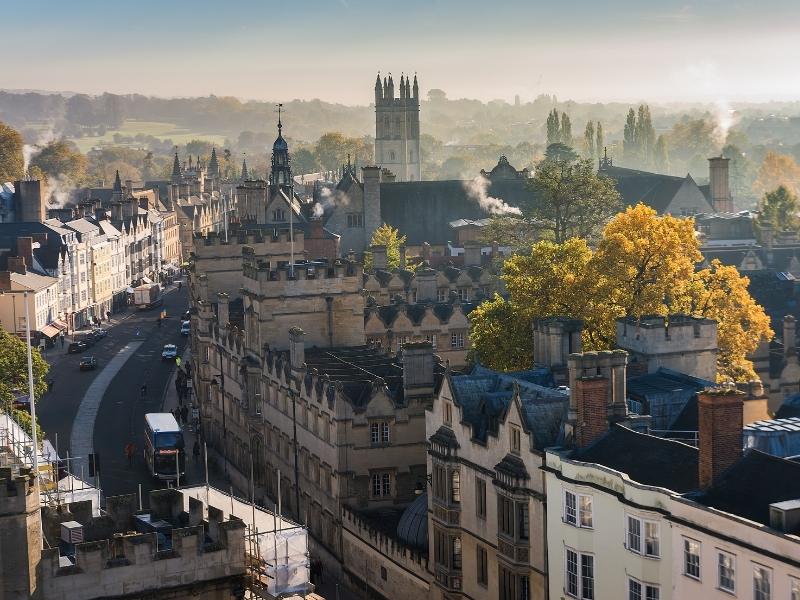 Good for – History | Architecture | Harry Potter fans
A journey time of just over an hour makes Oxford the perfect destination for an easy one-day train trip from London.
Once in Oxford, you will find the main attractions all located in the compact and very walkable city centre. Known as the "City of Spires" due to its beautiful skyline enjoy the beautiful architecture and fascinating history on your day trip to Oxford.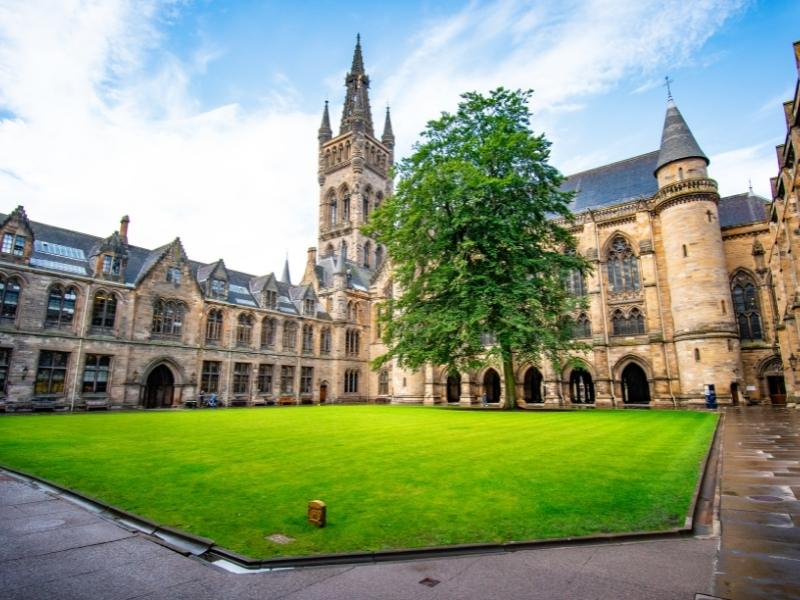 One day in Oxford (Must see Oxford attractions)
Founded in the 13th century Oxford University is one of the most famous universities in the world. Alumni include numerous international heads of state including 26 British Prime Ministers, Nobel prize winners, famous authors, and many well-known actors.
I recommend exploring the colleges on a walking tour to soak in the scholarly atmosphere of this famous seat of learning.
Oxford University is comprised of 38 colleges varying in size from the larger Magdelen and Christ Church Colleges to the smaller colleges such as Corpus Christi and Trinity.
Fans of Harry Potter movies may recognise some of the colleges which were used as film locations for many famous scenes.
The Bodleian Library is one of the oldest in Europe and the second-largest in the UK. It contains a collection of 12 million items – in fact, every book that has ever been printed in the UK and Ireland is located in the library!
Good to know – Most of Oxford's walking tours include a visit to this famous library.
The interestingly named Radcliffe Camera houses Oxford University's Science Library. This neo-classical style building was built between 1737 and 1749 and is beautiful both inside and out. It comprises part of the larger Bodleian Library.
Opened in 1774 the market houses lots of shops and stalls to browse as well as a great choice of eateries. This is the place to stop for a coffee break or a bite to eat before resuming your exploration of Oxford.
If you decide to spend a little longer in the city (Oxford is popular for weekend trips from London by train) I would highly recommend including a trip to Blenheim Palace in your itinerary. A short ride from Oxford by bus the palace was the birthplace of Winston Churchill and is owned by the Duke of Marlborough.
Read more – Oxford Travel Guide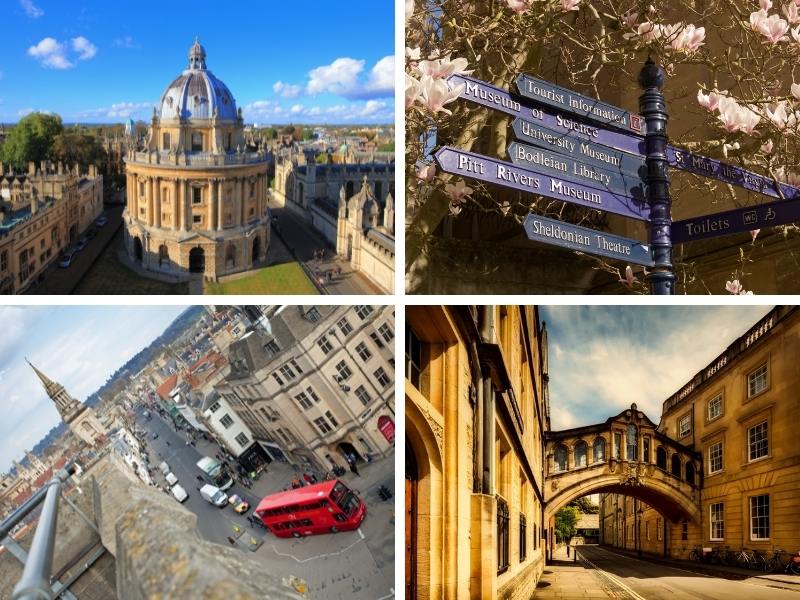 Logistics – how to get from London to Oxford by train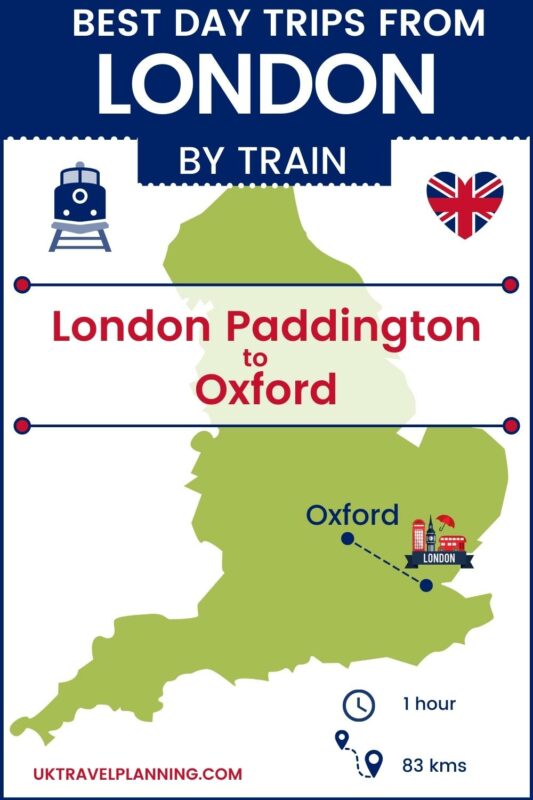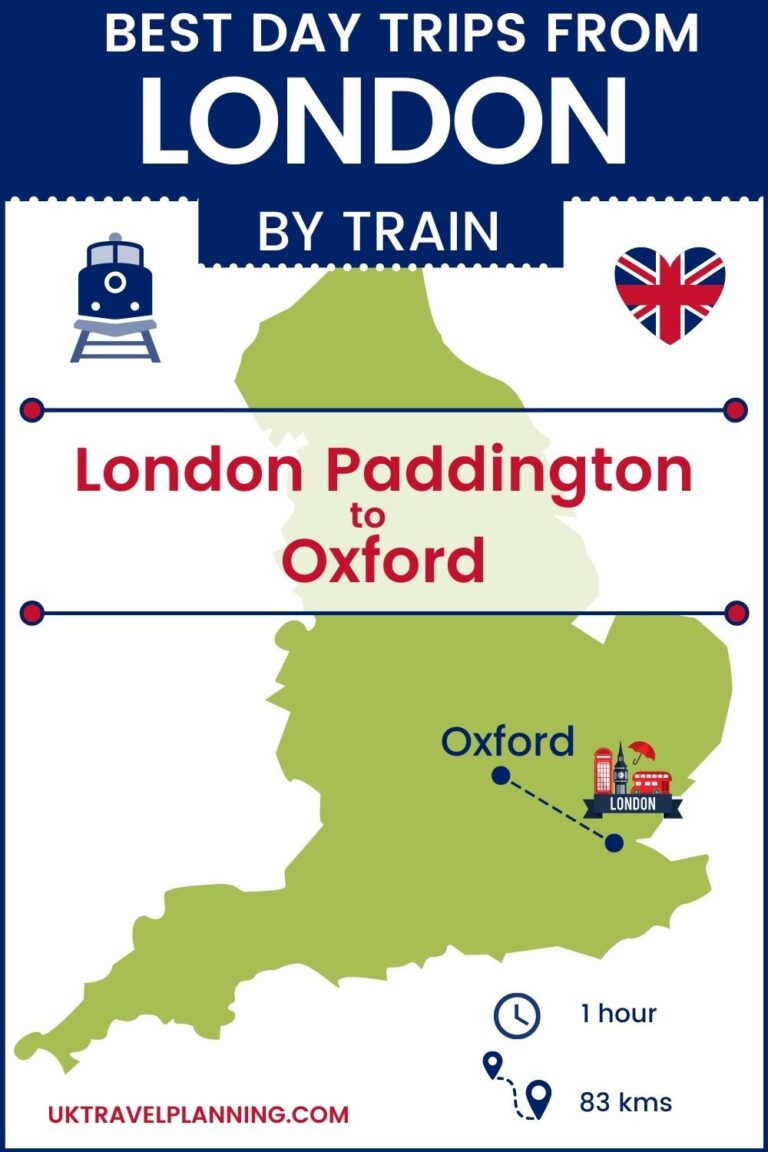 Cambridge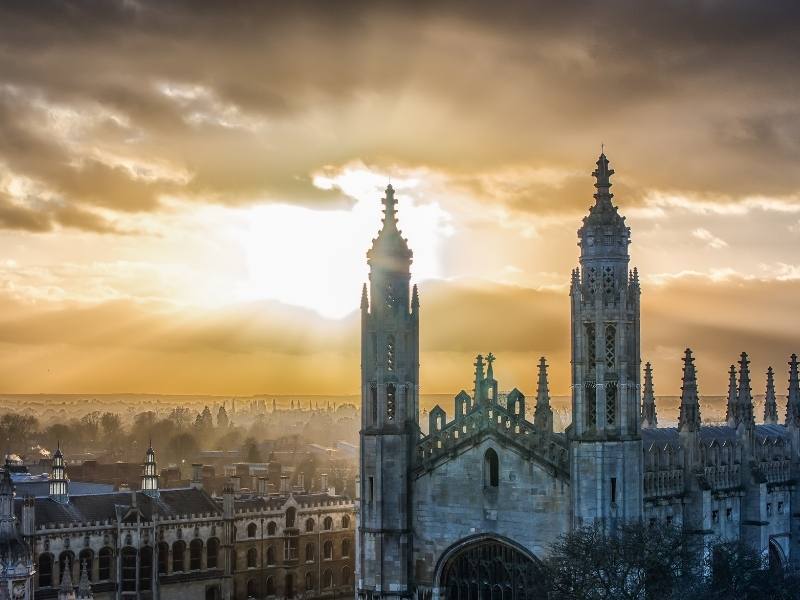 Good for – History | Architecture | A day on the river
The location of another famous university (and Oxford's rival in the boat race each year) Cambridge is also only an hour by direct trains from London.
Cambridge is a compact city that is perfect for exploring on foot. We recommend taking a historical walking tour of the city with a University graduate where you can visit some of the most famous colleges in Cambridge and learn more about student life at one of the world's most prestigious universities.
One day in Cambridge (Must see Cambridge attractions)
Take a punt along the River Cam. A great way to see the city and even better you can hire someone to do the punting for you so you can sit back, relax and enjoy the views.
Home of the largest vault ceiling in the world King's College Chapel is an absolute must-see in Cambridge.
Of particular note is the Rood Screen (a large wooden screen that separates the nave from the altar) which Henry VIII gave his 2nd bride Anne Boleyn.
St John's College, King's College, Trinity College
Cambridge University like its main rival Oxford is also comprised of a number of colleges (31 to be exact)
St John's, King's, and Trinity College are just some of the colleges worth exploring.
Read more – Cambridge Travel Guide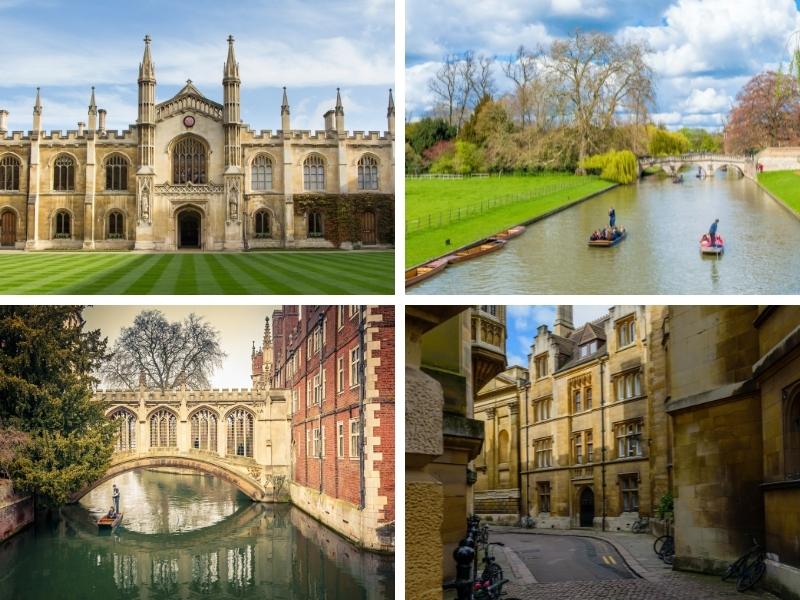 Logistics – how to get from London to Cambridge by train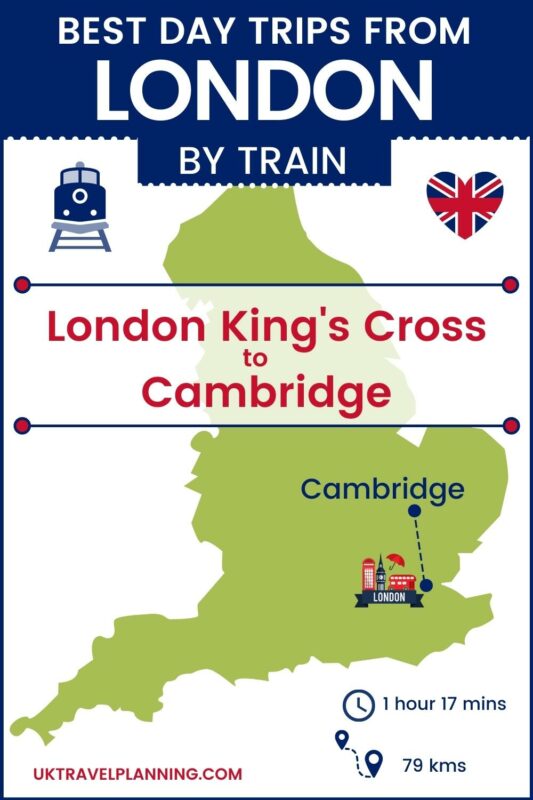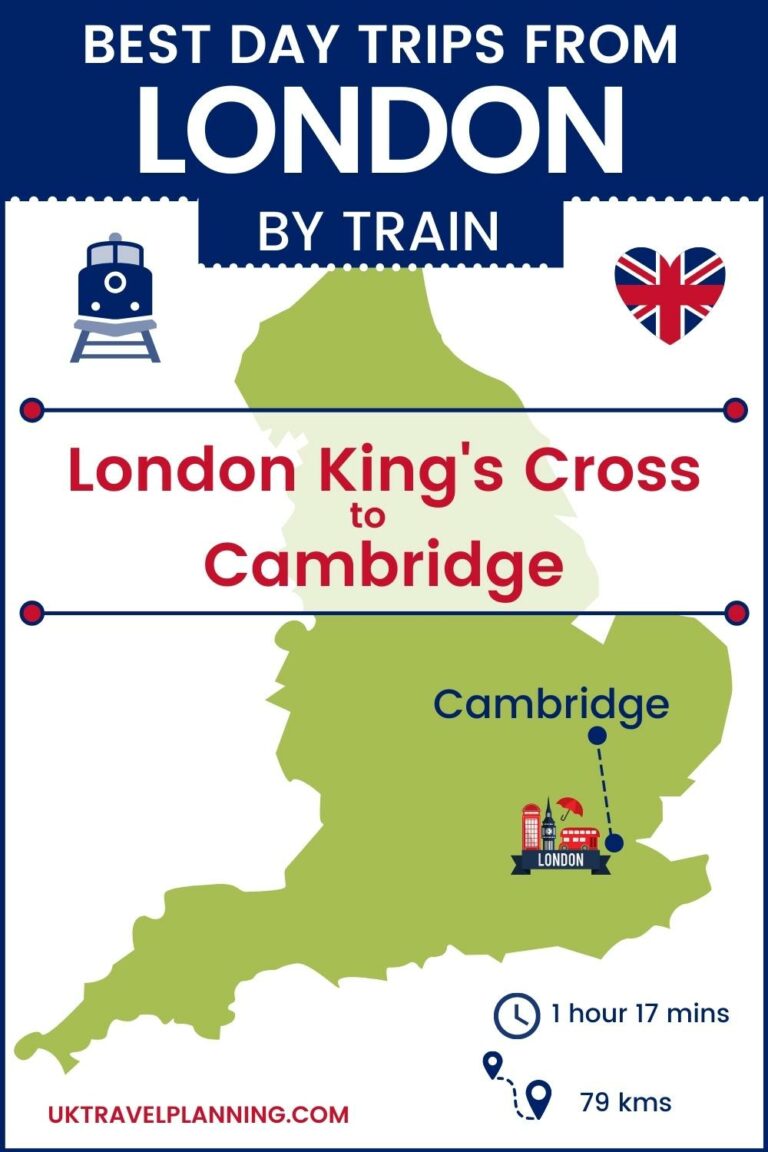 The Cotswolds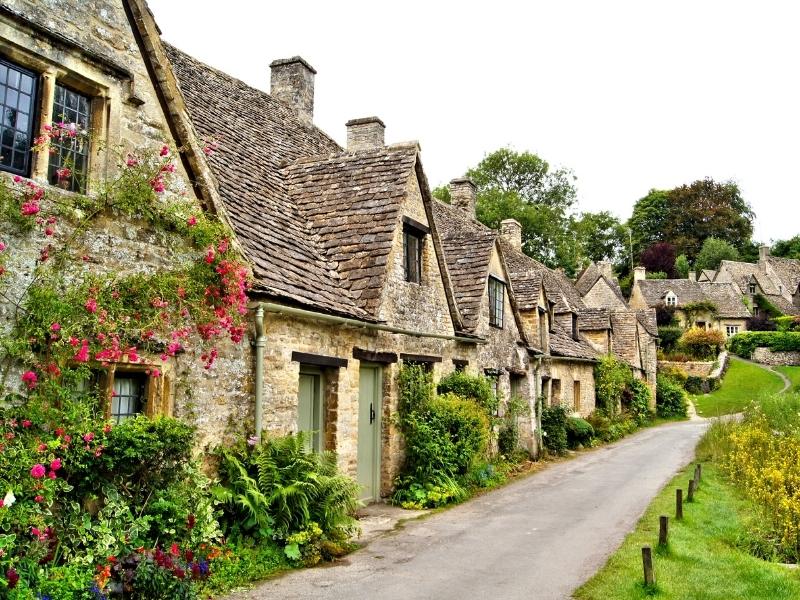 Good for – Pretty villages | Countryside | Afternoon tea | Thatched cottages
The Cotswolds are not one place but actually an area stretching over 2000 km so if you are planning to visit from London I would recommend hiring a car and taking a road trip.
Tours of the Cotswolds are also available which include visits to most of the most picturesque and quaint towns and villages (plus include other attractions such as Oxford and Windsor on the way)
However, if you prefer to travel to what many consider England's prettiest towns and villages independently it is possible to see some of the area by train.
The easiest destination to travel to by train from London is the market town of Moreton-in-Marsh which is located in the heart of the Cotswolds.
One day in The Cotswolds (Must-see Cotswold attractions)
There are so many things to do and places to see in the Cotswolds it will be difficult to fit them all into one day. However, these are my recommendations if you arrive at Moreton-in-Marsh.
Arrive on a Tuesday and the town will be bustling with its weekly market. Enjoy a stroll through the market and purchase a souvenir or gift in one of the many shops before partaking in tea and cake at one of the many quaint cafes and teahouses.
Located 1.5 miles west of the town the arboretum is full of rare and endangered species from around the world. Tip – if you are visiting the area in spring don't miss the Japanese cherry blossoms.
Located a short bus ride from Moreton is the pretty medieval Cotswold town of Chipping Campden. If honey-coloured buildings spring to mind when you think of the Cotswolds you will find them in abundance here. The famous Cotswolds Way also stretches for 100 miles from Chipping Campden to Bath but you will need a week to do that!
Read more – Cotswold Travel Guide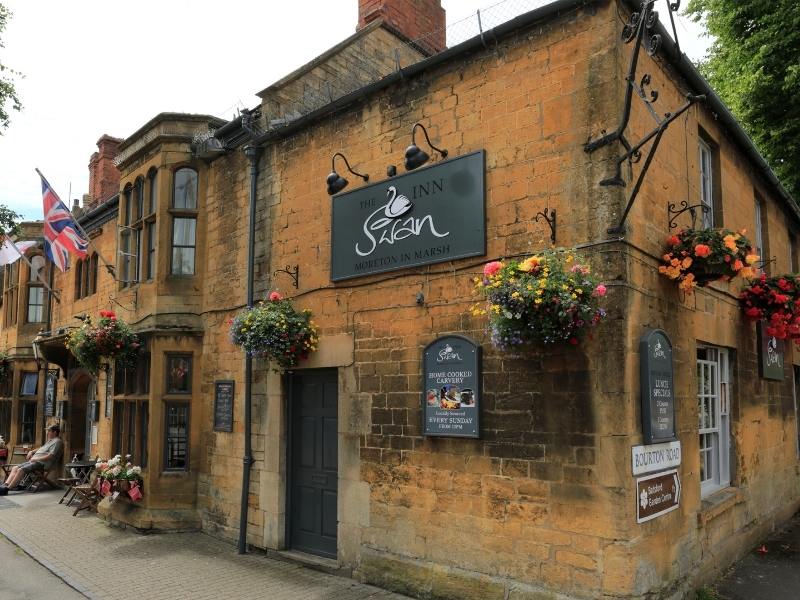 Logistics – how to get from London to Moreton-in-Marsh by train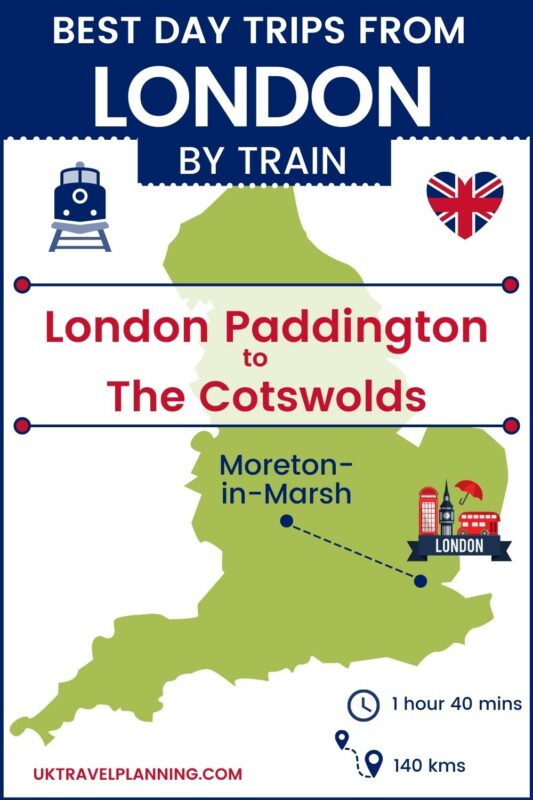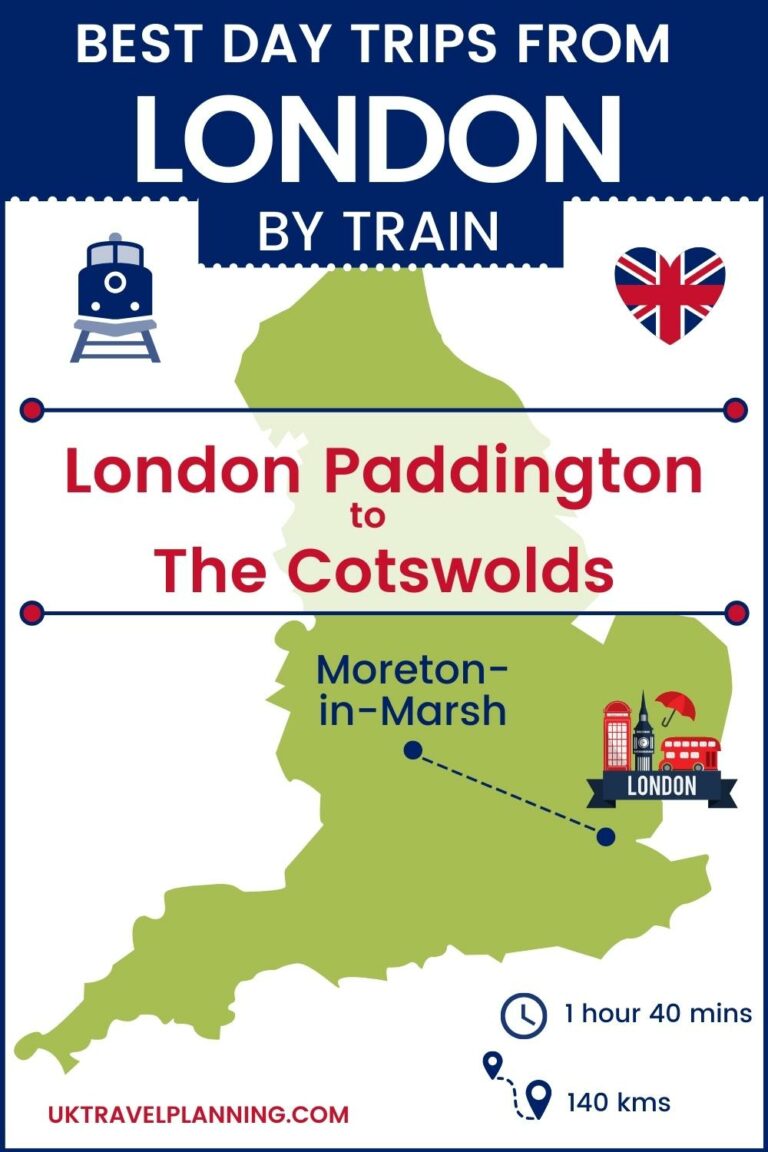 Winchester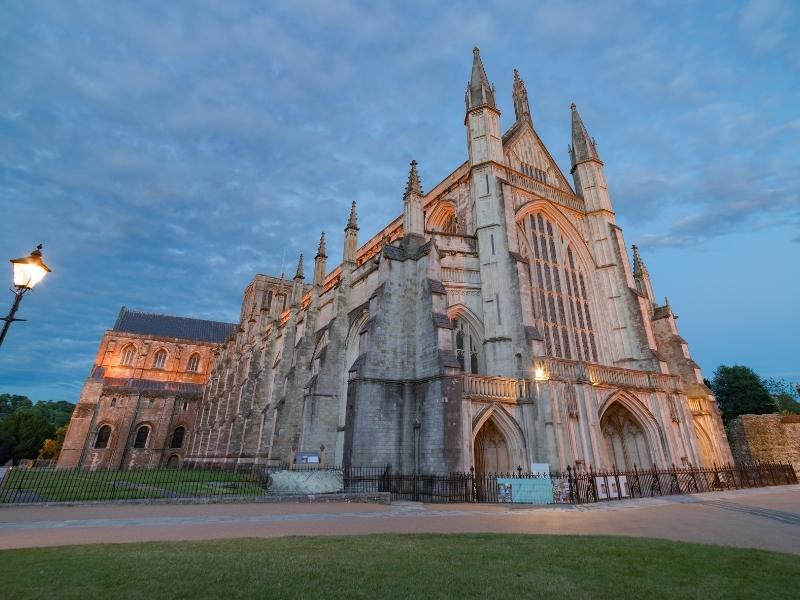 Good for – Architecture | History | Monuments | Literary connections
Winchester is home to one of the largest cathedrals in Europe. Founded in 1079 the structure has been remodelled over the centuries and has Romanesque and Gothic styles throughout.
Winchester Cathedral is also famously the resting place of Jane Austen.
There is a lot to see in the cathedral including the crypt, home to Anthony Gormley's famous sculpture Sound II, visiting Jane Austen's grave, and admiring the Winchester Bible an 800- year-old manuscript.
One day in Winchester (Must see Winchester attractions)
As I mentioned above there is a lot to see in Winchester cathedral. I would recommend taking one of the tours to learn all about the history as it is so interesting. After his successful invasion of England William the Conquerer was crowned king in Winchester Cathedral in 1066.
Don't miss Anthony Gormley's sculpture Sound II in the crypt. If you are a fan of the novelist Jane Austen, who lived in Winchester, you will find her grave within the cathedral.
The Great Hall is a 13th-century aisled hall that contains one of the most iconic symbols linked to the legends of King Arthur – the Round Table.
Read more – Winchester Travel Guide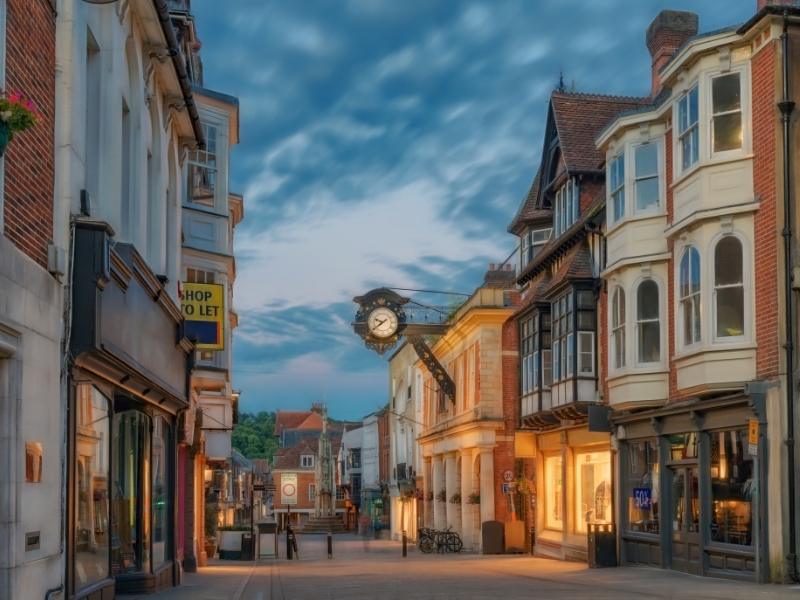 Logistics – how to get from London to Winchester by train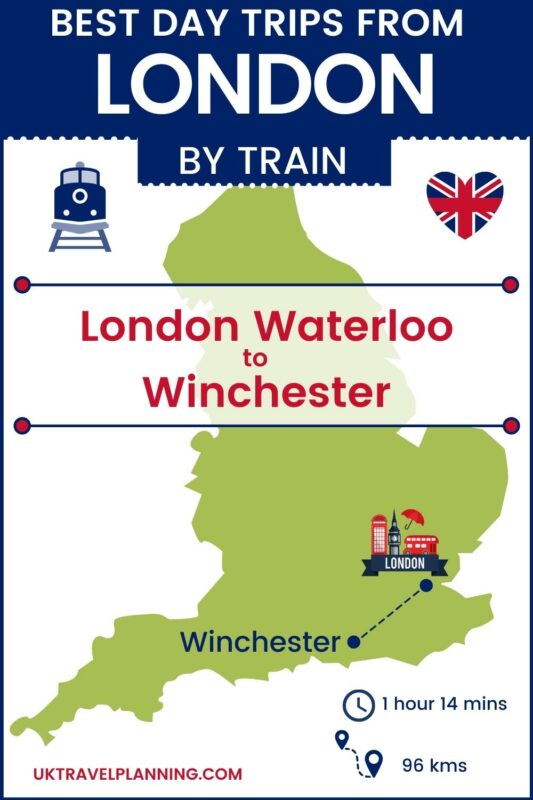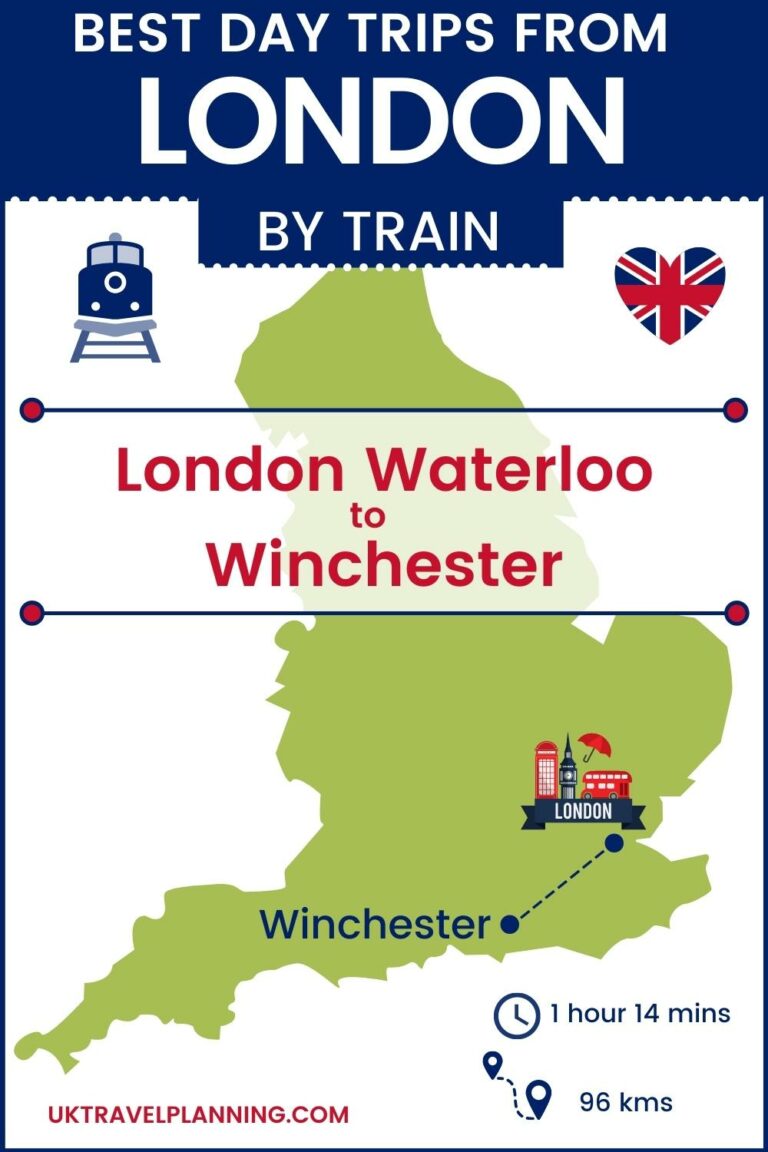 Windsor Castle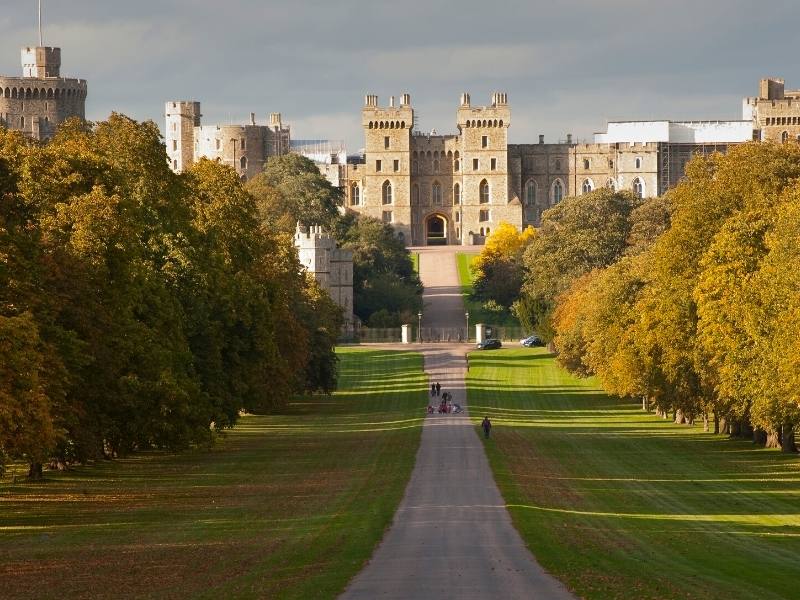 Good for – History lovers | Fans of the Royal Family
One of the most popular destinations for visitors to London and the UK is Windsor Castle. It is one of seven magnificent castles near London which are worth a visit.
A visit to Windsor Castle is also included in many organised day tours too. If you are pushed for time and wish to combine other destinations such as Oxford and the Cotswolds we recommend booking a tour such as this one.
One day in Windsor (Must see Windsor attractions)
Windsor Castle is one of the official residences of the Queen and also the oldest and largest occupied castle in the world. Look for the Royal Standard flying above the castle – it indicates that the Queen is at home.
St George's Chapel at Windsor Castle is where Prince Harry and Meghan Markle wed in 2018.
Plan to spend 2 hours to visit the castle.
Frogmore House and Gardens
This grand country house is located within the grounds of Home Park in Windsor half a mile from the castle. The house and has belonged to the royal family since the 16th century.
Many members of the Royal family including Queen Victoria are buried in at Frogmore.
The house and grounds are open to the public on certain days of the year.
Frogmore Cottage located on the grounds is the English home of Prince Harry and Meghan and is a private residence and not open to the public.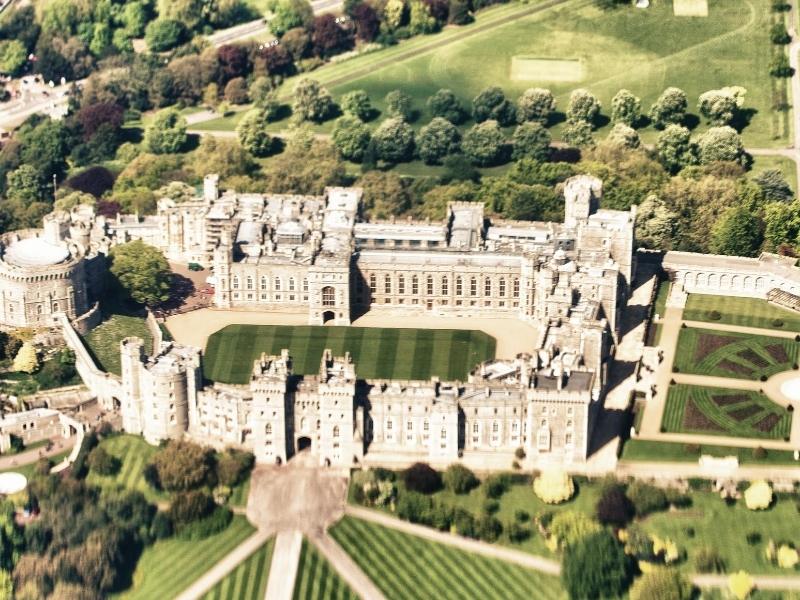 Logistics – how to get from London to Windsor by train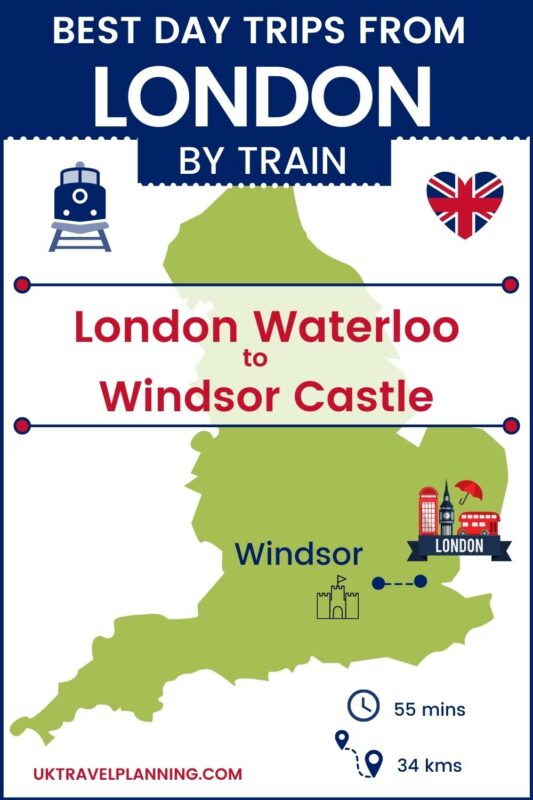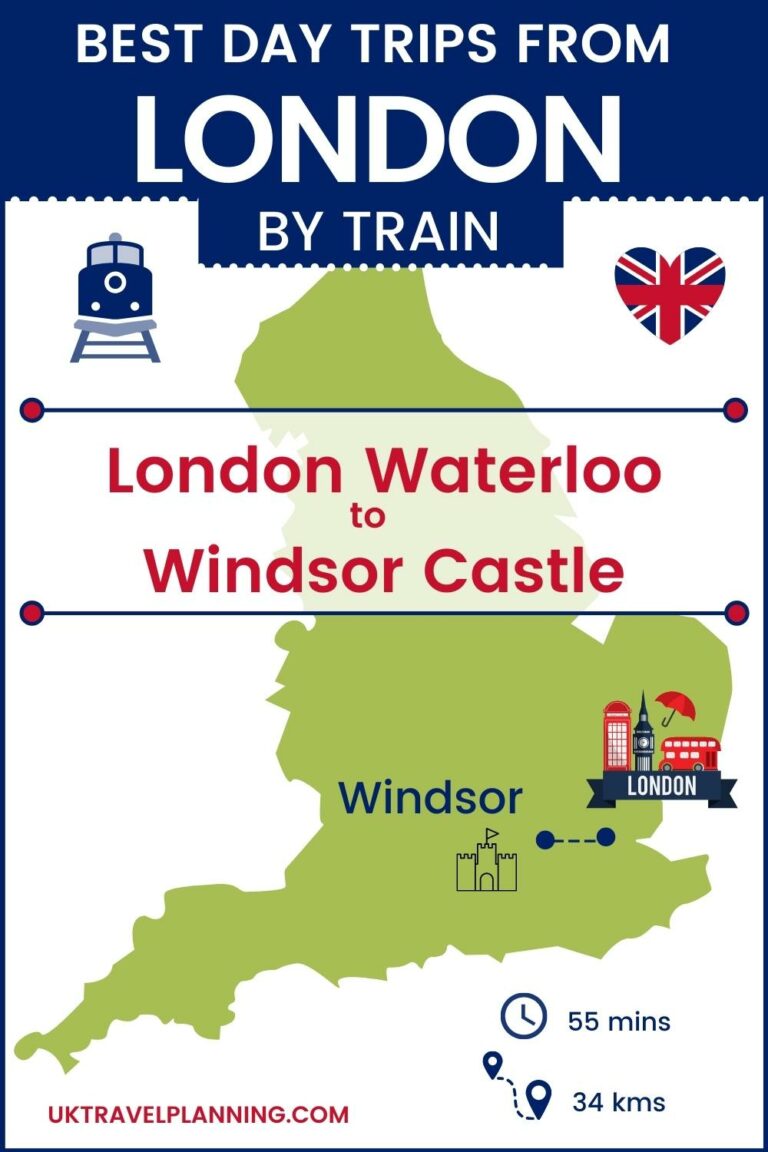 St Albans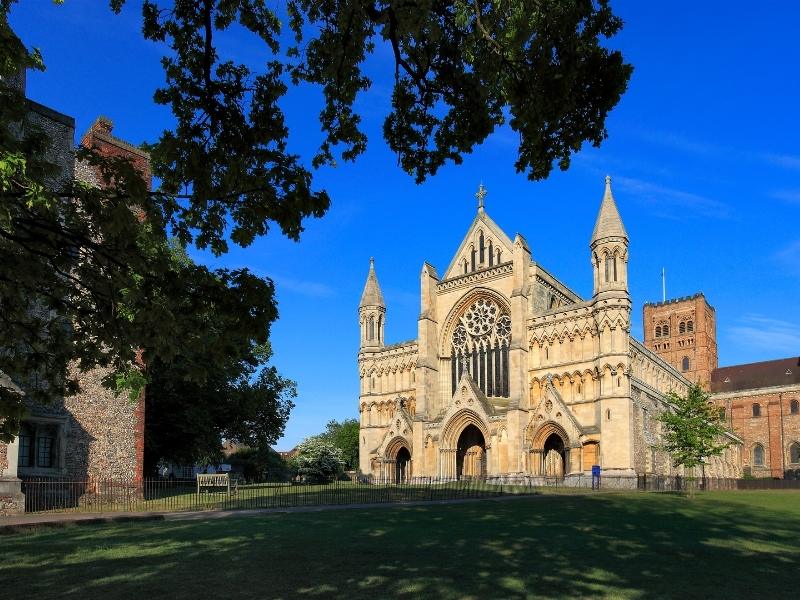 Good for – History lovers
The market town of St Albans in Hertfordshire is the closest city to London.
St Albans is only minutes from the capital (a 20-minute train ride from London St Pancras to be exact) which makes it an easy day trip if you want to only spend a few hours out of the capital.
St Albans was the site of the Roman settlement of Verulamium and remains which can be seen today include a Roman wall, theatre and impressive mosaics.
One day in St Albans (Must see St Albans attractions)
St Albans Cathedral was built in 1077 and is the second largest cathedral in England (after Winchester) It is the oldest site of continuous Christian worship in England.
Located in the cathedral is the shrine of St Alban after whom the city is named. Look for the medieval wall paintings that adorn the walls which are amongst the oldest in existence.
If you have an interest in Roman history visiting the Verulamium Museum is a must. Filled with an extensive collection of ancient treasures and fine mosaics you can immerse yourself in Roman life as it was in England over 2000 years ago.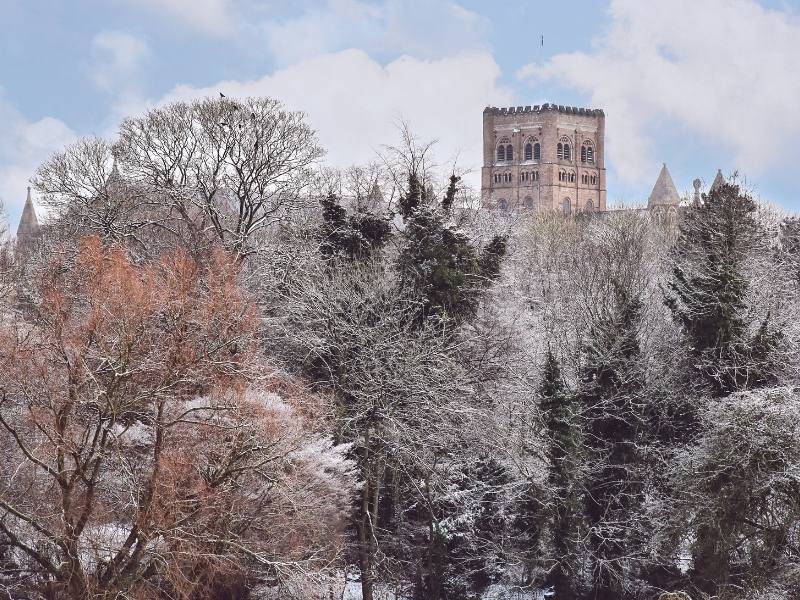 Logistics – how to get from London to St Albans by train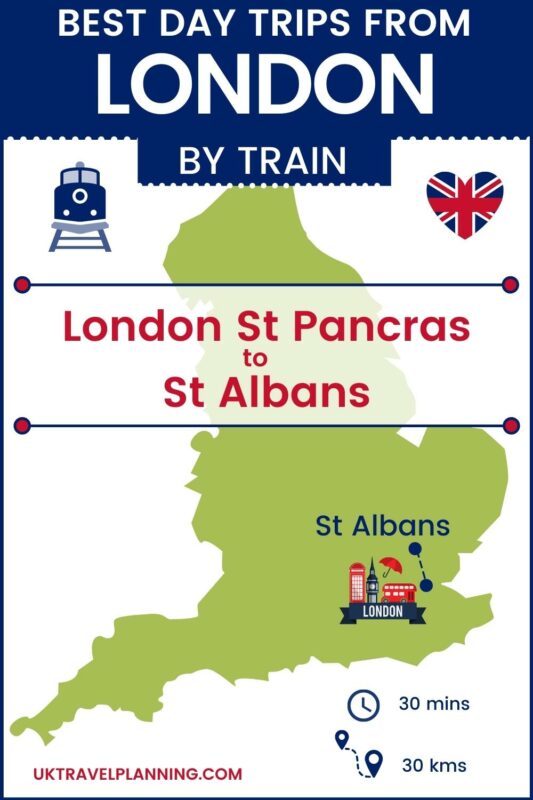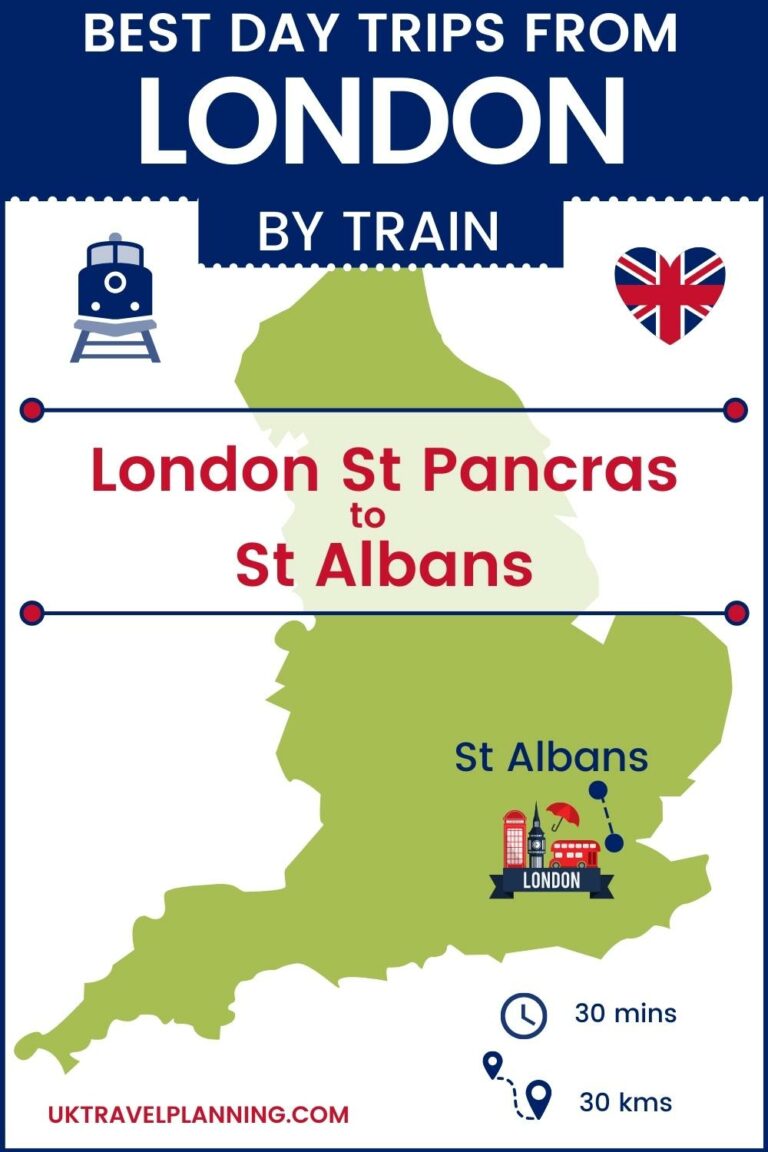 Brighton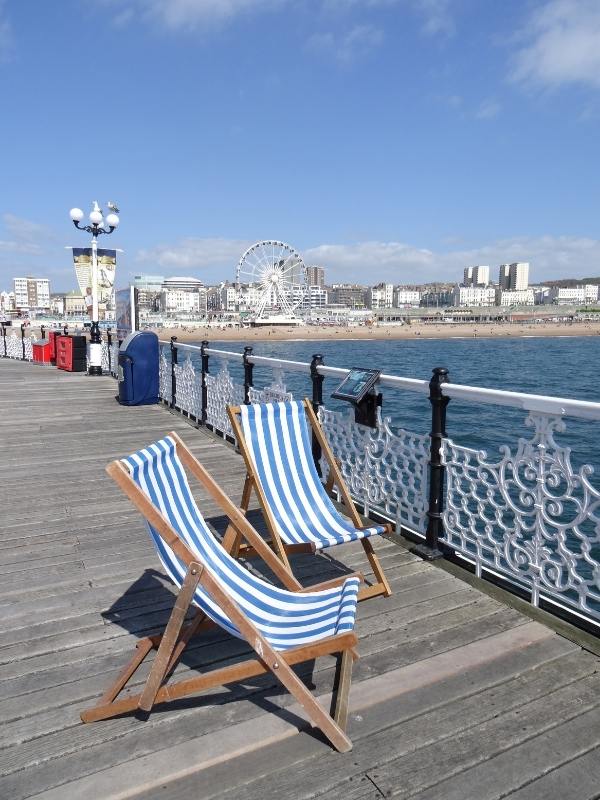 Good for – Shopping | History | Architecture | Art | Street art | Foodies | Seaside
Brighton is the closest city to London located on the south coast of the UK. It has buckets of charm and character and is home to the fascinating and ostentatiously beautiful Brighton Pavilion.
This is one of the most popular train rides from London especially during the summer months when city dwellers head to the coast.
Plan a full day – enjoy the sights and take a break in one of the many bars, cafes and restaurants to choose from in Brighton.
A trip to enjoy the Seven Sisters Cliffs in the South Downs National Park is popular for visitors heading to the south coast – take a tour from Brighton to see these beautiful white cliffs.
One day in Brighton (Must see Brighton attractions)
Do not miss the chance to visit the Brighton Pavilion. Built by King George IV (during his time as Prince Regent) at a considerable cost the pavilion is opulently decorated and filled to the brim with exquisite furnishings.
Packed with plenty of restaurants, tea rooms, pubs, and shops the narrow alleyways that make up The Lanes are a shopper's paradise.
Opened in 1899 the famous pier is 525 metres long, Grade II listed, and an iconic symbol of Brighton.
Read more – Brighton Travel Guide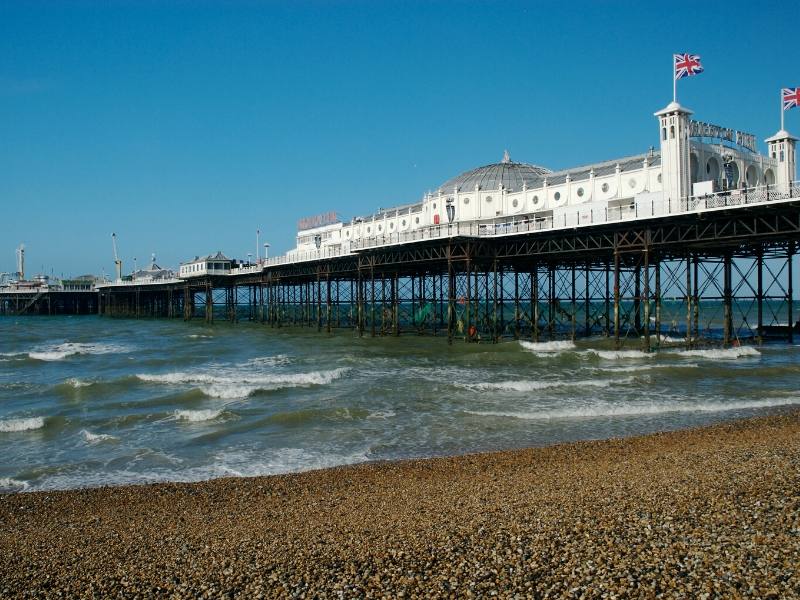 Logistics – how to get from London to Brighton by train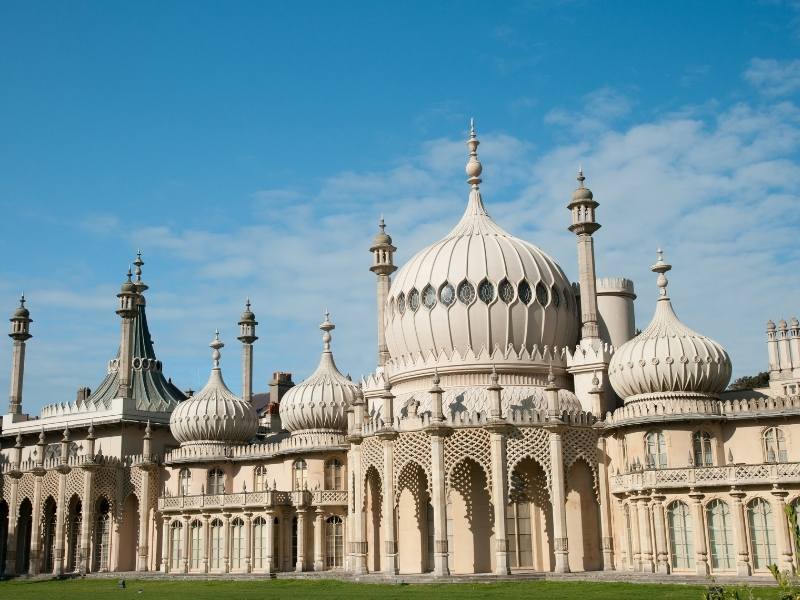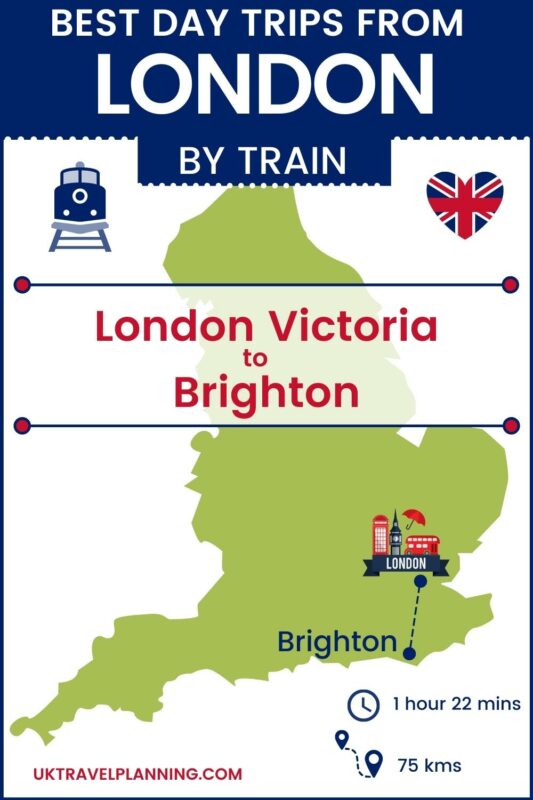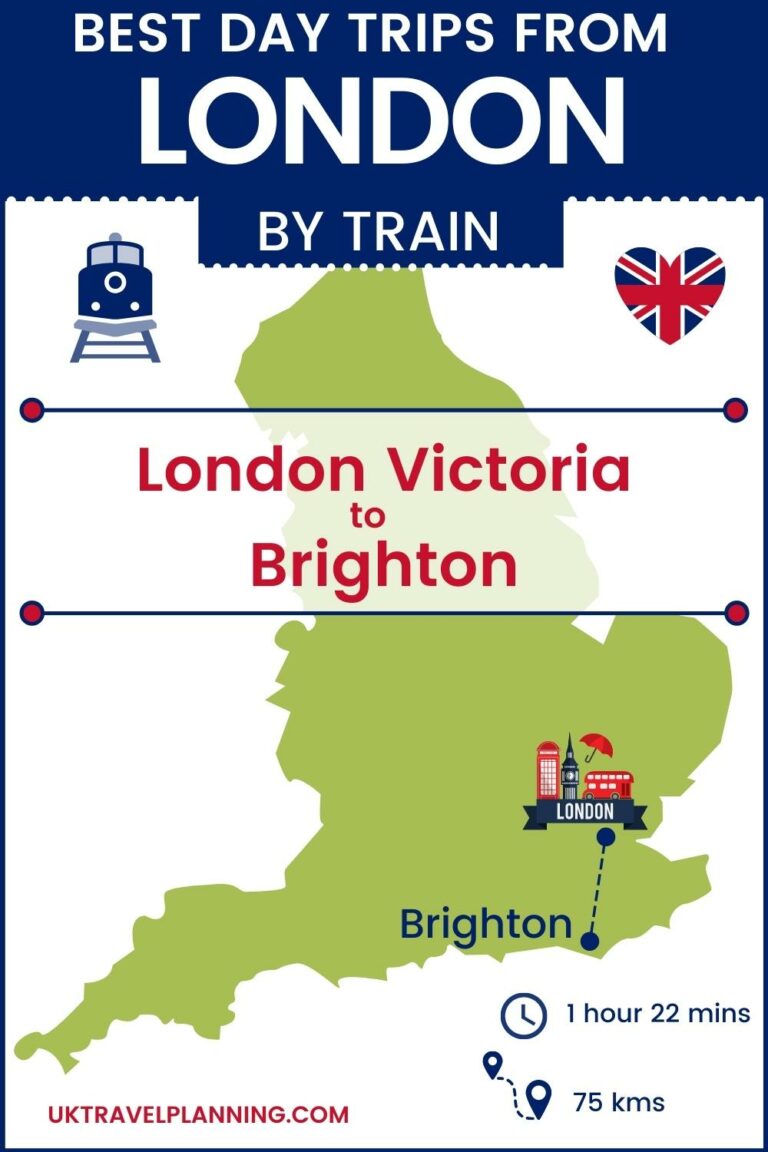 Bath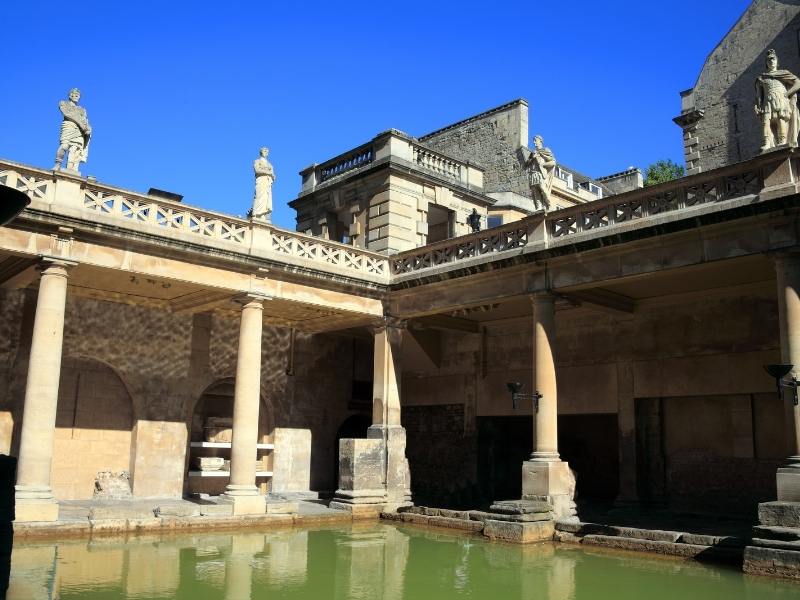 Good for – Romantics | Architecture | History lovers
Although a little further away from London than some of the other day-trip destinations suggested in this post (taking on average 2 and a half hours by train) Bath is an immensely popular destination, World Heritage Site and absolutely worth a day trip (at the very least).
Bath is also a city included in our 14-day train trip itinerary around Great Britain.
One day in Bath (Must see Bath attractions)
Built over 2000 years ago the Roman Baths are one of England's most popular tourist attractions. Plan at least 2 hours to explore the Roman Temple, Bath House, Sacred Spring, and museum.
The Grand Pump Room next to the Roman Baths serves refreshments including afternoon tea (book in advance)
Admire the Royal Crescent
This row of 30 houses laid out in a crescent shape is officially known as the Royal Crescent. Built between 1767 and 1774 the houses are a beautiful example of Georgian architecture.
Whilst some of the houses are private residences No.1 Royal Crescent is a museum and No. 16 is the Royal Crescent Hotel and Spa.
Afterwards, take a boat ride along the River Avon to admire the shop-lined Poultney Bridge.
Read more – Bath in one day (complete itinerary)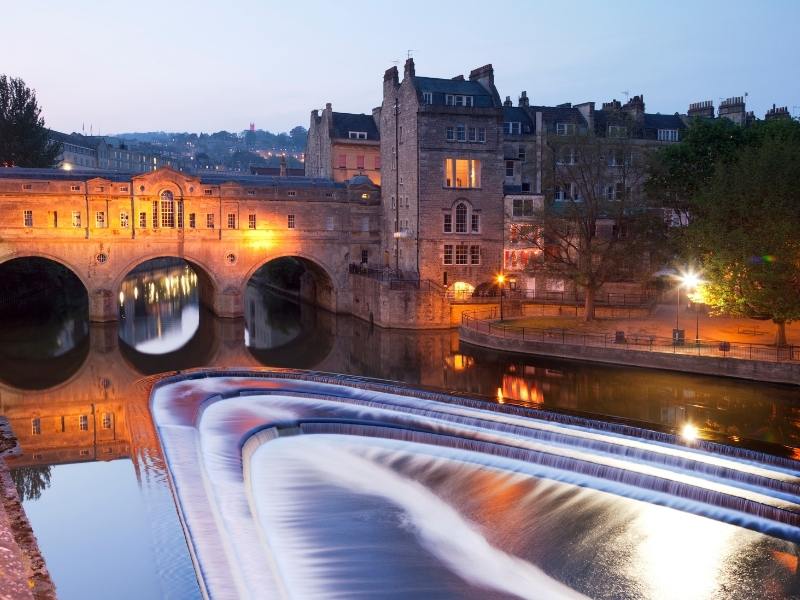 Logistics – how to get from London to Bath by train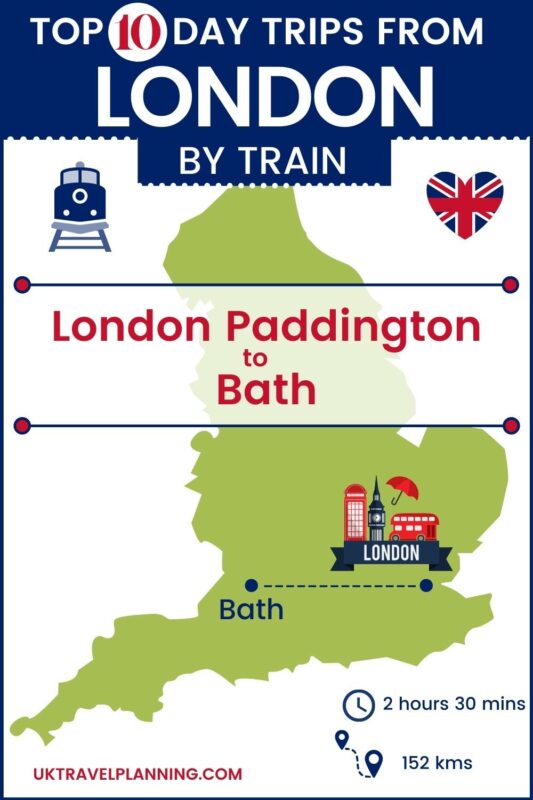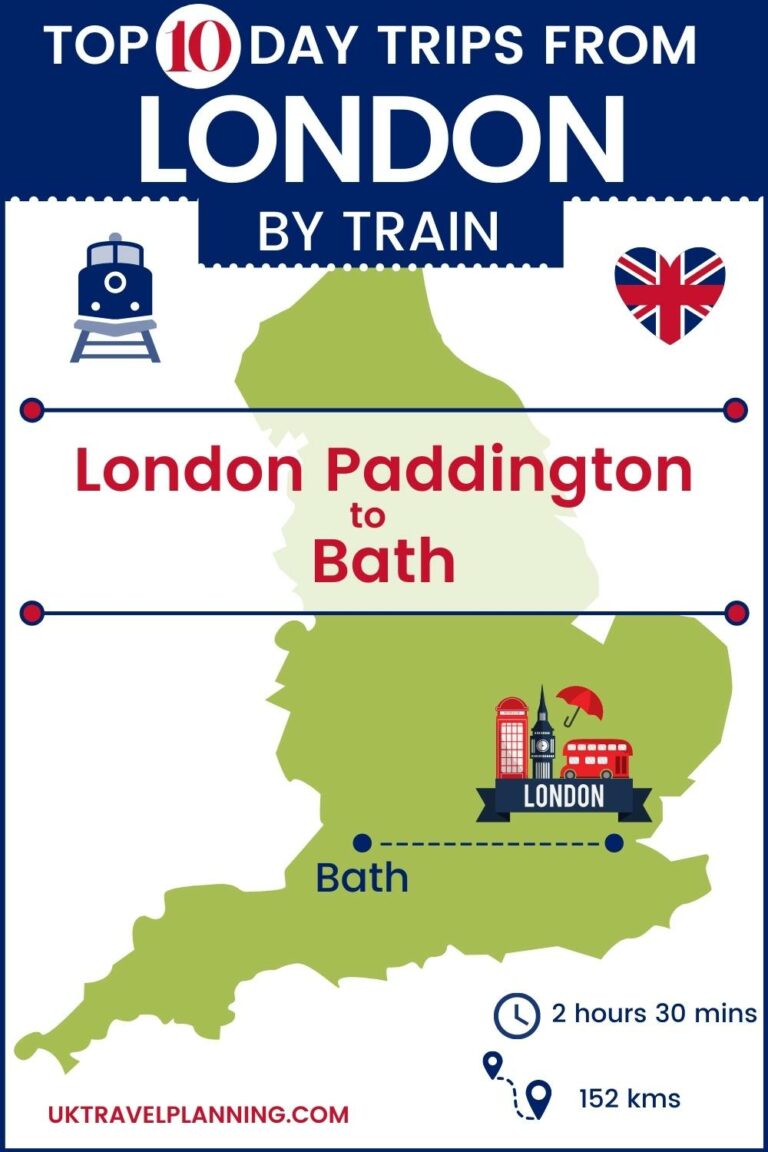 Bristol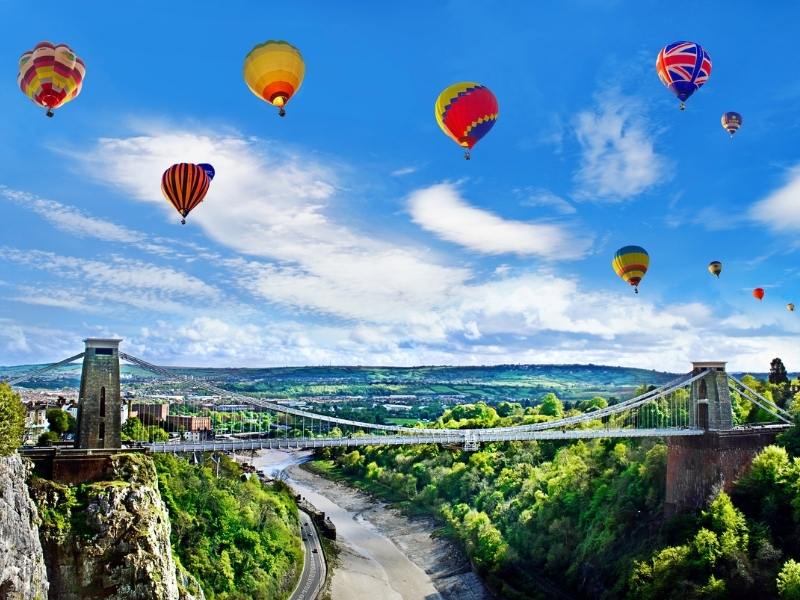 Good for – Museums | Art | Street Art | Architecture
Bristol is synonymous with 2 very different famous figures – one is Isambard Kingdom Brunel who was of the most prolific mechanical and civil engineers in history and the other is the street artist and political activist known as Banksy.
One day in Bristol (Must see Bristol attractions)
Clifton Suspension Bridge
Designed by Brunel this 150-year-old suspension bridge is a toll bridge linking Clifton in Bristol with Leigh Woods in North Somerset.
Visit the Bristol Shopping Quarter home to hundreds of shops, restaurants, cafes, and attractions – shop, eat, drink and enjoy!
Take a walking tour of Banksy's art
If you are a fan of Banksy's work I highly recommend doing one of 3 great free walking tours written by some Bristol locals to guide you around the work. Bristol's city walls are covered in murals too.
Read more – Bristol Travel Guide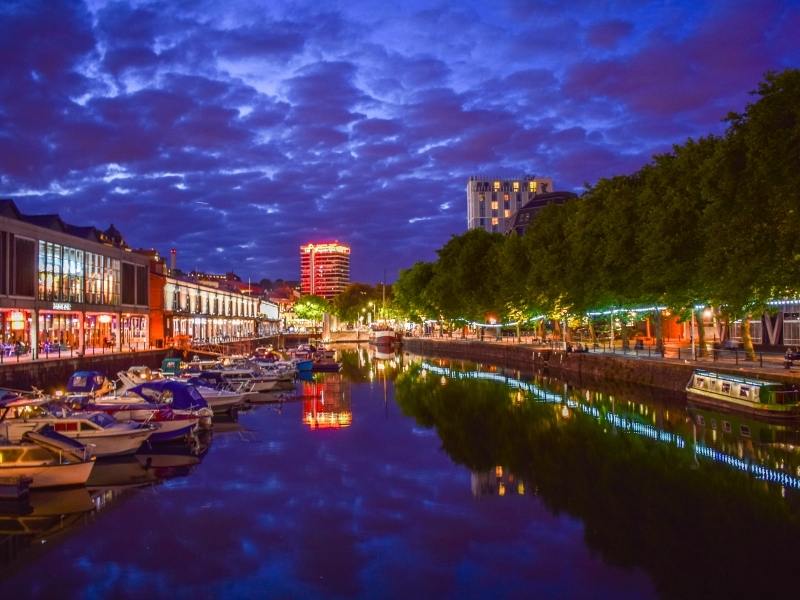 Logistics – how to get from London to Bristol by train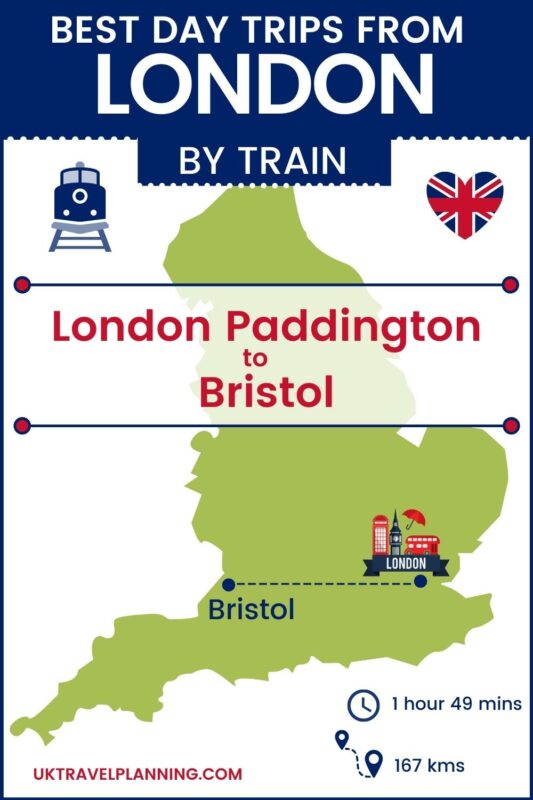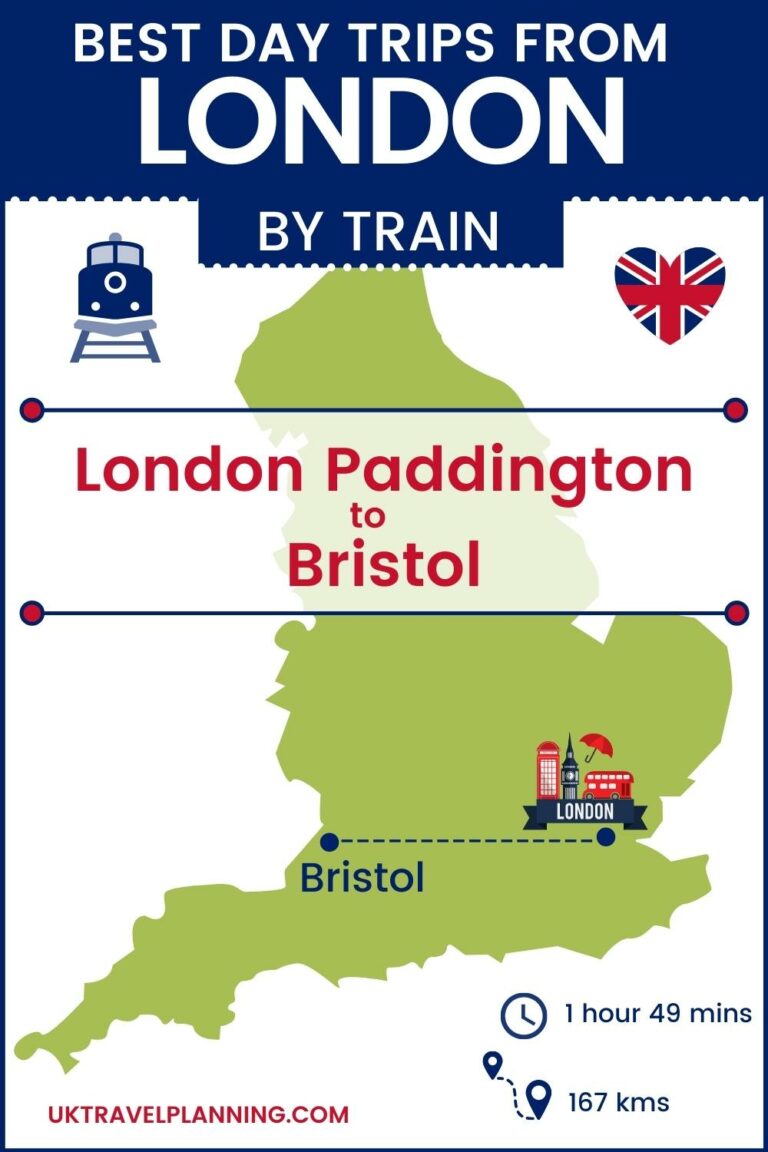 Salisbury & Stonehenge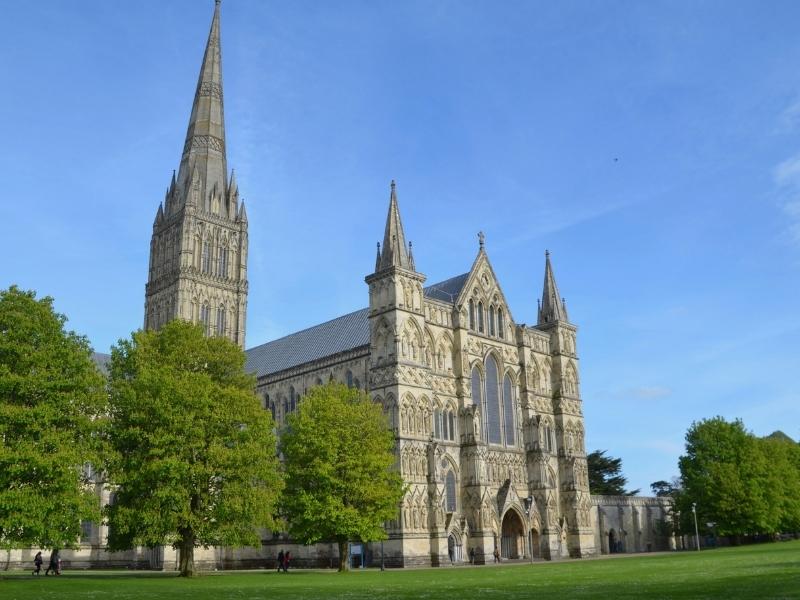 Good for – Architecture | Stonehenge | History lovers | Market
If you are planning a London day trip by train to visit the prehistoric monument of Stonehenge your first destination will be beautiful Salisbury.
This cathedral city has a market day every Tuesday held in the city centre. Salisbury Charter Market is held outdoors in all weathers throughout the year.
One day in Salisbury (Must see Salisbury attractions)
Not only a beautiful cathedral in its own right but also the home of one of only four Magna Carta documents in the world Salisbury Cathedral is a must-visit if you are in the city. Don't miss the spire which is the tallest church spire in the UK.
Not far from Salisbury is one of England's most famous and popular tourist attractions – Stonehenge. The ancient stone circle dates back thousands of years and is one of the world's most famous prehistoric monuments.
Good to know – There are no direct trains from London to Stonehenge. Once you arrive in Salisbury jump onto the Stonehenge Tour Bus at the train station for the transfer to Stonehenge.
Read more – A complete guide to visiting Stonehenge (and Salisbury)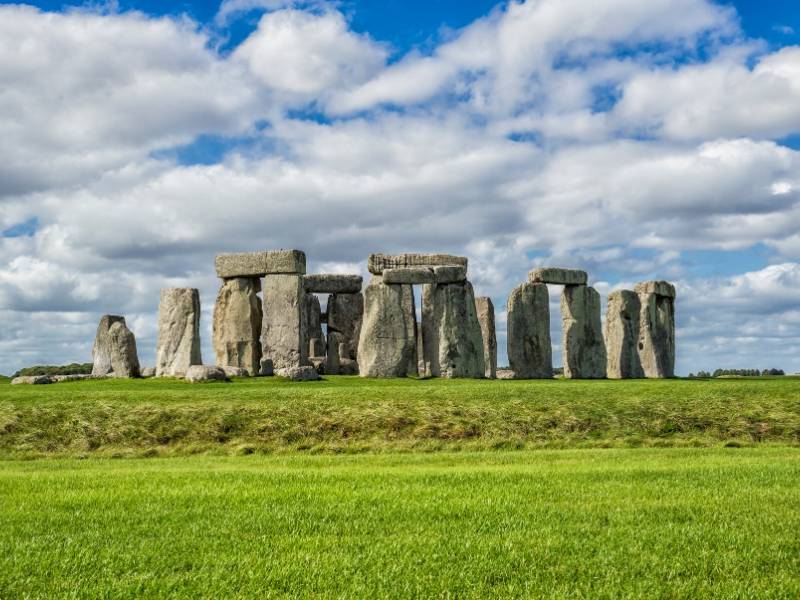 Logistics – how to get from London to Salisbury by train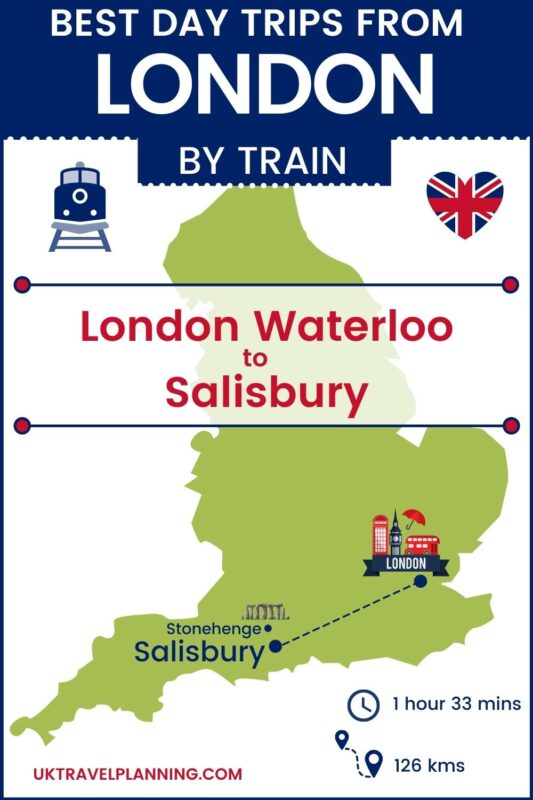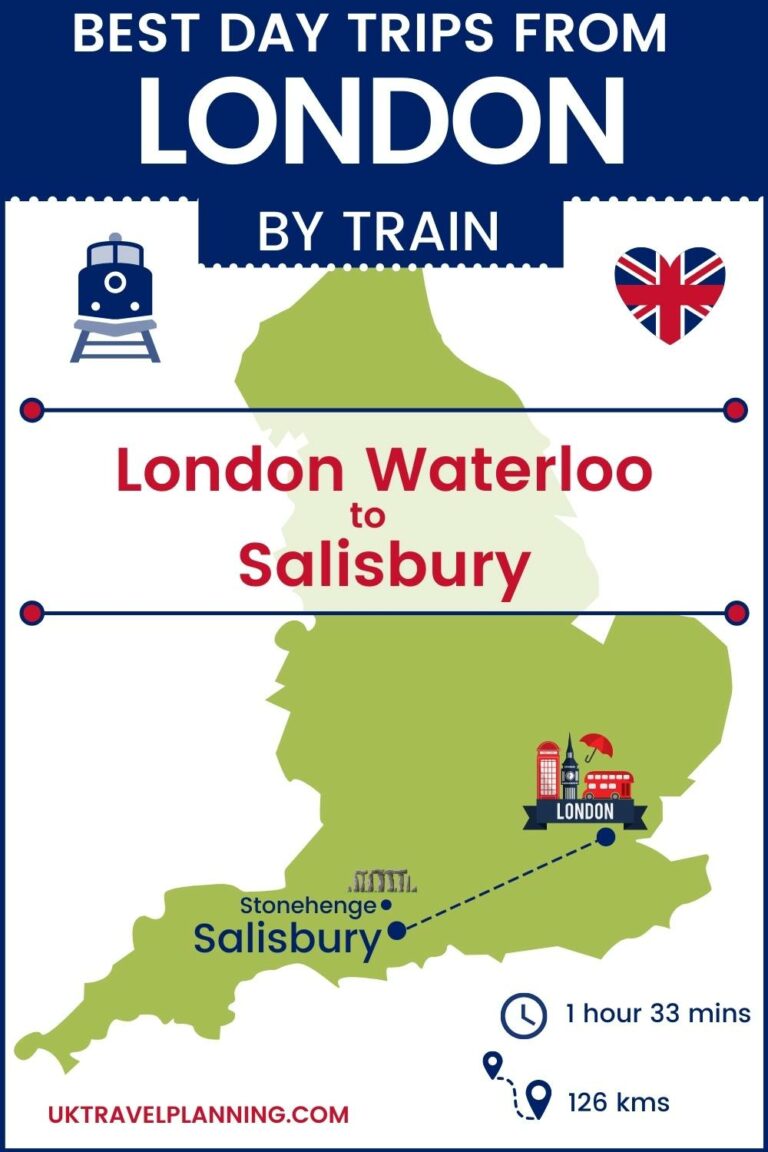 Canterbury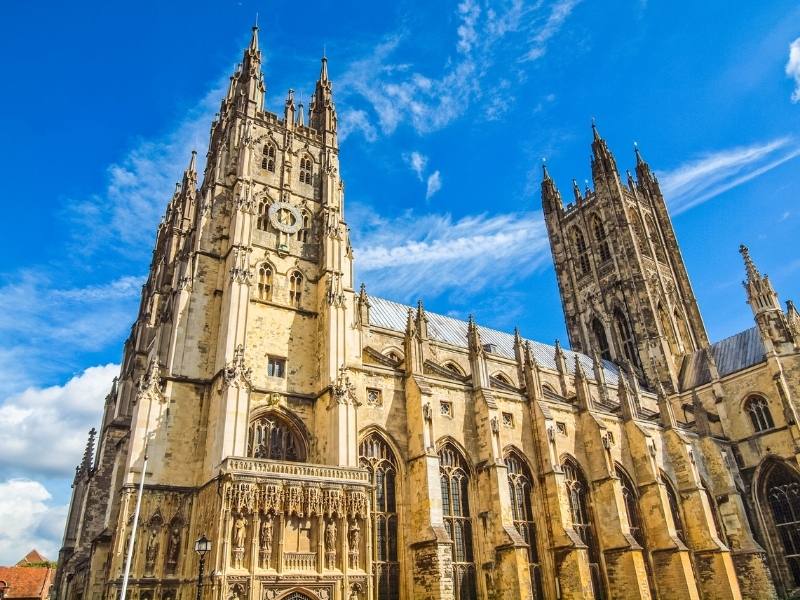 Good for – History |Museums | Tudor buildings
UNESCO World Heritage-listed Canterbury Cathedral was a place of Christian pilgrimage during the Middle Ages following the murder of Thomas Becket within its walls.
Founded in 597 AD Canterbury Cathedral is the headquarters of the Anglican Church.
Associated with the works of Middle Ages English poet and author Geoffrey Chaucer whose Canterbury Tales are a collection of 24 stories recounted by 30 pilgrims as they make their way to Canterbury.
One day in Canterbury (Must see Canterbury attractions)
Visit Canterbury Cathedral
Canterbury Cathedral has a long and interesting history including surviving the dissolution of the monasteries under Henry VIII and an extensive bombing campaign during WWII.
The Cathedral is the Mother Church of the Anglican community worldwide and the Archbishop of Canterbury presides at its head.
Stroll the medieval centre of Canterbury
The medieval centre of Canterbury is surrounded by ancient walls which were originally built by the Romans. Stroll through the medieval centre and admire its cobbled streets and timber-framed houses.
Read more – Canterbury Travel Guide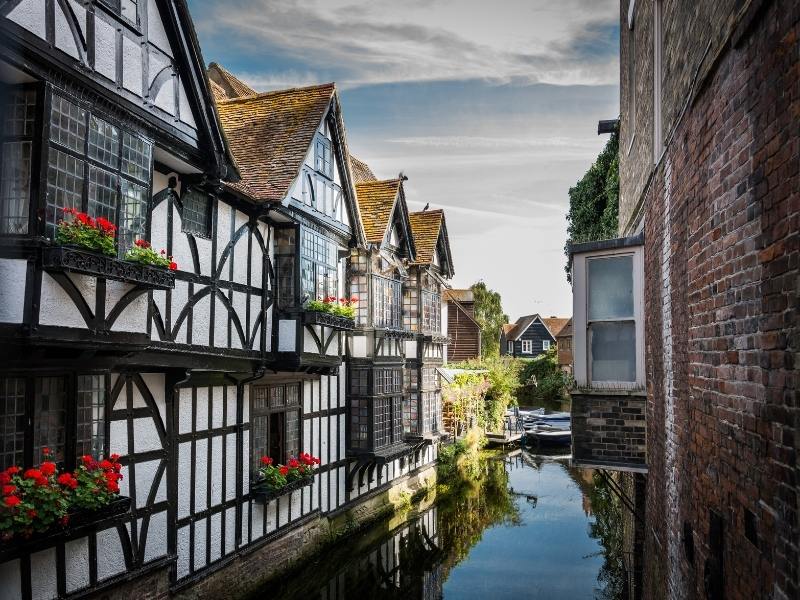 Logistics – how to get from London to Canterbury by train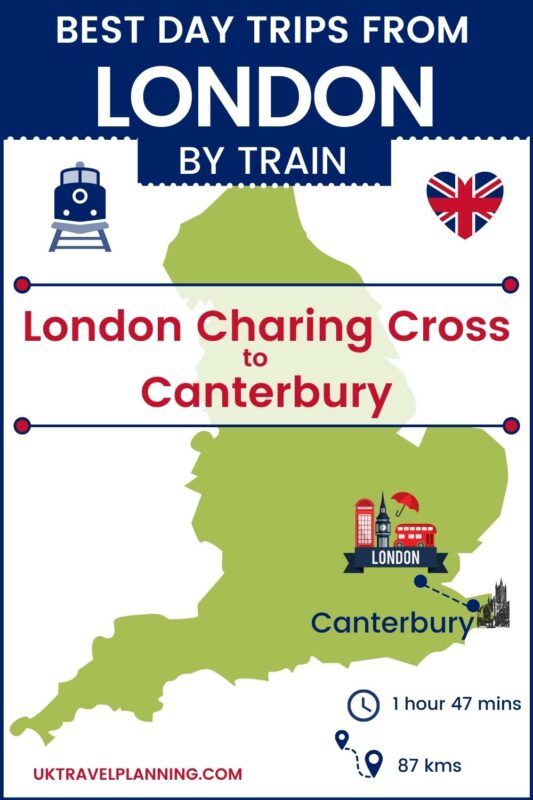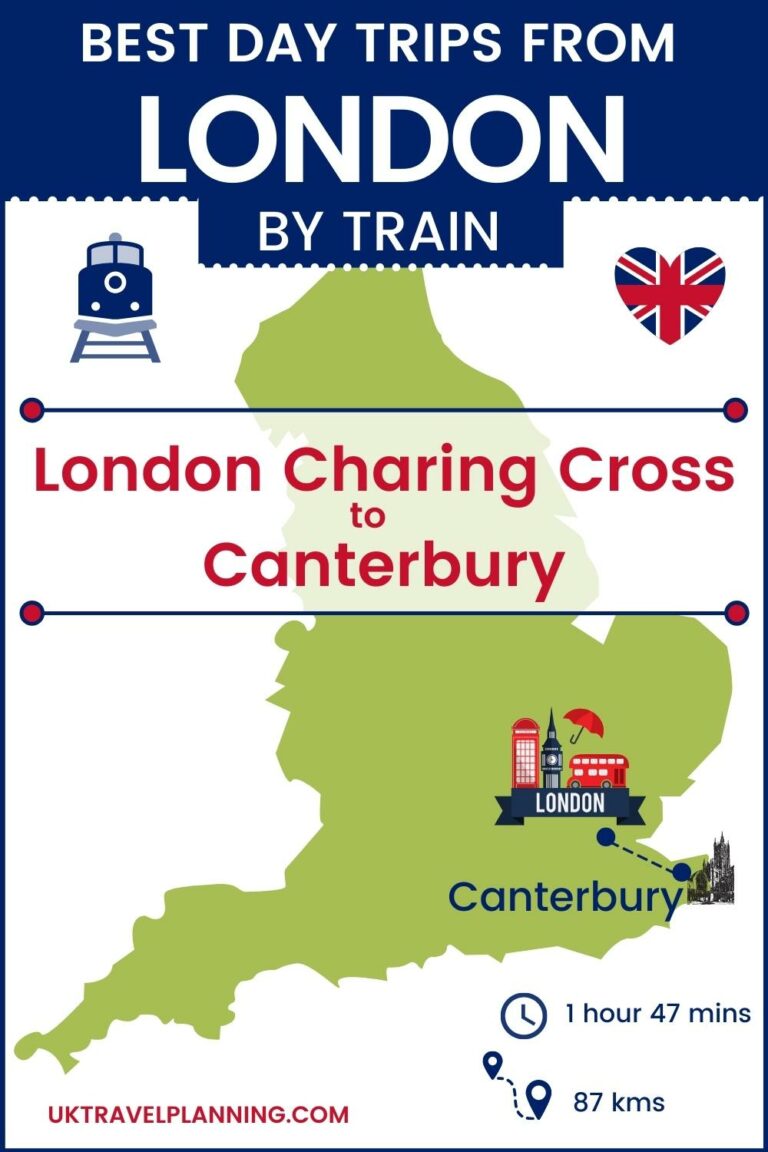 Stratford-upon-Avon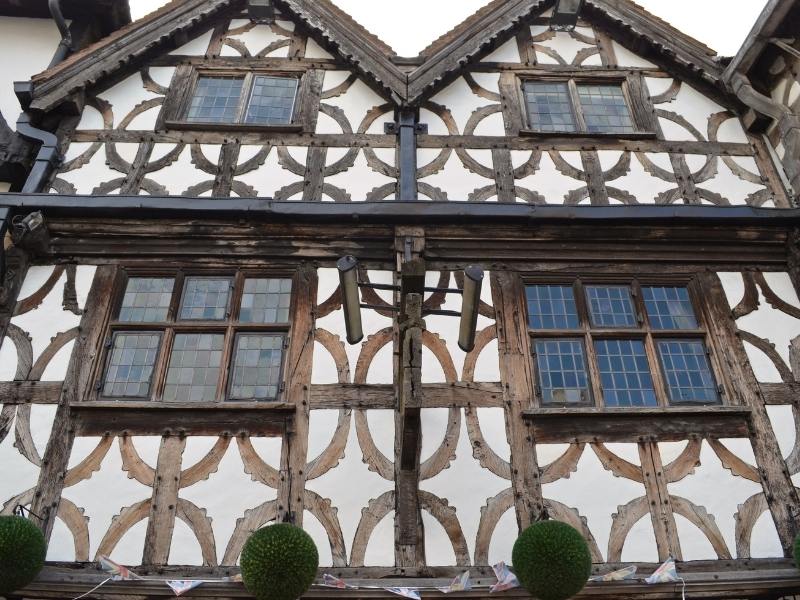 Good for – History | Architecture | Theatre | Lovers of Shakespeare
Stratford-upon -Avon is famous as the birthplace and home of William Shakespeare (1564-1616 )
Good to know – For those interested to learn more about Shakespeare's connections with the town we recommend taking the hop-on-hop-off bus tour.
One day in Stratford-upon-Avon (Must see Stratford attractions)
Visit the house where Shakespeare was born and raised. Located on Henley Street this is the home in which John and Mary Shakespeare raised 8 children!
The beautiful thatched cottage was the home of Shakespeare's wife Anne Hathaway. Located about a mile from Stratford it is included in the hop-on-hop-off bus routes around Stratford.
Church of the Holy Trinity
To see Shakespeare final resting place head to the Church of the Holy Trinity.
Read more – Stratford-upon-Avon Travel Guide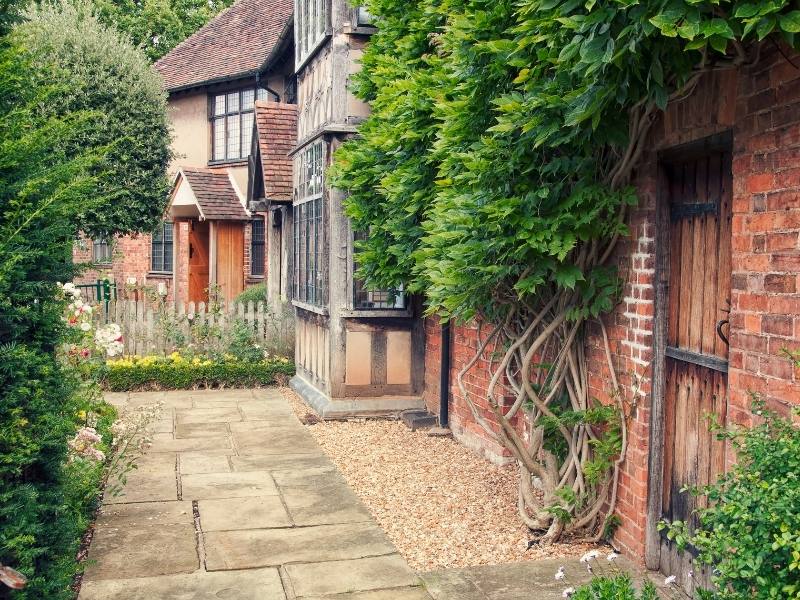 Logistics – how to get from London to Stratford by train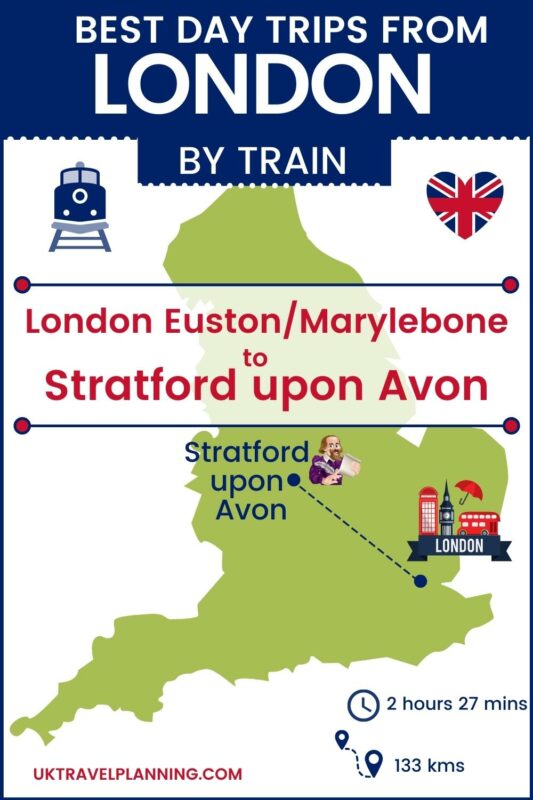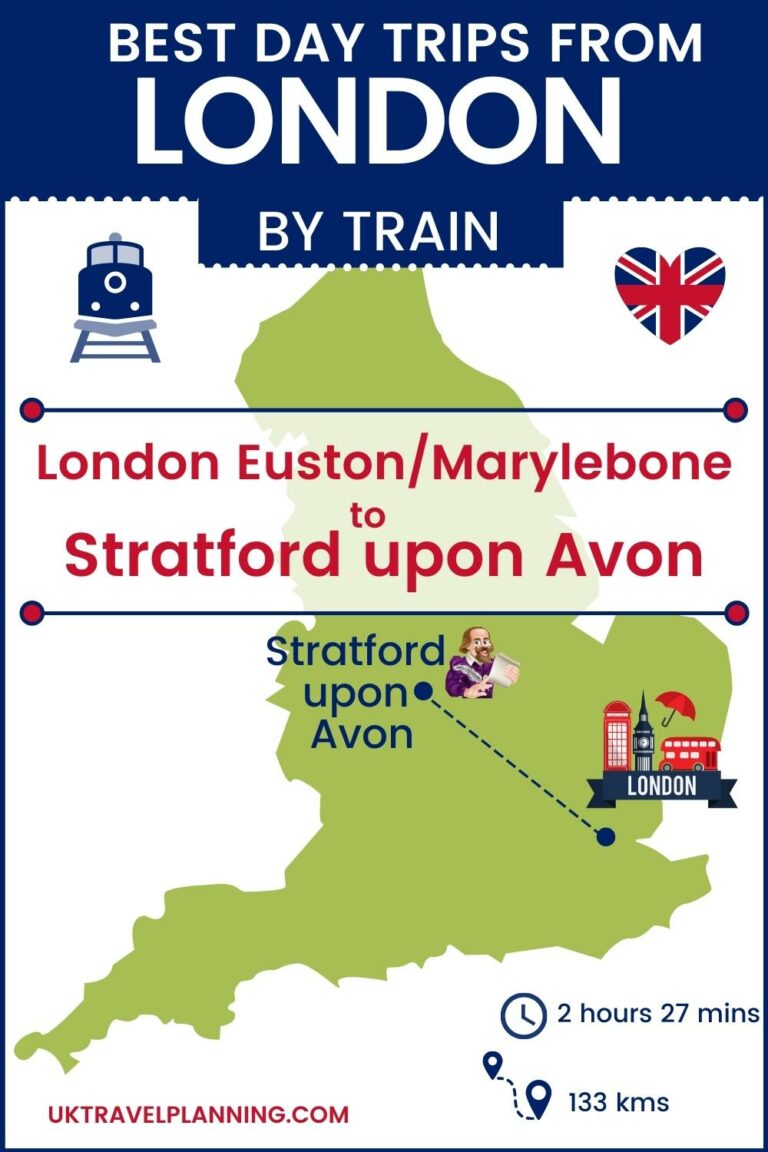 FAQs & Tips for train travel in the UK
Guide to UK train travel
If this is your first time travelling by train in the UK we recommend that you read our complete guide to rail travel in the UK which contains practical, no-nonsense advice.
In it, you will find the answers to some of the commonly asked questions such as:
How and where do I purchase train tickets in the UK?
How do I know what platform the train leaves from?
How do I find my train carriage and seat?
How accessible are trains in the UK?
How will I know where to alight the train?
The guide was written by Doug Collins (one of the founders of this website) who worked in the UK rail industry for 25 years and travelled on nearly every line across the network.
Our guides to getting around London on public transport plus an article about the 9 main train stations in London (such as Kings Cross Station, Paddington Station and St Pancras International) and our complete guide to transportation options in the UK are also recommended reading.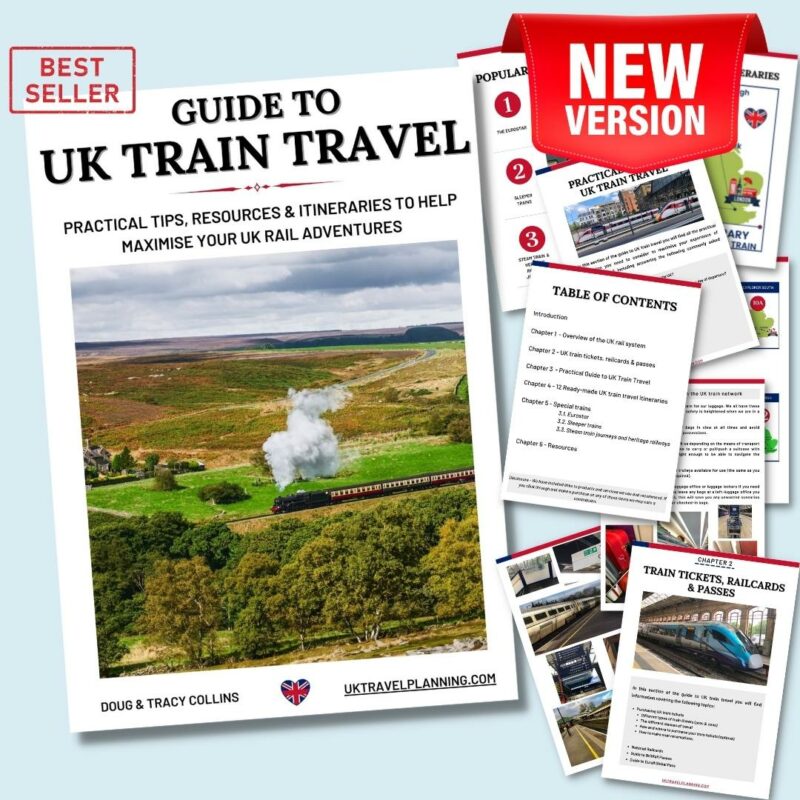 How can I save money on train travel in the UK?
Purchase a rail pass
Although train travel in the UK is not cheap there is a range of train passes and railcards and options available to make it more affordable for both visitors and UK residents.
Read more about the various train passes available for overseas visitors to the UK – read more about BritRail Passes here.
Purchase tickets in advance
Buy tickets as far in advance as possible as prices tend to rise near to the date of travel. Always check that there are no last-minute changes (such as train works*) on your day of travel.
I recommend buying train tickets for the UK from the trainline. They sell tickets for all the rail companies in the UK and Europe (unlike Europe the rail network in the UK is privatised so there are numerous companies who organise trains across the UK.)
*During public holidays essential rail maintenance is completed so check before you book/ travel in case of any delays. Often the rail service is replaced by buses and this could add considerably to your travel time.
More train travel suggestions for the UK
You can find more train travel inspiration for the UK in our guide to the top 10 rail journeys to take in Britain!
If you are a history lover you may also wish to visit some of the beautiful castles located near London including Windsor Castle, Warwick Castle, Dover Castle (why not see Dover's famous white cliffs too?) or Sudeley Castle in the Cotswolds.
If you are adventurous it is possible to visit Paris (and see the Eiffel Tower or take a stroll along the Seine) from London for a day trip. This is one of the Eurostar day trips from London to consider (Amsterdam and Brussels are also possible) and while it is tiring I would say DO IT!
You can find out more about organising a trip to Paris from London in our guide here.
We also have more information about travelling on the Eurostar too.
London Travel Guide & Itinerary Planner (+ 4 bonus ebooks)