Welcome to my guide to the top 10 places to visit in Yorkshire. If you are planning to visit the largest county in England you will find my recommendations for the best things to do and see in this article.
Home to over 5 million Yorkshire men and women who call it "God's own county" Yorkshire is famous for beautiful scenery, historic cities, the Bronte sisters, tea, cozy pubs, Dracula, hikes, Yorkshire puddings, cheese, and pretty villages amongst many other things!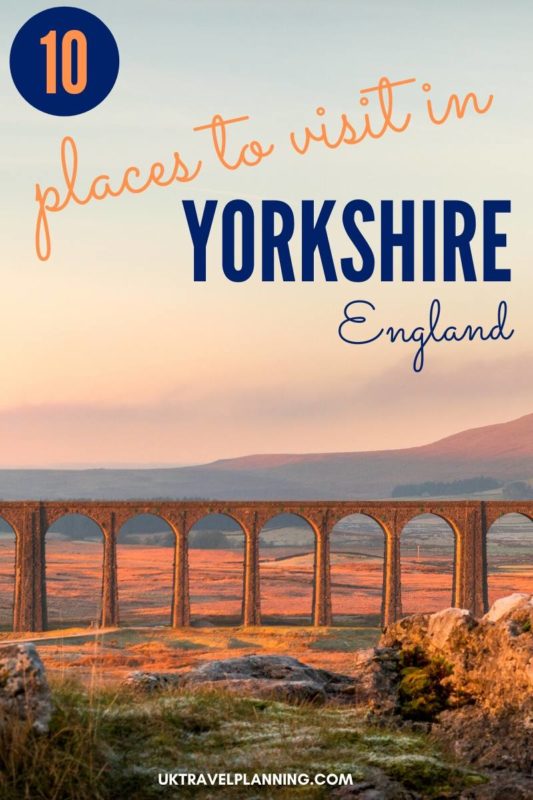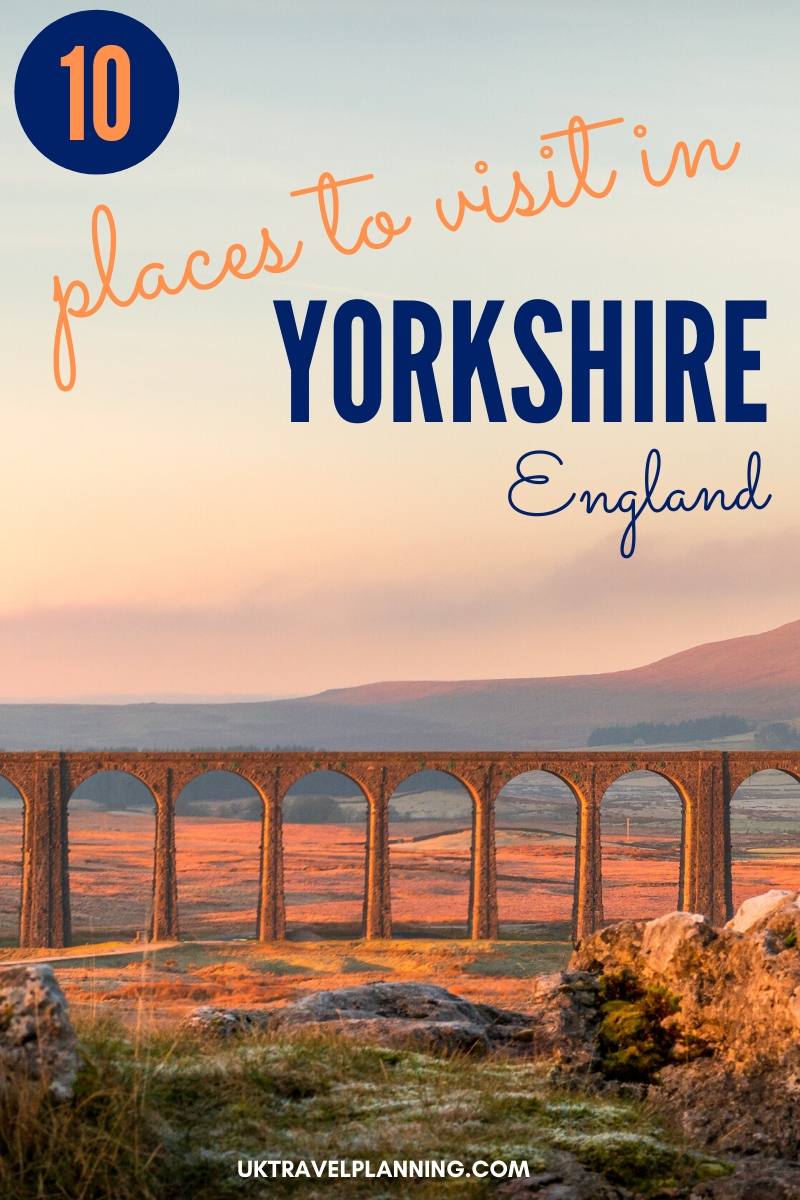 Lets explore the top 10 places to visit in Yorkshire
1. Visit Fountains Abbey and Studley Royal Water Park
One of my favourite destinations in Yorkshire is Fountains Abbey and Studley Royal Water Park.
Fountains Abbey was closed after the dissolution of the monasteries by Henry VIII in 1539. Although it lies in ruins today you can get a sense of just how magnificent it was.
It is now surrounded by Studley Royal Water Park. The beautiful park and gardens were designed in the 18th century by John and William Aislabie.
They were declared a UNESCO World Heritage Site in 1986.
Read more | Visiting Fountains Abbey and Studley Royal Water Park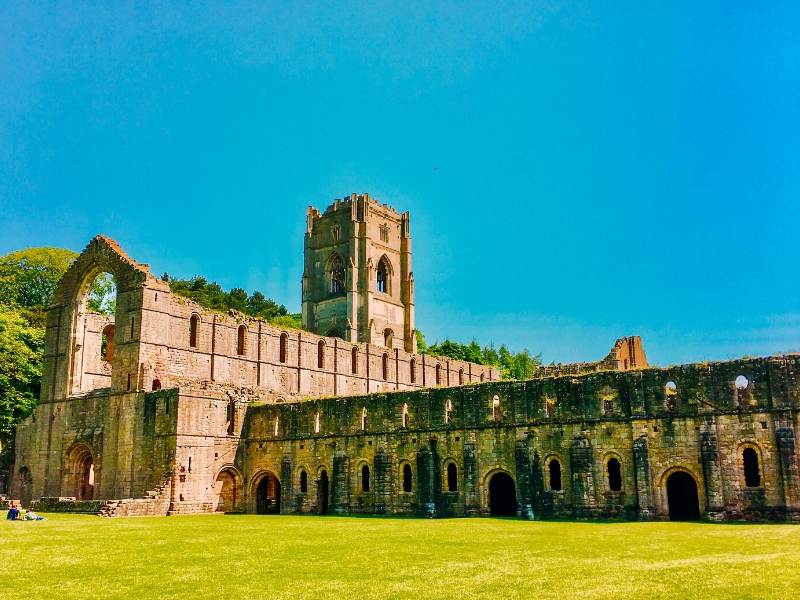 2. Walk the Yorkshire Dales
You are spoilt for choice when it comes to beautiful walks in Yorkshire with whether you are looking for a short walk or a longer hike.
My personal favourite walk to do in Yorkshire is the Ingleton Waterfalls Trail. The loop circuit is a manageable 7 km long. It does however incorporate lots of steps so is unfortunately not accessible for wheelchair users.
With lots of waterfalls and some incredibly beautiful scenery along the way, it is a popular walk with families and dog walkers.
Read more | Walking the Ingleton Waterfalls Trail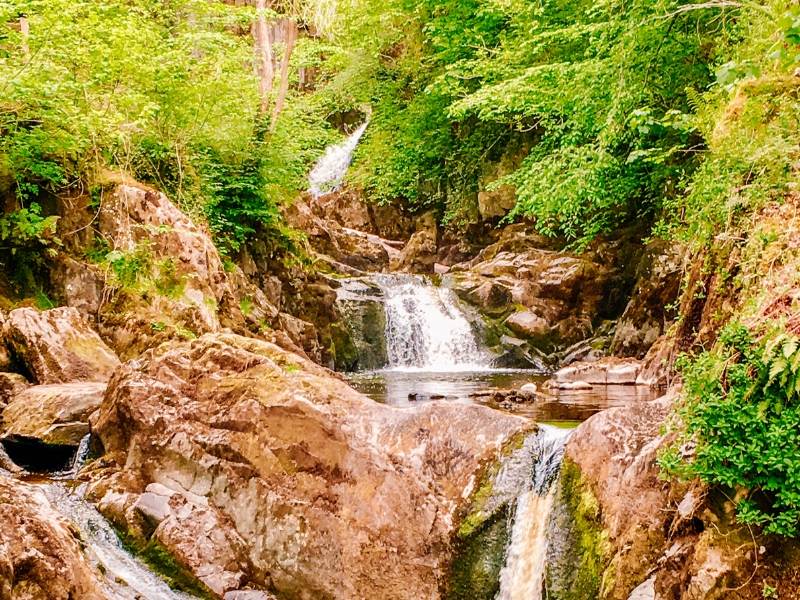 3. Go shopping in Diagon Alley (The Shambles)
Take a stroll along the cobblestones of York and visit a street that dates back to the Domesday book of 1086. In fact, some of the buildings along the Shambles were built in the 14th century and are over 700 years old!
The street is said to be the inspiration behind Diagon Alley in Harry Potter. You may actually be forgiven for thinking you actually are at Diagon Alley as the street does seem to have rather a lot of Potter-related shops!
Look out for the timber-framed buildings which hang over the street!
Read more – York Travel Guide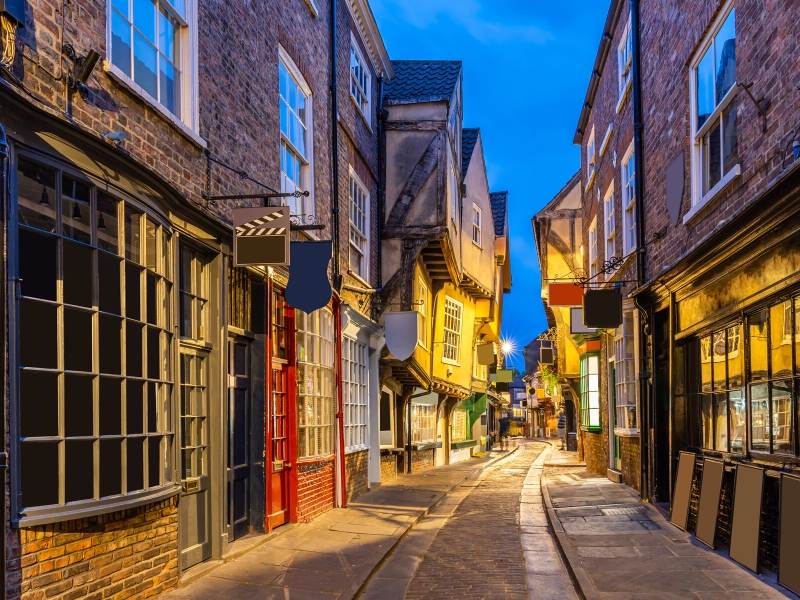 Listen to our Podcast about visiting York
4. Visit the Victorian model village of Saltaire
Another UNESCO World Heritage Site to visit in Yorkshire is the Victorian village of Saltaire.
Saltaire was created in 1853 by factory owner Titus Salt. He was the first to provide schools, hospitals, washhouses and decent housing for his workers in a move that was revolutionary at the time.
Take a stroll around the streets (many named after his children) and all lined with rows of houses still inhabited today.
The Mill that is at the heart of the village and today houses a selection of shops, restaurants and cafes. You will also find works by local (and of course very famous) artist David Hockney in the gallery.
Read more | Guide to visiting Saltaire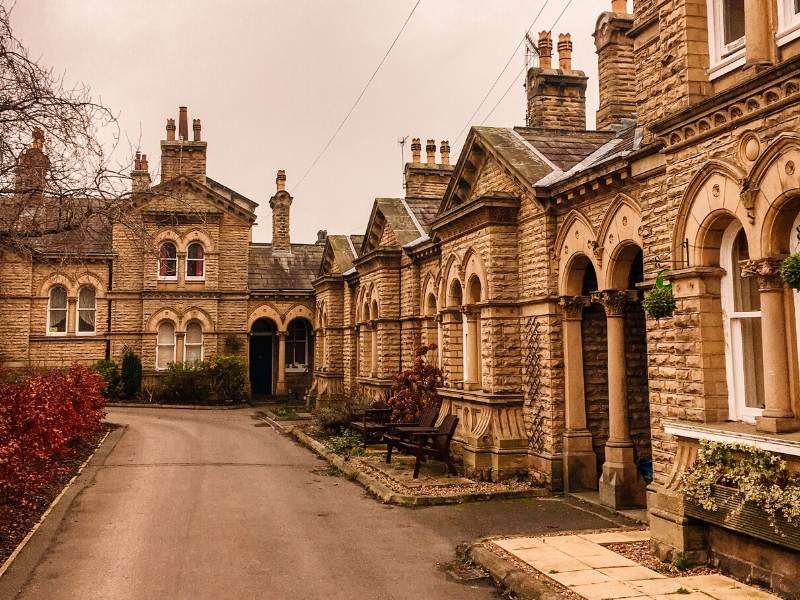 5. Visit the seaside town that inspired Dracula – Whitby
The coastal town of Whitby with its ruined Gothic Abbey is popular with visitors all year round.
The Abbey provided Bram Stoker with the inspiration to write one of the most famous novels of the late 19th century – Dracula.
Whitby is filled with quirky shops and some of the best fish and chip shops anywhere in the UK. You cannot visit Whitby and not have fish and chips!
Whitby was also home to the British explorer Captain James Cook. There is a museum in the town which is located in the house which belonged to the man to whom he was apprenticed as a sailor in 1746.
Read more | Very best things to see in Whitby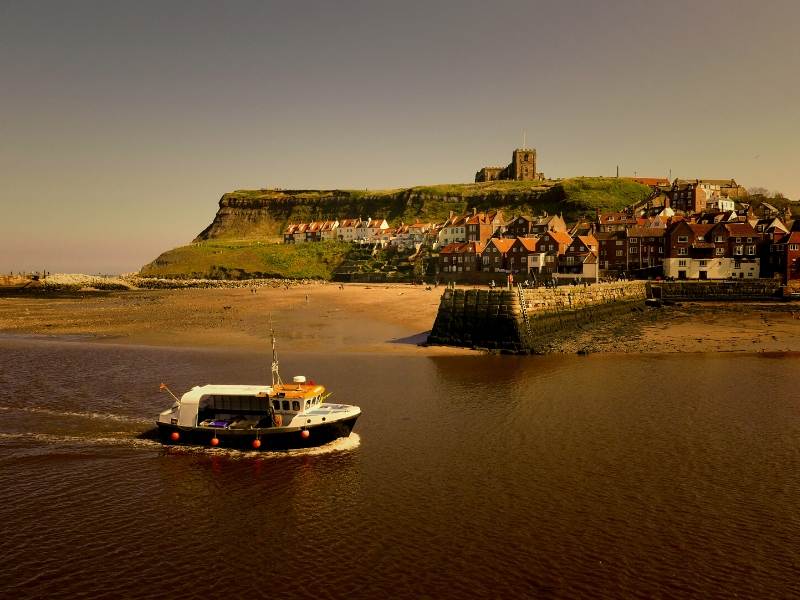 6. Visit the National Rail Museum in York
A great day out for all the family is a visit to the best train museum in the UK – the National Rail Museum in York.
Situated next to the main railway station this is a must for any rail enthusiasts.
Wander the Great Hall, Station Hall, and North Shed where you will find locomotives and millions of railway objects on display.
Highlights of the exhibitions include the Flying Scotsman, a replica of Stephenson's Rocket and the Mallard (the world's fastest steam locomotive). There are also many examples of more modern trains on show including a Shinkansen or Japanese bullet train and a Eurostar.
My favourite is Station Hall where you will find the royal carriages which belonged to the Royal Family including Queen Victoria's favourite saloon. There are free talks given regularly during the day so check for times when you arrive.
Admission to the museum is free and the museum is open daily from 10:00 – 17:00 in winter and 10:00 – 18:00 in the summer.
Read more | Visiting the National Railway Museum in York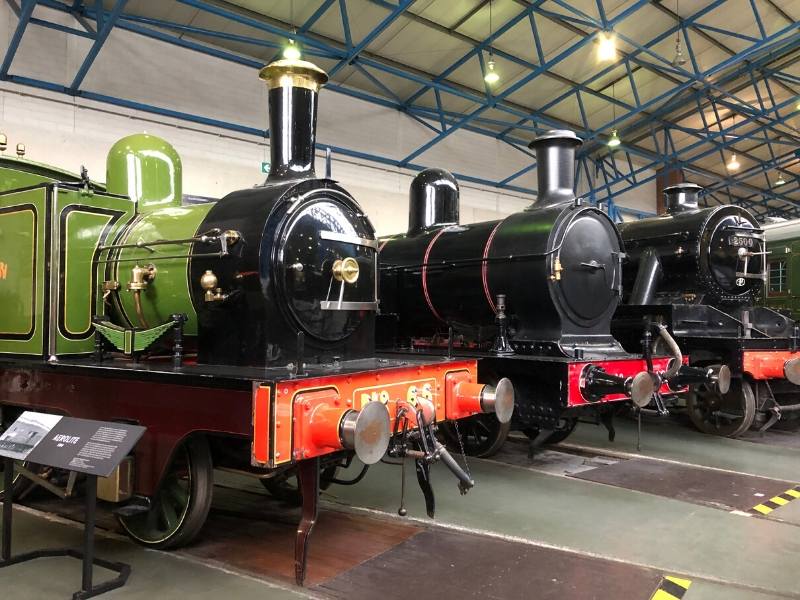 7. Visit Castle Howard
This stately home in North Yorkshire is the ancestral home of the Howard family for over 300 years. Recognisable to fans of the movie adaptation of Evelyn Waugh's Brideshead Revisited as the home of the Flyte family Castle Howard is Brideshead.
The house and gardens at Castle Howard are open to the public with regular events scheduled throughout the year.
Don't miss the annual Castle Howard Proms an outdoor concert that includes a firework display, lasers and a Spitfire flyover.
Read more | Visit Castle Howard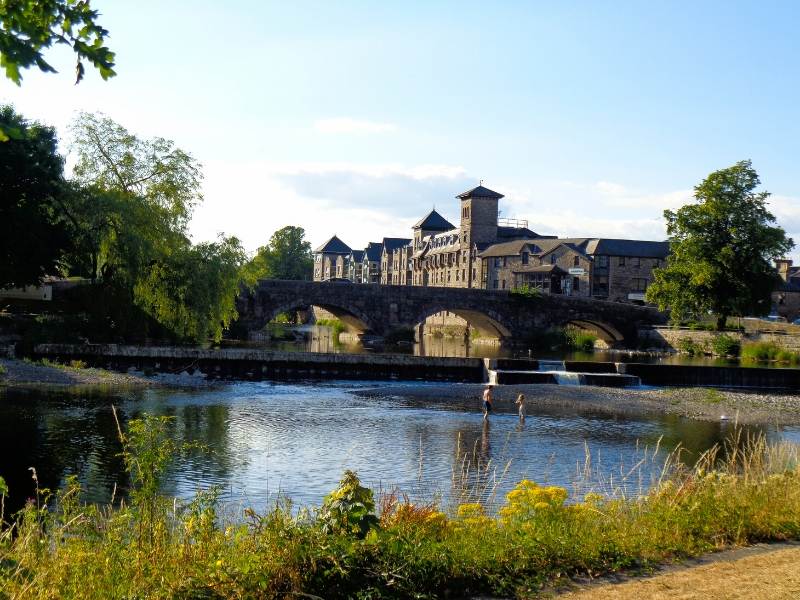 8. Take a train ride on the North Yorkshire Moors Historical Railway
This heritage railway running from Pickering to Whitby is one of the most popular steam heritage lines in the UK. It is a not for profit charity and by travelling on the railway you are helping to preserve this wonderful train line and stock.
The train services pass through a number of stations Northbound from Pickering to Whitby or Southbound from Whitby to Pickering. These include Goathland which appeared in the Harry Potter films as Hogsmeade, Grosmont and Levisham.
The 24-mile journey through the North Yorkshire countryside is an absolute treat for all the family. Book in advance to avoid disappointment.
Read more | North Yorkshire Moors Railway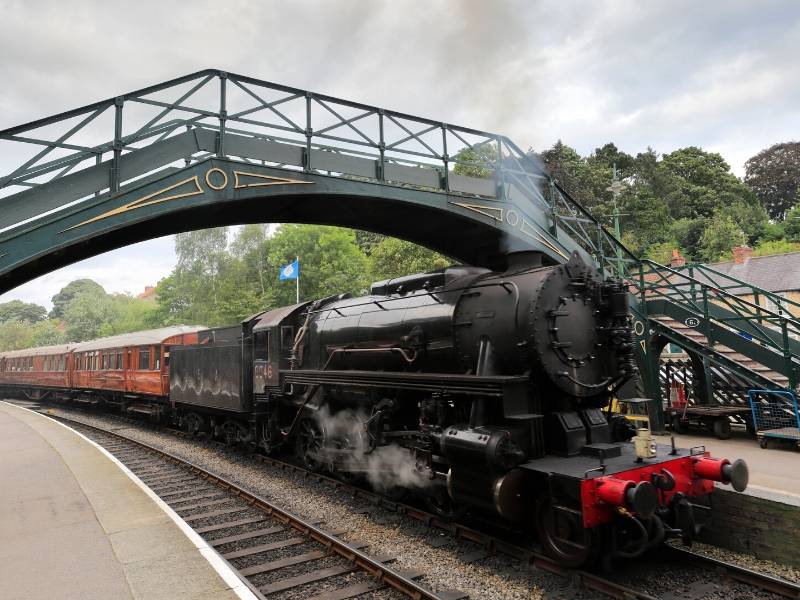 9. Visit York Minster
York Minster (or The Cathedral and Metropolitan Church of Saint Peter in York) is an absolute must-visit if you are heading to this beautiful and historic Yorkshire city.
A church has been on the site since the 7th century with the construction of the minster itself dating back to 1220. It took a total of 250 years to complete and was finally consecrated in 1472. The Minster is one of the largest cathedrals in Europe.
It is free to visit York Minster to pray, light a candle or attend a service. Otherwise, there is a charge to enter with online tickets available for the Minster only or Minster and Tower. Tickets are valid for 12 months and include a free guided tour.
Built in the Gothic style it is home to the Archbishop of York.
Read more | Buy tickets for York Minster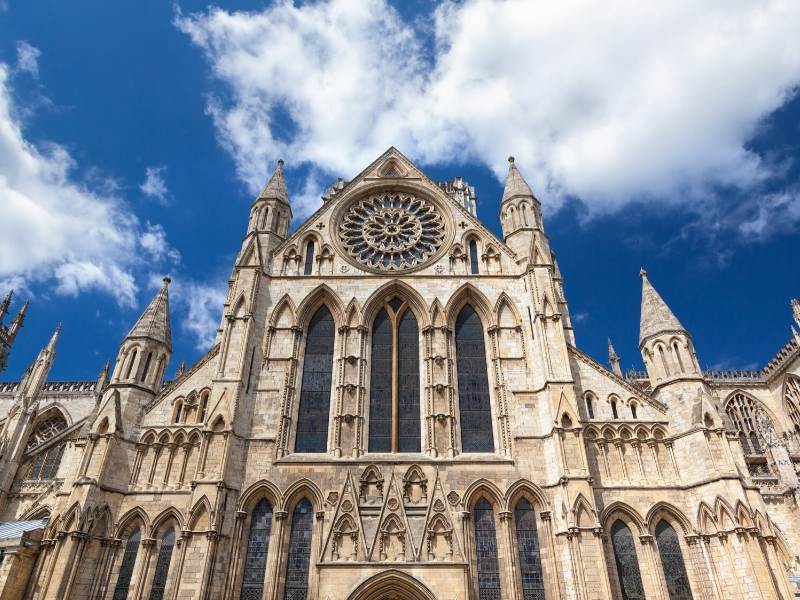 10. Enjoy an afternoon tea at Bettys tea rooms
Bettys Cafe Tea Rooms are a Yorkshire tradition dating back nearly 100 years.
With a number of tea rooms including 2 in York, Harrogate and Ilkley if you enjoy afternoon tea then Bettys is the place to head!
Bettys was founded in 1919 by a Swiss baker named Fritz Bützer who moved to England with a dream of starting his own business. Little was he to know that he would create one of the most iconic brands associated with afternoon tea in England!
At Bettys you will find a vast array of cakes and biscuits to tempt your taste buds. Do book afternoon tea – just make sure to make the reservation well in advance as they are extremely popular.
Read more | Bettys Tea Rooms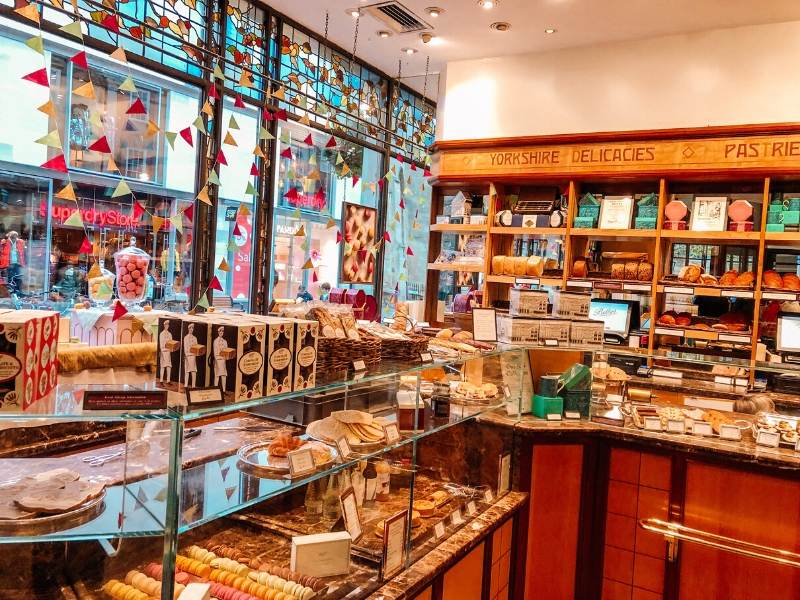 ---
WHAT TO READ – Best books to read before you visit Yorkshire
WHAT TO EAT/DRINK – Fish and Chips at the Magpie Cafe in Whitby, Yorkshire Puddings, Pontefract Cake, Afternoon Tea at Betty's Tea Rooms, A Cup of Yorkshire Tea!
PRINCIPLE TRAIN STATIONS – York, Leeds, Doncaster and Sheffield
WHAT TO PACK – The weather can be unpredictable along the coast even in summer so always carry a waterproof jacket (and I recommend an umbrella)
If you are planning to go walking in the Dales make sure you are prepared and have good walking boots.
TIP: York is a great city to base yourself as there are good transport links for the rest of the county from there.
Enjoy your trip to Yorkshire
Do you have a favourite destination in Yorkshire? Have you added a new attraction or place to your UK bucket list after reading this guide to the top 10 places to visit in Yorkshire?
Here are some related posts about Yorkshire:
Want to explore some of England's other regions? Head over to my other area guides to England which include the North East, East Midlands, West Midlands, North West, South West, South East and East of England.
If you are planning a trip to the UK why not join my free Facebook planning group – details are below!
Related reading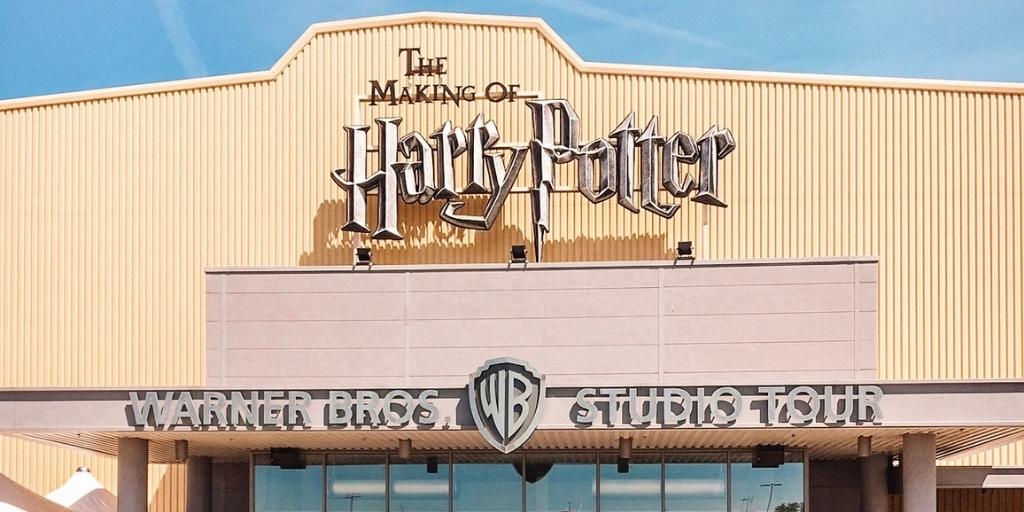 Is a trip from London to Harry Potter studios on your itinerary? Discover how to get there with our essential…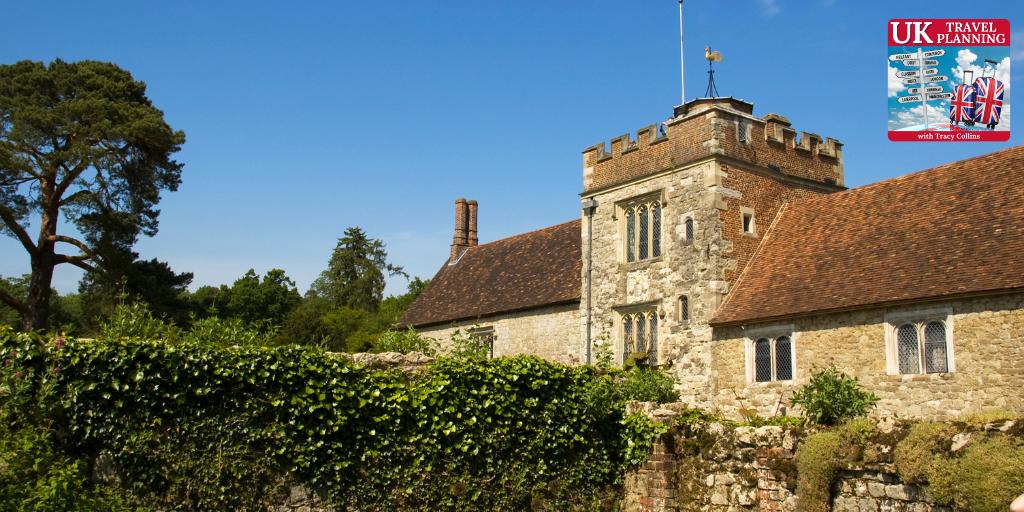 This post may contain compensated links. Please refer to my disclosure here for more information. In episode 41 of the UK Travel…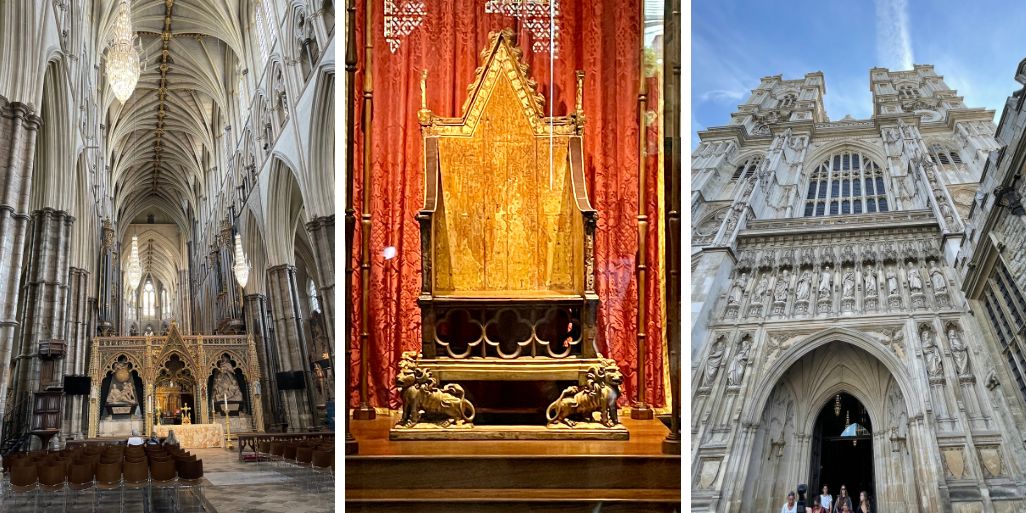 Buckingham Palace has announced the official date of the coronation of Charles III for 6th May 2023. This is the…
Find more inspiration for your travels in my England Travel Guide which includes information about what to see, where to stay, how to get around, travel tips, recommended reading and more to make the most of your trip.