Our Cambridge Travel Guide includes recommended places to visit and things to do, accommodation options, tips and more for one of the most famous university cities in the world. Everything you need to plan your visit and essential reading for any visitor to Cambridge!
Plan your visit to Cambridge
Located 55 miles north of London is the city of Cambridge. Home to one of the world's most famous and prestigious universities this ancient seat of learning, and historic city, is smaller and more compact than Oxford.
Spend the day exploring some of its 31 architecturally stunning colleges, famous museums, or take to the river for a spot of punting. Read on for Cambridge travel tips and advice to help you plan your visit.
What you will find in this complete Cambridge Travel Guide

Map of Cambridge
Cambridge travel guide – Visiting Cambridge FAQ's
When is the best time of year to visit Cambridge?
Cambridge is one of England's most beautiful cities and a wonderful destination whatever time of year you plan to visit. During the summer months, Cambridge is the perfect destination if you would like to try punting. Take to the river and enjoy views of the bridges and University buildings as you meander along.
Cambridge is one of the UK's driest cities so with luck you should have a pleasant and dry day whatever time of year you choose to visit.
The Cambridge Folk Festival which is the biggest folk festival in Europe is held annually in June-July.
How many days do you need in Cambridge?
It is possible to see the main sights and attractions of Cambridge in a day which makes it the perfect day trip from London.
What is the best way to explore Cambridge?
The city's main attractions and sights are within easy walking distance which makes Cambridge a great destination to explore on foot. We recommend joining a guided walking tour to make the most of your visit.
Which city should I visit – Oxford or Cambridge?
Both cities have their own unique charms and are worth a visit.
Cambridge is a smaller city than Oxford. There is less to do and see but it is a beautiful and easy city to explore in a day.
Oxford is the larger city and has lots of things to see and do so could easily fill 2 days if you wish to explore all its colleges and museums. It is also the perfect destination to visit if you are considering a road trip to the Cotswolds. If you are a Harry Potter fan head to Oxford where you will find several film locations used in a number of the movies. Read more about visiting Oxford in my Oxford Travel Guide.
As I have mentioned both cities are doable day trips from London by train. If you only have one day and want to see both cities take this Oxford & Cambridge Day Tour from London.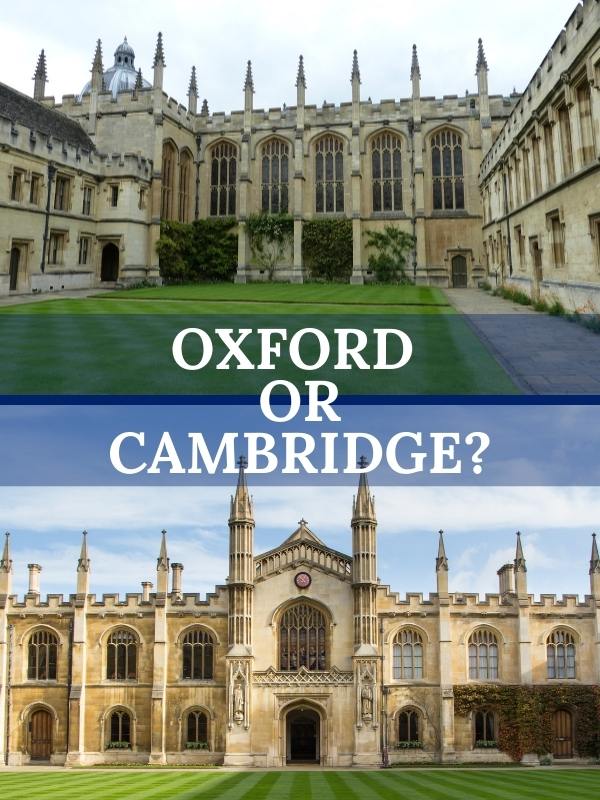 What is the best way to travel to Cambridge from London?
By train from London
For timetables and tickets we recommend the trainline. Take the train to Cambridge for the day or incorporate it into your UK train travel itinerary.
Tip – If this is your first time catching a train in the UK read our complete guide to UK train travel which includes all the information you need to know to make travelling around the UK by rail a relaxing and stress-free experience.
Distance from London: 55 miles
Time taken by train: 50 mins to 1 hour 50 depending on route
Leave from: London St Pancras International to Cambridge is the quickest route
By car from London
Cambridge is located 55 miles from London and will take over an hour and 30 minutes from London by car. Unless you are planning to visit from London and head to other destinations in the UK we recommend taking the train!
If you do plan to drive to Cambridge you will find that parking is expensive so we recommend using the Park and Ride scheme. There are 5 locations around the city to park your car and catch a bus into the city.
Take a tour from London to Cambridge
We recommend these day tours to Cambridge from Get Your Guide.
City and University Tour including King's College – Visit the iconic landmarks of Cambridge University and enter the famous King's College Chapel. Enjoy a walking tour with a Cambridge University student and see the world behind the institution's closed doors.
Attractions and things to do in Cambridge
Click the links for more information about the best things to do in Cambridge and an itinerary for your day including visiting the Fitzwilliam Museum, going for a punt on the River Cam, exploring Cambridge's Colleges (each an architectural marvel) such as St John's King's College and much more!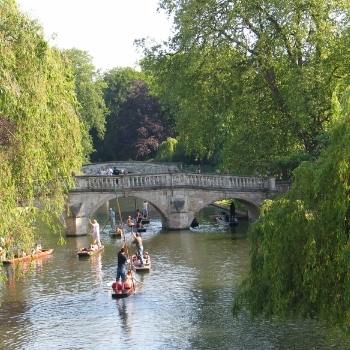 One day in Cambridge Itinerary
Accommodation in Cambridge
Find more special stays in my Accommodation Guide for England.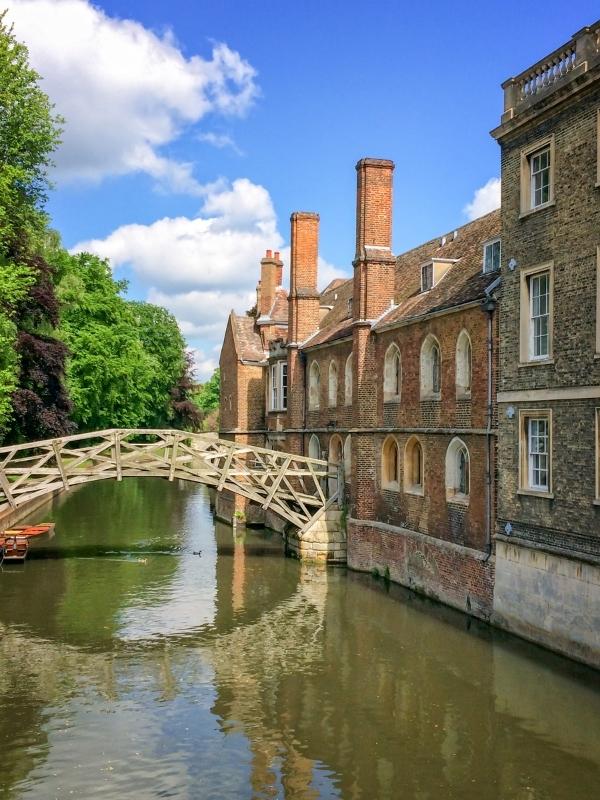 Tickets, tours & attractions in Cambridge
There are numerous walking tours (and punting tours) of Cambridge available.
Guided Walking Tour of Historic Cambridge – Take a two hour guided tour of historic Cambridge with an accredited Cambridge Green Badge guide. The fun and family-friendly tour will show you the city's stunning buildings and tell you about its many famous names.
Cambridge University Guided Walking Tour with a Graduate – Get an insight into life at one of the world's most elite universities on a 1.5-hour historical walking tour of Cambridge University with a graduate guide. Visit some of the most famous colleges, such as Clare College and Trinity College.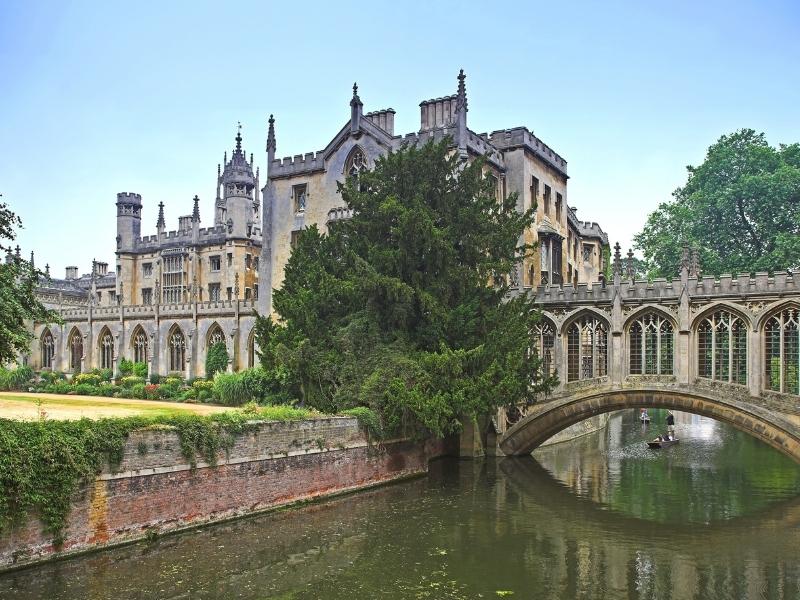 Books to read before visiting Cambridge
Cambridge is proud of its literary heritage and connections with many famous authors who have studied or taught at one of its colleges. To fully appreciate and enjoy your visit to Cambridge we recommend reading some of their works.
These include
William Wordsworth
Sylvia Plath
Ted Hughes
E.M.Forster
A.A.Milne
Zadie Smith
Sebastian Faulks
Stephen Fry
Salman Rushdie
Margaret Drabble
Joanne Harris
Nick Hornby
Enjoy your visit to Cambridge!
This guide will have provided inspiration plus practical information to help plan your visit to Cambridge. You will find more inspiration and ideas to help plan your travels around England in these travel guides:
Looking for more inspiration for your travels in England? Check out my England Travel Planning Guide which has lots of ideas, tips and resources to plan your itinerary.