Follow our 14-day itinerary to see the best of Britain by train including top destinations in England, Wales and Scotland. We've done all the planning so you don't have to!
Do you have 14 days to explore Britain but are struggling to put together an itinerary? Not sure what places to include or how to get around? You will find everything you need to know to see the best of Britain by train in this article.
We have included 5 of Britain's most popular destinations in 3 countries – London, Bath, Cardiff, Edinburgh, and York with the option of choosing between 2 others -the Lake District and Liverpool – on days 7 and 8.
For each destination included in the itinerary, you will find recommendations of what to do and see, accommodation suggestions, and logistics plus practical details and tips to ensure your 14-day train trip around England, Wales and Scotland is everything you dream of.
I have also included a map illustrating the points of travel, the distance between destinations, and the estimated travel time for each leg of the journey.
Good to know! For non-UK citizens we recommend purchasing a BritRail Pass or the Eurail Global Rail Pass for this 2-week itinerary – click to find out more about BritRail passes & Eurail Global Rail Passes or here to read our comparison guide.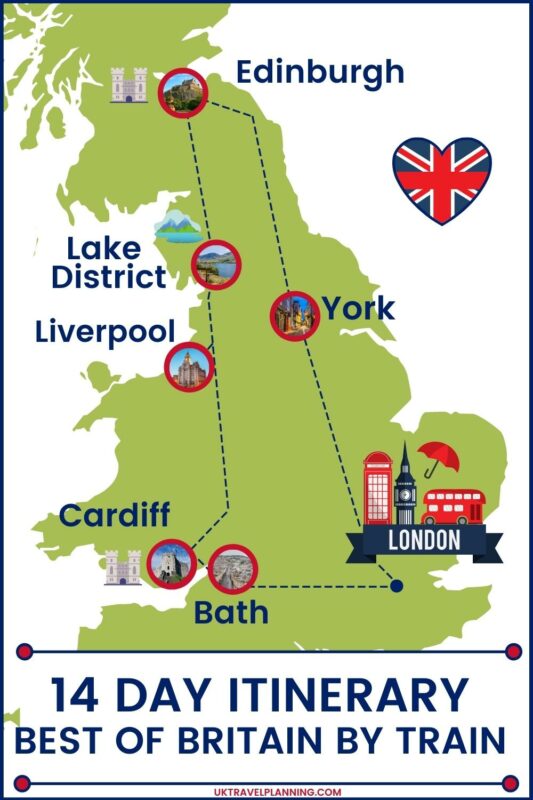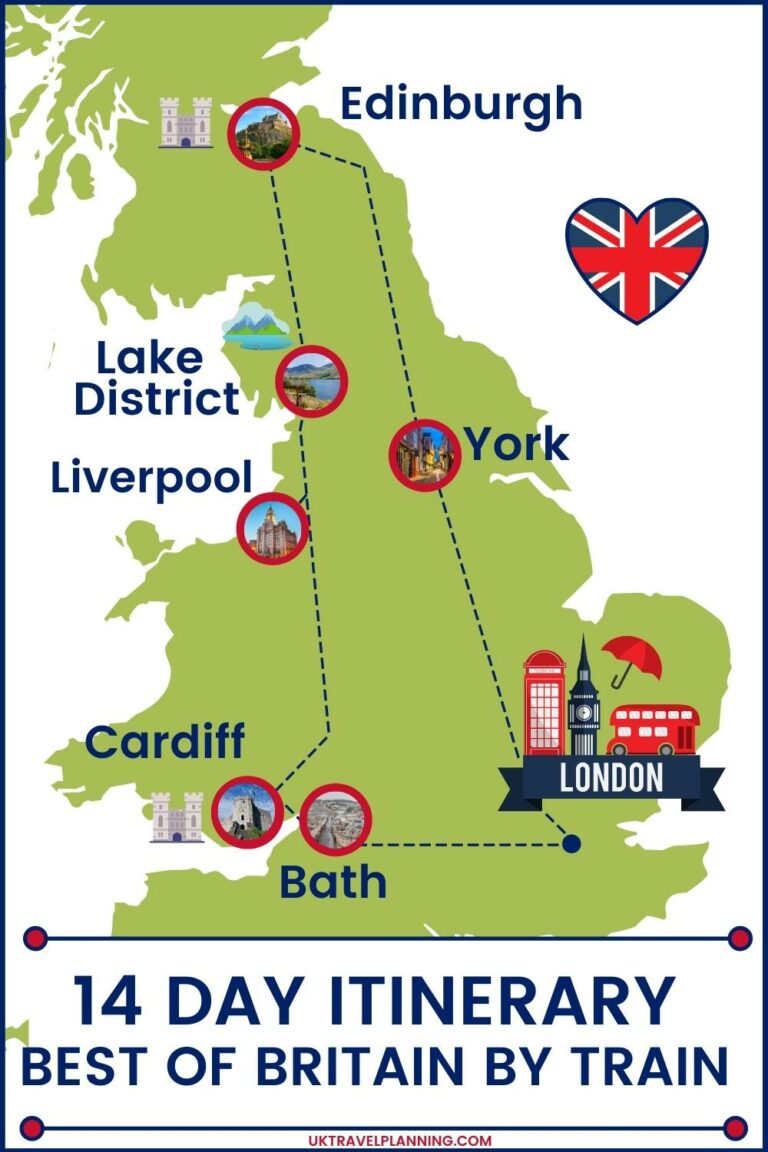 See Britain by train with our 14 day itinerary
Days 1 – 3 London
A minimum of 3 days in London is recommended especially if it is your first visit to the city. This will give you enough time to see the main London landmarks and tick some attractions off your London bucket list.
This 14-day best of Britain by train itinerary begins with Days 1/2 & 3 in London and ends on Day 14 back in the capital. This may provide some flexibility to add on a few more sights in London depending on your flight or onward travel itinerary.
London Day 1
I recommend spending your first day visiting some of the most popular London attractions, landmarks, and sights.
If you are feeling energetic a self-directed walking tour of the main sights located in central London is one option.
Alternatively consider booking a guided tour. We recommend the London In a Day: Tower of London, Westminster Abbey & Changing of the Guard tour from Take Walks. This comprehensive tour is dedicated to the quintessential sights of the city: Westminster Abbey, Tower Bridge, Changing of the Guard, a Thames river cruise, and a full Tower of London tour with access to the Crown Jewels.
If you prefer to take it easy on your first day (don't discount the effects of jetlag) a hop-on hop-off bus tour is another option and a great way to orientate yourself with the city.
London Day 2
If you did not visit the Tower of London on Day 1 I would recommend starting your morning by exploring this ancient and historic landmark.
Afterwards, walk to the 43rd floor of the Walkie Talkie building for lunch at the Sky Garden (London's highest public garden). Entry to the Sky Garden is free but it is essential to book tickets ahead of your visit.
In the vicinity of the Sky Garden are 4 other landmarks and buildings worth visiting – St Dunstan in the East Church Garden, Pudding Lane, St Paul's Cathedral, and Leadenhall Market.
After exploring the area jump on the Central Line at St Paul's changing at Holborn for the Piccadilly Line to Covent Garden. Enjoy the street entertainment, shops, and attractions around Covent Garden before dinner and a show.
London Day 3
Today I recommend visiting the British Museum in the morning. The museum is always busy so try to arrive as early in the day as possible. I recommend purchasing a ticket that enables you to skip the line so you don't waste precious vacation time in a queue.
If you are visiting with children we recommend this private customised family-friendly tour of the museum with a special children's guide. During the 2 hour tour, you will enjoy favourite displays such as the Egyptian mummies and the Rosetta Stone with your guide.
For your final afternoon in the city, I have a few alternatives depending on your interests.
If you enjoy shopping head to Harrods. If you enjoy history a trip to Churchill's War Rooms is a great option. If you have young kids head to London Zoo or – if they are up for another museum – the Natural History Museum in South Kensington. If you have visited London previously and are seeking something different I highly recommend jumping on the Thames Clipper to Greenwich.
For those of you with specific interests, this may also be a great time to do a themed tour – Harry Potter, James Bond, Jack the Ripper are some examples of the themed walking tours available in London.
These are just a few ideas for your first 3 days in London – please see our detailed itinerary posts for more.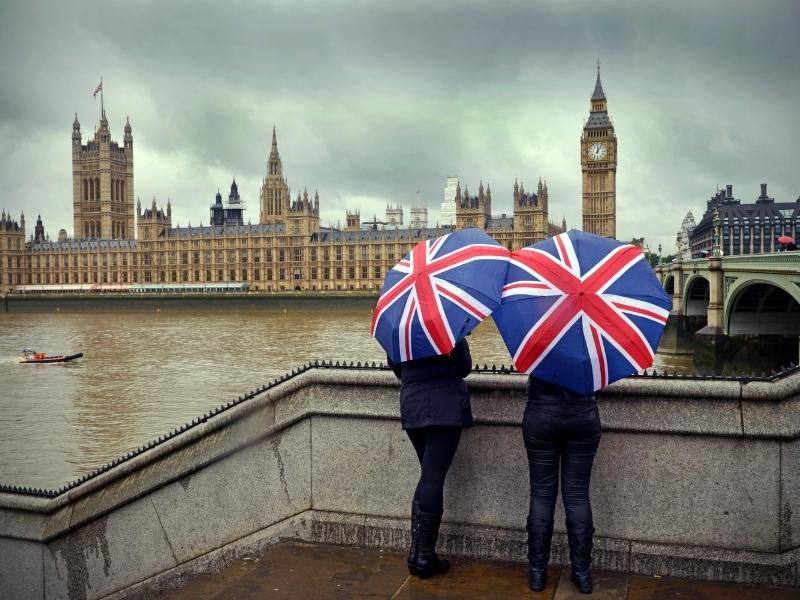 Day 4 London – Bath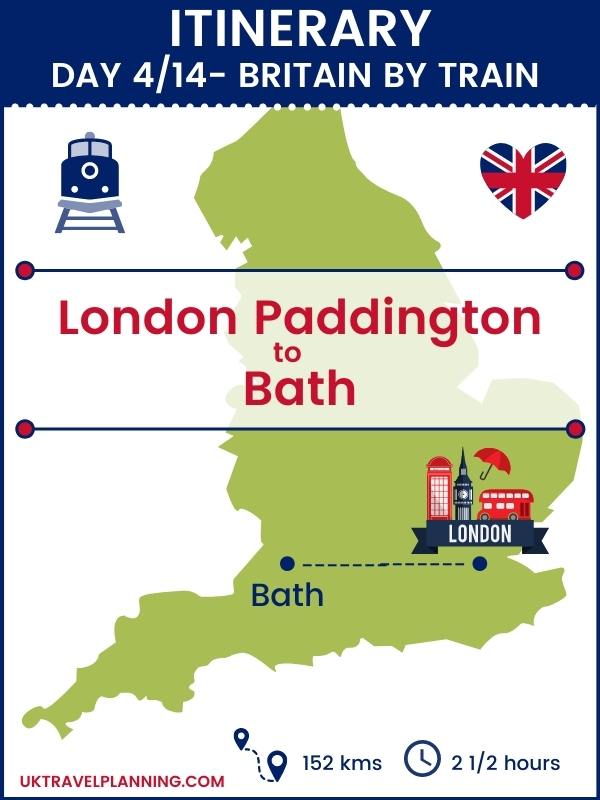 On Day 4 depart London for the South West of England and one of England's most beautiful and oldest cities – Bath!
For centuries Bath's naturally warm and mineral-rich waters attracted those who sought its curative powers and potential for rejuvenation.
Roman Baths constructed nearly 2000 years ago, stunning Georgian architecture, a museum dedicated to Jane Austen and numerous boutiques, independent shops and tea houses are just some of the attractions of the city.
Tip – Take an early train from London and you will have most of the day to explore.
Read more – One day Bath Itinerary – follow our one day in Bath itinerary to see the cities sights, attractions and landmarks.
Read more – Bath Travel Guide – our complete guide to visiting Bath including accommodation suggestions, where to eat, and what to read before you visit.
🗺 Logistics London – Bath
🏨 Accommodation options in Bath
Best luxury spa hotel in Bath – The Gainsborough Bath Spa is a luxury 5* hotel and the only UK hotel to have access to naturally heated thermal waters within its Spa Village.
Best mid-range hotel in Bath – Eight is a small independent boutique hotel in the centre of Bath.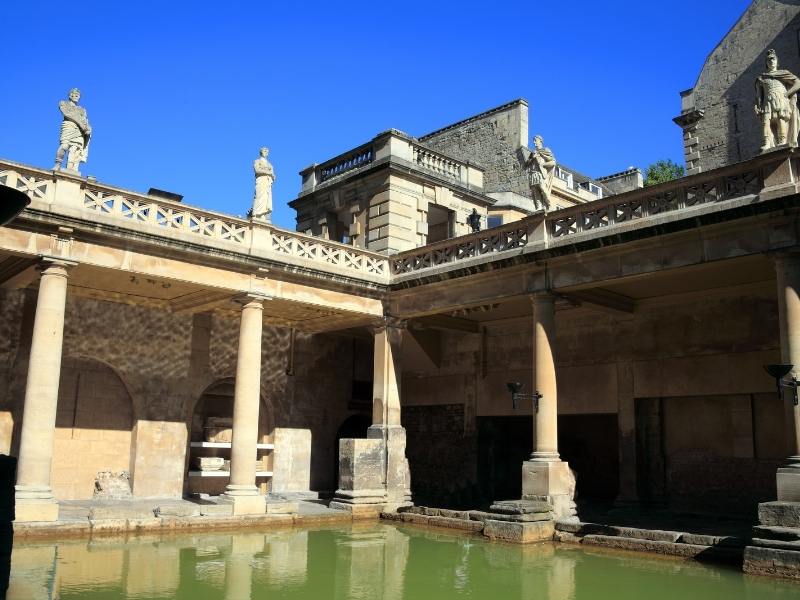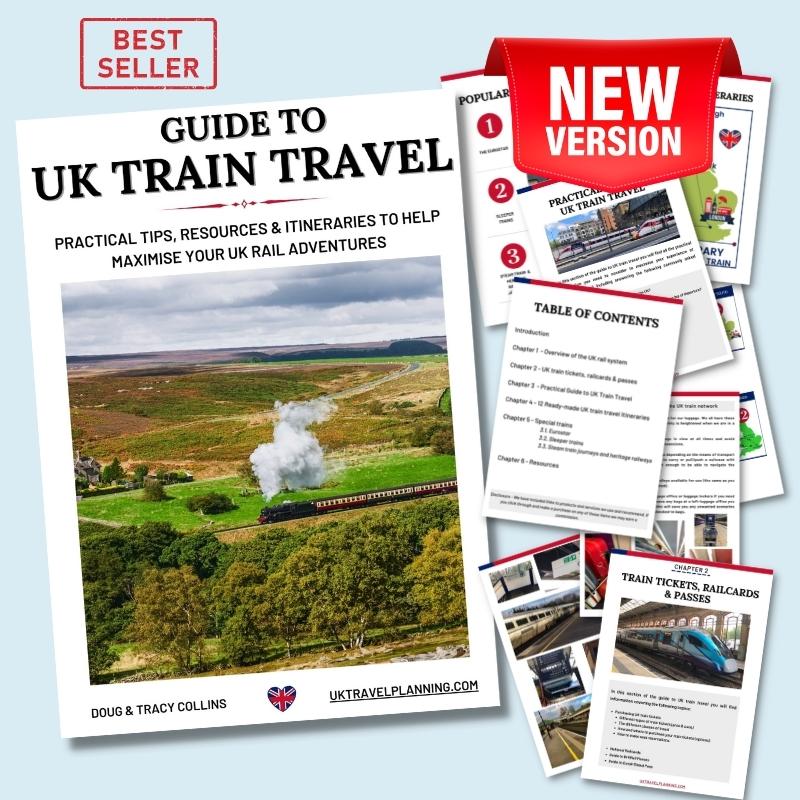 Day 5 Bath (Day trip – Cotswolds or Stonehenge)
On day 5 you have a few options. Bath is close to two of England's most popular destinations and I highly recommend including at least one of them in your itinerary.
Your options are
Spend another day exploring Bath OR
Travel independently taking the train from Bath to Salisbury and catch the Stonehenge tour bus from there.
We will explore these options in more detail so you can decide which you prefer.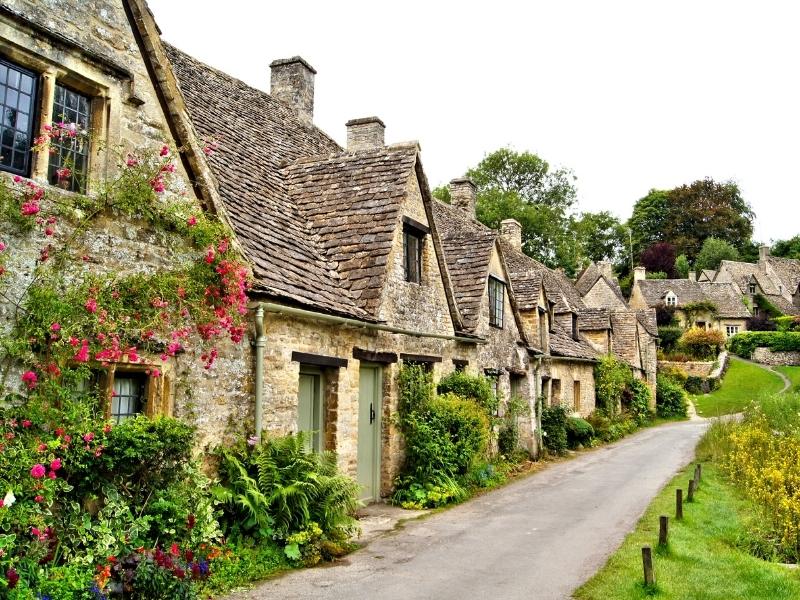 ☂️ Day tour options from Bath
I have picked the best day tour options to the Cotswolds available from Bath. Stonehenge is also included in some of these tours.
If you decide to include both destinations (Cotswolds & Stonehenge) in one tour bear in mind that you will have less time to explore the Cotswolds but this may be the best option if you really want to see both.
It is possible to travel to Stonehenge independently using public transport from Bath to Salisbury (and onto Stonehenge) but I have included some day tours too so you can choose the best option for your needs.
Day tours from Bath to the Cotswolds
Day tour from Bath including Stonehenge
Day tours from Bath to Stonehenge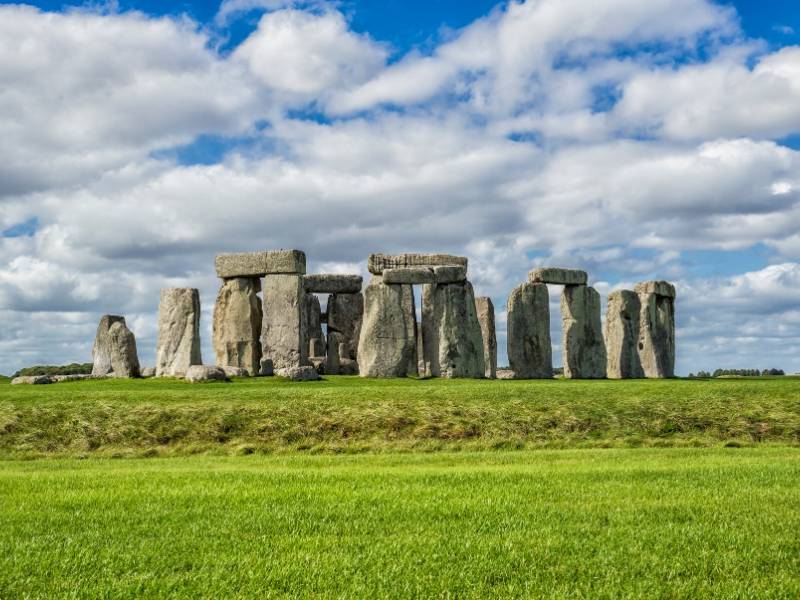 🗺 Logistics – Bath to Salisbury (Stonehenge)
Day 6 Bath – Cardiff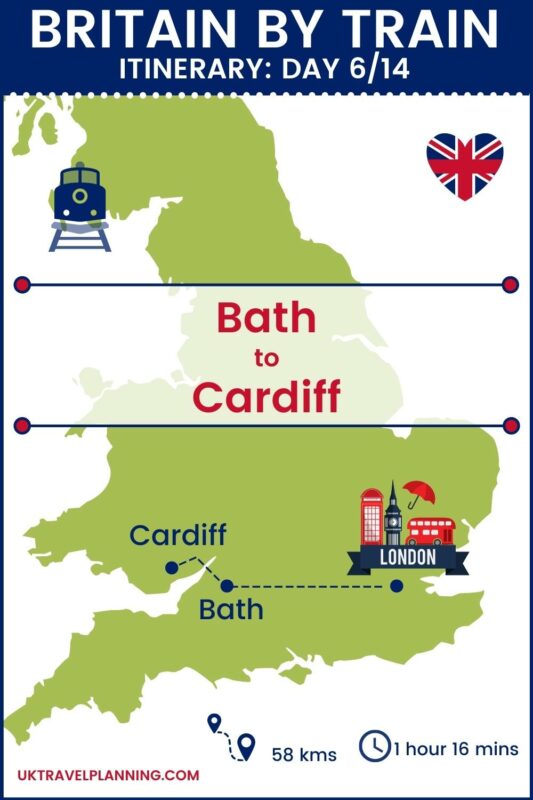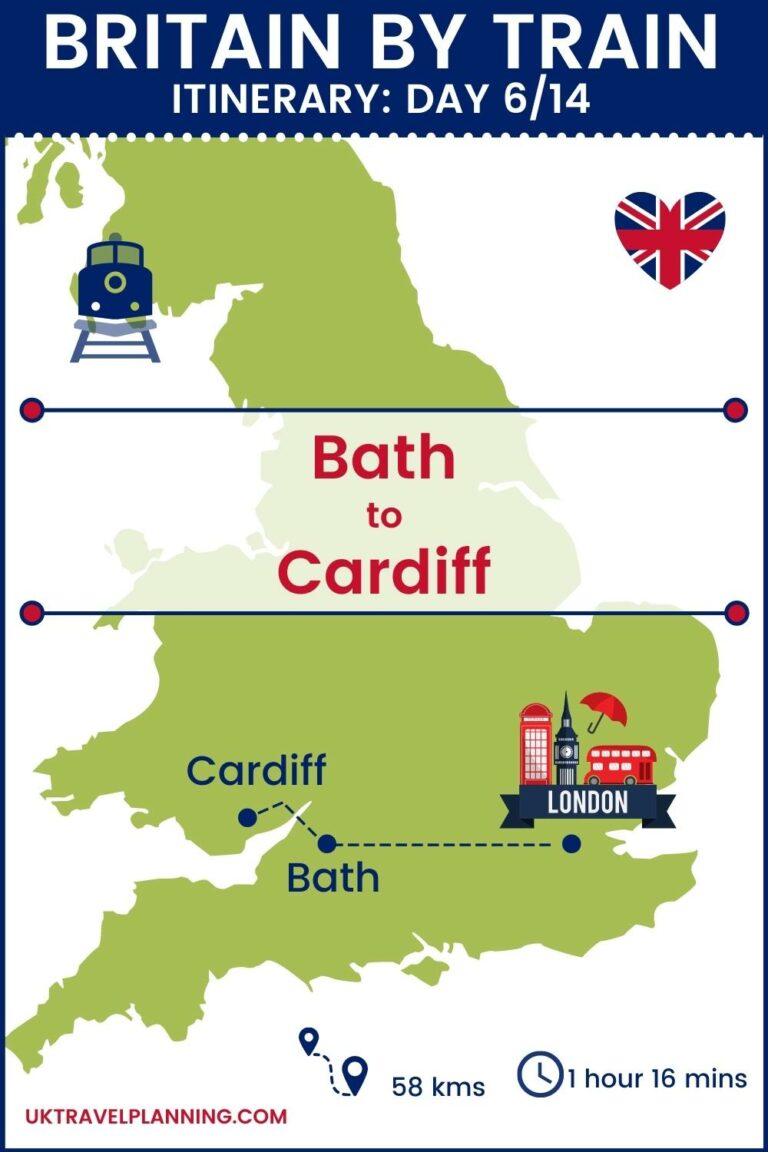 On day 6 hop on the train for a journey of just over an hour to a new country – Wales. The Welsh capital of Cardiff is the buzzing centre of this Celtic nation.
Crammed with cultural hotspots, charming Victorian architecture, a rich history, impressive castles, and modern urban hangouts, Cardiff has a whole heap of things for visitors to do and see.
🌟 Highlights of Cardiff
Read more – Things to do in Cardiff
🗺 Logistics Bath – Cardiff
🏨 Accommodation options on Cardiff
Best luxury spa hotel in Cardiff – Voco St David's Hotel is a waterfront hotel with balconies, bay views, and a luxury spa.
Best mid-range hotels in Cardiff – 4* Hotel Indigo Cardiff offers modern accommodation and a rather splendid Marco Pierre White restaurant!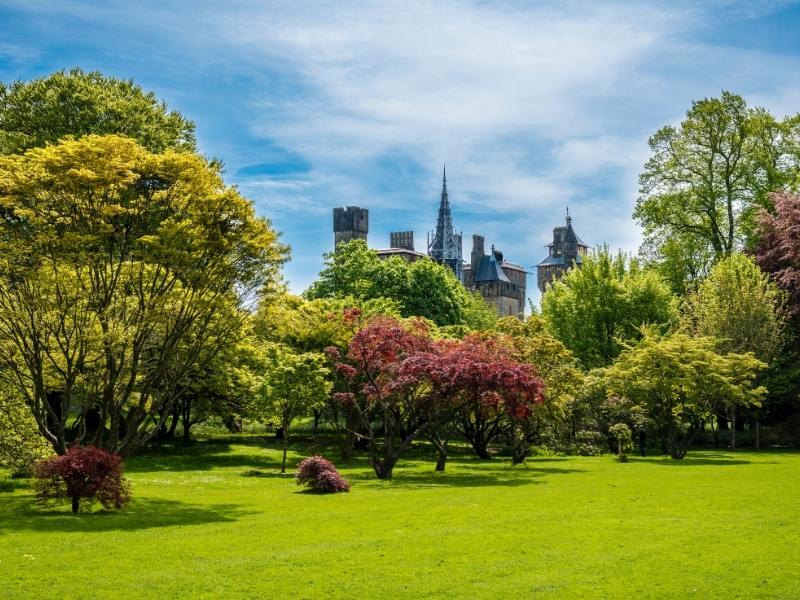 Day 7 Cardiff – Liverpool or Lake District
On Day 7 you can choose to either spend a few days exploring the city of Liverpool or alternatively a rural experience in the beautiful Lake District.
If you are a fan of the Beatles Liverpool is the must-visit destination. Take the Magical Mystery tour and visit the childhood homes of Paul and John before dancing the night away at the Cavern Club.
Alternatively head to the Lake District and explore its stunning lakes and mountains, quaint towns and villages, from your base in Windermere.
Liverpool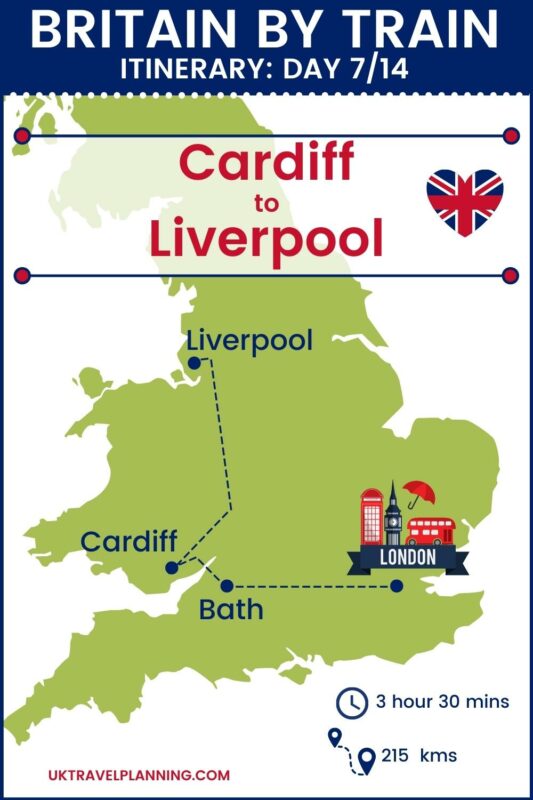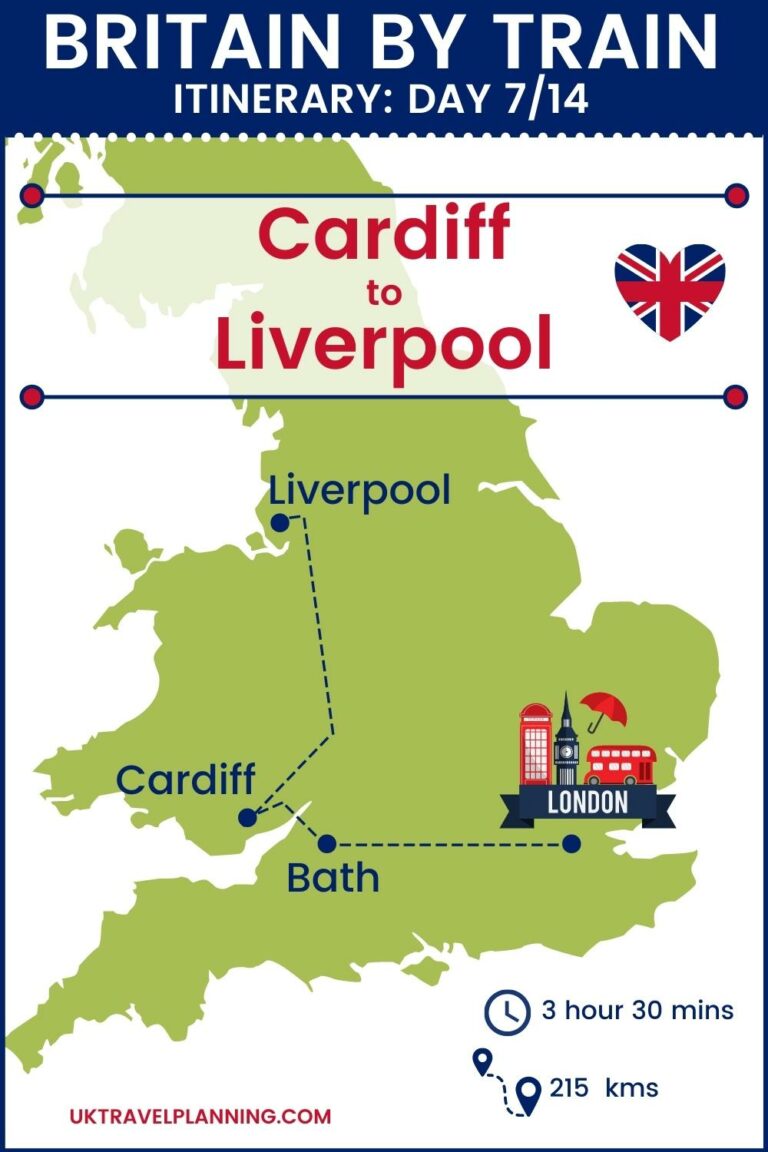 🗺 Logistics Cardiff – Liverpool
🏨 Accommodation in Liverpool
Best Liverpool Hotel for Beatles fans – The Hard Days Night Hotel is decorated with Beatles memorabilia and located around the corner from the Cavern Club – our number one choice when staying in Liverpool.
Best mid-range hotel in Liverpool – The Titanic Hotel is located in a historic warehouse in the UNESCO World Heritage Stanley Dock. Spacious rooms in a unique setting.
Best budget option in Liverpool – The Resident Liverpool offers affordable accommodation in a central location.
⭐️ Find more options in my area & accommodation guide to Liverpool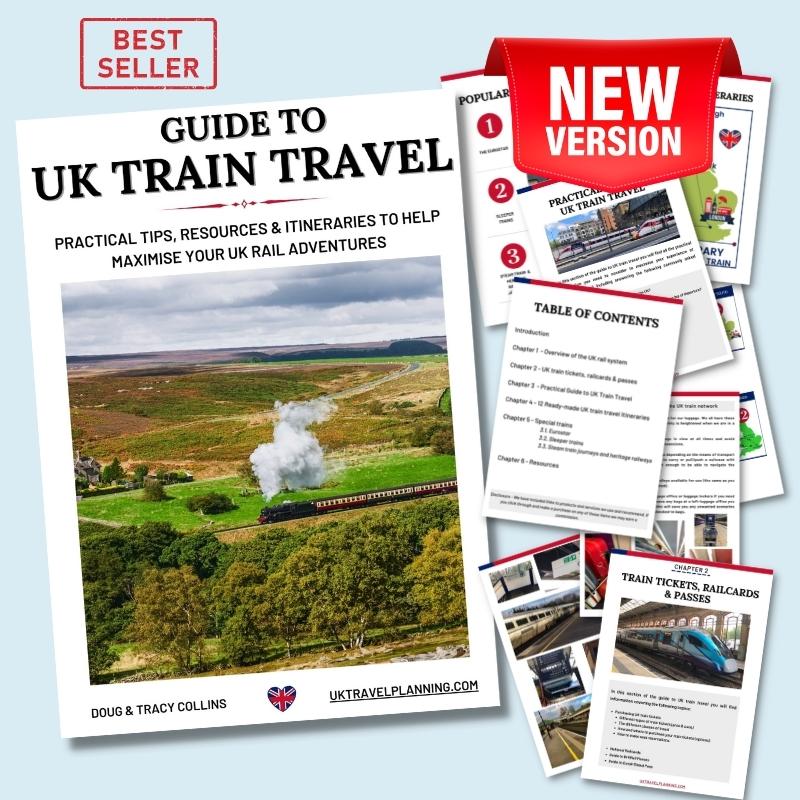 Lake District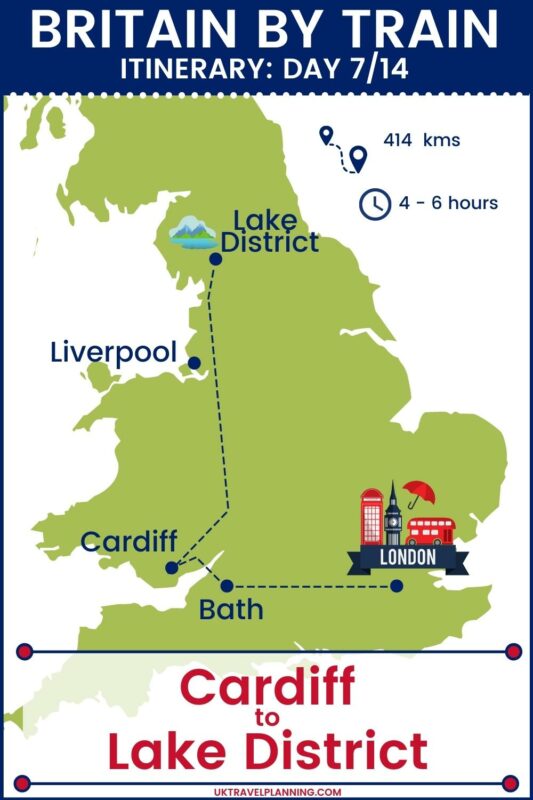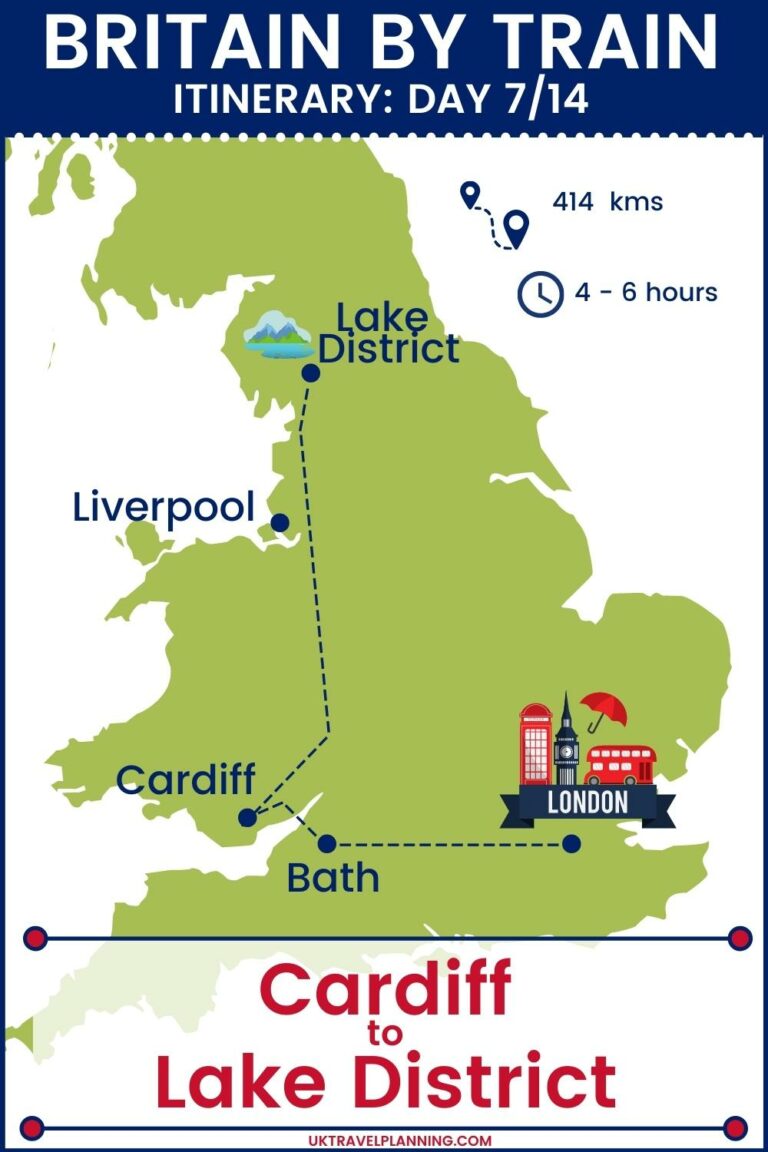 🗺 Logistics Cardiff – Lake District
🏨 Accommodation in the Lake District
Best mid-range hotel in Windermere – Cragwood Country House Hotel is located in stunning gardens on the shores of Lake Windermere. It offers spacious rooms, exceptional food, and a relaxing experience for guests.
Best budget (ish) hotel in Windermere – The 3* Windermere Manor Hotel is an 1850's stone manor house offering dog-friendly accommodation.
Tip – More accommodation options can be found in my guide to the best places to stay in Lake Windermere
Day 8 – Liverpool or Lake District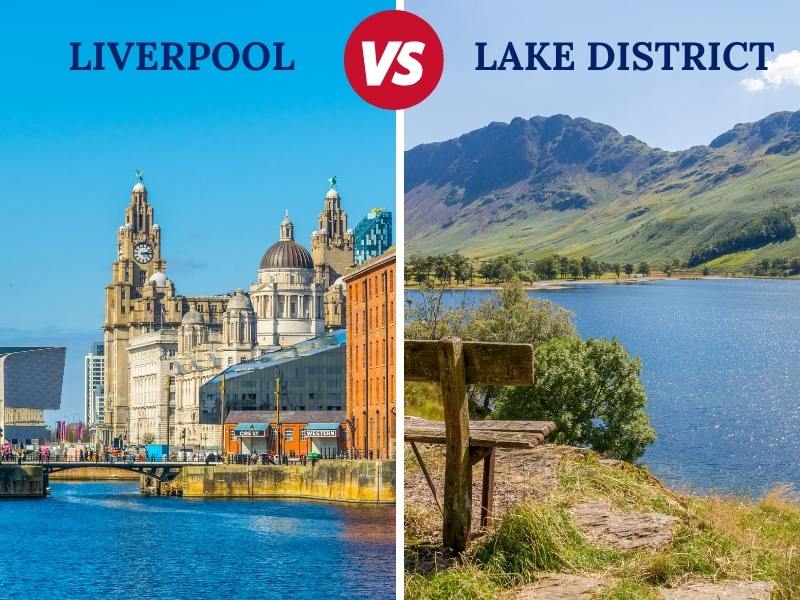 🌟 Highlights of Liverpool
Read more – Liverpool Travel Guide (including tips, itinerary & map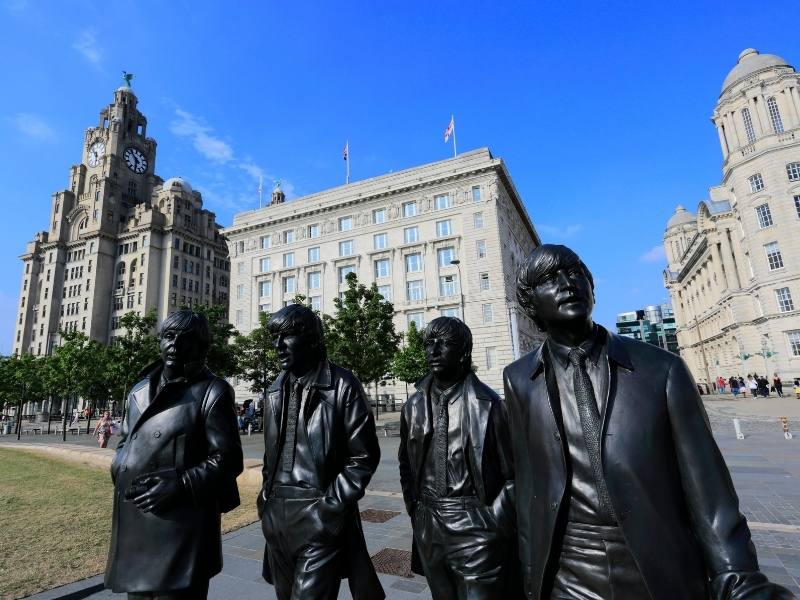 🌟 Highlights of the Lake District
Read more – Lake District Travel Guide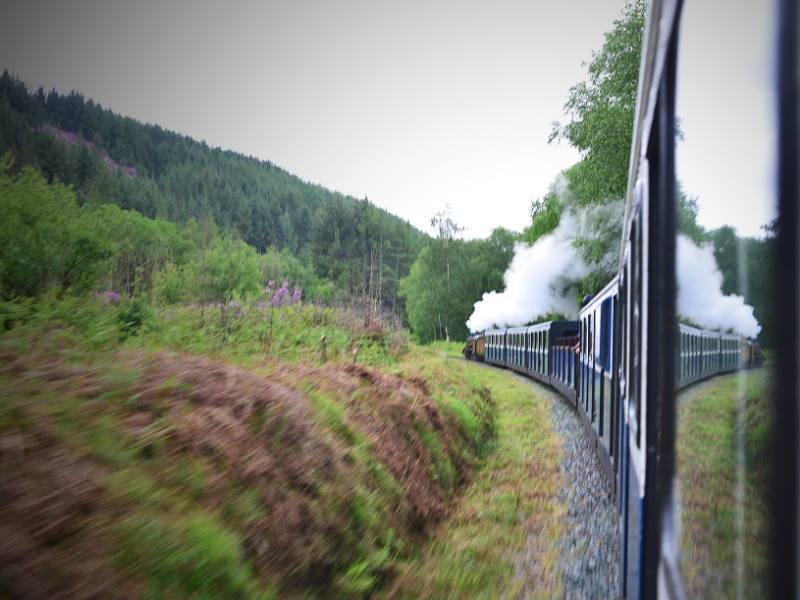 Day 9 Liverpool or Lake District to Edinburgh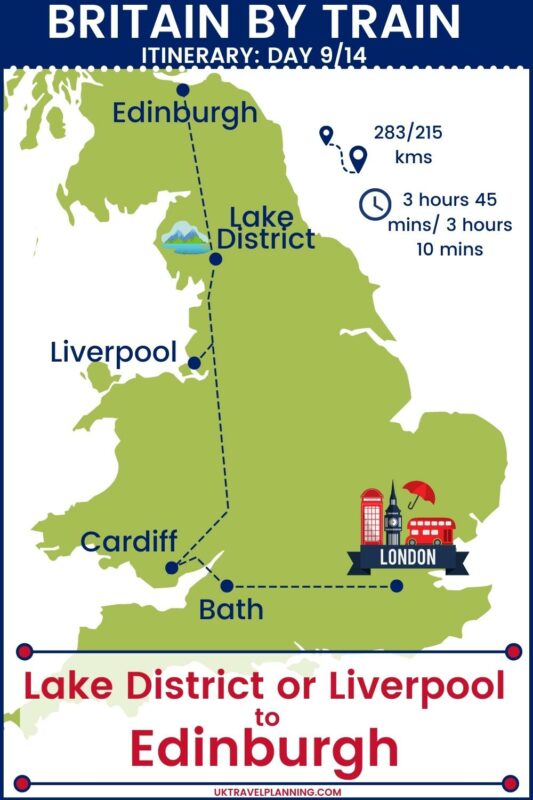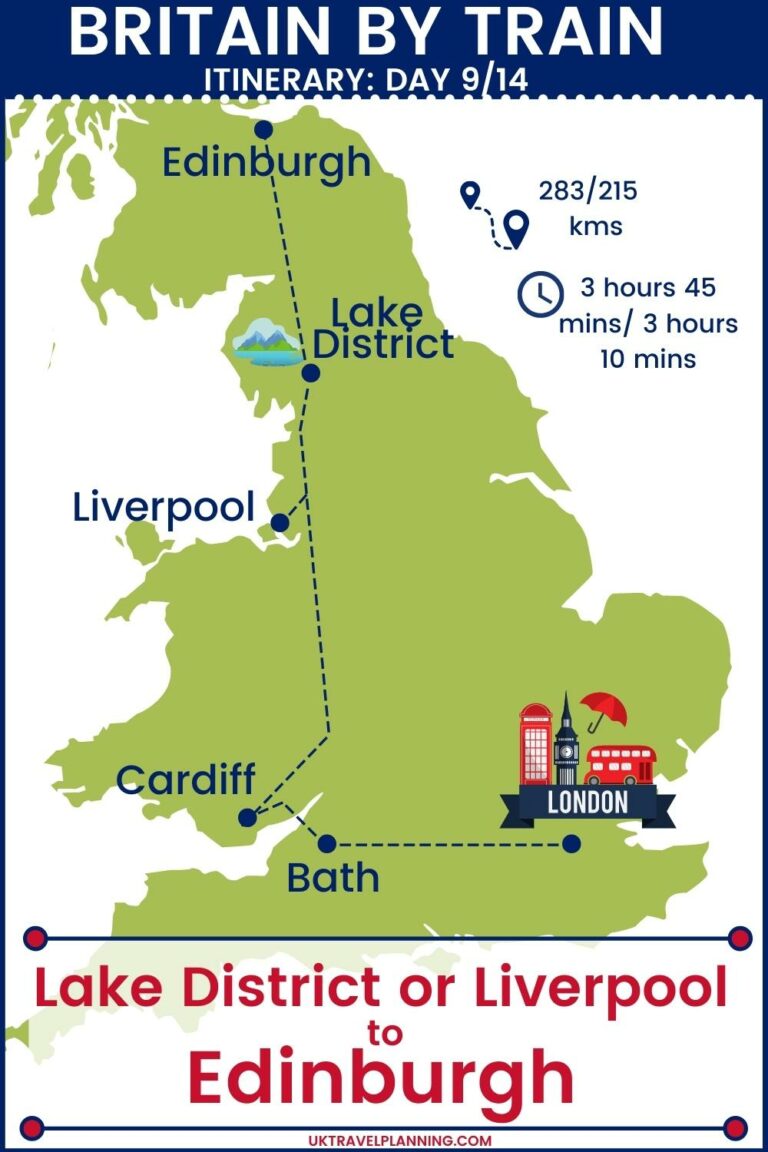 On day 9 travel from Liverpool or the Lake District to Edinburgh. Journey time from both departure points is around 3 – 4 hours so you will arrive in plenty of time to start exploring the sights of Edinburgh.
Top tip – Book a hotel near the train station, drop your bags, and head out to the Royal Mile and soak in the atmosphere of the Scottish capital. This hop-on-hop-off bus pass is great to explore Edinburgh at your own pace with a 3-route tour ticket.
🗺 Logistics – Liverpool to Edinburgh
🗺 Logistics – Windermere to Edinburgh
Day 10 Edinburgh
Scotland's capital is historically rich and scenically beautiful. The winding cobblestone streets of its Old Town offer quaint medieval charm which is contrasted by the New Town, the very epitome of Georgian style.
There is culture and history around every corner and numerous landmarks, sights, and attractions to explore.
🌟 Highlights of Edinburgh
Read more – Things to do in Edinburgh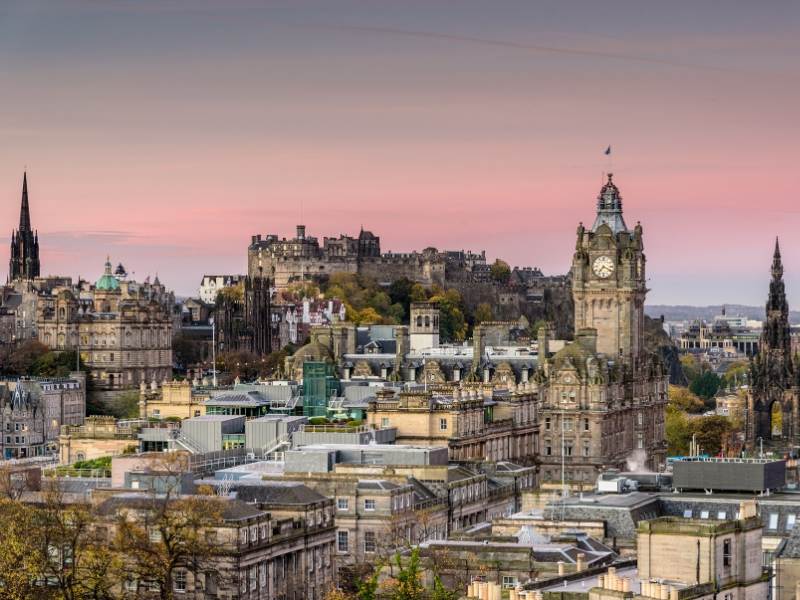 Day 11 Edinburgh (or day trip)
Day 11 provides a couple of options. You could spend more time exploring Edinburgh OR take a day trip to see more of Scotland's famous sights, landmarks, and attractions.
☂️ Best day trips from Edinburgh
There are some fantastic day trips you can do from Edinburgh. You could hire a car for the day but we recommend either jumping on the train or taking an organised tour especially if you want to fit as much as possible into your day.
Destinations which can be reached easily by train from Edinburgh in 2 hours or less include:
St Andrews (1½ hours)
South Queensferry (30 mins)
The Kelpies & Helix Park (1 hour)
Glasgow (1 hour)
Pitlochry (2 hours)
Linlithgow Palace (20 mins)
Dundee (1 hour 30 mins)
Stirling Castle (1 hour)
Loch Lomond (1 hour 40 mins)
We recommend the following day tours from Edinburgh:
Hogwarts Express and Scottish Highlands Tour – Escape the city for the day and head to the Scottish Highlands. Follow in the footsteps of the world's most famous wizard, Harry Potter, and jump on board the Hogwarts Express on an unforgettable journey on the Jacobite Steam Train.
Loch Ness, Glencoe & the Highlands Tour from Edinburgh – Enjoy a full-day tour and experience some of the most dramatic scenery the Scottish Highlands has to offer. Spend time at mysterious Glencoe and have the chance to enjoy a cruise on Loch Ness and a visit to Urquhart Castle.
Loch Lomond, Kelpies, and Stirling Castle Small-Group Tour – Discover the Scottish Highlands on a full-day small-group tour, and see forests, lochs, and stunning mountains. Explore Scotland's history and learn about its greatest heroes with visits to Stirling Castle, Loch Lomond, and more.
Loch Ness, Highlands & Whisky Distillery Tour – Experience the natural beauty of the Scottish Highlands on a full-day coach tour to Loch Ness, Glencoe, and the Trossachs National Park. Go to a working whisky distillery for an optional tasting. Stop for lunch in Fort Augustus and more.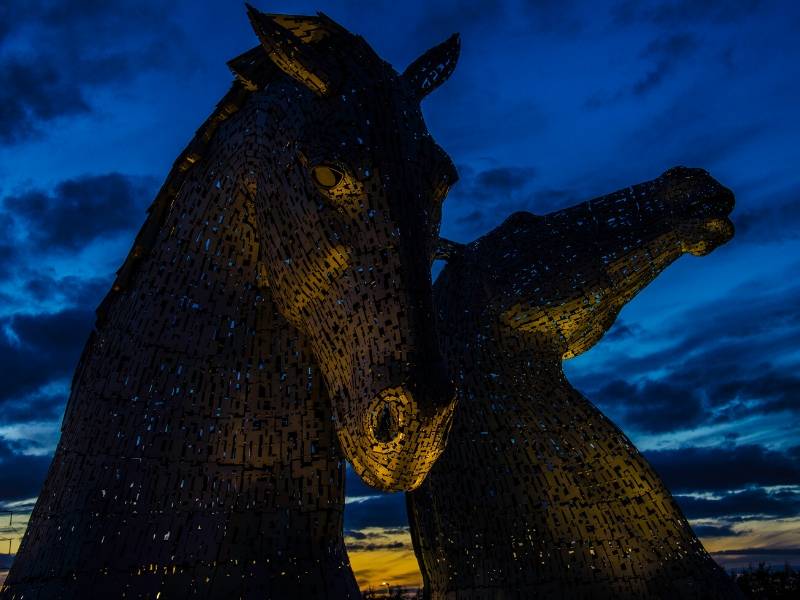 SCOTLAND BY RAIL ITINERARY
Why not combine this best of Britain by rail itinerary with our Scotland rail itinerary?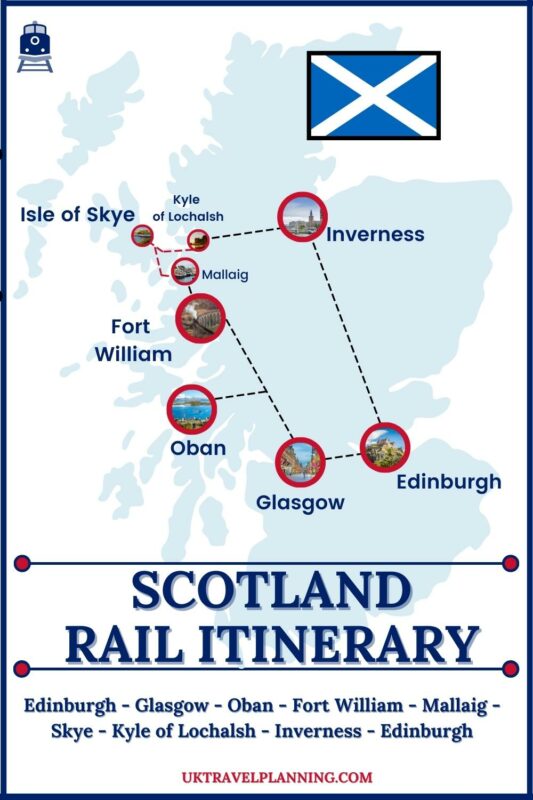 We have done the work for you and produced a 21 day + plus complete UK rail itinerary which includes the best of England, Scotland and Wales.
Day 12 Edinburgh to York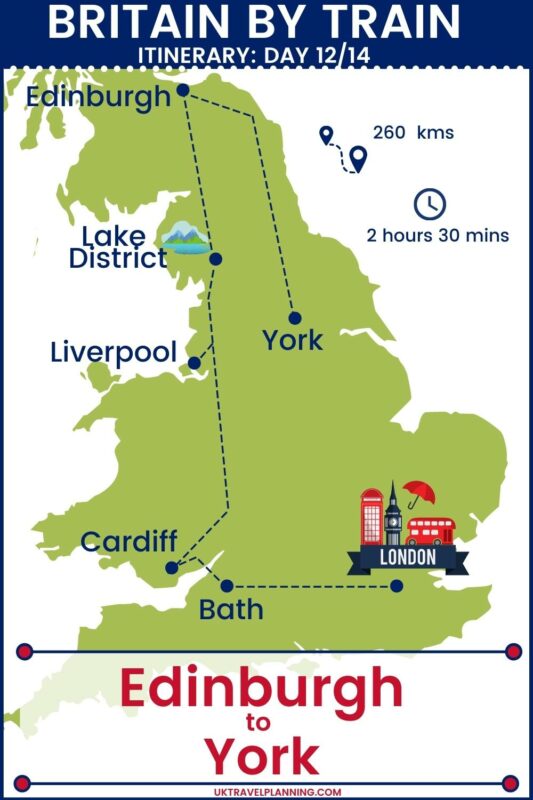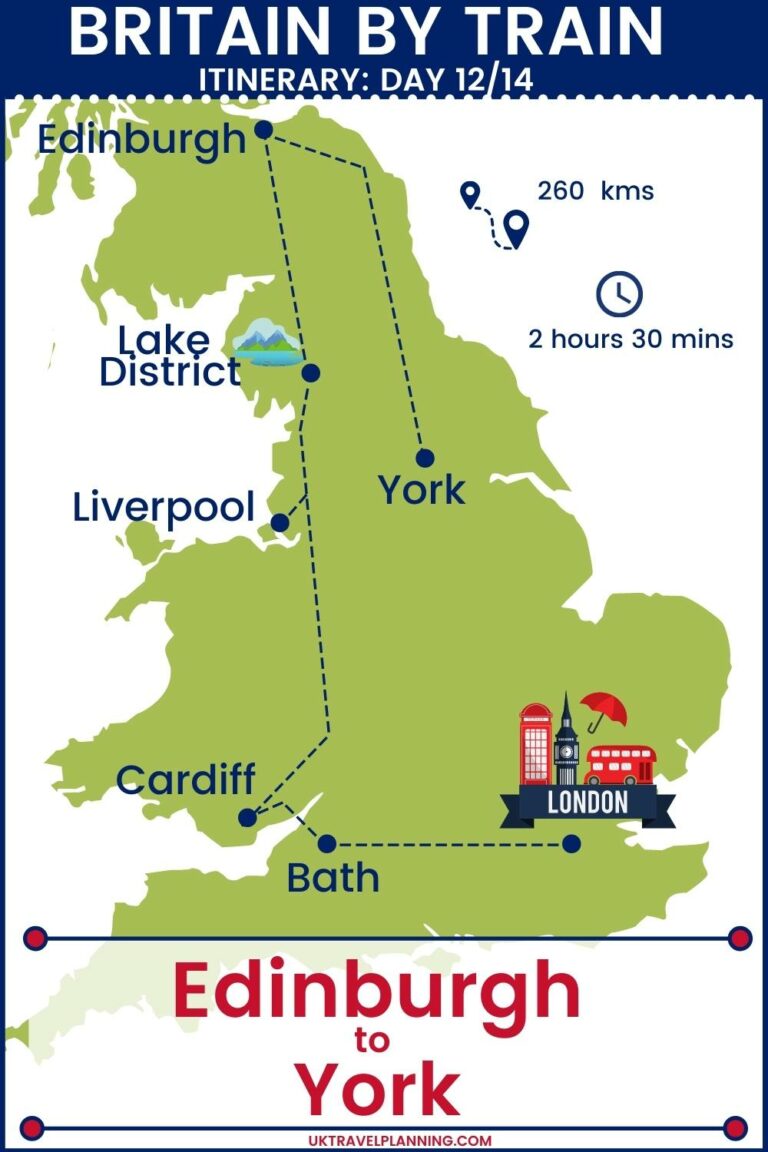 On Day 12 depart Edinburgh for York. This ancient city is located halfway between Edinburgh and London and its medieval city walls, museums, and shops make this the perfect destination for the last stop on your 14-day tour of Britain.
Journey time is around 2½ hours.
Good to know – Book a seat on the left side of the train (facing direction of travel) for views of the beautiful Northumberland coastline as you journey towards Newcastle and look out for the iconic Angel of the North after departure.
The train passes through Durham and Darlington before arriving in York.
🗺 Logistics Edinburgh – York
Best luxury hotel in York – The Grand York is the only 5* hotel in York. Chic, luxury rooms in a grand Edwardian hotel.
Best mid-range hotel in York – The Bar Convent is England's oldest living convent and one of the most unique places to stay in York.
Best budget option in York – Wheatlands Lodge offers good value accommodation only 5 minutes walk away from York train station.
Day 13 – York
🌟 Highlights of York
Read more – York Travel Guide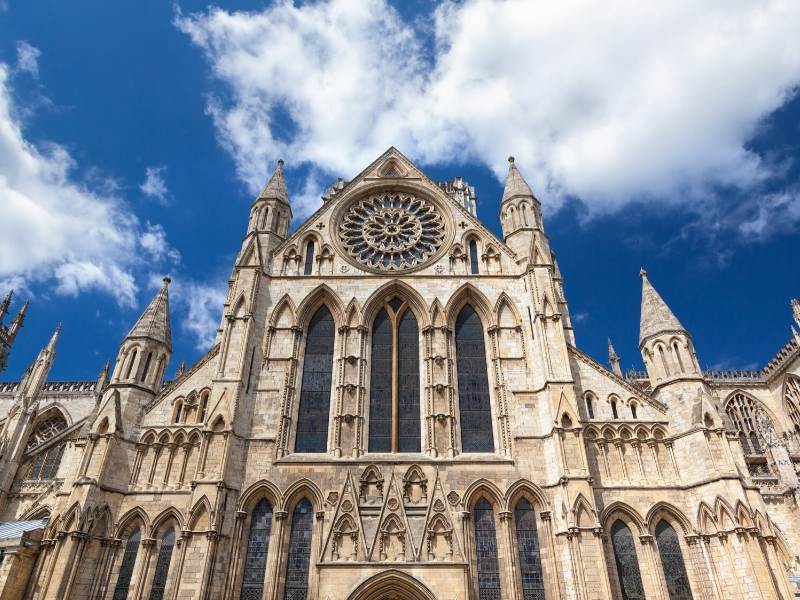 Day 14 – York to London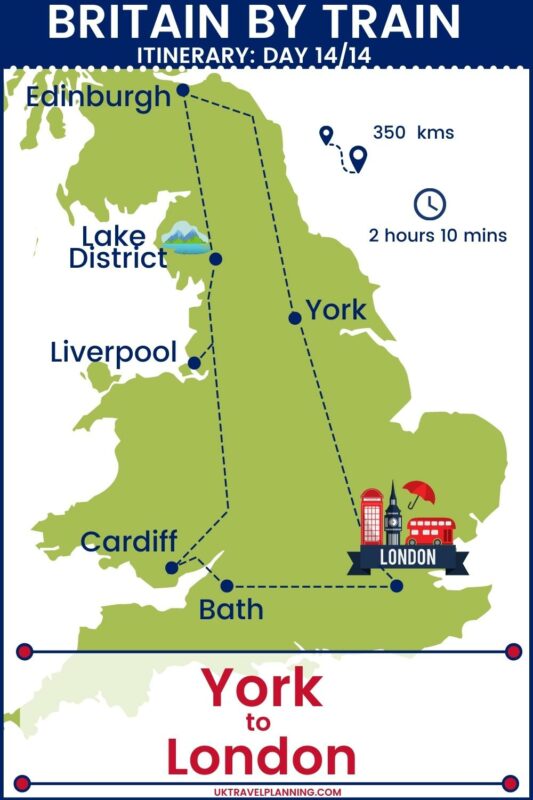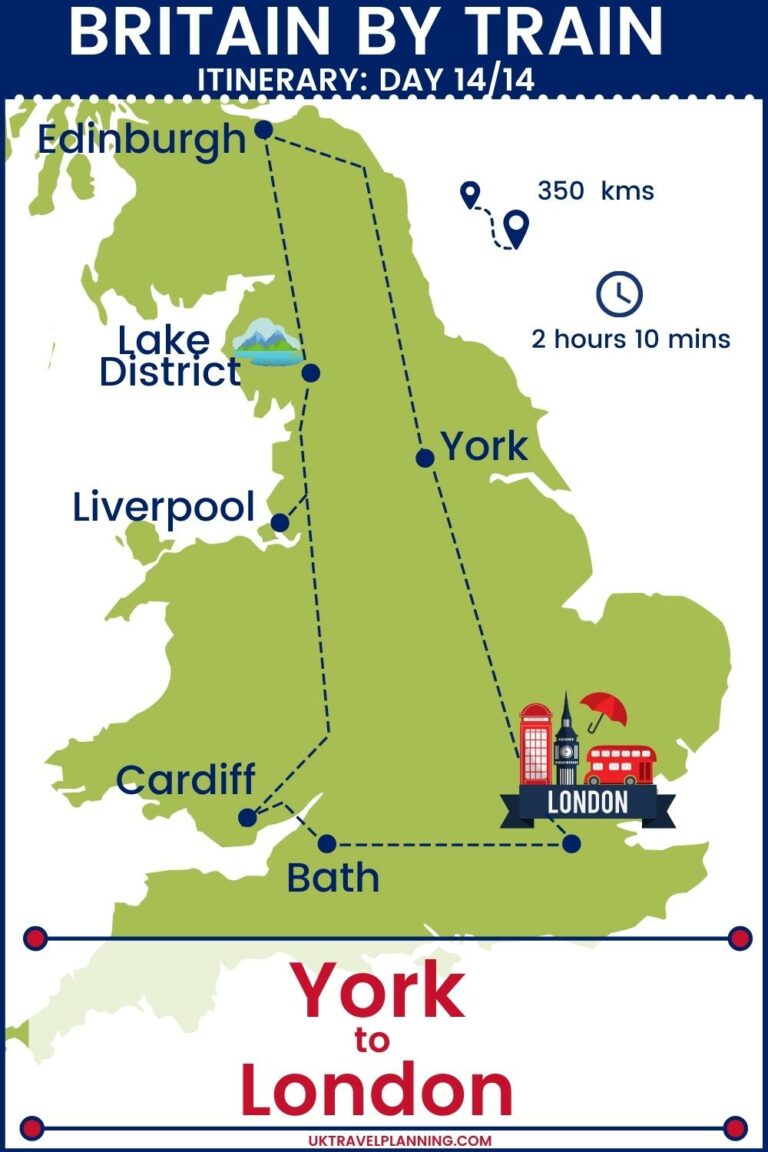 Day 14 is the final leg of this UK train itinerary and will take you from York back to London.
Journey time is a little over 2 hours which means (depending on your flight time) there is the possibility of spending a few more hours exploring London.
🗺 Logistics York – London
Listen to our Introduction to UK Train Travel Podcast
FAQs – Travelling the UK by train
What train cards or passes are recommended for this UK train travel itinerary?
If you are considering following this UK rail trip itinerary the easiest and most cost-effective way to travel is to either purchase a BritRail Pass or a Global Eurail Pass. These tickets are only available for overseas visitors so buy them before you arrive.
What are the advantages of purchasing a BritRail Pass?
The Britrail M-Pass is an electronic rail pass that can be downloaded directly onto your phone. Also available to print as a PDF copy if you prefer.
No need to stress over searching for ticket prices and booking each leg of your journey separately.
No need to stick to a rigid timetable as you can travel as much as you like on each day your BritRail Pass is valid.
Easier than searching for ticket prices for every leg of the journey.
Cheaper than buying individual tickets.
Children travel free with most passes. A family of 4 will only pay for 2 adults.
No queuing at ticket offices to purchase your ticket – just head to the platform and hop on the train.
Airport transfers by rail are included (Heathrow Express, Gatwick Express, and the Stansted Express)
For the itinerary above I recommend purchasing a Britrail GB M-Pass or a Global Eurail Pass as these passes enable unlimited travel across the full length of England, Wales, and Scotland.
I recommend comparing these passes before you buy as you may find one is more cost-effective for your trip.
Click for more information and to purchase BritRail Passes
Click for more information and to purchase a Global Eurail Pass
Where can I buy train tickets?
For this 2 week itinerary, I recommend purchasing a Britrail Pass or a Global Eurail Pass.
If you are planning to take a limited number of train trips purchasing individual tickets may be more cost-effective.
🚆 Bookings open 12 weeks (84 days) before the date of travel.
⚠️ Reservations are compulsory on many services.
😷 Check regulations in regard to Covid-19 prior to travel.
What do I need to know about travelling the UK by train?
Our complete guide to travelling the UK by train details everything you need to know including how and where to buy tickets, tips for your day of travel and what to expect from your UK train trip.
Can I take luggage on UK trains?
You can take up to 3 pieces of luggage for free on UK trains including 2 large items such as suitcases or rucksacks.
Store luggage in overhead luggage racks, under the seats at in the luggage compartments at the end of each carriage.
Are any of the UK's scenic train routes included in this itinerary?
Some of the most scenic train journeys in the UK are included in this itinerary including the East Coast Mainline from Edinburgh to York.
Enjoy your UK train travel adventure
If you are planning a UK rail trip itinerary for the first time you will find our comprehensive guide to using the UK train network an invaluable resource.
Written by Doug Collins who worked on UK railways for over 25 years it contains practical information, tips, and advice to ensure you make the most of your UK rail adventure.
Read more – Complete guide to travelling the UK by train