With so many famous landmarks in the UK to visit how to choose which ones to add to your itinerary? We cover 10 of the best in this article including famous landmarks in London, Scotland, Wales and Northern Ireland.
If you are planning a future trip to the UK (or even live there) I am sure there are many landmarks and sites that you would like to visit.
With the technology available to us it is possible to engage in some virtual travel from the comfort of our own home – wherever that is in the world.
If you have a particular interest in London you will find that I have covered many of the most popular London bucket list attractions in my recent article 11 virtual tours of London's museums and landmarks.
In this article, I will take you outside of the capital on a virtual tour around some of the UK's most famous landmarks and sites.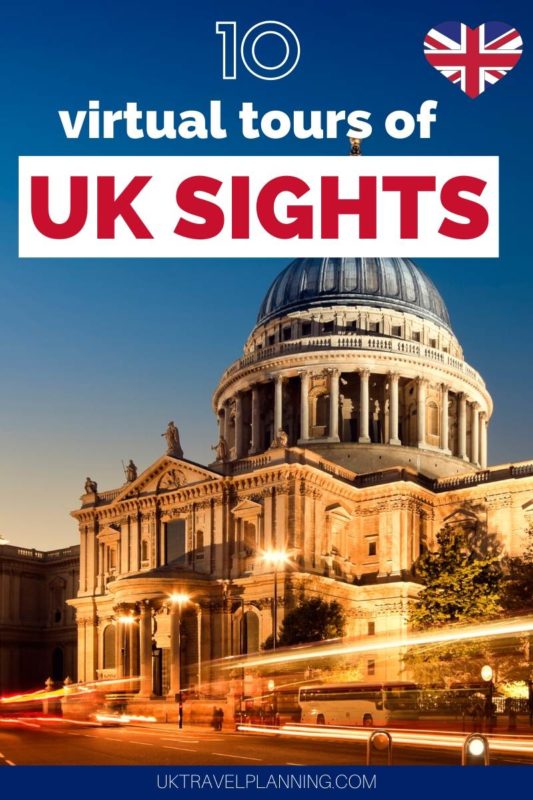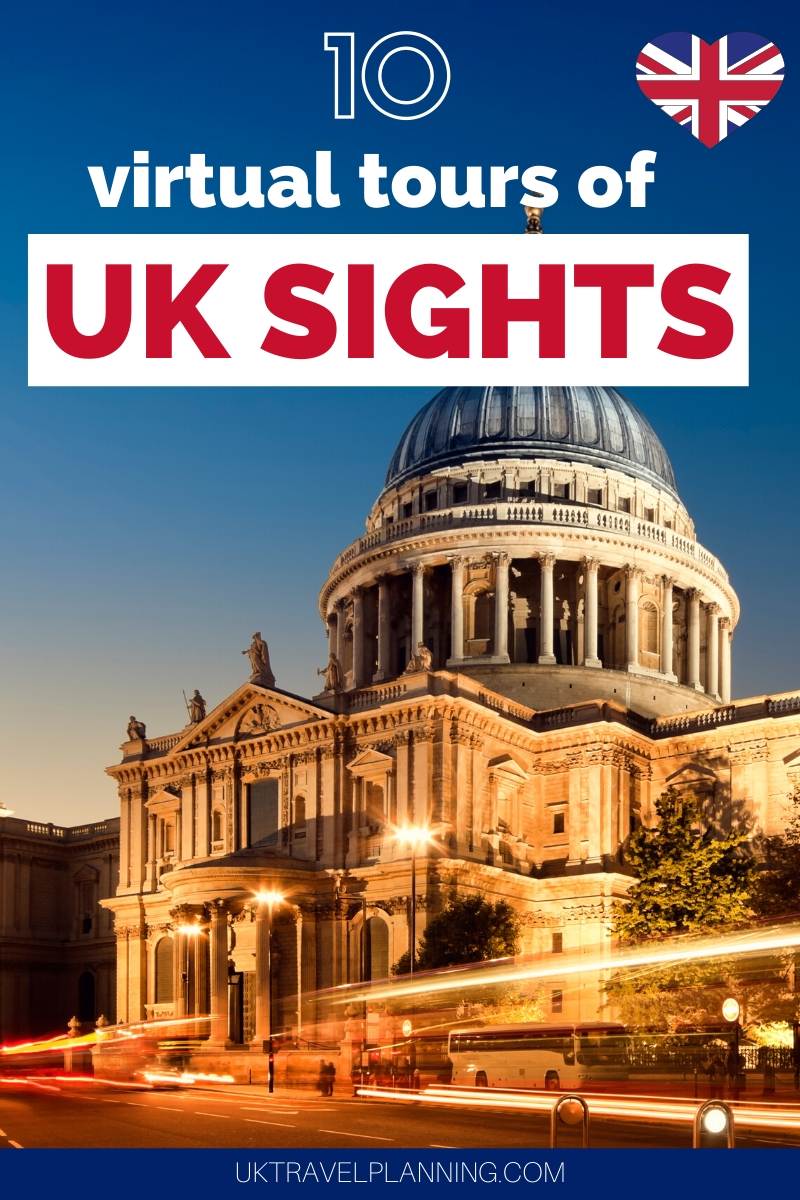 This post may contain affiliate links, which means we may receive a commission at no extra cost if you purchase through a link. Please see our full disclosure for further information. As an Amazon Associate, I earn from qualifying purchases.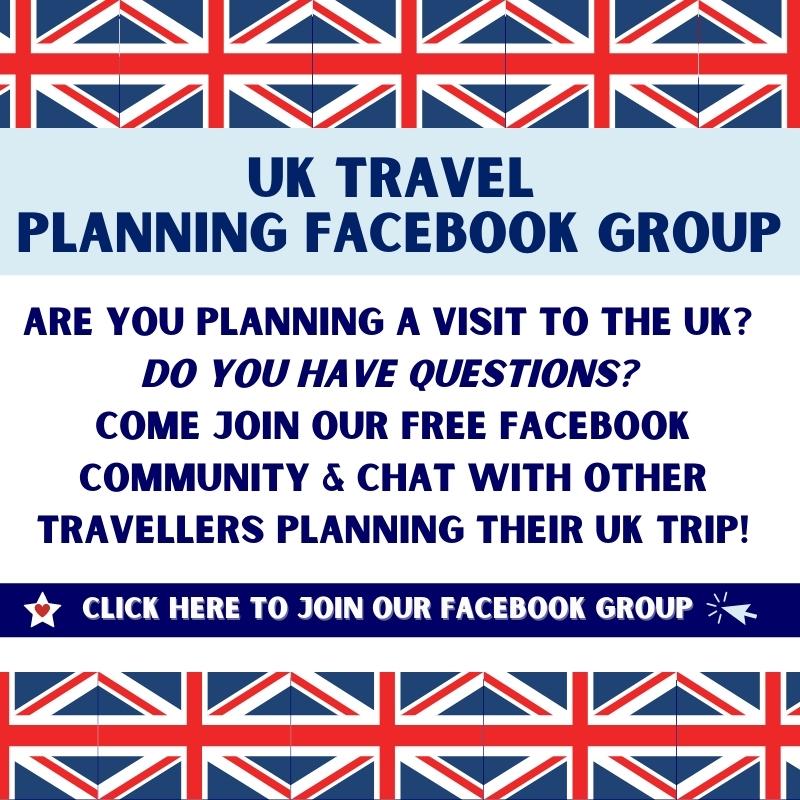 Famous UK landmarks
Stonehenge
Located in the south-west of England in the county of Wiltshire and near the cathedral city of Salisbury (and not far from the beautiful English city of Bath) Stonehenge is one of the most popular landmarks in the UK.
Over one and a half million visitors every year make their way to these famous prehistoric monuments. Stonehenge and nearby Avebury(henge) were declared a UNESCO World Heritage Site in 1986.
The stones are cared for by English Heritage and the National Trust whose members receive free entry to the site.
The website is excellent and offers an interactive 360-degree virtual tour inside the stones. Alternatively, you can switch to Skyscape and enjoy a live view from within the stone circle. I found this interesting to look at both during the day and in the evening (for views of the night sky and rather eerie stones)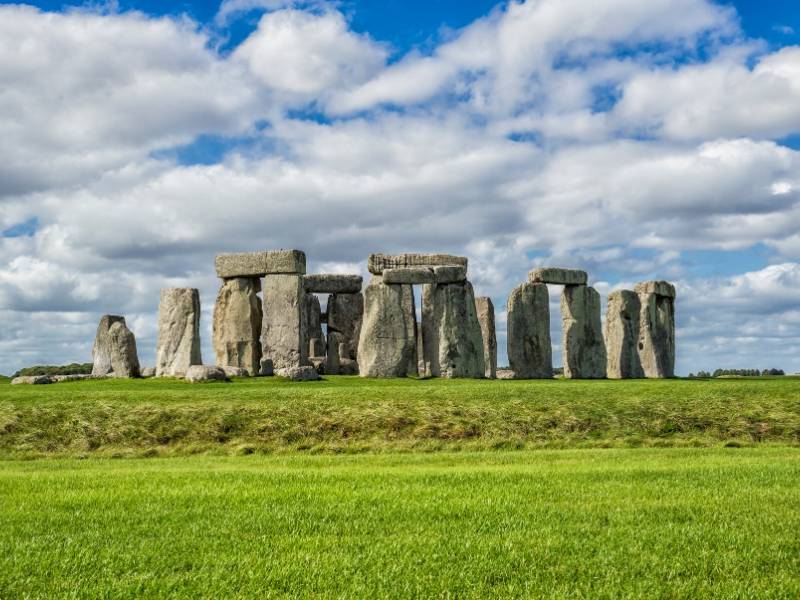 The Roman Baths in Bath
The Romans built their famous baths over a series of hot springs in the place they called Aquae Sulis. That English city is of course familiar to us simply as "Bath."
Exploring the Roman Baths is a given for many visitors to the city. Now you can take a virtual tour of the Sacred Spring, Roman Temple, Bath House and more through Google Street View.
The website is excellent and also has videos and links to a 3D model of the Roman Baths to explore. There are activities for children who may be interested to learn more about the Roman Baths.
Find out more in my guide to things to do in Bath.
TAKE A TOUR OF THE ROMAN BATHS IN BATH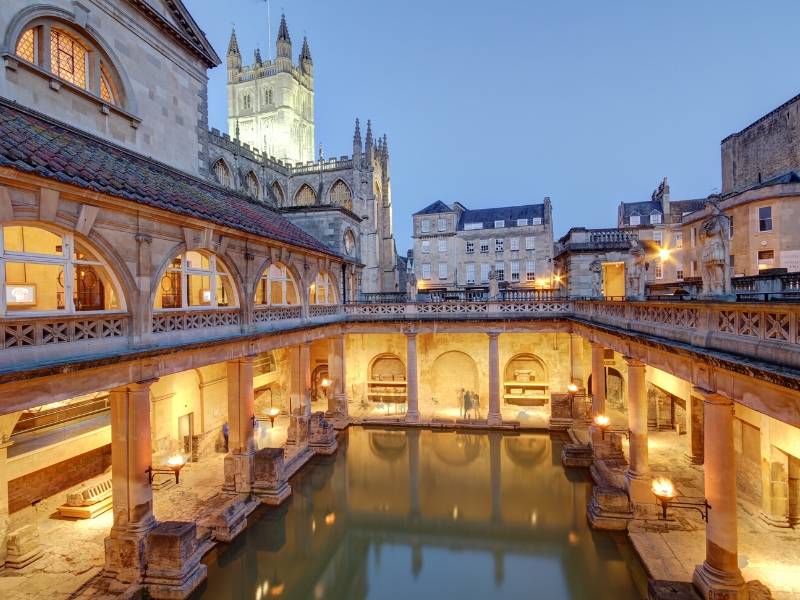 St Ives Beach in Cornwall
Anyone who says the UK does not have beautiful beaches has not been to St Ives. Enjoy a panoramic 360-degree view of the beach and town.
This may not be an educational tour but it is a wonderful way to enjoy some of the beauty the UK has to offer and enjoying the beaches is definitely one of the must-dos when visiting St Ives.
Interested in visiting Cornwall? Read more in my Cornwall Travel Guide.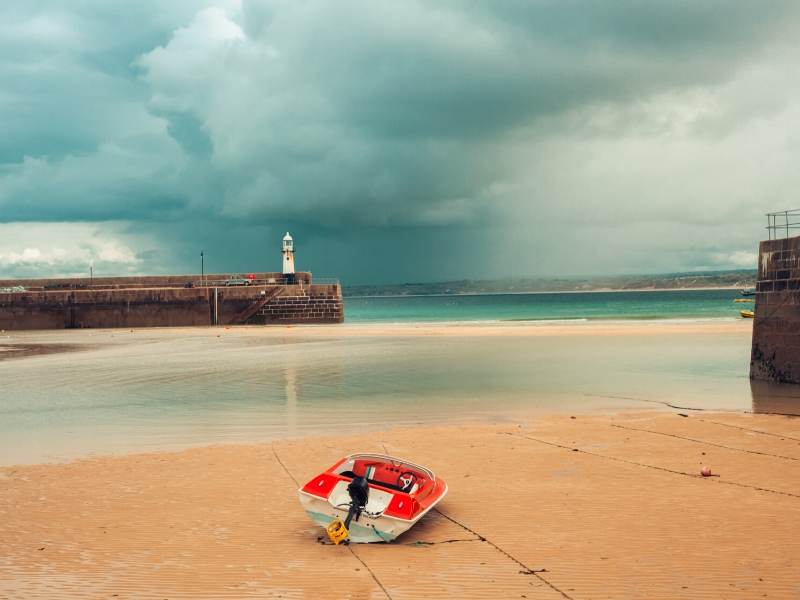 Chatsworth House in Derbyshire
Located near the town of Bakewell in Derbyshire's Peak District National Park Chatsworth House is the residence of the Devonshire family.
The stately home is also familiar to many as one of the stars of the film (and TV version) of Pride and Prejudice.
The virtual 360-degree tour of both the gardens and the house is a wonderful way to discover this beautiful estate located in the East Midlands.
TAKE A TOUR OF CHATSWORTH HOUSE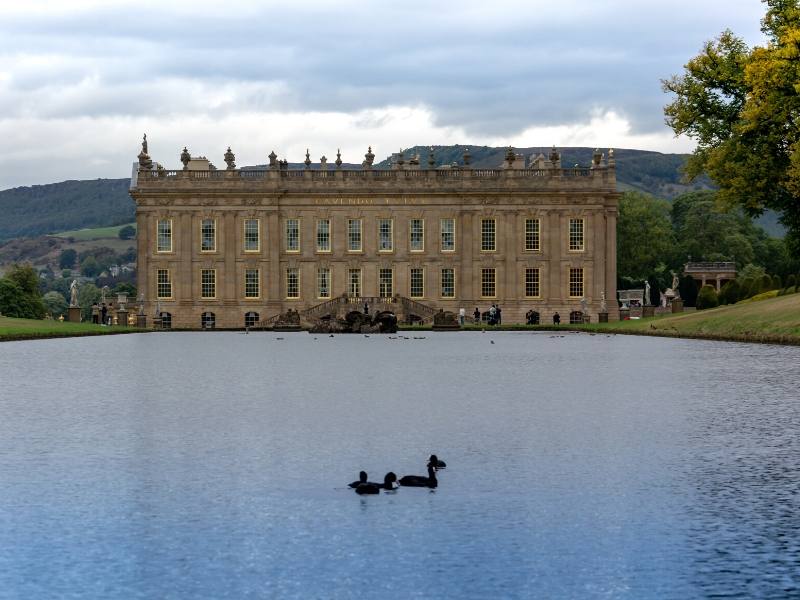 York Minster
If you (like me ) have visited York and only viewed the Minster's exterior here is your opportunity to take a 360 degree tour of the interior!
If you want to learn more about York Minster the official website is highly recommended. There is an interactive map and some really interesting information about the building.
Did you know for example that the Central Tower of the Minster is tall enough to fit the Leaning Tower of Pisa inside? Or that in 1297 King Edward I used the Chapter House for his Parliament?
Take the virtual tour then pop over to the York Minster website to learn more.
Planning to visit York? My York Travel Guide contains everything you need to make the most of your trip.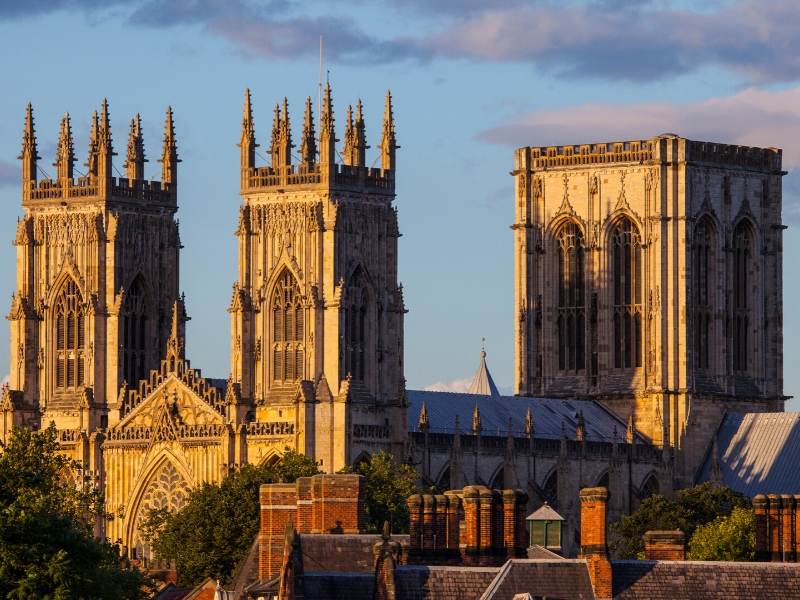 Hadrian's Wall
The Romans didn't just build baths, palaces and roads when they were ruling over Britannia they also build bloody long walls!
In an attempt to stop the marauding tribes from the north (now called Scotland!) attacking Roman soldiers, Hadrian ordered a wall to be built to protect the far reaches of the Roman Empire.
That wall (called imaginatively Hadrian's Wall) stretched for 84 miles from Bowness in Solway in the west to Wallsend (another imaginative name) in the county of Northumberland in the east.
That wall still exists today and is one of the most visited sites in Northern England and one of my favourite landmarks in England.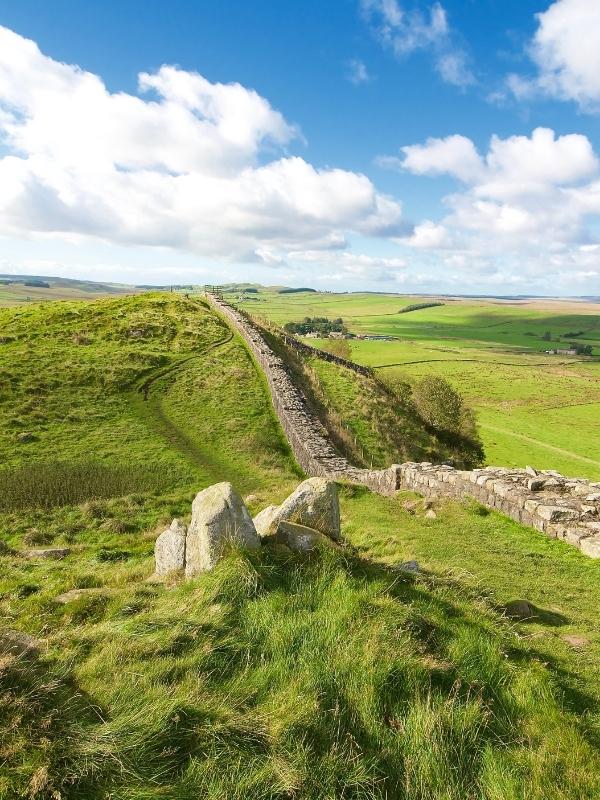 Edinburgh Castle
One of the most popular castles to visit in Scotland is perched on an extinct volcano looking over the city of Edinburgh.
Firstly enjoy the fantastic views over Edinburgh and the castle in this short video produced by Visit Scotland.
Follow that up with a virtual tour around the castle itself. Certainly, a great way to inspire you to start planning that trip to Edinburgh!
Of course, there are many beautiful castles to visit across the UK including Windsor Castle, Warwick Castle, Cardiff Castle, Hever Castle, Alnwick Castle and Caernarfon Castle – read more about the best castles to visit in our castle guides to England, Scotland and Wales.
TAKE A TOUR OF EDINBURGH CASTLE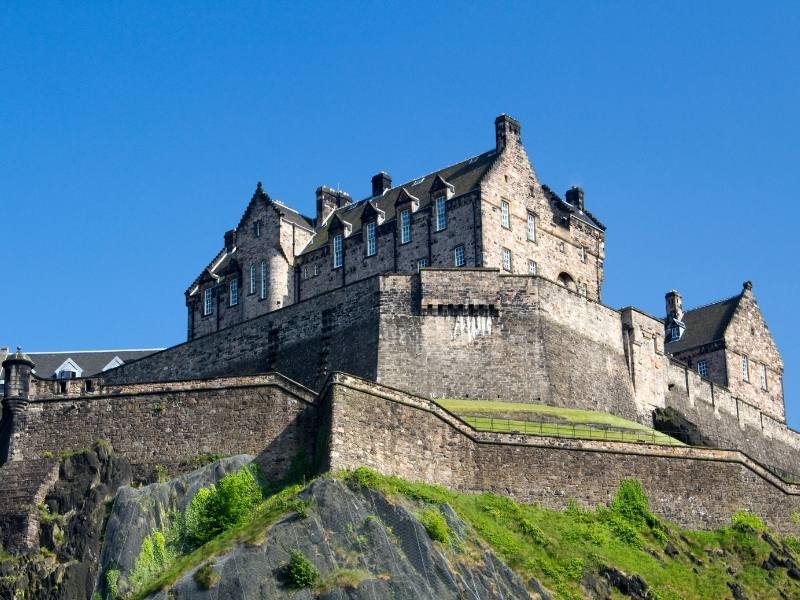 Loch Ness
A popular area for visitors to the Highlands of Scotland is Loch Ness.
Why not take a look for Nessie on this virtual tour of Loch Ness? The stunning Scottish loch near Inverness is famous for harbouring an elusive monster was mapped by google by divers using underwater cameras.
Why not take a look! If you see the Loch Ness monster do let us know…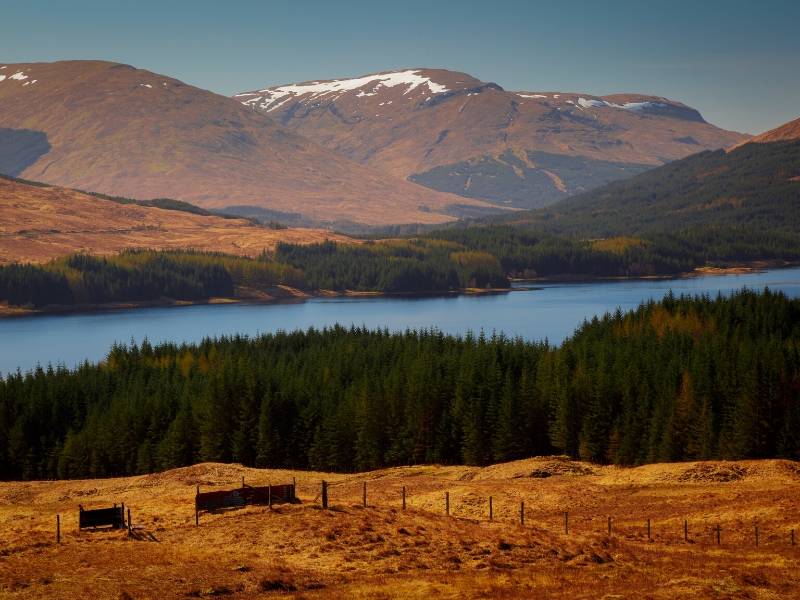 The Giant's Causeway
The Giant's Causeway in Northern Ireland was formed over 50 – 60 million years ago. This natural wonder consists of over 40,000 basalt columns created through a volcanic eruption.
There are 4 different virtual tours of the Giant's Causeway available on the National Trust website. This is a great opportunity to check out Northern Ireland's only UNESCO World Heritage Site.
Definitely something for your itinerary or UK bucket list and one of the top 10 things to do and see when you visit Northern Ireland.
TAKE A TOUR OF THE GIANT'S CAUSEWAY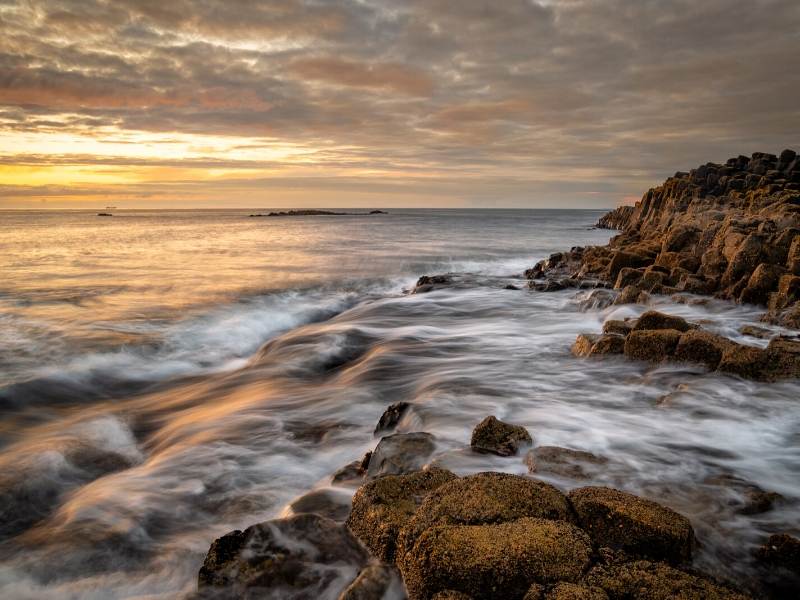 St Paul's Cathedral
And finally, we have one bonus virtual tour involving a London landmark that I didn't include in my virtual tours of London post. It is one of the most famous British buildings – St Paul's Cathedral.
Take the 360-degree panoramic tour of the inside of St Paul's Cathedral. The shot was taken underneath the dome and gives viewers the chance to enjoy the Cathedral without the throngs of visitors normally blocking the view!
If you are interested in London landmarks such as the Tower of London, the Royal Residence of Buckingham Palace, Tower Bridge and Big Ben read our article dedicated to famous London landmarks.
TAKE A TOUR OF ST PAUL'S CATHEDRAL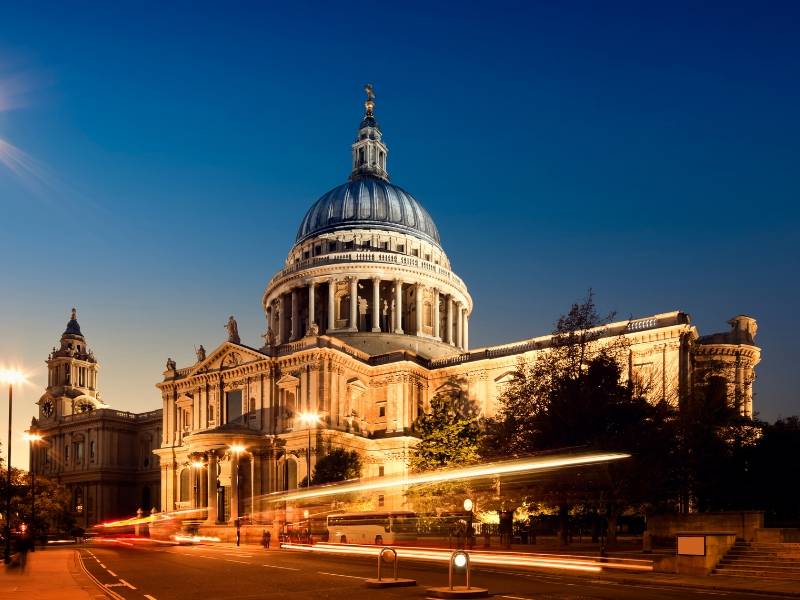 Enjoy your virtual tour of the UK!
There are so many landmarks in England, Scotland, Wales and Northern Ireland to visit that this article has only touched the surface. Being able to visit some of these iconic landmarks (even virtually) is pretty special.
For more planning tips and inspiration for your UK vacation (or staycation) I recommend these travel guides
Do you use Pinterest? Why not pin to your boards and share with friends and family who may be interested?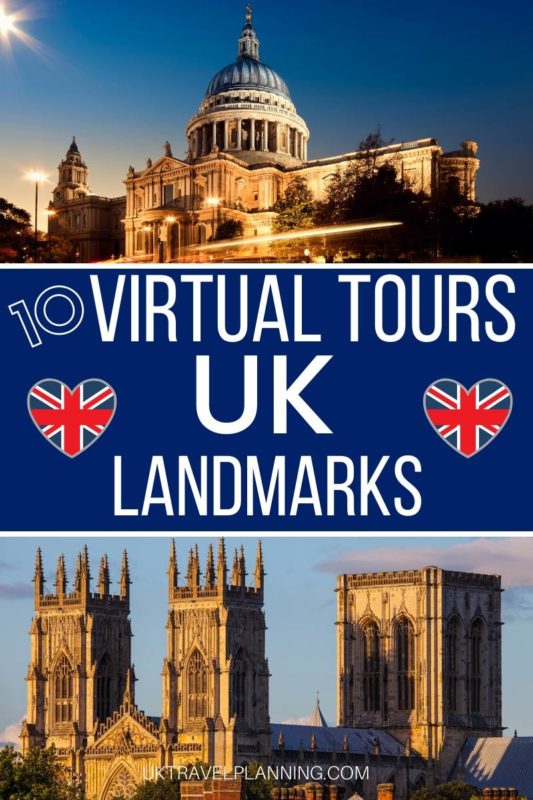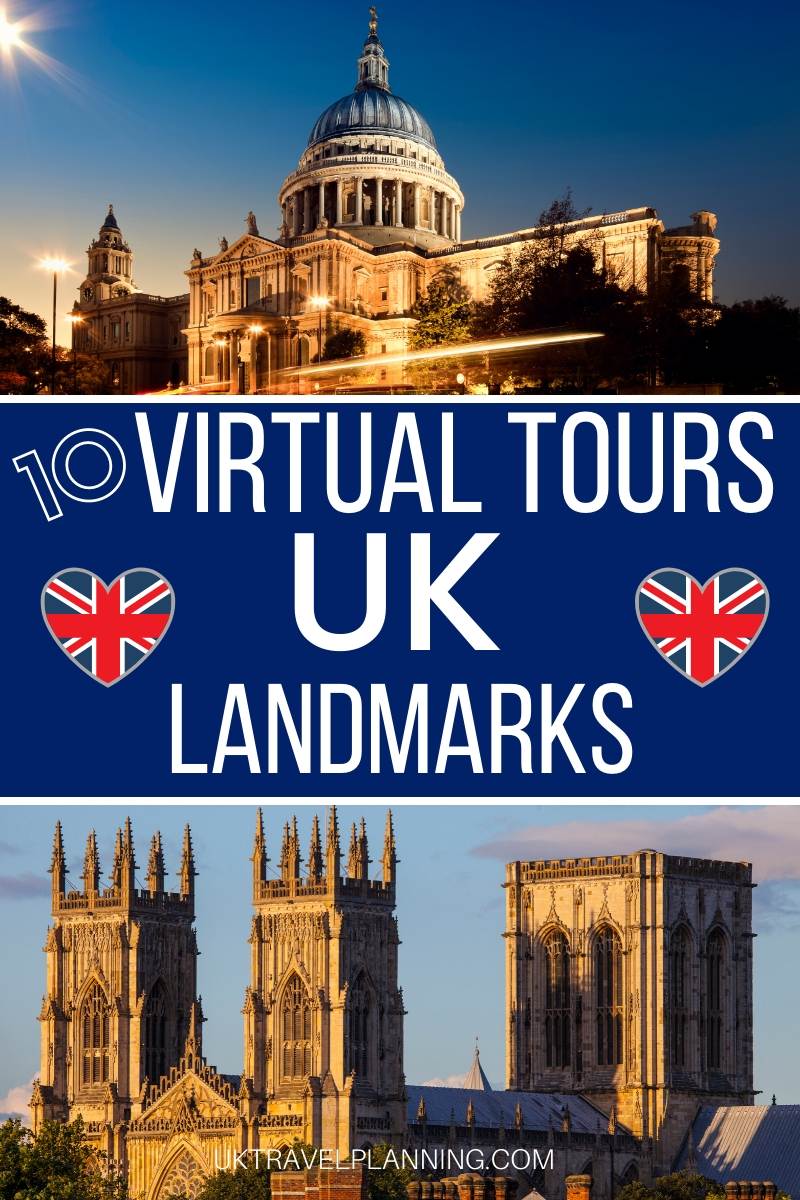 This post may contain affiliate links, which means we may receive a commission, at no extra cost to you, if you make a purchase through a link. Please see our full disclosure for further information. As an Amazon Associate, I earn from qualifying purchases.