Are you planning a visit to the beautiful Cornish seaside town of St Ives? In this article, discover the best things to do plus travel tips to help you make the best of your trip.
This travel guide to St Ives has everything you need to know to plan your visit. This includes the best things to see and do in St Ives, recommended places to stay and eat, how to get there plus travel tips to ensure you make the most of your trip.
St Ives is a popular holiday destination along the beautiful coastline of North Cornwall, UK. It's a terrific base for a Cornish vacation, with plenty of things to see and do, a wide choice of accommodations to suit different budgets, and lots of places to eat, drink, and shop. Most places can easily be reached by foot, making exploring the town a breeze.
It's especially great for families, with plenty to keep both kids and older members of the family entertained. Couples and groups of friends looking for laid-back vibes will also enjoy St Ives.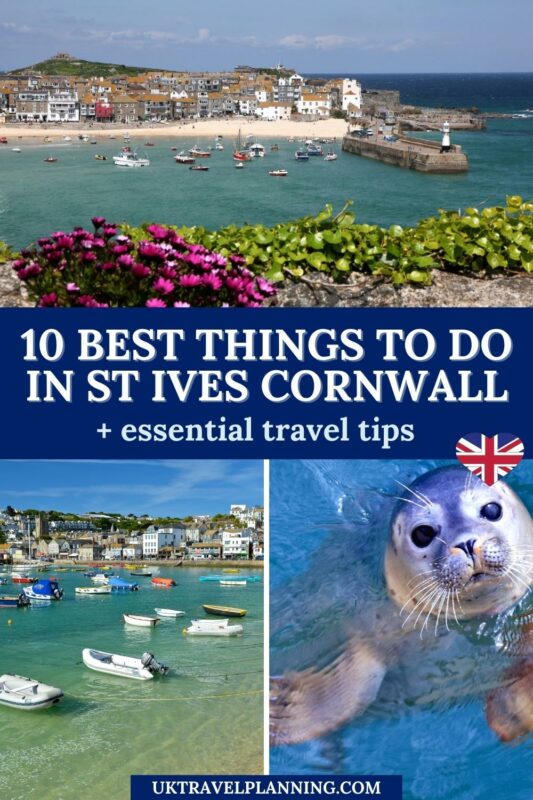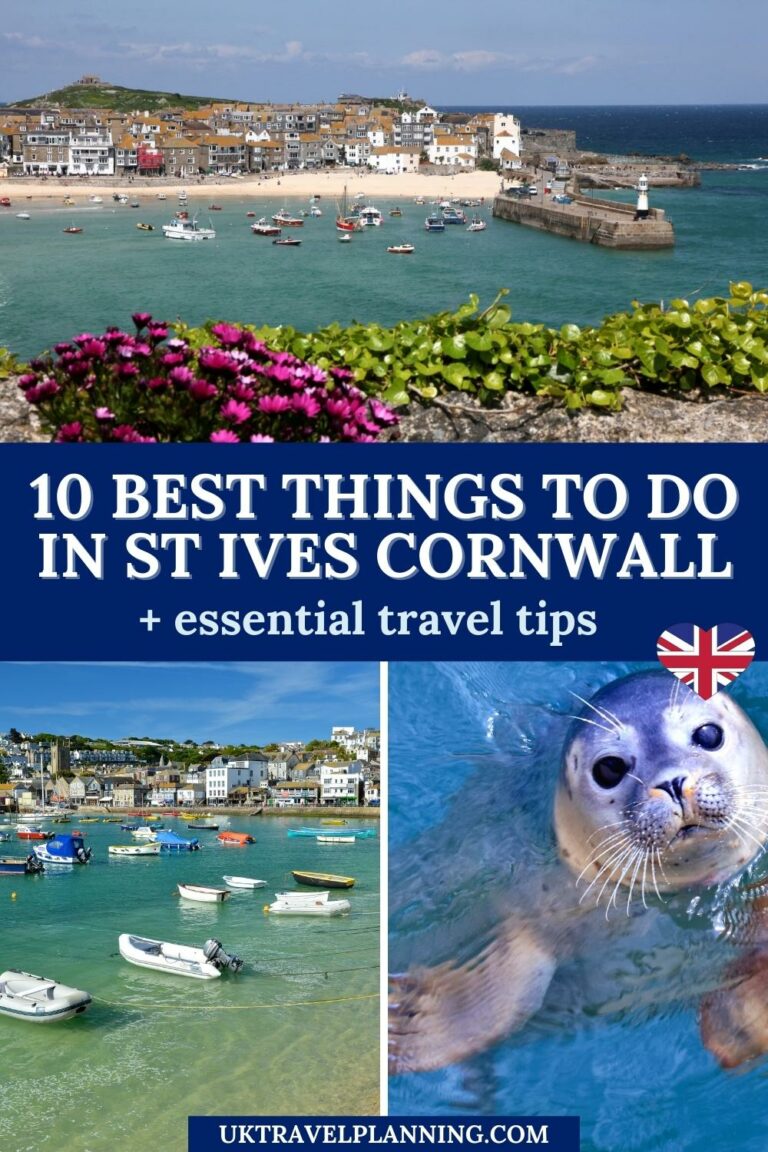 Top 10 things to do in St Ives
Explore the Barbara Hepworth Museum and Sculpture Garden
One of the best places to visit in St Ives, the Barbara Hepworth Museum and Sculpture Garden has been managed by the Tate Gallery since 1980. It was the home and studio of Barbara Hepworth, a famous artist and sculptor, for more than 25 years.
Born in Yorkshire in 1903, Hepworth was renowned in the international art world and one of the top sculptors of her time. During her life, she studied in Leeds and London, lived in Italy, travelled through Europe, and had four children. When WWII broke out in 1939, Hepworth moved to the Cornish seaside town of St Ives, where she remained until her death. She made a significant impact on the local arts and culture scene and, along with her painter husband Ben Nicholson, attracted many young creatives to the area.
The traditional stone-built studio/home, originally called Trewyn Studio, still appears as it would have done when Hepworth lived there. You can peer inside the cosy living room furnished by the great artist, and see her equipment, materials, and tools inside the workshop. There are also a number of unfinished pieces to pique your curiosity.
Stroll through the tranquil gardens to admire fascinating sculptures made from diverse materials, including bronze, stone, and wood. Notable works include Torso II, Two Forms, Seated Figure, Spring, The Artist's Hand, Fallen Images, Forms in Movement, and Corymb. Many of the sculptures are still in Hepworth's original chosen positions, and the pieces kept throughout the pretty gardens were some of her most cherished works.
A must-visit for art lovers, admission to the Barbara Hepworth Museum and Sculpture Garden costs £7 for adults and is free for children under the age of 18.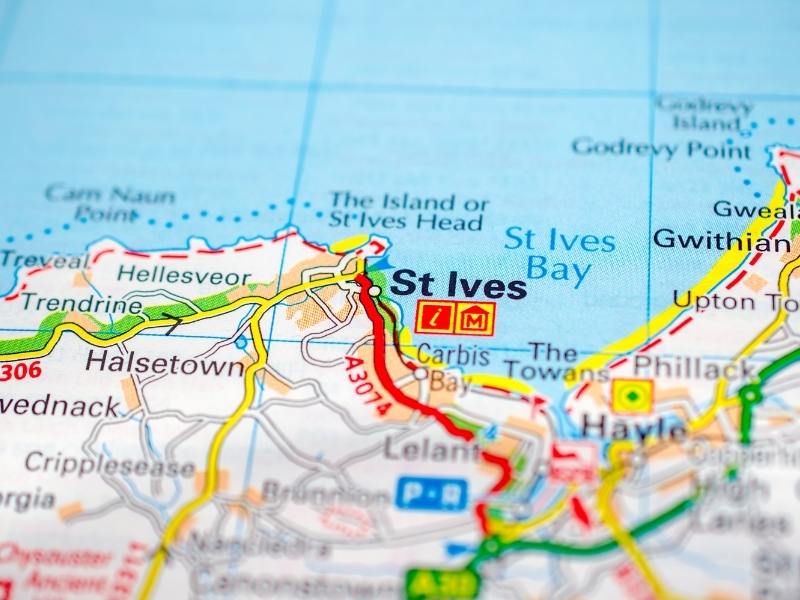 Enjoy art exhibitions at the Tate St Ives
Another top attraction in St Ives for art aficionados, the Tate St Ives overlooks the popular Porthmeor Beach. The award-winning gallery displays modern works by international and local artists and is one of the most-visited attractions in Cornwall.
The building is impressive in its own right, designed to resemble the shapes of the gasworks that previously stood on the site. Pale tiles cover the exterior, with shimmering yellows, greens, and blues to reflect the coastal surroundings and the always-changeable weather conditions. An exciting extension opened in 2017, with a gallery buried in the cliffs.
St Ives has long been a magnet for artists, with famous names like Alfred Wallis (a St Ives local), Ben Nicholson, Barbara Hepworth, Christopher Wood, and Naum Gabo associated with the area in the first half of the 20th century. Later, from the 1950s, more artists gathered here, including Roger Hilton, Bryan Winter, Paul Feiler, Patrick Heron, Bernard Leach, and Karl Weschke.
Although the individuals didn't necessarily associate themselves as being part of a group, the name "St Ives School" is commonly used to refer to artists connected with St Ives. The Tate St Ives showcases works by the St Ives School, as well as related art forms.
As well as enjoying the fascinating exhibits and discovering more about the local art scene, you can learn more about modern art in general, buy unique souvenirs in the gift shop, and enjoy refreshments in the rooftop café.
Admission is £10.50 for adults and free for those under 18s.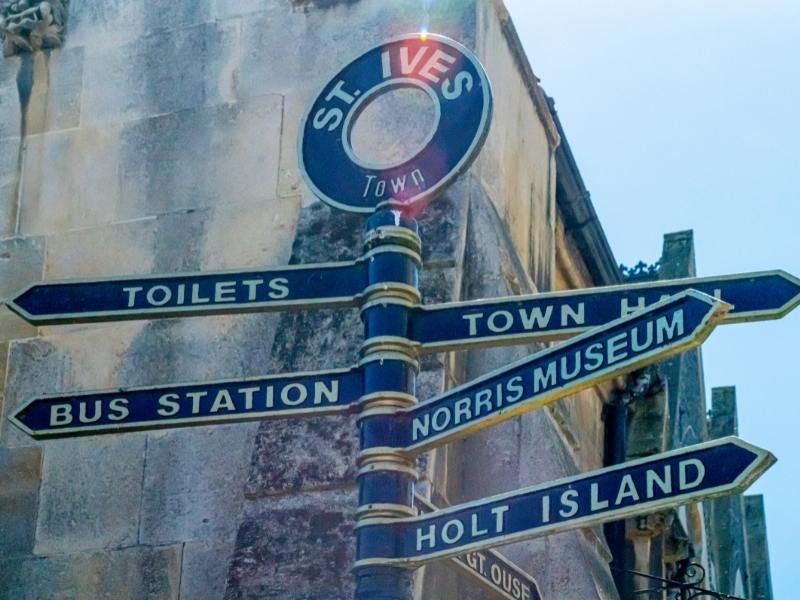 Soak up the atmosphere at St Ives Harbour
Located right in the heart of town, St Ives Harbour is a top place for families, friends, and couples to laze in the sunshine, walk along the seafront, take a dip in the waves, and watch the boats bobbing on the waves. The harbour beach is sometimes also referred to as Town Beach.
Both a working harbour and a beach, you'll find a sheltered swathe of golden sand lapped by gentle cerulean waters. Pleasure boat trips and fishing excursions depart from here too, in boats big and small.
Take a stroll along the arched Smeaton's Pier, named after a civil engineer, and see the two lighthouses that stand proudly at either end. Fun fact: there are two lighthouses because the pier was extended in the late 1800s, necessitating the construction of a new lighthouse.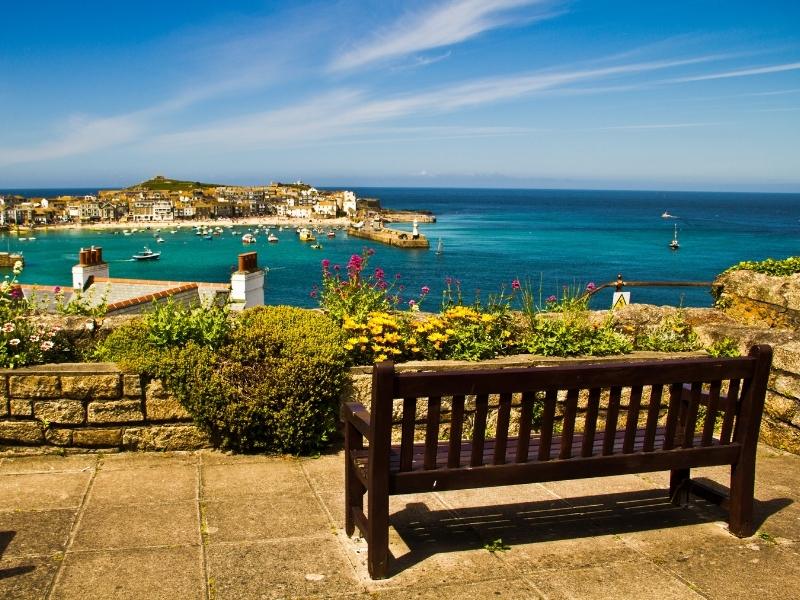 Catch the train from St Ives to St Erth on the St Ives Railway
Covering around four miles, the St Ives Railway is known for being one of the most scenic rides in the UK and one of the most popular things to do in St Ives. The journey time may be short, lasting for around ten minutes, but the rewards are plentiful.
The route runs between St Ives and St Erth, passing Hayle Towans along the way. Relax as you travel along the coast, soaking up the magnificent views over St Ives Bay and Carbis Bay. Pro tip: try to sit on the left side of the carriage if departing from St Ives (and the right side when leaving from St Erth) for the most stunning scenic vistas.
If you fancy walking one way, it'll take around an hour and a half. You can pause en route to enjoy the yellow sandy shores of Hayle Towans and several seaside resorts. You'll find plenty of places to eat and drink too.
Sure to delight people of all ages, the train trip is a bargain too; a return ticket (off-peak) costs just £4.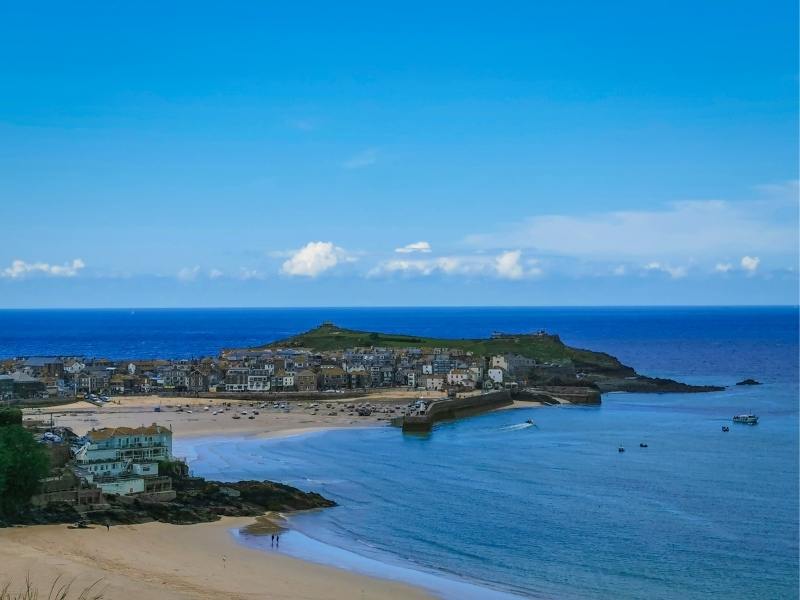 Take a boat trip to Seal Island
Located around 3.5 miles to the west of St Ives, the small Seal Island is part of a group of tiny islands and islets called The Carracks. Several operators run regular excursions to the island.
A terrific experience for any holidaymaker in Cornwall and particularly popular with kids, the fun boat trips offer excellent chances to spot a variety of wildlife. Unsurprisingly, given the name, seals are the stars of the show, with the island home to a colony of Atlantic grey seals. You might also see dolphins, porpoises, and basking sharks, along with seabirds and aquatic creatures like sea anemones and fish swimming under the waves. If you're really lucky, you may even catch a rare glimpse of a humpback whale!
As well as offering plenty of thrilling encounters with wildlife, a boat trip to Seal Island provides splendid views out over the ocean and along the rugged coastline. Look back towards the mainland to admire St Ives from a different perspective.
The area has a number of shipwrecks too. Depending on your particular operator, you might see the wrecks of the Bessemer City, the Alba, and the Enrico Parodi.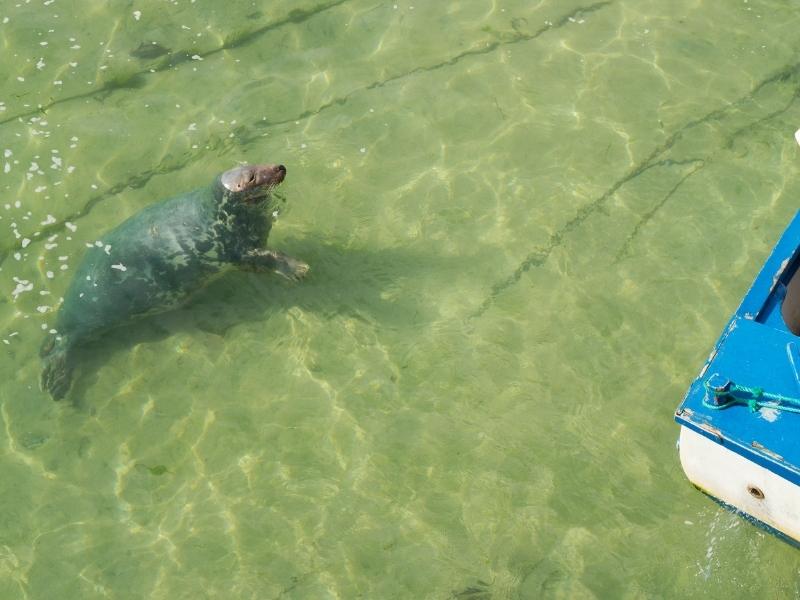 Spend the day at the beach
St Ives offers easy access to several seductive beaches, each providing plentiful opportunities for relaxation, leisure, and watersports. Perfect for visitors of any age, get your swimming gear together, grab a towel, and prepare your buckets, spades, Frisbees and inflatables. After all, who can resist the allure of a good old-fashioned day at the seaside?! Certainly one of our favourite things to do in St Ives!
The most popular beaches around St Ives include Harbour Beach aka Town Beach (mentioned above), and the three P's: Porthmeor Beach, Porthminster Beach, and Porthgwidden Beach.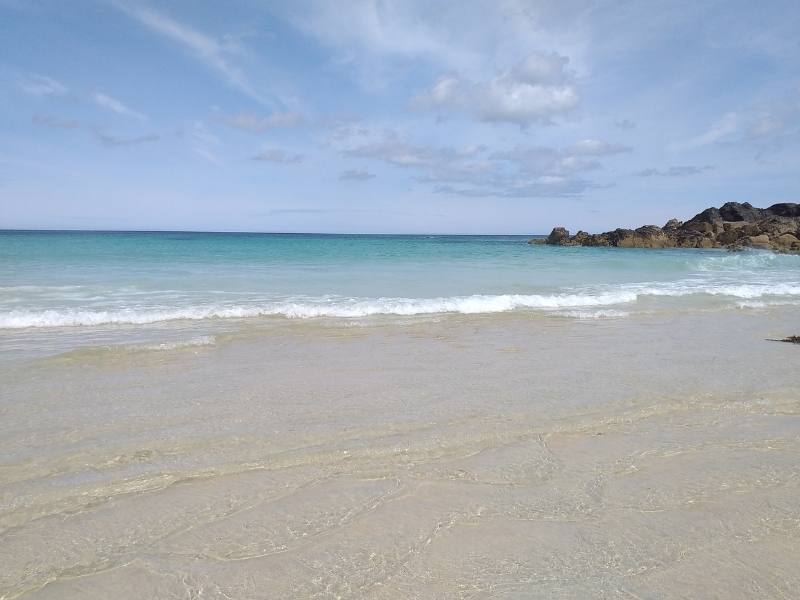 The pretty Porthmeor Beach is just a short stroll from the centre of Ives and sits below the famous Tate St Ives. It's one of just a few Cornish beaches to have Blue Flag status. The golden sands are perfect for soaking up some rays, while the gentle waters are great for swimming and splashing around. In the winter months, surfers come in droves to ride the waves. West Beach Porthmeor Café is a top spot for a tasty bite to eat and a sundowner.
Porthminster Beach lies to the south of the town centre, close to St Ives Station. Colourful beach huts are backed with a dense patch of dark green trees, with a beautiful crescent of yellow sand in front. Clear waters and gently swaying palms help to create a tropical vibe. Enjoy amazing views of Godrevy Lighthouse in the distance, relax in a rented deckchair, take a dip in the sea, build a sandcastle, or have fun at the 18-hole mini-golf course.
Lying to the north of St Ives' centre and close to the island, Porthgwidden Beach is the smallest beach in St Ives. It boasts soft sands and calm waters, and visitors can enjoy Mediterranean and Asian seafood specialities in Porthgwidden Café.
Learn to surf
Cornwall is known for having many terrific surfing hotspots … and St Ives is one of them. There are several places around the bay where you can learn how to harness the power of the waves with top-class surf lessons. St Ives Surf School can be found next to Porthmeor Beach, while further along the coast (and a short distance out of town) you'll find Eskinzo Surf School and Gwithian Academy of Surfing. Each offers excellent instruction for all levels and surfboard rentals.
While Porthmeor is one of the most famous surf spots around St Ives, experienced surfers can jump on their boards at Hawkes Point and Break Water for more surfing thrills.
Interested in trying other watersports too? Rent stand-up paddleboards and kayaks for even more fun on the water.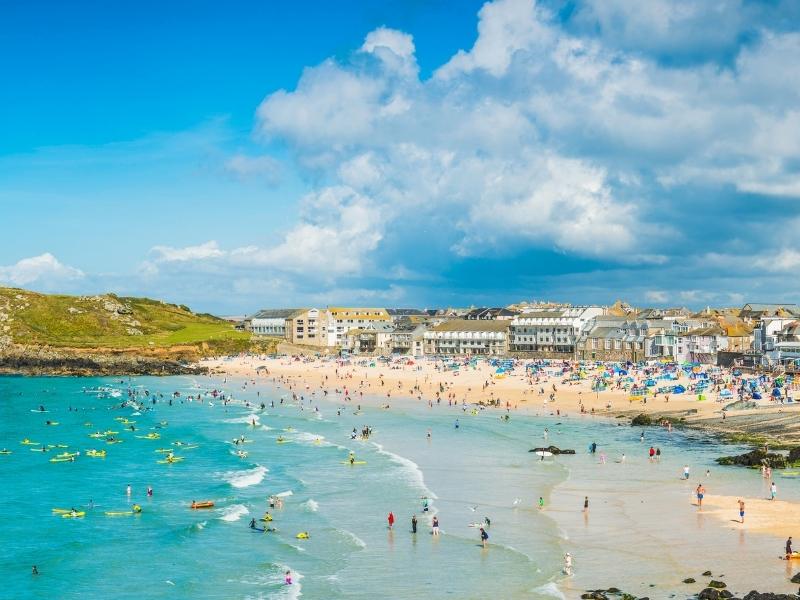 Explore the pretty streets of St Ives
Take time to wander through the quaint streets of the town centre to discover a wealth of delights. Narrow streets twist and turn through St Ives, presenting a challenge for vehicles but a joy for pedestrians.
The Down-a-long is the older part of town, located on the lower ridge that divides the island from the rest of the town. Cobblestone streets lined with traditional whitewashed fishermen's cottages ooze character and charm, and there are many cafes, galleries, and shops to tempt you. Look out for unusual street names, such as Teetotal Street and Salubrious Place.
Looking for even more shopping opportunities? Check out Fore Street, where you'll find everything from clothes and homewares to souvenirs and seaside kitsch.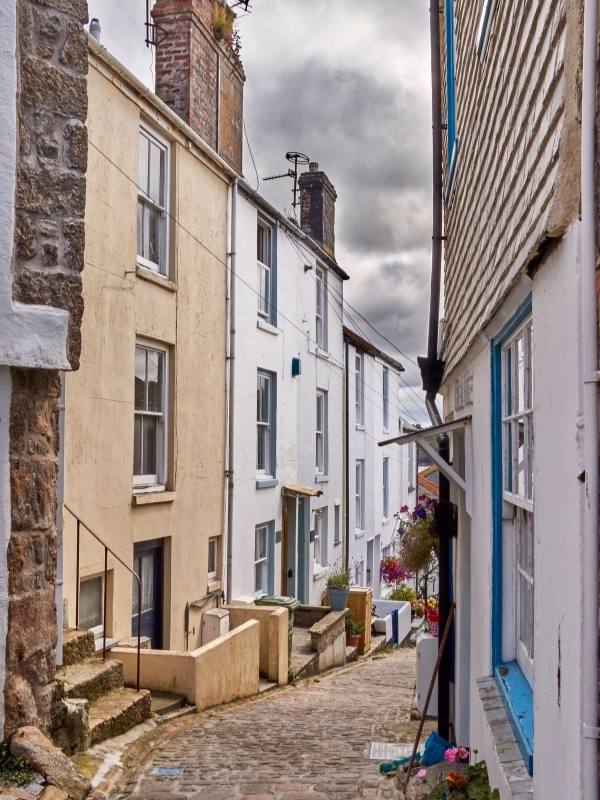 Enjoy traditional Cornish food (& more)
With a plethora of places to eat and drink, there's definitely no need to feel hungry or thirsty while holidaying in St Ives. Whether it's a cosy café, a local chippy, or a fancier restaurant, there are tons to tantalise your tastebuds.
Sink your teeth into a traditional Cornish pasty, a hearty crimped pastry filled with minced beef, potato, onion, and swede. St Ives' coastal location makes it a prime destination for lovers of fresh and succulent seafood too.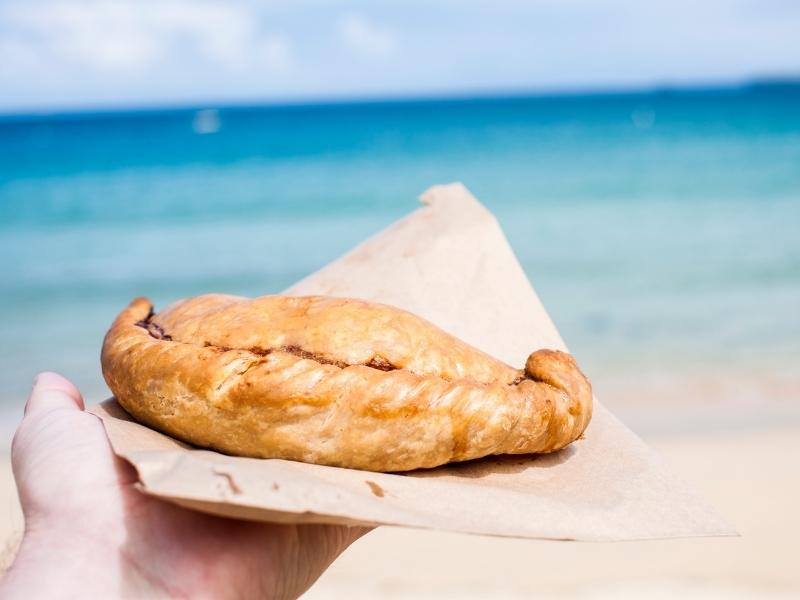 If you're after something sweeter, try a cream tea. Something of a British institution, a cream tea consists of a pot of tea, scones, jam, and deliciously thick clotted cream. There's a huge debate about what goes on the scone first—the jam or the cream. Hint: In Cornwall, people typically spread the split scone with jam first and then lashings of cream, while next door in Devon it's often the other way round. In any case, it's delicious!
There's no shortage of ice cream parlours and vendors around St Ives either. Perfect for cooling down on a hot summer's day a visit is definitely one of the best things to do in St Ives. From rich Cornish ice cream in a variety of flavours to soft whipped ice cream drizzled in sweet sauce, there's something to suit all preferences.
Moomaid of Zennor is a popular choice for locally made sweet treats, and there's a tempting parlour right in St Ives. Choose from cool flavours like raspberry ripple, rum and raisin, almond and cherry, or the boozy espresso martini. There are also sorbets, cakes, and sundaes to tempt you.
Tip – watch out for the seagulls. They are not shy and will try to steal your food.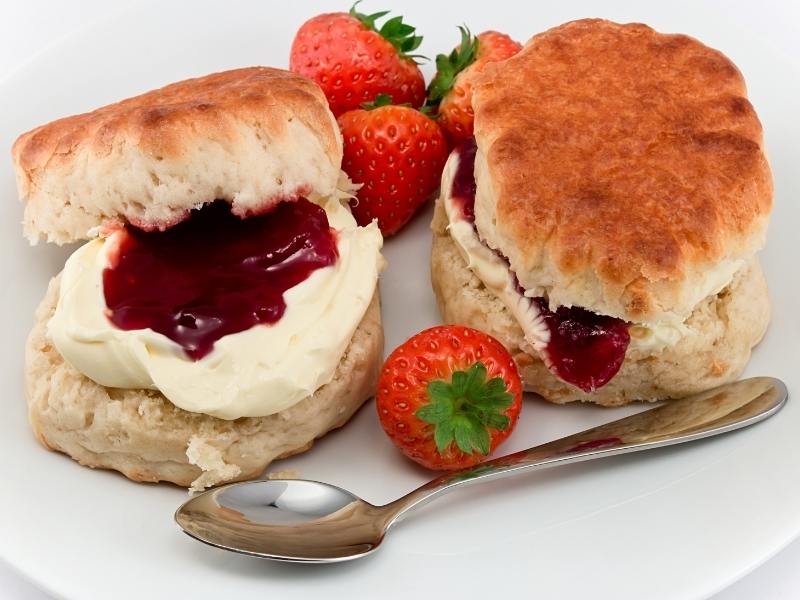 Take a hike
Terrific walking opportunities abound in St Ives, from short and scenic strolls to more challenging hikes.
The 630-mile-long South West Coast Path passes through town, with the stretch between St Ives and the village of Zennor being particularly picturesque. Highlights along the route include Man Rock, the former leper hospital of Klavji, and Trig Point. The sweeping vistas take in Seal Island, and there's a good chance of spotting coastal wildlife.
Once you reach Zennor, call into the Tinners Arms for a well-deserved pint of beer. Do note that you'll need sturdy footwear to hike along the coast to Zennor.
An inland route, known as the Coffin Path, also connects St Ives with Zennor, and other great walking routes include the path up Worvas Hill to Knill's Monument and the 12-mile-long St. Michael's Way, which leads to Marazion.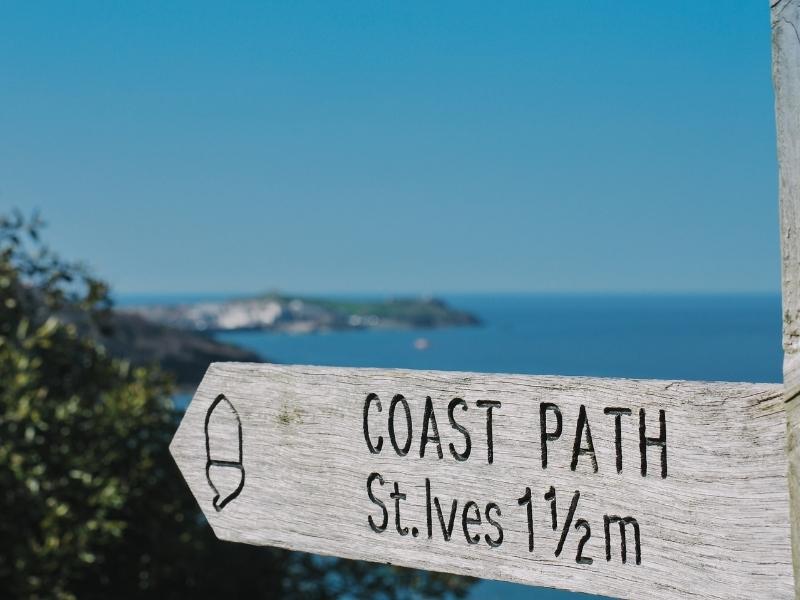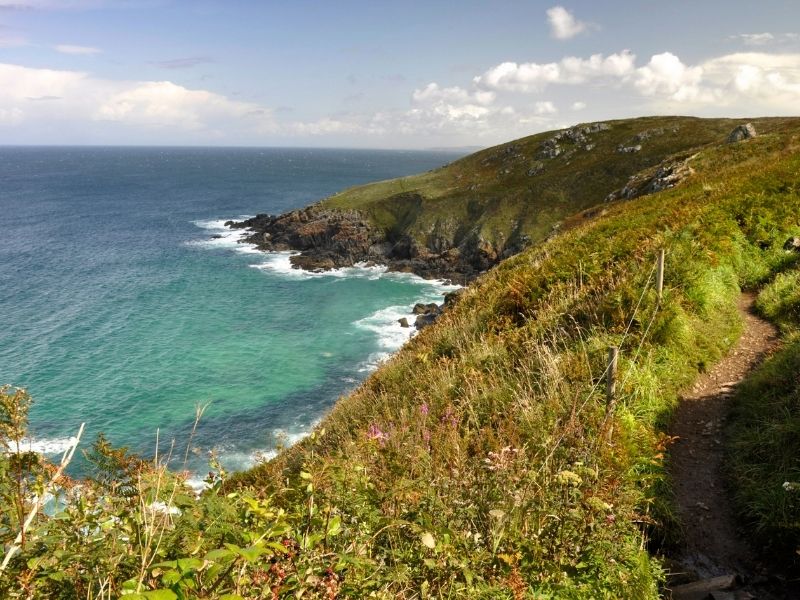 FAQs – Planning your visit to St Ives
When is the best time of year to visit St Ives?
The summer months of June to August are the most popular times to visit St Ives. The weather is warm to hot and there are long days of sunshine. Summers are ideal for basking on the beaches and enjoying swimming and watersports. This is also, however, when the town is the most crowded and prices are highest.
Spring and autumn can also be great times for a holiday in St Ives. While the weather may not be quite warm enough for you to want to swim in the sea, you're still sure to have days of sunshine for relaxing on the sands and exploring the town without the huge crowds.
Although winter sees relatively few visitors to St Ives, and many tourist-centred establishments are closed, this is a top time for surf enthusiasts to enjoy the biggest waves.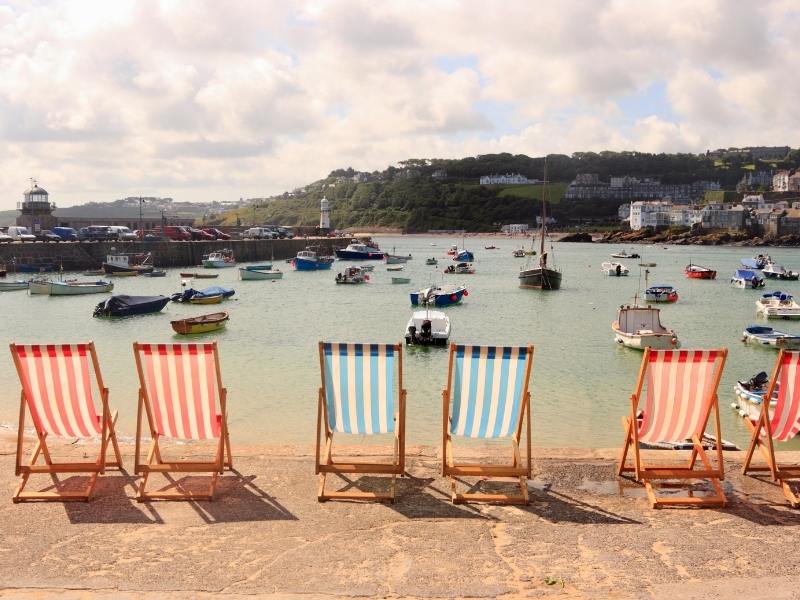 How much time do I need to explore St Ives?
While you could (quickly) hit up most of St Ives highlights in just a couple of days, most people stay for a week (or longer!).
A longer trip means that you don't need to rush around attractions, can spend long days enjoying the beaches and walking trails, and can take trips to places like Seal Island and other nearby Cornish gems.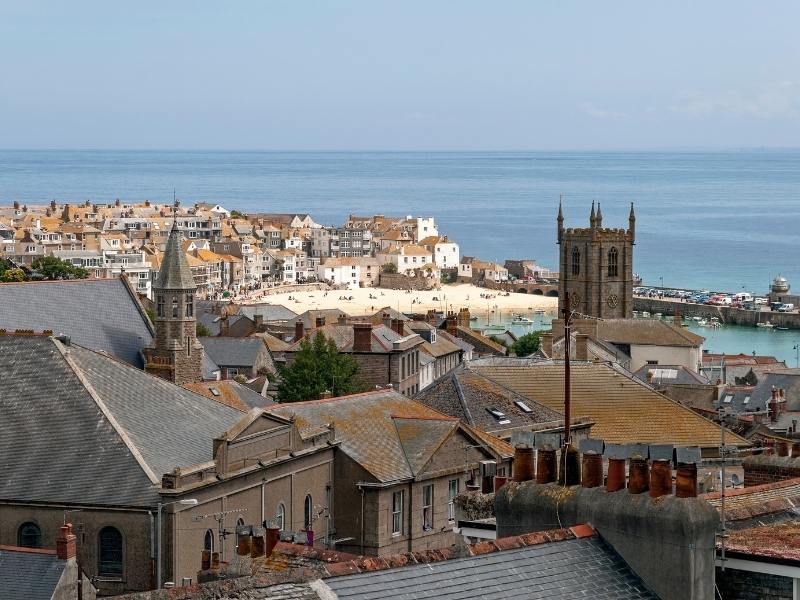 How can I get to St Ives from London?
Train
Distance from London: 248 miles
Time by train: The fastest route takes 5 hours 30 minutes
There are no direct trains
Leave from: London Paddington to St Ives via a number of train routes
For timetables and ticket prices we recommend the trainline
Drive
If you prefer a road trip through the south-west of England and are planning to hire a car to drive to Cornwall and St Ives we recommend picking up the car at a train station or airport outside of London.
The road distance between London and St Ives is just over 283 miles and will take approximately 5 hours.
Best tours to St Ives (and Cornwall from London)
Discover the landscapes and history of the wild Southwest of England on this 5-day mini-coach tour which combines the best of Devon and Cornwall. Visit the Jurassic Coast, Dartmoor, Lands End, Tintagel Castle. Spend 2 nights in the Roman city of Exeter and 2 nights in the harbour town of Falmouth.
What are the best places to stay in St Ives?
Where are the best places to eat in St Ives?
St Ives has a plethora of places to dine, ranging from the cheap and cheerful and quick and easy to more luxurious eateries that are perfect for a romantic night out. These are a few of our favourites:
The Harbour Gourmet Fish Bar is one of our favourite fish and chip restaurants in the UK (they also offer a takeaway next door to the main restaurant)
The Loft Restaurant and Sun Terrace is a high-class restaurant that uses fresh, local ingredients to produce artfully presented and mouth-wateringly delicious delights. Dishes include roasted lemon sole, vegetarian Thai-style massaman curry, sirloin steak, and twice-cooked pork belly.
Located on Fish Street, The Mermaid is, unsurprisingly, known for its delectable seafood dishes. The exciting menu includes john dory, lemon sole, and seabass and monkfish and tiger prawn Thai curry. For a bit of everything, the Mermaid fish platter is ideal, with seabass, tiger prawns, scallops, beer-battered cod, and lemon sole.
Hub St Ives is a top place to devour a tasty burger, washed down with a crisp, refreshing beer. The chilled-out pub has lots of homely vibes.
Scoff Troff Café is fantastic for a cosy breakfast or lunch. There's a strong focus on using locally sourced ingredients, and items include a full English breakfast (a veggie option also available), chilli dogs, crab nachos, burgers (beef, chicken, and veggie), baked potatoes, and salads.
Talay Thai Kitchen, The Mex, Rajpoot Tandoori Restaurant, and Hong Kong Kitchen offer tasty dishes from other parts of the globe, while St Ives Street Food Kitchen is a fab place to grab diverse dishes to go.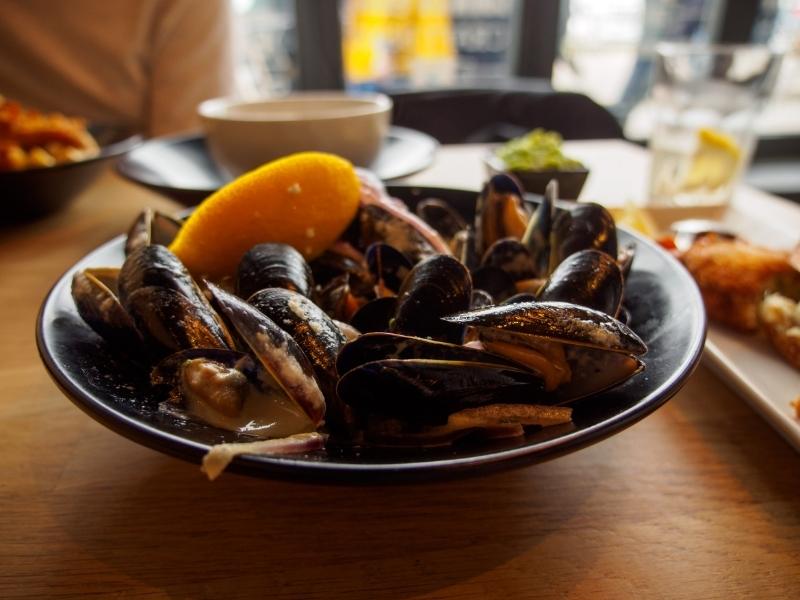 Plan your visit to Cornwall
In addition to this article about the best things to do in St Ives you can find more to read about Cornwall in the links below.
HOW TO GET AROUND – Our complete guide to UK transportation covers trains, planes and automobiles (and every other form of transport available in the UK too!)