Looking for the best places to stay in Lake Windermere? Discover the best options from budget friendly B&Bs to boutique hotels and luxury country spa hotels. We have curated the best accommodation in Windermere for every travel style and budget.
Are you planning a visit to the beautiful Lake District National Park in Cumbria England? Its stunning scenery, woodland, waterfalls, lakes and tarns make this a popular destination at all times of year.
However, deciding where to stay in the Lake District can be tricky. There are so many wonderful places to choose from how do you decide which is the right place for your travel style and budget?
Whether you are looking for a 4-star hotel, a cosy lodge or cottage on the shore of Lake Windermere, a luxury country house hotel or a budget-friendly B&B we have curated the very best accommodation options for your stay in Lake Windermere.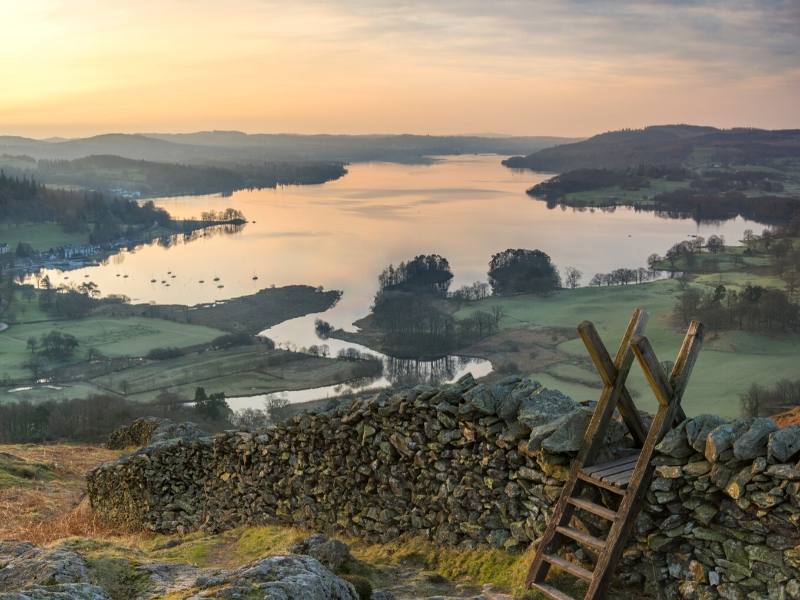 Best places to stay in Lake Windermere – top picks
Quick picks – Best places to stay in the Windermere by location & accommodation style
Location guide – Best towns & villages for your stay in Lake Windermere
Best places to stay in Lake Windermere by accommodation style
Best hotels on the shores of Lake Windermere
Lake Windermere is located in the South Lakes area of the Lake District and is the largest natural lake in England. It stretches for 18 km and covers an area of 14.73 square km. There are lots of things to do in and around Lake Windermere which makes this area of the Lake District particularly popular with visitors.
The main towns on the shores of Lake Windermere are Bowness-on-Windermere, Windermere Village and Ambleside. Around the lake, accommodation can also be found in many of the smaller villages and towns such as Lakeland and Newby Bridge. Additionally, the villages of Grasmere, Troutbeck and Coniston near Lake Windermere are also worth considering.
Many of the more exclusive hotels are found on private estates with beautiful grounds, stunning gardens and fabulous views of the lake. We start with these luxury hotels which overlook Lake Windermere but are located outside the towns before exploring accommodation options in the towns and villages on the lake.
⭐️⭐️⭐️⭐️
Choose mountain or lake views + a hot tub!
⭐️⭐️⭐️⭐️
4-red star country house hotel with a boutique spa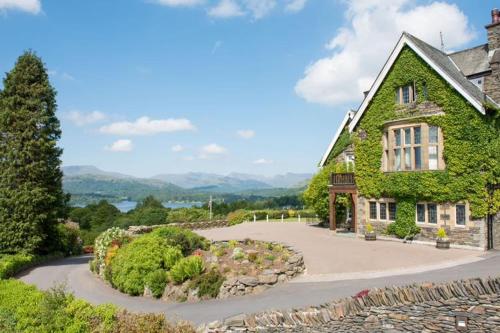 ⭐️⭐️⭐️⭐️
Beautiful country house is set right on the lake's shore
Bowness in Windermere
⛵️ Best for boat trips across the lake
Bowness-in-Windermere is located in the heart of the Lake District and is Windermere's largest town. It is one of the most popular tourist destinations in the Lake District.
The town is filled with late 19th century residences, built by wealthy businessmen who took advantage of the lake views.
Bowness-on-Windermere is popular year-round and is one of the main centres of Outdoor Activities in the UK. If you enjoy getting outside in beautiful natural settings Bowness certainly delivers. Enjoy the beautiful natural setting, go sailing or participate in other water sports on the lake. It is also a popular hiking destination.
Where to stay in Bowness
⭐️⭐️⭐️⭐️
Complementary breakfast. Adults only. Pet friendly
MACDONALD OLD ENGLAND HOTEL & SPA
⭐️⭐️⭐️⭐️
Award-winning restaurant, a beauty spa and scenic views
⭐️⭐️⭐️⭐️
An award-winning hotel that stands in 6 acres of gardens
🍴 Where to eat in Bowness
The Lindeth Howe hotel restaurant for lakeside views
Jackson's Bistro for a homey feel and amazing food
The Magic Roundabout for breakfast or lunch
Graze café for Japanese and Vietnamese snacks as well as vegan and gluten-free options
Ambleside
👟 Best for walks and hikes
Ambleside is filled with shops, cafes, and restaurants and has everything you could need for a relaxing vacation surrounded by the best nature has to offer.
If you enjoy history Ambleside has a number of historical landmarks like the Bridge House, which was built over 300 years ago, and St. Mary's Church, built in 1850.
Ambleside is better known for its outdoor activities and is very popular with walkers, abseilers, and climbers. The nearby Lake District National Park Visitor Centre attraction offers 30 acres of garden along with outdoor activities like boating, laser clay shooting, treetop trekking, and archers.
Where to stay in Ambleside
⭐️⭐️⭐️⭐️
Family-run 4 star guest house
⭐️⭐️⭐️
Fabulous food in the hotel's lovely restaurant
⭐️⭐️⭐️⭐️
Excellent location, very comfortable rooms, great staff
🍴 Where to eat in Ambleside
The Lake Road Kitchen for fine dining with a focus on North European flavors
The Priest Hole Restaurant & Tea Rooms for locally sourced food in one of the oldest buildings in town
Wabi Sabi for amazing Japanese food
Zeffirellis & Fellinis for delicious vegetarian that even meat-lovers will enjoy
Windermere Village
🛤 Best for mainline rail connections
If you are travelling the UK by train (see my 14 days UK best of Britain by train itinerary) or prefer to take the train to the Lake District you will arrive at Windermere (it is the only train station in the lakes)
Located just over a mile from Windermere lake, Windermere Village is partially merged with the older town of Bowness-on-Windermere but has its own separate town centre. It's arguably one of the most beautiful places in the Lake District, and one of the favourite places of children's author Beatrix Potter.
Take the walk up to Orrest Head from Windermere village for stunning views over the ranges and check out the World of Beatrix Potter for an interactive exhibit about her life and inspirations.
Where to stay in Windermere Village
⭐️⭐️⭐️⭐️
Adult's only with stylish rooms and great service
Jerichos Boutique Accommodation
⭐️⭐️⭐️⭐️
Guest house with stylish decor
Southview Guest House and Indoor Pool
⭐️⭐️⭐️⭐️
Charming 4-star guest house
🍴 Where to eat in Windermere Village
Like most towns in the Lake District, Windermere Village has become known as a foodie destination. So, make sure you try some of the delicious local foods at:
The Crafty Baa for craft ales and beers, as well as hearty, delicious food on a budget
The Boathouse Bar & Restaurant for spectacular views over the lake and delicious food
Choccobar, which offers all the chocolatey treats you could ever dream of
The Village Inn for a laidback feel and lots of meat dishes
Lakeside & Newby Bridge
🚂 Best for Haverthwaite Railway
Newby Bridge is a small area that has a lot going on. It's located on the southern end of Lake Windermere. A popular tourist destination in the Lake District, this is the ideal destination if you'd like to be on the lake but further away from the main tourist spots. It offers the same stunning natural landscapes and views as other popular towns in the area but is a bit smaller and quieter.
Newby Bridge is the ideal base for hiking in the surrounding natural areas. It also offers the Aquarium of the Lakes, where you can learn about the creatures living in the lake. If you go to the Aquarium, make sure you have a meal at the restaurant on the Pier for beautiful lake views. You should also take a ride on the iconic Lakeside and Haverthwaite Railway.
Where to stay in Lakeside & Newby Bridge
⭐️⭐️⭐️⭐️⭐️
Victorian country house with log fires
⭐️⭐️⭐️⭐️
Stunning views of Lake Windermere
⭐️⭐️⭐️⭐️
Features a children's playground and views of the river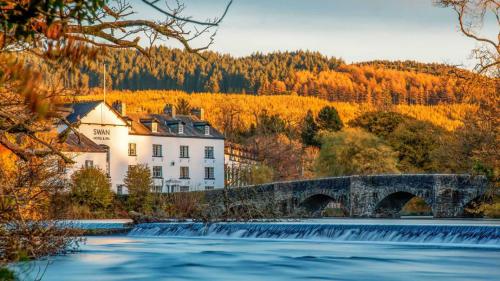 🍴Where to eat in Lakeside & Newby Bridge
There are some great places to have a meal near Newby Bridge and the surrounding area. Here's where you should have a meal:
The Swan Hotel and Spa for great food and stunning surroundings
Newby Bridge Hotel for classical British food
Anglers Arms for a good beer garden
Best Accommodation near Windermere
Many of the beautiful villages located within a short drive of Windermere lake also make the perfect base for a Lake District holiday.
If you haven't found what you are looking for the villages of Grasmere, Troutbeck or Coniston near Windermere may have the perfect place for that special stay.
Coniston Village
Coniston is a small village with a population of around 1,000 people. It's in the southern part of the Lake District National Park and close to the lake known as Coniston Water. It's also close to the Old Man of Coniston, one of the highest fells in the Lake District.
With the fells so close, Coniston Village is famous for its hiking trails near the Old Man of Coniston, as well as nearby Furness Fells and Grizedale Forest. The climbing is also great in this area if you like a little more adrenalin. There's a ferry service that will take you across the lake to other areas, as well as the beautiful Tilberthwaite Slate quarries to explore.
Coniston Village also offers great food choices, so here's where you should eat while you're staying in the area:
The Steam Bistro
Sara's Indian
Lakes Hot Spot
The Terrace Coffee House and Restaurant
Grasmere
Famous poet William Wordsworth called Grasmere "the loveliest spot that man hath ever found" and you can learn more about his life at the Dove Cottage and the Wordsworth Museum. Grasmere is also known for its unique collection of shops, so if you want souvenirs that are a little different, this is where you'll find them
Like most other villages in the area, Grasmere offers beautiful natural surroundings, great walks and water sports. However, it's also unique because of its events. Grasmere holds events year-round, including the iconic Grasmere Sports where villages compete in traditional sporting events. This is an event that truly isn't to be missed!
While you're in Grasmere, you'll need to eat, and here are some of the best places to do it:
Sarah Nelson's Grasmere Gingerbread shop, which isn't a restaurant but has amazing gingerbread that locals and tourists queue up for
The Jumble Room
Lewis's Bistro
Troutbeck
The tiny village of Troutbeck is a secluded gem. The National Trust property of Townend is located in this unique area, which is basically a series of tiny hamlets along an old valley road. If you're looking for an unspoilt natural setting, traditional, and functional architecture, then this village is where you'll find it.
Although Troutbeck feels isolated, it's still very close to the rest of the Lake District, so you can travel over there whenever you need or want to. It has amazing walks, as well as historical buildings to explore like the Jesus Church. In fact, Troutbeck has 26 listed buildings dating from the 17th, 18th and 19th centuries, as well as rugged upland scenery across the Central Lake District.
Troutbeck is a local area, where everyone knows each other, but you can still get some amazing meals at places like:
Queenshead Troutbeck
The Old Post Office
Mortal Man Motel
(Grasmere)
⭐️⭐️⭐️⭐️
Indoor swimming pool, stylish rooms and a mini-gym
(Coniston Village)
⭐️⭐️⭐️
Enjoy dinner in the inn's restaurant with spectacular mountain views
Netherdene Country House Bed & Breakfast
(Troutbeck)
Family-run bed and breakfast with free Wi-Fi and views of the fells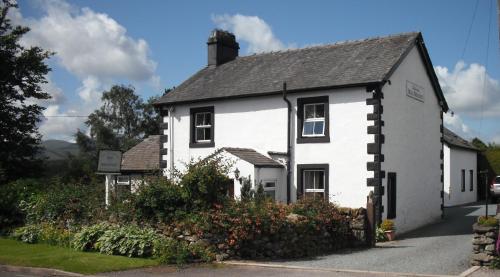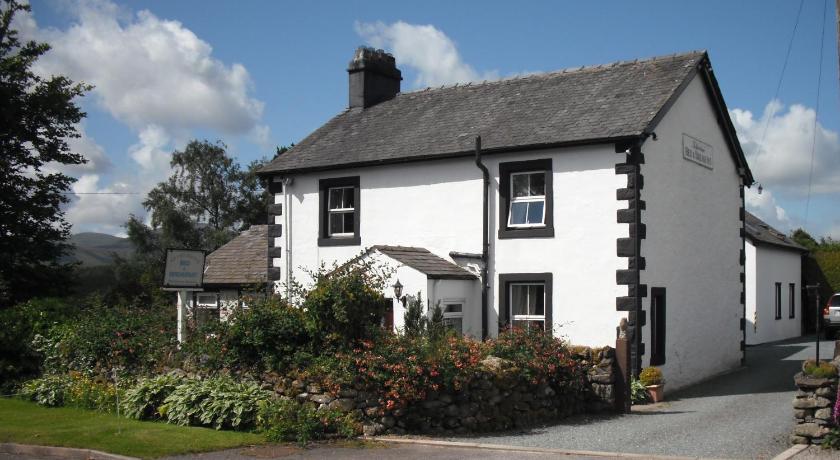 Visiting the Lake District
We have more helpful and informative posts to help you plan your trip to the Lake District: