Searching for the best places to stay in the Lake District? Find the perfect place for your stay in our guide to the best Lake District towns and villages plus accommodation options for every budget.
Are you searching for the perfect Lake District hotels and quality accommodation for a family holiday, romantic break or weekend getaway? Choosing where to stay in this beautiful area of England can be overwhelming with so many picturesque towns and villages to choose from.
In this guide, discover the areas most beautiful towns and villages matched with the best places to stay in the Lake District a UNESCO World Heritage Site. Our recommended accommodation options range from luxury country house hotels, boutique hotels, log cabins and lodges to budget guesthouses, family-friendly holiday parks and YHA hostels to suit all travel styles and budgets.
Located overlooking lakes or nestled at the foot of England's highest mountains (Scafell Pike is the highest) there are superb accommodation options in the Lake District.
We guarantee that you will find the best hotels and places to stay in the Lake District National Park for your travel needs and the perfect accommodation for your special stay.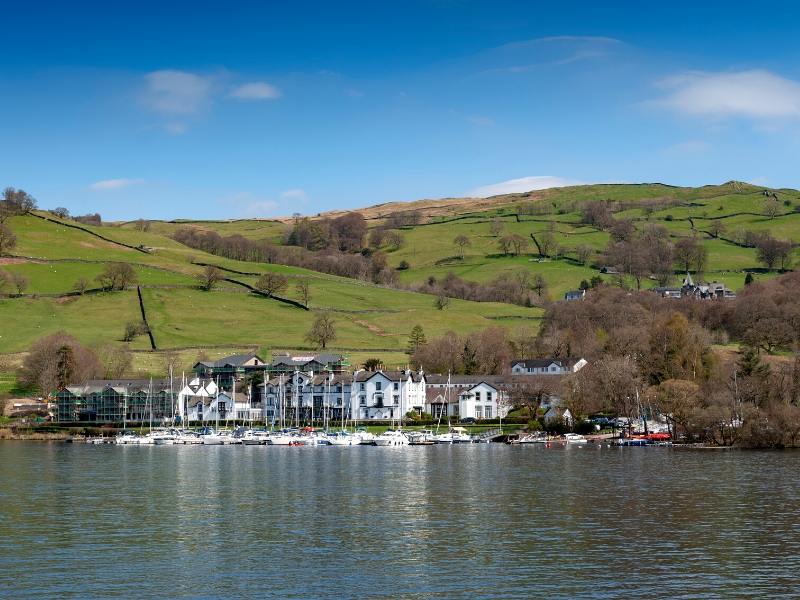 Where to stay in Lake District – Quick picks
Which Lake District town, village or area is best for your stay?
Best places to stay in the Lake District by accommodation style
Best places to stay in the Lake District
Hawkshead – Best for culture and charm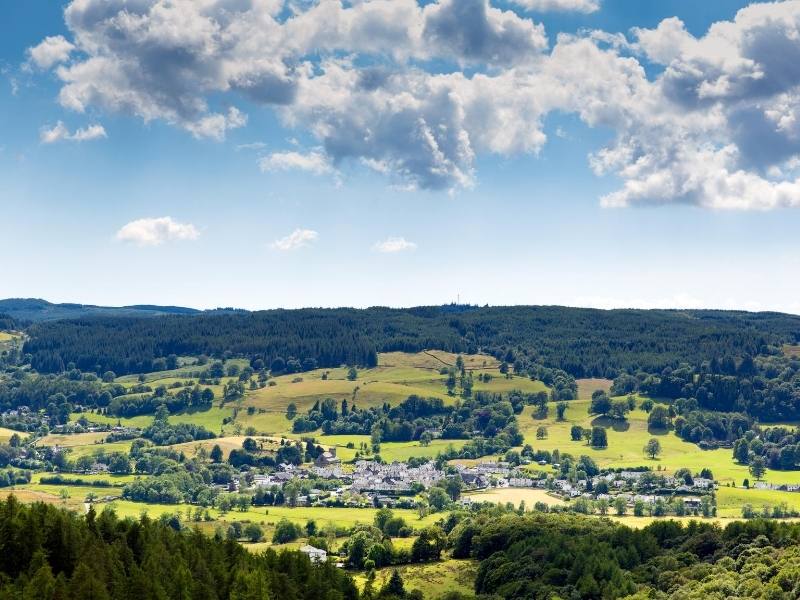 Hawkshead is one of the prettiest villages in the Lake District and began life as a simple medieval wool market in the Vale of Esthwaite. Today, it looks like a picture postcard with its whitewashed cottages and crooked, cobbled streets.
Cars are banned in Hawkshead, so you can make an entire day out of exploring its courtyards and squares on foot, or by visiting its tea shops and boutiques.
If you are a fan of Beatrix Potter make sure to pop into the Beatrix Potter Gallery to see some of her original sketches and watercolours of Peter Rabbit amongst others. The gallery is by the National Trust and is housed in a quaint, 17th century stone building that was once her husband's law office.
⭐️⭐️⭐️
Stands within beautiful grounds just a mile from Hawkshead village.
⭐️⭐️⭐️⭐️⭐️
A traditional country house dating back to the 16th century
B&B and tea garden offering en-suite accommodation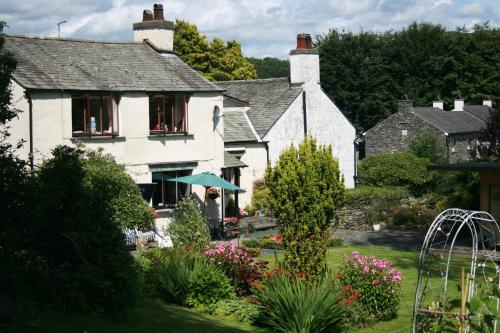 Keswick – Best for museums, shopping & nightlife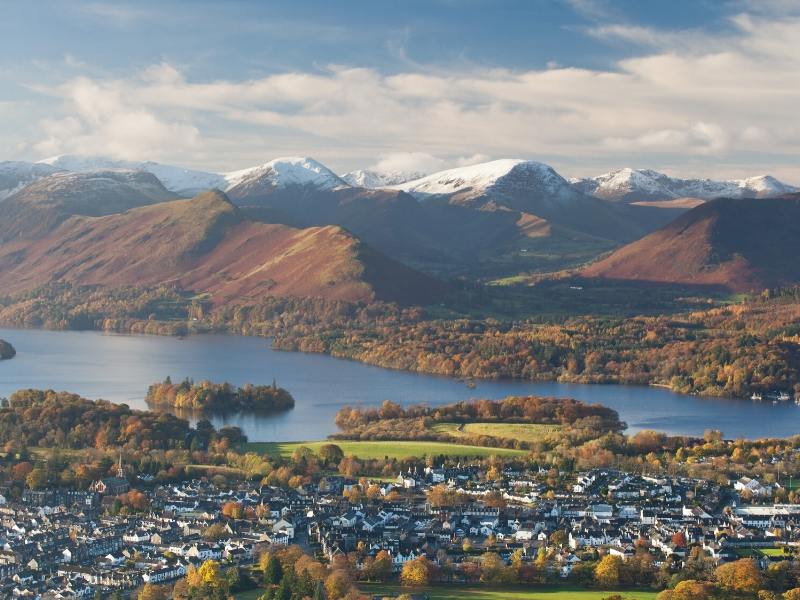 Located just north of Derwentwater Keswick is one of those Lake District towns with everything. The town is surrounded by mountains which give it unparalleled beauty and holiday appeal. It's also a bustling market town with museums, public parks, restaurants and shops.
For the last 700 years, the Market Square and surrounding streets have been the site of the town's Saturday market. More than 60 vendors sell everything from locally produced meats, artisan loaves of bread, fresh vegetables, spirits, arts and crafts, paintings and pottery. If you're looking for souvenirs to bring home, this might just be the perfect place to buy them.
If you want to do something really unique we recommend a trip to the Derwent Pencil Museum. Keswick manufactured pencils for hundreds of years but this quirky and internationally renowned museum celebrates WWII spy pencils that somehow managed to contain a secret map and compass. This fascinating museum is a great place to take the kids to.
The Puzzling Place, a speciality museum that focuses on tricking the eye with all kinds of optical illusions and interactive exhibits is another attraction the kids might adore. Don't miss the hologram gallery!
⭐️⭐️⭐️⭐️
Guest house with garden and free wifi
⭐️⭐️⭐️⭐️
Avondale Guest House features B&B accommodations with a garden, shared lounge with TV and luggage storage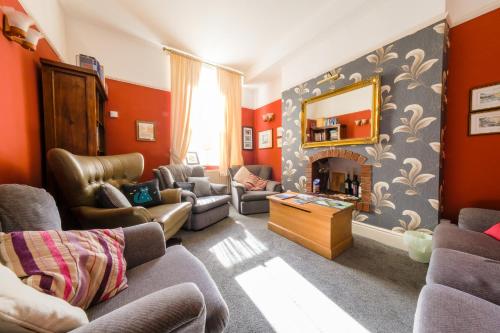 Howe Keld facilities include free WiFi access and free parking.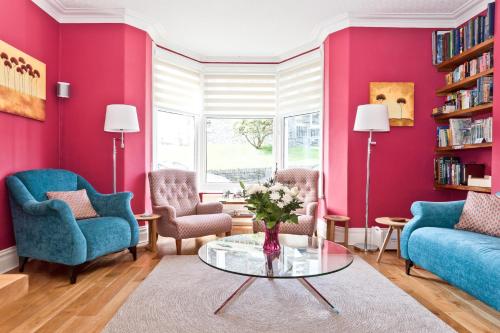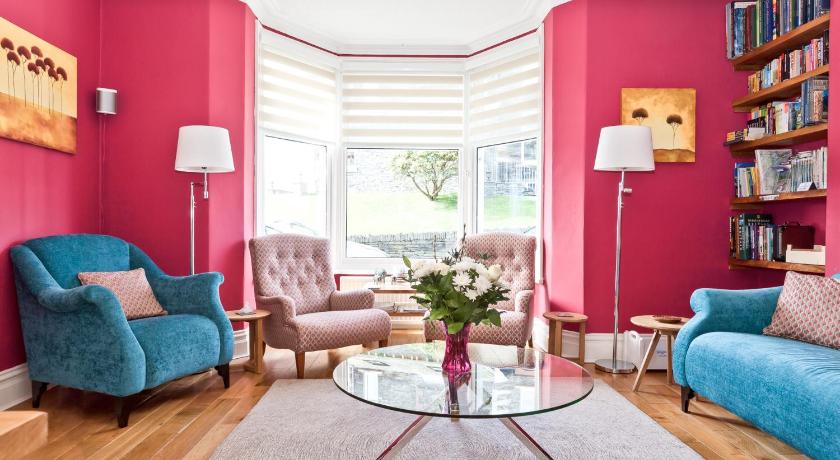 Grasmere – Best for a literary lovers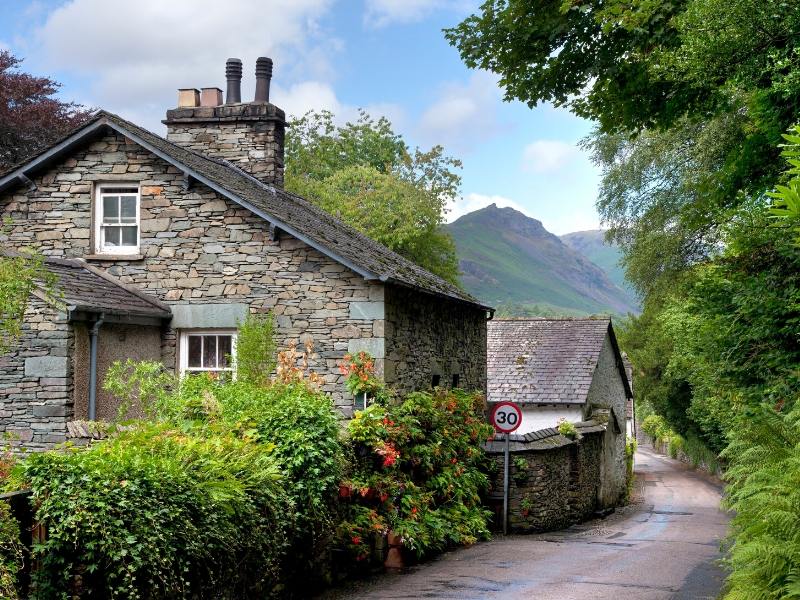 Celebrated for its scenic beauty and literary heritage Grasmere is one of Cumbria's most popular destinations.
Poet William Wordsworth called Grasmere home over a century ago. Today, his home, Dove Cottage, offers guided tours illustrating what his family's day-to-day life was like. Visitors can also see the village school where he taught and his tombstone at St. Oswald's Church.
Other activities in the pretty village of Grasmere include exploring the Church Stile — a charming collection of 17th-century cottages. After that, take a stroll to the lake which is within easy walking distance. Between March and November, you can get a rowboat and gaze at the scenery from the water.
⭐️⭐️⭐️⭐️
Nestling in 2 acres of riverside gardens on the edge of picturesque Grasmere village.
⭐️⭐️⭐️⭐️
A charming 19th-century bed and breakfast.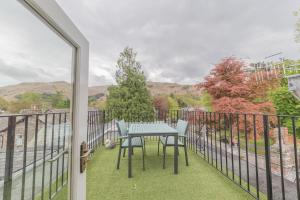 Vacation home with garden and terrace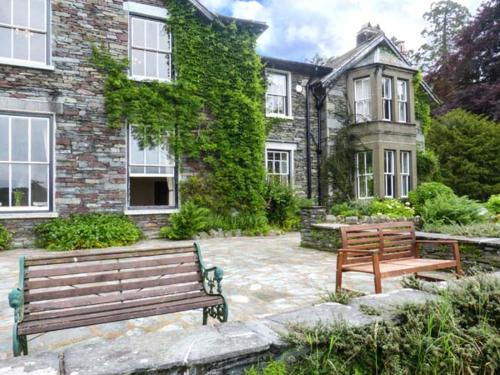 Coniston – Best for walking and climbing, watersports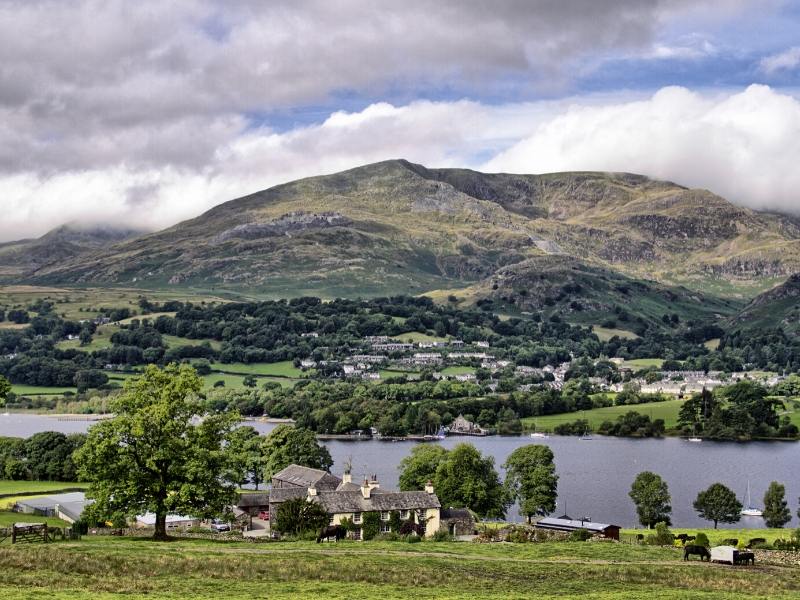 The quaint village of Coniston sits at the foot of The Old Man of Coniston, one of the region's most famous fells. Conistone is known for exploring the great outdoors, sightseeing, hiking and water sports (five-mile-long Coniston Water is only minutes away).
If you enjoy hiking we recommend taking a 14-mile hike around Coniston Water. If you prefer a challenge try climbing the Old Man of Coniston himself. He's over 2,600 feet and offers stunning views of the lake and beyond.
For those who prefer something more down to earth, delve into the region's history with a guided tour of the Coniston Coppermines.
⭐️⭐️⭐️⭐️
Comfortable and contemporary accommodation with scenic views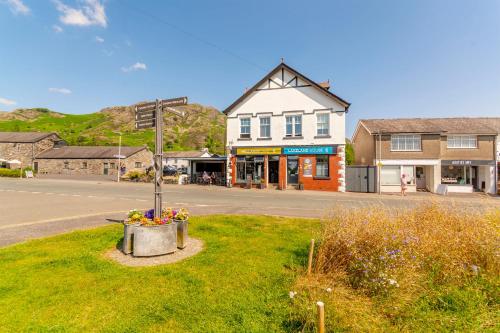 ⭐️⭐️⭐️⭐️
2 bedroom holiday home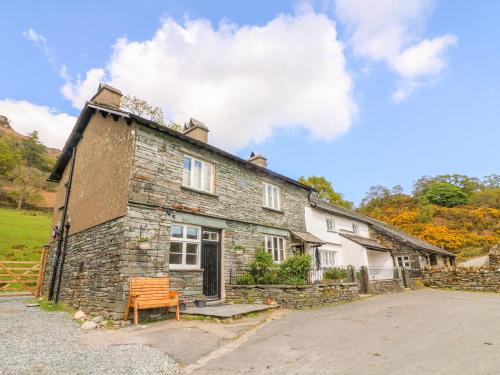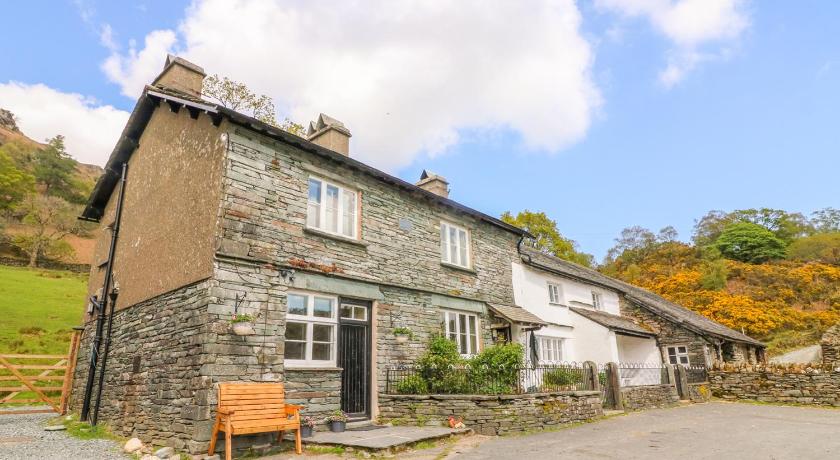 ⭐️⭐️⭐️⭐️
Perfect apartment for a cycling holiday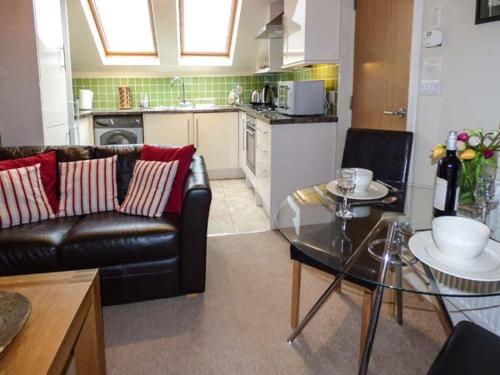 Cartmel – Best for foodies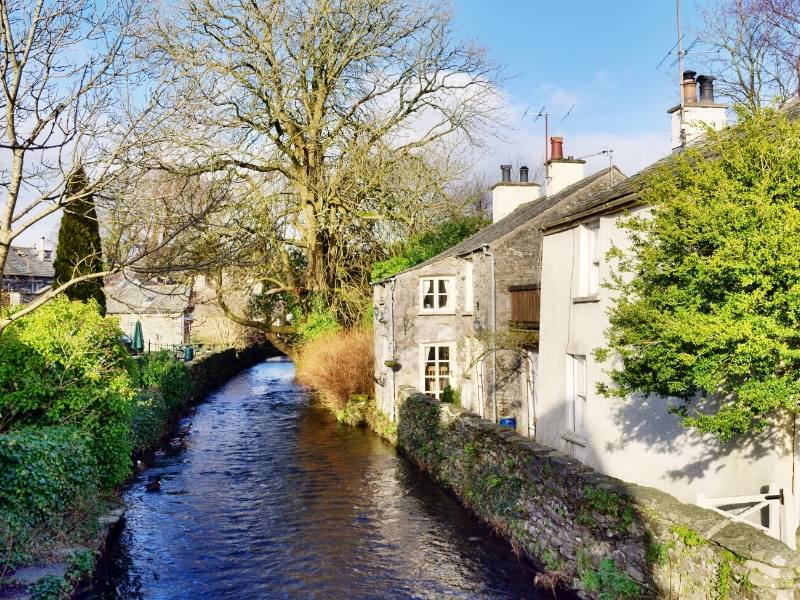 Cartmel's thriving culinary scene provides some of the most exciting places to visit in Lake District Cumbria. Their fine-dining restaurants, cafés and delicatessens draw hungry foodies from all over the country.
Explore its shops, pubs and cottages and wander the maze of streets to the town square or to the magnificent 800-year-old Cartmel Priory. Visitors will be treated to breathtaking Norman architecture and awe-inspiring stained glass windows.
The village is also home to two Michelin starred restaurants – L'Enclume and Rogan & Company.
Nearby is the famous Cartmel Racecourse. On summer race days, it's the perfect place to take a picnic lunch and enjoy the local culture.
450 year old coaching inn set in the picturesque village of Cartmel.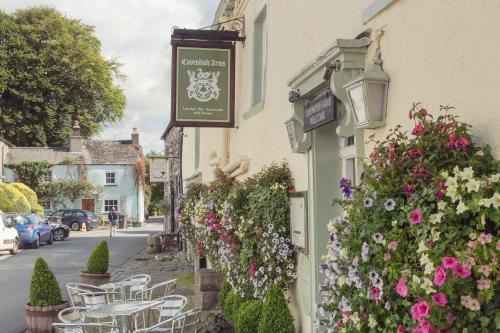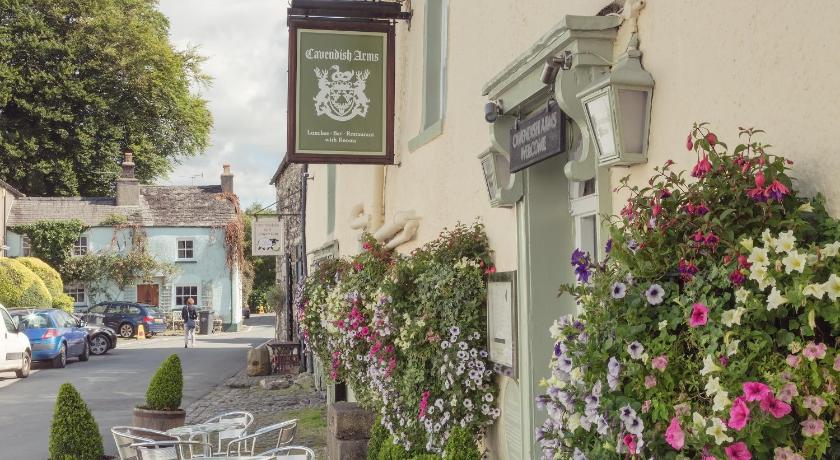 ⭐️⭐️⭐️
A charming, 3-star manor house.
Lovely little hotel with superb views over the countryside
Kendal – Best for shopping & sightseeing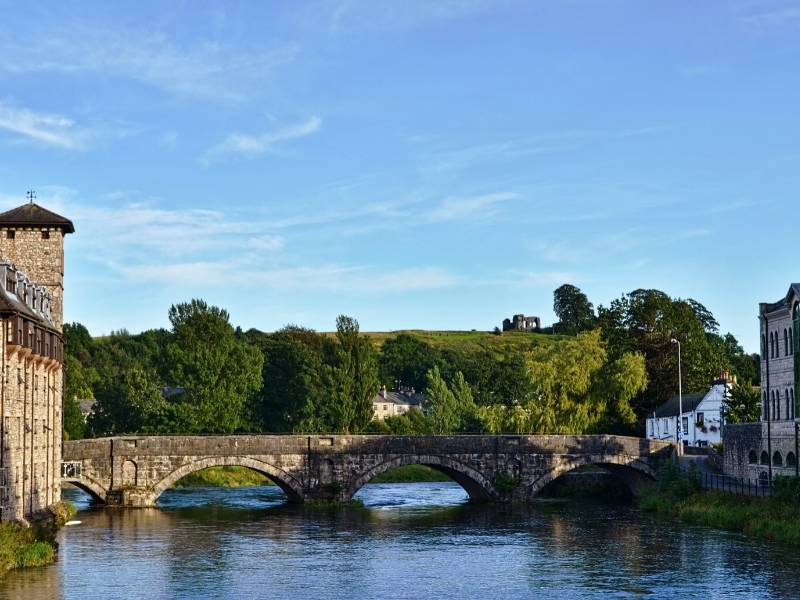 Kendal is a thriving market town that has just about everything a traveller could ask for including shops, restaurants and a number of historical sites to visit.
The River Kent flows through the centre of town underneath ancient-looking arched stone bridges.
Attractions include the amazingly large Kendal Parish Church. It dates from the 13th century and is the widest Parish Church in the country. The inside is surprising, not only for its generous size and magnificent stained glass windows but because there is so much light.
If you are an art lover take a tour of the Abbot Hall Art Gallery. It's inside of a weathered grey building that was built in 1759 and houses an extensive collection of British art.
If natural history is more to your liking, you might be interested in the Museum of Lakeland Life or the Museum of Natural History and Archeology. Both are excellent ways to spend the day in Kendal.
Excellent breakfast & comfortable accommodation
Accommodations with a restaurant, free private parking and a bar.
The hotel offers a à la carte or Full English/Irish breakfast.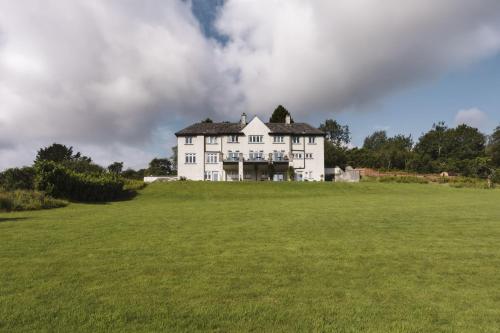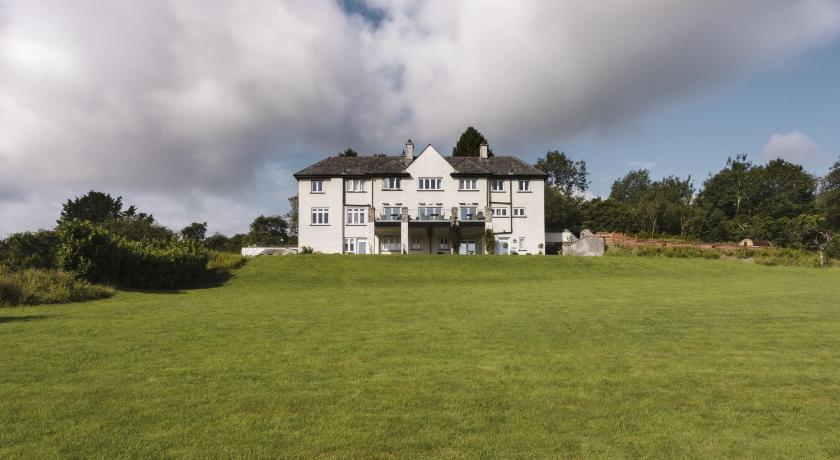 Lake Windermere – Bowness (Best for families)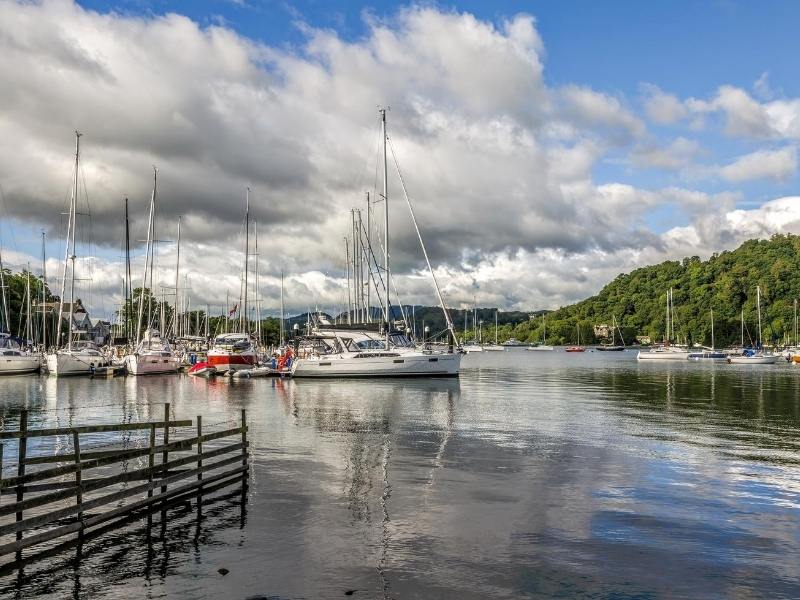 Bowness-on-Windermere is located on the shores of Windermere, England's largest natural lake.
It is one of the Lake District's most popular destinations and is easily accessible by train. There are also a variety of outdoor activities on offer on and around the lake and surrounding countryside which makes this the perfect destination for families.
Wander the high street and peruse the art galleries, antique stores and delicious artisan food shops.
The many nice hotels and restaurants truly make this village a perfect base for any Lake District getaway. Many of the hotels also feature fine dining restaurants, spas with sauna and steam rooms and other facilities which for anyone returning after a day exploring some of the great walks and trails in the area will be heaven!
⭐️⭐️⭐️⭐️
Complementary breakfast. Adults only. Pet friendly
⭐️⭐️⭐️⭐️
Award-winning restaurant, a beauty spa with swimming pool and scenic views
⭐️⭐️⭐️⭐️
An award-winning hotel that stands in 6 acres of gardens
Lake Windermere – Ambleside (Best for first-time visitors)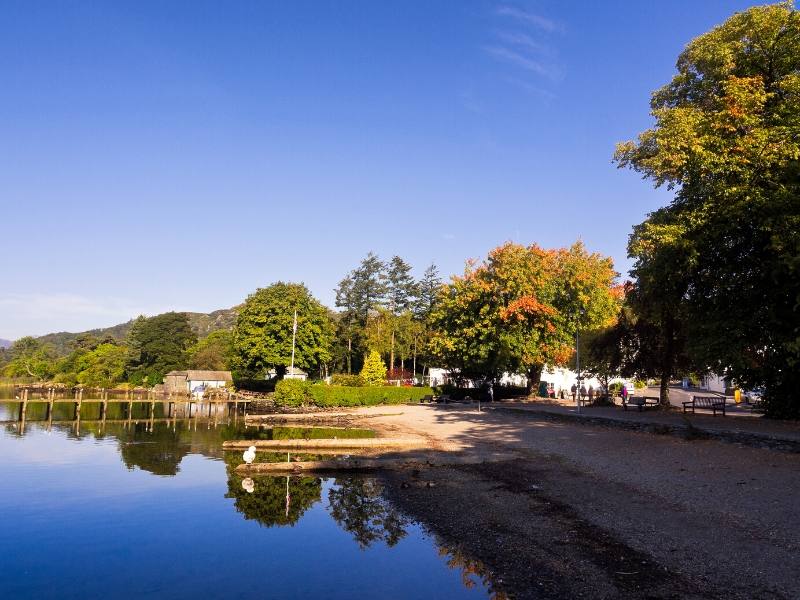 Located on Windermere's northernmost tip, Ambleside is one of the most popular resort towns in the Lake District with plenty of historical monuments, scenic spots, shops and restaurants to explore. It's an ideal base if you are planning to explore the outdoors on a hike through the woodland and mountains or if you prefer a casual walk near the lake.
Ambleside was a favourite of Beatrix Potter and there are a number of destinations worth exploring if you are interested in learning a little bit more about her life.
The Armitt Library and Museum is an excellent place to start. They have an exhibit that displays some of her work and reveals little known facts about her life story. The museum also covers many other aspects of the region's cultural heritage.
TIP – If you are pushed for time there are many excellent tours available including this full-day inclusive day tour entitled the "Many Lives of Beatrix Potter" which includes entry to Hill Top, the Beatrix Potter Gallery and the Armitt Museum.
A short walk from the center of town takes you to Stock Ghyll Force, a gorgeous 70-foot waterfall that can be safely viewed from behind a railing.
Another absolute must-do adventure is to go to Waterhead Pier and board a lake ferry. Taking in Ambleside's beauty from the water is an experience unlike any other.
⭐️⭐️⭐️⭐️
Family-run 4 star guest house
⭐️⭐️⭐️
Fabulous food in the hotel's lovely restaurant
⭐️⭐️⭐️⭐️
Excellent location, very comfortable rooms, great staff
Resources to help you plan your visit to the Lake District & beyond