Are you planning a trip to the beautiful Lake District in the North West of England? In this article, you can find plenty of inspiration and practical information about 24 pretty towns and villages in the Lake District to add into your itinerary.
Declared a UNESCO World Heritage Site in July 2017 the Lake District is a popular destination for holidaymakers from around the world. With stunning scenery, beautiful villages, gorgeous lakes (or 'meres'), welcoming pubs, great restaurants, links to literary figures such as Wordsworth and Beatrix Potter and activities such as hiking and boating the area has something to appeal to everyone.
Let me take you on a tour of the prettiest Lake District towns and villages. There are 24 in total – all worth a visit. If you are unsure of how to plan your Lake District itinerary there are links to further articles at the bottom of the post which can help you put it together.
Good to know if you are looking for accommodation in the Lake District – Our guide to the best hotels, B&B's and log cabins in the Lake District has accommodation for a range of budgets.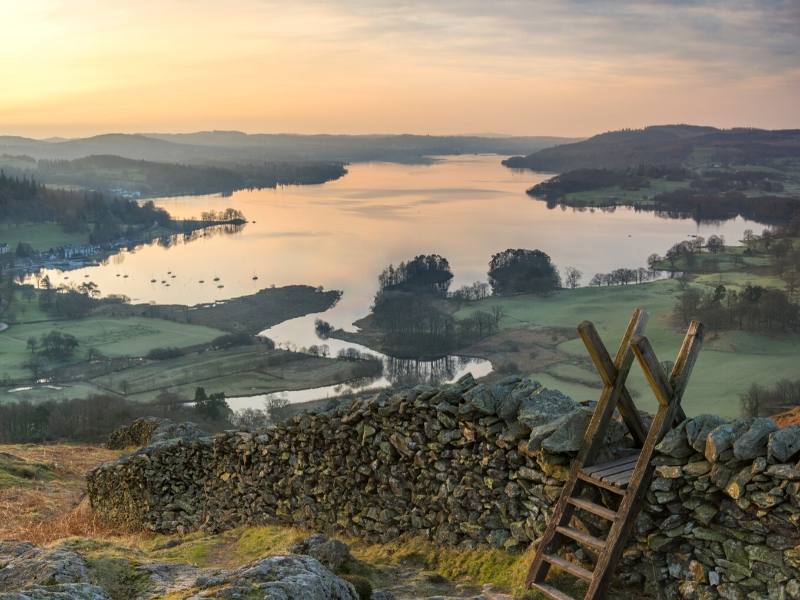 19 beautiful towns and villages to visit in the Lake District
Main highlights of each Lake District town and village
🛥 Windermere – Boat trips and beautiful scenery
🎨 Bowness – Art galleries, antique shops and artisan food shops
⛰ Ambleside – Stock Ghyll Force waterfall
✏️ Keswick – Derwent Pencil Museum
🖼 Kendal – Shops, art galleries and shops
🌼 Grasmere – Former home of the poet Wordsworth Dove Cottage
🏡 Dent – Stone cottages and cobblestone streets
🍲 Cartmel – Fine dining restaurants
🚂 Ravenglass – Scenic railway
🐇 Hawkshead – Beatrix Potter Gallery
🥾 Kentmere – Popular with walkers and climbers
👼 Nether Wasdale – 16th century Church of St Michael and All Angels
⛏ Seatoller – Honister Slate Mine
💦 Caldbeck – Hidden waterfalls and magnificent views
🫖 Pooley Bridge – Boutiques and teashops
🦙 Bassenthwaite – Lake District Animal Park
🌄 Troutbeck – Surrounded by the peaks of Froswick, Yoke, III Bell and Thornwaite Crag
🚤 Coniston – Coniston Water and the Bluebird Cafe
🏠 Rydal – Rydal Mount House
🔔 Far Sawrey – Gothic St Peter's Church
🚂 Newby Bridge – Lakeside and Haverthwaite Railway
🥾 Grange in Borrowdale – Walking trails
🟤 Threlkeld – Castlerigg Stone Circle
Map of Lake District villages
Grasmere
Grasmere is one of Cumbria's most popular destinations. It is celebrated for its scenic beauty and literary heritage and is widely considered to be one of the best villages in the Lake District.
William Wordsworth called Grasmere home over a century ago. Today, his home, Dove Cottage, offers guided tours illustrating what his family's day-to-day life was like. Visitors can also see the village school where he taught and his tombstone at St. Oswald's Church.
Other activities in Grasmere include exploring the Church Stile — a charming collection of 17th-century cottages. After that, take a stroll to the lake. Between March and November, you can get a rowboat and gaze at the scenery from the water.
Looking for accommodation in Grasmere? Find accommodation options for all budgets and travel styles in my Lake District accommodation guide.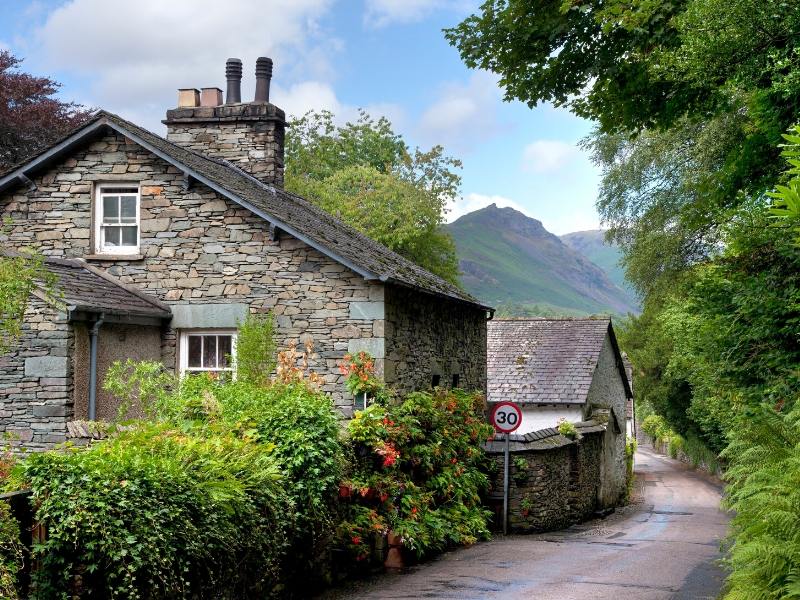 Dent
The village of Dent is surrounded by some of the loveliest countryside in the Lake District.
It's an idyllic backdrop for the rows of weathered stone cottages on winding cobblestone streets. There is a pink granite fountain in the town's centre which commemorates Dent's favourite son and world-renowned geologist, Adam Sedgwick.
For those interested in Norman architecture, a visit to the 12th-century church of St. Andrew is a must. The town has a variety of shops, one of which will no doubt offer a selection of hand-knitted scarves and gloves, as knitting has been one of Dent's signature industries for centuries.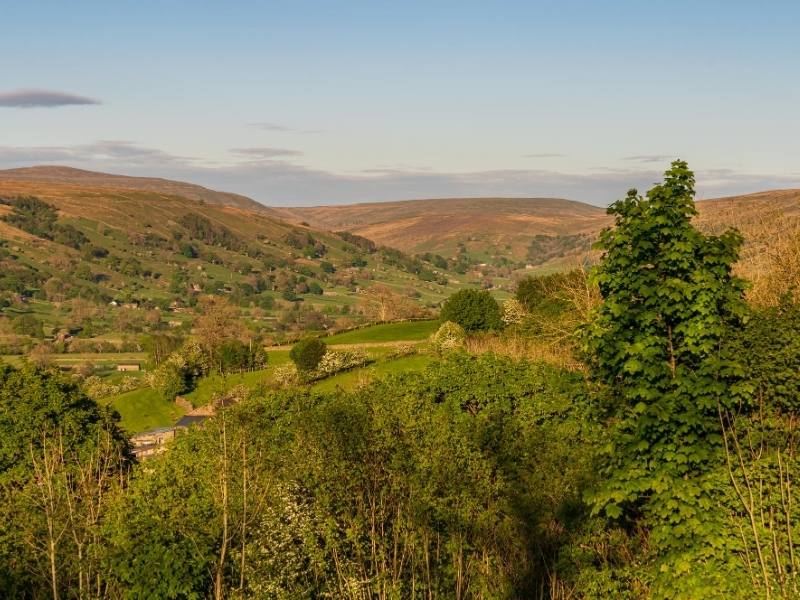 Cartmel
Don't let the idyllic setting fool you into thinking Cartmel is just another charming medieval village. It has the requisite shops, pubs and cottages, but it's the town's thriving culinary scene that provides some of the most exciting places to visit in Lake District Cumbria. Their fine-dining restaurants, cafés and delicatessens draw hungry foodies from all over the country.
After a meal, wander the maze of streets to the town square or to the magnificent 800-year-old Cartmel Priory. Visitors will be treated to breathtaking Norman architecture and awe-inspiring stained glass windows.
Nearby is the famous Cartmel Racecourse. On summer race days, it's the perfect place to take a picnic lunch and enjoy the local culture.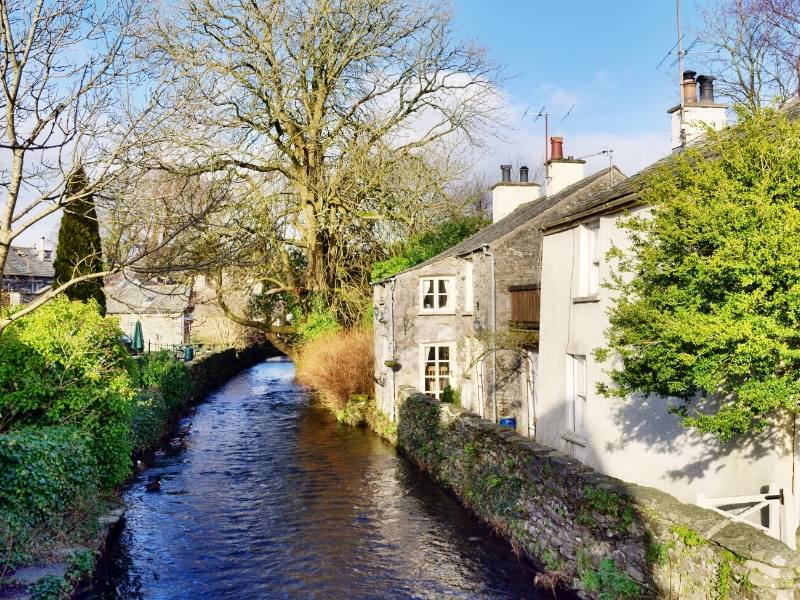 Ravenglass
Out of all of the Lake District towns and villages, Ravenglass is the only one on the coast.
The region's tallest mountain, Scafell Pike, looms above in the distance while the village itself sits at the estuary of the Esk, Mite and Irt rivers. The village's history dates back to the 2nd century Romans, who used it as a naval base.
Today, Ravenglass is known for its scenic railway which takes visitors on a 7-mile winding trip through the English countryside. For those who crave even more train activity, the Ravenglass Railway Museum tells the rich history of the region's railways from 1875 until the modern day.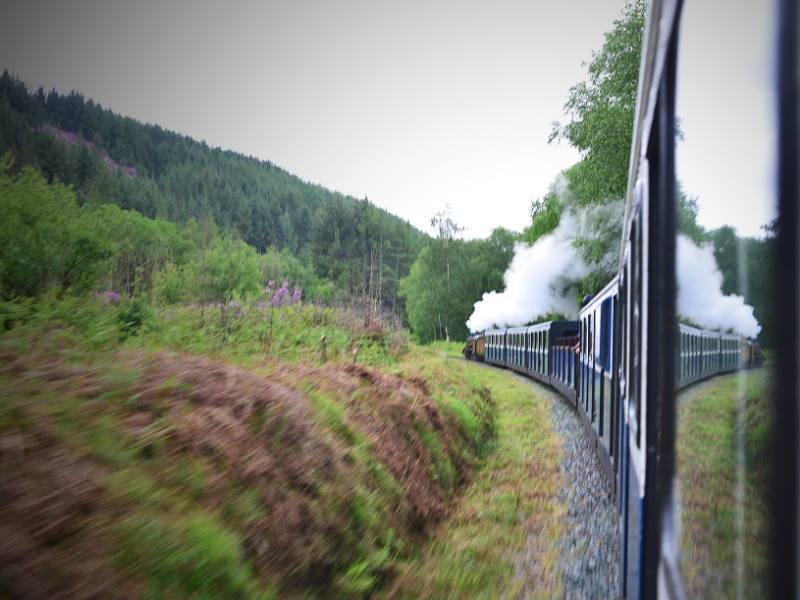 Hawkshead
One of the prettiest villages in the Lake District, Hawkshead began life as a simple medieval wool market in the Vale of Esthwaite. Today, it looks like a picture postcard with its whitewashed cottages and crooked, cobbled streets.
Cars are banned in Hawkshead, so you can make an entire day out of exploring its courtyards and squares on foot, or by visiting its tea shops and boutiques.
While you're there, stop in the Beatrix Potter Gallery to see some of her original sketches and watercolors. It's run by the National Trust and is housed in a quaint, 17th century stone building that was once her husband's law office.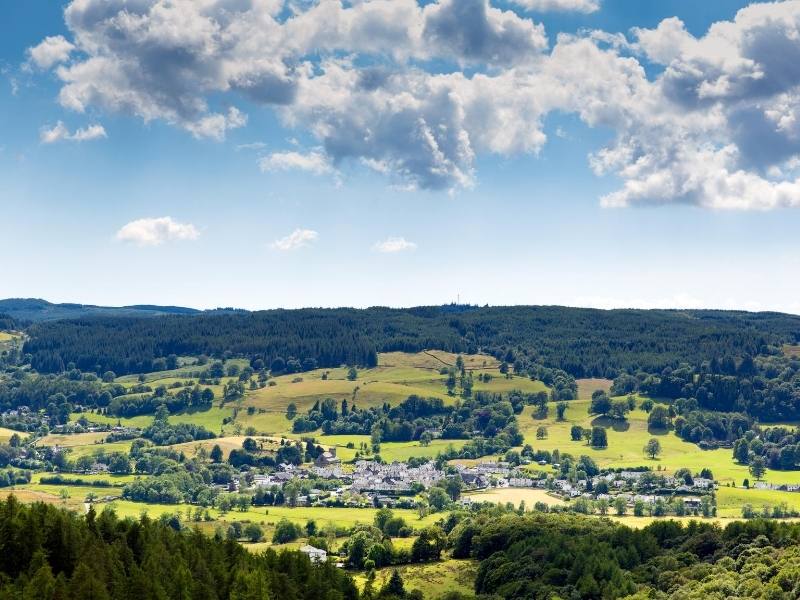 Kentmere
Kentmere is a lovely little hamlet north of Kendal, set on either side of the Kent River's uppermost part. It's a popular destination for climbers, hikers and nature enthusiasts alike.
Kentmere Hall is the starting place of the Kentmere Horseshoe — a long and remote trek across the Kentmere Valley fells. It's quite an accomplishment if you have the stamina for it and is surely one of the best things to see and do in the Lake District.
If heights aren't your thing, don't despair. Walking around the Kentmere Reservoir makes for a fine outing and the scenery is stark and lovely.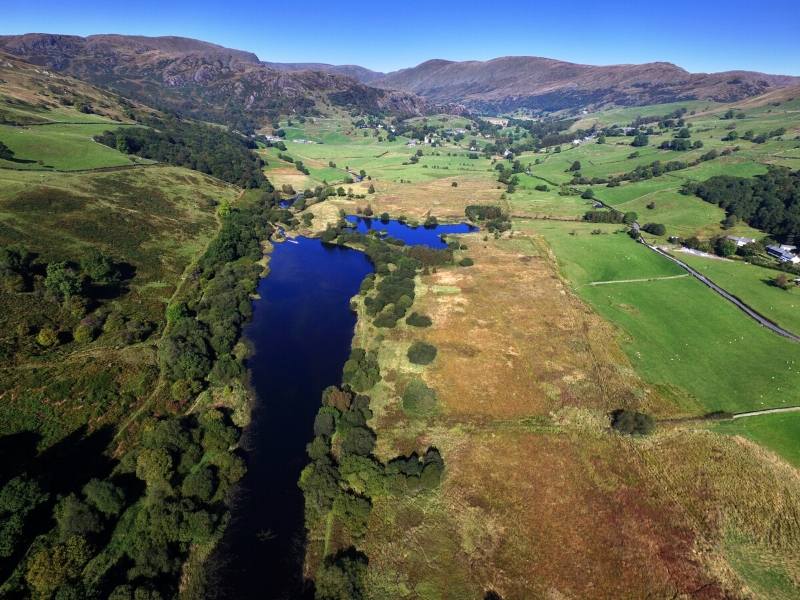 Nether Wasdale
Nether Wasdale is in the Wasdale Valley, just above the River Irt. It's one of the smaller villages in the Lake District and is little more than a scattering of whitewashed cottages, a few lovely hotels and two pubs that surround a village green.
An ideal stop for history buffs is the tiny church, St. Michael and All Angels, which dates from the 16th century. It has Jacobean altar rails and a carved pulpit from York Minster.
If outdoor adventures are more your style, Wastwater lies just to the west and offers many fun activities including kayaking, canoeing and ghyll scrambling — one of the best things to do in the Lake District.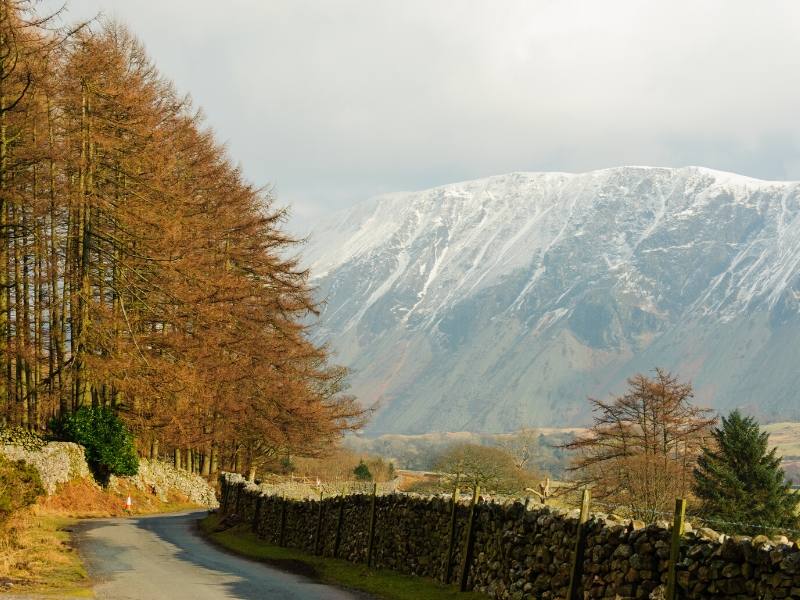 Seatoller
Attention walkers and hikers! Seatoller is one of the most beautiful places to visit in the Lake District Cumbria. Its rolling green pastures cut through ancient woodlands and are surrounded by majestic fells rising into the sky.
Try walking from the National Trust Car Park up to Castle Crag. It's a five-mile trek that takes you through some of the most breathtaking scenery in the region.
If you've had your fill of fresh, mountain air, remember that Seatoller was a mining hub back in the 17th and 18th centuries. Visit the old Honister Slate Mine and descend underground to explore its craggy passages and hidden tunnels. Talk about a whole other type of adventure!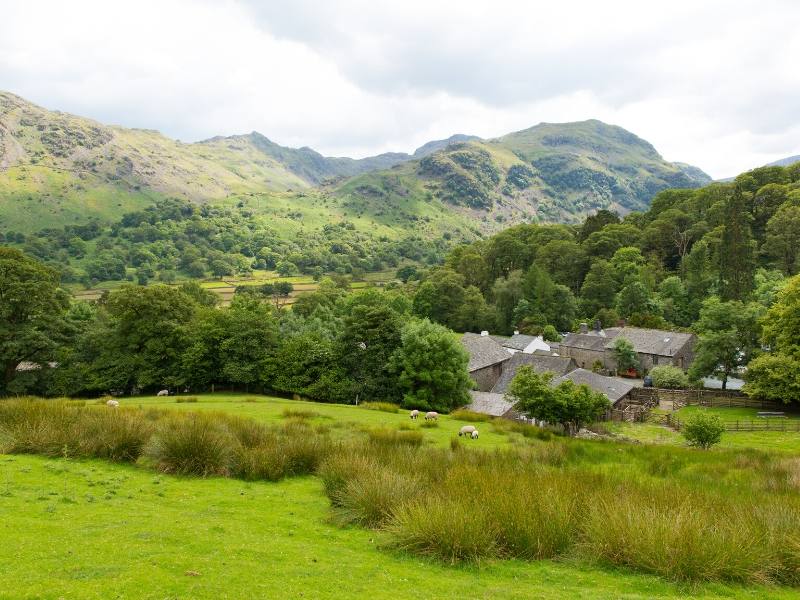 Caldbeck
Looking for a village with many Lake District beauty spots? Try Caldbeck — its name means "cold stream" in Old Norse, a reference to the chilly running river upon which it was built. The river facilitated the town's 17th and 18th-century milling industries.
Today, you can take a charming walk to the ruins of the Howk Bobbin Mill whose limestone archways are still intact even as nature slowly reclaims them. Then follow the riverbanks to discover hidden waterfalls and magnificent views of the countryside.
For the more adventurous, trek to the summit of High Pike or Carrock Fell and see some of the best scenery in Cumbria.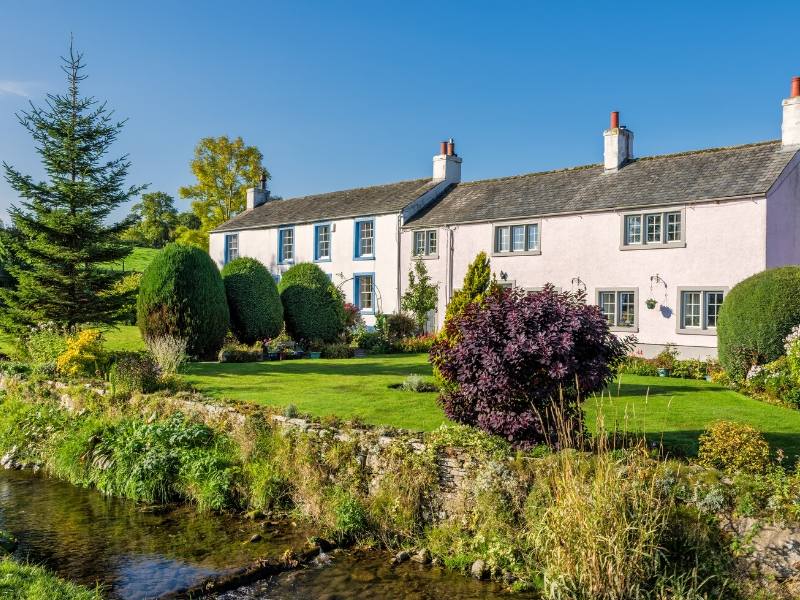 Pooley Bridge
In northwestern Cumbria's Eden Valley, you'll find Pooley Bridge, a delightful village between the River Eamont and the shores of Ullswater.
Pooley Bridge has two main streets lined with stone cottages, pubs, unassuming boutiques and teashops. If you're looking for a souvenir, you'll be sure to find it there. After you've finished exploring the village, take a boat to Howtown and enjoy the region's stunning scenic beauty along the way.
Once there, you'll find a number of charming walks that offer fantastic views of the lake, especially the three-hour walk to Glenridding. When you've finally made it, you can catch the boat back to Pooley Bridge.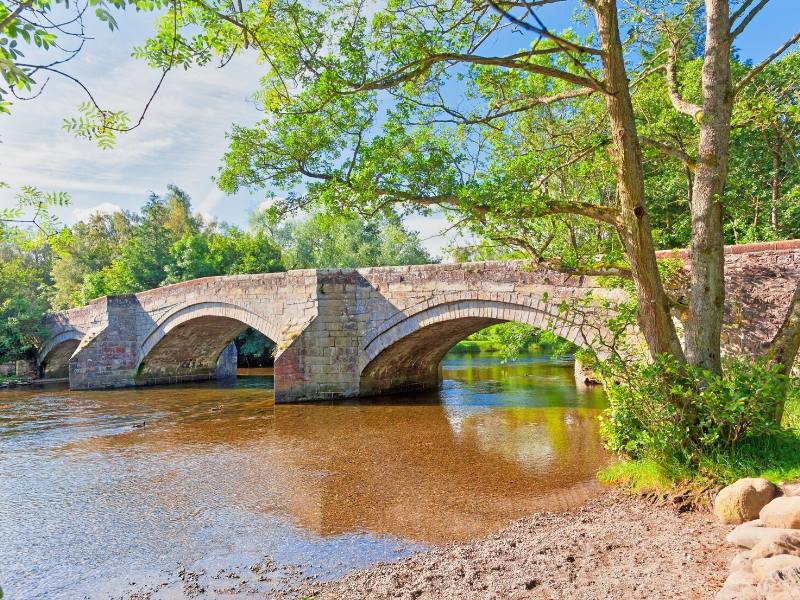 Bassenthwaite
Tucked in the shadow of Skiddaw, England's sixth highest peak, is the tiny village of Bassenthwaite. It's on the northeastern corner of Bassenthwaite Lake and boasts two farms, a pub and a lovely village green.
Nearby, is Armathwaite Hall, a Victorian Tudor mansion that has been turned into a fabulous hotel and spa. The Lake District Animal Park is there on its grounds and animal lovers will get to commune with alpacas, meerkats, hawks and lemurs while enjoying some of the most stunning scenery in England.
If you're in the mood for some refreshments, head to the Lakes Distillery which has an artisan bar, bistro and gift shop. They have alpacas on the grounds there too!
Looking for accommodation in Bassenthwaite? Find accommodation options for all budgets and travel styles in my Lake District accommodation guide.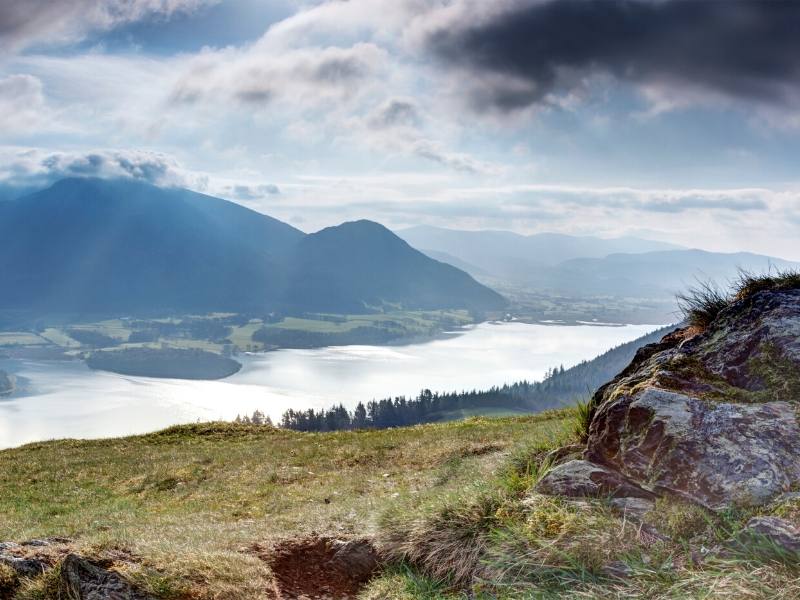 Troutbeck
Escape the crowds and head to Troutbeck, a Lake District village mid-way between Ambleside and Windermere. Rather than being a traditional village, it's more like a series of small settlements scattered down an old valley road.
There is a village shop, a few pubs and a small number of guest houses and campsites. There is no official car park in Troutbeck, so many of its visitors arrive by foot. It's an excellent location for adventurers or climbers because it's surrounded by the peaks of Froswick, Yoke, Ill Bell and Thornthwaite Crag.
A little ways away, more adventurous travelers might like to take a shot at scaling the Striding Edge ridge atop the towering Helvellyn.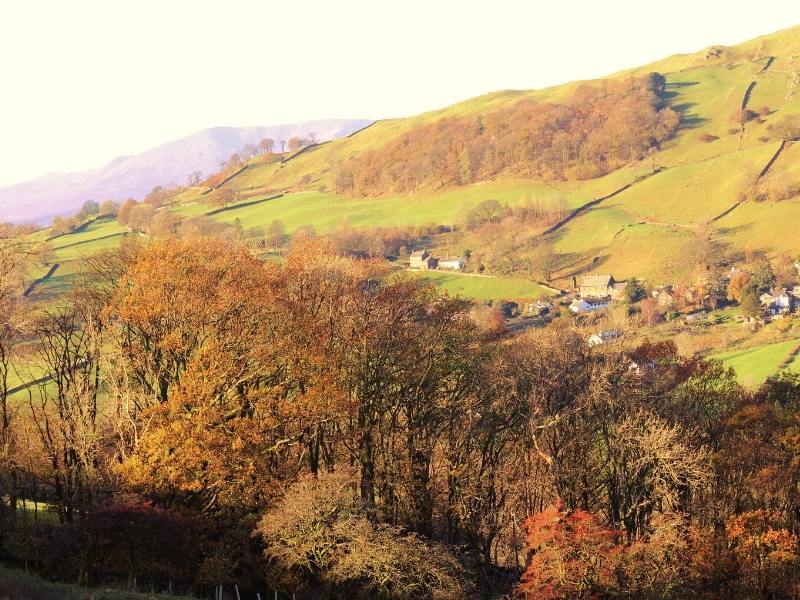 Coniston
In the Furness Fells, the tranquil village of Coniston sits at the foot of The Old Man of Coniston, one of the region's most famous fells. Coniston is known for its sightseeing, hiking and water sports, as the five-mile-long Coniston Water is only minutes away.
For those seeking a walking adventure, take a 14-mile hike around Coniston Water or, if that's not quite vigorous enough, try climbing the Old Man of Coniston himself. He's over 2,600 feet and offers stunning views of the lake and beyond.
For those who prefer something more down to earth, delve into the region's history with a guided tour of the Coniston Coppermines.
Read more – Where to stay in the Lake District (Location and accommodation guide)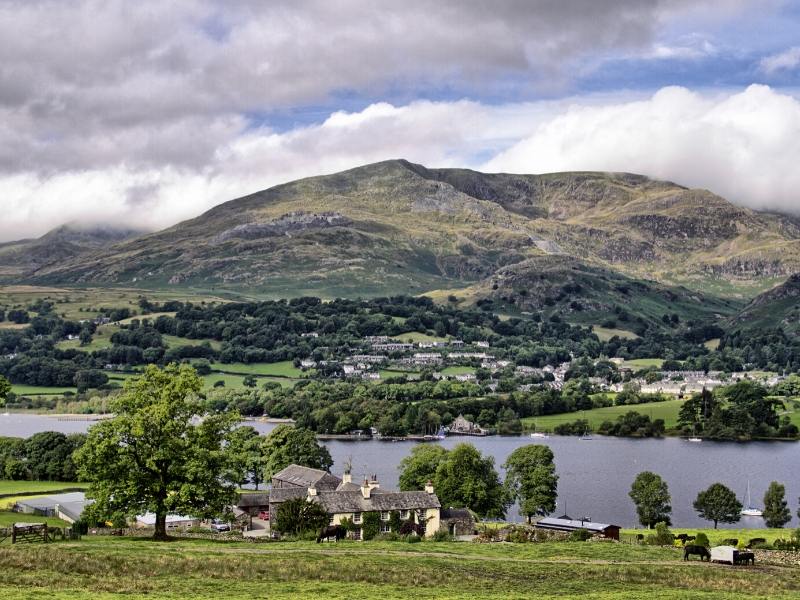 Rydal
Between Ambleside and Grasmere is the small village of Rydal. Until his death in 1850, William Wordsworth once lived just up the road at Rydal Mount.
Today, the Rydal Mount house, garden and tearoom are open for visitors and are a splendid way to spend a few hours. From his home, Wordsworth would often walk to Rydal Water, one of the region's smallest lakes, to have picnics at the water's edge under the trees.
Now, it's still a lovely place to bird watch or just enjoy the scenery. Not far is Wordsworth's Seat, which was his favorite location to enjoy the lake's beauty. If you're up for more adventure, Rydal Cave is tucked in the hill overlooking the lake and is just begging to be explored.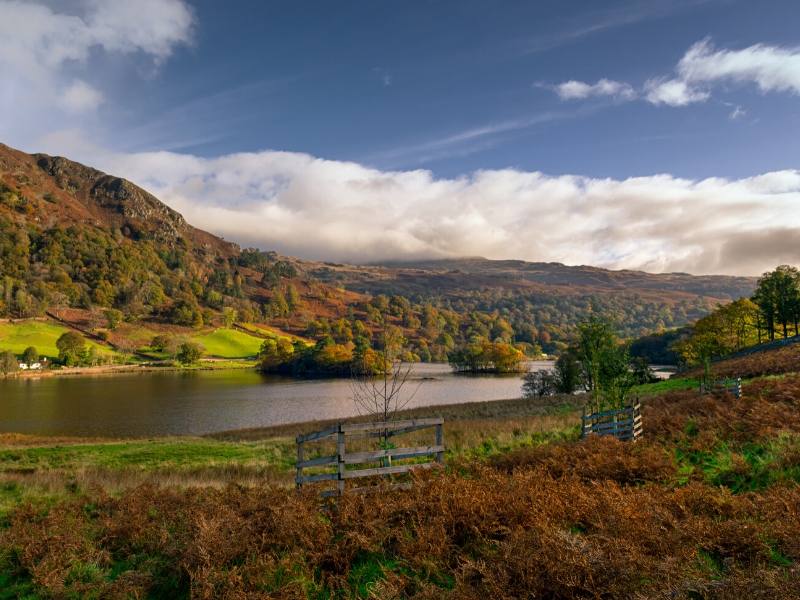 Near Sawrey
This adorable little village between Hawkshead and Windermere is best known as the location of Hill Top, Beatrix Potter's 17th century farmhouse. She created some of her most famous characters and stories while in this little house.
Readers of her books will most certainly recognize it from the illustrations featured in many of her books. Visitors can tour the house, see its original furnishings and then take a stroll through her famous garden.
But there is more to Near Sawrey than Peter Rabbit and his friends. Windermere beckons only short distance away and offers all sorts of water activities like sailing, canoeing and kayaking.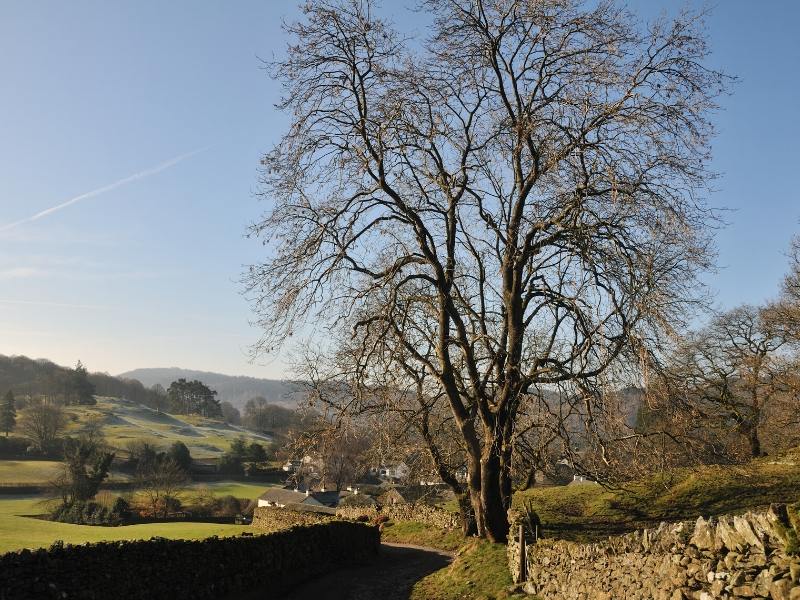 Far Sawrey
It only makes sense that Far Sawrey is only minutes away from Near Sawrey in the Furness area of the Lake District. Like its counterpart, it is a small village rich in natural beauty, green pastures and scenic charms.
You can see both Far and Near Sawrey if you park and walk down Windermere's shoreline toward both villages. It's a low level walk and is a great way to spend a couple of hours.
Look for St. Peter's Church, which is a large gothic style church from the Victorian era that seems to rise magically right out of the green fields.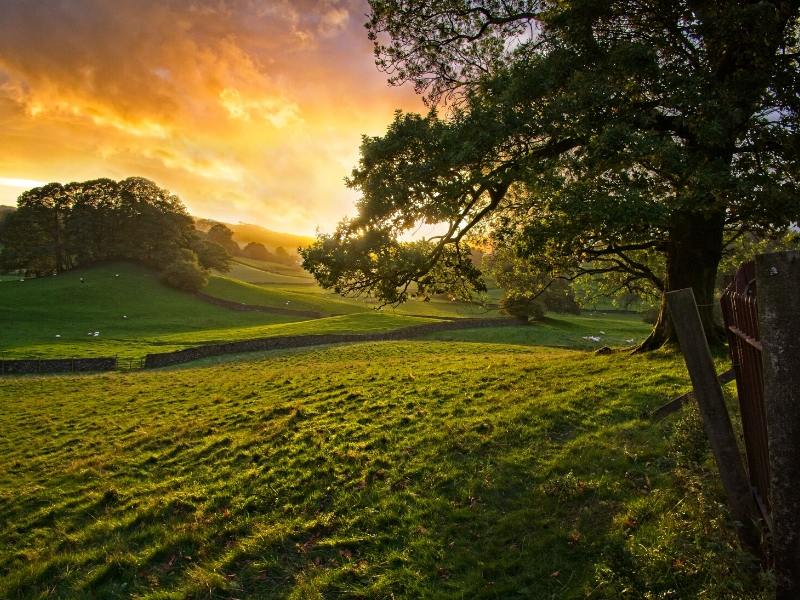 Newby Bridge
Newby Bridge is a small, peaceful hamlet at the southern end of Windermere. The village got its name from the five-arched stone bridge built over the River Leven back in 1651.
The bridge is indeed still there and very much worth seeking out — its weathered stone makes it look like something out of a storybook. The village itself has several nice hotels and restaurants which make it an ideal base to explore the area's natural beauty.
Newby Bridge is also a stop along the Lakeside and Haverthwaite Railway, so by all means incorporate some scenic train travel into your plans.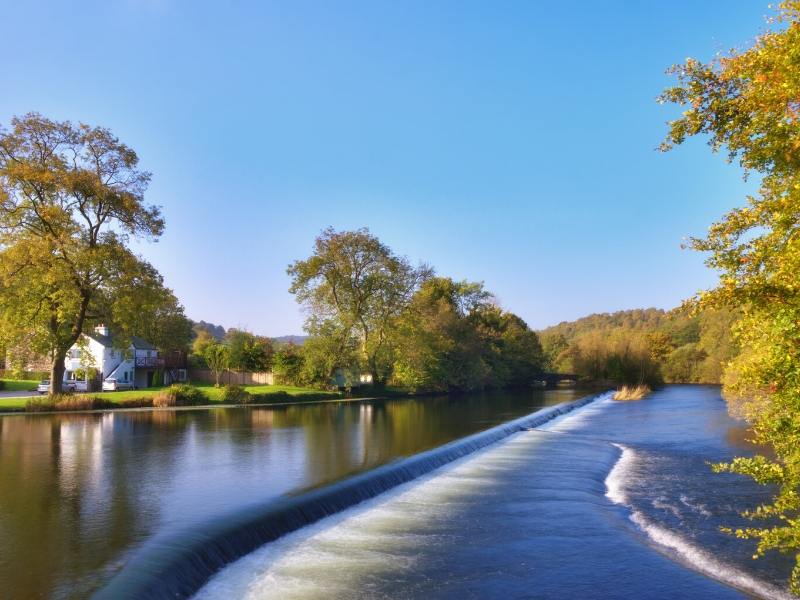 Grange in Borrowdale
By crossing a timeworn, two-arched bridge over the River Derwent in the Borrowdale Valley, you'll arrive at Grange-in-Borrowdale, one of the cutest towns in the Lake District.
It gets its name from an outlying farm built by the monks of Furness Abby during medieval times. Those who love a vigorous walk won't do much better than a trip up Castle Crag.
It's a steep climb but the views are spectacular and well worth the journey. If you want your walk to be a bit more serene, try the Kings How walking path. It's lovely and will be a charming outing for most anyone.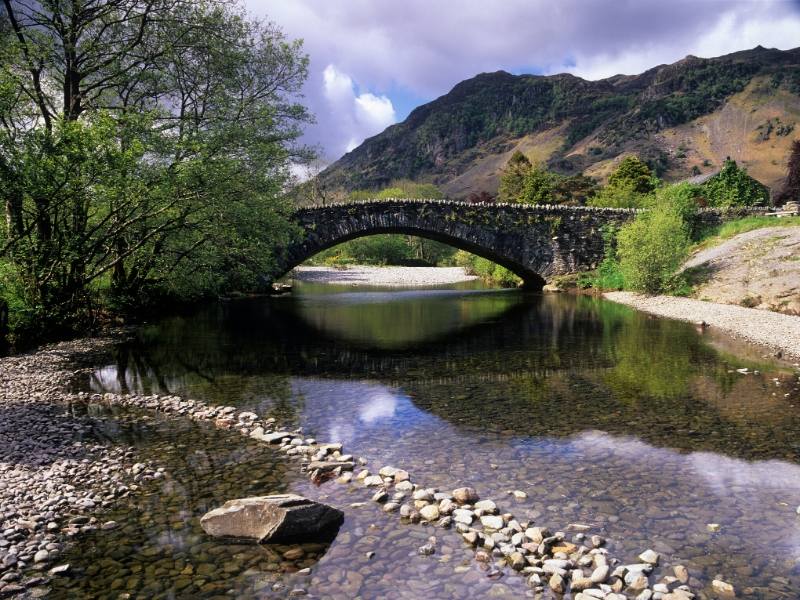 Read – Lake District travel guide including tips, itineraries and practical information to help plan your trip
Threlkeld
East of Keswick, just below the Blencathra Fell is the small village of Threlkeld. The name comes from Old Norse, but there is evidence that this place had been settled since the time of Neolithic man.
Those interested in human history may want to visit the Castlerigg Stone Circle, an eerie remnant of early man which dates back to 3000 BC. If geology is what fascinates you, take the whole family to the Threlkeld Quarry and Mining Museum which offers a hands on tour that is fun for all ages.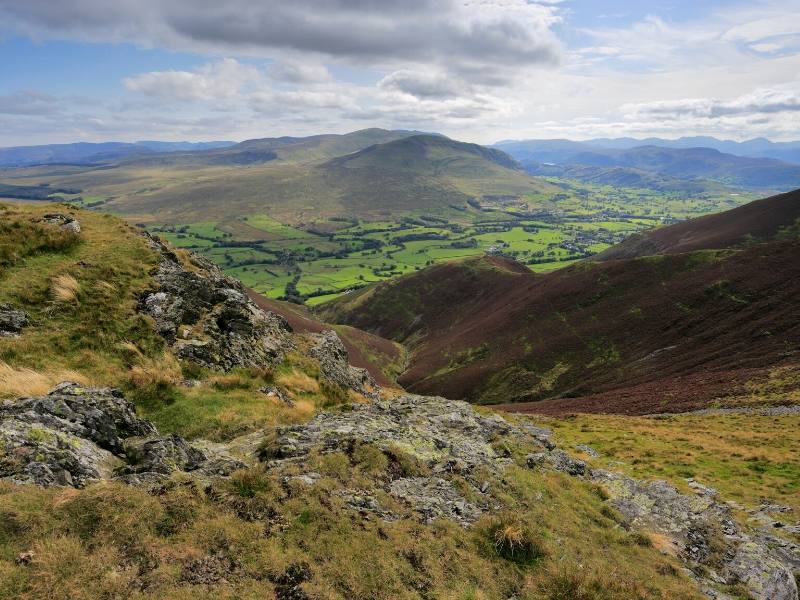 5 must-visit towns to visit in the Lake District
Windermere
Windermere, along with its smaller counterpart Bowness-on-Windermere, developed around England's largest natural lake of the same name. Visitors adore this town because of its charming architecture and proximity to the many outdoor activities of the Lake District.
If you're up for a long excursion, try walking the Windermere Way, a 45-mile long circuit through stunning scenery around the entire lake. Most people break it up and do it over the course of four days but regardless, it would certainly be an accomplishment to brag about.
If that sounds excessive, the Orrest Head circular walk is much more reasonable. It's an easy fell walk that begins at the railway station and yields some magnificent views from the summit.
You could forget the walking altogether and go for a lake cruise — a wonderful way to enjoy the dramatic scenery.
The Windermere Jetty Museum of Boats, Steam and Stories is a fascinating new museum featuring an all-encompassing collection of boats in a gorgeous lakeside setting.
For those in search of outdoor gear and clothing, Windermere has many shops that will fill that bill. So buy that perfect outfit and enjoy all that the Lake District has to offer.
Read – Things to do and see in Windermere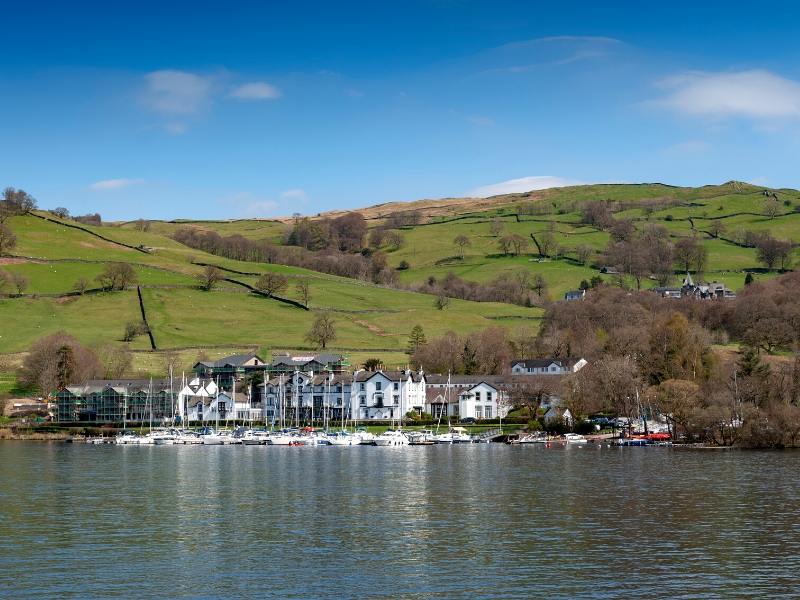 Bowness-on-Windermere
On the shores of Windermere, England's largest natural lake, is Bowness-on-Windermere. Its accessibility, charming Victorian quaintness and proximity to a variety of outdoor activities make it one of the Lake District's most popular destinations.
Once a small 15th century fishing village, Bowness-on-Windermere was forever changed in the mid 1800s when the railway arrived, bringing city-weary Victorians eager for a place to recreate.
Today, boating and water activities abound but so does a vigorous town life. There is a long high street with a variety of art galleries, antique stores and delicious artisan food shops to explore. The many nice hotels and restaurants truly make this village a perfect base for your Lake District getaway.
Looking for accommodation in Lake Windermere? Find accommodation options for all budgets and travel styles in our guide to the best accommodation in Lake Windermere.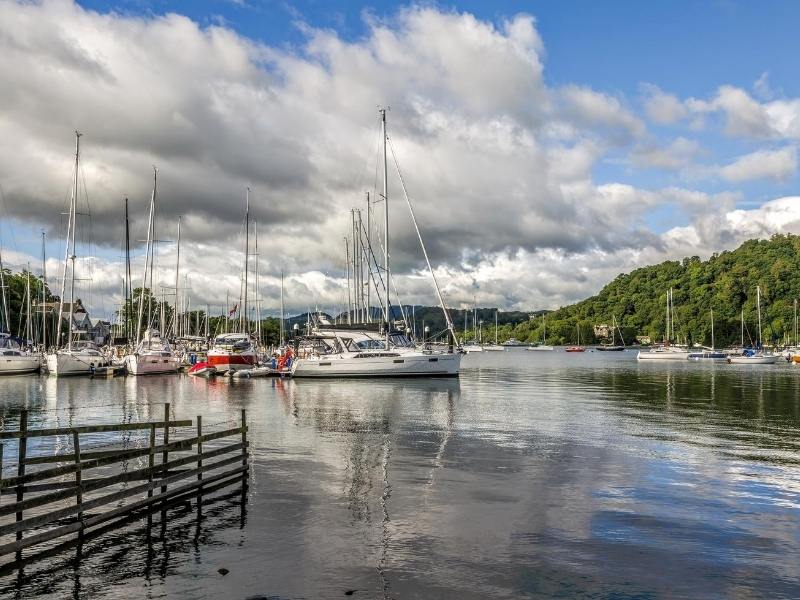 Ambleside
Located on Windermere's northern-most tip, Ambleside is one of the most popular resort towns in Lake District. It's an ideal base if you don't have a car and are planning to hike through the mountains or just go on a causal walk near the lake.
The town is well known for being the former stomping grounds of Beatrix Potter. For those interested in learning a little bit more about her life, the Armitt Library and Museum is an excellent place to start. They have an exhibit that displays some of her work and reveals little known facts about her life story. The museum also covers many other aspects of the region's cultural heritage.
If you're not in the mood for any museum time, you could easily while away the hours just enjoying the town of Ambleside. There are plenty of historical monuments, scenic spots, shops and restaurants to explore.
A short walk from the center of town takes you to Stock Ghyll Force, a gorgeous 70-foot waterfall that can be safely viewed from behind a railing.
Another absolute must-do is to go to Waterhead Pier and board a lake ferry. Taking in Ambleside's beauty from the water is an experience unlike any other.
Read more – Best places to stay in Lake Windermere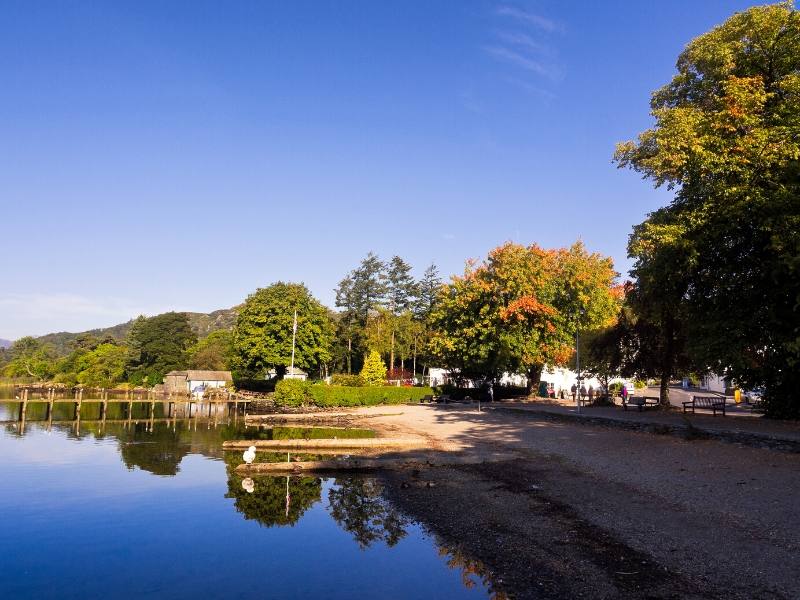 Keswick
Keswick is one of those Lake District towns with everything. It's just north of Derwentwater and is surrounded by mountains, giving it unparalleled beauty and holiday appeal. It's also a bustling market town with museums, public parks, restaurants and shops.
For the last 700 years, the Market Square and surrounding streets have been the site of the town's Saturday market. More than 60 vendors sell everything from locally produced meats, artisan breads, fresh vegetables, spirits, arts and crafts, paintings and pottery. If you're looking for souvenirs to bring home, this might just be the perfect place to buy them.
If you want to do something really unique, how about a trip to the Derwent Pencil Museum? Keswick manufactured pencils for hundreds of years but this quirky and internationally renown museum celebrates WWII spy pencils that somehow managed to contain a secret map and compass. This fascinating museum will have the kids mesmerized and give the adults some serious bragging rights when they get home.
The kids might also adore the Puzzling Place, a specialty museum that focuses on tricking the eye with all kinds of optical illusions and interactive exhibits. The hologram gallery is a must see!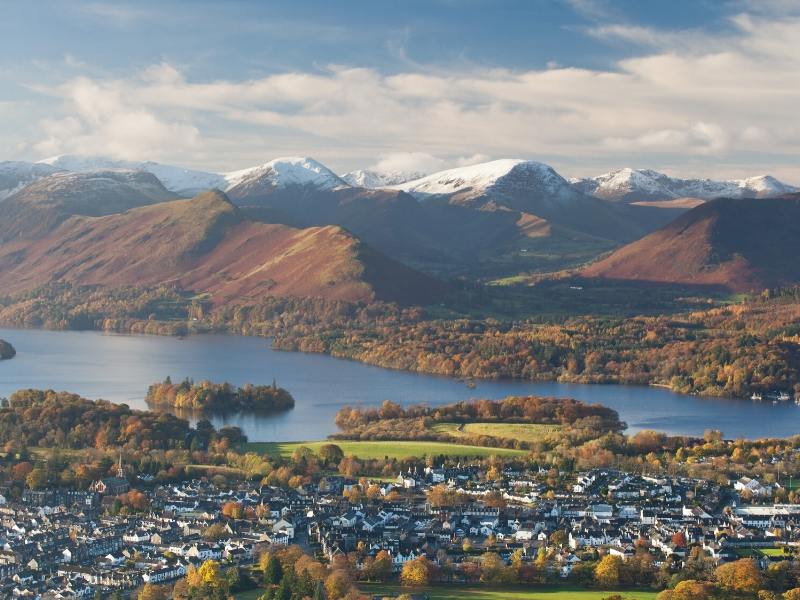 Kendal
Kendal is one of the larger towns in Cumbria. Once a woollen textile center, it is now a thriving market town that has just about everything a traveler could ask for.
There is plenty of shopping, a large variety of restaurants and hotels and a whole slew of historical sites to visit. It's also lovely, what with the River Kent flowing right through the town underneath ancient-looking arched stone bridges.
Don't miss the amazingly large Kendal Parish Church. It dates from the 13th century and is the widest Parish Church in the country. The inside is surprising, not only for its generous size and magnificent stained glass windows but because there is so much light.
Next, take a tour of the Abbot Hall Art Gallery. It's inside of a weathered gray building that was built in 1759. They have an extensive collection that would be a dream come true for any British art-lover.
If natural history is more to your liking, you might be interested in the Museum of Lakeland Life or the Museum of Natural History and Archeology. Both are excellent ways to spend the day in Kendal.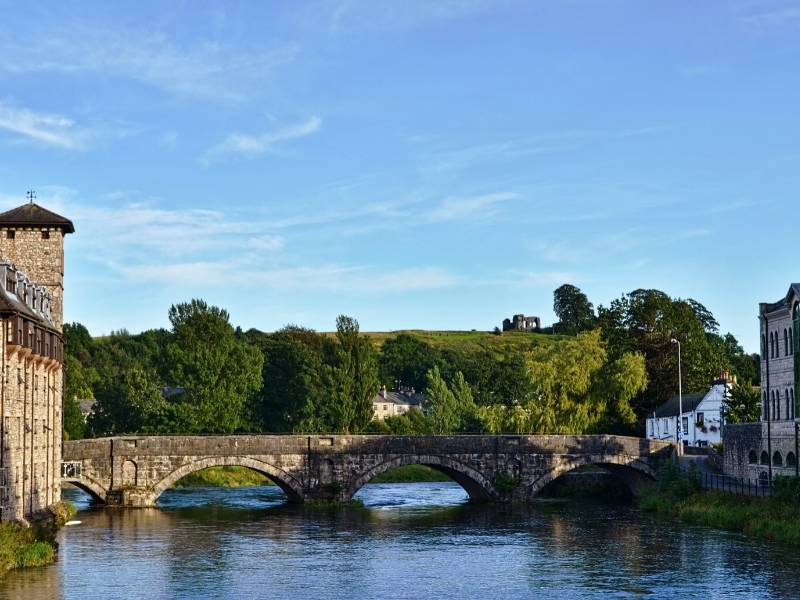 Plan your visit to the Lake District
The Lake District is a beautiful part of England to visit at all times of the year. It can however be very busy during the summer months so it is important to plan ahead, especially if you are staying for a few days.
If a log cabin or lodge in the Lake District appeals you can read about my recommendations of the best 10 cabins in this article.
Need more information to plan your Lake District itinerary? My detailed guide to the area includes sample itineraries as well as recommended things to do and see, where to stay, where to eat and great experiences to include.
Why not read more about the area? I have a recommended book list with a selection of fiction and non-fiction books worth reading about the Lake District.
And finally, if you are planning more travels in the North West of England my guide to the top 10 things to see and do is a great starting point.
Read more in these related articles
Join my free UK and London travel planning group on Facebook and come and chat about your trip, ask questions and find more practical tips and resources about travel all over the UK.