In this article discover our selection of 10 of the VERY BEST things to do & places to visit in South East England plus practical tips and information to make the most of your visit.
The counties of South East England are easily accessible from London and provide a myriad of interesting things to do and places to visit. Whether you are looking for inspiration for day trips from London by train or for places to add to a UK road trip itinerary you will find lots of great suggestions and practical advice in this article about things to do in South East England.
South East England is the most populated area of England and includes the counties of Berkshire, Buckinghamshire, East Sussex, Hampshire, Oxfordshire, Surrey, West Sussex, Kent and the Isle of Wight.
If you would like to engage the services of a private driver guide for tours of South East England (with tour options including Hever Castle, Leeds Castle, and Dover Castle) we recommend John England Tours. John is a professional tour guide who provides personalised private day tours and will ensure you have a memorable day experiencing an authentic England that many visitors miss. Click here for more information about John England Tours.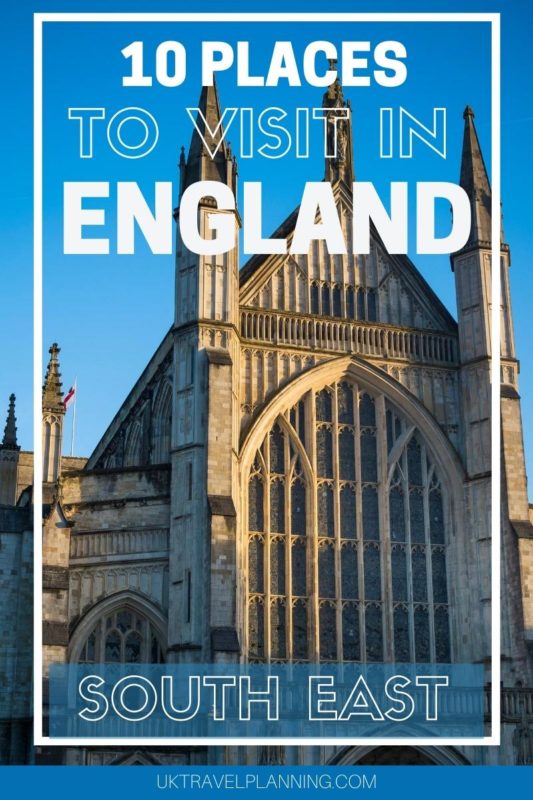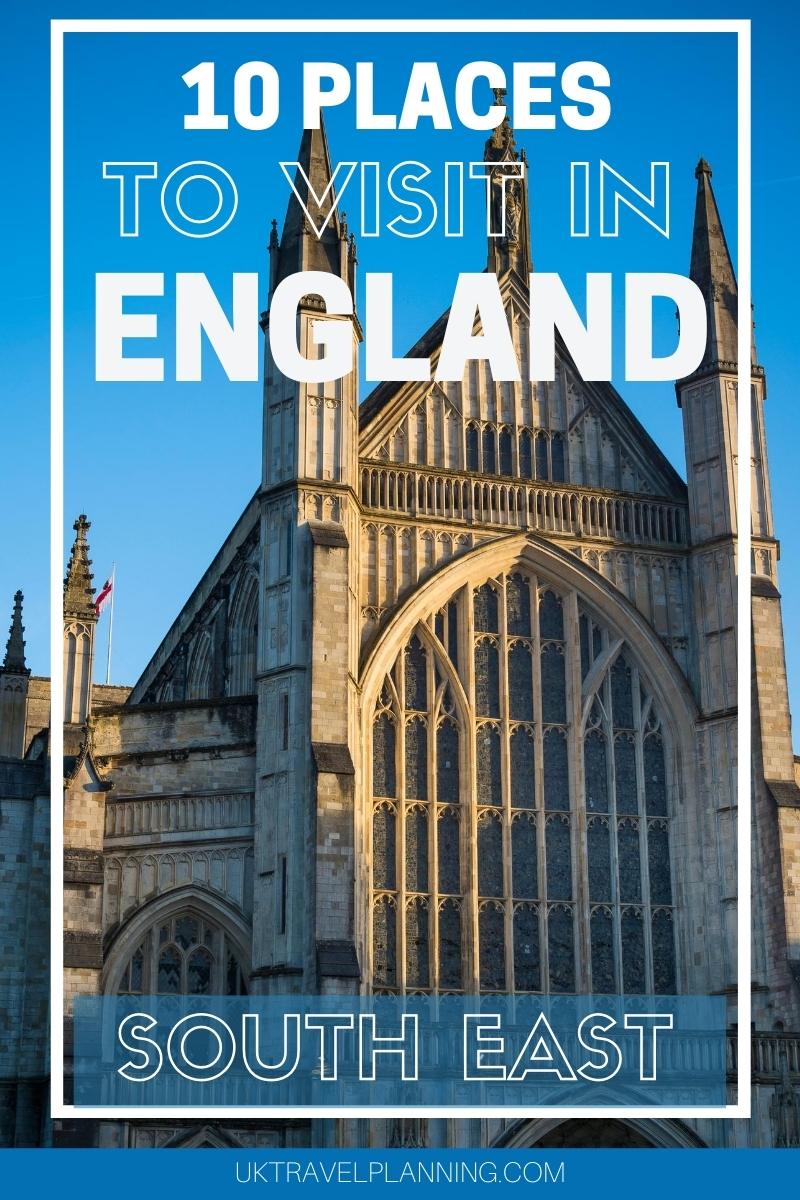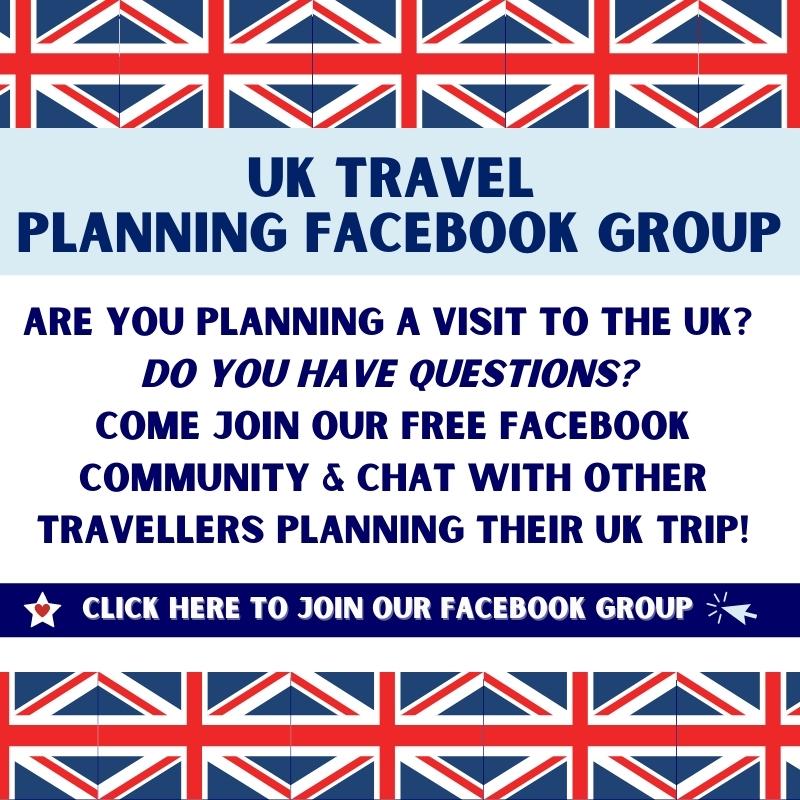 Places to visit in South East England
1. Visit the Brighton Pavilion
There are lots of great things about Brighton but my favourite place to visit in this coastal city is the famous Royal Pavilion.
Transformed in 1815 by the Prince Regent (known as King George IV when he ascended to the throne) its opulent Eastern and Indian influences and flamboyant design is something to behold!
The Royal Pavilion is open daily (except Christmas and Boxing Day) but check the website for times as they vary throughout the year.
Read more | Brighton Travel Guide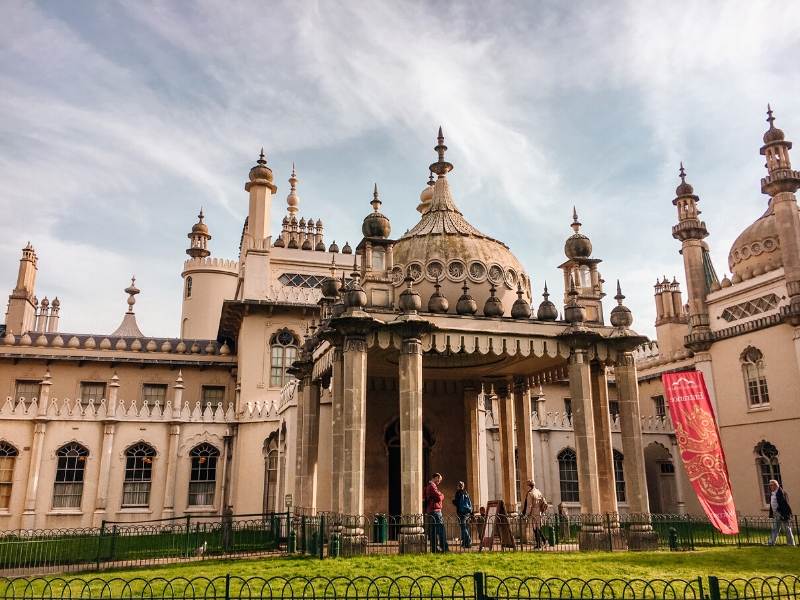 2. The Mary Rose and HMS Victory
The Mary Rose and the Victory are two famous and historically important ships.
The Mary Rose is the older of the two ships and was Henry VIII's flagship between 1510 and 1545. It was involved in numerous battles against his enemies and was sunk in 1545 during a battle with France. The ship was raised from the seabed of the Solent in 1982.
The Victory was Admiral Horatio Nelson's flagship and fought in the Battle of Trafalgar in 1805.
These historic vessels are located in Portsmouth Historic Dockyard.
Read more | The Mary Rose | The Victory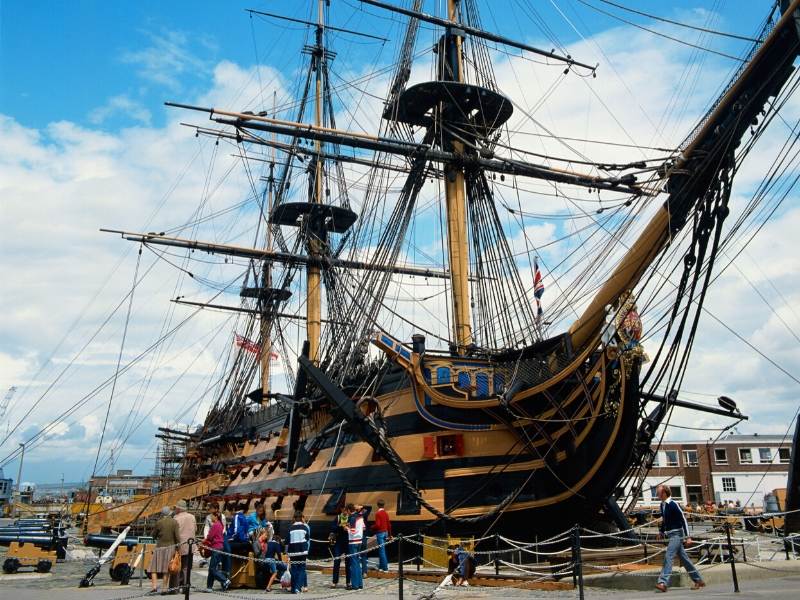 3. Arundel Castle
Arundel Castle in West Sussex dates back nearly 1000 years. The former home of the Duke of Norfolk is one of a number of historic castles located close to London (all worth a visit if you have time)
The castle is open from May through to November (see the official website link below) with open-air shows and family-friendly events held throughout the year.
At present (August 2020) there are two ticket options available – £10 for entry to the gardens and £15 for entry to the castle and gardens. All tickets must be purchased online with date and arrival slots available from Friday for the following week.
If you are visiting the castle by train (which I highly recommend as parking is not easy) it is only a 10-minute walk or short taxi ride from the train station.
Alternatively, if you prefer to take a tour and see some of the beautiful countryside along the way this private tour from London to Arundel fits the bill.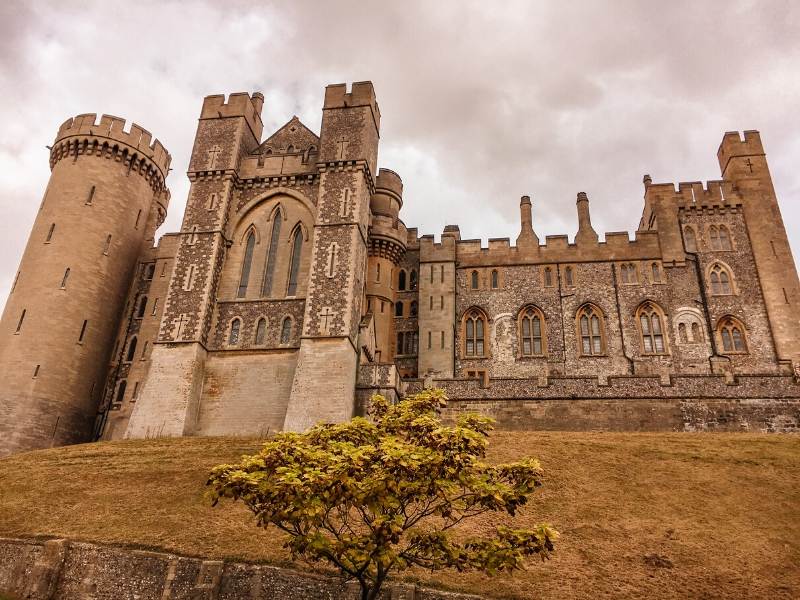 4. Chichester and Fishbourne Roman Palace
I grew up in the shadow of Hadrian's Wall in Northumberland and love anything to do with Roman Britain.
One of the best places in the UK to find out the lives of our Roman invaders in this rather chilly and damp part of the Roman Empire is just outside Chichester at Fishbourne Roman Palace.
This lavish Roman Palace with its beautiful mosaic floors is really worth a visit. Most of the palace has been excavated and the gardens reconstructed so you really get a feel for life in Roman England. The palace is the largest Roman residence in northern Europe and unbelievably was only discovered and excavated in the 1960s!
Read more | Fishbourne Roman Villa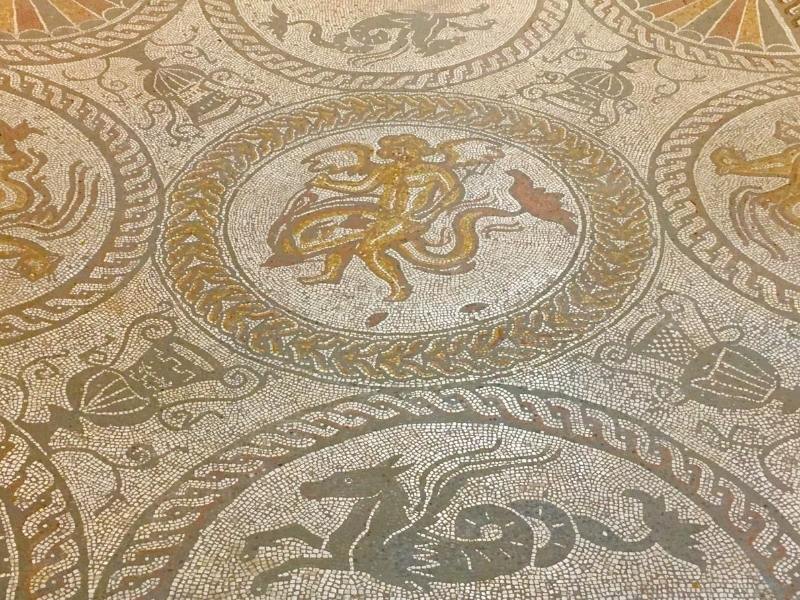 5. Leeds Castle
Leeds Castle is famously the former royal residence of 6 of England's medieval queens. During the reign of Henry VIII, it was transformed into a retreat for the rich and powerful.
Situated in Kent the castle recently celebrated its 900 year anniversary.
Leeds Castle also offers a range of accommodation options in the grounds including holiday cottages and medieval-inspired striped glamping pavilions!
Read more 5 Historical Treasures in South East England
Read more | Leeds Castle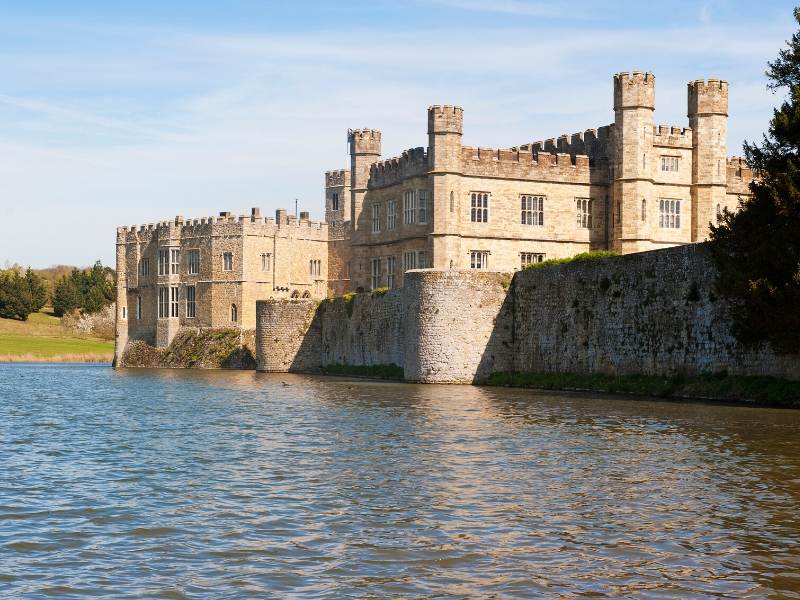 6. Canterbury Cathedral
Featuring as the destination of the characters in Chaucer's medieval collection of stories known as the Canterbury Tales, a UNESCO World Heritage Site and the home of the Archbishop of Canterbury this cathedral city in South East England is a popular tourist destination for visitors to the UK.
In 1170 Thomas Becket the then Archbishop of Canterbury was murdered in the cathedral by followers of King Henry II. Following his recognition as a martyr and saint the shrine of St Becket became a destination for pilgrims during medieval times.
Canterbury is located only an hour away from London by train (no walking necessary) and is a great day trip from the capital.
Read more | Canterbury Travel Guide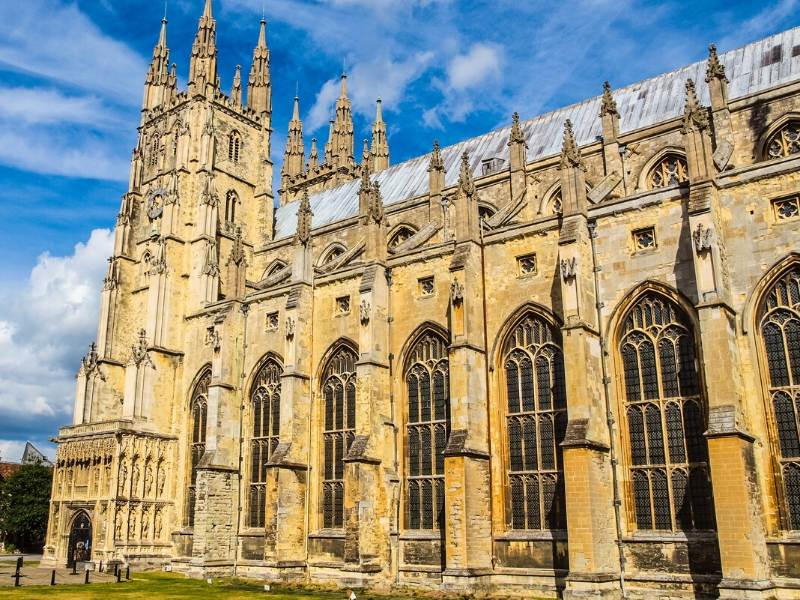 7. Highclere Castle
Instantly recognisable to fans of the period drama Downton Abbey Highclere Castle is the home of the 8th Earl and Countess of Carnarvon.
Highclere has an annual calendar of events with a selection of guided tours available. Opening days and hours are variable so do check the official website for more details.
As it is an extremely popular destination for both UK residents and visitors from abroad it is recommended to book as far ahead as possible.
Read more | Planning a visit to Highclere Castle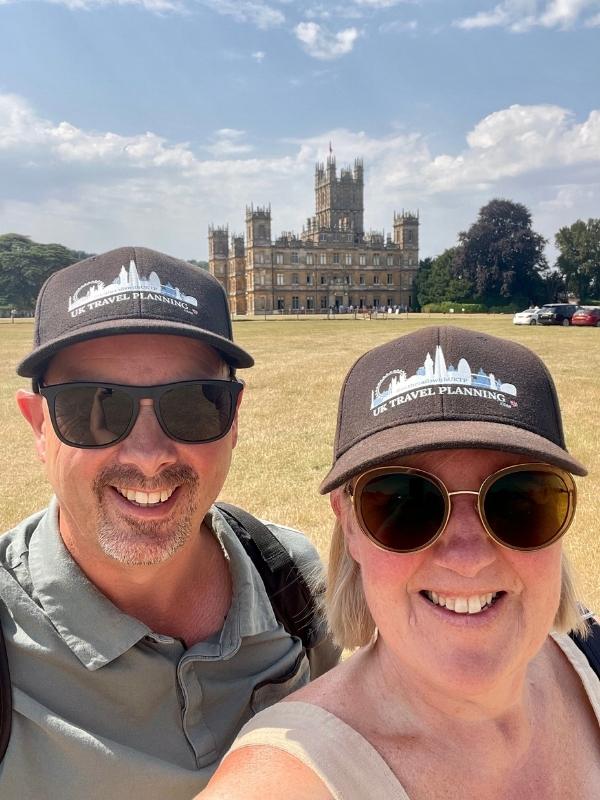 8. The University city of Oxford
Another popular and easy day trip from London is to Oxford the 'City of Dreaming Spires."
If you are interested in learning more about the history of the university and exploring some of the famous colleges I recommend taking a walking tour.
There are lots of things to see and do in Oxford and it is an easy city to navigate on foot. Consider your footwear and prepare for lots of walking.
If you are a Harry Potter fan you will discover numerous locations in Oxford that feature in many of the films.
Read more: Oxford Travel Guide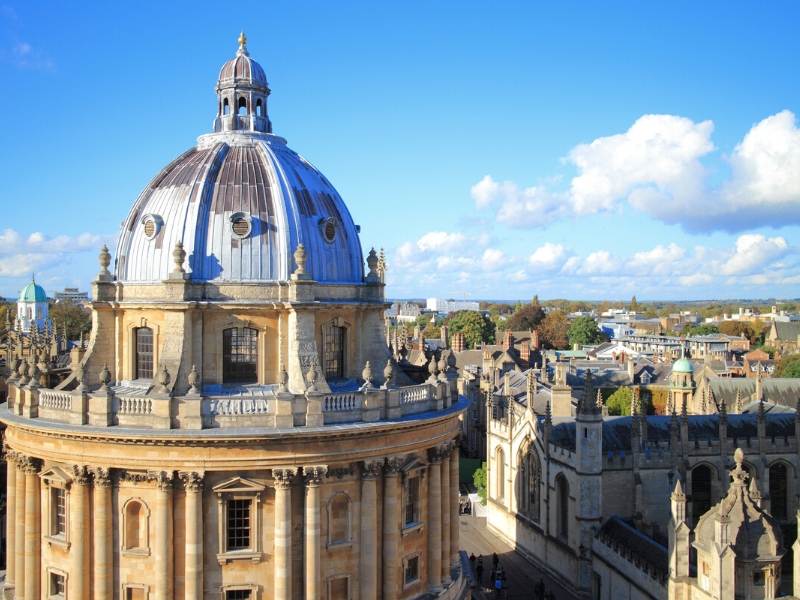 9. Winchester Cathedral
Located in the city of Winchester in Hampshire this is one of the largest cathedrals in Europe. Built by William the Conqueror after his victory at the Battle of Hastings in 1066 the cathedral contains the remains of numerous monarchs.
Within its walls you will also find the final resting place of English novelist Jane Austen.
Take a tour of the cathedral with one of their guides and learn about its 1000 year history.
In the crypt you will find one of sculptor Anthony Gormley's creations Sound II.
Learn more | Winchester Travel Guide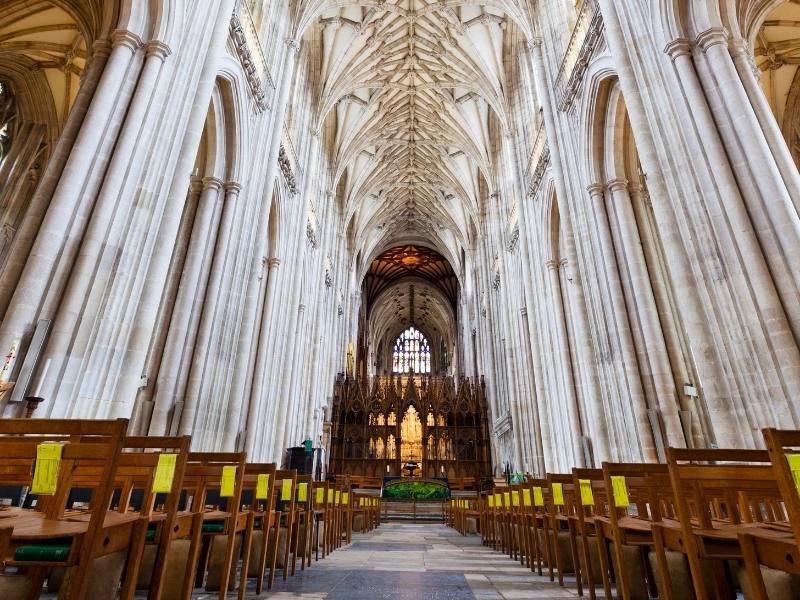 10. Blenheim Palace
The birthplace of Winston Churchill and ancestral home of the Dukes of Marlborough Blenheim Palace in Oxfordshire was listed as a UNESCO World Heritage Site in 1987.
Visitors can enjoy a tour of the palace and wander round the extensive grounds (designed by Capability Brown) Plan to spend a day if you can as there is a lot to see.
The butterfly house and famous maze are also worth a visit!
Read more | Guide to visiting Blenheim Palace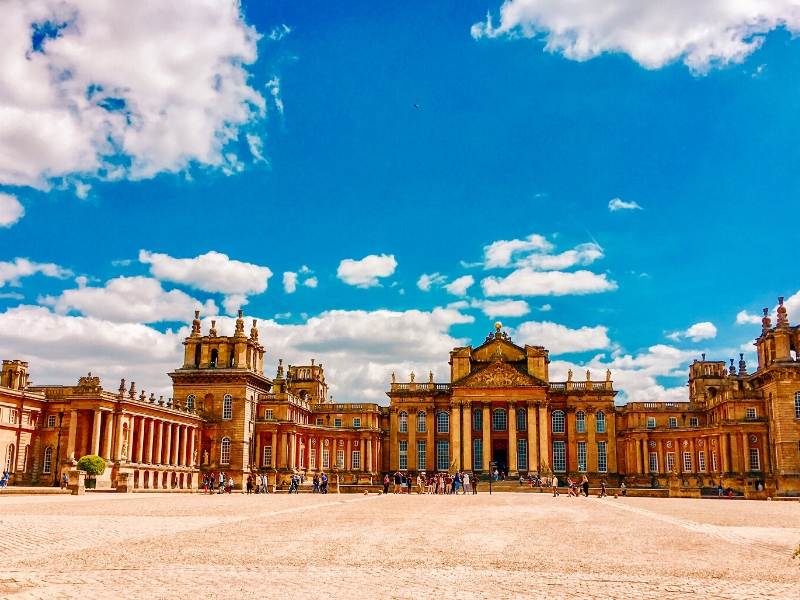 (Bonus #11) Bletchley Park
A bonus #11 addition to this list is Bletchley Park. During the World War 2 this was the top secret headquarters of some of the world's best codebreakers.
This included mathematical genius Alan Turing who helped break the Enigma code.
Today you can visit Bletchley and learn more about the important work carried out here during the war. Bletchley Park is located 80 km north west of London and can be reached by train.
It is a few minutes walk from Bletchley railway station.
Learn more | Bletchley Park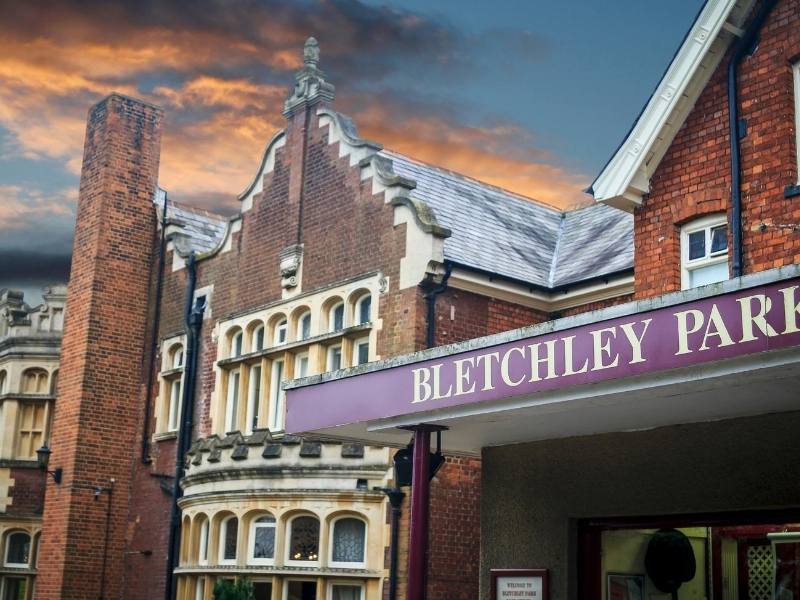 Fast Facts – South East England
Where will you go in South East England?
I hope that these 10 South East points of interest and places to visit will provide lots of ideas for your trip.
Want to explore some of England's other regions? Head over to my other area guides to England which include the North East, North West, East Midlands, West Midlands, Yorkshire, South West and East of England.
Heading to Scotland, Wales or Northern Ireland? Take a look at my favourite 19 places to visit in Scotland and the top 10 choices for Wales and Northern Ireland
Find more inspiration for your travels in my England Travel Guide which includes information about what to see, where to stay, how to get around, travel tips, recommended reading, and more to make the most of your trip.