Travelling to the UK and wondering what the options are for connecting to the internet? Do you want to use your smartphone but avoid a huge bill when you get home? In this article, we have researched all the options so you don't have to – read on to find out!
We have all become more and more dependent on our smartphones for just about every aspect of life. Whether it's writing emails, using apps (we recommend downloading these 16 apps for UK travel) or getting driving directions, smartphones give us instant information at our fingertips.
So what happens when you travel to the UK?
Will your smartphone even work there?
The answer is yes, it can absolutely do all the things you need it to do, but you have to do a little research and make a plan prior to leaving.
Failure to do so could result in a nonworking smartphone on your trip, or even worse, a future bill with astronomical international roaming charges. Never fear, however, because the research has been done for you.
SIM options – quick guide
A quick overview of the options available in the United Kingdom
1. The first step is to understand each of the 5 available options
Free Wi-Fi
Most hotels in the UK have free Wi-Fi. You could also plan on using hotspots, those public locations offering free Wi-Fi, like museums, coffee shops or fast food restaurants.
2. A portable Wi-Fi device such as Skyroam Solis
You can either rent or buy one of these. They are portable, about the size of a drink coaster and very easy to use.
3. Use your mobile provider's international plan or arrange for day passes
Call your provider to see what their options are. Some have international calling built right in, while others offer international day passes. For the day passes, be sure to make a note of the price, the limits on data and the ability to make calls and texts.
4. Buy a SIM card either before you leave or when you get to the UK
For those folks not so technically minded, a SIM card is the small card inside of your phone that stores data unique to the user and to the phone. When travelling to the UK from abroad, assume you'll need to swap out your existing SIM card for a UK compatible SIM card.
5. Use eSIM technology
Many new phones come eSIM enabled which means you don't need the usual SIM card with a chip embedded in it as a reprogrammable chip is actually present within the smartphone itself. This option is only available if you have a compatible phone so you will need to check first.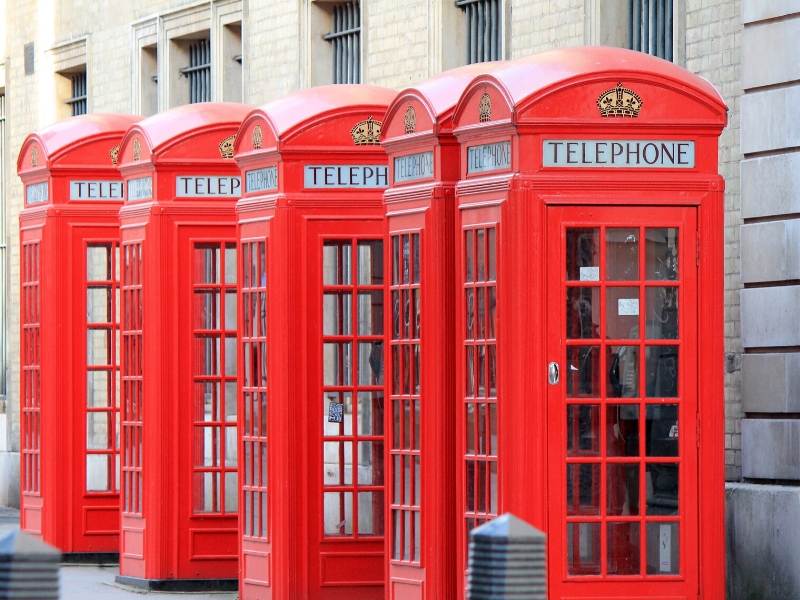 2. The second step is understanding which is the best option for your needs.
Ask yourself these questions
How much data will you need?
How often and for what reason will you be using your smartphone?
Will you be using apps that require a lot of data?
Will you need to watch videos or download information for work?
Will you need service for multiple devices?
Perhaps you'll only need your smartphone to occasionally check email or make a quick social media post. Maybe you're travelling with family and plan to use smartphones to keep in touch with one another via texts and calls.
Luckily, there are options that work for all of these scenarios.
5 options to access WiFi in the UK
Let's look at all those options in a little more detail
1. Free Wi-Fi
If your hotel offers free Wi-Fi, you could plan to use that exclusively during your trip.
This would work well for someone who doesn't use their phone very often and is willing to take care of any smartphone needs while in their room.
Outside of the hotel, there are many free hotspots for wifi in UK attractions or public places that could also be used.
Advantages

Well, it's free. Also, connecting to it is simple and convenient.
Disadvantages

Free Wi-Fi can be slow. This may not be an issue if you'll be using your phone infrequently, but if you plan to visit websites, use apps or download information, slow speeds could be frustrating.
Are your game-playing kids travelling with you? They may not be very pleased with this option.
While slow speed is something to consider, lax security can be a serious problem. Using free Wi-Fi in public spaces is risky. Encryption standards may not be adequate, so anyone sitting near you could gain access to your personal information.
So could hackers who know public Wi-Fi can lead them directly into your phone. Talk about a fast way to ruin your trip! This is why we use (and recommend) a VPN service like SurfShark.
If you do choose the free Wi-Fi route, the critical thing to remember is to turn off your international roaming. Depending on your provider, failure to do so could result in staggering charges on your next bill.
Thus, the best thing to do is while in the UK is to put your smartphone into flight mode. This will ensure that you won't receive or transmit cellular data. Don't worry — you'll still have access to Wi-Fi in flight mode. It's also a great way to save battery power on your phone.
Staying in touch with family and friends will still work with apps like Facebook Messenger and WhatsApp — all usable without roaming.
There are also apps that allow you to download information while you have Wi-Fi for later use. These include Google Drive, TripAdvisor and AccuWeather.
2. A Portable Wi-Fi Device
The Solis, for example, is a pocket-sized device available for rent or purchase that allows for portable wifi UK. It has 4G LTE mobile Wi-Fi speeds and is easy to use via the Solis app on your smartphone.
Advantages

You know exactly how much it's going to cost upfront. You'll either purchase a device and pay for the data you use or you can rent it and pay per day. Devices like these are also secure, unlike public Wi-Fi.
If you would like to connect your iPad and laptop, this would be a great option for you as it allows connection to multiple devices. You can also share it with others who are in close proximity to the person holding the device.
Disadvantages

This option does not include phone calls. Also, it may not be the most cost-effective choice if you are travelling by yourself, don't need much data and only need Wi-Fi on one device.
While this device does allow for multiple users, they all need to be in the same place, so if the family heads in separate directions, someone is going to lose their Wi-Fi.
Finally, you must remember to charge its battery.
Note – the Solis is only available to purchase in the USA at present. An alternative to consider is the TravelWiFi portable device which we recently used during our UK trip in 2022.
⭐️ USE THE CODE TRACYS TRAVELS AT CHECKOUT FOR AN EXCLUSIVE 10% DISCOUNT
3. Check with Your Telecommunications Provider
Some plans include international roaming but if they don't, they may offer an international day pass.
For residents of the United States, Verizon offers its TravelPass for $10.00, which allows up to 500MB per day and calls within the UK or back home.
T-Mobile's international day pass works much the same way, but it's only $5.00 and also has the ability to make your smartphone into a mobile hotspot.
Sprint is a little different. They offer Global Roaming, which allows 25 cents-a-minute calls, free texting and unlimited basic data up to 2G. You'll need to go to their website, however, and make sure this service will work on your device.
Some Australian providers like Telstra and Optus offer a travel pack that allows for a fixed amount of talk, text, and data for a specific amount of days. This is generally cheaper than using pay-as-you-go roaming.
Advantages

It's very easy to call your provider or to use their apps to arrange these services. It's also a good, secure and reliable method for someone who doesn't plan on using large amounts of data.
Disadvantages

With certain providers, there is a data limit per 24-hour period. If you go over, it can be very expensive. The limited data makes this a poor option for someone planning to use their smartphone for everything while travelling.
4. Purchase a UK Prepaid SIM Card
Option 1 – Purchase at Home Before You Travel
You can buy a prepaid SIM card online and have it shipped to you before your trip even begins.
Here are the three best options for a UK SIM card for visitors that are available for pre-purchase.
This card comes with 8GB of data. You'll get 30 minutes of calling and 200 minutes of SMS use.
Once you begin using your SIM card, it is good for 14 days. The Orange Holiday Zen might be the ideal choice for someone who won't use their phone very often during their trip.
For more data, upgrade to the Orange Holiday Europe. You get 20GB of data, 120 minutes of calls worldwide and 1,000 SMS messages. This also lasts for a fortnight after activation.
This card also offers 8GB. Unlike the Orange Holiday SIM range, it offers unlimited calls and SMS use within Europe. It works for 30 days after you begin using it.
This card can be used in 71 Go Roam countries worldwide, including some outside of Europe such as Australia and the US. It gives you a UK phone number, and works with any unlocked device. Receiving messages and calls is free with this SIM card.
For more data or a longer duration, you can also buy the 3 PAYG 12GB card that's valid for a year, or the 24GB option that lasts for two years after activation. Both also work in 71 Go Roam countries.
This is our third choice as it's more basic, but the price tag does match that. It covers all European countries and gives you 10GB of data.
Once activated, it's good for 30 days of use, so longer than the Orange SIM cards.

The primary advantage is that you can begin using your smartphone as soon as your plane lands in the UK.
Swapping your SIM card ahead of time will give you peace of mind in knowing that all of your data, text and call needs have been taken care of. You will also be guaranteed fast, consistent data speeds throughout your trip.

Once the new SIM card is inside your smartphone, you won't be able to use it until you get to the UK. If you have multiple phones, this may work for you. If not, it could be a problem.
You also won't know if the new SIM card has been properly installed and is working until you get to the UK.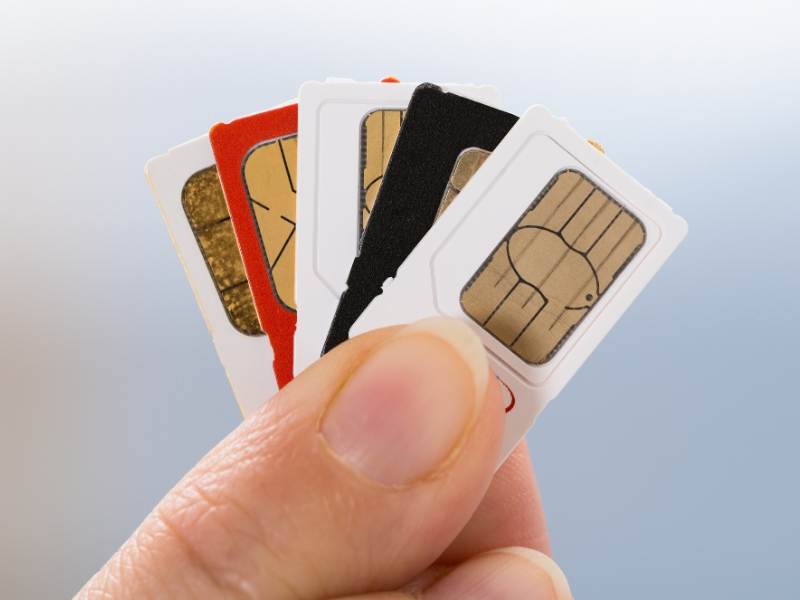 Option 2 – Purchase After You Arrive in the UK
Some people may choose to wait until arriving in the country to buy a UK prepaid SIM card. If you don't mind paying a little more, you can pick one up at the airport as soon as you get off the plane.
You can also find them more reasonably priced at a provider's store. There are four main providers of UK SIM cards for tourists. Their stores can be found throughout the country.
As long as your phone can be unlocked, they will install it for you without requiring you to show identification or your passport, which had been a past requirement.
SIM cards are also available at convenience stores, grocery stores and tobacconists.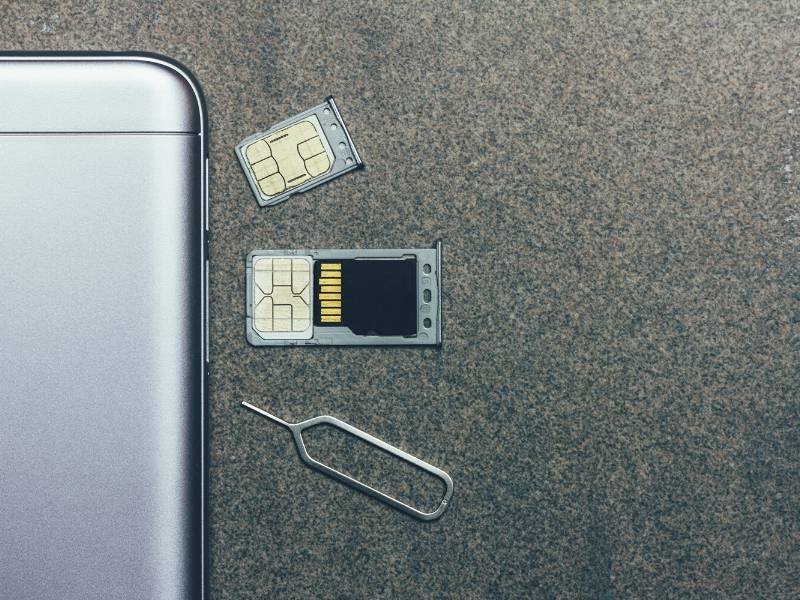 Here are the four main providers who offer a UK prepaid SIM card for tourists.
EE
EE is one of the largest internet service providers and mobile network operators in the UK. They offer several pay-as-you-go packages at different price points depending on the amount of data and call minutes you need.
O2
They are the UK branch of Telefonica which is one of the largest telecommunications companies in the world. They offer 5 types of SIM cards for UK tourists, varying in available data and minutes.
3
Their name reflects that they were the first telecommunication company to offer a 3G connection to their customers.
They have six different UK tourist SIM cards, all offering unlimited minutes and texts. The only difference is in the amount of data and, of course, the price.
Vodafone
They also offer a variety of prepaid SIM cards, so again, which one you get would depend on how you plan to use your smartphone. They have a variety of SIM-only deals and pay-as-you-go SIM plans that are ideal for travellers.

There are many options for data or calling with these cards, so you could tailor your purchase to your exact needs. Getting your SIM changed when you arrive will allow for a consistent and fast data speed throughout your stay in the UK.

You may need to unlock your phone. In order to do that you would have to visit one of the providers' stores. This could potentially cost you time and is probably not how you want to spend your precious vacation minutes.
Also, some smartphones will not unlock if you have had them for less than 12 months, so you would need to contact your provider before you travel to make sure this wouldn't be an issue.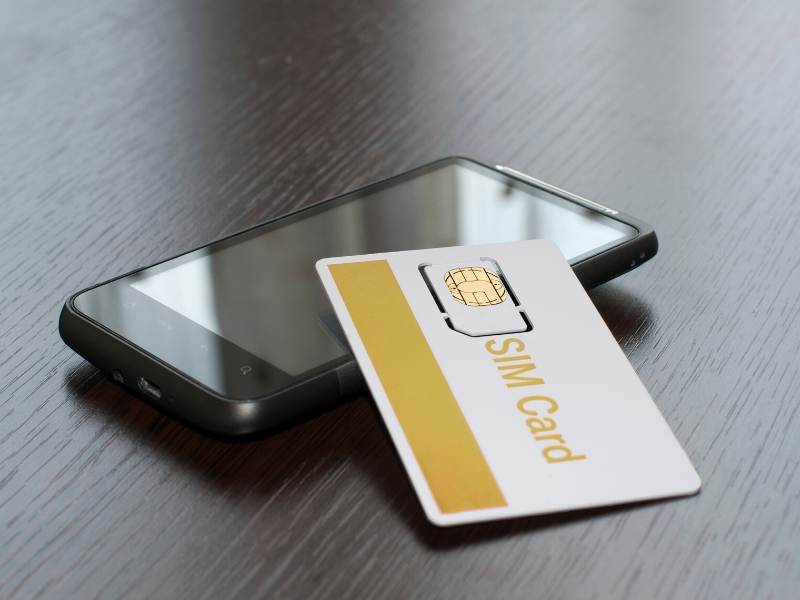 5. Use eSIM technology
If you're not familiar with this yet, then you're far from alone! An eSIM may already actually be there within your phone, though you'd be forgiven for not knowing it.
eSim is an entirely online system, so you don't need the usual SIM card with a chip embedded in it. Set-up is fast, it's simple to use and it's all done online.
Many of the latest smartphones are already eSIM enabled. This especially applies to the top selling brands like Apple, Google and Samsung. For example, compatible devices include the Apple iPhone 11, the Google Pixel 3 and the Samsung Galaxy S20, plus all subsequent models in each range.
With an eSIM, a reprogrammable chip is actually present within the smartphone itself. Before using an eSIM, all you normally need to do is scan a QR code to begin the download. It's a quick and convenient way to get a SIM without a physical card.
You can find the right eSIM for your UK trip at airalo.com. Prices start at just $5, and the eSim lasts for anything from a week upwards.
Advantages
An eSIM costs from just USD $5, so it's a very affordable way to stay connected and in touch with your loved ones.
As it's solely online, eSIMs are far more eco-friendly than traditional SIM cards. You don't need to wait for a new SIM to be delivered either.
You can switch to any mobile network more or less instantly too. Sometimes, you can also use a SIM card in your phone at the same time. This means you can use each for different purposes – such as work and leisure.
Disadvantages
eSIMS are still relatively new, and not offered by all phone networks. You usually need a contract, rather than a Pay As You Go plan, to use this technology via your usual phone network.
Not all smartphones are compatible with eSIM technology. If you have a phone that's more than a couple of years old, or is made by certain brands, then you may not be able to use an eSIM.
Choosing the right wi-fi option for you – the best sim card for UK travel
So that's basically all there is to mastering the art of picking which smartphone Wi-Fi option is right for you while travelling in the UK. Whew!
It's really not such a complicated puzzle when all the information is laid out. You know how you will use your smartphone and how much data you will need, so just pick the option that works best for you. Then enjoy a surprise-free trip to the UK!
More practical planning articles: