If you are struggling to choose destinations for your Scottish travel itinerary this article will be a good place to start. While it is extremely difficult to just choose 19 of the most beautiful places to visit in Scotland (this list could be very long!) these are my top picks!
Consider this post as an overview of some of the best places to visit in Scotland. You will also find links to more detailed posts that you can click through to help you plan your visit once you have firmed up your general travel itinerary.
Need help starting the planning process? Check out my complete guide to planning your trip which includes the step-by-step process we go through when we plan our own travels.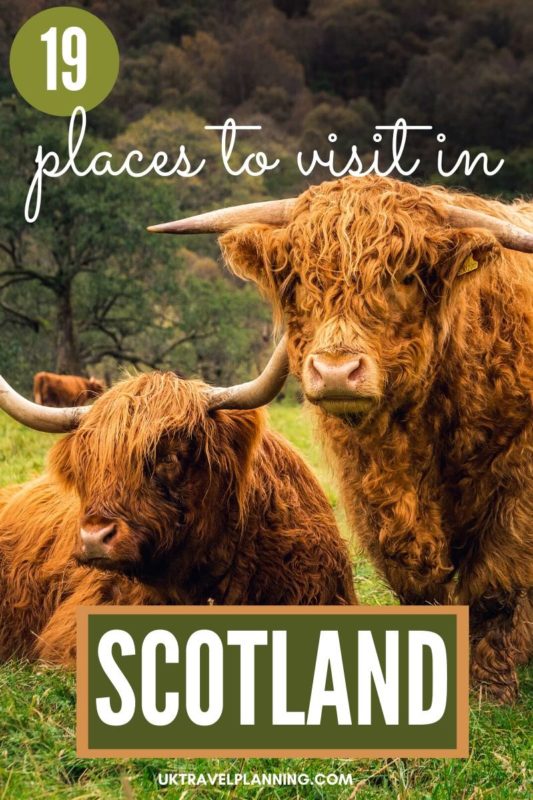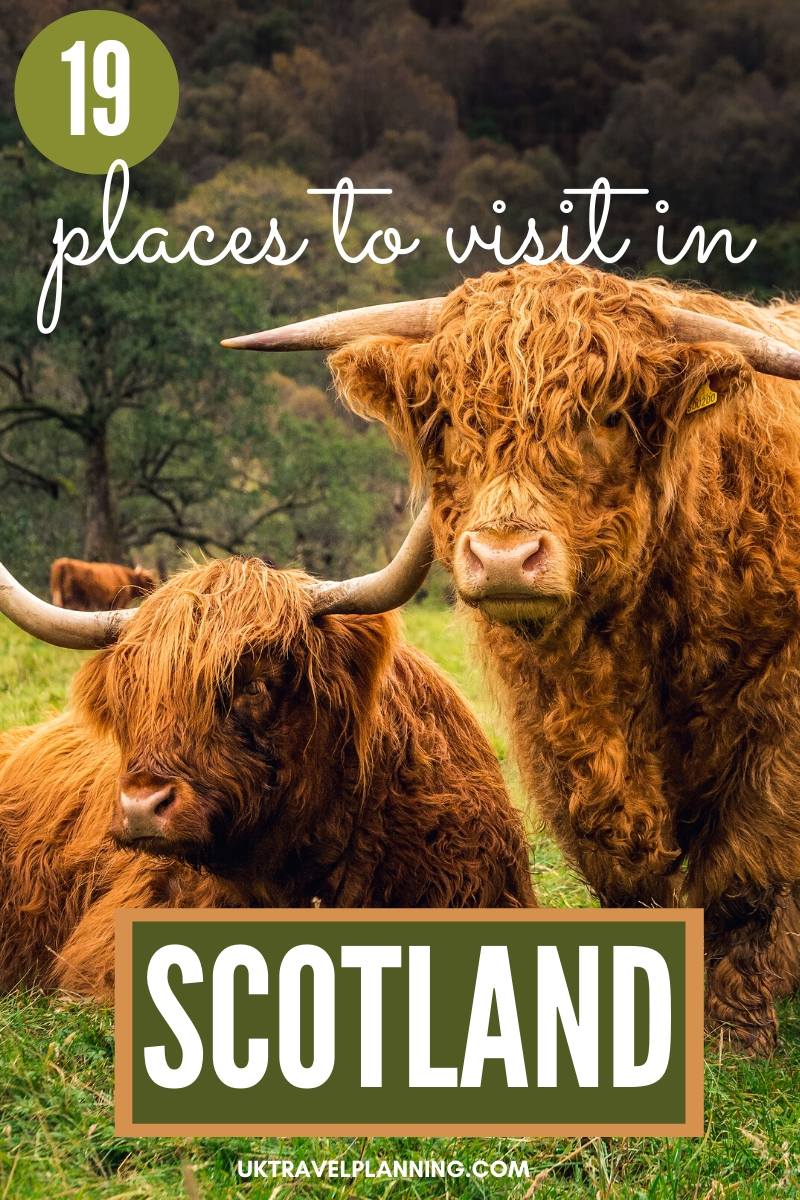 19 beautiful places to visit in Scotland
Scotland is divided into a number of geographical regions which include the Highlands, the Borders, Stirling & The Trossachs, Edinburgh & the Lothians, Glasgow & Clyde Valley, Fife, Ayrshire, Dumfries & Galloway, Perthshire and the island groups of Orkney, the Shetland Islands and the Hebrides (the Inner Hebrides and the Outer Hebrides)
At the end of the article, you will find a map showing the regions and the location of every place and sight recommended to help you plan your Scotland sightseeing itinerary.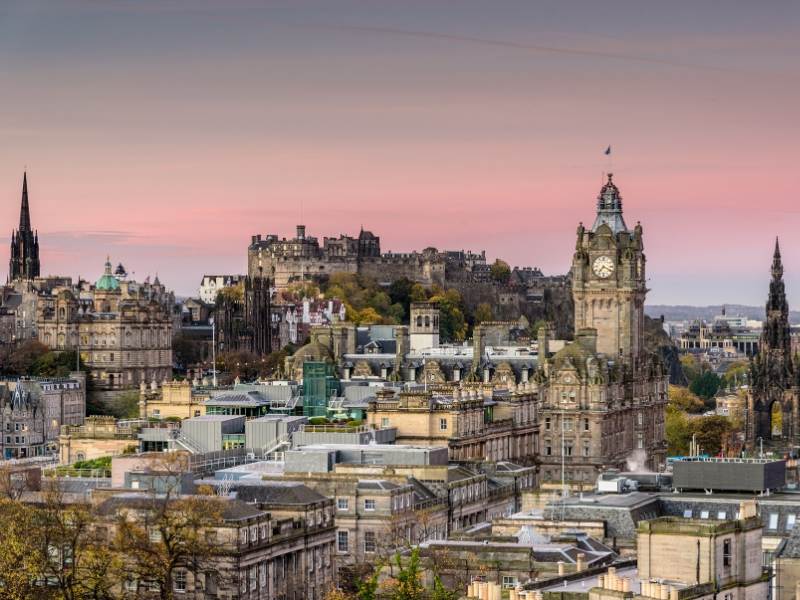 2. The Kelpies
A number of years ago I remember seeing a TV show in the UK which showcased 2 stunning horse head structures.
Standing at over 30 metres high and lit against the dark of night they were probably one of the most beautiful sights I had ever seen and I knew I had to go and see them.
And if you are heading to Scotland I highly recommend going to see them for yourself.
What exactly are Kelpies? Well according to Scottish folklore Kelpies are mythical creatures reputed to take the form of horses.
This stunning homage to the working horses of Scotland can be found in The Helix Park in Falkirk a short train ride from Edinburgh or Glasgow.
Read more | A guide to visiting "The Kelpies"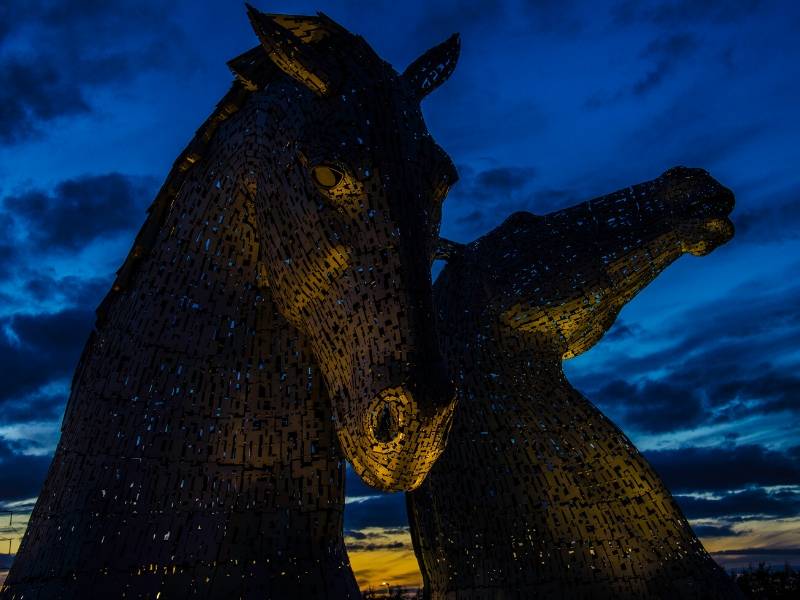 3. Isle of Skye
A popular destination made even more famous following the success of the TV series "Outlander" the Isle of Skye is the largest island of the Inner Hebrides.
With stunning scenery and landscapes, Skye is a nature lovers paradise. Don't miss the Fairy Pools, the Old Man of Storr and a photo opportunity with some Highland cattle!
To reach the Isle of Skye you have a number of options.
If you prefer public transport take the train to the Kyle of Lochalsh then a bus over to Skye.
Alternatively hire a car and include Skye in your Scottish road trip itinerary.
Read more – Isle of Skye Travel Guide | A one-day itinerary for the Isle of Skye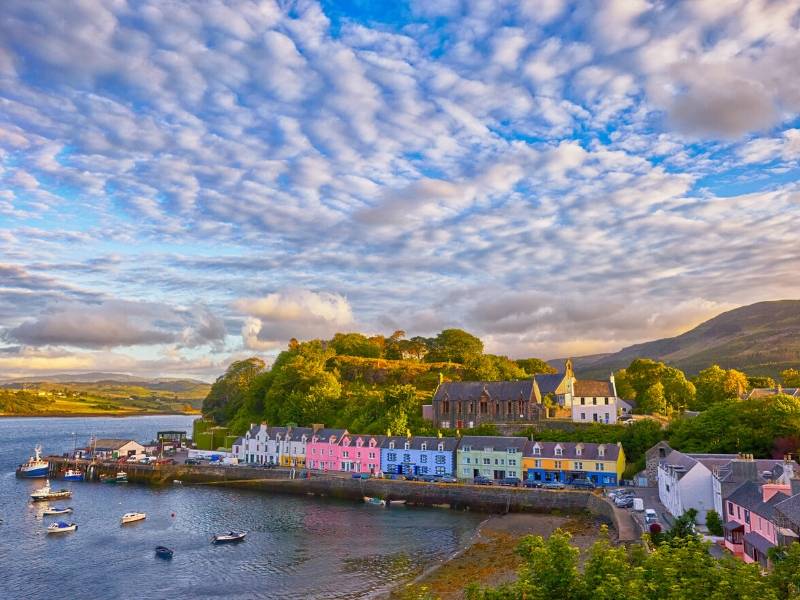 4. The Scottish Highlands
Inverness, Loch Ness, Fort William, Aviemore, the Cairngorms National Park, Mallaig, Culloden, Wick….the list of what to see and places to visit in the Scottish Highlands is long.
In fact, I could easily put together an extensive bucket list for the Highlands alone so along with some of the highlights (Skye, Urquhart Castle, the Glenfinnan Viaduct) I am placing the entire area into this list.
If you are planning to visit Scotland a trip to the Highlands should be on your itinerary. If you are pushed for time take a tour for a couple of days to see the highlights or if you have longer plan a car trip or rail journey.
If you are a Harry Potter fan we highly recommend booking the Jacobite train from Fort William to Mallaig (or Hogwarts) – read more about how to ride the Harry Potter train in Scotland.
We have travelled extensively throughout Scotland by train and will be publishing some recommended train travel itineraries for Scotland in the near future.
Read more | Scottish Highlands Travel Guide / Inverness Travel Guide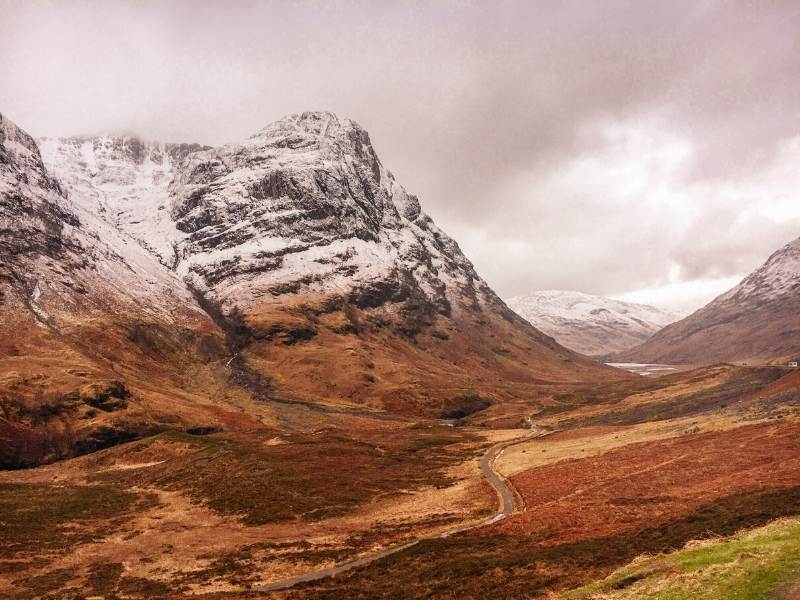 5. Speyside Whisky Tour
If you enjoy malt whisky a tour of the Speyside distilleries is a must. Speyside is only one of the 5 whisky-making regions in Scotland but it is home to 50 distilleries (over half of Scotland's distilleries) and the famous Speyside Malt Whisky Trail.
Famous whisky distilleries in Speyside include Glenfiddich, Glenlivet and Dalwhinnie.
The trail takes 3 days but if you want to relax and enjoy the whisky a guided tour is your best option.
Read more | Speyside Malt Whisky Trail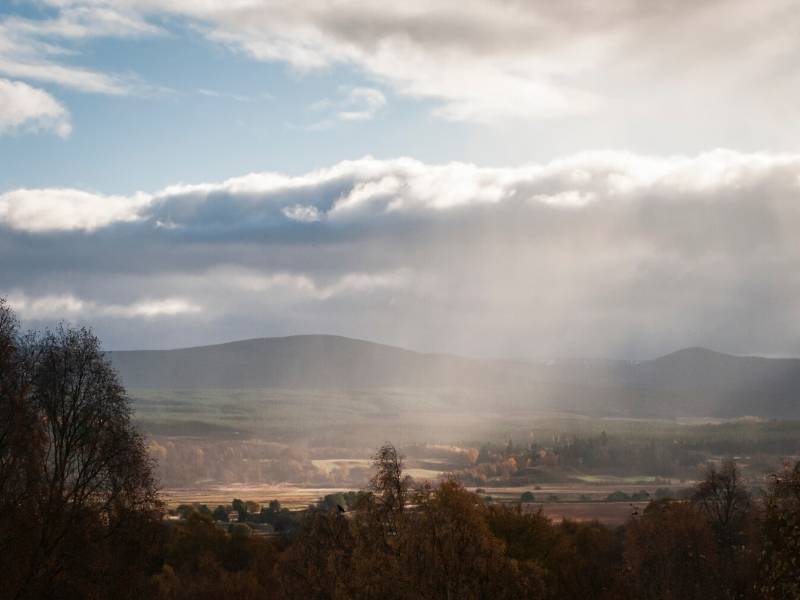 6. The West Highland Line – Glasgow to Fort William and the Glenfinnan Viaduct
One of the most scenic train rides in the UK is the West Highland Line between Glasgow and Fort William.
Catch the Jacobite steam train from Fort William to Mallaig (often described as the best train journey in the world) and cross the Glenfinnan viaduct made famous worldwide after appearing in a number of Harry Potter films.
TIP – If you plan to book the Jacobite (which only runs during the summer months) it is essential to do this as early as possible as it can be fully booked for months ahead.
Alternatively, many tours of Scotland include the Jacobite train ride such as this 9-day tour of Edinburgh and the Isle of Skye from London.
Read more | How to ride the Harry Potter train in Scotland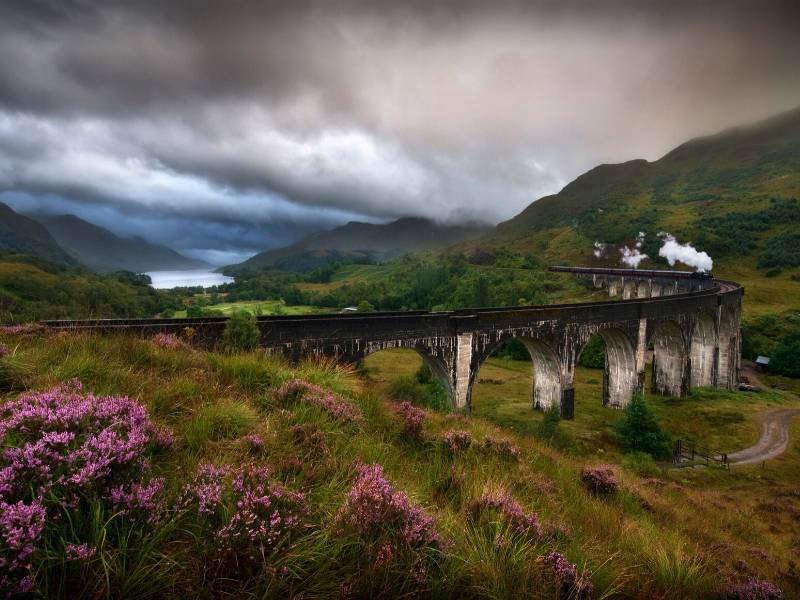 7. The Orkneys
The Orkneys are an island archipelago located off the northeastern shores of Scotland. Consisting of over 70 islands with Orkney Mainland, Rousay and Hoy the most visited The Orkneys are a fabulous destination during the summer months.
Famous for seals, puffins and Neolithic sites the island's highlights include Scapa Flow, the Old Man of Hoy and Skara Brae.
Take a road trip to the Orkneys or alternatively fly into Kirkwall with Loganair from any of the main Scottish airports.
It is also possible to travel to the Orkneys via train and bus with connections to ferry services to the islands.
Read more | A guide to Scotland's islands | Things to do on Mainland Orkney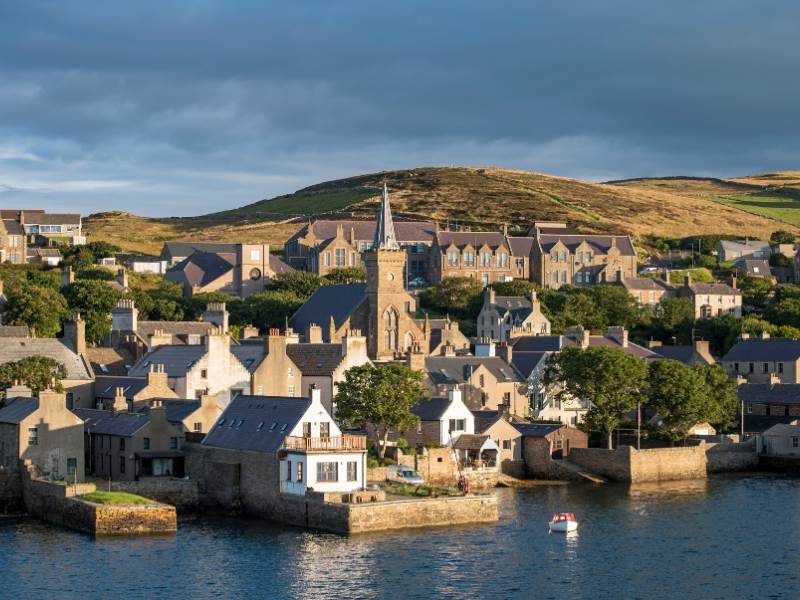 Related reading – Top 21 landmarks to see in England!
8. Loch Ness and Castle Urquhart
Situated 21 km south of Inverness don't miss beautiful Loch Ness. Take a drive around the loch and stop off along the way to enjoy the spectacular scenery.
Castle Urquhart, once Scotland's largest castle stands on the banks of Loch Ness and is a must for any visitor.
Alternatively, why not take a cruise along the Loch?
Don't forget to keep an eye out for the most famous alleged resident of Loch Ness – Nessie!
Read more | Loch Ness cruise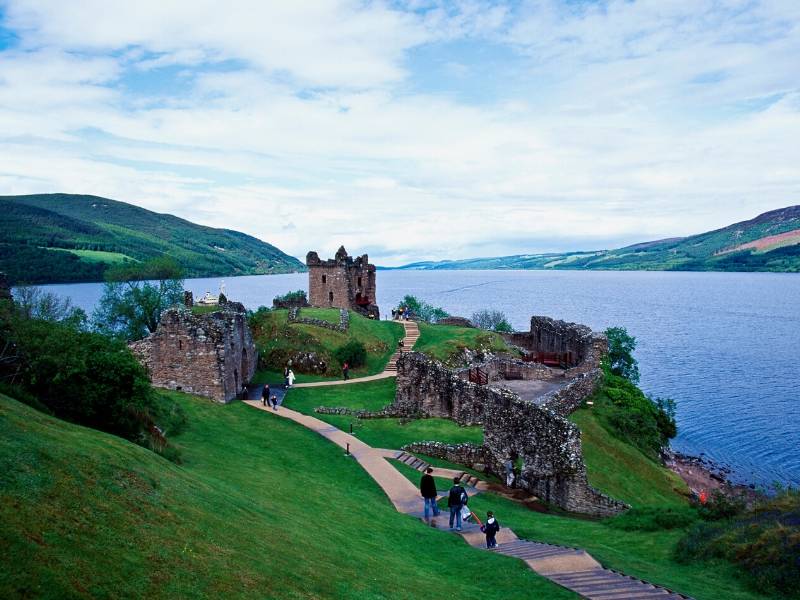 9. Loch Lomond and the Trossachs National Park
Located in southern Scotland Loch Lomond and The Trossachs National Park offer visitors a combination of stunning scenery and picturesque villages.
Loch Lomond is the largest inland stretch of water in Britain and inspired Sir Walter Scott's famous work "The Lady of the Lake" Take an unforgettable boat trip across the lake and enjoy the stunning views of the area often called the mini Highlands.
The Trossachs is the area east of Loch Lomond and west of Stirling and is the perfect destination for lovers of nature and outdoor activities.
Loch Lomond and The Trossachs are within easy reach of Edinburgh and Glasgow for a day trip by car, train, bus or even seaplane or alternatively choose from a selection of small group day tours from Rabbie's Tours or Get Your Guide.
Read more | Loch Lomond and The Trossachs National Park
10. Stirling Castle
Stirling Castle is one of Scotland's most famous castles. Associated with Mary Queen of Scots, William Wallace and Robert the Bruce the castle has played an important role in Scottish history and independence.
A great day out for kids too with lots of activities available to keep them busy (and learning) including dressing in period costumes and playing medieval instruments!
Head to the Unicorn Cafe for refreshments and a stunning view from the rooftop terrace.
Read more | 18 Scottish Castles to visit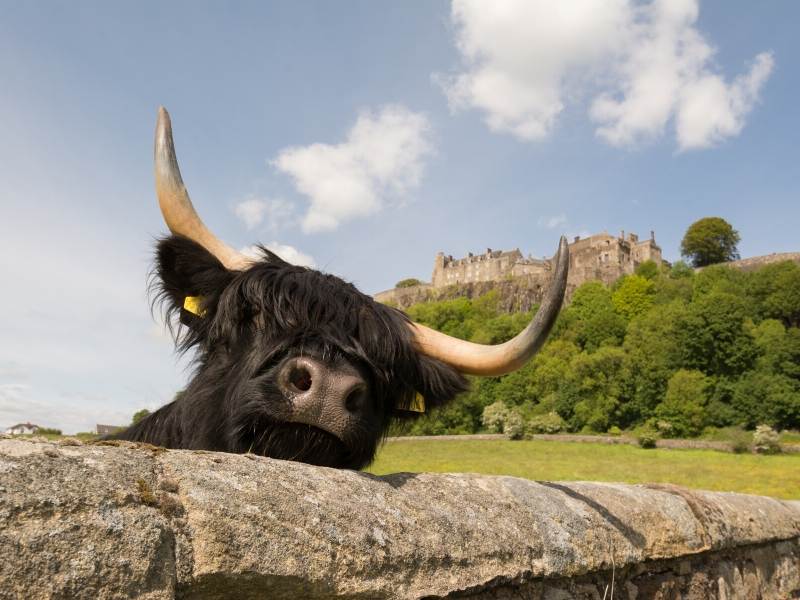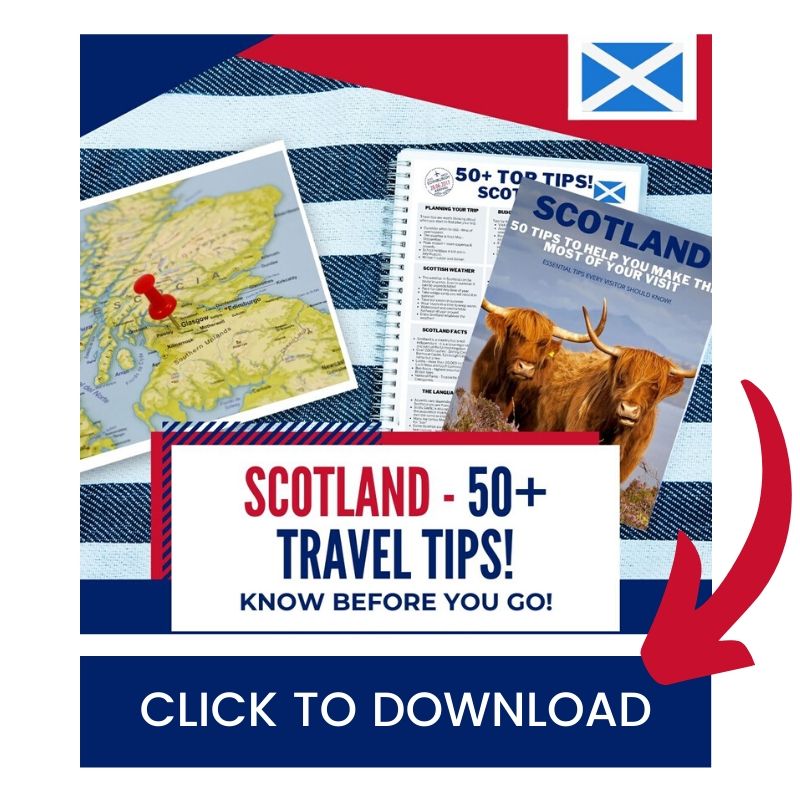 11. Glasgow
While Edinburgh may be the Scottish city on everyone's itinerary Glasgow (only 50 minutes away by train or an hour by car) is also worthy of consideration.
If you have an interest in architecture and culture you will find Glasgow has much to offer. The Scottish Opera, National Theatre of Scotland and Scottish Ballet are located in the city.
Architecture designed by Charles Rennie Mackintosh in the art nouveau style can be found across the city. Art Galleries and museums to investigate include the Kelvingrove Art Gallery and Museum and the Riverside Museum.
If street art is more your thing try this street art walking tour of Glasgow instead! You will find as you read this list that Glasgow is not the last of the cities to visit in Scotland either!
Read more | Glasgow Travel Guide | Glasgow Itinerary | Where to stay in Glasgow | Best day trip from Glasgow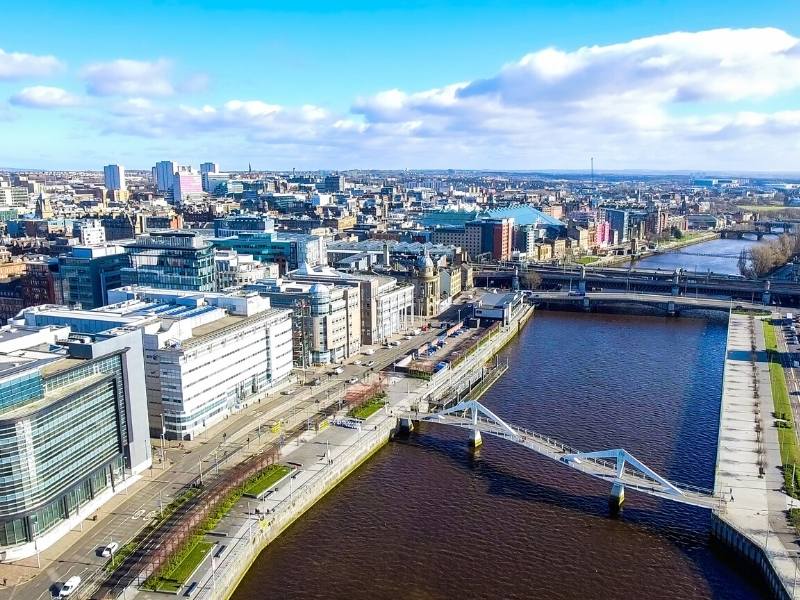 12. Scotland's islands
I have already mentioned the Orkney Islands and the Isle of Skye (which is part of the Inner Hebrides) but there are lots of beautiful islands (more than 790) in Scotland to visit.
The islands mainly consist of 4 groups – the Shetland Islands, the Orkney Islands and the Hebrides which is split into the Inner and Outer Hebrides.
The most popular islands for visitors are
Skye (Inner Hebrides)
Lewis and Harris (Outer Hebrides)
Stronsay (Orkney)
Islay (Inner Hebrides)
Iona (Inner Hebrides)
Mull (Inner Hebrides)
Read more | A guide to island hopping in Scotland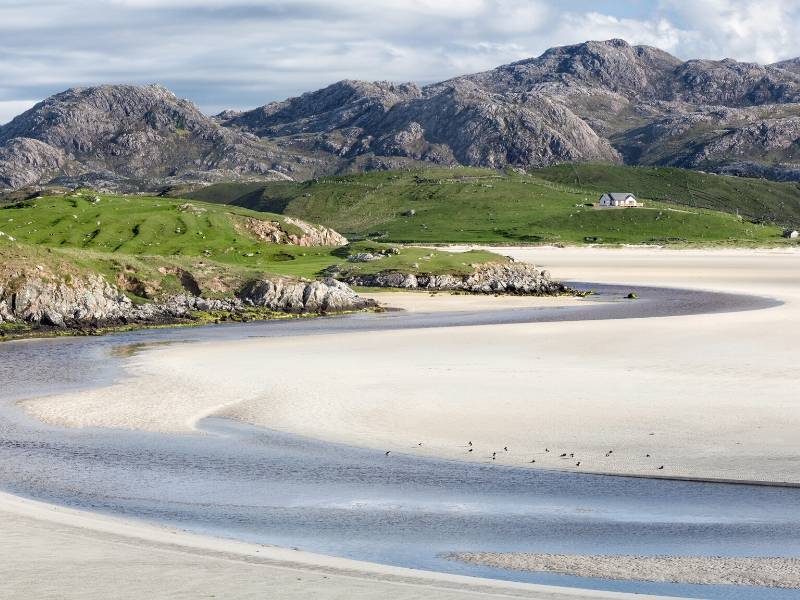 13. Drive the North Coast 500
There are many famous road trips to take in the world and Scotland is no different. If you want to tour the north Highlands the route to take is the NC500 or North Coast 500 which starts and ends at Inverness Castle.
The 516-mile route has been named one of the top coastal routes in the world though has prompted criticism from some due to the environmental impact.
Listen to our podcasts about Far North Scotland | Episode 10 | Episodes 35,36 and 42 with North Coast Explorer Tours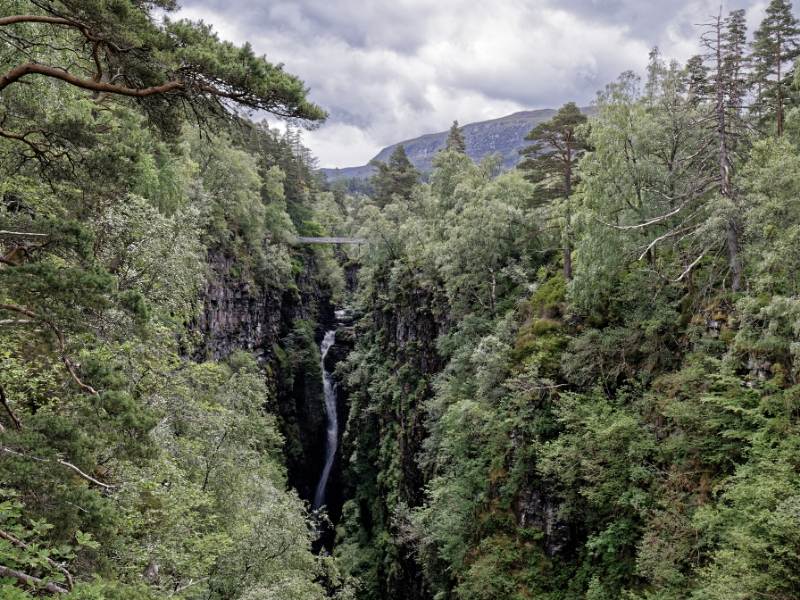 14. St Andrews
The home of golf, St Andrews is the favourite destination for golfers from around the world. With lots of golf courses to choose from including the famous Old Course at St Andrew's golfers really are spoilt for choice.
With beautiful architecture and a setting along the coast of Fife there is more to St Andrews than just golf!
Take a food tour, visit the St Andrews Museum or Castle or Cathedral. Go ghost hunting! Whatever you choose there is plenty to do and see at St Andrews even for those for whom golf is not a passion.
Read more | St Andrews Travel Guide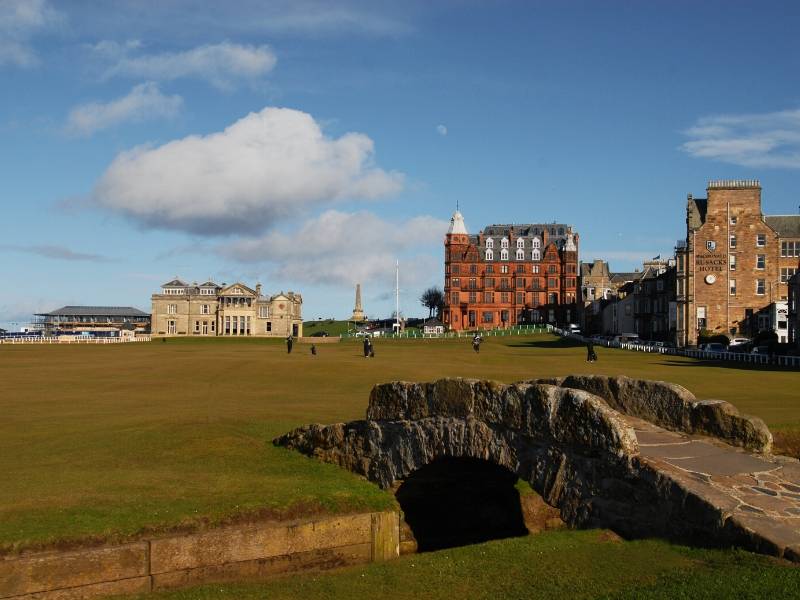 15. Cairngorms
Situated in northeast Scotland the Cairngorms National Park is the UK's largest.
Visitors can enjoy outdoor activities such as walking, cycling and water sports in stunning surroundings. Nature lovers can spot deer, squirrels and abundant birdlife.
Don't miss the Highland Games held throughout the summer months.
Read more | Things to do in the Cairngorms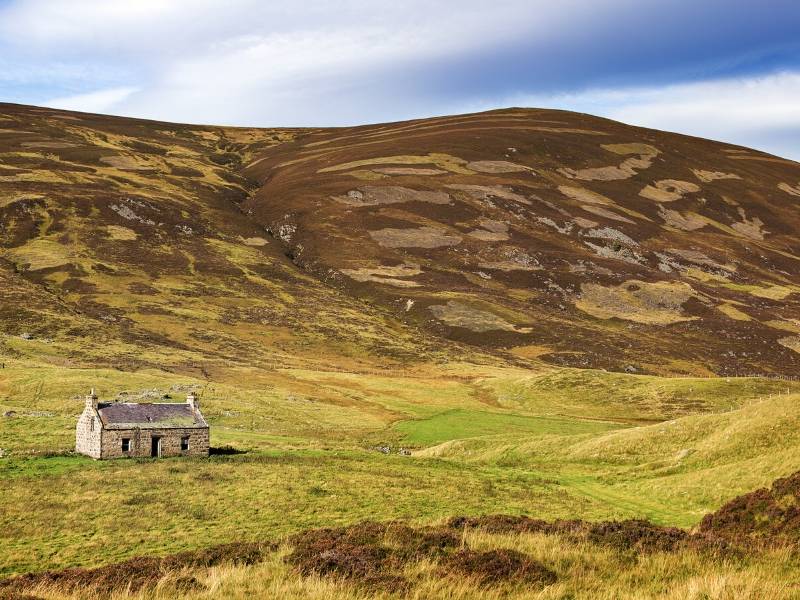 16. Aberdeen
The Granite City as Aberdeen is also known (due to the abundance of granite that is quarried locally) is located in the north east of Scotland and is the third most populated city.
With more castles per acre than even Northumberland in England Aberdeenshire is a must for castle lovers.
Follow Scotland's castle trail to discover 19 of the most impressive including Crathes Castle, Castle Fraser, Fyvie Castle and Braemar Castle.
Read more | A food and walking tour of Aberdeen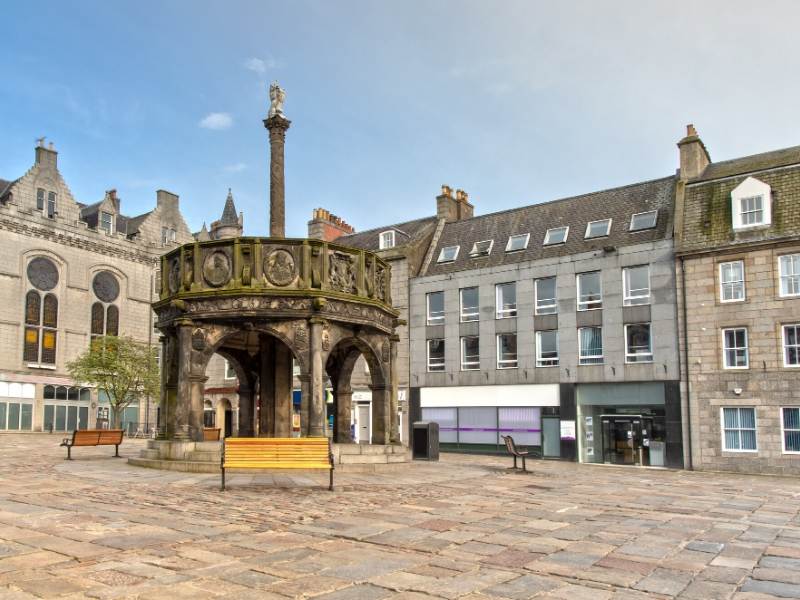 17. Balmoral Castle
Balmoral is one of the favourite residences of the Queen and has belonged to the Royal Family since 1852 when it was purchased by Queen Victoria's husband Prince Albert.
The gardens are open to the public between April and the end of July. In August the Queen arrives for her annual holidays (this is a good time to visit Buckingham Palace if you are in London) and the gardens are then shut to the public.
Read more | Visit Balmoral on a day trip from Aberdeen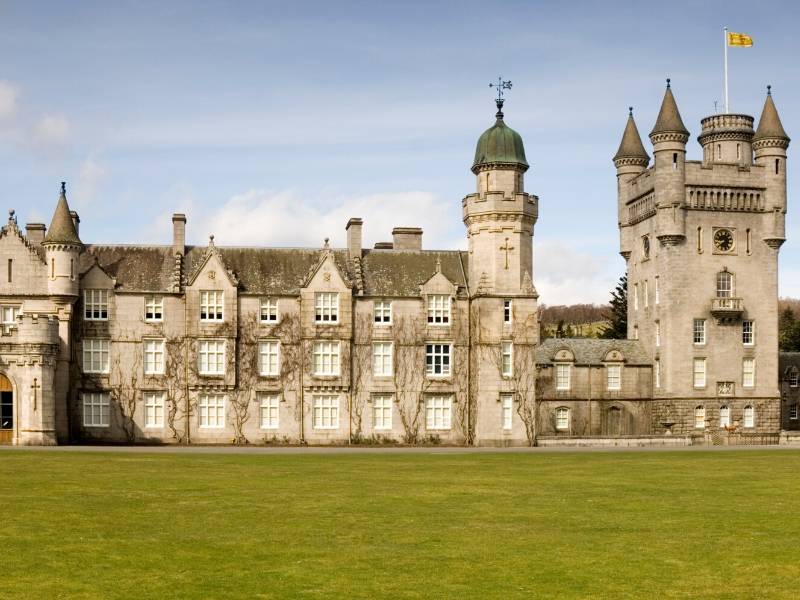 18. Pitlochry
Pitlochry is located in the heart of Scotland and is a popular holiday destination all year round.
Attend a Highland Night and enjoy an evening with traditional Scottish entertainment including dancing and a pipe band.
The evenings run from the end of May until the beginning of September every Monday.
Read more | Things to do in Pitlochry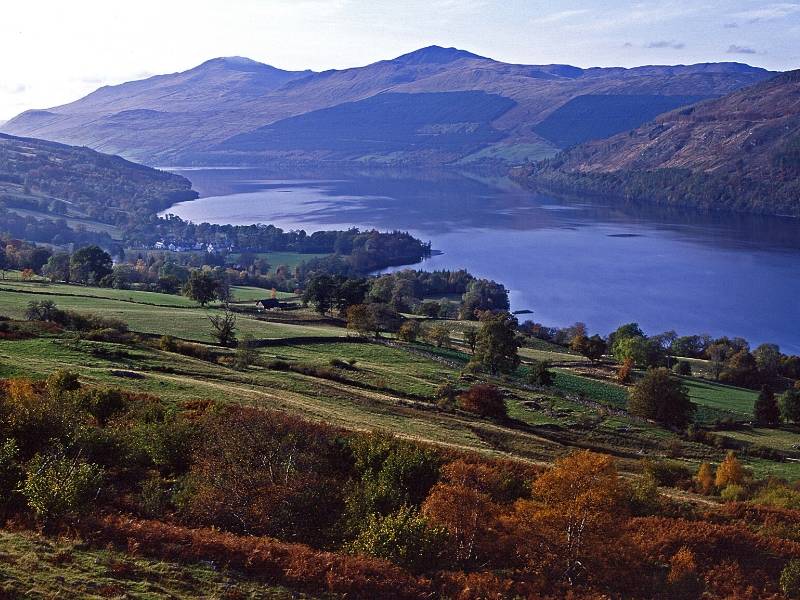 19. Glen Etive (Skyfall Drive)
If you have seen James Bond in Skyfall you will have seen the part of the movie when he drives to his childhood home in the Scottish Highlands.
That drive was filmed at Glen Etive near Glencoe and was one of the highlights of our recent trip (January 2020)
If you are planning a road trip through Scotland taking this drive is an easy add on (if you are heading up to Fort William/ Glenfinnan/Isle of Skye)
In fact we did the trip as part of a short 4-day visit to Scotland in winter. You can read our itinerary (coming soon) which also included a trip on the Caledonian Sleeper from London to Fort William.
Read more | Visiting Glencoe in the West Highlands
---
WHAT TO EAT/DRINK – Haggis, Potato cakes, Deep fried Mars bar, Neeps and tatties, Oat cakes, Porridge with salt, Irn Bru, Whisky.
PRINCIPLE TRAIN STATIONS – Edinburgh, Glasgow, Inverness
WHAT TO PACK – The weather can be unpredictable along the coast even in summer so always carry a waterproof jacket (and I recommend an umbrella) See my packing list
The currency in Scotland is £ (Pound Stirling) but there are Scottish versions of the notes. Although these are legal tender in the rest of the UK you rarely see them south of the border.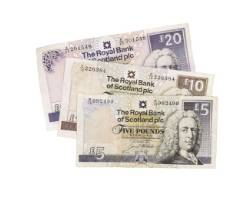 Planning your Scottish itinerary
FAQ's planning your visit to Scotland
When is the best time of year to visit Scotland?
Scotland is beautiful all year round. Temperatures really drop in winter and snow is not uncommon. Avoid Edinburgh in August unless you are visiting specifically for the festival.
Read more – Month by month guide to visiting the UK
What should I pack for Scotland?
This of course will depend at what time of year you decide to visit. I would always recommend a good pair of walking shoes or boots, a raincoat and if visiting in summer bug spray!
Read more – Seasonal packing lists for Scotland
Is it expensive to visit Scotland?

Scotland is not a cheap country to visit but you will find accommodation options to suit all budgets. I recommend booking ahead especially during peak tourist seasons.
Edinburgh is expensive as it is a popular destination year-round (avoid August and New Year's Eve if you are on a budget)
Read more – 15 top travel tips for visiting Scotland
I am sure you will have loads of ideas for your travels around Scotland after reading this post.
Once you have narrowed down the areas you want to visit and chosen the best things to do in Scotland to suit your interests and needs the next thing to do is start planning that itinerary!
Don't miss my accommodation guide for Scotland which includes some fabulous places to stay – including in a Scottish castle!
If you are planning a trip to other countries in the UK why not join my free UK and London Travel Planning Group on Facebook where you can chat to other travellers in various stages of the planning process too! It is a great place to ask questions and hear about others experiences.
Recommended Reading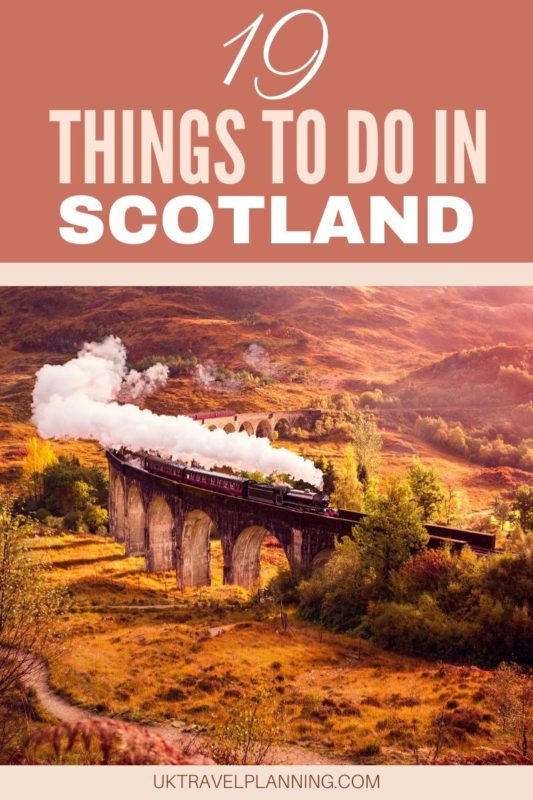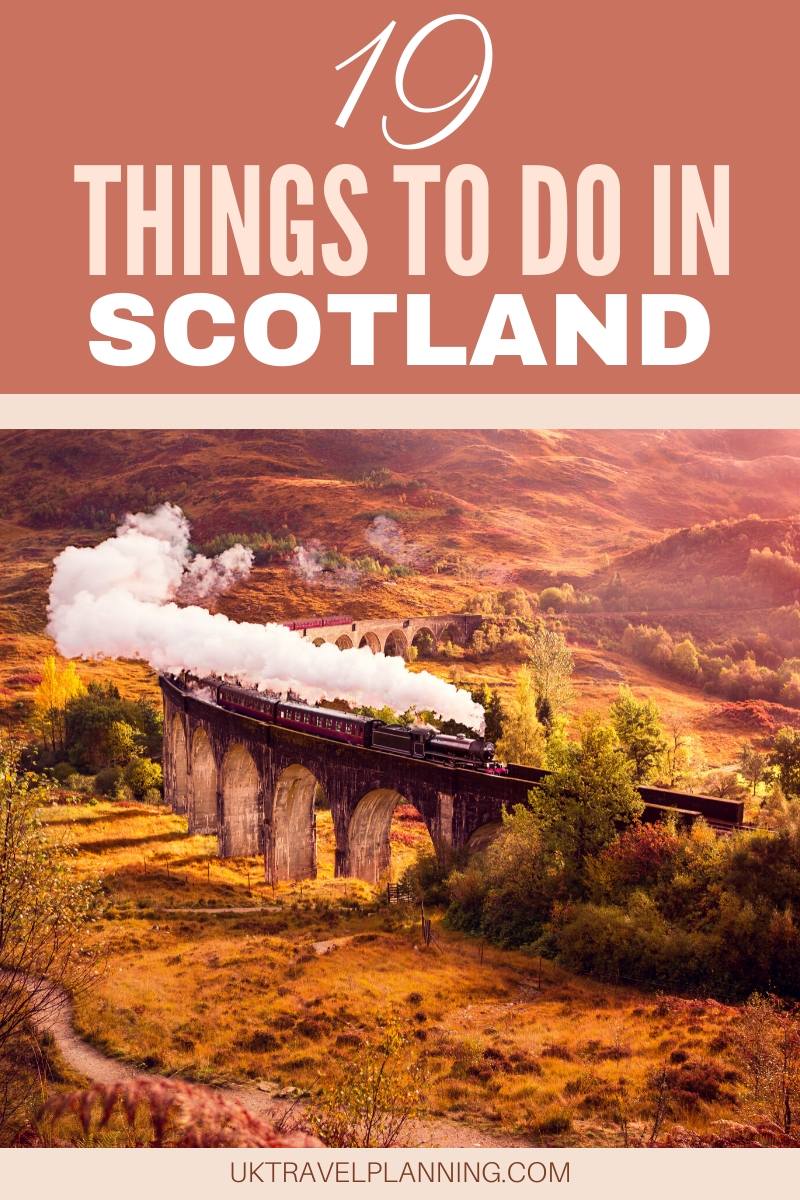 Find more inspiration for your travels in my Scotland Travel Guide which includes information about what to see, where to stay, how to get around, travel tips, recommended reading and more to make the most of your trip.