This post may contain affiliate links, which means we may receive a commission, at no extra cost to you, if you make a purchase through a link. Please see our full disclosure for further information. As an Amazon Associate, I earn from qualifying purchases.
When touring Britain, you simply must make time to escape the cities and visit The Cotswolds — a region in central southern England that has an assortment of picturesque medieval villages. It runs through Gloucestershire, Oxfordshire, Warwickshire, Wiltshire and Worcestershire.
The whole area — nearly 800 square miles — has been designated for conservation and deemed by the government to be an Area of Outstanding Natural Beauty (AONB).
These villages are so utterly charming, they look as though they've come to life right out of a storybook. Imagine weathered stone cottages nestled in the rolling green countryside. Stacked stone walls line narrow streets while sheep blithely graze in ancient English pastures.
The region is about 100 miles from London so renting a car will ensure that you're able to tour the best Cotswold villages. If you love walking, there are miles of footpaths to explore. If antiquing or sightseeing is more your cup of tea, there's plenty of that too.
There are dozens of villages, each with unique character and special attractions.This guide provides an introduction to 10 of the most beautiful and will provide inspiration for your Cotswolds itinerary.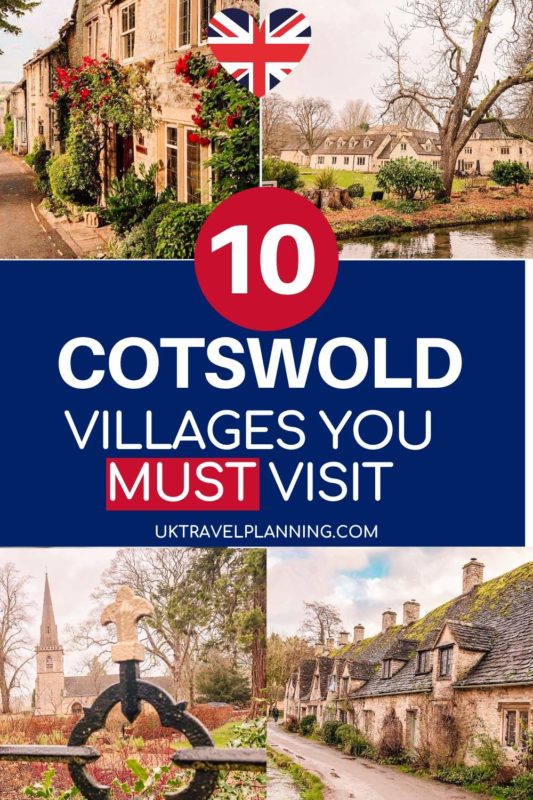 10 BEST VILLAGES IN THE COTSWOLDS YOU CAN'T MISS
1. Chipping Campden
When visiting the Cotswolds, consider making the lovely market town of Chipping Campden your home base. Not only is it one of the most beautiful Cotswold villages, it's centrally located by the region's northern border and is not far from several other villages.
As one of the larger towns, it offers a variety of accommodations that will suit any budget — cozy B&Bs, rustic inns or higher-end hotels.
In the Middle Ages, Chipping Campden was a thriving trading center patronized by wealthy wool merchants. A remnant of that life is Chipping Campden's Market Hall. It's a 15th century building erected in the center of town that protected merchants from the elements while they sold their wares. You can feel the history as you step on its cobbled floor and gaze up at the vaulted ceilings.
It's also the start or the finish of the Cotswold Way, an amazing walking trail covering 100 miles of scenic countryside and one of the best things to do in the Cotswolds. As you explore the town further, you'll want to take your time enjoying High Street, which is lined with wheat-colored houses and shops and boasts architecture from the 14th century up to the 17th century.
If you like historic churches, you're in luck — Chipping Campden has several to explore. They also have a variety of very good restaurants and cozy pubs to kick back and relax in.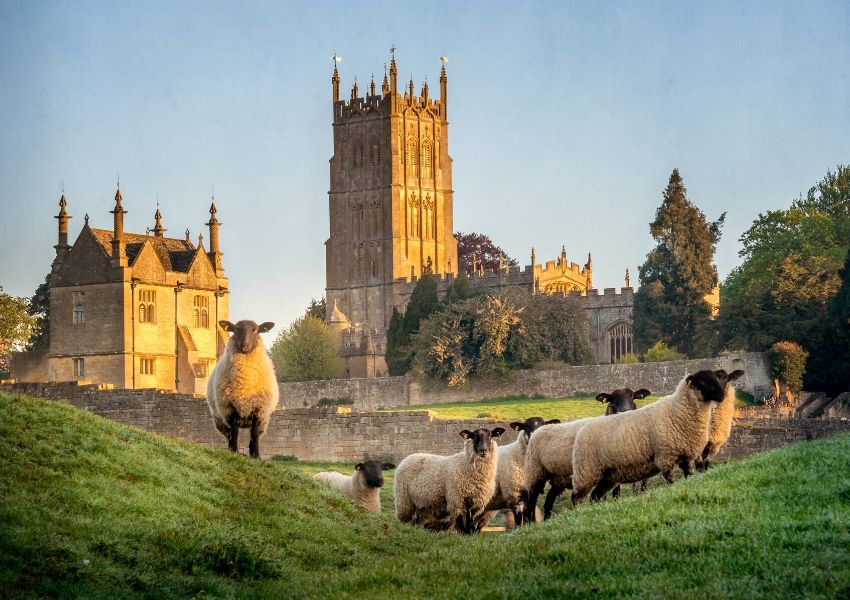 2. Stow-on-the-Wold
If you're traveling from Chipping Campden, it's about a 15-minute drive south through some especially lovely country to reach the village of Stow-on-the-Wold. It sits atop an 800-foot hill at the juncture of two mains roads.
This village, like many others, began life as a marketing town, and today it possesses all the elements tourists seek in a Cotswold dream — scenic beauty, narrow roadways, Cotswold stone buildings and a thriving market square.
You could spend hours browsing through the town's adorable shops or deciding which café is the right one for you. Stow-on-the-Wold's tea shops are also considered to be some of the finest in the Cotswolds.
This is a very popular area, especially on weekends, so to beat the crowds, an early arrival will work in your favor. The parking is free but it's at a premium, especially in the summer.
Don't miss St. Edward's Church. Built in medieval times, it looks to be plucked right out of a fairytale. If walk around to the back, you'll see its rather magical looking west door, flanked on either side by gnarled and thick-leaved trees. The word is that literary giant J.R.R. Tolkien himself drew inspiration from these very doors when he created The Fellowship of the Ring's Doors of Durin.
If you'd prefer a dose of non-fiction, have a peek at the Cotswold Cricket Museum on Sheep Street. For cricket enthusiasts or cricket novices, there's a lot of very interesting history there to learn.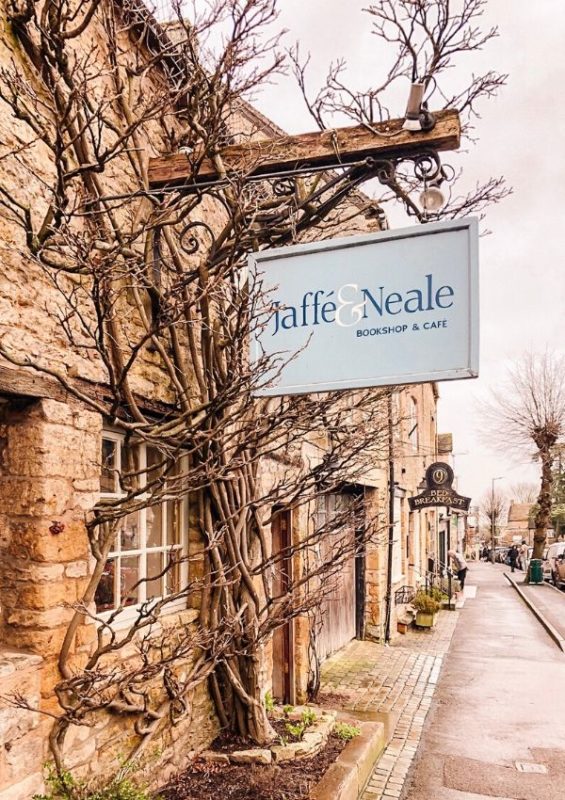 3. Bibury
The village of Bibury hasn't changed in years and that's what people love about it. It's quaint and picturesque, and as you admire the weathered stone cottages or stroll by the swans swimming in the River Coin, it's easy to imagine living there hundreds of years ago.
Arlington Row is a must-see collection of cottages in Bibury that were built in 1380 as monastic wool storage houses. Later, in the 17th century, they were converted into weavers' cottages. Today they look much as they did back then, making Bibury unquestionably one of the prettiest Cotswold villages.
Arlington Row is one of the most photographed places in the United Kingdom. The best time to visit is either early in the day or later in the afternoon when the crowds will be at their lightest. Parking is at an absolute premium during the busy season.
There are a few places to eat in town and some shops that sell souvenirs, but the majority of your time in Bibury will be spent appreciating its tranquility and beauty.
The Bibury Trout Farm is nearby. It is an ideal stop if you have little children who will enjoy feeding the fish. They have a café open during the summer months which is a pleasant and scenic place to have lunch.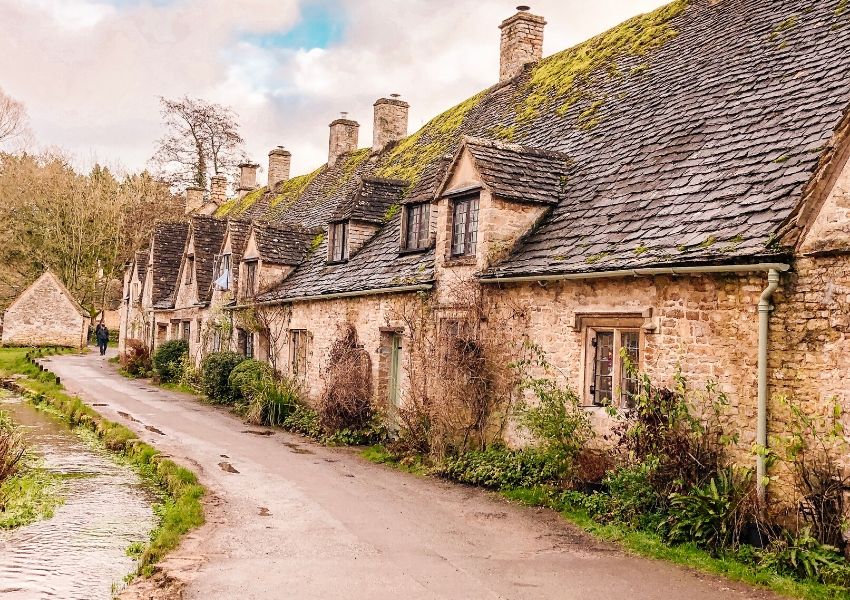 4. Bourton-on-the-Water
The Windrush River flows right through the middle of Bourton-on-the-Water — one of the most picturesque Cotswold villages. Its river is clear and shallow and enclosed on either side by low stone walls.
Weeping willows sway at its banks, and the most difficult choice you'll have to make while visiting this little slice of heaven is which weather-beaten stone bridge is the most photogenic.
Strolling along the banks, you'll understand why they call this village the Venice of the Cotwolds. Be careful — you may get so engrossed by watching the ducks swim lazily by, you could forget all about the town's specialty shops, restaurants and tea rooms. All are housed in picture-perfect buildings set back from the river.
If you're a fan of vintage cars or toys from days gone by, you'll want to stop at the Cotswold Motoring Museum.
If you're an architecture buff, there's The Model Village, which is a 1/9th scale replica of the Bourton-on-the-Water as it was in the 1930s. The miniature engineering that went into this exhibit is really something to see, as is the level of detail.
For something really different, try the Birdland Park and Gardens. They have nine acres of woodlands and gardens with over 500 types of birds including flamingos, owls and penguins.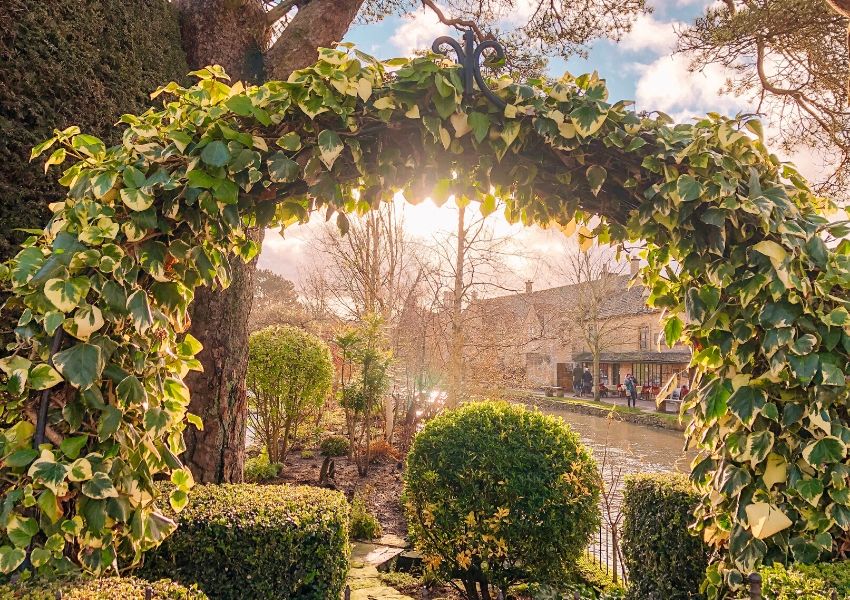 5. The Slaughters
In spite of their slightly gruesome names, the villages of Upper and Lower Slaughter are neck and neck in terms of which one should win the prettiest Cotswold Villages contest.
At first glance, both may seem familiar, as they've been photographed and painted ad infinitum. Forgive their name, it comes from the Old English "slough" which means miry or muddy place—understandable given their proximity to the River Eye, a tributary of the Windrush.
When visiting both places, the best trick is to park in Lower Slaughter. This charming hamlet dates back to the middle ages, and even appears in the Domesday Book as the settlement Scolstre.
As you explore, you'll find romantic stone cottages decorated with flowers and walking paths shaded by trees. Wandering leisurely around the town will make you feel that you've left this world and gone to where Mr. and Mrs. Prince Charming are enjoying their happily ever after.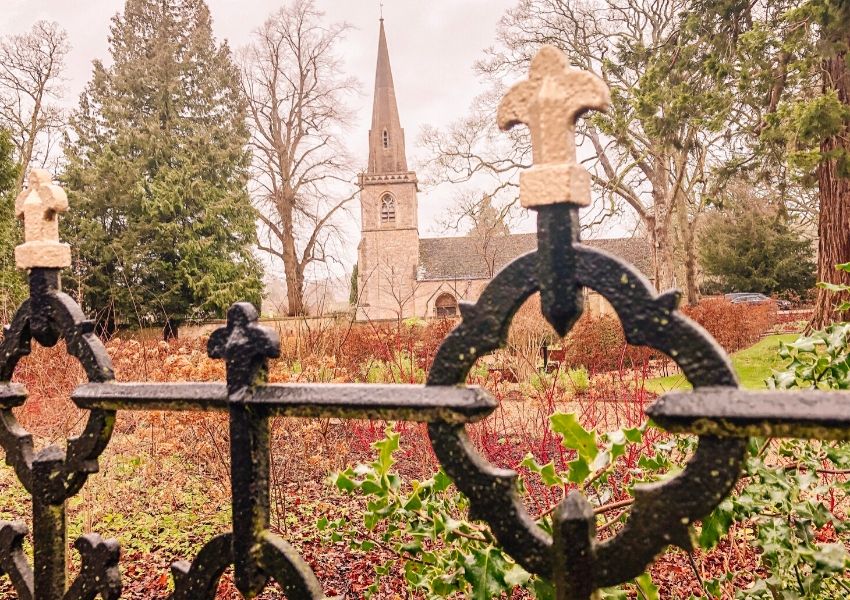 One notable attraction is the Parish Church of St. Mary. It's a lovely old stone church with a historic cemetery. Also, the Old Mill Museum and Café is worth a visit just to see the old paddle wheel out back.
From Lower Slaughter, it's only a 15-minute walk to Upper Slaughter. You'll find more charming cottages and picturesque settings to enjoy.
During the summer months, you'll want to check out The Upper Slaughter Manor, an Elizabethan manor house with lovely lawns and gardens. Before going, be sure to check the website of the UK's Historic Houses Association for more information about their tour schedule.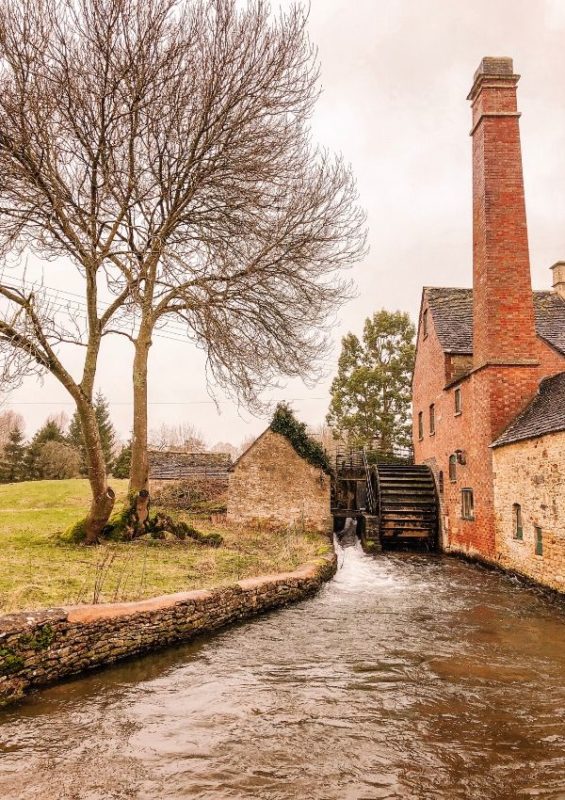 ---
PLANNING A UK TRIP?
—-> Join my UK and London travel planning group on Facebook for more tips, inspiration and help from other travelers planning future travel to London and the UK.
---
6. Castle Combe
Even though the castle in Castle Combe vanished years ago, it is surely one of the best Cotswold villages to visit. Yet another contender for the most beautiful village, it has retained its rural and picturesque charm in spite of the tourists who flock there.
Tucked in between lush green hills, it is situated on the edge of the Bybrook River. Its history goes all the way back to when it was a fort occupied by the Romans. The Normans followed later and built their own castle.
In the Middle Ages, Castle Combe became a town of wool merchants, spinners and weavers. Today, there are two streets of charm-laden weavers' cottages with a few pubs and churches sprinkled in. A visit to this village is for anyone who likes to bask in natural beauty while appreciating the richness of English history.
Make sure you see the market cross in the town center where the three main streets converge. It has been there since the 14th century and was formerly used for any and all town business. If you're lucky, there will be local cake sellers that have set up tables to tempt you with some delicious freshly baked treats.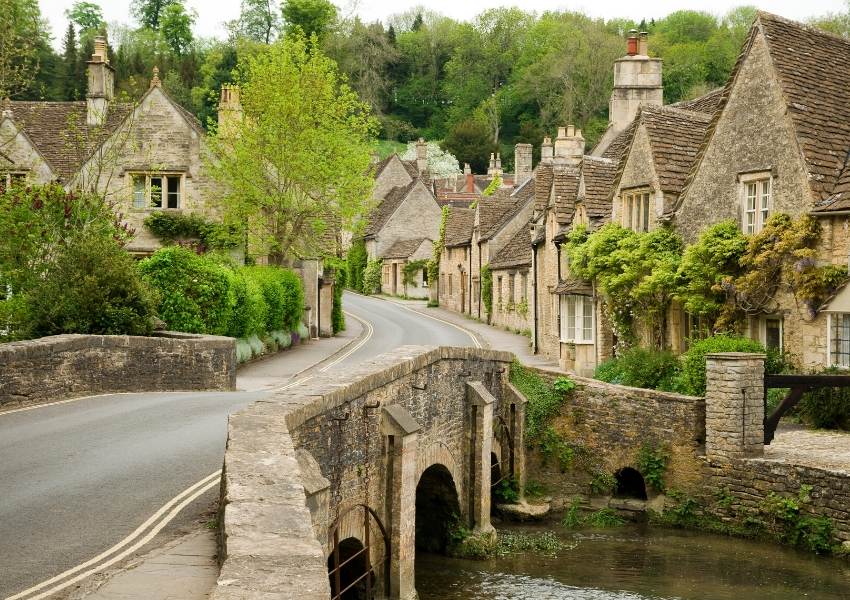 7. Burford
Known as the Gateway to the Cotswolds, the medieval village of Burford is the first of the Cotswold villages you reach when traveling from the east. It doesn't take long to appreciate its charms. The Windrush River winds its way through the hills and valleys of town, making it one of the most pretty Cotswold villages.
Burford is an excellent place to situate yourself because of its proximity to other villages and the many things to see and do there. For history buffs, the St. John Baptist Church dates back to the 12th century and has a churchyard dotted with weathered old gravestones.
The Tolsey Museum has been recently refurbished and is housed in a timber-framed Tudor market building originally used as a gathering place for the town's wool merchants. Inside you'll find a wonderful collection of English historical items and a lot of information about the area.
If antique shopping is what you're after from your trip to Burford, then you're in luck. There are plenty of shops offering a fascinating assortment of treasures.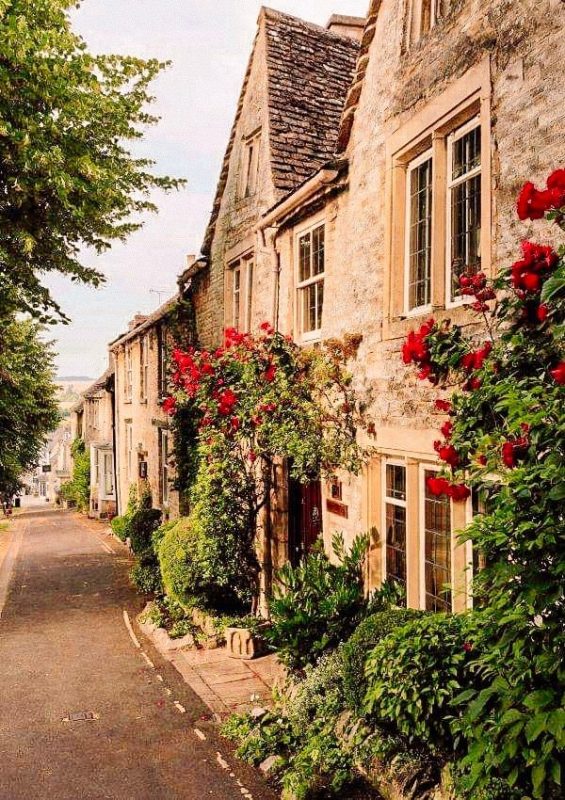 8. Broadway
Known as the Jewel of the Cotswolds, Broadway sits on a lovely piece of countryside at the bottom of Fish Hill—known as such because local monks had their fish ponds there. Today, it's a tidy little town with lines of neat stone cottages and period houses in a setting of unparalleled beauty.
Like many other 16th century towns, Broadway was born largely out of the success of the wool trade. Its name comes from its particularly wide main road or "broad way" that ran through town.
This town distinguishes itself from the other villages because of its long association with the art world. Artists like John Singer Sargent and Francis Millet are just two famous names once captivated by the region's charms.
If you are an art lover, head on over to Broadway's Gordon Russell Design Museum. He was a renowned British cabinet maker, steeped in the Arts and Crafts traditions of making simple forms with excellent craftsmanship. The displays at the museum illuminate the evolution of furniture design throughout the 20th century.
If you'd rather go for a jaunt, a visit to the Broadway Tower is a must-do. As the second highest point in the Cotswolds, it is a castle-looking structure that served as a beacon when lit back in the late 1700s.
It is smack-dab in the middle of an open field and is a rather steep, two-mile climb from Broadway's town center. Once there, the view is simply spectacular.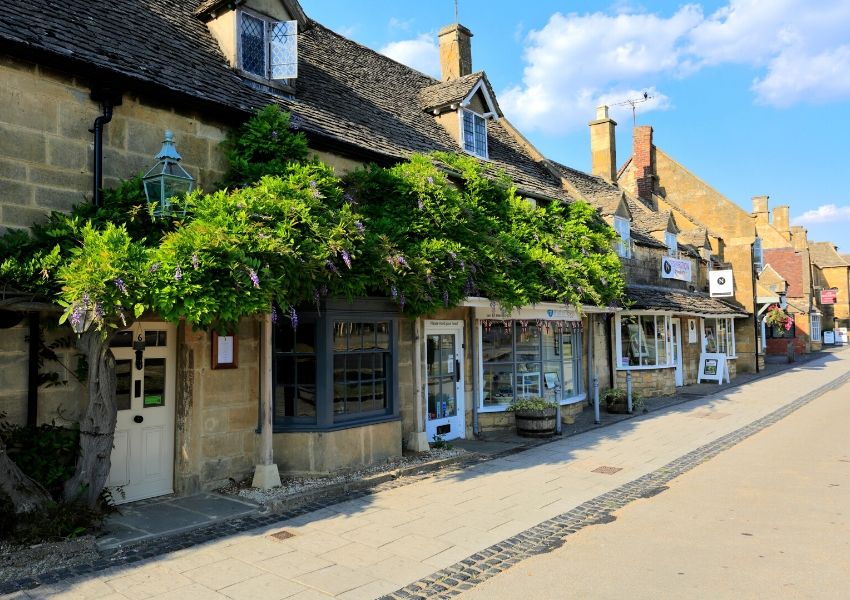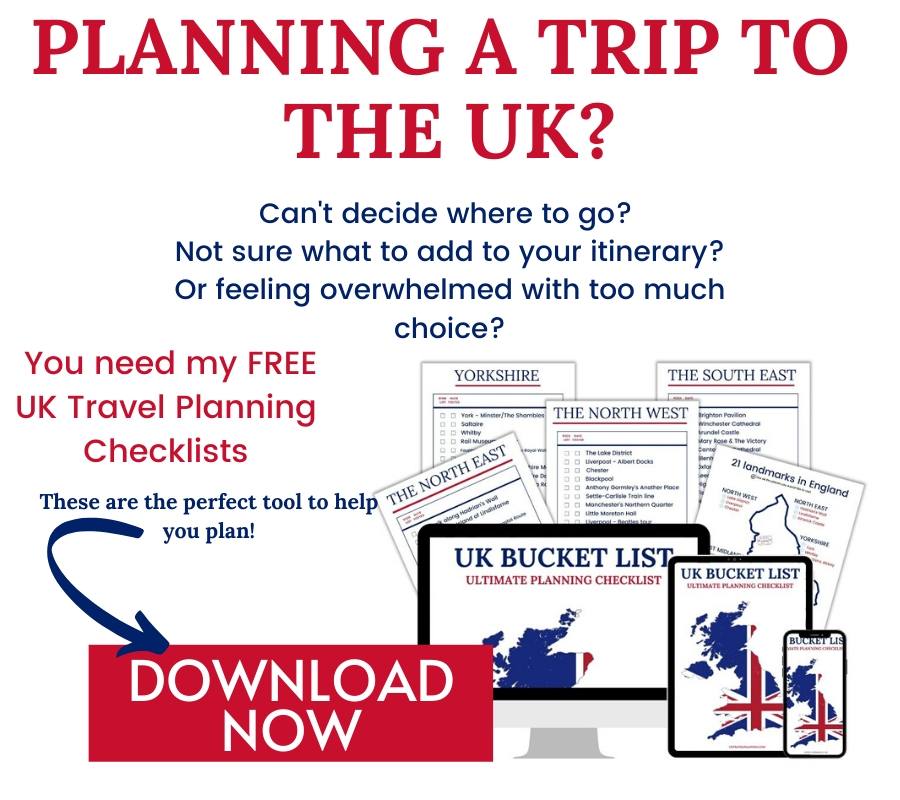 9. Lacock
When picking the best Cotswold villages to visit, Harry Potter fans simply must not leave out Lacock. Founded in 1232, Lacock is best explored by foot — check out the pubs, bakery and other quaint shops before you make it over to the Lacock Abbey.
Built on the foundations of a 13th century nunnery, this country house has undergone remarkable changes over the ages which are reflected in its architecture. You could easily spend a few hours admiring the grounds and studying the remarkable building.
But what excites muggles and wizards alike is that a particularly photogenic part of the Abbey was used as a Hogwarts hallway in two of the Harry Potter movies. See if you can recognize which part.
Lacock isn't all about the Abbey, however. The Fox Talbot Museum is there, which celebrates the photography of former resident William Henry Fox, known as a photography pioneer.
Lacock may also be familiar to fans of Downton Abbey due to its appearance in both series 5 and the recent movie.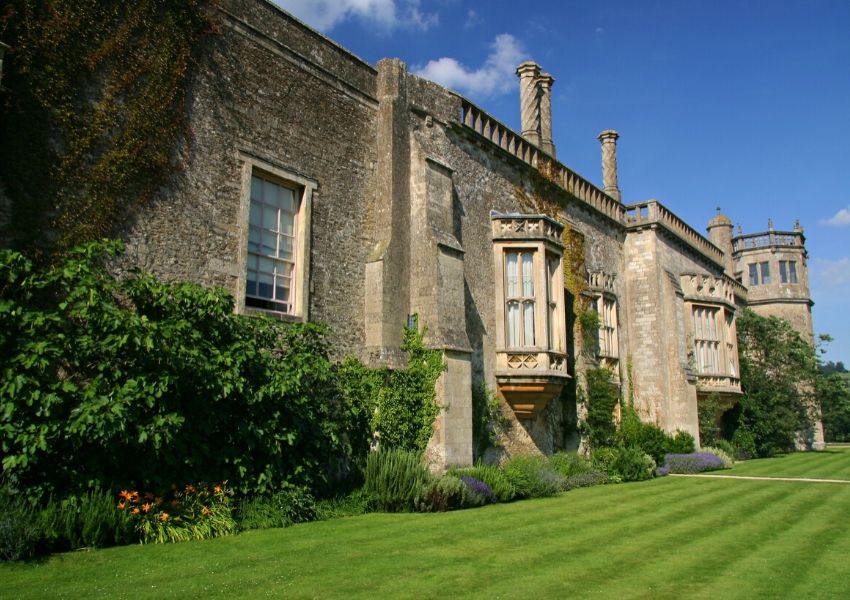 10. Painswick
Crowned with the title of The Queen of the Cotswolds, Painswick a town born from the wool trade. It is one of the best places to visit in the Cotswolds because its stone architecture and narrow streets have been so well preserved.
But Painswick's charms don't end with there. It's the proud owner of what has been called the grandest churchyard in England. St. Mary's 15th century church yard is peppered with the tombs of famous Englishmen from days gone by, but the real draw is the 99 perfectly sculpted topiary yew trees. They have been trimmed and shaped in a way that makes them look otherworldly, a symbol of man's triumph over the wildness of nature.
If the yew trees weren't enough to satisfy your inner naturalist, then you simply must visit the Rococo Gardens. Designed in the 1740s as a setting for English garden parties, it was restored in the 1980s.
Now it is the country's finest example of a true rococo garden—one that is fanciful and whimsical and a little over the top in its details and decoration. After you're done tackling the hedge maze, there's a café on the property to enjoy a nice cup of tea.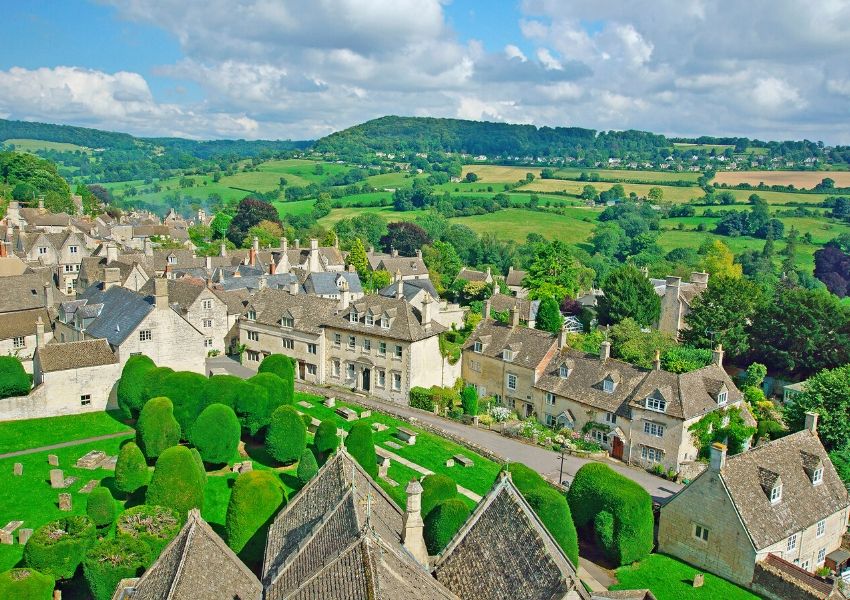 Top tips – What you need to know if you are planning to visit the Cotswolds!
These are my top tips for anyone planning to visit the Cotswolds!
Plan your itinerary before you go!
The Cotswolds is a popular area for visitors at every time of the year and can be incredibly busy. It is one of my choices in the top 21 landmarks to visit in England too!
Book your accommodation in advance
Once you have decided on your itinerary make sure to book accommodation to avoid disappointment. Also check that there is free parking near your accommodation. Parking can be tricky especially during the very busy summer months.
Why not book a cozy airbnb cottage in the Cotswolds? These 10 airbnb Cotswold cottages are my top picks.
Book your restaurant of choice ahead of time (and also check the hours food is served)
This applies even in January (we missed out on a table at our restaurant of choice as it was fully booked)
Parking can be difficult throughout the year
There are large car parks in some of the villages and towns but they can be very busy. Places like Bibury are difficult to park at even in winter so go early! Take change with you for parking machines and make sure you note the time you have before you need to return to the car.
Don't miss the opportunity to have a cream tea!
With lots of delightful tearooms to choose from don't miss the opportunity to partake of a cream tea. This is essentially a scone, jam and cream accompanied with a pot of tea! Delicious!
When is the best time to visit?
Read my seasonal and monthly guide to visiting the UK which includes information about events and activities.
Which of these beautiful Cotswold villages will feature in your itinerary?
I am sure you after reading this article you will probably want to see all of these beautiful Cotswold villages. It is certainly one of my favourite places to visit in England and I highly recommend booking accommodation in the Cotswolds and adding a few days into your itinerary to explore.
The Cotswolds are not easily navigated by public transport so I do recommend hiring a car. If this is not possible there are some excellent tours which will enable you to experience some of the beauty of the area.
I recommend taking a look at the following tours
Don't miss my Cotswold itinerary (based on our own 2 day visit to the area) coming soon. Also check out other things to do in South West England in my top 10 picks.
You can find out more to help plan your trip in my ultimate Cotswolds Travel Guide.
—-> Join my UK and London travel planning group on Facebook for more tips, inspiration and help from other travelers planning future travel to London and the UK.
RECOMMENDED READING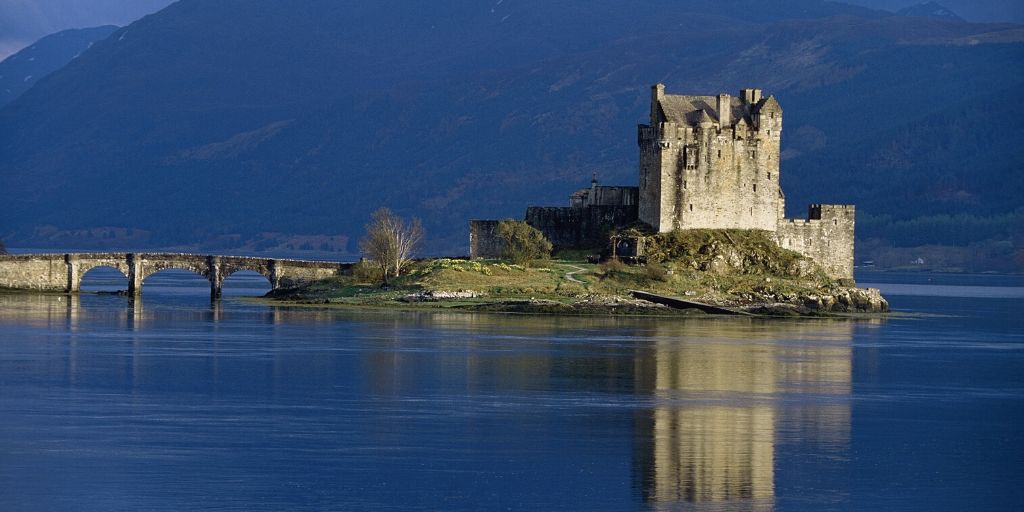 Find the perfect accommodation and special stay in this selection of the best Scottish castle rentals, hotels and airbnbs. Who…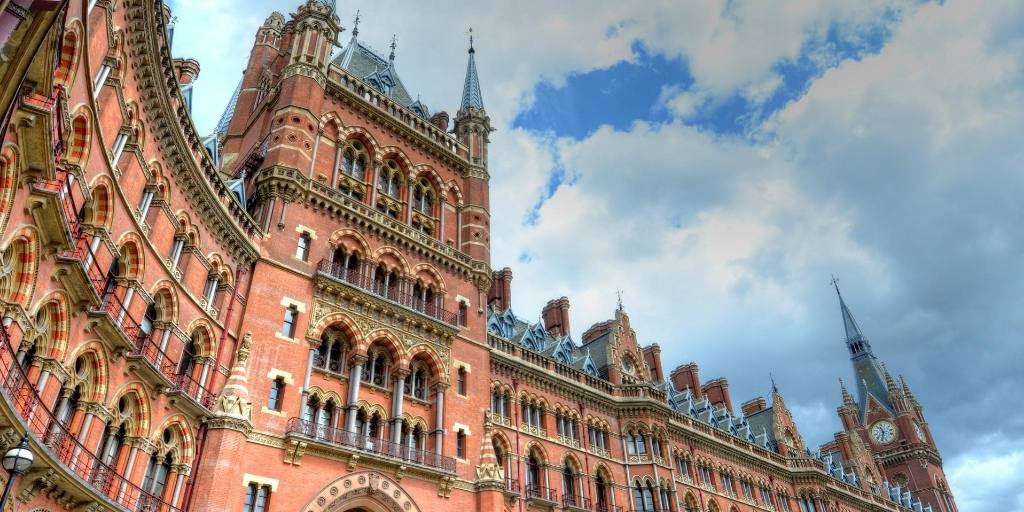 This post may contain affiliate links, which means we may receive a commission, at no extra cost to you, if…
Do you use Pinterest? Why not pin to your boards and share with friends and family who may be interested?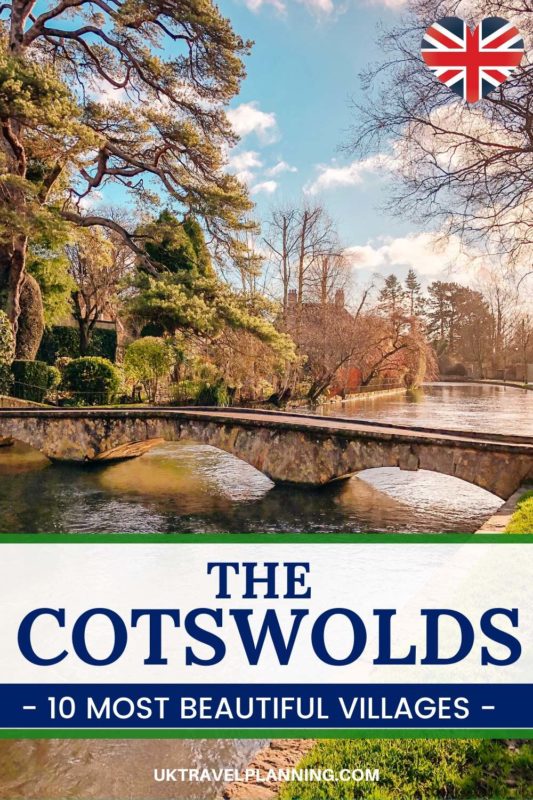 Find more inspiration for your travels in my England Travel Guide which includes information about what to see, where to stay, how to get around, travel tips, recommended reading and more to make the most of your trip.
This post may contain affiliate links, which means we may receive a commission, at no extra cost to you, if you make a purchase through a link. Please see our full disclosure for further information. As an Amazon Associate, I earn from qualifying purchases.