Our Aberdeen Travel Guide includes recommended places to visit and things to do, accommodation options, tips and more for the granite city. Everything you need to plan your visit and essential reading for any visitor to Aberdeen!
Aberdeen Travel Guide
Situated on the east side of northern Scotland, Aberdeen, also known as the Granite or the Silver City, is the third most populated city (after Glasgow and Edinburgh) in Scotland.
Both nicknames stem from the granite stone used for many buildings that sparkle when the mica in the stone catches the sun. The port city is also where rivers Dee and Don meet the North Sea. Offshore is a petroleum industry that gives rise to a multi-national population within the city.
The city itself is well known for its long history, lovely period architecture, including the Victorian 19th century Marischal college, and also for its diverse cultural scene that embraces the Scottish culture and student-friendly vibrancy.
There is a cross-section of activities for everyone including art galleries, museums, scenic parks, golf courses and even castles and distilleries within easy reach of Aberdeen and Aberdeenshire.
The name of Aberdeen is also the inspiration for many places around the world with the same name after this city and is just 126 miles (203 km) from Edinburgh making it a wonderful location for visitors looking for something more than Edinburgh or Glasgow as a destination
Aberdeen Travel Guide – Plan your visit to Aberdeen: FAQs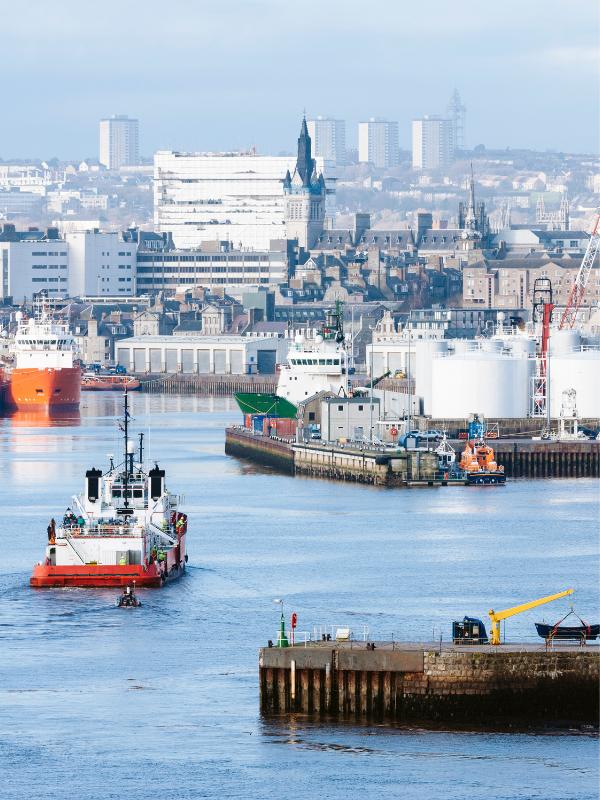 When is the best time of year to visit Aberdeen?
Being a North Sea port, Aberdeen is well known for the harsh wind and driving rain it can experience, mostly harshly felt in winter months, so suitable inclement weather clothing is definitely recommended. That said, the Scots are a hardy people and all year-round events can be found within the city and the surrounding areas.
The mildest temperature months are between May and September, also the days with the most daylight hours during the British Summer time, when the weather is generally warmer and drier.
What is the weather like in Aberdeen?
Aberdeen has a temperate maritime climate with mild winters and cooler summers but maximum and minimal averages fluctuate yearly. The current average daytime temperature in summer is around 21°C (70 F), while in winter it can drop to around 0°C (32 F) and rise to about 16°C .
Aberdeen hosts a wide variety of popular events and festivals throughout the year including
Aberdeen Jazz Festival (March)
Aberdeen Highland Games (Hazlehead Park)(June)
Nuart Aberdeen (award-winning street art festival)(June)
Aberdeen International Youth Festival (July)
Aberdeen Restaurant Week (August)
Aberdeenshire 5 day Open Golf competition
Old Aberdeen Whisky Festival (September)
Cultural Festival (September)
Christmas Village (December)
What is the best way to explore Aberdeen?
Most of the city's attractions are close to each other so the city is easily explored on foot.
Taxis and buses are also available for use in the city and surrounding areas.
Operated by Stagecoach in the area, multiple routes are available around Aberdeen and Aberdeenshire. Click this link for journey planning and ticket options.
How to travel to Aberdeen from London
By train
The train station is close to the city centre and hotels. The main train line links Aberdeen with Edinburgh and Inverness, with access to Leuchars (for St Andrews golf), Dundee, Perth, Stirling and Glasgow around 2 hours 30 mins away.
The Highlander Caledonian Sleeper also operates between London Euston railway station (9pm Sun to Fri) and Aberdeen (07:40 am arrive). Room, set and berth options are available.
Approx time and adult single ticket costs (at 31/08/23)
Edinburgh – Anytime ticket £43.10, takes 2h20 direct service.
Inverness – Off-Peak ticket £27.60, takes 2h15 direct service.
Stirling – Anytime ticket £40.30, takes 2h direct service.
Perth – Anytime ticket £32.50, takes 1h30 direct service.
Leuchars (for St Andrews) – Anytime ticket £29.90, takes 1h20 direct service.
Glasgow – To Queen Street – Anytime ticket £48.90, takes 2h30 direct service.
By car
Easily accessible by road with good road links from south, and Edinburgh or from the north, Inverness, or west from Stirling or Glasgow.
A car journey from Edinburgh would take approximately 2 hours and 30 minutes via the M90 and the A90 roads.
Three park-and-ride locations are also available depending on the direction of arrival towards the city.
Attractions and things to do in Aberdeen
Visit the Aberdeen Maritime Museum – Situated on the famous Shiprow in the harbour area. Discover the city's long and rich maritime history.
Aberdeen Art Gallery – Recently refurbished arts and culture museum with nationally and internationally renowned artists, including Francis Bacon, Claude Monet and many more.
Explore the beautiful Duthie Park on the south side of the city – includes stunning gardens, including David Welch Winter Gardens and a large pond.
Aberdeen Golf – Aberdeen and surrounding areas, like all of Scotland, as the home of golf, boasts over 50 golf courses, including championship courses such as the Royal Aberdeen or Trump International or links courses such as the 1872 Kings Links course or the Royal Aberdeen or Murcar courses.
Have a look around the Gordon Highlanders Museum – A 200-year-old story of Scotland's most famous regiment from the Napoleonic wars to the present day.
View the impressive architecture of Marischal College – Founded in 1593, considered to be the second-largest granite building in the world.
Visit the architecturally stunning St. Machar's Cathedral – On the north side this cathedral is one of the oldest buildings in Aberdeen dating back to the 12th century.
Visit the impressive Cruickshank Botanic Garden on Old Aberdeen – Founded in 1898 in the grounds of King's College, it houses over 2,500 plant species.
..and much more in Aberdeen – including the stunning golden Aberdeen beaches and cliff-top walks in the area! Or the lovely cobbled streets of Old Aberdeen that demonstrate great architecture, classic old buildings and also Scotland's oldest bridge, Brig O'Balgownie.
Beyond Aberdeen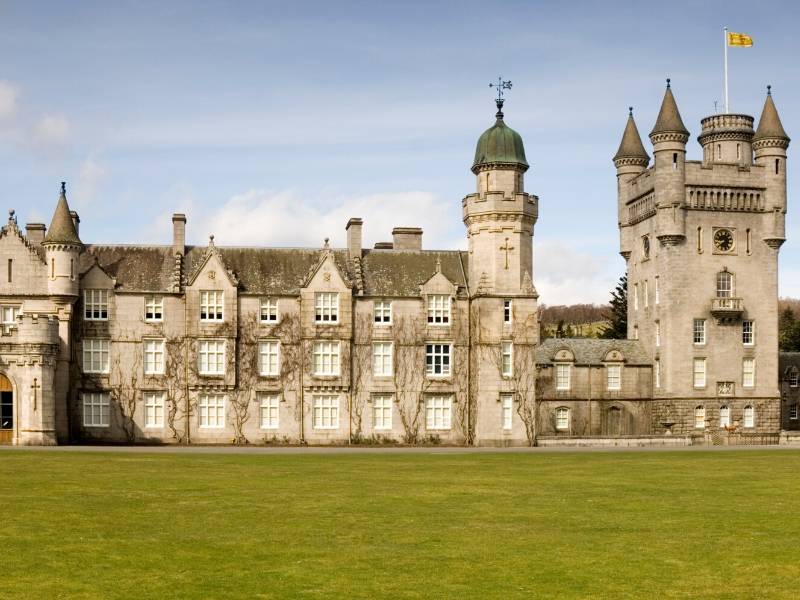 Take a visit or tour to Royal Deeside and visit the famous Balmoral Castle, the summer residence of the Royal Family (approx 1 hour from Aberdeen). Also nearby is the Royal Deeside Railway.
Explore the quirky Craigievar Castle – a pinkish-coloured fortified house completed in 1626 is a stunning possible inspiration for Disney's fairy castle. (Approx 45 mins from Aberdeen). (Closed until 2024).
Take a visually beautiful visit to the Cairngorms National Park – something for everyone all year round boasting stunning scenery and many outdoor activities. (Approx 50 mins from Aberdeen).
Enjoy your visit to Aberdeen
In addition to this Aberdeen Travel Guide, we have guides to other popular Scottish destinations.