Thinking of visiting the Kelpies? Find out about these magnificent sculptures of 2 horse heads located in Falkirk Scotland + practical information to plan your visit.
If you are planning a trip to Scotland a visit to see the world's largest equine sculptures – the Kelpies in Falkirk – is a popular attraction to add to your Scottish itinerary. They are an easy destination to reach from either Edinburgh or Glasgow which makes them the ideal day trip location from either city.
In this article we have included everything you need to know to plan your visit to The Kelpies including answers to frequently asked questions.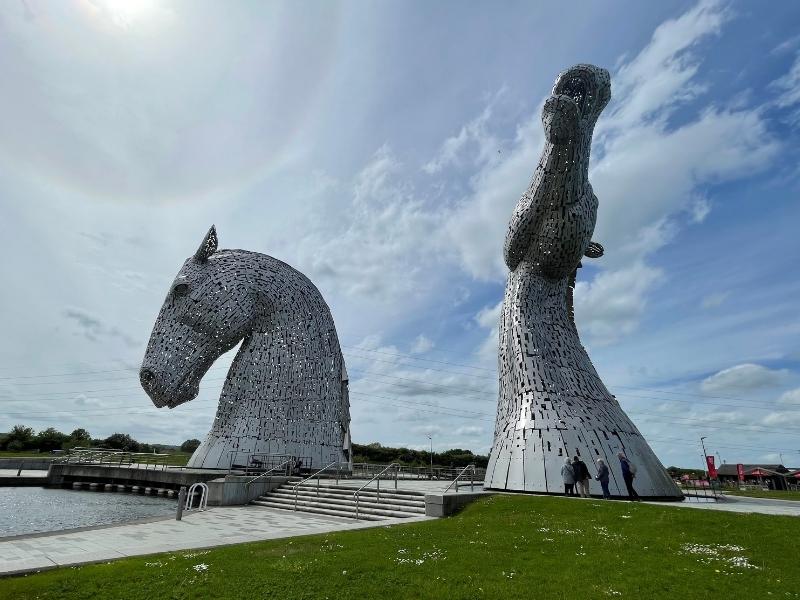 What are The Kelpies?
What are Kelpies?
Scottish legend has it that the Kelpies are shape-shifting water spirits who inhabit the lochs and waterways of Scotland. While they can appear in human form they are said to most often appear as horses.
The Kelpies are also a tribute to the working horses of Central Scotland. These hardworking horses ones worked transporting goods along the Scottish canals and waterways.
Who created The Kelpies sculptures?
The scuptures of these mythical water horses were created by artist Andy Scott who was born and grew up in Falkirk. Completed in October 2013 The Kelpies have become a popular attraction in Scotland.
How tall are they?
They stand at over 30 metres tall and weigh more than 600 tonnes.
They are constructed from stainless steel clad with weathering steel.
Incredibly each of these huge horses were created from more than 2 miles of individual metal plates that were cut and shaped by hand at workshops in Falkirk.
Do The Kelpies have names?
Yes! The sculptures were named modelled on (and named after) two working Clydesdale horses named Duke and Barron.
Where are The Kelpies located?
The Kelpies are located off the M9 in Falkirk – 19 miles from Edinburgh and 35 miles from Glasgow.
The Kelpies are found in Helix Park. This is a land transformation project aimed at improving connections between and around 16 communities in Falkirk.
Also in the area is the Falkirk Wheel which is a rotating boat lift which opened in 2002. It connects the Forth and Clyde Canal with the Union Canal.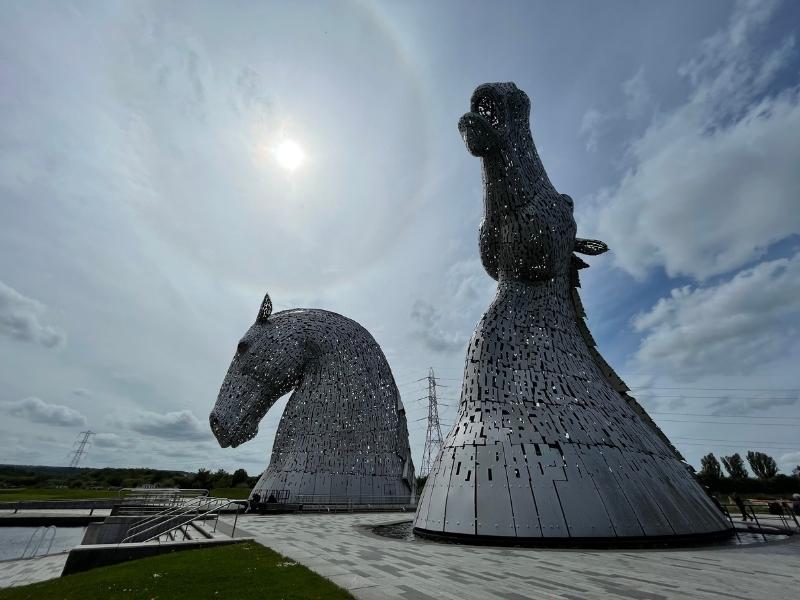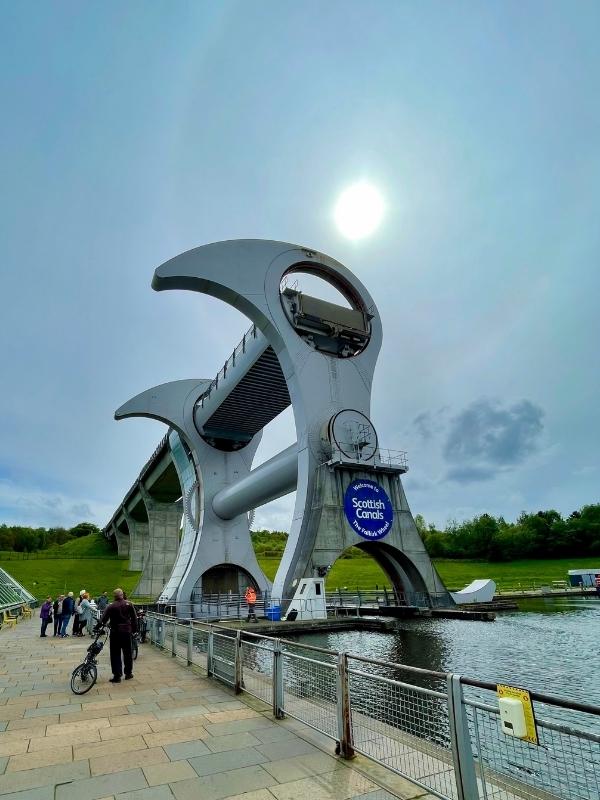 How to get to The Kelpies
Located about half way between Edinburgh and Glasgow there are excellent transport links and options via rail or road to get to The Kelpies.
By train from Edinburgh or Glasgow
Edinburgh Waverley to Falkirk High Station – approximately 25 minutes.
Glasgow Queen Street to Falkirk High Station – approximately 20 minutes.
Once alighting at Falkirk High train station you have a number of options.
Bus – Take the number 2 bus for Bo'ness at Slammanan Road. Jump off on Falkirk Road opposite Falkirk Stadium. iIt is then a 20 minute walk to The Kelpies.
2. Call an Uber or taxi.
By car
From Edinburgh take the M9 towards Stirling and exit at Junction 5 signposted Falkirk.
From Glasgow take the M80 towards Stirling and exit at Junction 5 on M876. You will see signs for Falkirk.
Parking – The Kelpies car park is located near the Visitor Centre. Charges apply but be aware that it does get very busy especially during holidays and warmer days.
By tour from Edinburgh of Glasgow
There are a number of tours available from Edinburgh and Glasgow to the Kelpies. Most tours also incorporate other popular destinations.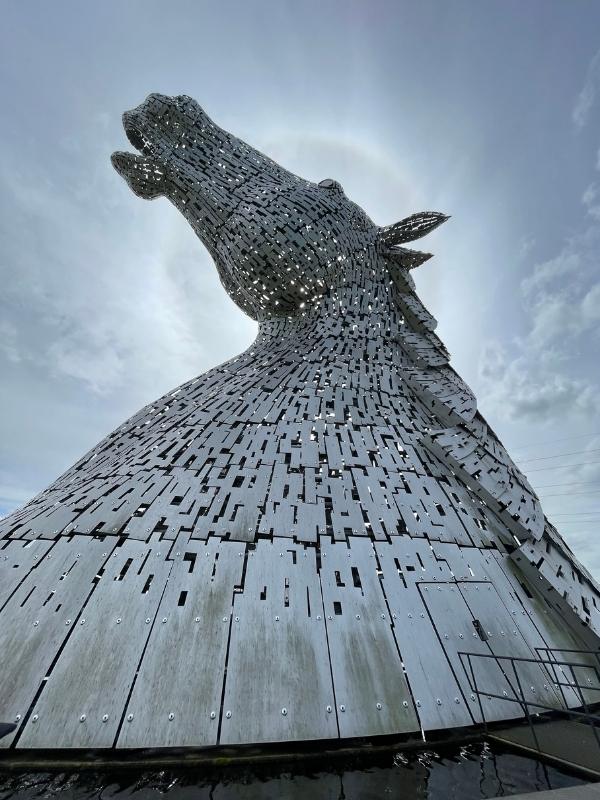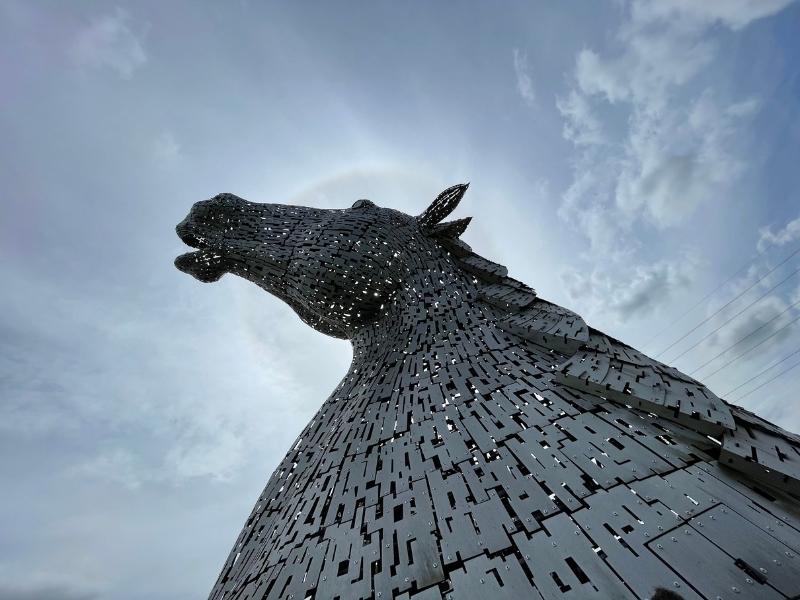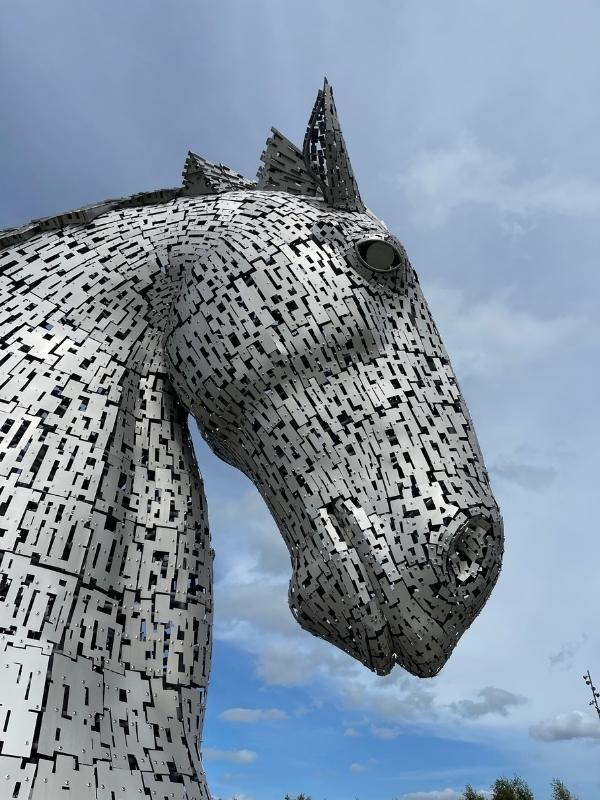 FAQ's about visiting The Kelpies
Do you have to book to see The Kelpies?
No they are located in a freely accessible area and can be visited at any time day or night.
How much does it cost to visit The Kelpies?
The Kelpies are free to visit though there is a small charge if you wish to take the tour.
Can I join a guided tour of The Kelpies?
Yes, there is a 25 minute guided walking tour available which includes the opportunity to stand inside the sculptures. The Kelpies tour start at the Visitor Centre with bookable times at 11:00, 11:30, 13:30 and 14:30.
There is a small charge for the tour.
Is there a Visitor Centre at Helix Park?
Yes the Visitor Centre is located in Helix Park near the Kelpies and is open 7 days a week from 9.30 am to 5.00 pm.
There is a gift shop and restaurant on-site so you can pick up souvenirs or have a cuppa. Tours are also booked at the visitor centre.
There is also the Plaza Cafe which is located at the Helix Lagoon. It is open from April to October. An adventure play park near the Plaza Café is a great place for kids to have a run around.
Can you see The Kelpies from the road?
Yes you can see The Kelpies when driving along the M9 motorway.
What time do the lights go on at The Kelpies?
The Kelpies are a magnificent sight at night. Lights go on as soon as it gets dark (which is from 4pm in the winter months)
What accommodation options are there near The Kelpies?
The Kelpies look even more spectacular lit up at night so why not book accommodation nearby so you can relax and enjoy your visit? You will find lots of ideas in my Scotland Accommodation Guide.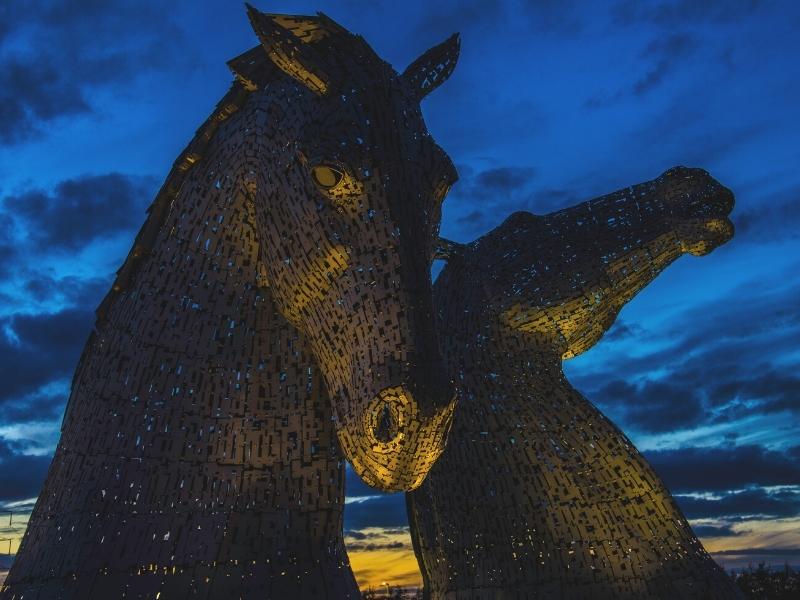 Enjoy your visit to the Kelpies (+ more to see and do in Scotland)
We have lots more resources included in our Scotland Travel Guide to help you plan your trip: