If you want to learn more about Scotland's castles (perhaps to help decide which add to your Scotland travel itinerary) you will find all the information you need in this article. Discover 18 of the best castles in Scotland – where they are located, a short history of each castle plus tips to plan your visit.
No trip to Scotland would be complete without visiting a castle (or two or three) With so many Scottish castles the difficulty isn't finding a castle to explore the problem comes when deciding WHICH ones to visit!
This guide will help you solve this tricky but pleasant problem. Follow me as we take a meander through 18 of the best castles in Scotland learning a little of their history as well as some practical tips and advice for visiting.
At the end of the article you will find a useful map that indicates the locations of these fairytale Scottish castles and links to articles to help you to plan the logistics of your trip.
Interested in visiting Scotland's castles? This 4-day Scottish castles experience tour from award-winning company Rabbies you travel over sea, loch, and glen to visit Scotland's most impressive castles, tower forts, and palaces. Click here for more information about the Scottish castles tour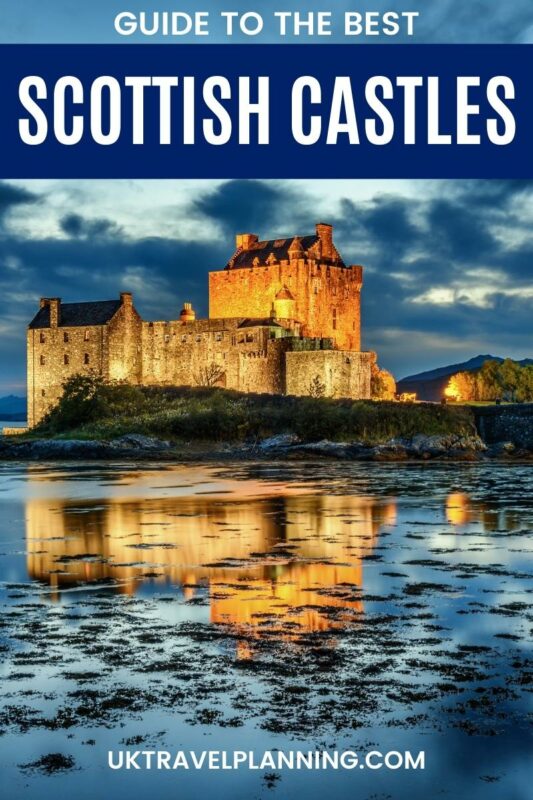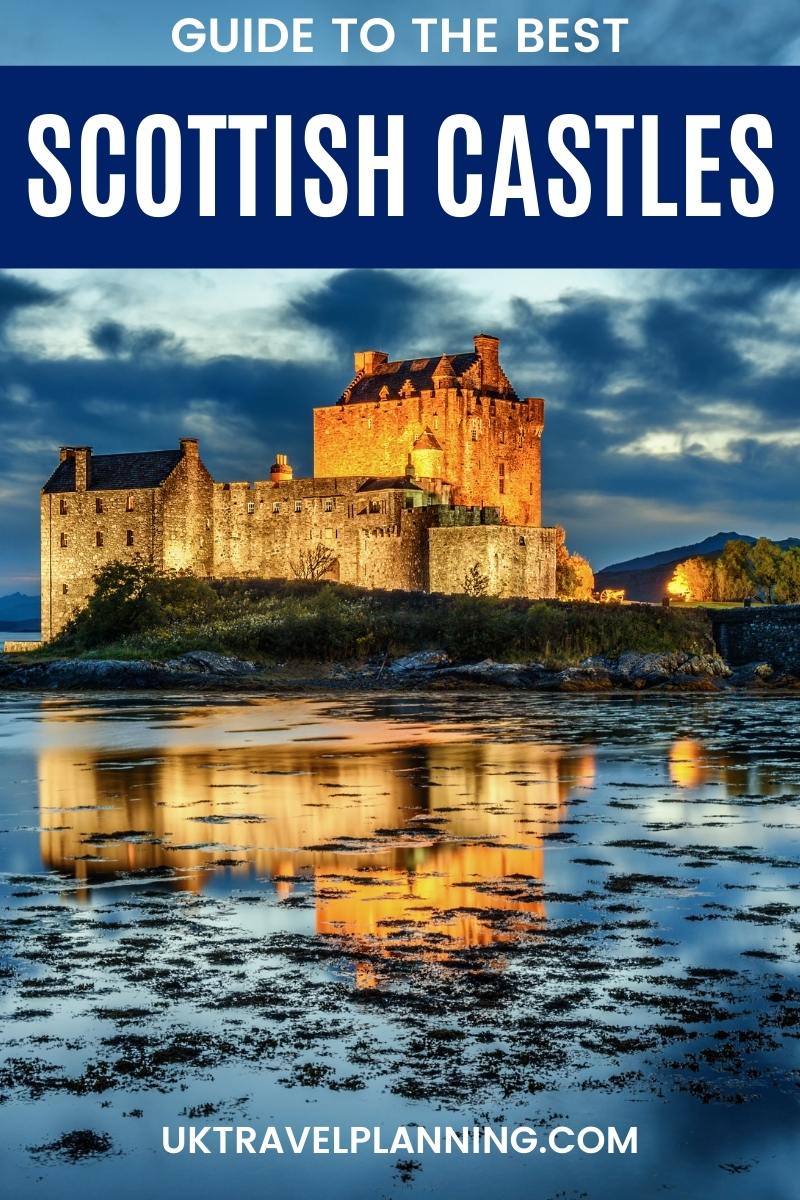 Guide to 18 best Scottish castles
Edinburgh Castle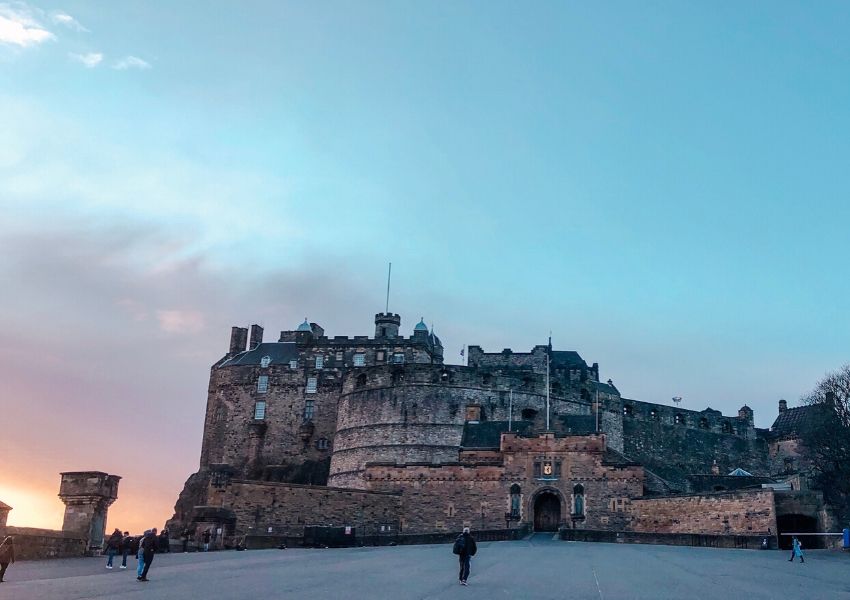 Overlooking Scotland's capital city, sitting atop Castle Rock, is the iconic Edinburgh Castle.
It's one of the most popular tourist destinations in Scotland and for good reason — it's a celebration of Scottish history with just a dash of drama and intrigue thrown in for good measure. It's been a stronghold and a royal residence and has survived over 20 sieges.
Visitors exploring Edinburgh Castle must make certain not to miss St. Margaret's Chapel, the oldest section that dates back to the 12th century. The Great Hall and the Half Moon Battery are from the 1500s and are also must-dos.
Since 1861, every day except Sunday, the castle fires the One O'Clock Gun. Make sure to time your visit accordingly so you don't miss it.
Read more in our Edinburgh Travel Guide
Plan your visit to Edinburgh Castle
Stirling Castle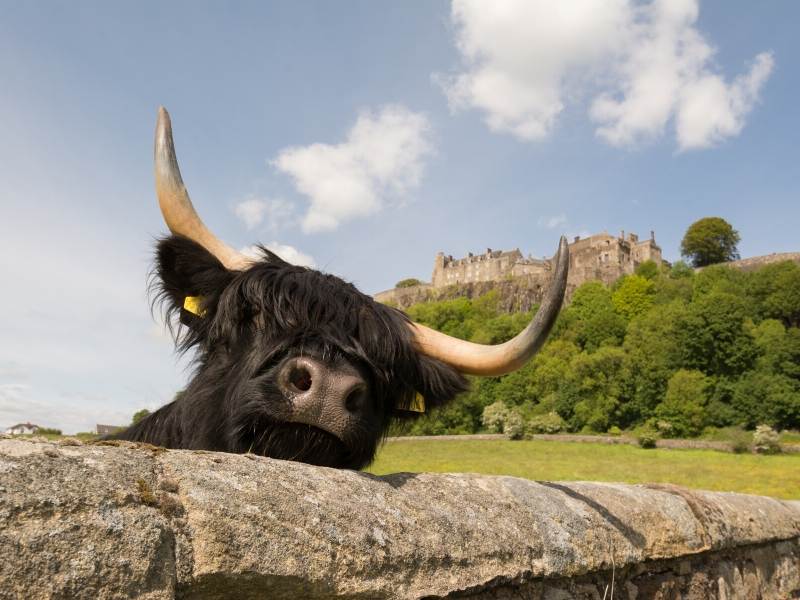 You can't visit the central Scotland town of Stirling without admiring the majestic Stirling Castle, perched atop a crag overlooking the town. It is one of the most historically significant castles in Scotland.
Stirling Castle dates back to the 12th century and was where the royals lived before the union of England and Scotland. It has been besieged countless times over the years, and Mary Queen of Scots was crowned there in 1542.
Visitors will enjoy the Great Hall with its colourful tapestries and banners. Outside are the Queen Anne Gardens as well as the Douglas Gardens, supposedly the final resting place of the Earl of Douglas after King James II became fed up with his impudence.
Stirling Castle is a popular day trip from Edinburgh or Glasgow.
Inverness Castle
Since 1057, Inverness Castle has been built and rebuilt many times. The latest incarnation was constructed out of red sandstone in 1836, making it one of the more modern Scotland castles. It has all of the mandatory towers and turrets castle lovers expect.
Although most of the castle is being used today as the offices of the Inverness Sheriff and Justice of the Peace Court, the north tower is open to the public.
It's called the Castle Viewpoint, and from there, visitors will be treated to lovely 360-degree views of the town and of the River Ness. Check online to confirm it is open before you go.
Read more – Inverness Travel Guide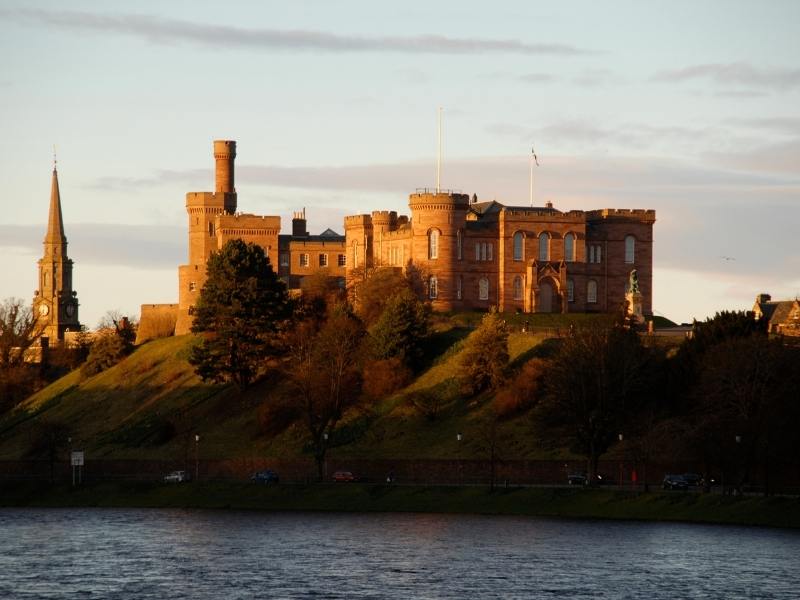 Eilean Donan
Unquestionably one of the most famous castles in Scotland, visiting Eilean Donan in the Scottish Highlands is like gazing at a picture postcard.
On Scotland's west coast, near the charming village of Dornie, it sits on an island at the meeting point of three lochs and is only accessible by a picturesque stone footbridge.
It's impossibly enchanting and obvious why it's one of the most popular tourist sites in Scotland. The original castle dates from the 13th century but was destroyed in the 17th century.
It was restored in the early 1900s and visitors today can enter the castle and explore the Banqueting Hall, Great Hall and the Billeting Room where there are a variety of Mackenzie and Macrae clan heirlooms.
Eilean Donan Castle is a popular day trip from Inverness.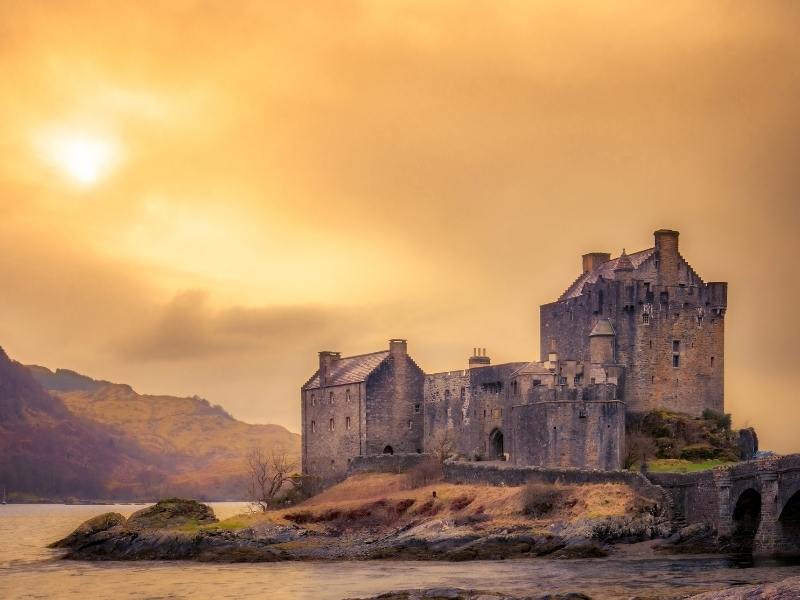 Glamis Castle
Glamis Castle can be found in Scotland's eastern lowlands. Since the 14th century, it has been the seat of the Earls of Strathmore and Kinghorne and is considered to be one of the best castles of Scotland.
The tower house is the only part that remains of the original 14th century structure. Today's red sandstone walls, turrets and towers were built in the 17th century.
Fans of the play Macbeth may be disappointed to find out the castle's connection to the play is only fictional — Duncan did not die there, he died in battle 400 years before the castle was even built.
Nevertheless, you can visit Duncan's Hall, which commemorates the story of the play. Visitors also shouldn't miss the walled kitchen garden and the Italian garden.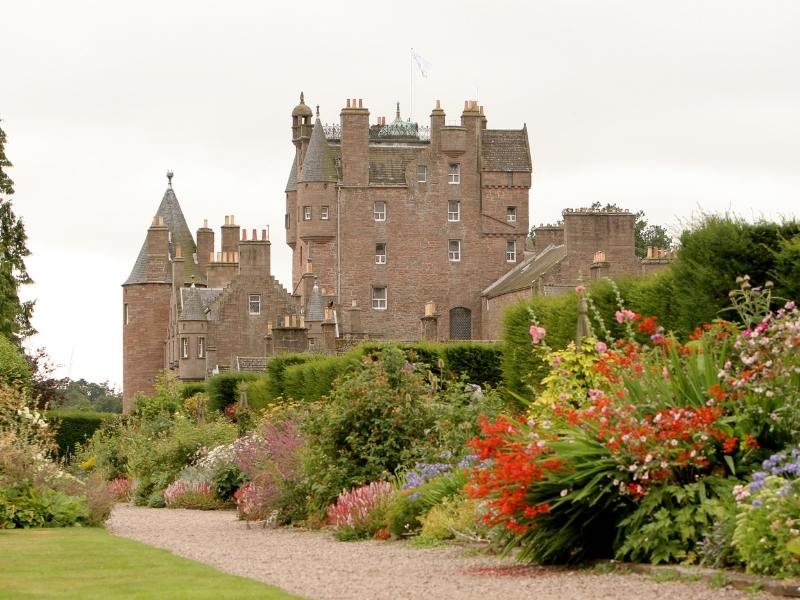 Balmoral Castle
When the Queen wants to get away from the hassles of Buckingham Palace, she heads to Royal Deeside in Aberdeenshire for a visit to Balmoral Castle, a royal family retreat since the mid 19th century.
The castle was originally built in the 14th century as King Robert's hunting lodge but because of size inadequacies, a new version was built in 1856. Balmoral is more of a country home than a castle, built in the Scottish Baronial architectural style.
Visitors can tour the gardens as well as the Ballroom, Balmoral's largest room. All other rooms remain private. A fun way to explore the grounds is by booking a Luxury Landrover tour.
Check online to confirm that the grounds will be open on your travelling dates.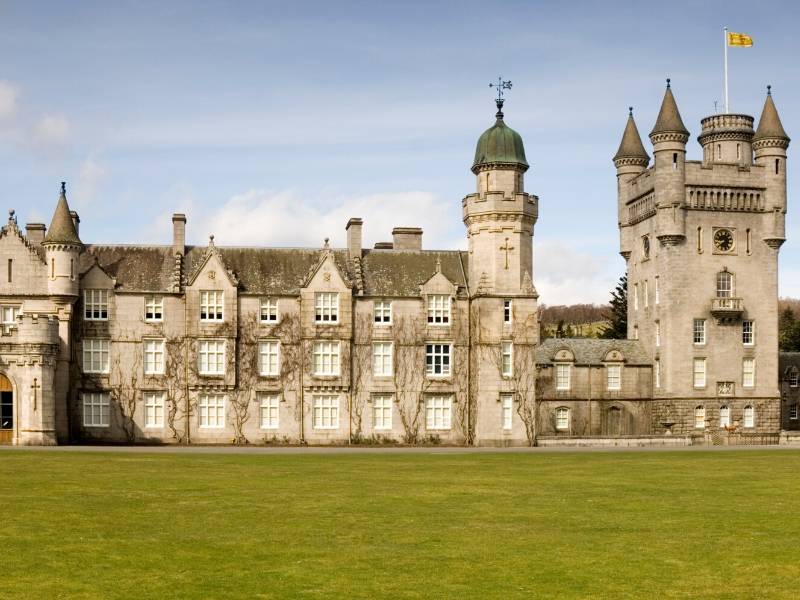 Braemar Castle
This 17th century castle was originally built to be the Earl of Mar's hunting lodge. Since that time, it has served as a fortress, a garrison and later as the home of Clan Farquharson.
As you approach Braemar, you'll notice it is smaller than other castles and has a rather unique appearance. The inside is a whole other story. It has 12 furnished rooms including a grand dining room and drawing room, all filled with family memorabilia.
Local volunteers will guide you through the castle and tell stories of the Farquharson family and other famous guests such as Robert Louis Stevenson.
If you have mobility issues, keep in mind that all rooms are accessible only via a winding and steep stone staircase.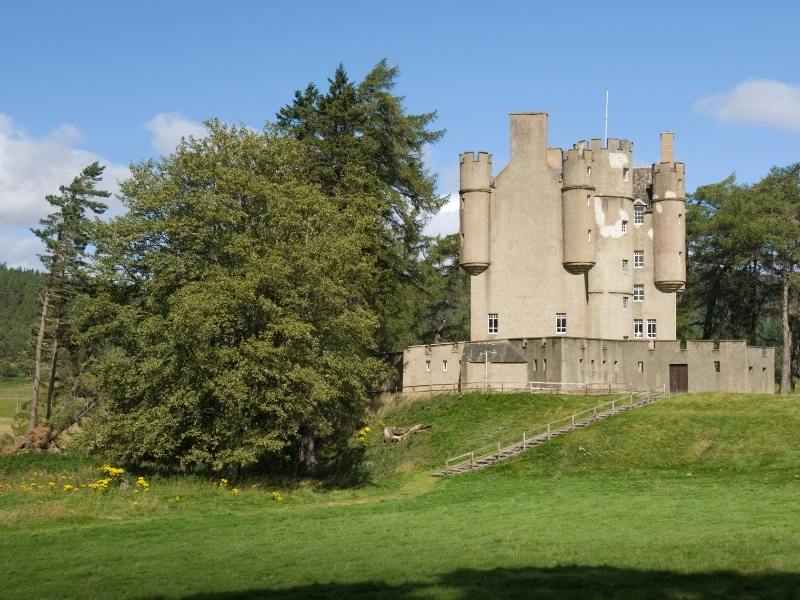 Dunnottar Castle
Once a formidable medieval fortress on Scotland's northeastern coast, the ruins of Dunnottar are perched on a rocky outcrop overlooking the sea, making it one of the most dramatically situated castles in the world. It is romanic and evocative, with stunningly beautiful cliff views from all sides.
Though the castle is ruined, there is still plenty to explore. The kitchen and dungeons are a good place to start. Everything is well labeled with detailed signs. There are remains of a small village outside the castle, as well as many caves and nooks throughout the rocky scenery.
A word to the wise, this castle is accessed by going up and down many stairs. Dunnottar is not for people with mobility issues.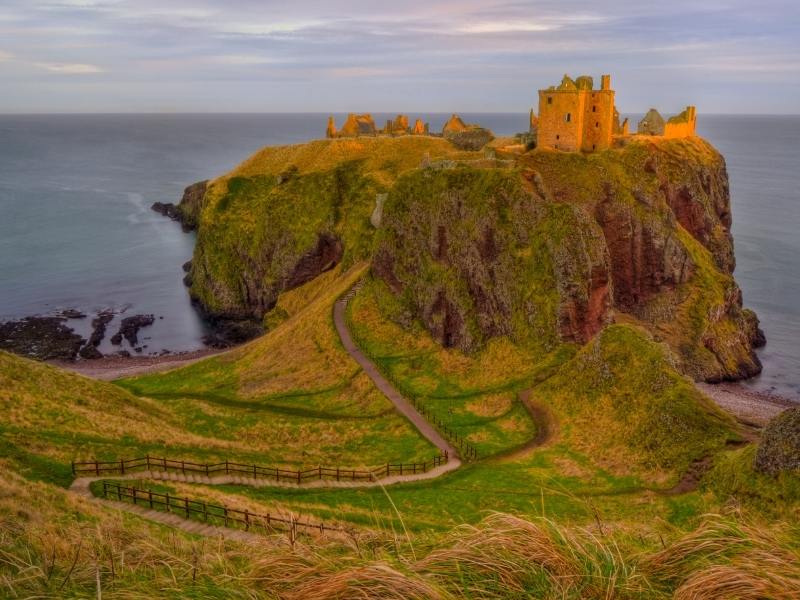 Culzean Castle
In terms of sheer opulence, Culzean Castle is one of the best castles in Scotland. It dates from the late 18th century and was designed by Robert Adam in the neoclassical Georgian style.
The castle sits on a cliff top overlooking the Ayrshire coast and is surrounded by 600 acres of coastline, woods and extravagantly landscaped gardens. With all of the walking paths and trails, you could spend hours exploring the grounds — don't miss the especially lovely Swan Pond.
Inside the castle, get your cameras ready to photograph the dramatic oval staircase, one of Mr. Adam's most celebrated accomplishments.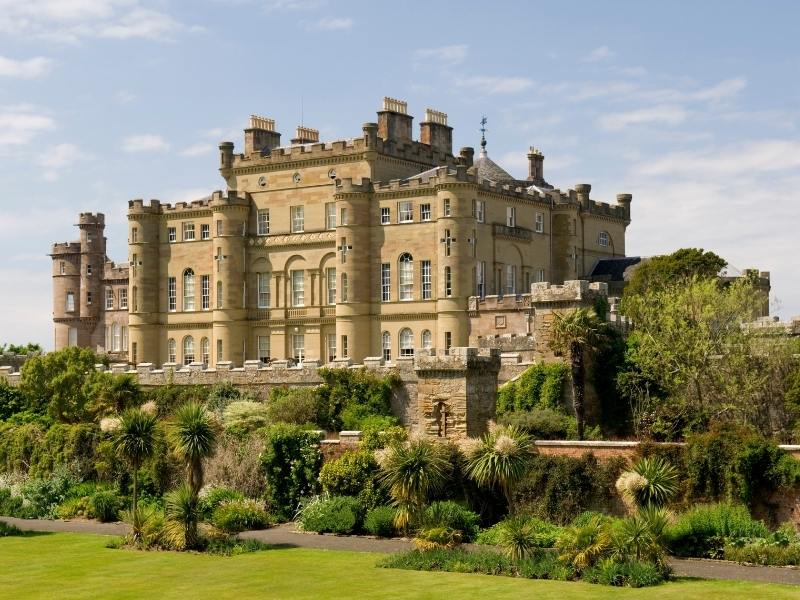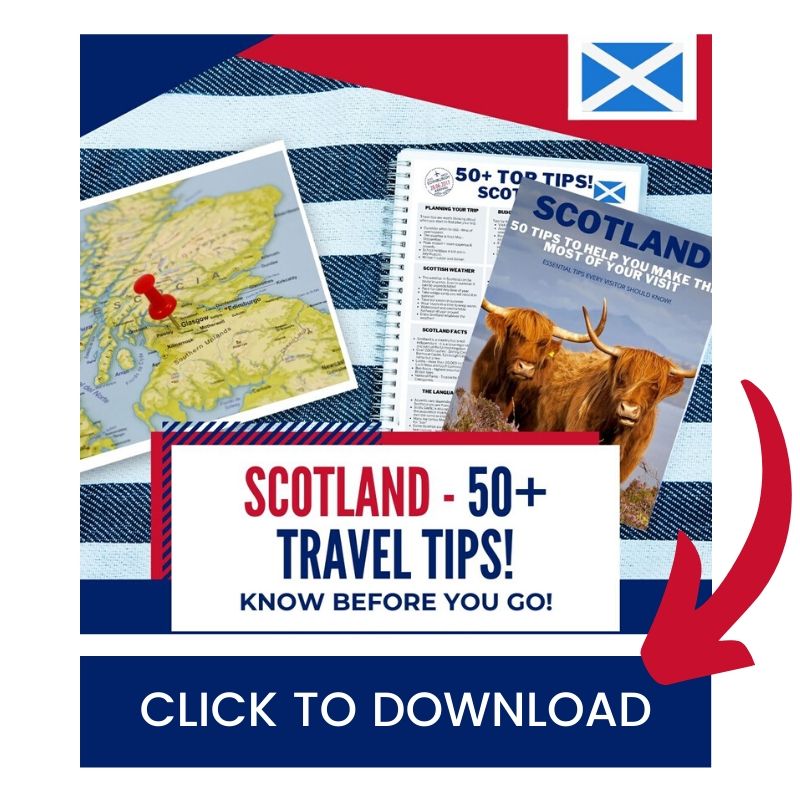 Duart Castle
800 years ago, when Duart Castle was built strategically on a cliff top on the island of Mull, it was nothing more than a stone wall containing a courtyard. It grew over the years and eventually became the ancestral home of the MacLean clan.
Abandoned in the late 1700s, it was restored in 1911 and now is a must-see for any castle lover. The surroundings are gorgeous and the views of the Sound of Mull are simply breathtaking.
Inside, there is an exhibition detailing the MacLeans' history. From there you can explore the Great Hall, state bedroom and dressing rooms.
Good to know – If you visit April through October, there is a charming tea room that is proud to serve Mrs. MacLean's own recipes.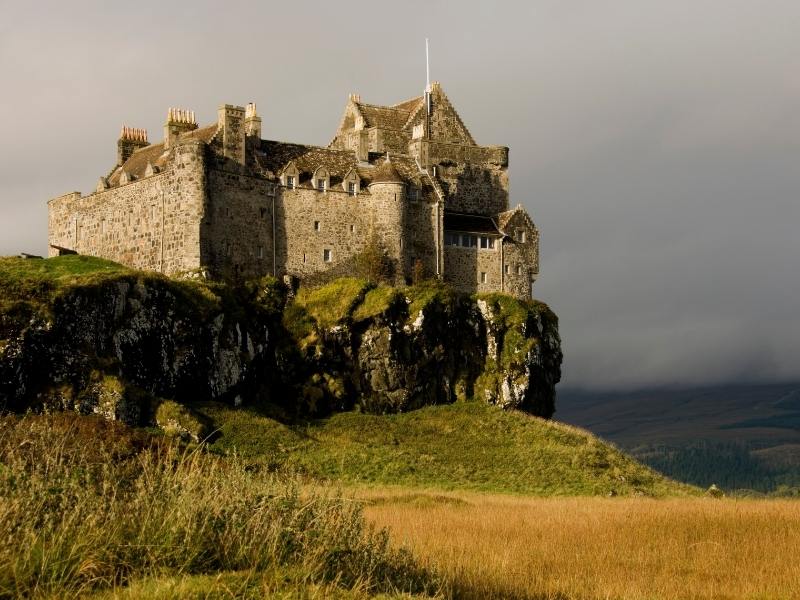 Castle Fraser
Castle Fraser was built around the turn of the 17th century by the 6th laird, Michael Fraser near Kemnay in the Aberdeenshire.
It's a grand Z-plan castle, meaning it has a central tower with smaller towers on diagonally opposite corners. The castle's interior has five floors that were redesigned in the first half of the 19th century.
Today, the castle is run by the National Trust and welcomes visitors into the Great Hall and Victorian bedrooms.
Castle Fraser is surrounded by 300 acres and has two marked trails that wind through woods and farmland. Its walled gardens have everything from specimen trees to organic fruits and vegetables.
Tip – Climb to the top of the round tower for amazing views of the countryside.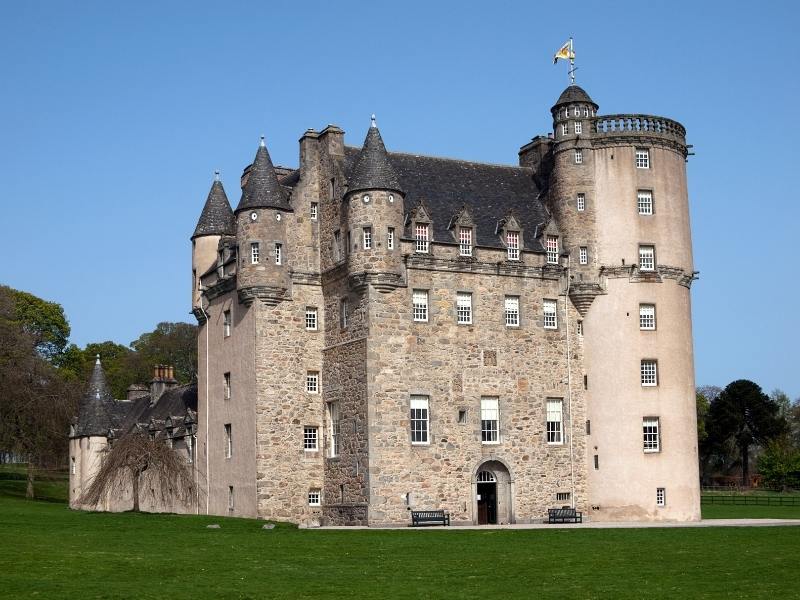 Floors Castle
In South East Scotland, on the banks of the River Tweed, you'll find Floors Castle, the largest inhabited Scotland castle. The Duke and Duchess of Roxburghe are proud to call it home and live amongst priceless works of art, antiques and historic furnishings.
Floors Castle was built in the early 1700s and in the 19th century, turrets and battlements were added. Even though it is inhabited, some sections of the castle are open to the public — it's so large, this isn't a problem.
Make sure to include time to view the grounds, they are nothing short of spectacular. See the Victorian Walled Garden and the more formal Millennium Garden. There's also woods with walking trails that amble along the river.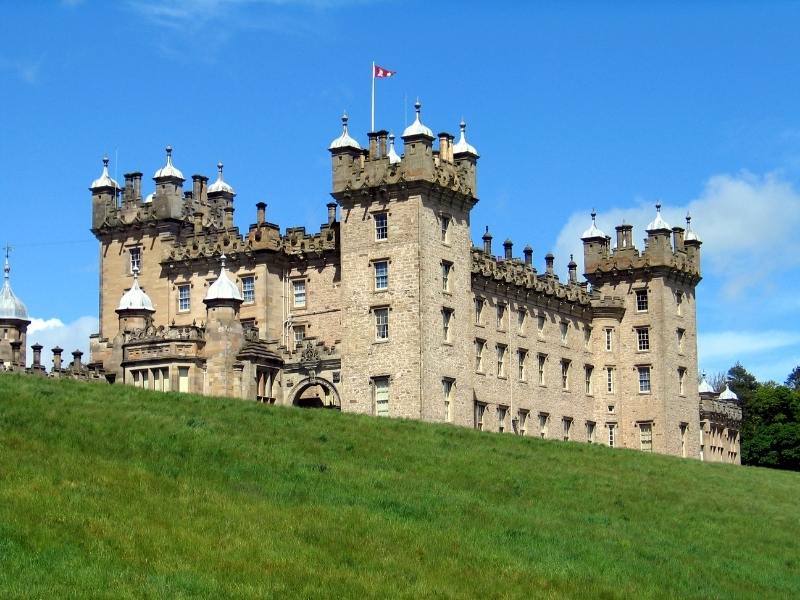 Do you dream of spending the night in a fairytale Scottish castle? The good news is that you can! Read more in my guide to 8 beautiful Scottish castles you can stay in! Perfect for that special stay during your trip to Scotland.
Craigievar
How many castles in Scotland are pink? Pinkish, anyway, and the answer is one — Craigievar Castle.
Nestled in the foothills of the Grampian Mountains, Craigievar has towers, turrets, dormer windows and gargoyles and looks as if it belongs in a fairytale. It's an example of a harled castle, a rough textured finish common in Scotland, that was colored pink to match the granite detailing back in 1824.
Today, it is considered to be one of the finest and best-preserved tower houses in Scotland and probably looks very much like it did when Victoria and Albert visited back in 1879.
The castle offers guided tours from April through September but check online for specific information.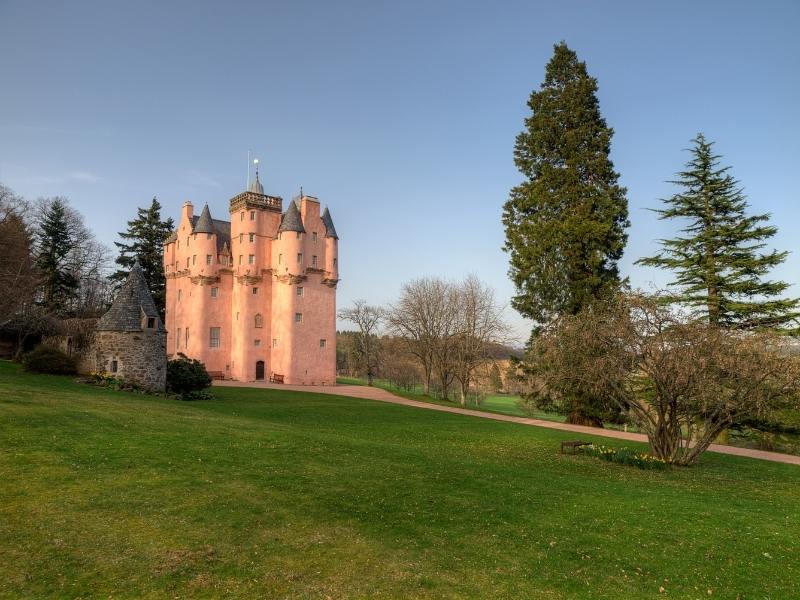 Inveraray Castle
Since the 1400s, Inveraray Castle has sat upon the shores of Loch Fyne. A smaller, older castle was replaced by the current version, built in a Gothic Revival style sometime between 1745 and 1790.
Since then, the Dukes of Argyll, chiefs of Clan Campbell, have called it home. Though some of Inveraray Castle is open to the public, the current Duke of Argyll and his family still live there.
If you're a Downton Abbey fan, the castle may well look familiar as it was the setting of one of their Christmas shows. Visitors can explore the Armoury Hall, State Dining Room and the Tapestry Room, among others. Don't forget to make time for the exquisite gardens as well.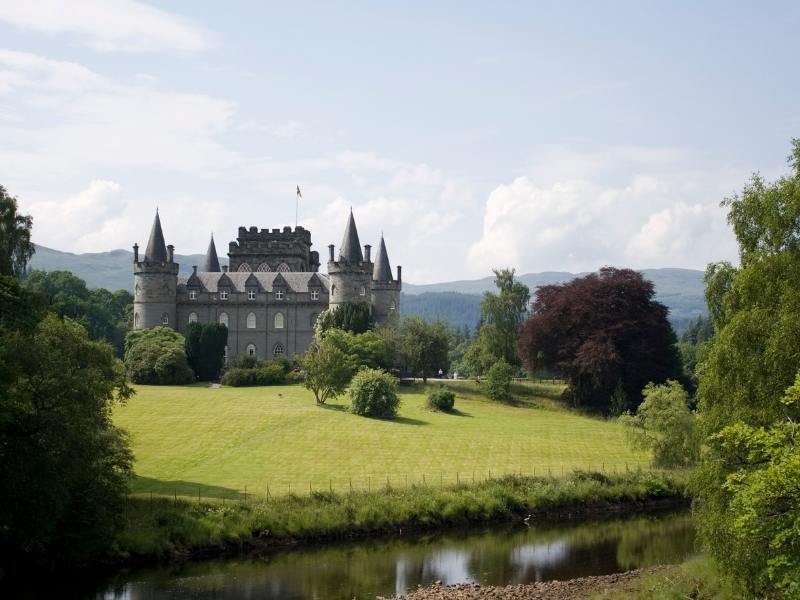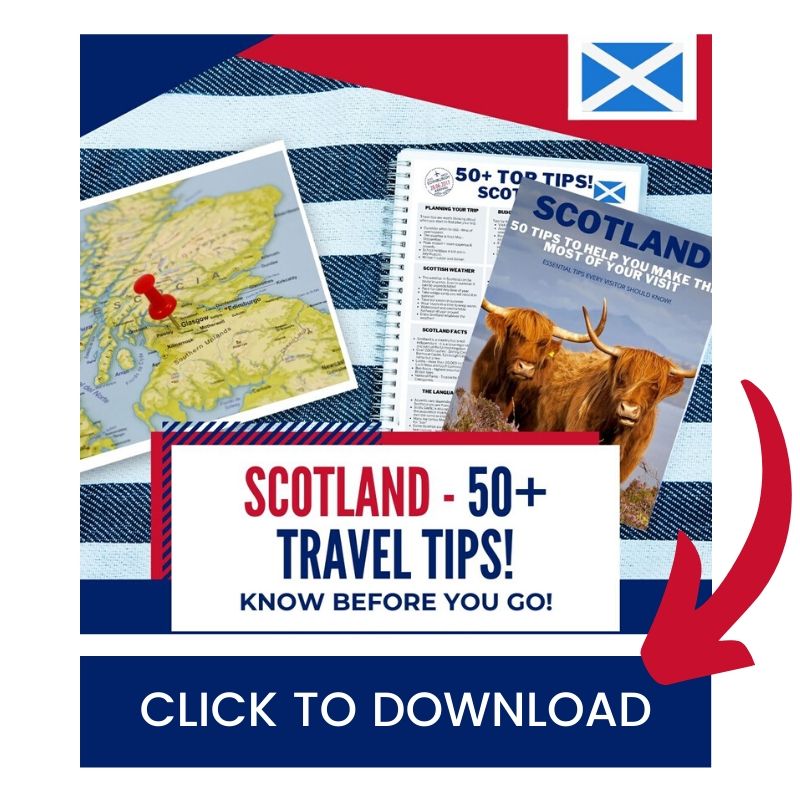 Blair Castle
Blair Castle, the stark white castle nestled in the green hills above the River Garry, is wonderfully unique among Scottish castles.
Built in the 13th century, it has been home to 19 generations of the Clan Murray. It has seen Scottish feuding, visits from Mary Queen of Scots and Queen Victoria. Visitors will admire the medieval, Georgian and Victorian architectural styles and can tour some of its 30 rooms.
Blair Castle has collections of portraits, weaponry and antique furnishings that are next to none. You could spend hours wandering the Hercules Gardens, a nine-acre Georgian garden with ponds, a fruit tree orchard and a Chinese bridge.
Follow the sculpture trail as it winds throughout the castle grounds. Visitors should make certain to pre-book their tickets online.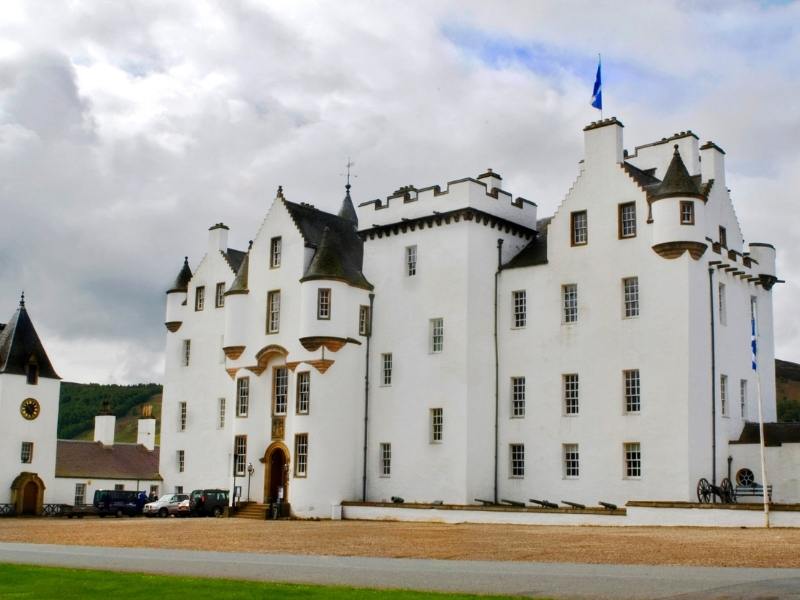 Dunrobin Castle
The largest castle in the Highlands is Dunrobin, near the northern coast of Dornoch overlooking the Moray Firth.
Originally, it was a rather small fortified keep built in the early 1300s. It changed over time and in the 19th century, was redesigned into something that looks more like a French chateau than a medieval castle.
Since it was built, it has been continuously inhabited by the Earls and Dukes of Sutherland. The castle has a lovely interior and an amazing 189 rooms, many of which are open to the public. Its grounds and gardens are elaborate and well worth exploring.
Good to know – Remember to leave your backpack at home when visiting — they are not allowed in the castle.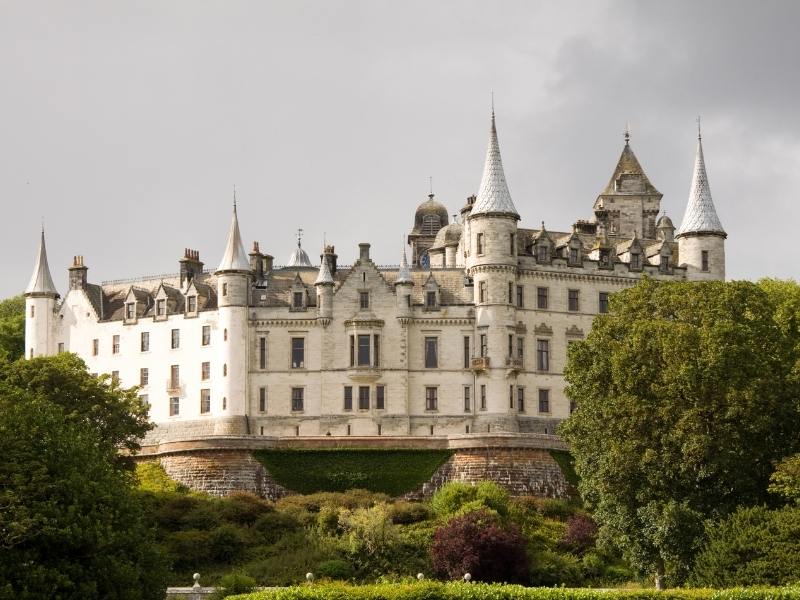 Cawdor Castle
When venturing into Cawdor Big Wood to visit Cawdor Castle, you might be expecting to find traces of Shakespeare's Macbeth. The reality is, the castle has precisely nothing to do with the Scottish Play. It was built in 1370, 300 years after the real Macbeth lived and died.
Still, it's a romantic and inspiring place to visit. It has all of the castle bells and whistles — turrets, a tower, dungeons and a drawbridge. Inside there is antique art and exquisite furnishings that you'd expect in such a grand residence.
The real treat is to explore the three gardens — the 17th century Walled Gardens, the 18th century Flower Garden and the modern Wild Garden.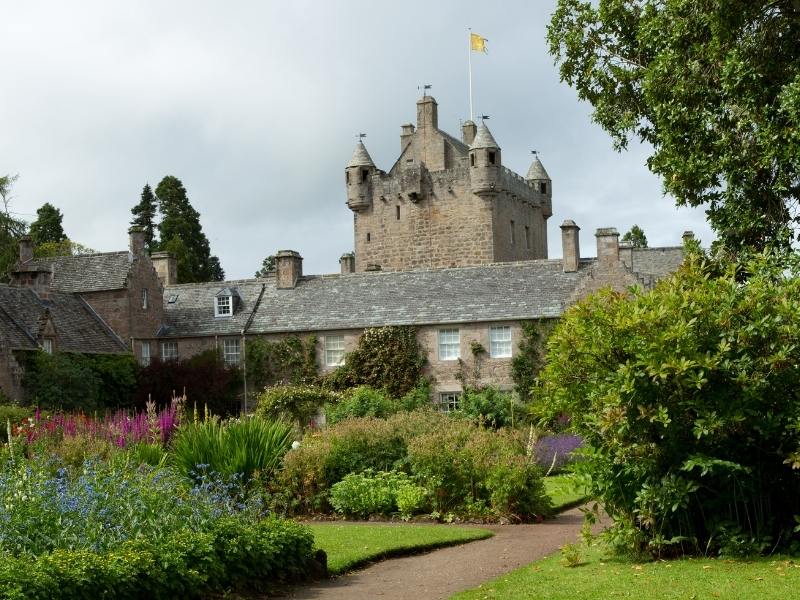 Fyvie Castle
In Aberdeenshire near Turrif, you'll find Fyvie Castle, an 800-year-old Baronial fortress. It has lovely gardens surrounded by 18th century walls.
Each of the five prestigious families that have owned it have added to its structure, including the castle's four-story Tower House.
Visitors will admire its gorgeous interiors and period furnishings but it's the staircase that is the castle's dramatic center.
Many Scottish castles come with ghost stories but Fyvie has one of the best. If you feel a chill followed by the smell roses, it may well be the ghost of Lillias Drummond. Shortly after being betrayed and murdered by her husband, she returned from beyond to inscribe her name on a castle window sill where it can still be seen today.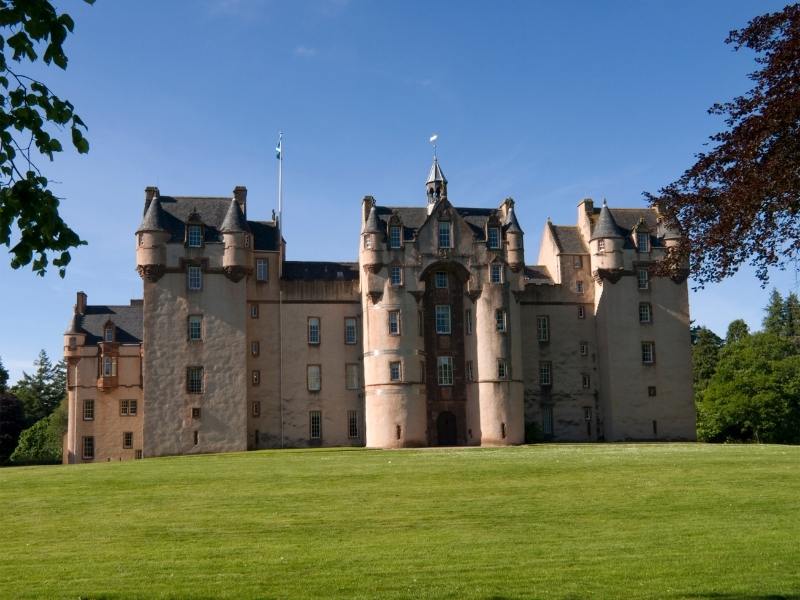 Map showing locations of the Scottish castles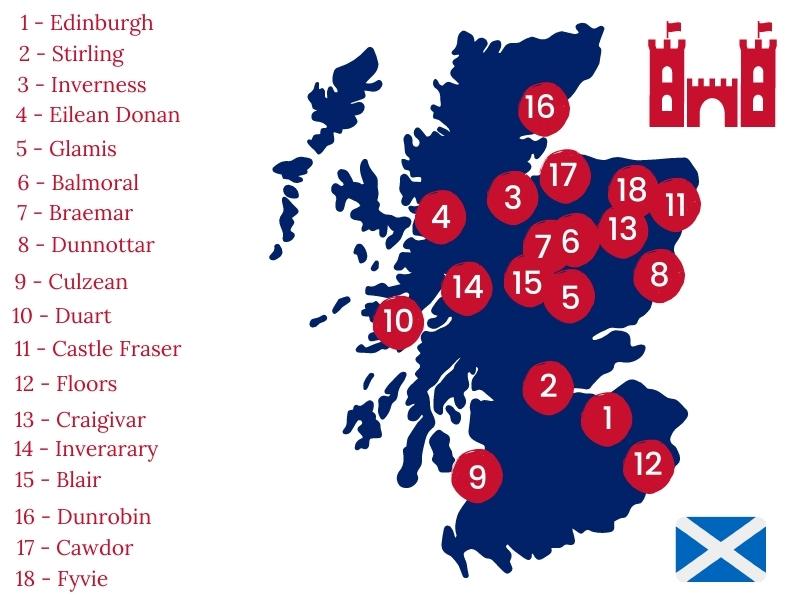 Plan your visit to Scotland
Scotland has so many fairytale castles to visit it can be hard to choose which ones to include in your Scotland itinerary!
If you love castles pop over and read my guides to the best castles in Wales and 21 of the most popular castles in England.
If you would like to stay in a castle you will be pleased to know that there are lots of fabulous accommodation options in Scotland and that includes castles.
Pop over to my article about the best castles to stay at in Scotland (I also have castle accommodation guides to the best castles in Wales & the English castles too so check those out if a castle stay is on your bucket list! Lots of wonderful accommodation options places to choose from all over the UK.
For more help planning your Scottish trip, my Scotland Travel Guide is a great place to start as is my UK Travel Planning page which answers the most common questions I am asked as well as providing links to relevant articles.
Read more in my selection of best books set in Scotland or enjoy this selection of movies set in Scotland.
Still have questions? Or want to chat some more about your travel plans? Come over and join my free UK and London Travel Planning group on Facebook – with over 1000 members (and growing rapidly) it is a great place to find more inspiration and a community of like-minded travellers.
Find more inspiration for your travels in my Scotland Travel Guide which includes information about what to see, where to stay, how to get around, travel tips, recommended reading and more to make the most of your trip.