Visit London in fall and you'll experience a truly magical time of the year. As the nights draw in and temperatures start to drop, the UK capital is all aglow with Halloween celebrations, bonfires and shades of orange ranging from amber to tangerine.
Add to that the falling leaves contrasting against lush green in the city's many glorious parks and you can see that London in autumn is a really special place to be. If you're planning to spend time here, then arguably there's no better time to visit.
When you're seeking the best things to do in London in autumn or fall, then this guide will show you how to experience the city once it bids goodbye to the Great British summer. From the weather to expect during autumn in London to places you really need to visit in fall, you can find everything you need to plan your perfect trip right here.
Read on so you can discover London during the cosiest season of the year.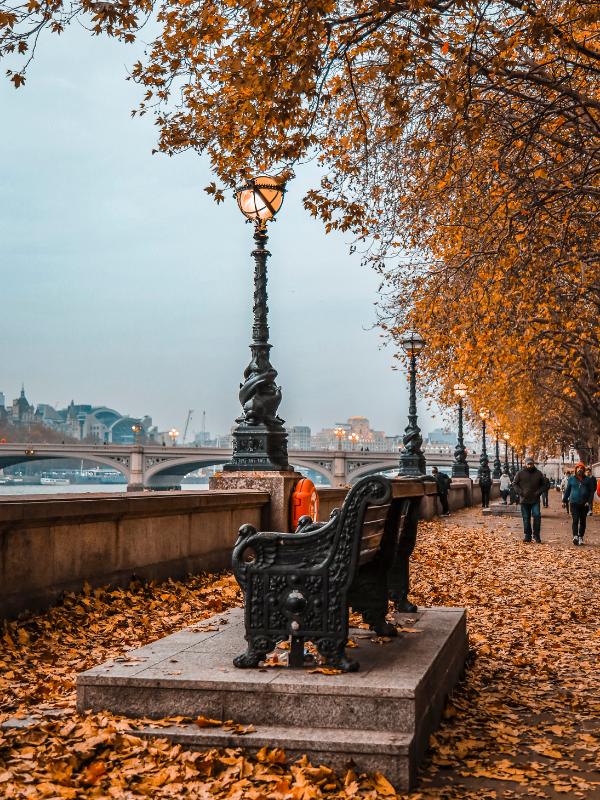 London in Fall | Quick Facts
Let's get started by listing some quick, need-to-know facts about England in the fall – and more specifically her capital city.
Fall vs autumn
Is it London in fall, or autumn in London? Either is fine. The former is generally used in US English, while locals tend to refer to the third season as autumn.
Fall months
In the UK, autumn begins sometime during September, depending on precisely how each person views the calendar.
To some, the start of September marks the beginning of fall, while for others the cooling-down season commences later in the month. The former is in line with the meteorological calendar, and is used by the UK's Met Office. For those who prefer to use the astronomical date, fall begins when the autumn equinox occurs, which is around 21st September each year.
September, October, November and most of December can thus be classed as the fall months in London. If using the astronomical calendar, fall doesn't end until winter begins, which is when the winter solstice happens. This is around 21st December.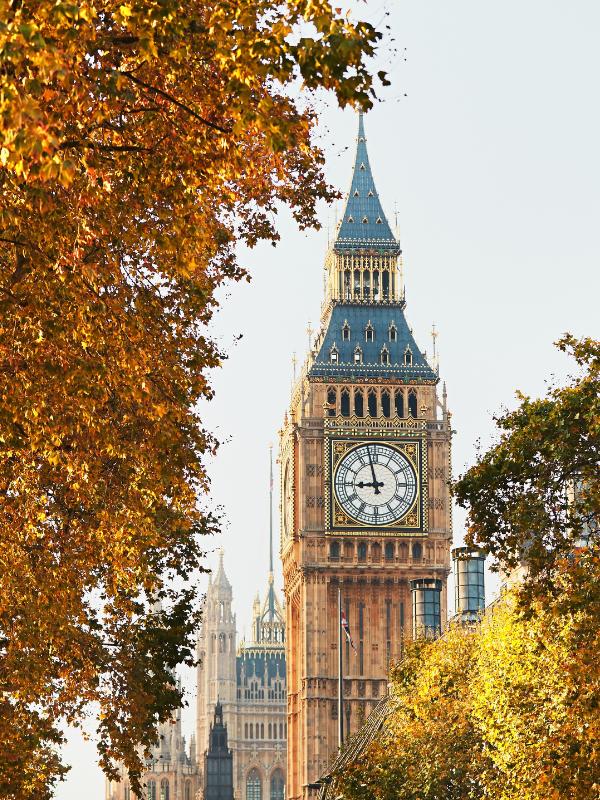 Fall weather
So what is the London weather in autumn, and what sort of London autumn temperature can you expect? There can be pretty big variations during fall, as the heat of summer draws to a close and the chilly season really sets in.
In September, high and low temperatures tend to hover between 20°C (68°F) and 13°C (55°F). It can still be hot and stuffy on some days, especially earlier in the month.
By October, temperatures fall to between 16°C (61°F) and 10°C (50°F). In November, expect between 12°C (54°F) and 7°C (45°F) on average. During December, this drops again to between 9°C (48°F) and 5°C (41°F).
Temperatures can of course be higher or lower than these averages. In fall, expect about eight to ten days of rain per month too. So every third day could be wet, or you could get lucky and experience an entirely dry week. Or indeed the opposite.
What to pack for London in fall
Due to the likelihood of wet and windy weather, don't forget to take a packable rain jacket and a compact umbrella for visiting London during autumn. Sturdy, comfortable, waterproof shoes are also a good idea when you'll be doing lots of sightseeing. Good grips can also help when there are slippery leaves and even ice underfoot.
Other than that, layering can be key. You can also allow the average temperatures for the month of your visit to be your guide when putting together your London autumn outfits – though do remember that these are merely averages!
If you do get stuck, never fear. Shopping in London is always a pleasure, so you can pick up any clothes you need along the way. What better excuse to indulge in a little London autumn fashion?
17 Best Things to Do in London in Fall
1. See the autumn leaves in London
You cannot fail to spot the vibrant fall colours during your autumn days out in London. But taking a walk to appreciate – and photograph – them properly is well worth the effort. Head to Green Park, Hampstead Heath, Hyde Park, Chelsea Embankment, Greenwich Park, Kew Gardens, Regent's Park – or indeed any green space nearby.
The number one spot for London in the fall is said to be Richmond Park, to the southwest of the city. There is a train and underground station in Richmond.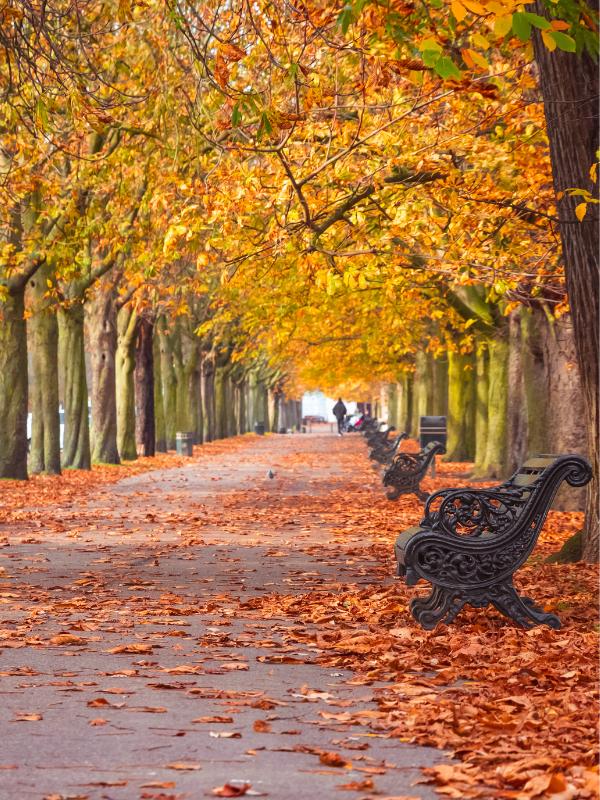 2. 'Fly' on the London Eye for all the fall colours
To see all of London's autumn splendour laid out beneath you, book a 'flight' on the London Eye. Your trip on the big wheel will allow you to spot all those lovely autumn colours, as well as all the famous London landmarks.
Check out this complete guide to the London Eye
3. Experience the Frieze Art Fair
Frieze Art Fair is held in London's Regent's Park. It's a modern art fair that was founded by the contemporary art magazine Frieze, and typically takes place during mid October. So you might just get lucky and see all the park's glorious fall colours at the same time!
4. Have Halloween in London
The UK now fully embraces all the gory glory of Halloween. In case you don't know, 31st October is the date this takes place. Dressing up in scary costumes, decorating homes and businesses and going to parties or trick or treating are all the rage in London during the last evening of October.
5. Be at the BFI London Film Festival
The British Film Institute's London Film Festival is held during the first half of October every year, and runs for around 11 days. This is one for the movie fans, and takes place at venues across the city as well as BFI Southbank.
6. Take in a West End show
London in the fall is a great time to take in a show at one of the many West End theatres. Walking through the fallen leaves in cosy autumn wear when it's cold seems to make the idea of heading indoors for a colourful, musical treat even more inviting.
Many new shows open their season at this time of year, so you'll be spoiled for choice.
7. Remember, remember the 5th of November
The fifth of November is Bonfire Night in London. So you can expect roaring blazes and fireworks all over the city. The date marks when Guy Fawkes tried to execute the Gunpowder Plot of 1605 at the Houses of Parliament.
8. Follow in the footsteps of Harry Potter
Autumn is when Harry, Hermione and Ron always return to Hogwarts for the new school year. As their story always starts with a backdrop of fallen leaves, what better time to traipse around the streets of London in search of some fictional magic?
Find the 7 best Harry Potter tours of London here
9. Love the London Literature Festival
If books are more your bag, then the London Literature Festival has to belong on your London fall itinerary. This is held during late October, and features both new and established literary names. The Southbank Centre is the prestigious venue for the event.
10. Do Diwali in London
Due to a large Asian population, Diwali is a big thing in London. The Hindu Festival of Light celebrates the triumph of good over bad, knowledge rather than ignorance and of course light over darkness. Events are held across the capital, and the date varies between late October and mid November.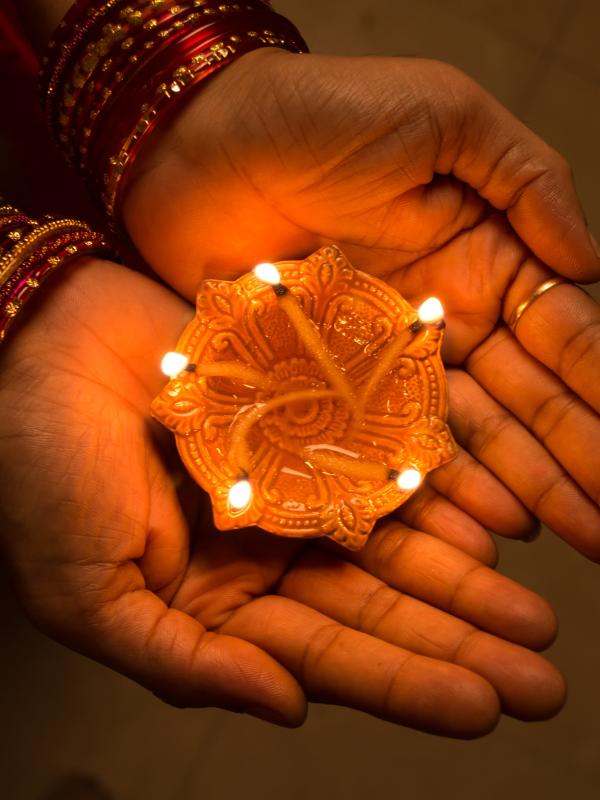 11. Go to Kew Gardens
Kew Gardens in autumn are an even more stunning sight than usual – and that's saying something. Head here to see plants from all over the world, and landscapes to match. This southwest London botanical garden is home to one of the planet's biggest collections of global flora.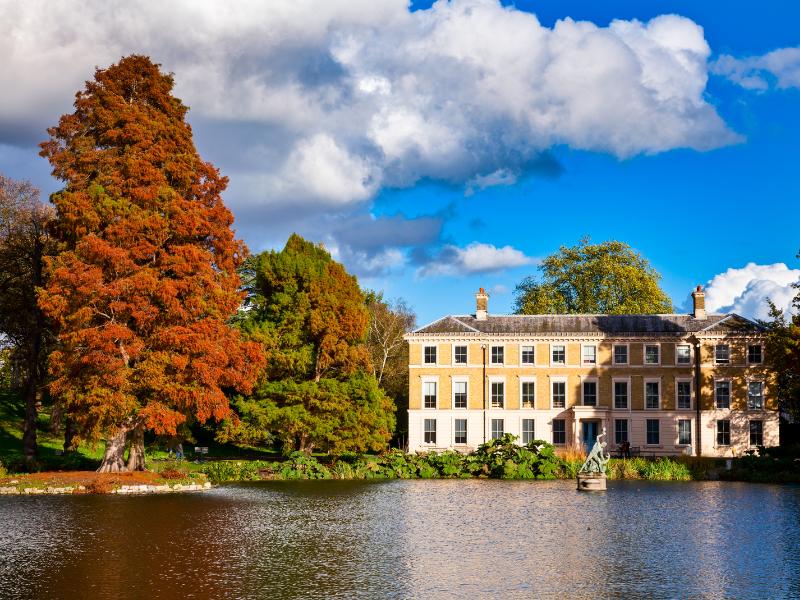 12. Enjoy London Oktoberfest
Though it may be German in origin, London holds its very own Oktoberfest every year. It's normally held over four weekends – in October, of course – and at various venues. These tend to be in the west London areas of Hammersmith and Ealing in addition to the city centre.
13. Hop and hop off a London bus
Taking a jump-on, jump-off bus tour is a great way to see the city. And imagine the views over the fall treetops you'll enjoy during autumn! This is a good one to do soon after arriving in the city, as it helps you get your bearings. It's also a great way to pinpoint what you'd like to see more of during a London fall.
Book a hop-on, hop-off City Sightseeing tour here
14. Attend Africa on the Square
Africa on the Square has been held in Trafalgar Square during October for several years now, and has so far been a big hit. The festival focuses on all things African, and lasts for only one day. Expect live music, dancing, DJs, arts, culture and even a talent contest.
15. Mark Remembrance Day
On 11th November each year – and Remembrance Sunday on the second Sunday of the month – the British remember the fallen from the two World Wars as well as other conflicts. Sombre yet uplifting ceremonies are held across the capital, and those involving the Royal family are televised.
This is the UK equivalent of Veterans Day in the US. Pick up a poppy to wear, from the sellers you'll find all over the city, if you want to show your respects.
16. Cruise along the canal or Thames
Seeing London in the autumn from the water gives you a unique perspective on all that lovely fall colour. You can join a canal boat cruise in the Camden and Regent's Park area, or take to the Thames for views of big city icons.
⭐️ Book a Regent's Canal cruise here
⭐️ Book a Westminster to Greenwich boat trip here
17. Live the London Jazz Festival
The London Jazz Festival is held in November at a range of musical venues across the capital. These include places like the Royal Festival Hall, the Barbican and the legendary London jazz club Ronnie Scott's. It takes place for ten days during mid November.
London in Fall FAQs
When's the best time to see autumn leaves in London?
If you're wondering where to see autumn colours in London, and when, then mid-October is the time when it all starts to happen. Shades ranging from lighter hues of amber and orange to brighter scarlet and magenta can be seen all over the capital from then until around mid-November.
So if you want to see the fall leaves in London at their best, aim for the last week of October or the first week of November. Or, of course, both!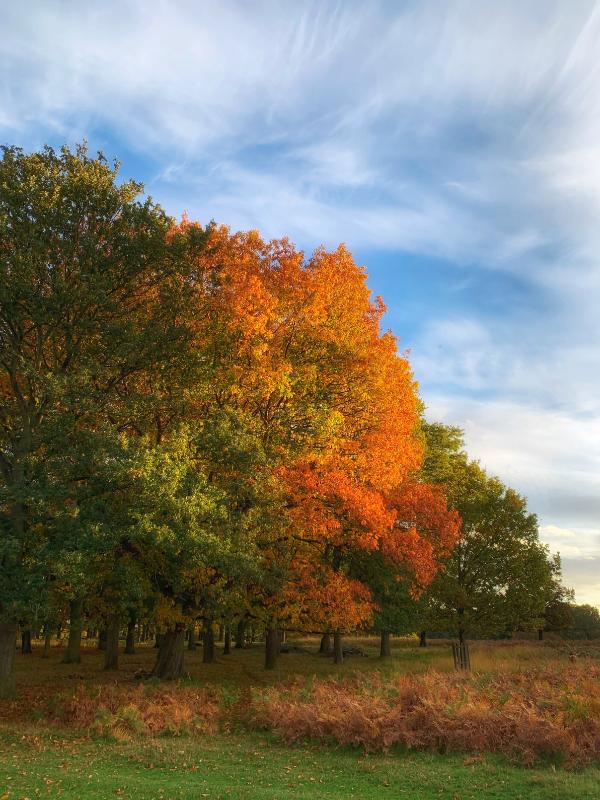 Where can I see autumn colours in London?
The city's many fine parks provide some of the best places to see the autumn leaves in London. Richmond Park in autumn is often seen as the number one spot – and you might even spy deer here too. This Royal Park lies to the southwest of the city centre.
Is London nice to visit in fall?
London is lovely to visit at any time of the year, and the falling leaves and fresh autumn air make September to November an ideal time to see the city. With lots of festivals going on and no extreme hot or cold weather, there's plenty to see and do in London during fall.
What is London like in fall?
In terms of rainfall, you can expect around nine days of rain in London during autumn – which is average for the year in the UK. Temperatures can fluctuate quite widely during fall, with some hot summery days in September and really chilly ones in late October onwards. Autumn averages range between 20°C (68°F) and 5°C (41°F).
Will You Love London in Fall?
From London autumn walks when you'll be kicking up leaves to all sorts of colourful fall celebrations, autumn is a wonderful time to visit the British capital. Whatever you're into, there are so many things to do in autumn in the UK. Not least in one of the most exciting cities on earth!
Visiting London across the seasons (and months)
We have information about visiting London in every season (and every month) on this site or our sister site London Travel Planning.
Read more:
London Travel Guide & Itinerary Planner (+ 4 bonus ebooks)