Discover the very best things to do and see if you are visiting London in winter. Our ultimate guide contains everything you need to know including where to stay and practical tips to plan your perfect itinerary for a winter visit to London.
London… undoubtedly one of the best cities in the world. Am I biased? Yes. But this wonderful UK city is so jam-packed with sights, incredible places to eat, and world-class museums that even in the gloom of English winter there's still so much to see and do!
Of course, London is extremely popular year-round, yet there's something about visiting during the winter months. Maybe it's the Christmas cheer, maybe it's the fact that there are way fewer crowds, but there's no doubt in my mind that the festive atmosphere adds something special that would make it a truly unforgettable winter trip!
Not only will you be able to experience the amazing winter festivities and Christmas things to do in London such as festive markets and outdoor ice skating, but the winter weather (fingers crossed for snow!) transforms the city into a true winter wonderland! I can't think of a better way to explore London than being surrounded by twinkling Christmas lights, a belly stuffed with delicious food, and a hot chocolate in hand!
In this article discover all of the best (and unmissable) things to do in London in winter. We have included practical tips to help you to plan your own London winter wonderland adventure plus links to any recommended tours and events. Remember to book tickets early to festive events – these are very popular and can book up well in advance,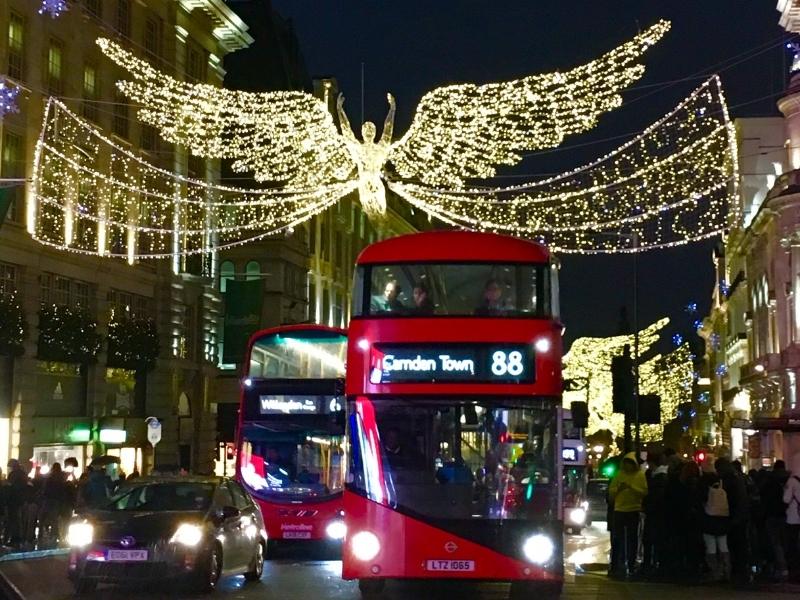 Best things to do in London in winter
1. Take in a show (or a pantomime)
Nothing says Christmas time more to me than being in a room full of strangers shouting "HE'S BEHIND YOU!". Spoiler Alert for those of you who don't know what I'm talking about, but this is a UK Christmas tradition that perfectly sums up what going to see a pantomime is all about.
Laughter, fun, and lots of noise! Pantoland at the Palladium is showing this winter, and if you want to experience the story of Aladdin in a whole new world light, I highly recommend giving it a watch.
Pantomimes aside, one of the most popular reasons to visit London is to catch a show at the West End. There are so many great shows to see, you'll be spoiled for choice, but make sure to book your tickets in advance so you don't miss out!
Some of my favourite shows are Wicked, Mamma Mia, and Harry Potter and the Cursed Child Parts One & Two. Now, if you really want to feel that Christmas cheer, watching Frozen – the Musical may be the let it go, I mean… way to go (last musical pun, I promise).
While you're in London's West End, you just have to snap a photo at Piccadilly Circus. This is the London equivalent of New York's Times Square, plus you'll be right next to Shaftsbury Avenue where all the best West End Theatres are located so you can easily get to your show afterwards.
Shows we recommend
Matilda: The Musical – Roald Dahl's beloved childhood story comes to life on stage. Matilda tickets are sure to please the whole family. Click for tickets
Back to the Future: The Musical – based on the 1980s film following Marty McFly who travels back to 1955 in Doc Brown's invention, a time machine based on a DeLorean car. Click for tickets
Mary Poppins – a stage adaptation of the Disney film following the story of a magical nanny who looks after 2 children in Edwardian London. Click for tickets
The Book of Mormon – a satirical musical that follows two young Mormon missionaries sent to a remote village in northern Uganda. Click for tickets
Click to book tickets with London Theatre Direct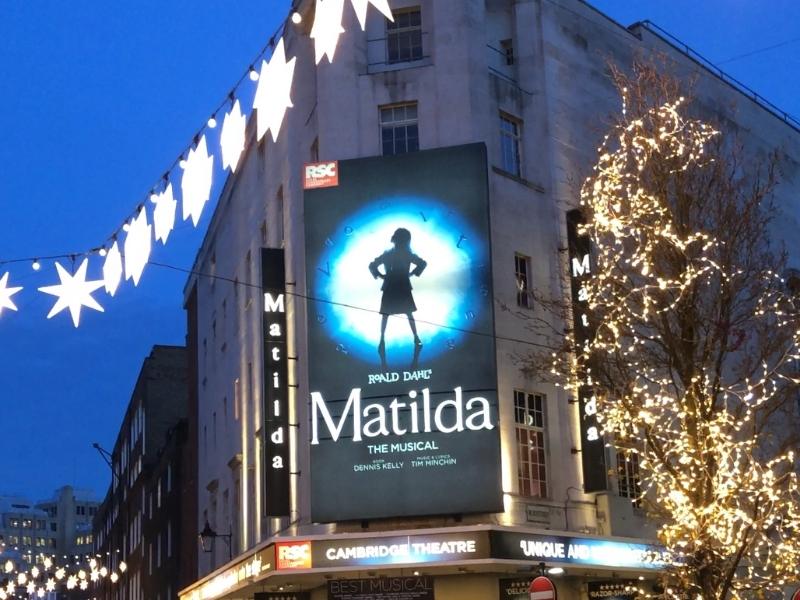 2. Hit the shops for some retail therapy
No winter trip is complete without some Christmas shopping. Many people visit London for the incredible shopping, which is just as good in the winter months (if not better).
Some of the most well-known shopping destinations in the city are Oxford Street, Regent's Street, Bond Street, and Selfridges.
For some real Christmas cheer, head to Harrods at night to admire their Christmas lights and visit Santa at his grotto. Don't forget to go to Covent Garden too and get a peep of their spectacular Christmas tree, decorations, and ogle at the Christmas windows that have been specially decorated for the holiday season!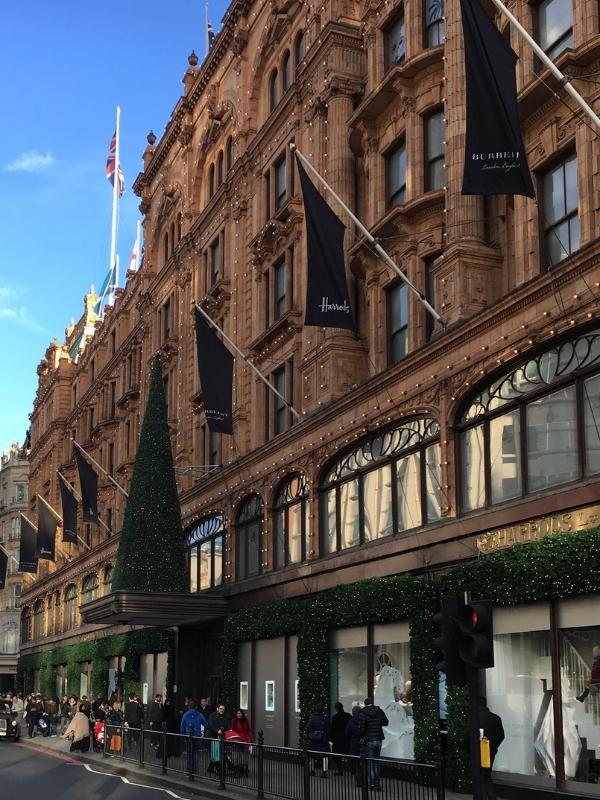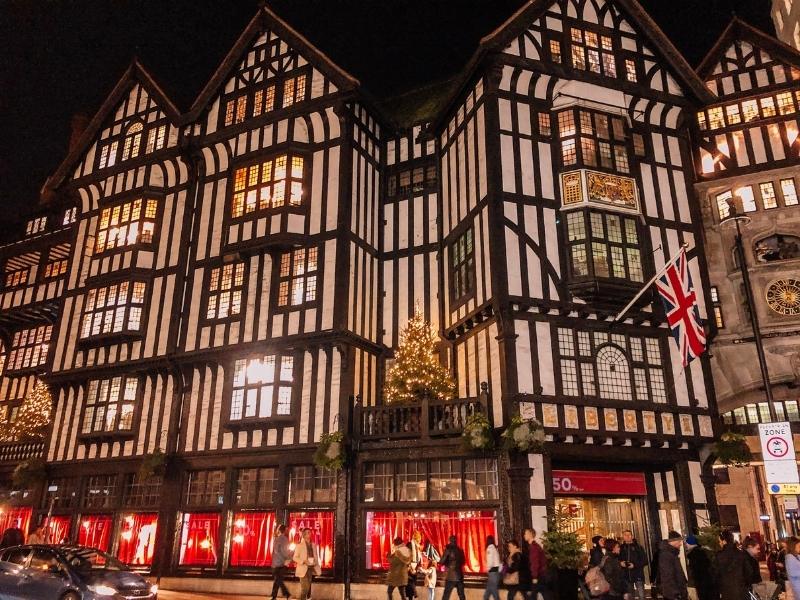 Covent Garden is also a top spot for entertainment, and you'll find yourself surrounded by some of the world's best street performers, plus there are always plenty of pop-up events and exhibitions throughout the year, including winter.
Now onto the real reason us shopaholics would visit London in winter… you guessed it. The SALES! The Boxing Day sales are the most well-known of course, and all over the country, people get up bright and early to battle for those mega-discounts!
However, there are great sales all the way through January too so if you would rather spend December 26th lying around walking off that Christmas Day turkey, you won't be missing out too much!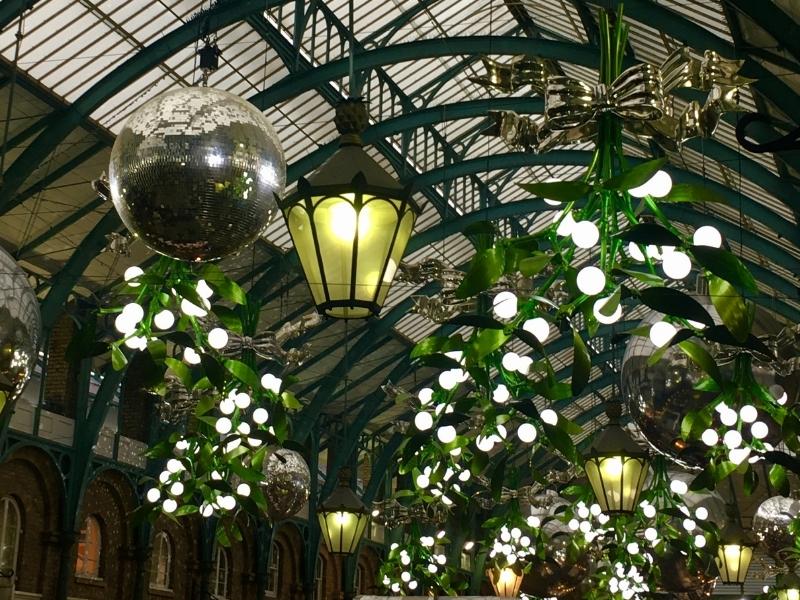 3. Enjoy afternoon tea
Is afternoon tea possibly the best meal of the day?! I think so, and I also think that heading indoors for a spot of afternoon tea is the perfect way to stay warm during the winter weather. What's more, you can even find yourself a festive afternoon tea to attend!
Imagine all your afternoon tea favourites but with a holiday twist, all with a beautiful Christmas table spread.
Don't fret if you find yourself visiting London after Christmas, because there are plenty of themed afternoon teas year-round too. You can find a Prêt-à-Portea at The Berkeley, as well as Charlie and the Chocolate Factory and Peter Pan themes.
If you really want to experience afternoon tea at its finest, then you have to go to the Ritz. It is so fancy, there are even 18 different types of tea to choose from – loose leaf of course.
Other options we recommend include:
Afternoon Tea Cruise on the River Thames – Indulge in one of England's best traditions and enjoy a 1.5-hour Afternoon Tea cruise along the River Thames, seeing some of the city's most historic buildings, while enjoying a pot of tea, served alongside a selection of delicate sandwiches and cakes.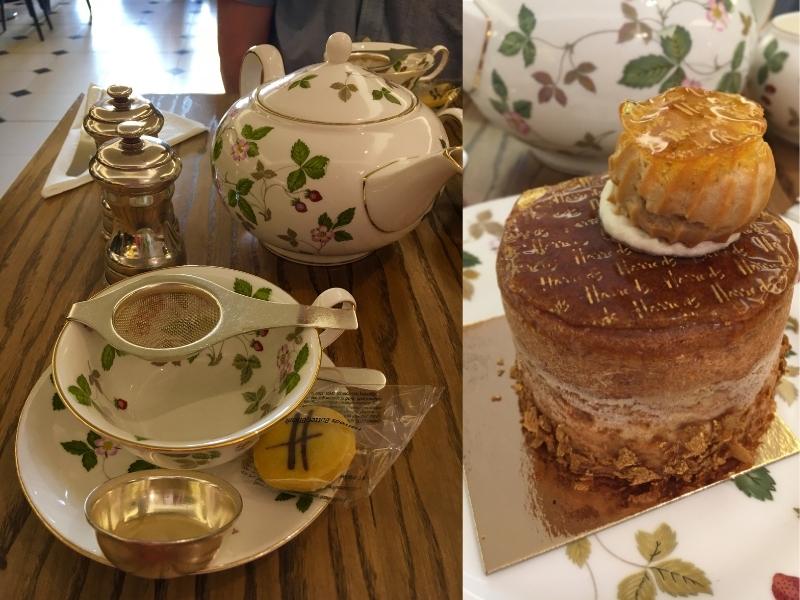 4. Cosy up in a London pub, rooftop bar, or riverside igloo!
When you get tired of your London sightseeing, such as strolling across Tower Bridge or riding on the London Eye, warming up in true UK fashion normally involves a cosy pub, a roaring fire, and a good old pint.
Some of my go-to places for some top-notch pub grub (and to stay warm) are Ye Old Cheshire Cheese, Jerusalem Tavern, and Old Coffee House in Soho. If this sounds like heaven to you, then consider going on a pub tour and visiting some of London's oldest/best pubs.
Something a little more up-market and with better views for sure are London's rooftop bars. Don't think that being in London in winter means you can't enjoy your drinks whilst admiring the city skyline with its iconic landmarks like the London Eye and the Shard.
These bars come well prepared for the winter weather with heaters and blankets. The Coppa Club will even have you seated in your own glass igloo!
Another top establishment to check out is the Trafalgar in St. James. The sun sets earlier in the winter months, so you may want to bear this in mind when planning your visit!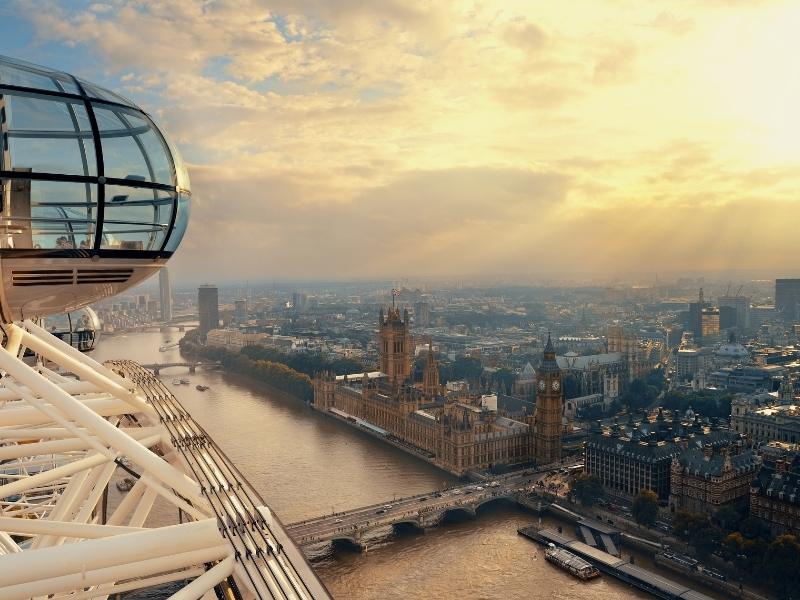 5. Visit some of the museums and art galleries
Remember when I said earlier that London has some of the best museums in the world? What makes them even more special is that they are FREE! If you are looking for budget-friendly things to do in London the museums should definitely make your itinerary.
There are a number to choose from. If you are visiting London with kids the museum to visit is the Natural History Museum.
I have loved the Natural History Museum since I first visited it as a child in the 1970 and have returned numerous times with my own daughter, I recommend that anyone planning to visit London gives it a visit (with or without kids! If not to escape the rain, then to check out the world-famous Dinosaurs gallery and the EPIC crystal room or, as the curators like to call it, the Mineralogy collections…
Another favourite is the Science Museum. What more can I say other than it's "sciencey", it's cool, and you should definitely consider a visit!
The Victoria and Albert Museum and the British Museum are also must-sees.
For all you art-lovers out there, London also has top galleries like the Tate Modern, the National Gallery, and Somerset House. The Tate Modern houses works from some ridiculously talented contemporary artists so if contemporary art is your thing, head on over!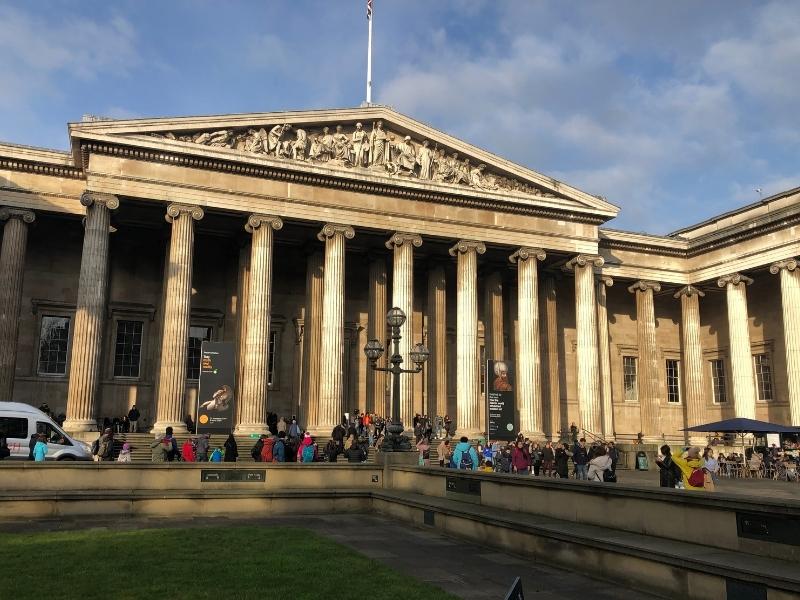 6. Enjoy views of the city and London landmarks
Just because you've found yourself in London in winter doesn't mean that you can't still take in the city's iconic sites, landmarks, and views. Just make sure to pack some winter wear to stay nice and toasty!
To name a few, The Shard, Sky Garden, and Canary Wharf should be at the top of your list, and for bonus points, hop on the London Eye for unbeatable views of Westminster Abbey, Big Ben, and the Houses of Parliament.
Another fun way to view the city is to take a boat ride along the Thames River.
This is a bit of an out-of-the-box London attraction, but if you're into art, then taking a stroll through Camden or Shoreditch will show you some of the city's most vibrant and colourful street art, including some work's by the street art king himself, Banksy!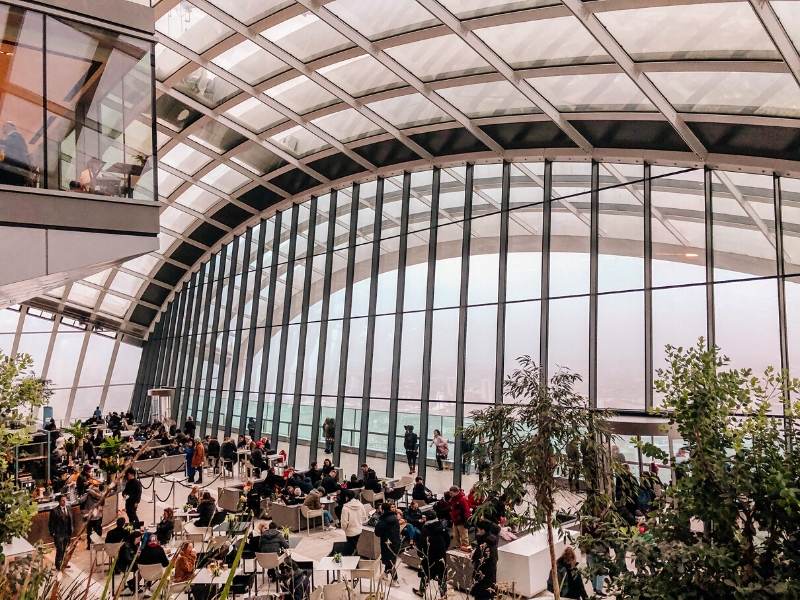 7. Visit London's top attractions
London's top attractions, like Buckingham Palace, Tower Bridge, and the Tower of London, not to mention seeing the Crown Jewels themselves with your very own eyes, are not to be missed, of course.
In fact, London in winter might actually be the best time to see these beauties… the city often has fewer crowds over winter, particularly over January and February.
Aside from seeing famous landmarks like Big Ben in the flesh, a little wander around London will reveal all sorts of hidden gems, especially if you throw caution to the wind and explore areas outside of the usual tourist trail. I highly recommend this if you have time as you never know what you will find!
The hop-on hop-off bus is a great way to get around the cities main sights especially when its a little chilly.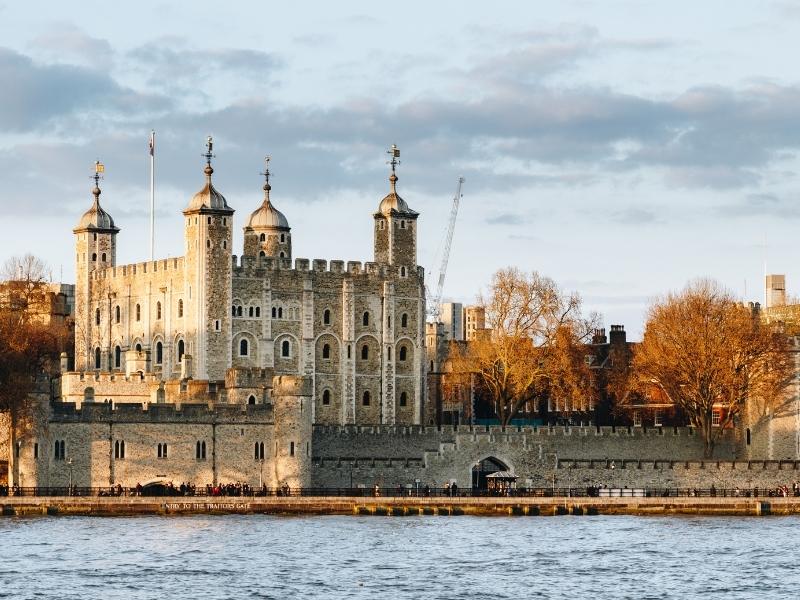 POPULAR LONDON ATTRACTIONS – ADVANCE PURCHASE AND/OR FAST TRACK TICKETS
🎡 London Eye – Ride with fantastic views over London. (Skip-the-line tickets available)
🏙 The Shard – Tallest building in the UK with commanding views over London.
⛪️ Westminster Abbey – Gothic abbey where coronations and royal weddings are held.
💎 Tower of London – Infamous prison and mighty fortress. The Crown Jewels are on display too.
⚔ Madame Tussauds – Get up close and personal with over 250 waxworks of famous people.
⛓ London Dungeon – Enjoy a recreation of some of London's goriest and macabre historical events.
🐧 London Zoo – World's oldest scientific zoo and a popular attraction for families.
👑 Hampton Court Palace – King Henry VIII's favourite palace.
8. Experience Hogwarts in the Snow
As a die-hard Harry Potter fan, this suggestion hits extremely close to home for me. Take a day trip from London to Warner Bros studio to escape the mundane muggle world and get your hands on some Butter Beer.
For other giant HP fans, a side trip to King's Cross Station and Platform 9 ¾ itself will complete your fantasies of being a Hogwarts attendee. I'm STILL waiting for my acceptance letter TBH. Darn owl post…
Okay, okay, I fully acknowledge that not everyone out there is a huge Potterhead. The good news is there are plenty of other great day trips to take from London in winter, like going to Oxford or Canterbury!
Click here for tickets to Harry Potter Studios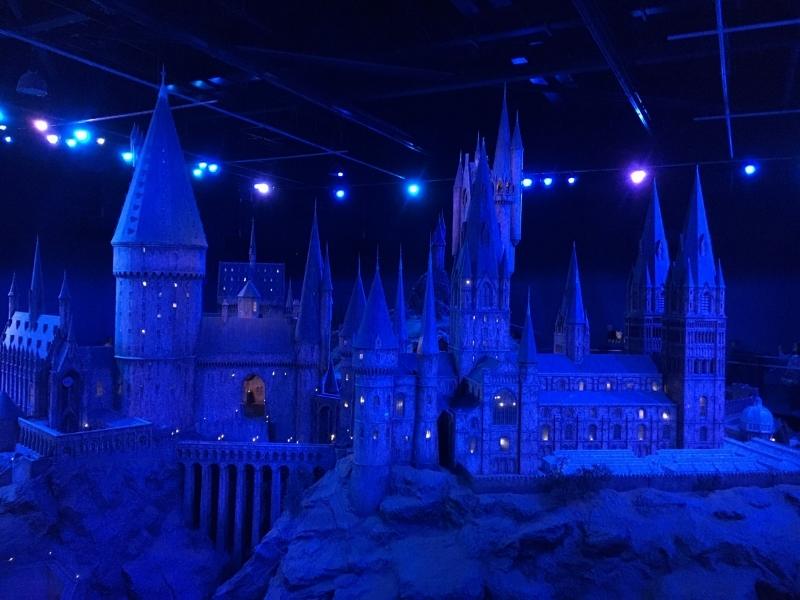 9. Take a stroll through London's parks and gardens
So you might be thinking: they're seriously suggesting that I take a walk in a park?! In London?! In winter?!! Yes, that is exactly what I'm suggesting. Like the rest of London, the park and gardens get a serious winter makeover.
Not just from a dusting of light snow and fallen leaves either, some of these places get seriously lit up with beautiful Christmas lights.
Some well-known favourites are Kew Gardens, Kensington Gardens, Hyde Park, and Green Park. These are beautiful places to visit and some even host special winter events (more on that later).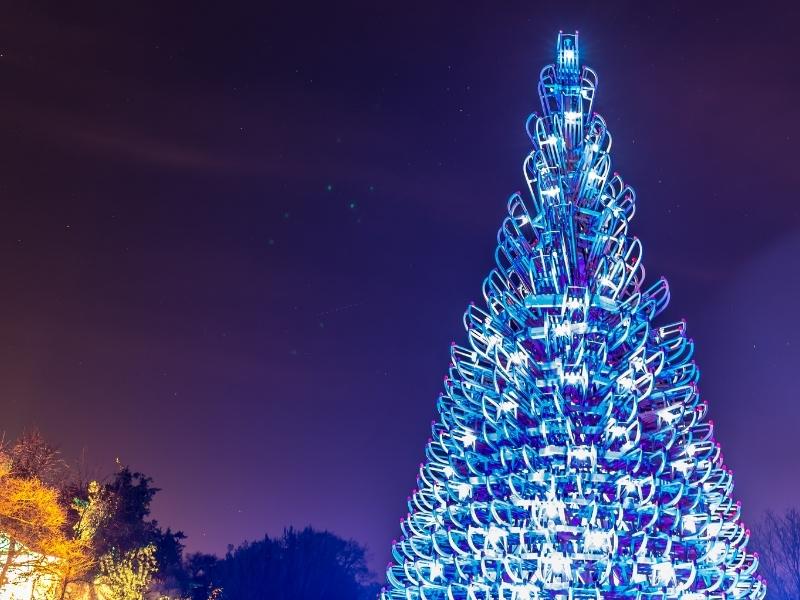 10. Join a themed tour of London
London has some fantastic themed tours, and London in winter makes some of these tours even more special! Sometimes the stars align, and the cold, early winter nights can enhance the atmosphere and ambience of your tour, or the cold weather mist can make things seems just that little bit more spooky.
We suggest the Jack the Ripper Tour or a Ghost Walk and Spooky River Thames Boat Ride! Taking a street art tour can also be a fun way to spend an afternoon or morning.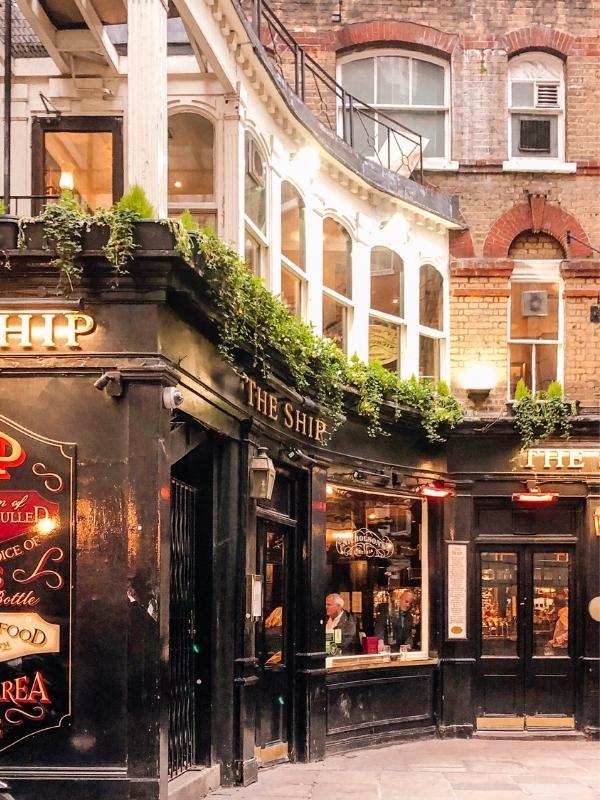 11. Visiting London in December
So this whole article I've been trying to convince you why London in winter is the one, but let me now tell you why you should visit London specifically in December. This is a particularly special (and hella festive) time as you'll be practically drowning in Christmas cheer and pretty lights, and have more Christmas activities than you'll know what to do with!
Christmas lights – London in winter isn't complete without a visit to see some Christmas lights! The city is just covered in twinkling lights at this time of the year but some of the best places to really see a show are Kew and Covent Gardens, Regent Street and Oxford Street. For an epic Christmas light switch on, go to Borough Market and enjoy the festivities and shopping at the Christmas market! Some of THE most beautiful trees to visit are definitely the Christmas tree at Leicester Square, or like I mentioned before, Covent Garden.
Christmas decorations – December is also the best time to see the city's Christmas decorations in all their glory. Walking down any of London's famous shopping streets will give you first class access to some of the most impressive Christmas decor in the world.
Ice skating – Strap on your skates (or rent some) and go all winter Olympics on your friends at one of the city's many ice skating rinks! Some of the most magical places to go ice skating outdoors are Hampton Court Palace, and Somerset House. If you're not Tonya Harding, don't think that means you have to miss ice skating, as these places are also beginner-friendly!
Read – 22 Best Christmas Tours to take in London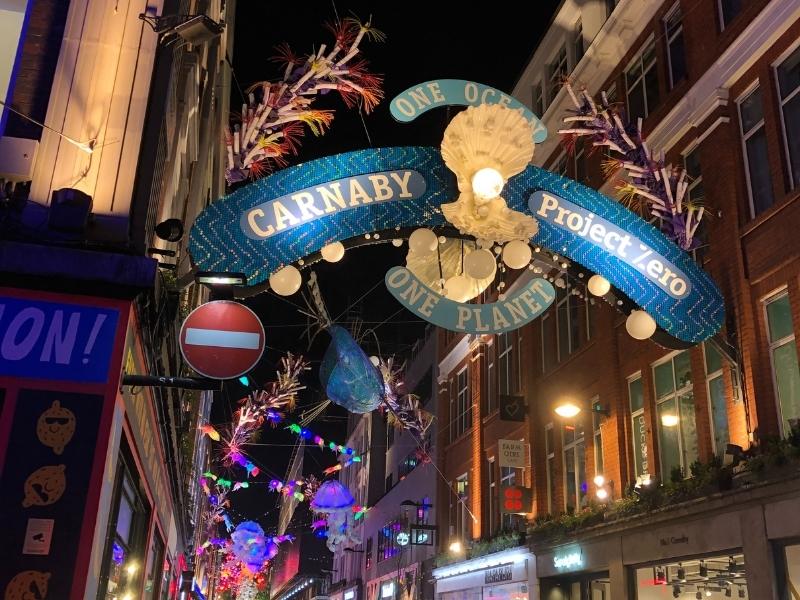 Christmas markets – If you feel inspired and want to get a festive souvenir from your trip, head to any of London's Christmas markets for the best selection of Christmas ornaments, and get some delicious food while you're at it. I absolutely love visiting Southbank Centre, but the Christmas market at Leicester Square is really something special and is not to be missed.
Winter Wonderland at Hyde Park – For the holy trinity of all things Christmas, Winter Wonderland at Hyde Park will give you insane Christmas lights, a magical Christmas tree, AND has the UK's largest outdoor ice rink! Mega bonus points for the Christmas market there too.
Indoor Christmas markets – Okay, so what if you have the most rotten luck and it's raining the whole time you're in London, then what? Then, you simply head to an indoor Christmas market. Greenwich and Borough Market are fantastic options for some festive shopping, all while being covered from the miserable English weather!
Take the holiday spirit a step further and warm up with a piping hot glass of mulled wine or hot chocolate. Christmas markets have got to be one of the top reasons why anyone would visit London in winter. You'll find your usual street food fare plus some festive food options (think gingerbread, candy canes, and rum truffles!). They really are the central hub of activity during December and are the highlight of many people's winter vacation, trousers with an expanding waistline are highly recommended…
Discover more things to do and see in London in December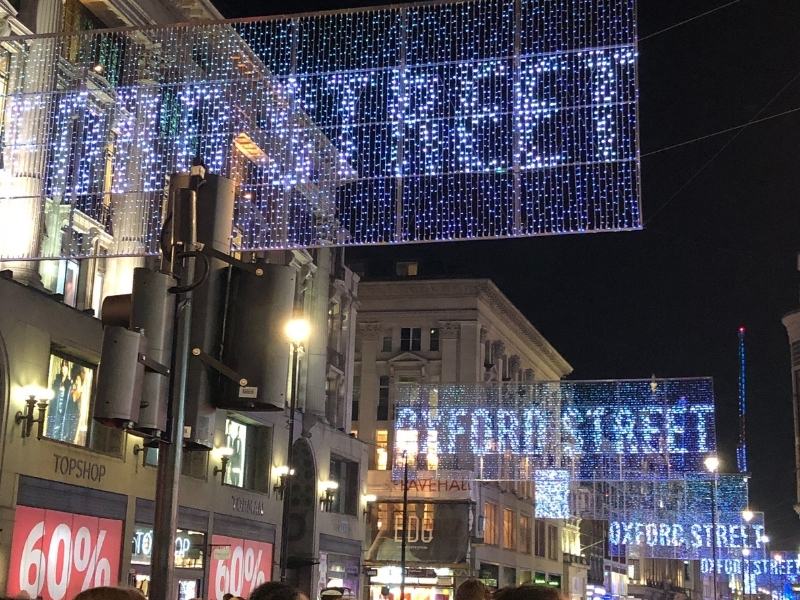 Visiting London in winter – FAQs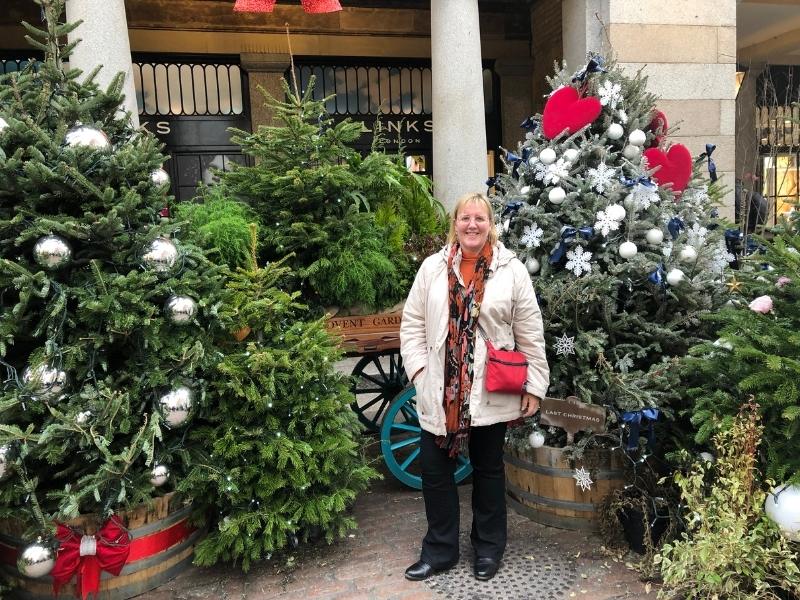 What is the weather like in London in winter?
Surprisingly, London in winter only has a few more rainy days on average than the rest of the year, there's also the chance of snow too so that more than makes up for the cold in my books!
From November to February you can expect things to be a little bit chilly with freezing temperatures (brrrr) on some days. The average temperature during these months are highs of around 8 degrees and lows of just over 2 degrees.
January just about wins first prize for the coldest month with an average temperature between 2 and 7 degrees. So make sure you wrap up warm!
Over the winter months, the sun sets earlier and you'll have fewer daylight hours, but, that all just adds to the festive feeling, don't you think?? The sun will set earliest around mid-December just before 4 pm and the shortest day (the Winter Solstice) will be on December 21st.
What should I wear if I am visiting London in winter?
With pretty low average winter temperatures, the absolute KEY to surviving winter in London, much like the key to the perfect Christmas trifle, is all in the layers. On top of your normal outfit, you've got to pop on some winter wear like a good coat, scarf, gloves, and a hat!
Going indoors or taking the underground will feel like a sauna after you've been out in the frosty air, so you'll want to be able to strip it all off and easily put it all back on again before you head back outside!
A good pair of comfortable waterproof boots are essential too.
How to get around London in winter?
Normally, I am a strong advocate for the London Underground, but right around Christmas (especially around Oxford and Regent's Street), the tube can be PACKED. I am talking sardines in a tin packed. And, even if you did take my advice and layer up, taking off those layers may be tricky to pull off without elbowing a stranger or two!
Luckily there are loads of other great public transport options such as the bus, tram-link, or even the Thames river taxi (getting where you need to go AND a view? Sign me up please).

Where to stay in London in winter?
We always recommend staying in central London – this is truly not the time of year you want to spend hours travelling back and forwards to your accommodation though hotel prices may feel prohibitive. It may be tempting to book cheaper accommodation if you are on a budget but spending that little extra in London is worth it.
Below I have recommended my pick of 3 luxury, mid-range, family-friendly and apartments options for your perfect stay in London.
London luxury hotels ⭐️⭐️⭐️⭐️⭐️
London mid-range hotels
More options – Best mid-range hotels in London
London budget and family friendly hotels
More options – Best London hotels for families
Best apartments for your London stay
Plan your trip to London
Visiting London (monthly & seasonal guides)
London Travel Guide & Itinerary Planner (+ 4 bonus ebooks)