Are you wondering whether a trip to Scotland in winter is a good idea or not? This article will convince you that it is.
Scotland is a diverse and fascinating destination at any time of the year. It offers something for everyone from historic castles and battlefields to cosmopolitan cities to fantastic hiking and natural scenery.
Adrenaline junkies can enjoy climbing, mountain biking and coasteering whilst foodies can indulge in a vibrant and thriving Scottish food scene. Winter brings additional snow sports as well as unique winter food and drink to sample.
Whilst a winter trip to Scotland has its challenges, it also offers several unique opportunities for visitors to experience the cultural and historical events and festivals that Scotland is famous for.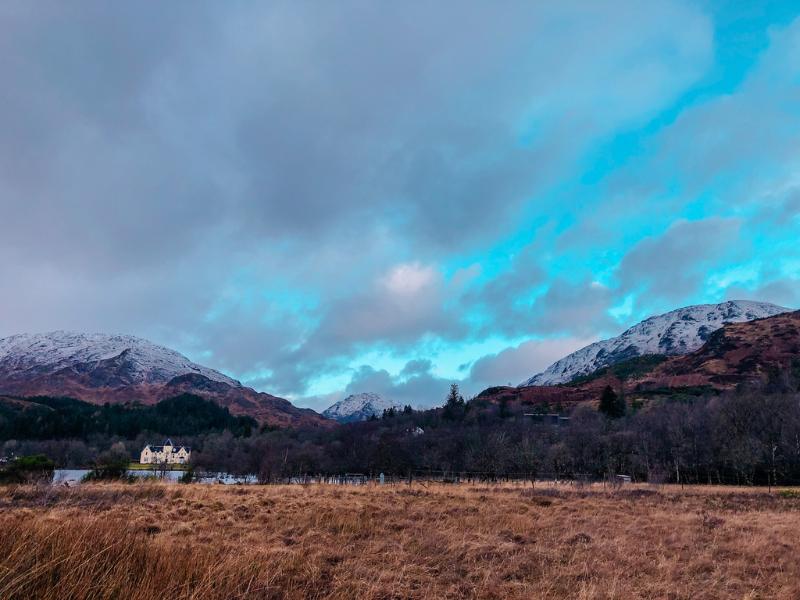 Advantages of visiting Scotland in winter
Winter in Scotland can be magical when the hills and glens are covered in snow. The snow-capped Scottish Highlands on a sunny but crisp winter day is an unforgettable experience.
If you like winter sports you can try snow sports such as skiing, snowboarding and curling.
You will also encounter fewer foreign and domestic tourists and attractions and transport will be quieter. Plus, it will be too cold for the infamous Scottish midges to bother you.
As winter is the low season, this is a good time to visit if you want to pick up low cost hotel deals.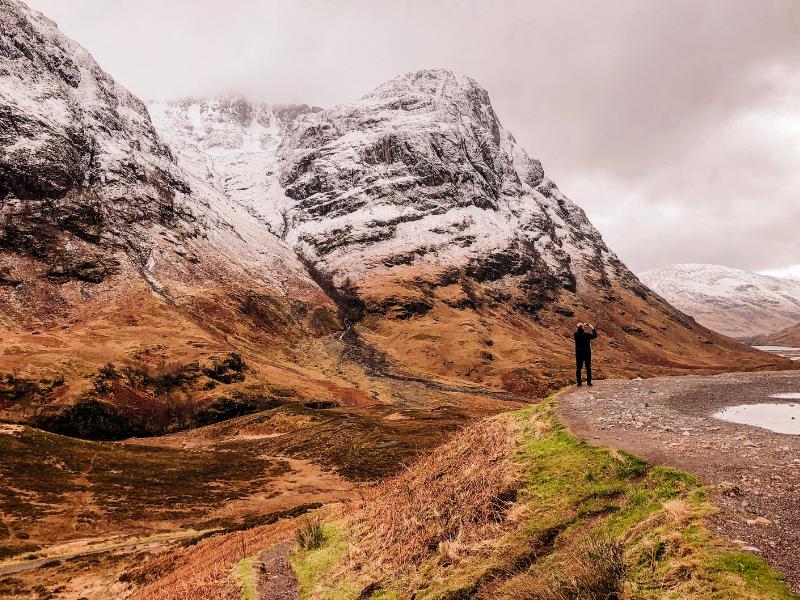 Disadvantages of visiting Scotland in winter
Scotland in winter can get very cold and you will have shorter daylight hours for sightseeing. Whilst you can get sunny, blue sky days in winter you will inevitably get plenty of rainy days too.
Driving in Scotland in winter on a Scottish road trip can be challenging particularly in rural areas. You will need to research and plan your routes carefully plus keep up to date with local weather forecasts.
As it is low season, some attractions may have shorter opening hours whilst some may shut for the entire winter season.
Things to do in Scotland in winter
Wherever you travel in Scotland in winter, there are lots of things to do and events to visit.
Places to visit in Scotland in winter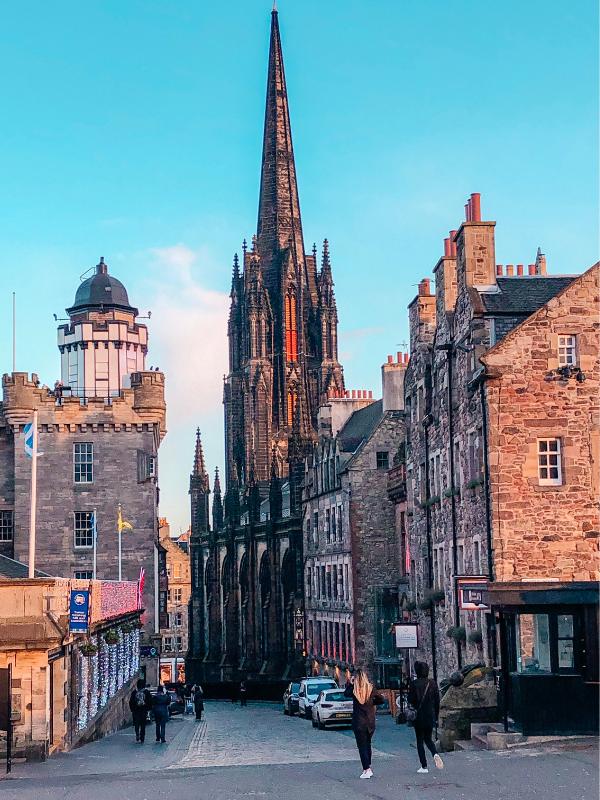 Edinburgh
Edinburgh is a fantastic destination to visit at any time of the year but in winter, its wide choice of world class museums are ideal for escaping to on a rainy day.
Visit the impressive National Museum of Scotland and the Scottish Art Gallery (both of which are free), the famous Edinburgh Castle, the quirky Camera Obscura or the small Writers Museum. You can even escape the rain or snow on an underground tour of St. Mary's Close.
Edinburgh in the winter is an atmospheric and lively place so don't dismiss an Edinburgh winter trip.
🥃 Whisky Distilleries
If you like Scottish drinks and food, you can warm your winter chills with a tour of a Scottish whiskey distillery. There are over 130 whiskey distilleries in Scotland to choose from.
All tours include tastings with takeaway 'driver's drams' for anyone who is driving and some tours offer soft drinks for children over 8 years old.
You can expect to pay between £5 – £30 per person per tour depending on the size of your party and the size (and reputation) of the distillery.
On a tour you will learn about the history of whiskey and discover how it is made. Tours end with tastings of between 3 and 7 whiskeys, depending on the distillery.
Some distilleries such as the Uilebheist distillery near Inverness, offer master classes and food tastings alongside their general tours.
You can find a full list of whiskey tours in Scotland here.
Fort William
Fort William is Scotland's 'outdoor capital' but it is not just a summer playground.
In winter you can try ice climbing, skiing or snowboarding, join a wildlife safari or take the gondola to the Nevis Range mountain restaurant to savour the winter views. You can avoid winter driving by taking the Jacobite train from Fort William across the Glenfinnan Viaduct to Mallaig.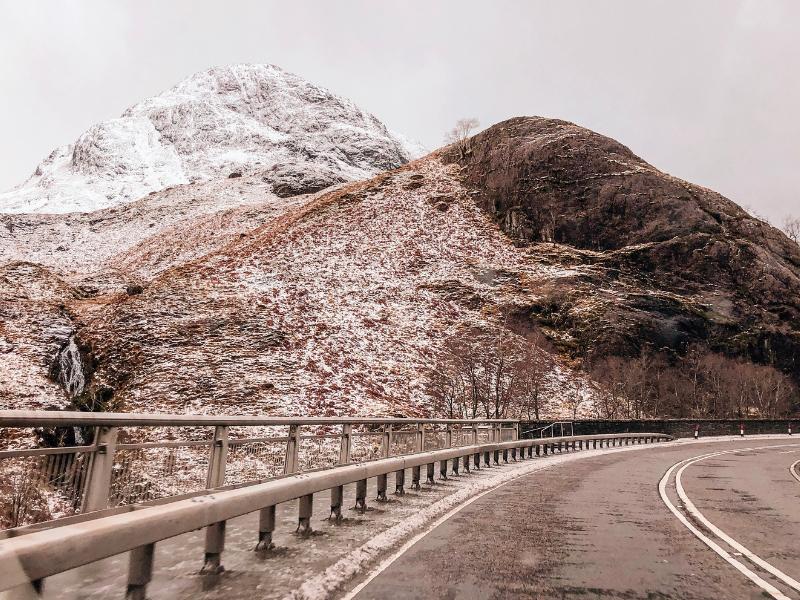 Events in Scotland in winter
Irn-Bru Carnival
Named after one of Scotland's most popular soft drinks, this three week indoor winter festival is Europe's largest indoor funfair.
The huge indoor site in Glasgow offers something for all ages and is the perfect fun day out for all ages. Entrance tickets to the Irn Bru Carnival include ten vouchers for rides but you can purchase more vouchers during the day if you wish. It is one of the best indoor events in Glasgow in winter.
Up Helly Aa
Up Helly Aa takes place in towns around northern Scotland with the largest event held in Lerwick on the Shetland Isles. It is held on the last Tuesday in January and has been running for the past 150 years. Up Helly Aa is Europe's largest fire festival and attracts visitors from all over the world.
The event marks the end of the Yuletide period and consists of torchlit processions by 'squads' led by a 'jarl' which culminates in the burning of a replica Viking Longship. After this, the squads hit the town to party.
If you are looking for unique things to do in Scotland, Up Helly Aa should be top of your list.
Dundee Winterfest
This five week long event takes place in Slessor Gardens in the heart of Dundee. It consists of a ferris wheel, an outdoor ice rink and a vintage funfair plus a Bavarian bar.
It is a fun, free to enter event for all the family (you just pay for the activities once inside) and is well worth visiting if you are in the Dundee area.
Sports in Scotland in winter
⛷ Skiing
Scotland is a relatively undiscovered ski destination but there are six ski resorts that offer beginner and advanced ski and snowboard slopes. If you wish to try skiing, most resorts offer taster sessions or short beginner courses with equipment hire available on site.
Visit the Glenshee Ski Centre near Braemar which is the largest ski centre in the U.K or any of the ski resorts near Aviemore such as CairnGorm Mountain.
❄️ Snowshoeing
If you prefer something less energetic and want space and time to soak up the scenic mountain views, join a guided snowshoe hike in the Cairngorms. All equipment can be hired from the tour company.
You will learn how to effectively hike and move on deep snow and can visit out of the way areas that other tourists will not be able to reach by car.
Curling
Curling is a very popular indoor winter sport in Scotland and Scottish teams regularly win medals at global tournaments.
Curling is a team game played on ice where players expertly aim and slide large flat stones across the ice to hit (or be the closest to) a mark. Members of the same team use brooms to vigorously sweep the surface of the ice to control the speed and direction of the stone.
The sport can be enjoyed by all ages, abilities and genders and is great fun to watch and to participate in. There are curling centres all over Scotland (usually in ice skating rinks) where you can pre book tutored tasting sessions. It is a must do for any Scotland winter itinerary.
You can find a session near where you are travelling here.
Festivals in Scotland in winter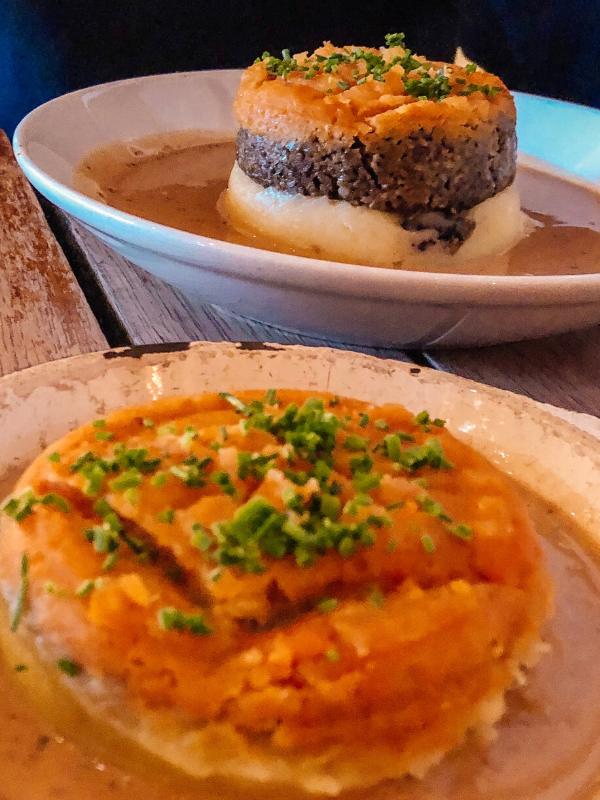 Hogmanay
Hogmanay is synonymous with Scotland and is the country's biggest winter celebration.
Hogmanay falls on New Years Eve with celebrations often lasting until January 2nd. Festivities start shortly after midnight with 'first footing' when people try to be the first person to cross the threshold (or visit the home) of a friend or family member. Gifts such as shortbread and whisky are exchanged which are believed to bring good luck to the householder.
You will also hear multiple renditions of 'Auld Lang Syne', a song based on a poem by the Scottish poet Robert Burns.
Many cities and towns hold Hogmanay events which include their own local customs such as fireball swinging in Aberdeenshire and torchlit processions in Fife.
Hogmanay celebrations in Edinburgh include live music concerts, fireworks displays and a street party on Princes Street. All Edinburgh events are ticket only so if you plan on visiting, get your ticket here in advance of your visit.
Hogmanay is, without doubt, one of the best things to do in Scotland in winter.
Burns Night
Burns Night celebrates the life and works of Robert Burns and is held every year on his birth date of January 25th.
Burns Nights celebrations start with the arrival of the haggis to bagpipes followed by a traditional Burns Supper of haggis, tatties and neeps washed down by whisky. During the meal, diners are treated to poems and songs. Most events end with a lively Scottish ceilidh.
If you are in Scotland for Burns night, we highly recommend trying to attend one of these uniquely Scottish events.
Christmas in Scotland
If you are visiting Scotland in late November and December you will be treated to an array of Christmas markets.
Scotland's Christmas markets are free to enter and are an excellent opportunity to pick up local crafts, locally made whiskey or to try a warming mulled wine.
The Christmas Market in St. Enoch and George Square in Glasgow is one of the biggest and best in Scotland.
Scotland in winter FAQs
When is the best time to visit Scotland in winter?
Although December will be the busiest winter month to visit Scotland, it is also the month in which most festivals and events happen.
Scotland in December will experience higher prices and busy winter attractions but it will also be a lively, fun and festive time to visit.
What is the weather like in Scotland in winter?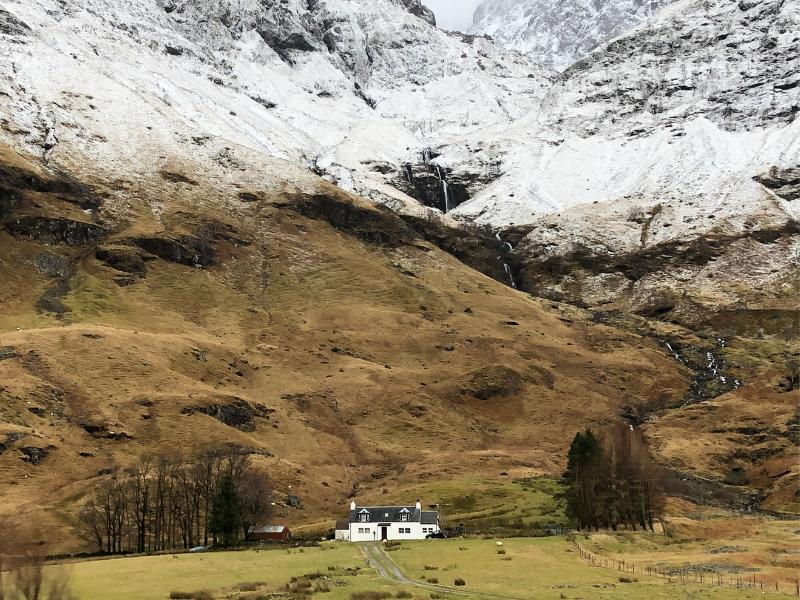 In a word – cold! But you will be pleasantly surprised to discover that Scotland in winter is not as cold as other countries which are on the same latitude.
The average temperature in December in Scotland is 5 degrees C / 41 degrees F. In January and February, the average temperature is 4 degrees C / 40 degrees F.
However, it is worth remembering that these are the average temperatures across the whole of Scotland. You can expect much colder temperatures if you travel to the far north of Scotland or to anywhere at altitude. A Scottish highlands winter is not for the faint-hearted!
For example, the lowest temperature ever recorded in Aviemore is -14 degrees C / 6.8 degrees F.
There will be snowfall in the winter months with an average fall of 5 cm per month – though you can expect much more than this in rural and mountainous areas. For example, the average snow depth in the Glenshee ski area is around 19 cm.
As well as several snowy days per winter month, you can expect plenty of rainy days. December and January see an average of 7 cm of rain per month, dropping to 5.9 cm in February. You can expect an average of 20 rainy days a month during the winter in Scotland!
How many daylight hours does Scotland get in winter?
Many visitors are surprised how much daylight you will have in winter in Scotland. It does not experience the endless darkness of Scandinavian countries.
In December, there is an average of 7 hours 4 minutes of daylight which rises to 7 hours 41 minutes in Scotland in January. This increases to 9 hours 41 minutes in February.
What to pack for Scotland in winter
It is essential to pack carefully for a trip to Scotland in winter.
Make sure you pack layers, including thermal base layers, as these will keep you warmer than single bulky items. They will also be easier to remove if you go inside a museum or restaurant and need to cool down.
Pack a warm, waterproof coat and a woolly hat, scarf and gloves. Warm, thick socks are a must; Merino wool socks are lightweight and will keep your feet dry and warm.
Don't forget to pack sturdy, good gripping waterproof shoes or boots which will help you navigate snowy, icy pavements and paths. If you can fit it into your luggage, a collapsible umbrella and a torch are also a good idea.
Plus, if you plan to do any snow sports, pack some sun cream, sunglasses and lip balm to protect your eyes and skin from the reflective glow of the snow.
If you can cope with the changeable and chilly Scottish weather, Scotland in winter is a truly magical experience. The hills and glens have an added atmosphere in the wind and rain whilst the snowy Cairngorms and icy lochs create a stunning backdrop for photos.
Plus, there is nothing better than after a day of cold, windswept sightseeing, retiring to a cosy pub to enjoy a pint of Scottish beer or a wee dram before a roaring log fire.
We hope this post has convinced you to give Scotland in winter a try!
Plan your trip to Scotland