Find the perfect accommodation for your special stay in this selection of the best Scottish castle hotels.
Who hasn't dreamt of spending a night in a fairytale castle? I know I have! And if you are planning a visit to Scotland you will be pleased to know that you can make your dream come true whether you want to experience life in the style of Scottish Laird (Monarch of the Glen style) or simply soak in the romance and history of your surroundings.
There is a fabulous selection of castle accommodation options to choose from in Scotland to suit all budgets and tastes. In this article, you will find my top 10 choices of Scottish castle hotels – a perfect accommodation option in Scotland.
This post may contain compensated links, meaning that if you buy through them, we get a small commission at no extra cost. Please read our full disclosure for further information. As an Amazon Associate, I earn from qualifying purchases.
Best Scottish Castle hotels
Inverlochy Castle Hotel ⭐️⭐️⭐️⭐️⭐️
Location – The Castle sits amidst some of Scotland's finest scenery near Fort William in the Highlands of Scotland
History – Visited by Queen Victoria in 1873 who wrote in her diaries that she had never seen a lovelier or more romantic spot.
Accommodation – Choose one of the 17 luxurious rooms or suites or a stay at the Gate Lodge (self-contained accommodation)
Each of the bedrooms and suites has spectacular views of the grounds and private loch. The Gate Lodge is comprised of one double bedroom and one single room, one bathroom, one shower room and a relaxing living room. It is the perfect family retreat.
Glenapp Castle ⭐️⭐️⭐️⭐️⭐️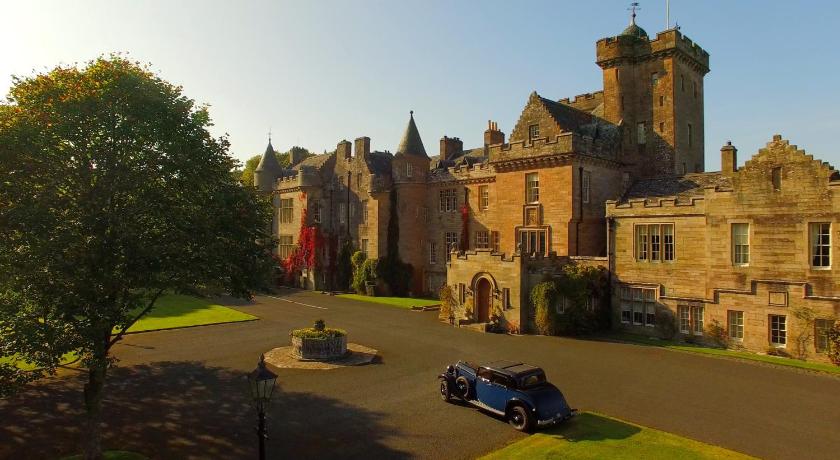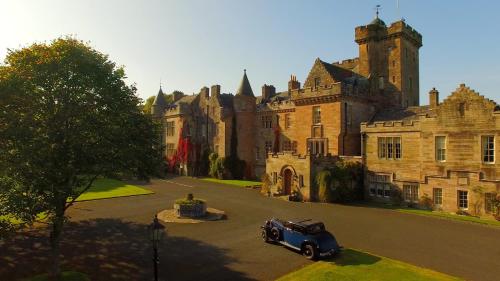 Location – Set in 36 acres of gardens and woodland 15 miles from the city of Stranraer in Ayrshire.
Accommodation – This luxury Scottish castle hotel with beautiful period furnishings and interiors offers a choice of 17 guest rooms many with superb sea views.
Enjoy stunning Scottish cuisine in the castle's award-winning restaurant. For a special treat why not book an afternoon tea and enjoy views over Ailsa Craig and beyond.
Atholl Palace Hotel ⭐️⭐️⭐️⭐️
Location – The Atholl Palace hotel is located one mile from the small town of Pilochry in the Scottish Highlands.
Accommodation – Offering a choice of rooms including single, twin, double and family with views over the scenic mountains or valley. Enjoy the spa and leisure activities including indoor pool.
The hotel specialises in a variety of game and fish dishes with local produce a feature of their menus.
The Tower – Thornton Castle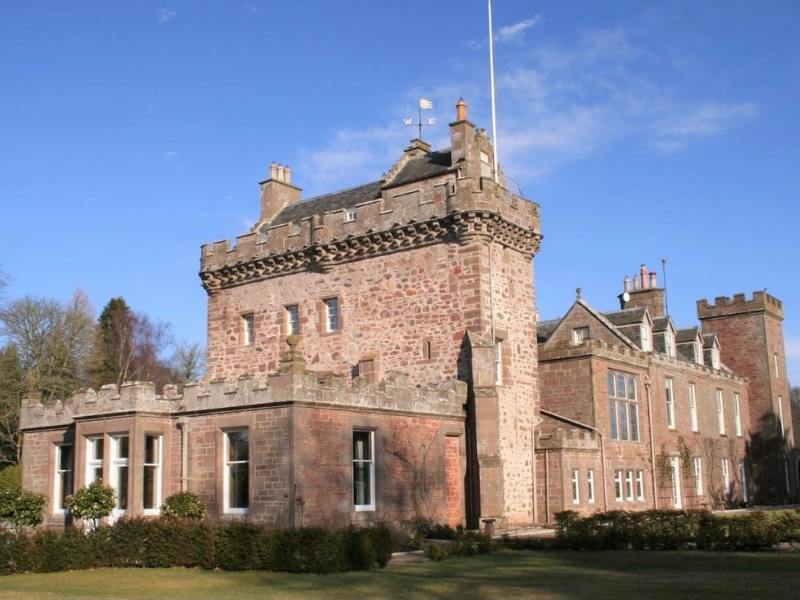 4 guests · 2 bedrooms · 3 beds · 1 bath · Superhost
Location – 45 minutes drive south of Aberdeen
History – The castle dates from the 13th century and is full of original features.
Accommodation – Stay in the 16th-century Scottish tower wing. Accommodation includes 2 bedrooms for 4 people over two floors with a large bathroom and a small sitting room with tv. Full breakfast is included.
Balintore Castle Kitchen Wing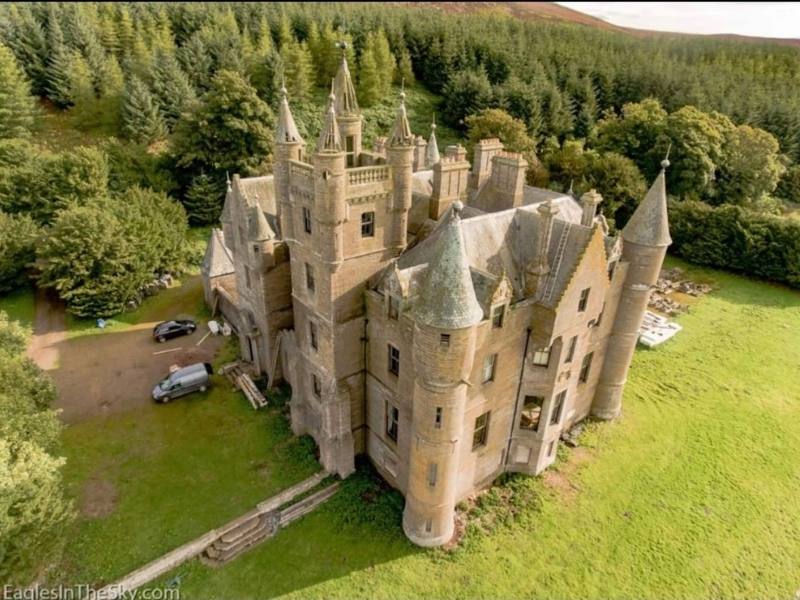 6 guests · 3 bedrooms · 4 beds · 1 bath
Location – This is located in Angus east of Pitlochry and 10 miles from Glamis Castle
History – Balintore Castle is over 160 years old and is owned (and being lovingly restored) by its Highland Laird owner.
Accommodation – Rooms are located in the restored kitchen wing of the castle. Enjoy the wonderful location and scenery around the castle. Although breakfast is not included tea & coffee making supplies and facilities are available.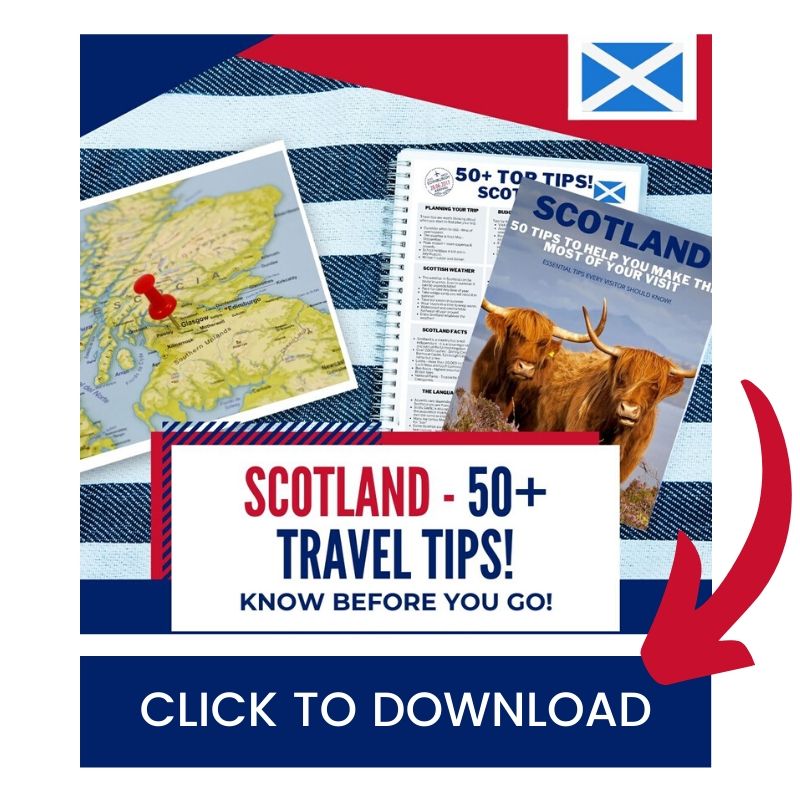 Ancient Castle above the River Tweed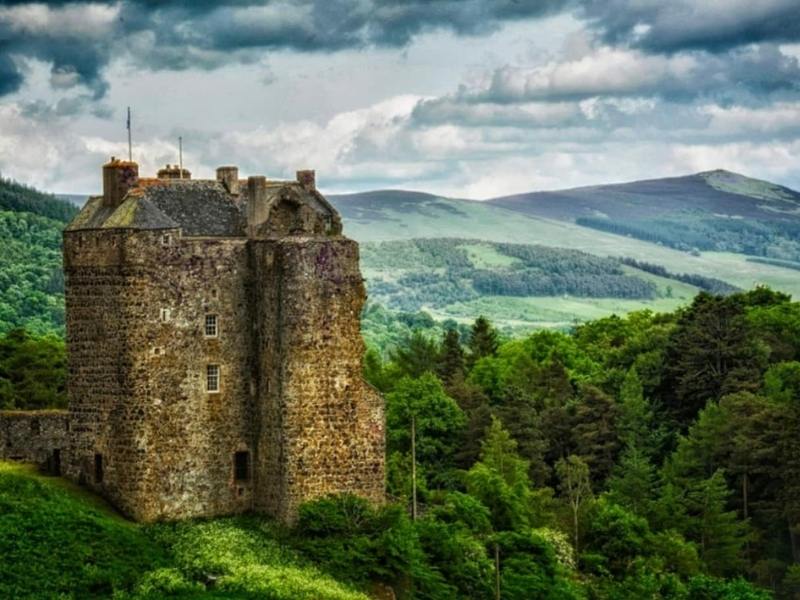 2 guests · 1 bedroom · 1 bed · 1 bathroom
Location – Scottish Borders
Accommodation – The Mary Queen of Scot's chamber at Neidpath Castle is perhaps the most romantic place to stay in the Scottish Borders.
Explore the castle and then retire to enjoy your suite rooms. With an antique four-poster bed, deep roll top bath and open fire the suite is comfortable and luxurious.
There is a small kitchenette with a fridge, kettle and provisions for a continental breakfast. Dinner can be served by prior arrangement.
Romantic Medieval Castle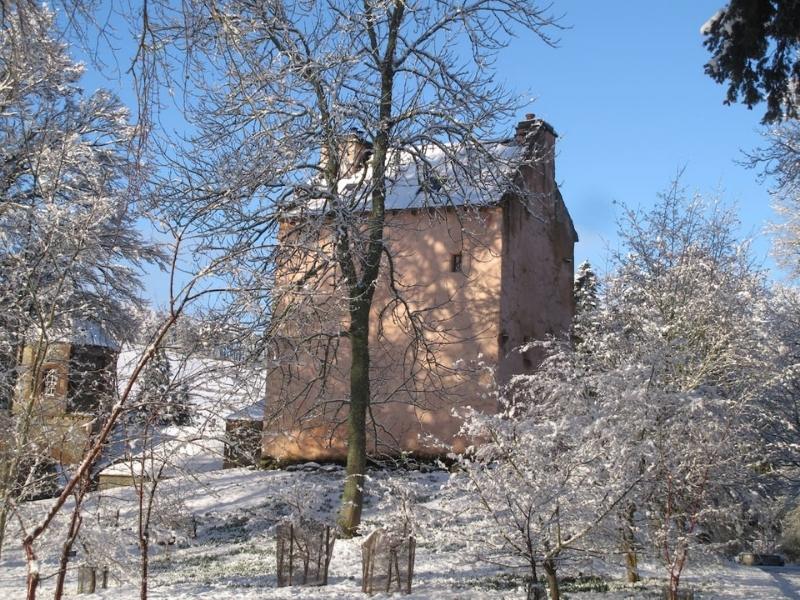 4 guests · 1 bedroom · 3 beds · 2 bathrooms
Location – Peebles
Accommodation – This authentic medieval mini-castle is located in beautiful countryside on the River Tweed.
Enjoy the roaring log fires and all the luxuries of the 21st century. Ideal location for exploring the Scottish Borders. Edinburgh is only 45 minutes away.
– > Check for price and availability
The Bridge House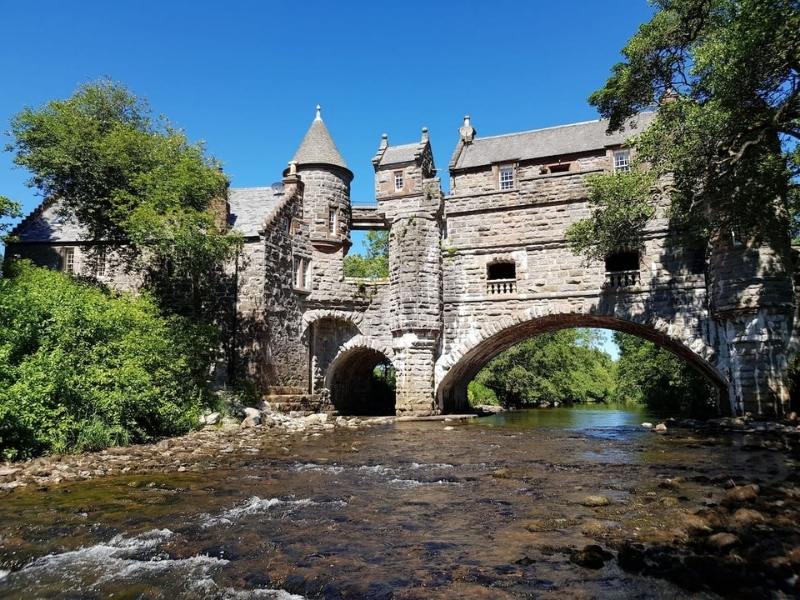 4 guests · 2 bedrooms · 2 beds · 1 bathroom
Location – Ballintuim
Accommodation – A unique and unusual 2 bedroom home built on a bridge spanning the River Ardle.
Constructed in 1881 and retaining original features including stone spiral stairs, traditional Scottish timber clad walls, stone/pine flooring and even a privy directly over the river below.
– > Click for prices and availability
The Snug – Kilmartin Castle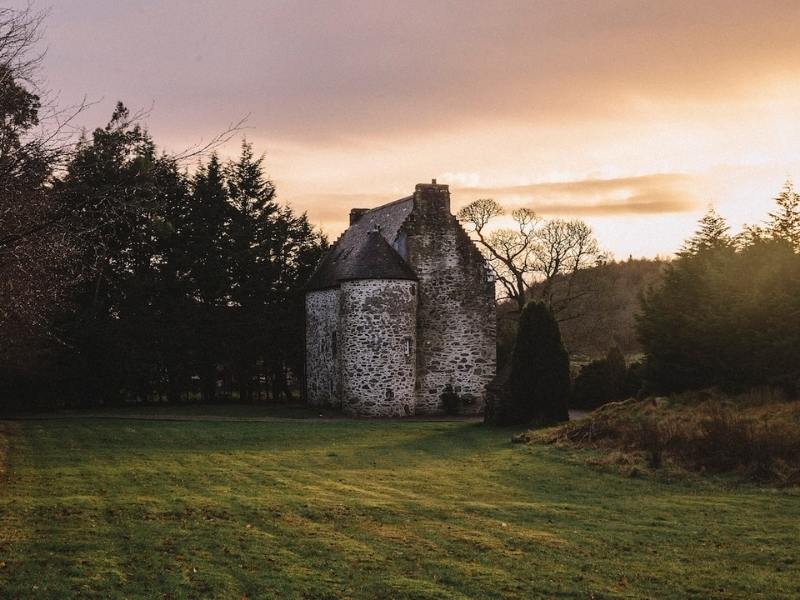 2 guests · 1 bedroom · 1 bed · 1 private bathroom
Location – Argyll
Accommodation – Enjoy a stay at this luxury retreat and 16th Century castle!
The original barrel-vaulted stone ceiling in the bedroom has been there since 1550 which makes this Scotland's most unique bedroom. Sleeping beneath it feels is a pretty special experience!
The Snug has underfloor heating and an open walk-in rain shower surrounded by exposed stone. All of the rooms have luxury bed linen, towels and robes.
-> Click for price and availability
Invergare – unique B-listed Castle built 1855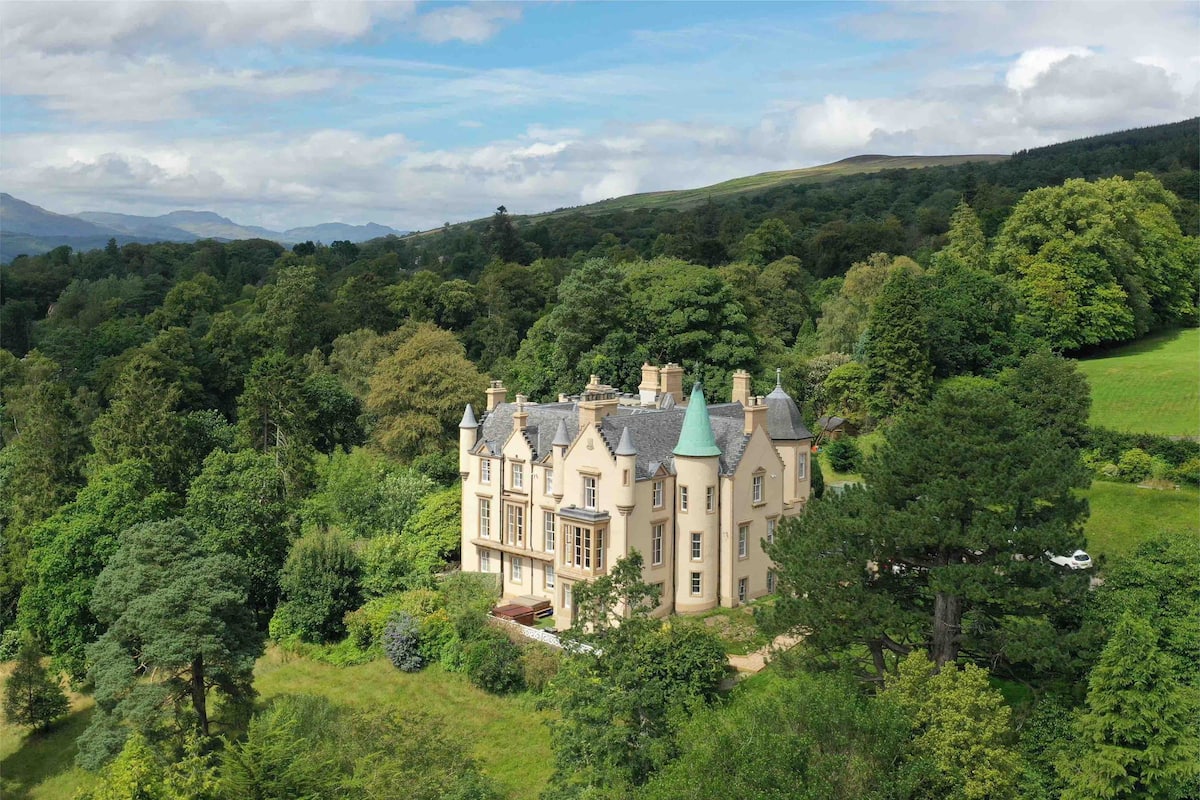 16 guests · 13 bedrooms · 15 beds · 7.5 bathrooms
Location – Rhu
Accommodation – Located in the conservation village of Rhu and faces the Clyde Estuary this beautiful house is of a Scots Baronial style.
Inside the house there are many beautiful period features including marble fireplaces in the drawing-room.
Enjoy a luxurious stay and explore the local area including beautiful Loch Lomond
– > Click for price and availability
Plan your visit to Scotland
You can find more beautiful special stays in Scotland in my Scotland accommodation guide.
If you love the idea of staying in a Scottish castle you may be interested to visit a few!
Related Reading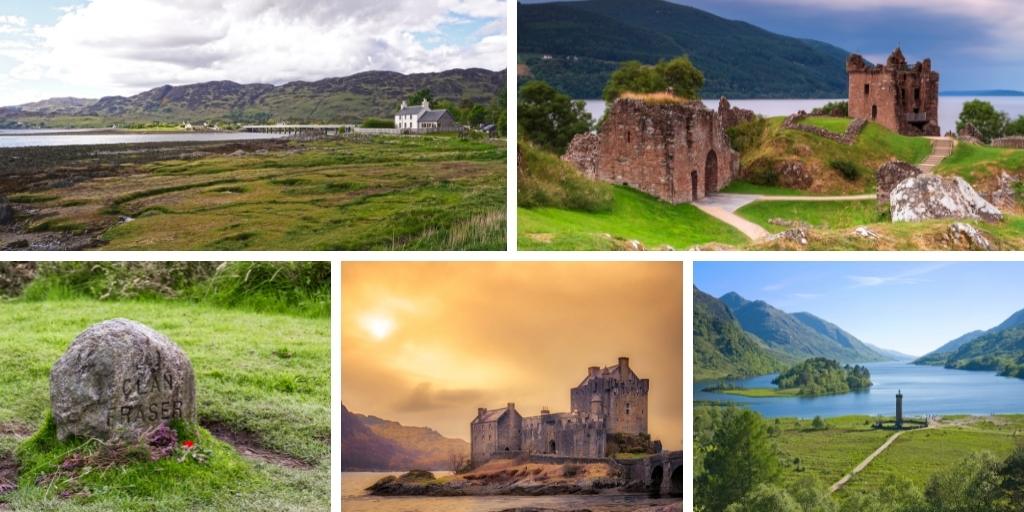 Are you planning to base yourself in Inverness and explore the Scottish Highlands? Not sure what day trips to include …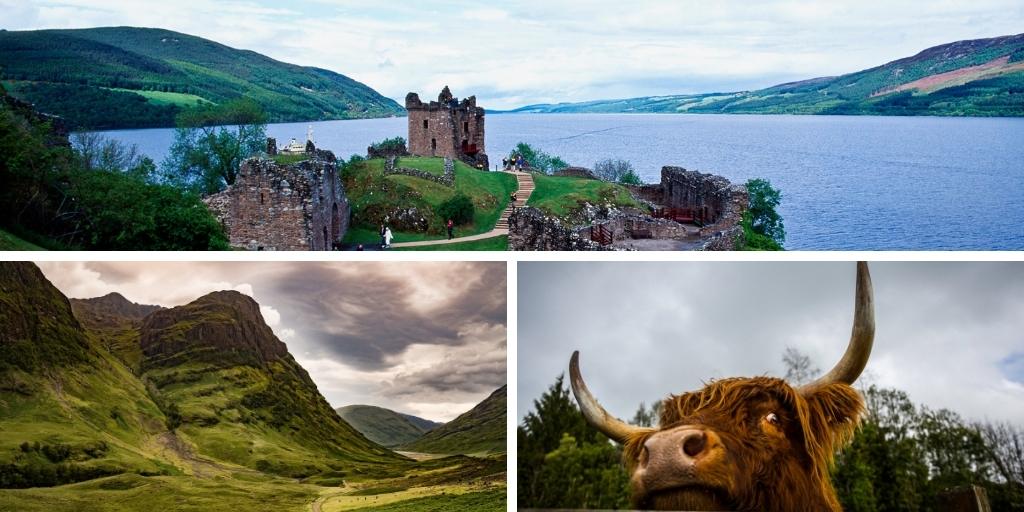 Our Scottish Highlands Travel Guide includes recommended places to visit and things to do, best day trips, accommodation options, tips and more …