Do you want to explore an English castle? In this article discover 7 of the most magnificent English castles near London plus tips to help plan your visit.
With so many magnificent castles to visit in the UK the hardest decision can be deciding which one to visit? In this article, you will discover 7 of the best castles near London.
Each of these English castles is within easy reach of the capital either by train, car, or tour. I have included information about how to get to the castle from London using each of these methods.
Many of the castles belong to English Heritage. If you are visiting from outside the UK it may be cost-effective to purchase an overseas visitors pass if you are planning to visit a number of English Heritage Properties. Click here to find out more about the pass.
Are you are looking for inspiration for day trips from London? Our guide to the 17 best day trips to take from London has all the practical information and tips you need to choose and plan your day.
If you would like to engage the services of a private driver guide for tours of South East England (with tour options including Hever Castle, Leeds Castle, and Dover Castle) we recommend John England Tours. John is a professional tour guide who provides personalised private day tours and will ensure you have a memorable day experiencing an authentic England that many visitors miss. Click here for more information about John England Tours.

7 best castles near London to add to your itinerary
Dover Castle
The first castle you visit from your list of castle day trips from London should unquestionably be Dover Castle. Nicknamed the "Key to England", Dover Castle has served as the gateway to the English realm for over nine centuries. The history of the castle's location, however, goes back even further — at least 2,000 years.
Today, it is the largest unoccupied castle in the UK and is a towering symbol of English strength from its perch overlooking the English Channel. It is 90 minutes from London but a mere 21 miles from France, underscoring the castle's strategic location.
William the Conqueror began construction of the castle shortly after his successful invasion in 1066. In the 1180s, Henry II added outer walls and a keep to the castle. Over the years, the castle evolved and expanded to meet the changing needs of tactics and warfare. Visitors will delight in the drama of its high towers, rugged stone walls and sweeping views.
Make sure to see the Roman lighthouse on the grounds, one of the oldest landmarks on the property. In the castle itself, don't miss climbing to the Great Tower, where royalty once received dignitaries and conducted diplomacy and political intrigue.
If you dare, take a tour of the dungeons and imagine all of the souls who once lingered there. Don't forget about the tunnels snaking below the castle walls. There are eerie medieval passages as well as more modern tunnels built to protect the castle during the Napoleonic Wars. During WWII, these spaces were turned into air raid shelters and underground command centres.
When visiting Dover Castle, make sure you're adequately prepared for a lot of walking and stair climbing. There is ample outdoor space to explore around the castle but beware — it can get very windy up on those cliffs, so maybe save the fussy up-do for another day.
Member of English Heritage? Yes – click here to join
How to get to Dover Castle from London
By train – From London St Pancras International or London Victoria to Dover Priory train station. 26-minute walk to the castle.
By road – 1 hour 35 minutes via M2 and A2 (76 miles)
By tour – From London take a day tour which includes Dover Castle, Canterbury Cathedral and the White Cliffs of Dover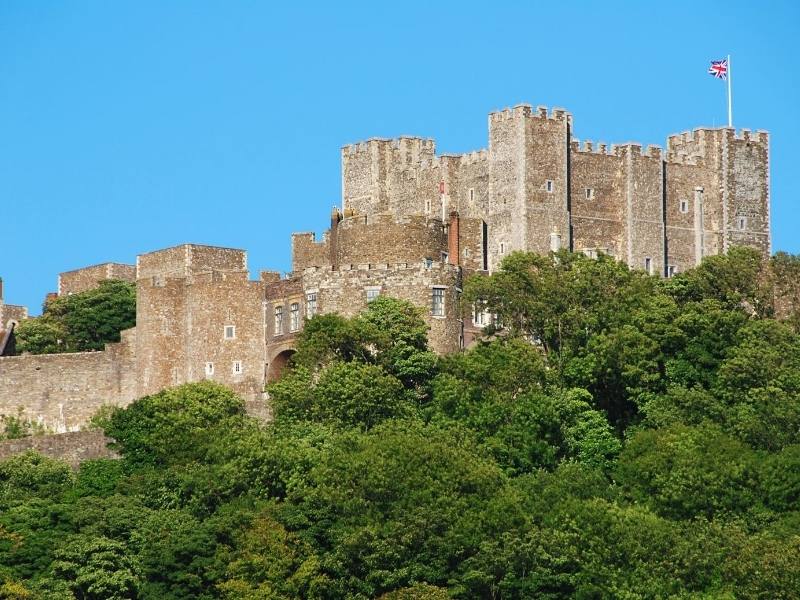 Arundel Castle
In West Sussex, 65 miles south of London, is Arundel Castle, one of the more awe-inspiring castles close to London. For the last 850 years, it has been the seat of the Dukes of Norfolk and their ancestors. It was built at the top of a manmade hill by the Earl of Arundel — Roger de Montgomery — in 1068.
The castle is known for its round towers, gothic windows and sweeping views of the South Downs and River Arun. In the late 19th century, the castle was converted into a country home, which is difficult to imagine when you visit and see its epic scale. The owners modernized the castle and made it one of the first to have electricity and central heating.
Today, the castle is open to visitors who will enjoy exploring the well-tended formal gardens as well as the greenhouses and vegetable patches. Inside, they'll find works of art and extravagant furnishings. There's also a collection of armour and some of the personal possessions of Mary Queen of Scots.
Don't miss the oldest part of the castle, the ancient motte and keep. It's a circular fortress atop a 100-foot-high artificial mound and was the strongest point in the castle.
You can climb up the steps and imagine what it must have been like all those years ago watching for invaders intent on your destruction. The views of the countryside from atop the keep are simply breathtaking.
On the western side of the grounds, visit the 14th century Fitzalan Chapel, a lovely example of Perpendicular Gothic architecture. As with most medieval castles near London, visitors should plan to pre-book their tickets and make sure to check the website for any special events like combat demonstrations or historical talks.
Parking is a short walk away but if there are any members of your party with mobility issues, they will provide a golf cart to take them to the gardens.
Member of English Heritage? No
How to get to Arundel Castle from London
By train – London Victoria to Arundel. 18-minute walk to the castle.
By road – 1 hour 35 mins from London via A3 and A283 (65 miles)
By tour – Take your own chauffeur-driven limousine to Arundel Castle and Brighton on this luxury tour option.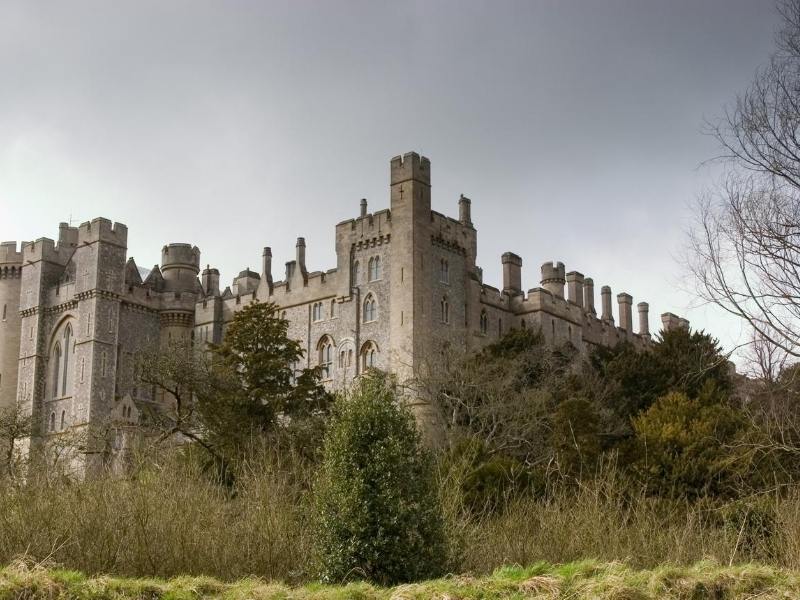 Highclere Castle
Highclere Castle will of course be familiar to fans of the period drama Downton Abbey. Tours of Highclere include many of the rooms familiar from Downton Abbey which is perfect for lovers of this popular British TV show.
Home to the Earl and Countess of Carnarvon the estate dates back to 749 The castle as we see it today was created in 1842 by Sir Charles Berry (who also designed the Houses of Parliament)
Highclere Castle is also famous as the former residence of the 5th Earl of Carnarvon. Those with an interest in Egyptian history will immediately recognise his connection with the discovery of the tomb of Tutankhamun. Tours of Highclere include time to explore the Egyptian Exhibition which features a reproduction of Tutankhamun's magnificent sarcophagus.
Highclere Castle is the venue for many tours and events throughout the year including their popular 'Real lives and Film Sets Guided Tour'
If you wish to visit Highclere Castle it is important to book tickets as far in advance as possible to avoid disappointment.
Member of English Heritage? No
Read more – Complete guide to visiting Highclere Castle
How to get to Highclere Castle (Downton Abbey) from London
By train – 50 minutes from London Paddington to Newbury station (5 miles from the castle) Take a taxi from the station (£15 – £20 one way)
By road – 1 hour 26 minutes via M3 (62 miles)
By tour – Take a Downton Abbey and Village Small-Group Tour from London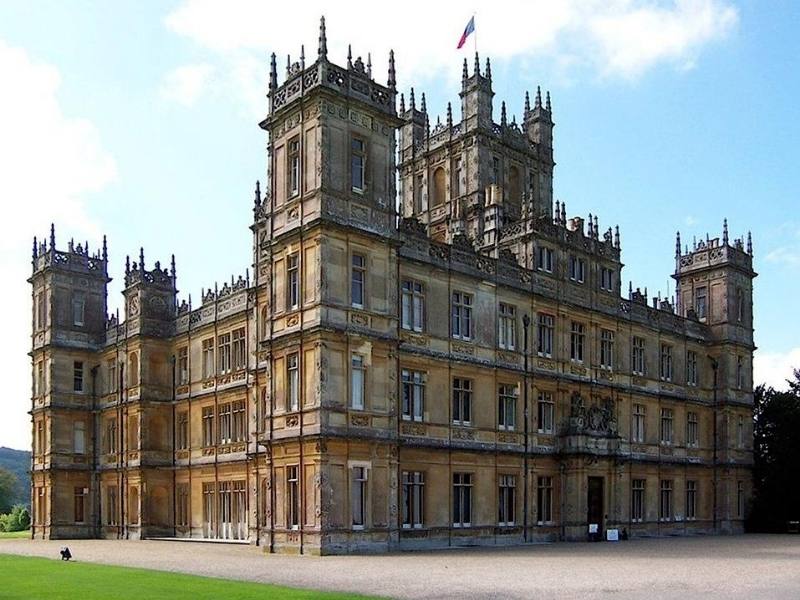 Windsor Castle
If you see only one castle while you are in the UK, it should probably be Windsor Castle near London. It's not only the Queen's second home after Buckingham Palace, but it's a museum of English history and culture that is not to be missed.
Built by William the Conqueror in the 11th century, it has seen 900 years of history and has been the home to over 39 monarchs. It is the oldest and largest occupied castle in the world. Plan to spend at least several hours during your visit — the place is huge!
The castle sits on 13 acres and has magnificent grounds, stunning architecture and immaculately manicured gardens. Visitors will be treated to a tour of the state apartments which are used by the Queen and Royal Family to receive everyone from local dignitaries and heads of state to everyday men and women being honoured. The staterooms are extravagantly decorated and contain seemingly endless historical treasures.
The royal art collection housed in Windsor Castle is second to none, as is Queen Mary's Doll House. An amazing study of life in Edwardian England, it's made to a precise 1:12 scale and has running water, electric lights, original art and literature created specifically for the dollhouse by the age's most celebrated personalities.
Don't forget to visit St. George's Chapel—it's a glorious gothic cathedral. Take it all in when you're there — photography inside is forbidden. The chapel is open every day except Sunday.
No visit to Windsor Castle would be complete without watching the changing of the guards. During April through July, the changing of the guards happens at precisely 11:00 a.m. Monday through Saturday. August through March, it is every other day, so you may want to check online before you visit to make sure you don't miss it.
A visit to Wndsor Castle is one of our top day trips to take by train from London.
Member of English Heritage? No
Read more – Complete guide to visiting Windsor Castle
How to get to Windsor Castle from London
By train – London Paddington to Windsor & Eton Central (55 minutes)
By road – 46 minutes via M4 (23 miles)
By tour – If you prefer to take an escorted tour this half-day tour by coach from London is a great option.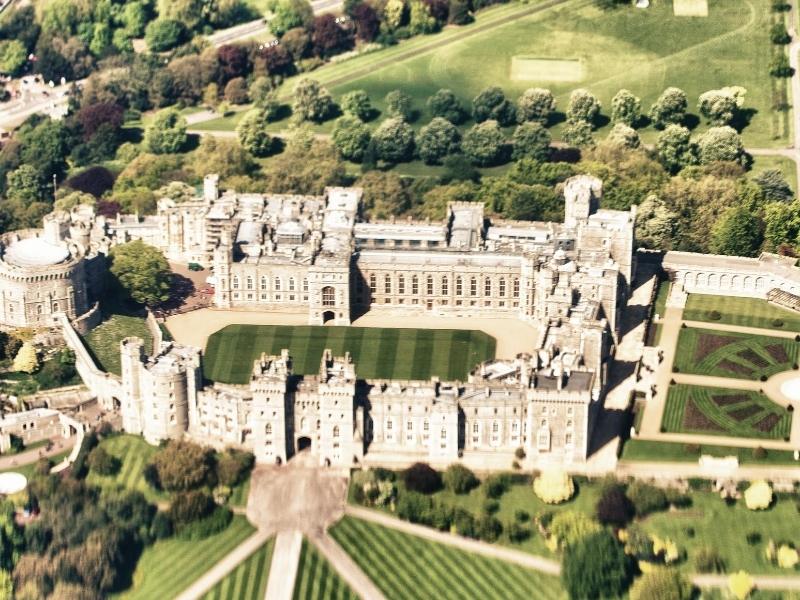 Leeds Castle
Don't worry, you don't have to travel all the way to the northern part of England to visit Leeds Castle. It's really just an hour south of London, near Maidstone in Kent.
Of all the castles around London, Leeds Castle is the most rural. It is named after the small village of Leeds and is set on two islands in a lake formed by the River Len. Its rural location adds to its picturesque quality —no wonder it's considered to be one of the most beautiful castles in the UK.
It was built by the Normans and eventually became a royal castle beginning in the 13th century. Eventually, Henry VIII took it on as a remodelling project when he needed a residence for his new wife, Catherine of Aragon. Later, it went on to become a Jacobean country house and even later it became a Georgian mansion.
Leeds Castle was handed down through various generations until the death of the last owner, the Hon. Olive, Lady Baillie. In 1974, the castle and 500 hundred acres of land were bequeathed to the nation. Today, it is a popular tourist site known for its history and romantic beauty.
There are plenty of guides on site who are knowledgeable and friendly and will happily answer questions about the history of the property.
One of the most popular features of this castle is the maze. Fun for all ages, the maze is made up of over 2,400 tightly packed yew trees formed into a large square. Navigate the twists and turns until you find the surprise at the centre. Spoiler alert! It's a passage to descend into the earth and exit through a mysterious underground grotto.
The grounds are lovely and include a children's play area as well as a birds of prey exhibit that everyone will enjoy.
Member of English Heritage? No
How to get to Leeds Castle from London
By train – London Victoria to Hollingbourne (2 miles from Leeds Castle)
By car – 1 hour via M20 (40 miles)
By tour – Leeds Castle, Canterbury Cathedral & Dover are included in this full-day tour from London.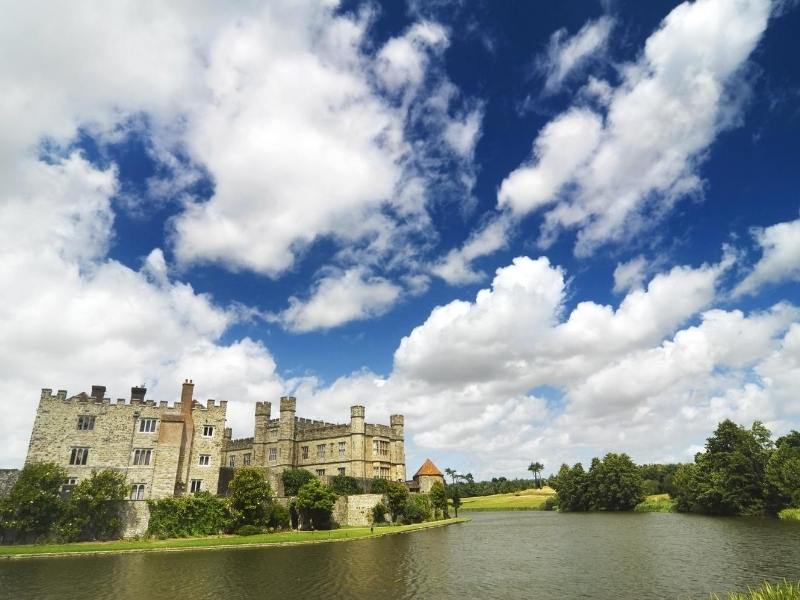 Hever Castle
Hever Castle can be found in the village of Hever, in Kent, 30 miles south east of London.
It's unlike the other, more formidable castles outside of London in that Hever Castle began life as a 13th-century country house — albeit one with a gatehouse and walled bailey.
Over the years, the dwelling expanded, adding the moat, the Great Hall and the towers. Eventually, it became the seat for England's famous Boleyn family. Young Anne Boleyn grew up there, long before she became the unfortunate second wife of Henry VIII and mother to Queen Elizabeth I.
A few years after Henry had Anne Boleyn arrested for treason and subsequently dispatched, his fourth wife, Anne of Cleves, took possession of Hever Castle and owned it up until her death.
Since then, it has been passed down through 37 owners from 13 different families. In 1903, William Waldorf Astor bought the property and spent five years restoring the interior and the grounds.
Today's visitors will be treated not only to an impressive castle but will enjoy the gorgeous 125-acre property that boasts a lovely lake, tranquil gardens and an array of charming topiary.
There's also a double moat, which is rare among medieval castles. The walk up to the castle's vine-covered entrance across the drawbridge is stunning, as the is rather intimidating portcullis.
Inside the castle are plenty of historical artefacts relating to the Tudors, as well as to the entire 700-year history of the castle. Bring the kids because they'll enjoy interacting with the staff, many of whom are dressed in period costumes.
Some of the castles near London to visit welcome picnickers and Hever Castle is no exception. Pack a lunch and plan to spend the day enjoying the lovely rural setting. The castle is open daily but check online for any scheduling changes.
Member of English Heritage? No
How to get to Hever Castle from London
By train – London Victoria or London Bridge to Edenbridge Town. Taxi for 3 miles to castle.
By road – 1 hour via A2 and M25 (39 miles)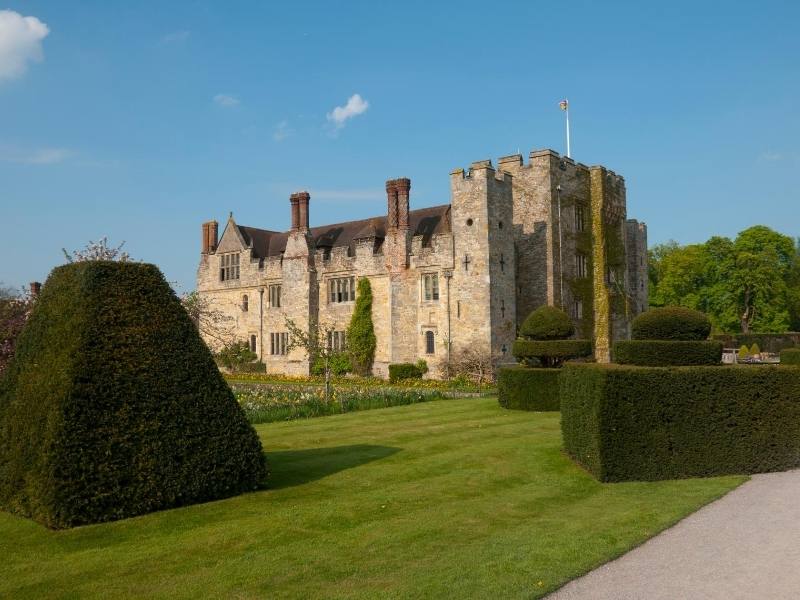 Warwick Castle
One of the most family-friendly castles to visit near London is Warwick Castle. It has a long and colourful history that is presented in an appealing way using a variety of actors in period costumes.
In 1068, soon after his successful invasion of England, William the Conqueror ordered Warwick Castle's construction in the small country town of Warwickshire. A rather primitive wooden motte-and-bailey structure was erected but later, during the Hundred Years War, the castle was expanded and refortified with stone.
Today, Warwick Castle is one of the best castles to visit near London because its façade is a perfect example of 14th-century military architecture. It simply looks like a quintessential castle.
It's amazingly well preserved and offers a wide variety of attractions that are perfect for a family day of historical fun. There is a birds of prey show called Falconer's Quest that features expert training and aerobatic demonstrations using many of their 60 magnificent birds. When that's done, wander along the grounds and you may see bowmen demonstrating their remarkable archery skills.
Also, for those who enjoy medieval weaponry, don't miss the perfect replica of a medieval trebuchet. It's huge and if you're lucky, you'll be able to witness them launching it, which is really something to see.
Inside the castle itself, you can visit the Great Hall and staterooms which have been historically recreated in painstaking detail.
Warwick Castle is less than a two-hour drive from London but well worth the trip. The castle is situated on a scenic bend of the River Avon and the gorgeous countryside and grounds make going there feels like a true getaway.
Make sure to book your tickets well in advance and check the website for any additional events like medieval banquets or drive-in cinema days.
Member of English Heritage? Yes (50% discount for members) Click here to join.
How to get to Warwick Castle from London
By train – London Marylebone to Warwick Station takes 1 hour 45 minutes
By road – 2 hours via M40
By tour – Combine Oxford, Stratford Upon Avon, Cotswolds, and a visit to Warwick Castle on this full-day tour from London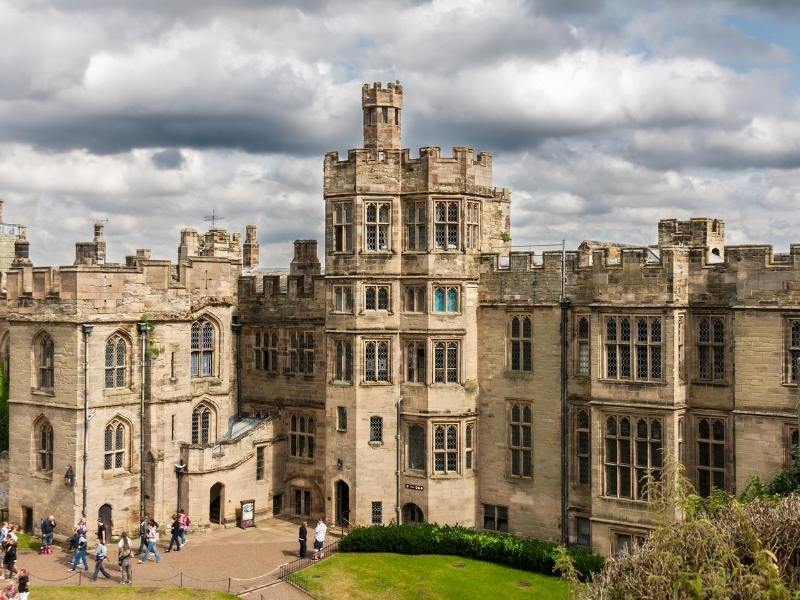 Enjoy your visit to these English castles near London
With so many castles to visit in the UK (an incredible 300 medieval castles remain in England alone!) these 7 will give you a taste of the best to see near London.
There are many other beautiful castles in England, Scotland, Wales and Northern Ireland to include in your itinerary and my regional guides detail some of the best.
If you want to spend a night or two in a castle there are many options to choose from in the UK including
Are you planning a trip to the UK? Check out my UK travel planning guide with essential resources to help you plan your perfect trip.
London Travel Guide & Itinerary Planner (+ 4 bonus ebooks)