Wondering what there is to do and see in London that won't break the bank? Read on – we have you covered! ALL of the 32 things to do in London in this article are free!
London is an expensive city to visit but there are ways to ensure a trip to the city does not break the bank. One of my favourite tips for budget-conscious travellers is to add some of the many free things to do in London into your itinerary.
Many of the places to visit in London for free are actually must-sees for visitors and feature on many bucket lists so you won't be missing out if you add some of these free museums, parks, markets and attractions into your itinerary. A good mix of the free and those attractions that charge will certainly help to make a visit to London more affordable.
This list includes free things to do in London with kids so if you are visiting with younger family members there are plenty of fun free things to do in London to choose from.
Tip – If you plan to visit popular London attractions and sights such as the Tower of London and the London Eye purchasing a London Pass may be the best option – check out our full guide to the London Pass to see if it works out to be the most cost-effective option for you.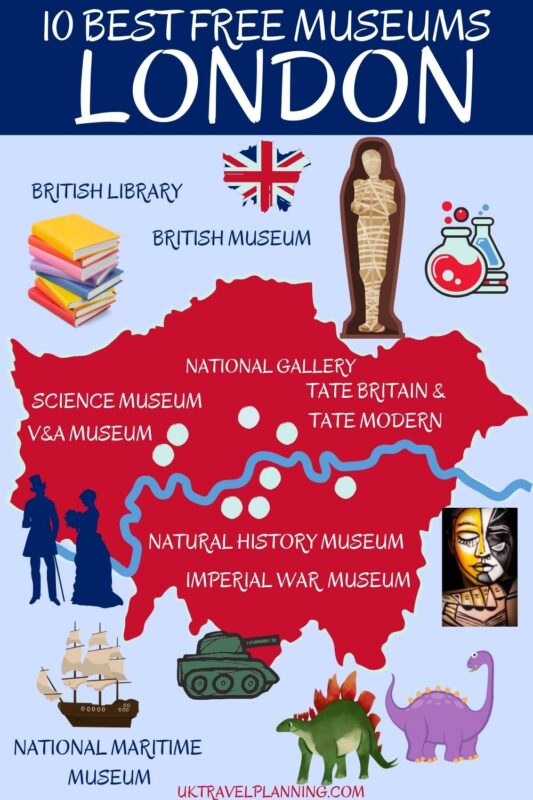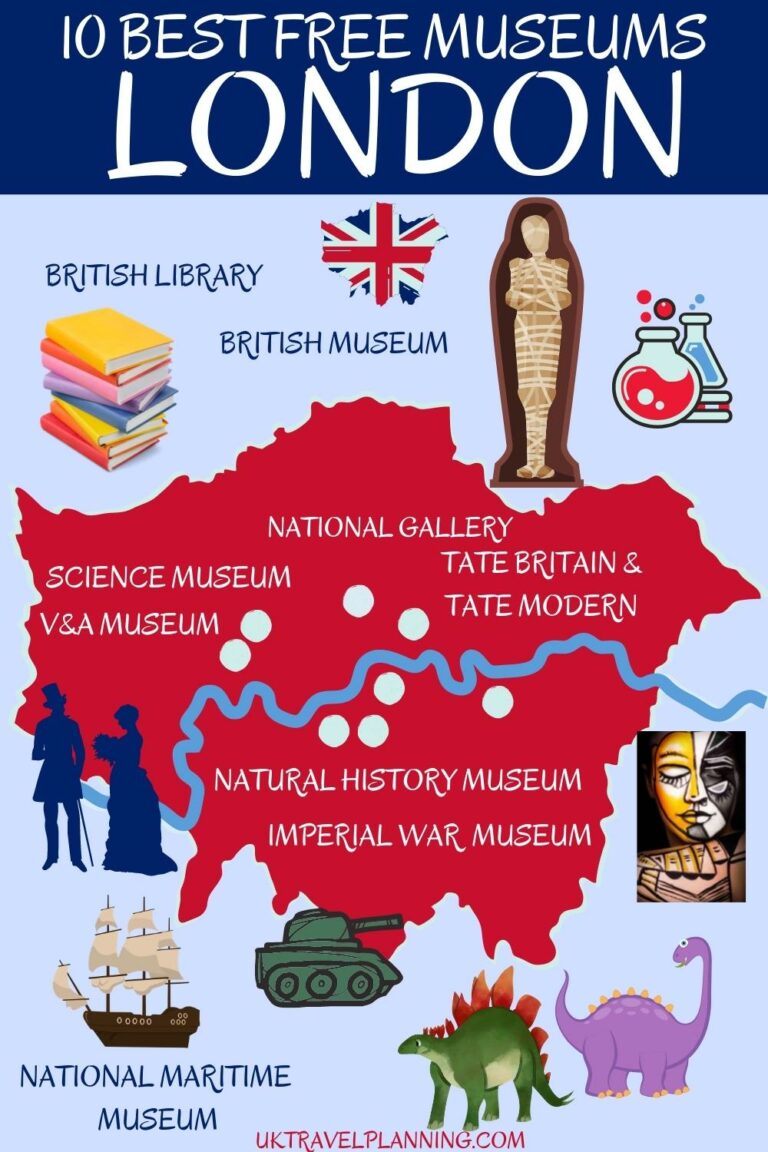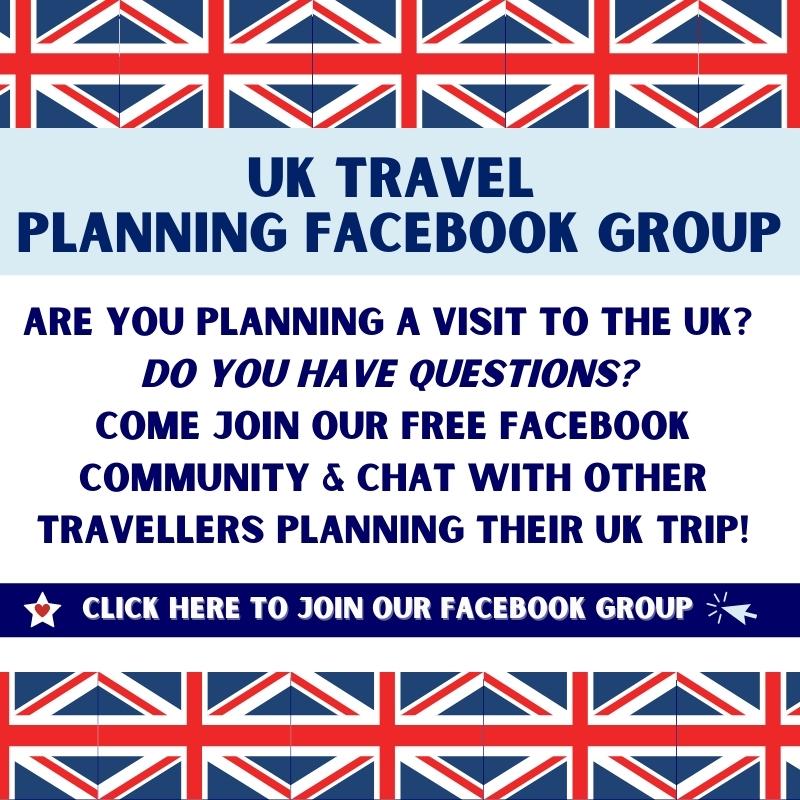 Museums
London is home to some of the world's leading museums and the good news is that many of them are free (you may have to pay a small fee for special exhibitions so do check before your visit)
The Natural History Museum
The Natural History Museum is bursting at the seams with exhibitions and specimens of all sorts of creatures great and small.
This is a fabulous museum to visit in London with kids and has lots of hands-on activities to keep them busy.
Where – Cromwell Rd, South Kensington, London SW7 5BD
Nearest Tube Stations – South Kensington / Gloucester Road / High Street Kensington
Hours – Open daily 10:00 a.m. – 5:50 p.m. Open late on the last Friday of each month.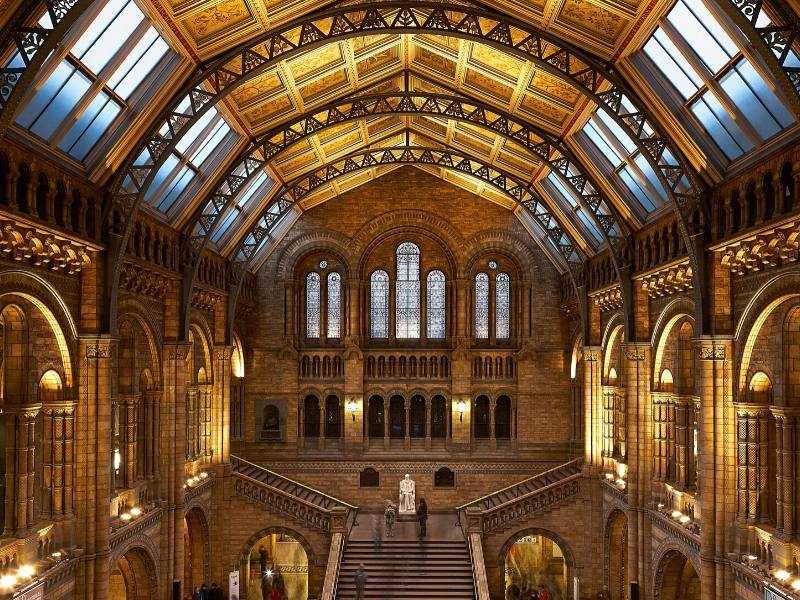 The British Museum
The most visited museum in London with over 6 million visitors a year is the British Museum.
Aim to see the Rosetta Stone, Sutton Hoo Ship Burial Helmet, Easter Island statue as well as lots of Egyptian mummies and treasures, and Greek antiquities (the Parthenon Marbles). There is a lot to see in a day so plan your visit before you go or book a tour.
Click here to book your guided tour or see the exhibits online with a virtual tour of the museum.
Where – Great Russell Street, Bloomsbury, London WC1B 3DG
Nearest Tube Stations – Tottenham Court Road/Holborn/Russell Square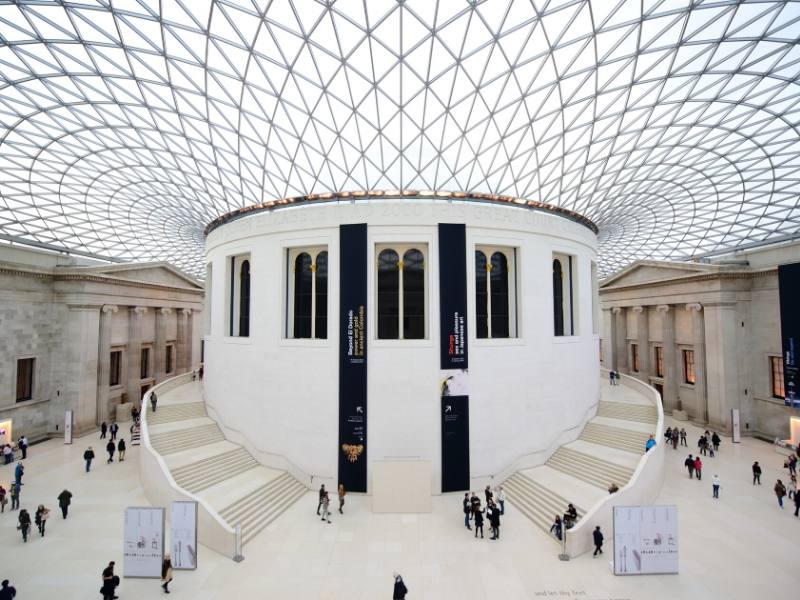 The Imperial War Museum
The Imperial War Museum has six floors of exhibitions covering both world wars, heavy weapons, special forces and covert operations.
Plan to spend at least three hours exploring this historic museum.
Where – Lambeth Rd, London SE1 6HZ
Nearest Tube Stations – Lambeth North / Waterloo
Hours – 10:00 a.m. – 6:00 p.m. daily
Tip – The busiest time in the museum is from 11:00 a.m. until 4:00 p.m. Weekends and public holidays are always busy.
V&A Museum
For lovers of decorative arts and design the Victoria and Albert Museum is a must-visit.
Founded in 1852 by Queen Victoria and Prince Albert it is the world's largest museum of applied and decorative arts.
Where – Cromwell Rd, Knightsbridge, London SW7 2RL
Nearest Tube Stations – South Kensington / Gloucester Road / Knightsbridge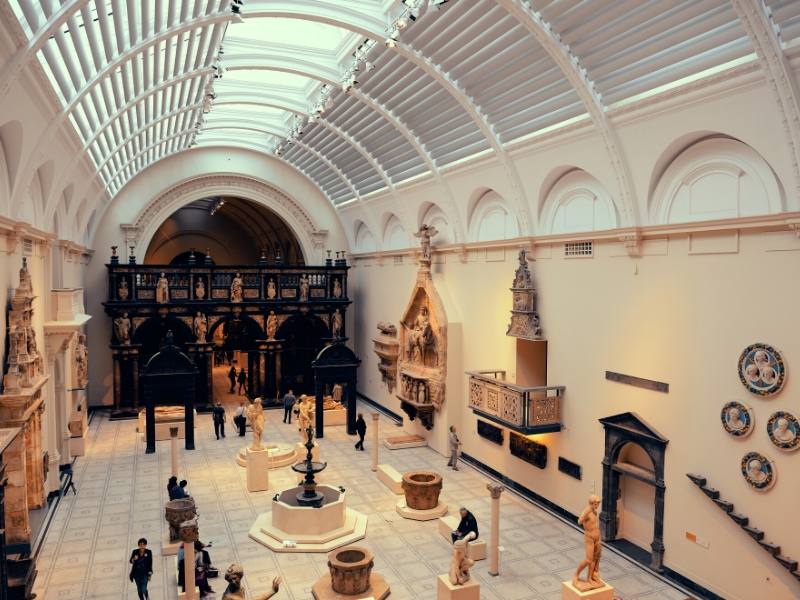 Museum of London
To learn more about the history of London itself head to the Museum of London. The museum has a number of permanent galleries where you can find information about London throughout history.
The museum is also located near the remains of the wall which was built to protect Londinium (the ancient City of London) by the Romans over 1800 years ago!
Where – 150 London Wall, EC2Y 5HN
Nearest Tube Stations – Barbican (5-minute walk) St Paul's (5-minute walk)
National Maritime Museum
Visit the National Maritime Museum in Greenwich where you will discover stories of exploration around the globe that have shaped our world today.
The museum is part of the Maritime Greenwich UNESCO World Heritage Site.
Where – Greenwich, London SE10 9NF
How to get to Greenwich – Take the DLR to Cutty Sark DLR or an overground train to Greenwich rail station and Maze Hill rail station. My recommended route is via boat to Greenwich Pier.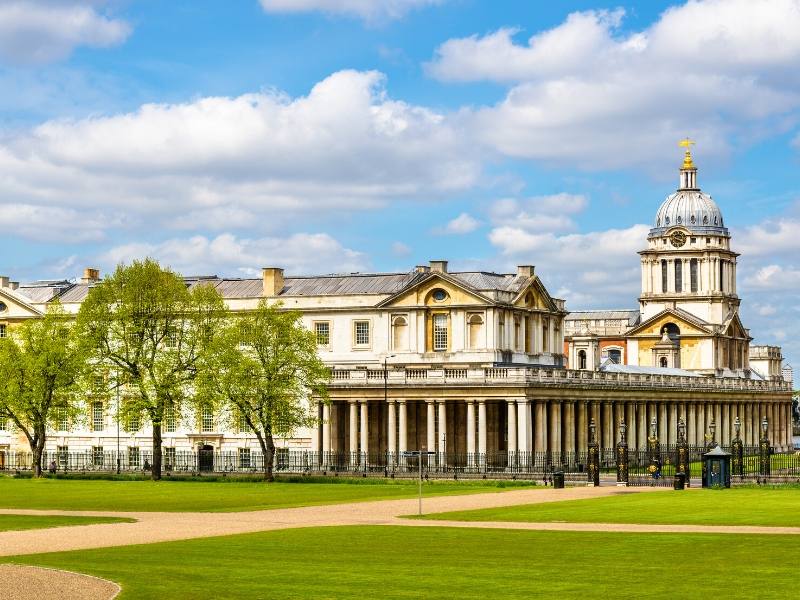 Art Galleries
For art lovers there are many free art galleries to visit in London. Some special exhibits may have a charge so check before you go to avoid any disappointment.
National Gallery
Located in Trafalgar Square the National Gallery houses over 3000 paintings. The gallery's collection includes works of art from 1300 to the early 20th century.
Artists featured include Van Gogh, Constable, Canaletto, Monet and Da Vinci.
The gallery also holds exhibitions focussed on particular artists or themes. Members of the National Gallery have free entry to special exhibitions. There is a small charge for non-members. Entry to the National Gallery is free.
You can also take a virtual tour of the gallery.
Where – Trafalgar Square, London, WC2N 5DN
Nearest Tube Stations – Charing Cross and Leicester Square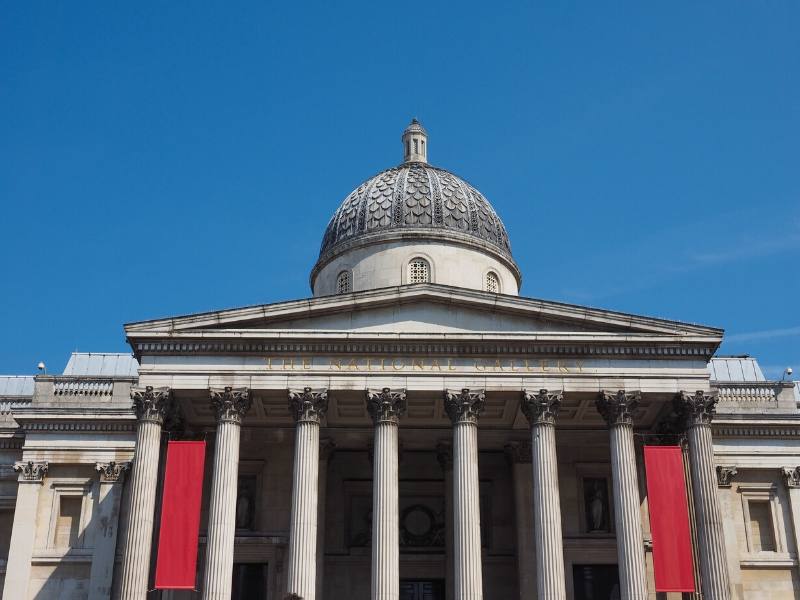 National Portrait Gallery (closed until 2023)
Housing the most extensive collection of portraits in the world the National Portrait Gallery in London is unfortunately closed for essential building works until spring 2023.
The collections are available to peruse on line.
A number of virtual tours can also be accessed via the National Portrait Gallery website. Tours are organised by time period or theme.
Where – St Martin's Place, London, WC2H 0HE
Nearest Tube Stations – Leicester Square and Charing Cross
Tate Modern
Find art treasures from 1900 to the present day at this former power station located in Bankside.
The Tate Modern is home to masterpieces by some of the most famous artists of the last century including Picasso, Dali, and Klee amongst others.
There are also a variety of temporary exhibitions held throughout the year but a small fee is usually charged for entry.
Where – Tate Modern Bankside London SE1 9TG
Nearest Tube Stations – Blackfriars
Good to know – Include a walk along the South Bank in your London itinerary and you can visit the Tate Modern along the way.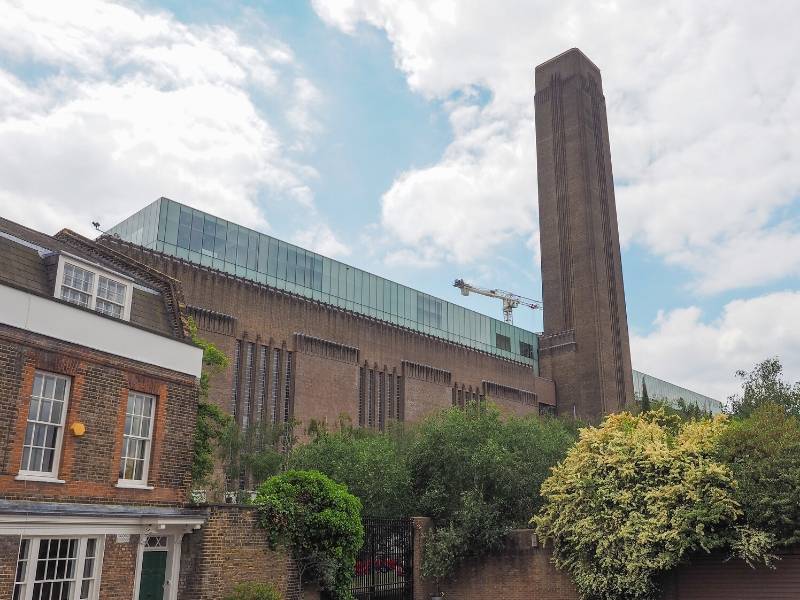 Tate Britain
At the Tate Britain, you will find British art from the 1500s to the present day. As you may have noticed there are a few Tate art galleries in the UK – the Tate Modern and Tate Britain in London, the Tate Liverpool (in well yes.. Liverpool!) and the Tate St Ives in Cornwall.
Discover artworks from British artists such as David Hockney and William Blake at the Tate Britain.
Where – Millbank, Westminster, SW1P 4RG
Nearest Tube Stations – Pimlico
Saatchi Gallery
If you enjoy contemporary art then head to the Saatchi Gallery. The gallery houses the private collection of Charles Saatchi and was opened in 1985 (though has moved location several times)
The gallery also has excellent exhibitions including recently the 'Tutankhamun: Treasures of the Golden Pharaoh' For special exhibitions such as this a fee is chargeable.
Where – Duke of York's HQ, King's Road, Chelsea, London, SW3 4RY
Nearest Tube Stations – Sloan Square
Wallace Collection
This museum is based around the collections made during the 18th and 19th centuries by Sir Richard Wallace and the Marquesses of Hertford.
The collection includes paintings, watercolours and drawings, furniture, ceramics including Sevres porcelain, sculptures, miniatures, and even arms and armour from the 15th to 19th centuries.
The museum has in particular one of the best collections of French 18th century works outside France.
Where – Hertford House, Manchester Square, London, W1U 3BN
Nearest Tube Stations – Bond Street
London Parks
Hyde Park
Hyde Park is the largest of the four Royal Parks is the go-to place for Londoners to take a jog, walk their dog or just get some fresh air. It has been the site of massive demonstrations and epic concerts like the Rolling Stones, Paul Simon and Eric Clapton.
Look for the famous marble arch, the former the entrance of Buckingham Palace that was moved to Hyde Park in 1851. There are several restaurants in the park and don't forget about the bicycle and boat rentals.
There is also a lovely memorial to Princess Diana that is not to be missed. So put on your walking shoes and plan to spend a peaceful day enjoying all that the park has to offer.
Where – Central London, in the Borough of Westminster
Nearest Tube Stations – Lancaster Gate / Marble Arch / Hyde Park Corner / Knightsbridge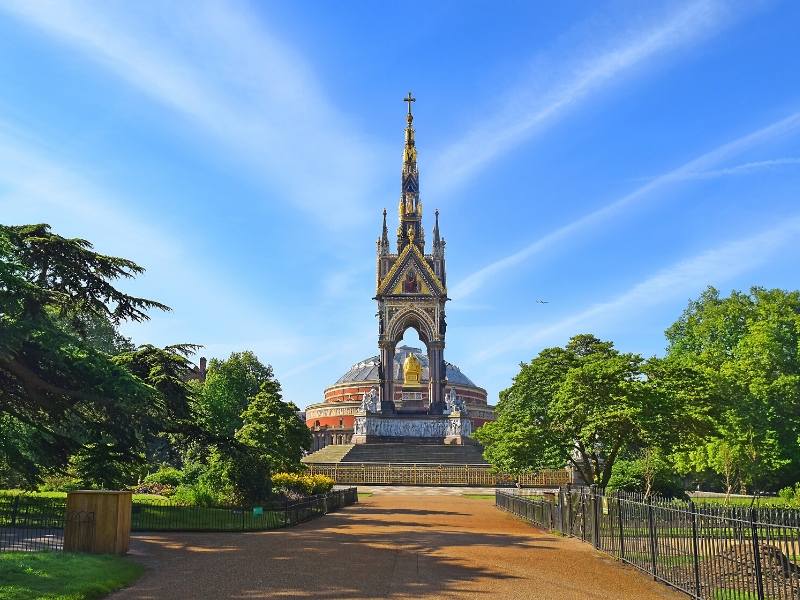 Hampstead Heath
Just four miles from Trafalgar Square, you'll find Hampstead Heath, one of the largest and most comprehensive green spaces in the city. It is open 365 days a year and is very popular.
Don't miss the zoo, butterfly garden and restored Edwardian garden at Hampstead Heath. Also, I recommend climbing Parliament Hill for a snapshot-worthy view of the city.
If you want to take a stroll, there is a six-mile circular walk that goes all the way around Hampstead Heath.
Where – West Gate Lodge, Hampstead Lane, Hampstead Heath London NW3 7JP
Nearest Tube Stations – Hampstead Tube Station / Highgate
Primrose Hill
Here's what you've got to do. Before you climb Primrose Hill on the north side of Regents Park, go to one of the eateries on Regents Park Road. Put together a picnic of all of your favourites —savoury and sweet dainties, charcuterie and cheeses — then buy a bottle of something yummy.
Take the lot up the 256 feet of Primrose Hill and spread a blanket out on the grass. Back in the day, this gorgeous piece of land used to be Henry VIII's hunting grounds. Now it's known for spectacular panoramic views — you can see many famous landmarks, like the London Eye and St. Paul's Cathedral.
This place is a local favourite because of its peaceful setting. When you've finished with your picnic, enjoy that sunset!
Where – Primrose Hill Road, London, NW3
Nearest Tube Stations – Chalk Farm / Camden Town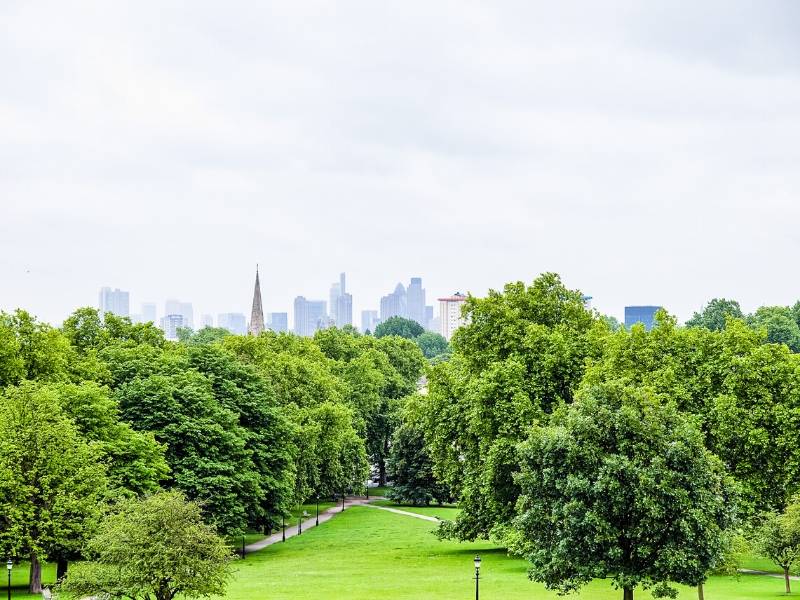 Richmond Park
Richmond Park is the largest of London's Royal Parks.
It was created by Charles I as a deer park in the 17th century and remains one today. You will see them wandering by as you enjoy the grassy fields and winding trails. It's enough to make you forget that you're on the outskirts of southwest London.
Take a bike ride or a stroll — there is a hidden garden in the park's centre and a pair of magical looking wrought iron gates that proclaim "the way." It's as if this fairy woodland is telling you to come on in and relax a little.
Where – London Borough of Richmond upon Thames, a 32-minute drive from central London.
How to get there – The National Rail or District Line then take the 371 or 65 buses to the gate at Petersham.
Cost – Free
Hours – Check the website for the park's hours, as they change seasonally
Regents Park
If you'd like to see wildlife in its natural habitat, then a trip to Regent's Park would most certainly be in order.
Opened to the public in 1835, it's one of the Royal Parks and covers a whopping 410 acres. If bird watching is your passion, listen up!
At least 200 species of birds call Regent's Park home. There are other creatures to spot as well, which is made easier by the many helpful signs explaining the habitats and what animals you may find there.
Some of Regent's Park has been left to grow wild. Other sections, like Queen Mary's Gardens, have formal beds of roses that are precisely manicured.
Throughout the park, you'll also find sports pitches, formal gardens and water features. Plan to spend at least several hours or make a day of exploring this lovely park. If you are visiting London in spring don't miss the cherry blossom on the trees in the park!
Where – Chester Rd, London NW1 4NR
Nearest Tube Stations – Regent's Park / Great Portland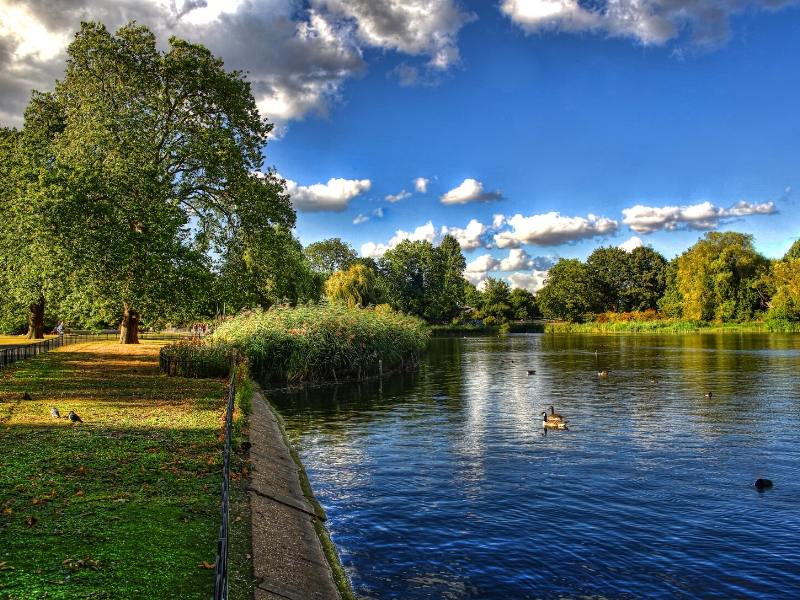 Kensington Gardens
I once worked at Kensington Palace Gardens (one of the most exclusive addresses in the world with price tags to match) Along with many billionaire residents and embassies the Duke and Duchess of York and children reside at Kensington Palace which backs onto the beautiful gardens.
In the gardens, you will find the Diana Memorial Playground, the Albert Memorial, the statue of Peter Pan and of course Kensington Palace! Kensington Gardens were once the private gardens on the palace and are one of the Royal Parks of London.
Where – London W2 2UH
Nearest Tube Stations – Queensway and Lancaster Gate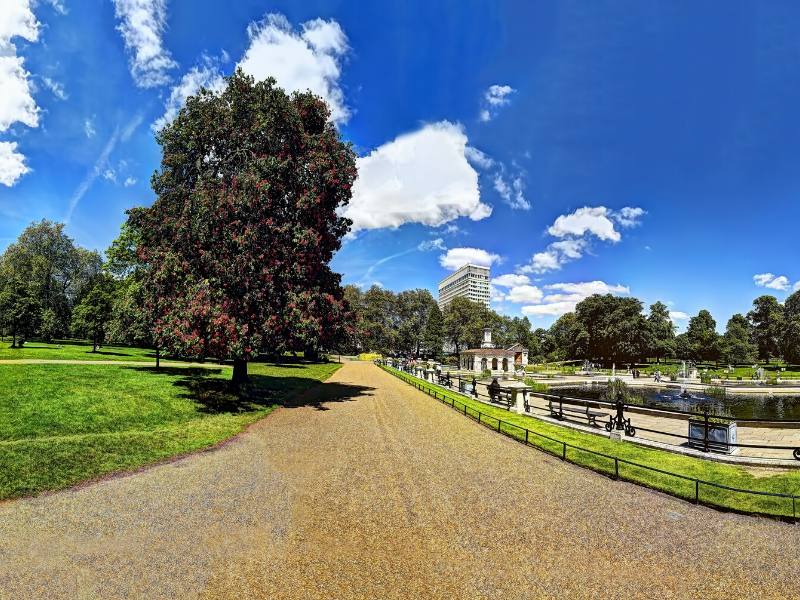 St James's Park
Another of London's Royal Parks St Jame's Park is surrounded by famous landmarks including Buckingham Palace, Whitehall and Clarence House (former home of the Queen Mother).
The Mall and Horse Guards Parade are included within the boundaries of the park. This is the setting for many of the ceremonial events such as the annual Trooping of the Colour.
Spot the resident pelicans and enjoy views of the lake and Tiffany Fountain as you stroll around. (Fun fact – the jet of the fountain can reach a height of 8 metres and is aligned to the balcony of Buckingham Palace!)
Head to the Blue Bridge for spectacular views across towards Buckingham Palace, Big Ben and the London Eye.
Where – Westminster SW1A 2BJ
Nearest Tube Stations – St James's Park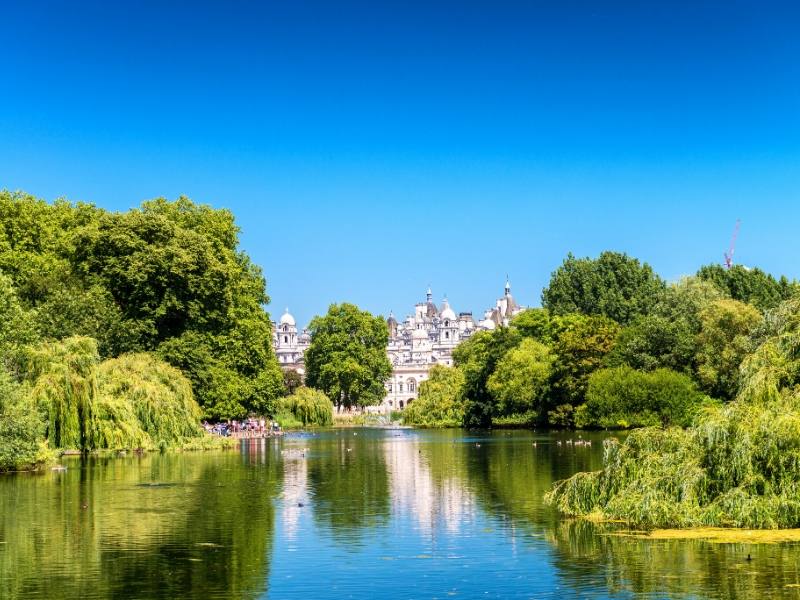 Markets and Stores
This section should come with a warning attached! Stroll the markets and stores but if you are on a budget keep a firm hand on your purse. Famous shopping streets such as Oxford Street are of course free to explore too but come with a similar warning!
Read more – Complete Guide to 9 of London's best markets
Portobello Market
If you've seen the movie Notting Hill, then the Portobello Road Market may look familiar to you. Hugh Grant himself saunters through the market on the way to his bookshop, dazzling moviegoers with his self-deprecating charm.
He missed out on some spectacular deals — the Portobello Market is one of the most famous street markets in the world, known for its lively sellers and haggling buyers.
On weekends, countless stalls line the street selling antiques, hot food, secondhand treasures, clothing and whatever else anyone wants to buy. The crowds are large but that's part of the atmosphere.
Except on Thursday afternoons, the market is open during the week but it's not nearly as crowded and lively.
Where – Ladbroke Grove, London W11 1LU
Nearest Tube Stations – Notting Hill Gate / Holland Park / Ladbroke Grove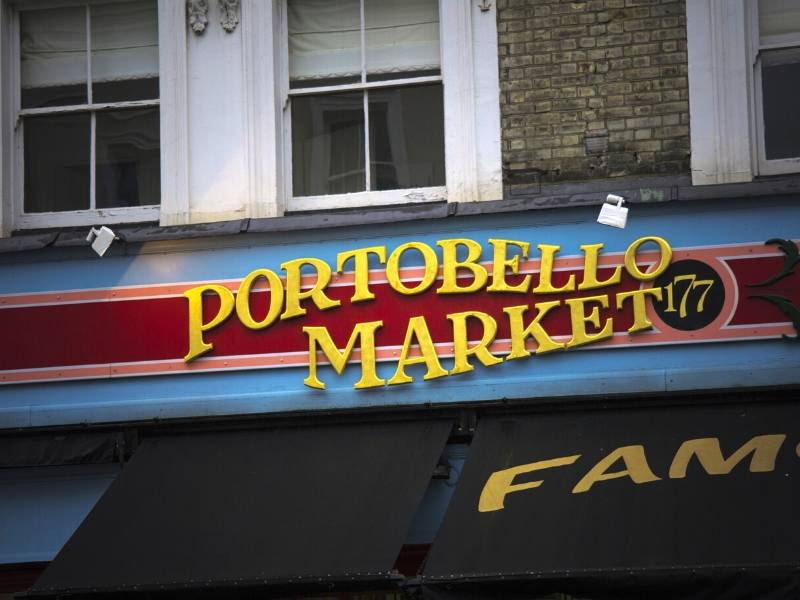 Borough Market
Explore one of London's oldest and largest food markets and try to resist the temptation to taste some of the delicious produce! It is pretty impossible I can tell you (maybe visit after you have already eaten)
Located under the arches of a railway viaduct Borough Market offers a wide selection of speciality foods. There are also numerous cafes, restaurants and bars in and around the market offering (at the moment) takeaway food and drink.
The market is not open on Sundays.
Where – 8 Southwark Street, SE1 1TL
Nearest Tube Stations – London Bridge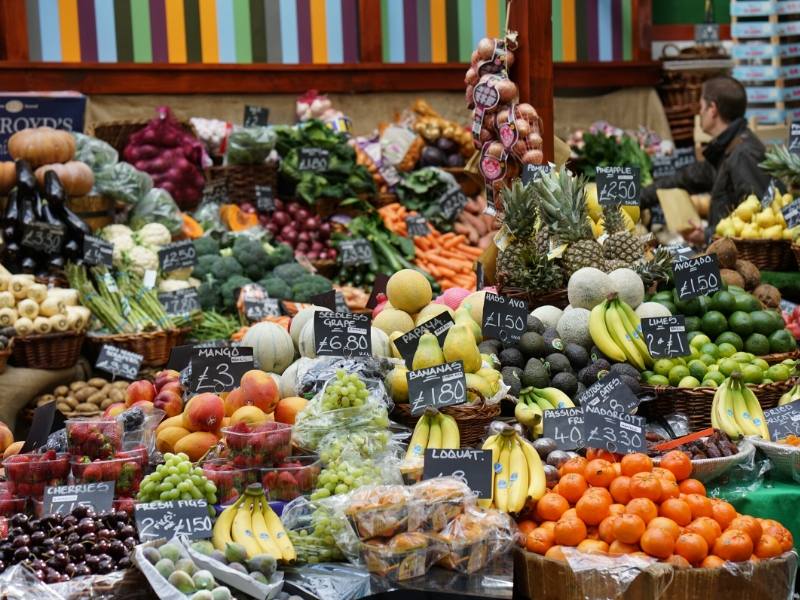 Camden Market
Consisting of 6 distinct markets which together form the entity known as the "Camden Markets" these are probably the most popular markets for visitors to London.
What will you find at the Camden markets? Clothing to suit all tastes, accessories, handicrafts, vintage jewellery, antiques and more make Camden a must-visit for anyone with an eye for a bargain.
Where – The markets are spread out along two streets Camden High Street and Chalk Farm Road in Camden Town.
Nearest Tube Stations – Camden Town, Kentish Town and Chalk Farm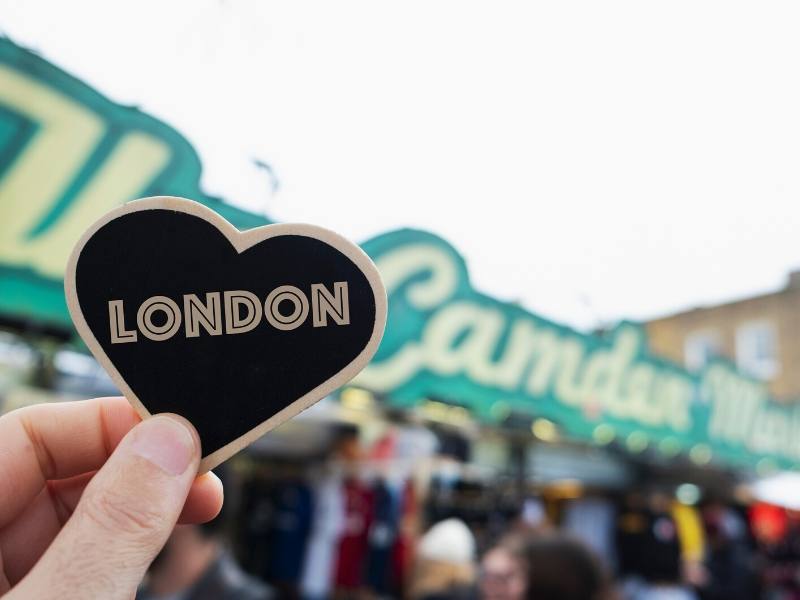 Covent Garden
Covent Garden is an area in London's West End that has lived many lives. It was a thriving fruit and vegetable market in the 1600s and went on to become a hub of prostitution and seediness in the late 1700s. Later, in the 1800s, it became a flourishing theatre community.
Today, it is now a perfectly respectable, culturally rich and happening entertainment destination. There is a pedestrian piazza at its centre where you can watch the street performers as you decide which of the many cafés, shops, market stalls and pubs to patronize.
It's also the home of the Royal Opera House, the London Transport Museum and the London Film Museum.
The best way to enjoy a Covent Garden evening is to check out what's playing at the theatres, have a fabulous dinner and then finish the evening with a show.
Where – The eastern edge of the West End, between St Martin's Lane and Drury Lane.
Nearest Tube Stations – Covent Garden / Leicester Square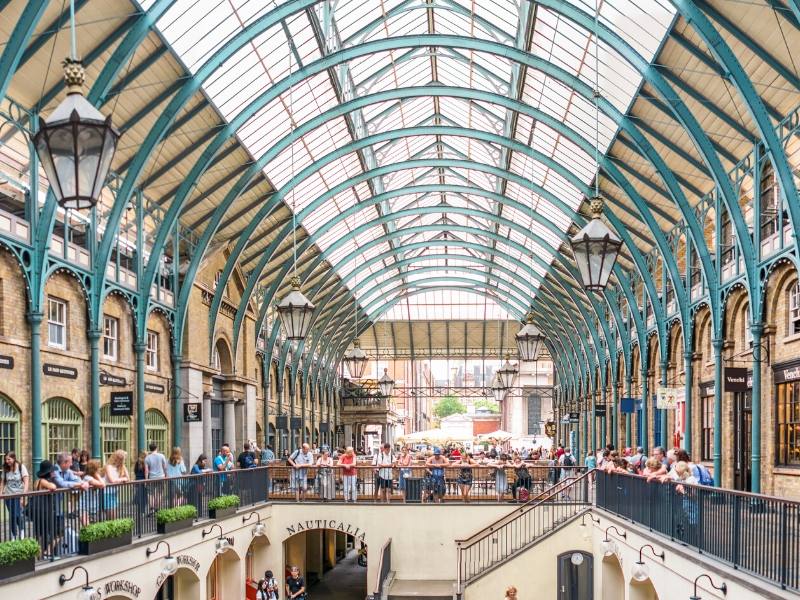 Harrods
A trip to Harrods is like stepping into a luxury shopping whirlwind. The colours, the fashion, the excitement — it's easy to understand why the largest department store in Europe attracts over 15 million shoppers per year.
Browse through 7 floors and over 330 departments to find a vast array of merchandise.
Head to the recently revamped food halls which really do live up to the description of 'the world's greatest food emporium.'
You can find any type of food you may desire and if that leaves you feeling a little peckish head to the dining hall. There you will find a Sushi bar, Wine bar, Pasta Bar, Fish Bar and The Grill as well as a 26 seater Indian restaurant!
Where – 87-135 Brompton Road, Knightsbridge, London, SW1X 7XL
Nearest Tube Stations – Knightsbridge / Hyde Park Corner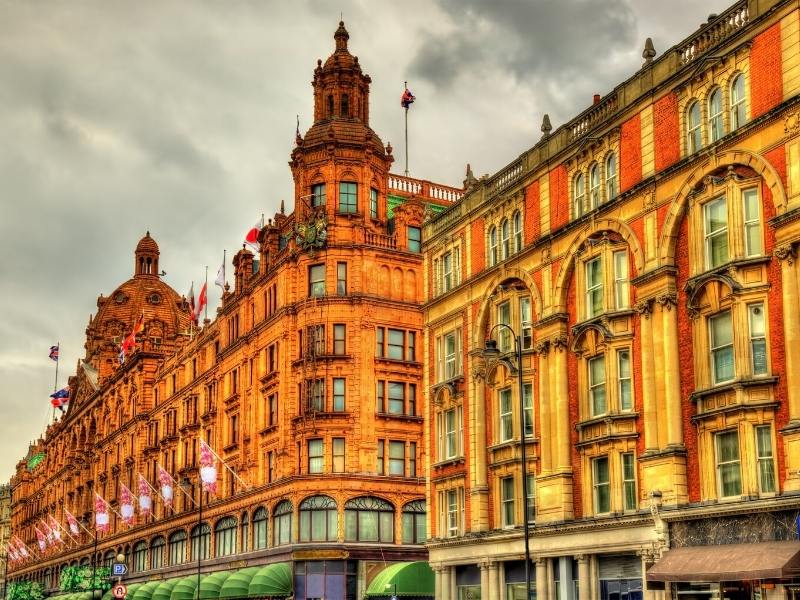 Hamley's Toy Store
This is the place to take the kids (both big and little) – I visited when I was 11 with my Dad and have never forgotten! And that was over 40 years ago.
Filled with toys, games Hamleys' flagship store on Regent Street is the oldest and largest toy shop in the world. Take your time and explore all 7 floors each dedicated to different categories of toys and games!
Whilst this is a list of free things to do in London I would be surprised if you leave Hamley's empty-handed!
Where – Regent Street (since 1881)
Nearest Tube Stations – Piccadilly Circus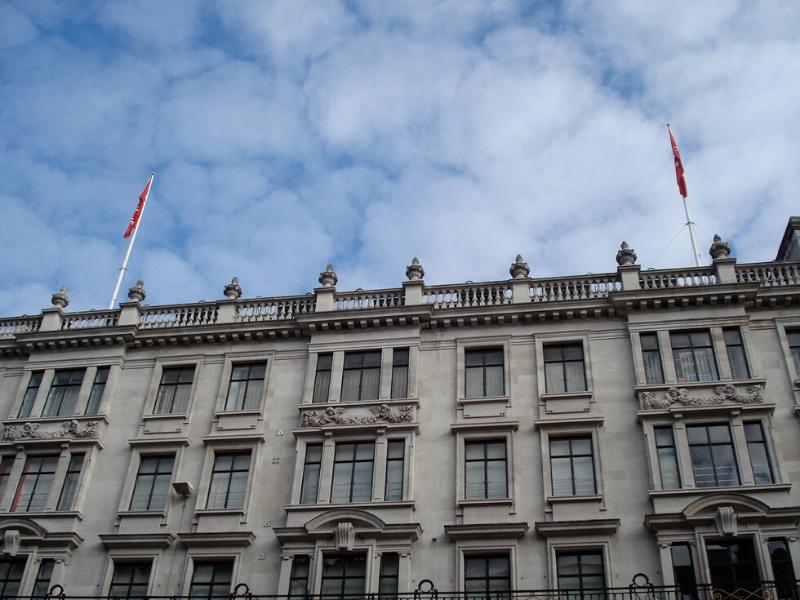 Attractions
There are some free tourist attractions in London worth mentioning too. Of course while it is free to see many of the famous sights such as Buckingham Palace, Westminster Abbey, the Tower of London and the Houses of Parliament from the outside there are fees payable if you want to take a look around inside.
If you are planning to visit these attractions and are adding them to your London itinerary it may be cost-effective to consider buying the London Pass.
Click here to read more about the London Pass and find out if it is worth purchasing for your visit.
Big Ben
Big Ben is actually the name of the bell which is located in the Elizabeth Tower at the north end of the Palace of Westminster. The tower with its four-faced clock is probably the most iconic symbol of London.
The bell was installed over 160 years ago and rings on the hour every hour. It is the largest of the 5 bells in the tower.
Please note that at present the tower and clock faces are completely covered in scaffolding due to renovations. These started in 2017 and are expected to be completed in 2021.
Nearest Tube Stations – Westminster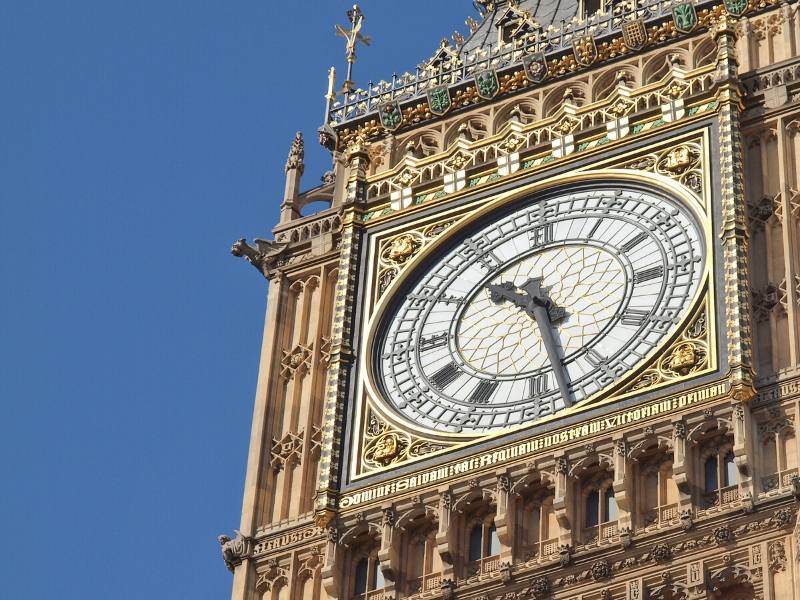 Changing of the Guard
Witness the change over of the guard outside Buckingham Palace. Lasting around 45 minutes the ceremony is an iconic example of pomp and pageantry and really should feature on every first-time visitor's itinerary.
Where – Buckingham Palace and Clarence House
Nearest Tube Stations – Victoria, Green Park, St James's Park.
When – Contrary to belief the Changing of the Guard ceremony does not occur every day so it is vital to check on the official website before adding it into your itinerary.
Tip – Arrive at least 30 minutes before the ceremony to secure a good vantage point. Stand on the steps of the Victoria Monument for the best view.
Alternatively head to St James's Palace – Clarence House where there is a smaller, shorter ceremony at 11 am daily (10 am Sundays) which is not as well known as the Changing of the Guard at Buckingham Palace and therefore less crowded!
Best tour – If you want to learn more about the ceremony and the history around it I recommend booking a Changing of the Guard Experience.
Sky Garden
The Sky Garden in central London's Walkie-Talkie Building bills itself as London's highest public garden but it's more like a sky-high atrium. It's three stories of windows with an observation deck and an open-air terrace.
It is free to visit but tickets are highly sought after, so book as early as possible to reserve your spot. Visits are limited to an hour but you can always extend your stay by making a reservation in one of those elegant restaurants.
Where – 20 Fenchurch St, London EC3M 8AF
Nearest Tube Stations – Monument / Bank / Cannon Street
Tip – Check the website for hours and book at least two weeks in advance.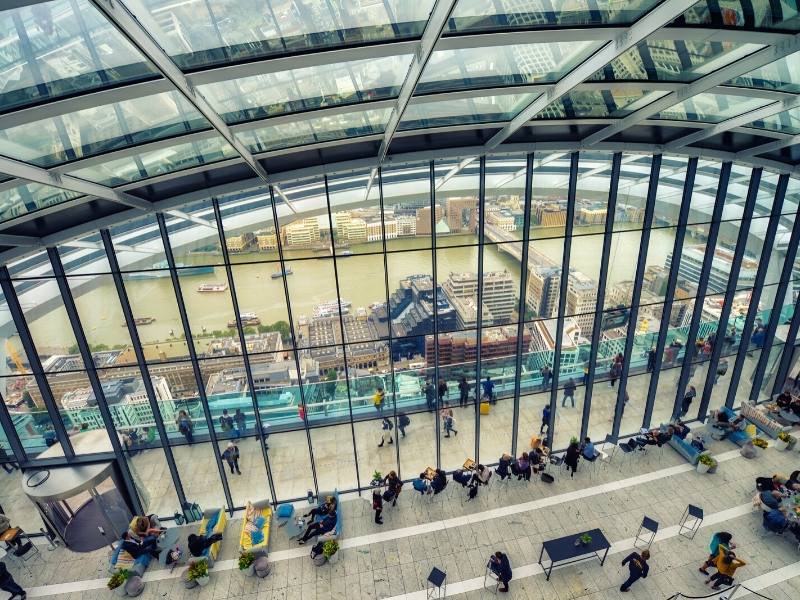 Queens House in Greenwich
The Queen's House in Greenwich is located in the gardens of the National Maritime Museum. The property was as the name suggests formerly a royal residence and was designed by Inigo Jones.
Housing an internationally renowned art collection there is so much for visitors to explore and enjoy for free. Don't miss the iconic Tulip Stairs – have your camera ready as these are insta-famous! Also an absolute delight is the painted ceiling in the Queen's Presence Chamber.
Enjoy the views from the house of the Old Royal Naval College and the River Thames. Built after the Queen's House the Naval College buildings were designed by Sir Christopher Wren so that they would not (at the Queen's stipulation) block views of the river.
Where – Greenwich
Nearest Tube Stations – Take the MBNA Thames Clipper to Greenwich Pier from all major London piers as it is easier and a great trip! Alternatively head to Cutty Sark DLR station or Greenwich rail station/DLR.
Opening hours– 10 am to 5 pm daily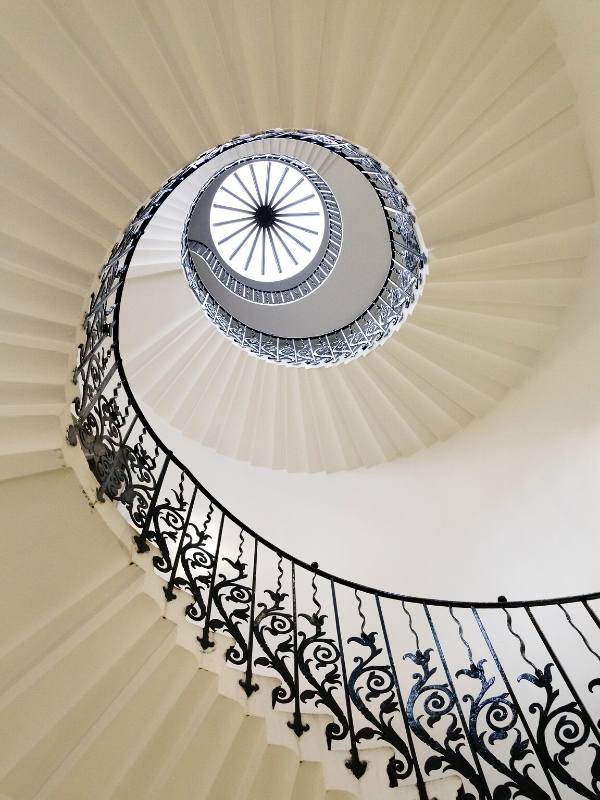 Trafalgar Square
This iconic square in the City of Westminster is often seen during public demonstrations and rallies in the capital.
In the centre stands Nelson's Column (a monument to Admiral Horatio Nelson who died at the Battle of Trafalgar in 1805) surrounded by four stone lions known simply as the Landseer lions after the artist who created them.
Four plinths mark the corners of the square with 3 bearing bronze statues. The fourth plinth is used to showcase contemporary artworks.
You will also find the National Gallery and National Portrait Gallery on the periphery of the square.
Where – London WC2N 5DN
Nearest Tube Stations – Charing Cross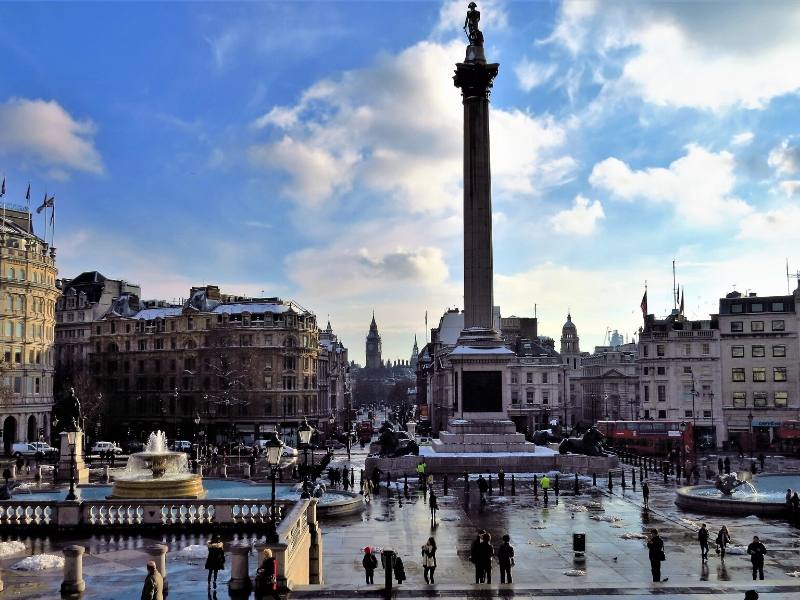 Platform 9 ¾ at King's Cross Station
If you are a fan of Harry Potter then a trip to London King's Cross train station is going to feature in your itinerary!
Take a picture wearing a scarf in your house colours – which will you choose! There is a photographer taking pics between 9 am and 9 pm daily which you can purchase in the Harry Potter shop. Or take your own photos – the choice is yours.
On that note don't miss the shop which is based on Ollivander's wand emporium.
Where – King's Cross Station
Cost – Free (until you visit the shop!)
Tours – There are lots of Harry Potter connections with London so why not take a Harry Potter-themed walking tour and discover them all?
Don't miss a visit to Harry Potter studios just outside London – you can get there by public transport or alternatively book a tour from central London to the studios.
Tip – Queues for the trolley can get very busy during school holidays and festive periods so get there early in the day.

Street Art
There are some great examples of street art to enjoy in London. Popular areas for street art are Brick Lane, Shoreditch and Camden.
A hidden gem and often overlooked by visitors is the Leake Street Tunnel near Waterloo station. This 300-meter tunnel is completely covered in street art!
There are street art tours of London available too if you prefer.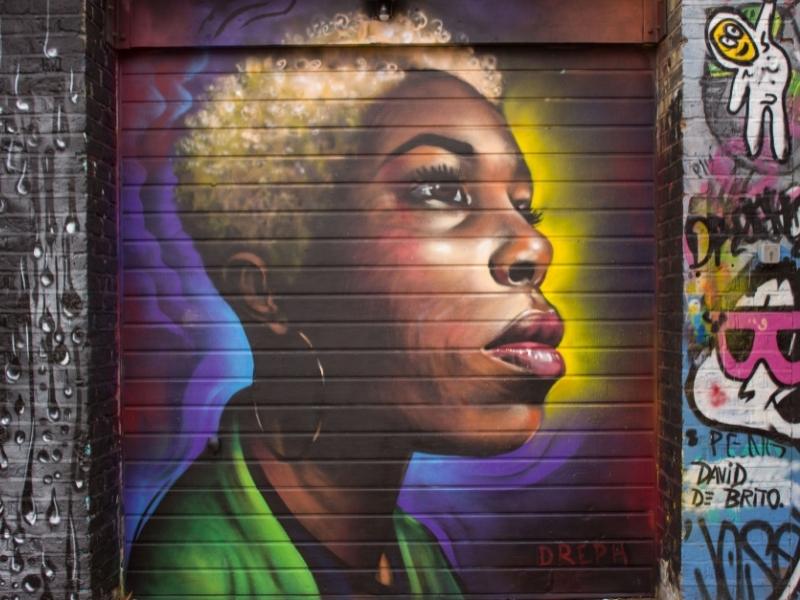 Free walking tours
If you are on a budget a free walking tour is also an option to find out more about the city.
I must admit I prefer the paid ones as I find it less rushed with a smaller group size (and technically they aren't totally 'free' as a tip is generally expected) but I have chosen this option when the budget has been limited.

More tips to make the most of your visit to London
Find lots of more inspiration for your trip to London in my London Travel Guide which has lots of tips, itineraries and more to help you plan your perfect itinerary.
London Travel Guide & Itinerary Planner (+ 4 bonus ebooks)